Whether you're celebrating a special occasion or just want to up your cake game, chocolate drip cakes are always trendy and impressive. I love this surprisingly easy cake design because it makes it simple to customize for birthdays, special occasions, and any party theme! These drizzle cakes have a whimsical feel about them--in fact, at Amycakes Bakery we called this style of cake design our "Whimsy Cakes."
Jump to:
🧾 Three Simple Steps
Here's how to make a drip cake:
Choose Your Buttercream Background Color

Crumb-coat your cake (I recommend using the Cut and Stack Method), then flat-ice the cake in the color of your choice. Allow the flat-iced cake to set up in the freezer for 10 minutes or until the frosting is firm to the touch.

Choose Your Drip/ Drizzle

Chocolate Ganache Drip (made from semi-sweet chocolate--you can find all of these drip recipes at the bottom of this page)
Colored Drip (made from the white chocolate drip--add a few drops of gel food color at a time to get your desired shade).
Caramel Drip (or another flavored drip)

Drizzle Your Melted Ganache on Your Flat-Iced Cake

I go into details below about how to make a drip effect on a cake, or watch my tutorial video.

Add Edible Toppings and/ or Cake Toppers to Match Any Occasion or Theme.
👩🏻‍🍳 How to Make the Perfect Drip Effect
Use a high-quality squeeze bottle to drizzle your melted drip down the sides of your cake. Adjust your pressure with each drizzle so that the drips are of various lengths. We want the drips to look natural instead of too uniform in length--that's what provides the cakes with their "whimsy" feel.
If you'd like the top of the cake to be covered in the same drip, squeeze a little over top of the cake and use an offset spatula to carefully spread the ganache together. Make sure your ganache is warm enough so that it melts together easily, although any imperfections can be covered with cake toppings.
Alternatively, if you'd only like the drizzle to be on the sides of the cake, add a top border of buttercream to hide the drip seam.
🍭 Whimsy Drip Cake Toppings
The best thing about drip cakes is you can keep them incredibly simple (stop with just the drizzle and a few sprigs of greenery and you are done!), or you can doll them up to create a show-stopping centerpiece. Here are some examples of how you can get creative:
Chocolate Bark (just melt chocolate and spread onto a tray. Top with a drizzle or sprinkles, if desired, and refrigerate or freeze until firm.)
Cake Truffles (check out my step-by-step-guide to cake truffles recipe)
Lollipops, large metallic Gumballs, or other Candy
Other Edible Toppings like Candy, Macarons, and Chocolate Covered Strawberries
Glitter Cardstock Cake Banners (you can find cake banners on amazon, or learn how to make your own cake topper with a Cricut). 
Greenery or Fresh Flowers
🎂 Design Ideas and Inspiration
By using creative cake toppers and decorations, you can make a beautiful and impressive presentation out of ANY theme. The possibilities are endless! Keep scrolling to see examples "whimsy cakes" we made at Amycakes Bakery in various styles and themes.
Classic Chocolate
Made with semi-sweet chocolate, the classic chocolate drizzle is simple, elegant, and delicious.
White Chocolate
Made with a combination of white chocolate chips and bright white candy melts, white chocolate drip cakes can make a beautiful and classy presentation for showers, weddings, and birthdays.
Caramel Drizzle
With a rustic and delicious caramel drip, your guests will assume your cake tastes even better than it looks (and if you're using one of my extra-moist bakery cake recipes, it surely will!)
Birthday Drip Cakes
Whether you're planning a kids' party or a classy adult event, these birthday cakes will suit any theme.
Colored Drips
You can make drips and drizzles in every color--even rainbow! Add your favorite gel food color (a few drops at a time) to your white chocolate drip recipe to get your desired shade.
Themed Drip Cakes
From holidays to themed parties, simply match your colors and cake toppers to the theme. This creates a fun and impressive cake design with no need for piping or cake decorating experience.
Tiered Wedding Drip Cakes
Drip wedding cakes are fun, unique, and mouthwatering.
⭐ Five Tips to Avoid Drip Cake Disasters
Don't Overstack Your Cake--the cake toppings may be heavy, and your cake is delicate. Use dowel rods cut down to the height of your cake to support heavy cake toppers if needed.
Drizzle on Top of a Cold Cake--when your cake is cold and the buttercream is firm, your drizzle and buttercream will look crisper.
Make sure the cake is dry without condensation before drizzling. If your cake has any condensation after being in the fridge, blot it with a paper towel until dry. This will allow the drip to flow evenly down the sides of the cake. Wrapping your cake box or keeping it in an airtight container should help prevent condensation from the fridge.
Let the completed cake set up in the fridge for at least 1-2 hours so that the frosting and drizzle is firm and stable. Then allow the cake to come back to room temperature before serving, as most cakes are best at room temperature (avoid warm temperatures).
Make sure your squeeze bottle lid is secure. I have gone through so many squeeze bottles where the lids have popped off under pressure, damaging cakes and making a huge mess. Since finding these squeeze bottles I haven't had any trouble, though you will need a funnel to get your drip inside them).
💭 Frequently Asked Questions
As you can see, I'm a little obsessed with this style of cake! I'd love to see your creations--please share them with me on social media (@amycakesbakes). Or comment below if you have any questions! 🙂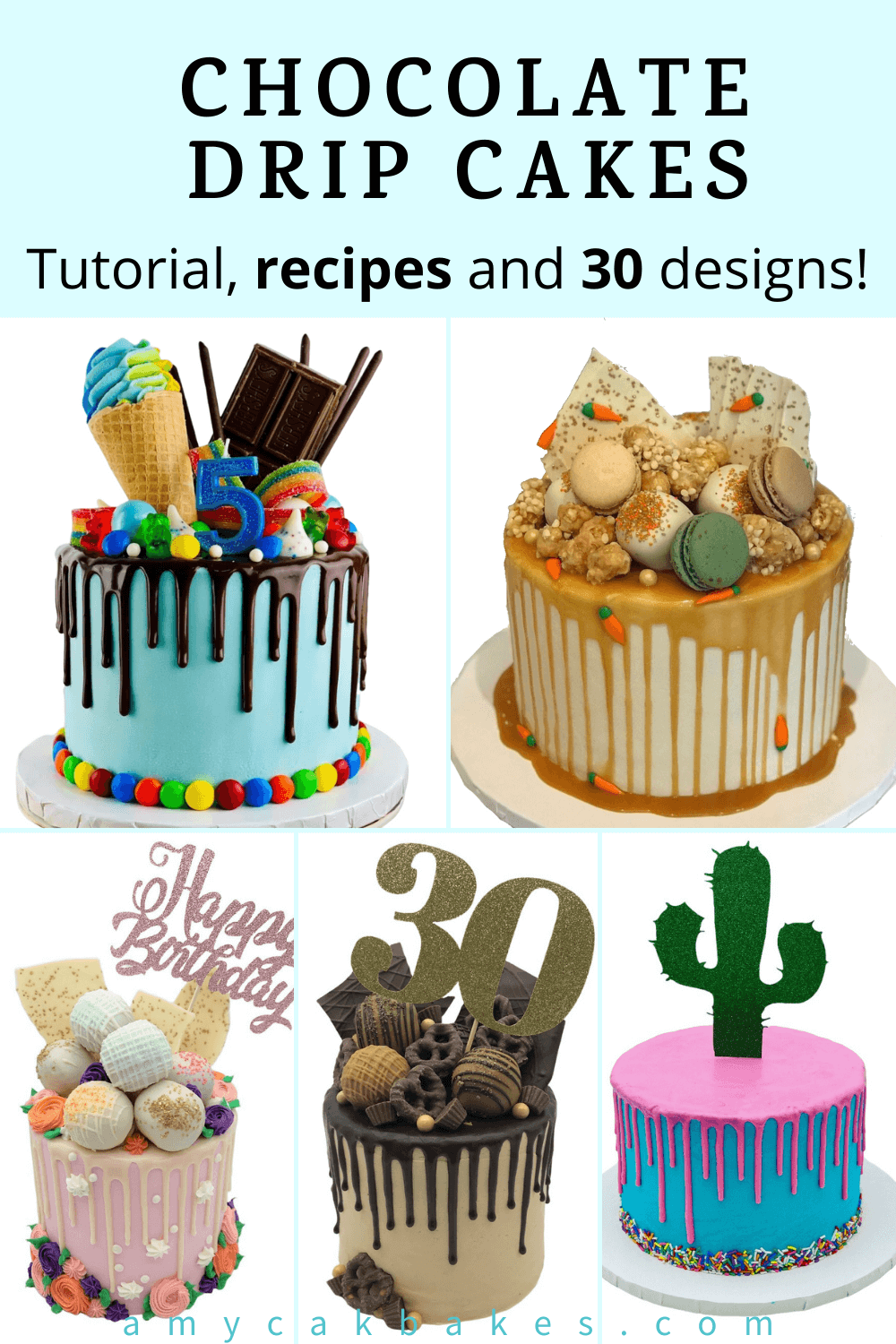 📖 Recipe