These easy cake filling flavors are a fun way of adding that much-needed oomph to your cakes and pastries. At my former bakery, Amycakes, cake fillings were a popular upgrade. You won't believe how easy they are to make!
Biting into a perfectly baked moist and soft cake and getting a mouthful of delicious filling — can you think of anything else that can beat that burst of flavor? Pick the right cake filling flavor and turn any standard cake flavor into an exquisite dessert.
Let's explore some of the best cake filling ideas from my former bakery recipes. Use them to create impressive custom cakes, birthday cakes, and more!
Jump to: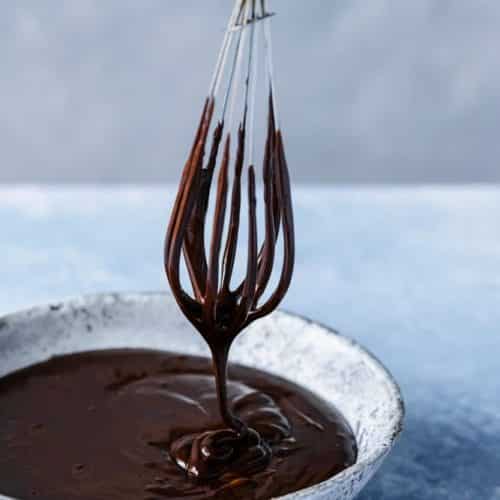 Easy Fudgy Ganache Filling
This rich and super easy fudgy ganache is the most delicious and versatile filling. It can also be used to make a ganache drizzle!
Get the recipe
You can't go wrong with a gooey and fudgy chocolate ganache filling. It is also one of the most versatile fillings I love using with most cakes.
The best part? You only need two essential ingredients — heavy cream and semi-sweet chocolate chips. In less than 10 minutes and with minimal effort, you can have this cake filling ready to be devoured! Pair it with my rich chocolate cake for the chocolate lover's dream.
Featured Comment:
"I had no idea how easy chocolate ganache was to make! I already have requests to make this again, thanks for the great recipe!"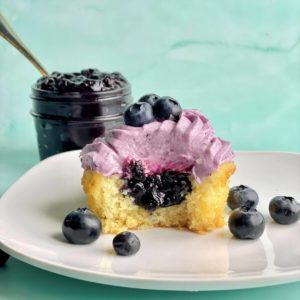 Easy Blueberry Cake Filling
This simple and delicious blueberry cake and cupcake filling is bursting with fresh blueberry flavor.
Get the recipe
You can cook up this simple blueberry cake filling with only four ingredients in just a few minutes. It's full of natural blueberry flavor.
A fruity, slightly tart and perfectly sweet blueberry compote can give you that unique tang of juiciness and acidity to add complexity to your cake.
As the recipe involves frozen blueberries, you can make this filling all year round and still achieve that freshness of juicy berries. This is a great filling that I love using in my cakes, cupcakes, and pies.
Featured Comment:
"This was so delicious and easy to make! We used it between layers of a boxed lemon cake mix, and it tasted better than anything we've gotten from a bakery! Highly recommend!"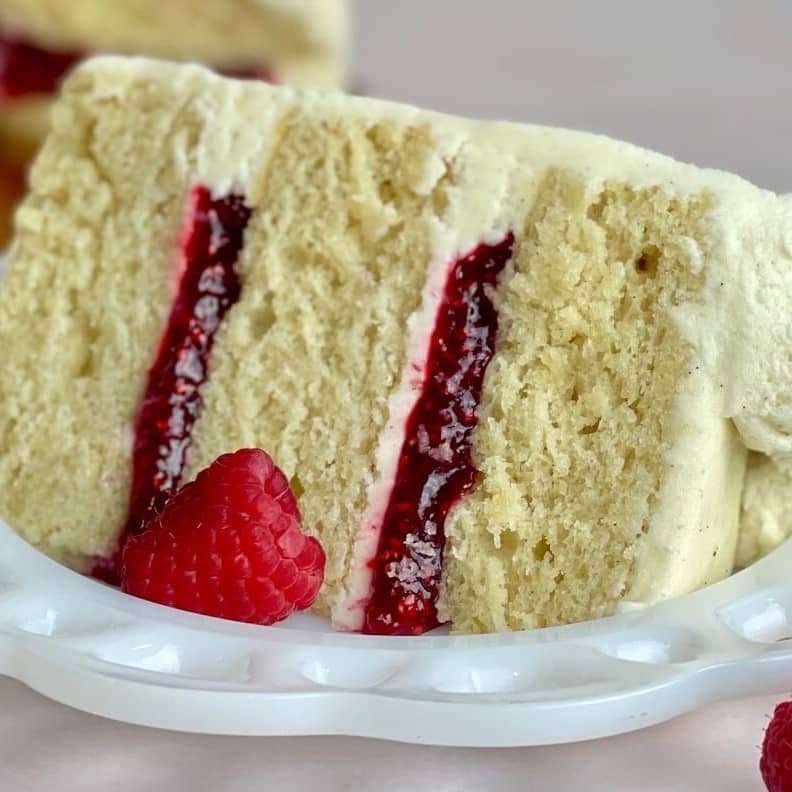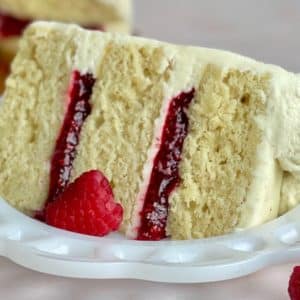 Simple Raspberry Compote Filling
This raspberry compote cake filling is so fresh-tasting! All you need are four ingredients, and it uses frozen raspberries, so you can make it any time of the year!
Get the recipe
A raspberry compote filling is another cake filling that hits the spot for me.
Instead of raspberry jam, whip up this super easy-to-make raspberry filling. It's perfect as a cake filling for a chocolate layer cake, lemon cake, or even a vanilla almond cake. It's also lovely when paired with my vanilla bean cake.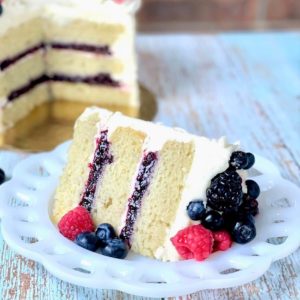 Easy Mixed Berry Compote Cake Filling with Frozen Berries
This mixed berries filling, made with blackberries, blueberries, and raspberries, is an explosion of sweet and tart fruitiness.
Get the recipe
Why use one kind of berry if you can have a medley of berries infused into the perfect cake? The recipe is straightforward. It takes just about 10 minutes to create a triple-berry concoction that's perfect for your buttercreams, cakes, cupcakes, and other pastry creations.
Featured Comment:
"Such a beautiful and delicious recipe! I LOVE how easy it is and the fact it uses frozen berries! This was excellent on pancakes!"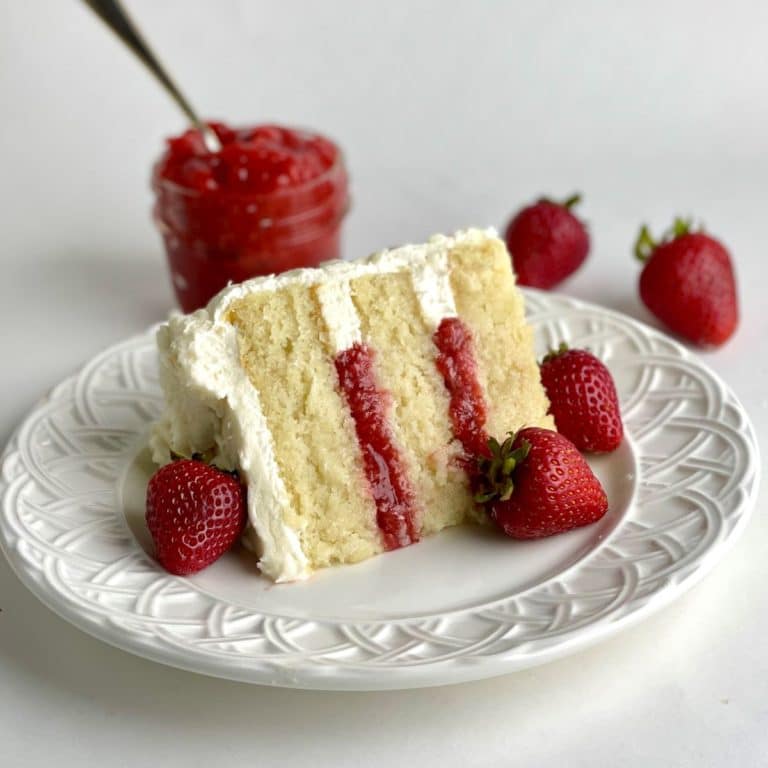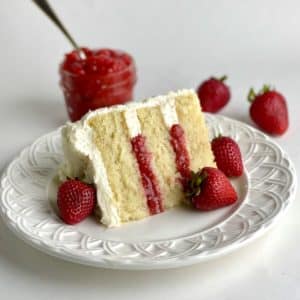 Easy Strawberry Compote Cake Filling with Frozen Strawberries
This easy Strawberry Compote bakery recipe has a deliciously fresh and natural strawberry flavor. It is easy to prepare with frozen strawberries and can be whipped up in 10 minutes or less!
Get the recipe
Another crowd favorite is the delightful strawberry filling. While I've had readers tell me they've had success with fresh strawberries, I prefer to use frozen unsweetened strawberries for consistency. I use this filling for strawberry shortcakes, white cake, strawberry banana cake, and even as a filling for vanilla cupcakes.
Featured Comment:
"I'll never make whipped cream using Knox gelatin again after trying this recipe! It was delicious and no rubbery bits to be found. Thank you for my new favorite stabilized whipped cream recipe."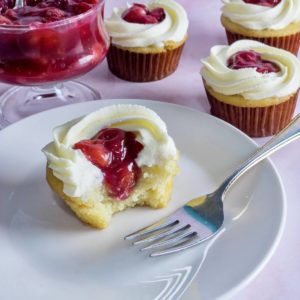 Homemade Cherry Cake Filling (quick and easy!)
This delicious cherry cake and cupcake filling tastes just like homemade cherry pie! With just four ingredients, including frozen red tart cherries, it only takes 15 minutes to prepare.
Get the recipe
Another must-try cake filling flavor is the tart cherry filling that brings the acidity and tartness of red cherries front and center!
This is an easy filling and is made with canned or frozen cherries. The final result mimics your traditional cherry pie filled with red cherries.
If you want to put your own twist on a black forest cake, use some tart cherry cake filling in your traditional chocolate cake! I also love it on tarts and cheesecakes.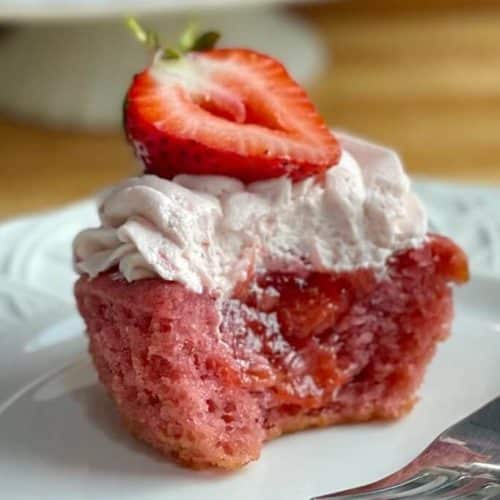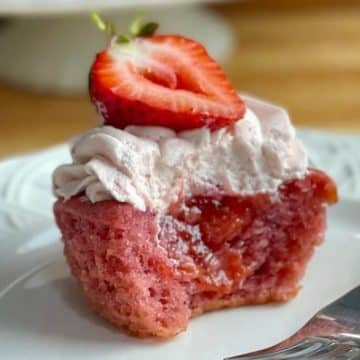 Fresh Strawberry Buttercream
Level up your strawberry cake game with fresh buttercream filling from my triple strawberry cupcake recipe. It's a light and fluffy strawberry cream cheese buttercream!
Get the recipe
If you want that whole strawberry experience, this buttercream cake filling can provide your winning combination.
The sweet strawberries, butter, and cream cheese deliver the perfect buttery pink filling. It's light, creamy, and fluffy and will beautifully complement your strawberry cake.
Featured Comment:
"I made your strawberry cupcakes with your frosting recipe and used fresh. They were the best I've ever had!"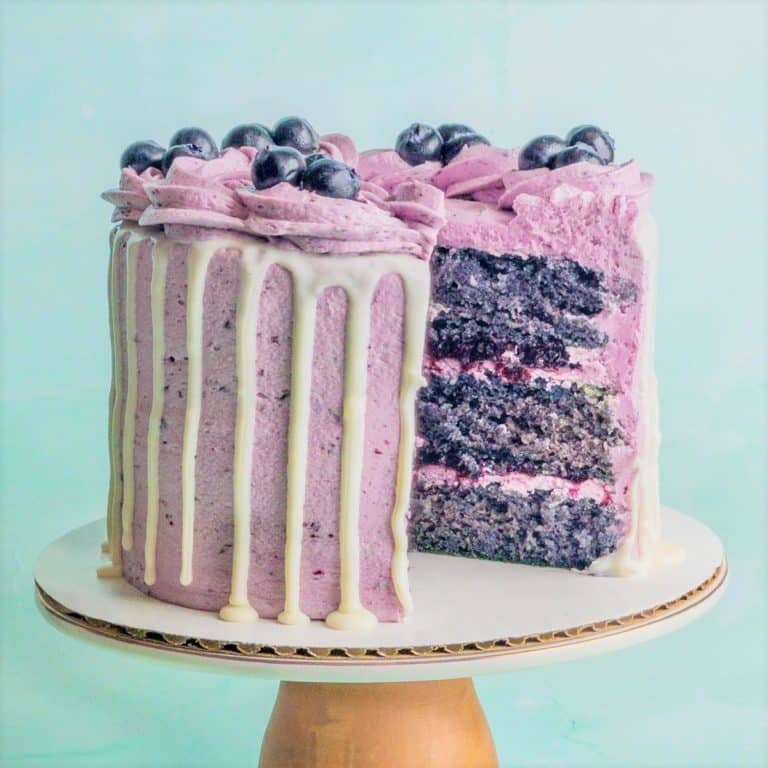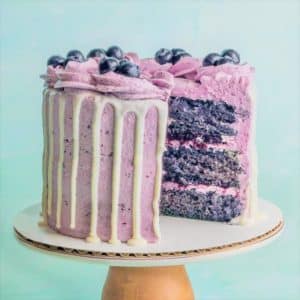 Blueberry Buttercream
The creamy blueberry buttercream in my blueberry cake recipe is a light and fluffy filling option that tastes absolutely divine! It's made with lots of real butter and frozen blueberries for a popular seasonal favorite.
Get the recipe
Like strawberry buttercream, blueberry buttercream filling from my blueberry cake recipe is a wonderful accompaniment to a layered cake recipe.
The addition of blueberry puree along with natural blueberry emulsion in the buttercream creates a fresh fruity flavor.
Featured Comment:
"It is full of blueberry flavor and moist, and the frosting is delectable."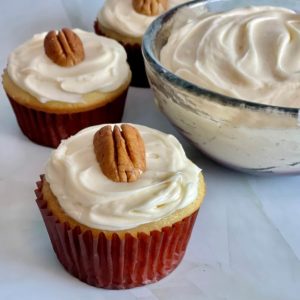 Classic Cream Cheese Frosting
This soft and creamy classic cream cheese frosting lets the cream cheese flavor really shine! This simple recipe pairs beautifully with spice cakes and old-fashioned banana cake.
Get the recipe
This delicious cream cheese buttercream is also a wonderful addition to red velvet cake and traditional carrot cake. This is the ideal cake filling for those who don't want their cake to be overly sweet.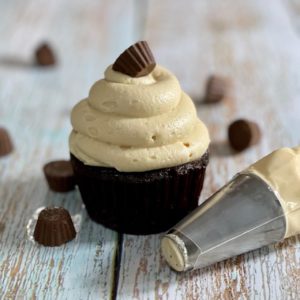 Fluffy Peanut Butter Buttercream Frosting
This melt-in-your-mouth "bakery-style" peanut butter cream cheese frosting from Amycakes Bakery is light, creamy and delicious. Use it to frost or fill your favorite cake.
Get the recipe
Consider trying this fluffy peanut butter buttercream as a cake filling for your next birthday. You can use it as a cake filling and frost the outside of the cake in vanilla or chocolate buttercream for decorating.
Featured comment:
"Yum! I loved making this peanut butter buttercream! It was so delicious and easy..."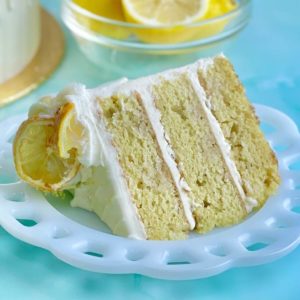 Lemon Zested Buttercream
The lemon buttercream in this cake recipe is creamy and fresh with just the right amount of lemon zest.
Get the recipe
Did you know that lemon buttercream is incredibly simple? This lemon cream cheese buttercream recipe has lots of lemon zest added to the frosting base. It tastes so creamy and flavorful.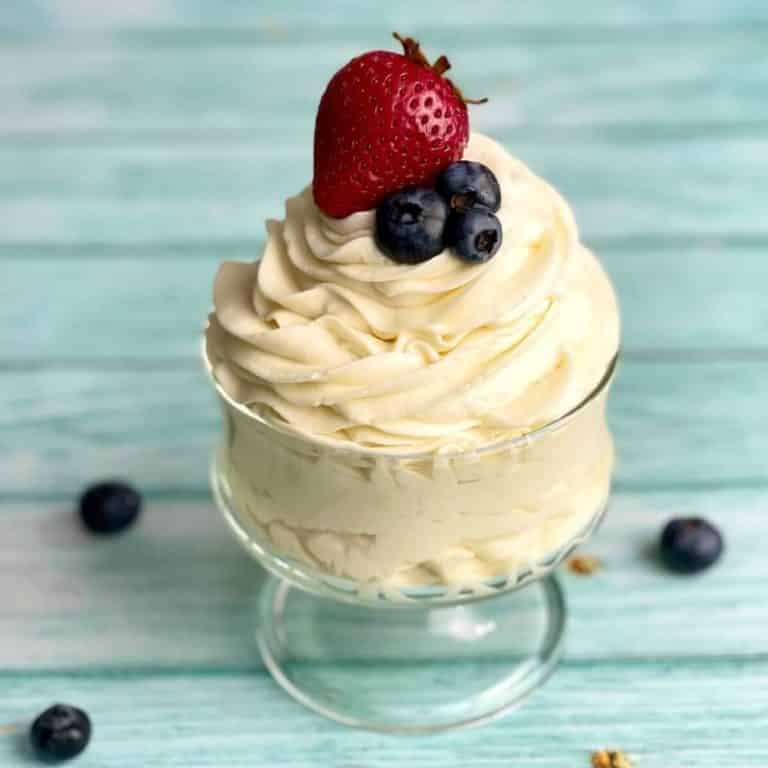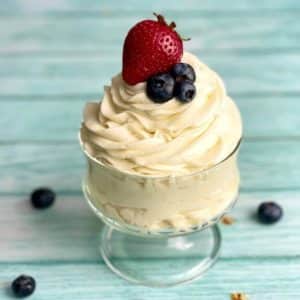 Easy Stabilized Whipped Cream
You'll be amazed at the thickness and creaminess of this delicious stabilized whipped cream. It's almost like a whipped cream mousse. 
Get the recipe
While regular whipped cream is often too delicate for a cake filling, this recipe is stabilized with instant clearjel, a flavorless type of cornstarch that doesn't need heat to thicken.
This cake filling has a silky smooth texture and a delicious vanilla flavor. Simply add powdered sugar whisked with instant clearjel while you whip cream
Featured Comment:
"I'll never make whipped cream using Knox gelatin again after trying this recipe! It was delicious and no rubbery bits to be found. Thank you for my new favorite stabilized whipped cream recipe."
Nutella Buttercream
This Nutella cupcake recipe features moist vanilla or yellow cupcakes filled with Nutella fudge filling. They're topped with fluffy Nutella buttercream for the perfect chocolate hazelnut bite.
Get the recipe
The Nutella buttercream and Nutella fudge filling in this cupcake recipe make a fantastic cake filling and frosting. Try pairing it with french vanilla cake or your favorite yellow cake recipe.
Featured Comment:
"Amazing cupcake! So moist and the filling makes it!!"
👩‍🍳 How to fill a cake with cake filling
There is a particular order to filling cakes, keeping them stable, and preventing any filling from escaping from the cake layers. Use these tips when filling your next custom cake.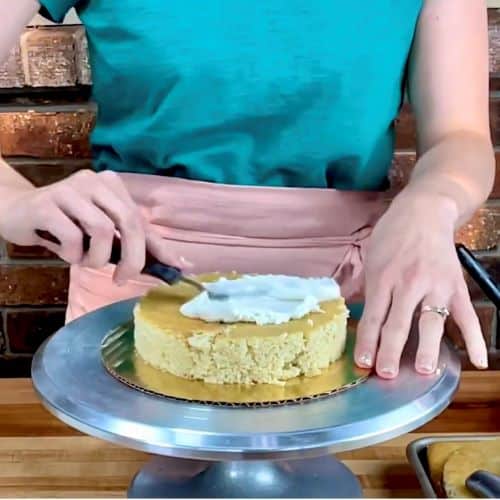 If you are using a dark berry filling (which can discolor the cake after the cake is cut), I recommend spreading a very thin layer of buttercream on each cake layer before filling the cake.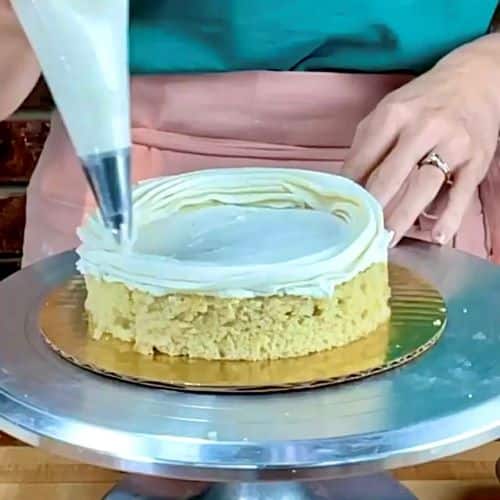 When filling cakes with soft fillings like whipped cream or fresh fruit compotes, you'll want to pipe a ring of buttercream around the edge before spooning in your filling.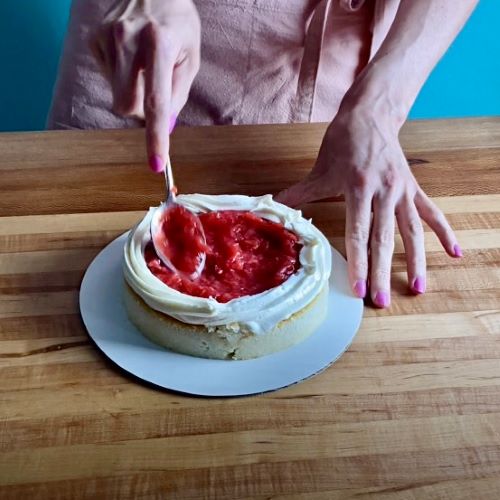 I pipe my ring of buttercream 2-3 rings high to ensure no filling escapes.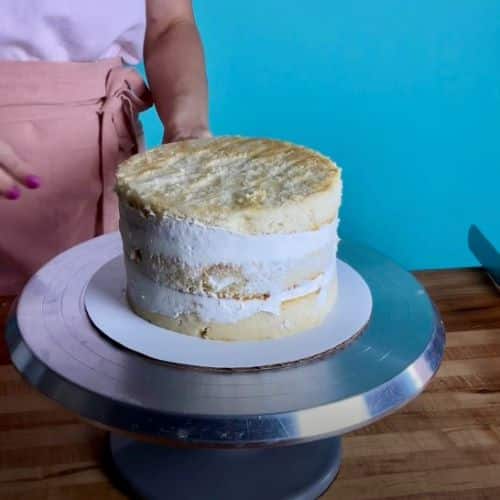 Some buttercream will push over the edge when topped with the cake layers, which is fine. Use your icing spatula to smooth it against the side of the cake to seal it in.
To be extra cautious with filled cakes, I like to set the cakes up in the freezer for 10 minutes after filling them but before adding a crumb coat of icing.
For more details on how to layer a cake, follow my Cake Ring Method for the best results! You can watch the whole process on my Blueberry Cake Video (the cake filling part starts at 0:41).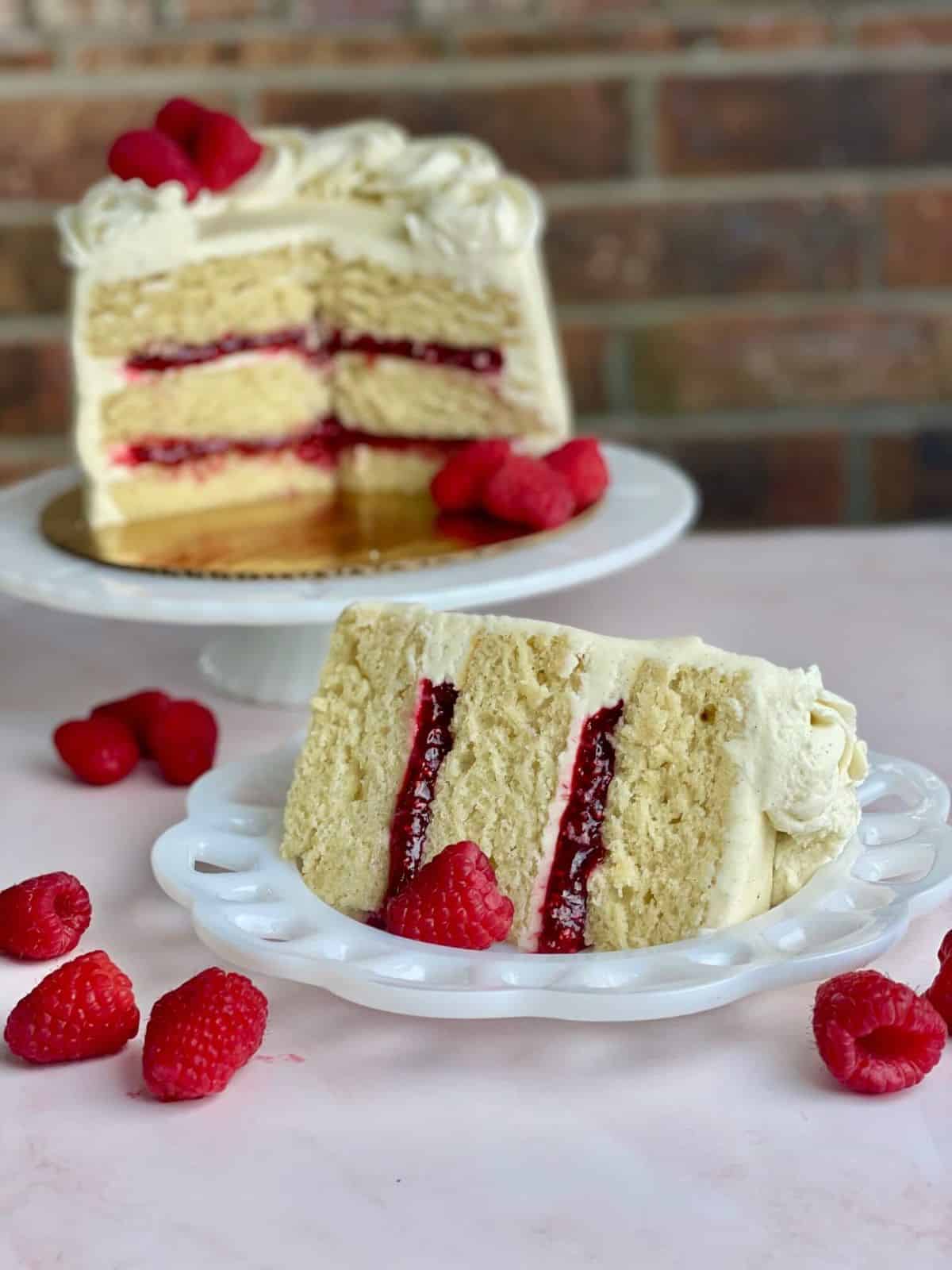 Every time I bake, I find myself wanting to step away from traditional cakes and be bold about my creations. And these cake filling flavors are just one of the many ways I try to experiment with my cakes.
I hope you find inspiration in these filling ideas. Join my sweet escape and discover new flavors and textures in your desserts!
Thanks for Reading. ❤️