💬 Featured Comment: "Triple Chocolate Ganache!! There is no other chocolate cake in the same category. Yours is truly outstanding. My absolute favorite."--Jennifer M.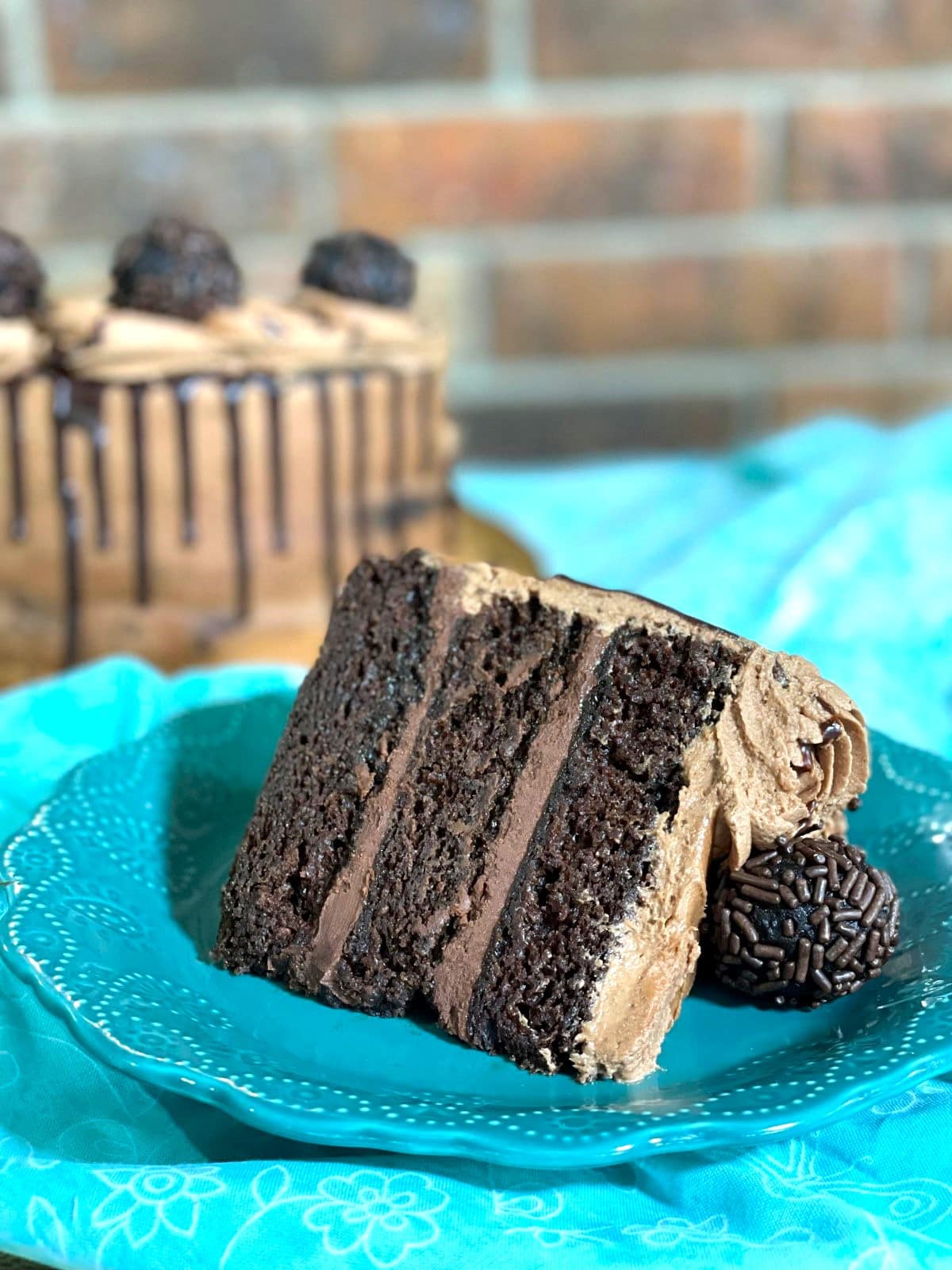 Jump to:
🎥 Step by step VIDEO
🎥 I hope you enjoy the video above (you may have to hit "play" twice on mobile devices). You can also view all my bakery recipe videos and tips on the following channels:
⭐ About this secret bakery recipe
This chocolate ganache cake recipe is fudgy, moist, and dense with a rich chocolate flavor. The chocolate ganache cake is almost brownie-like with a thick and fudgy chocolate ganache filling. It's delicious on its own, or perfect with a glass of milk, scoop of ice cream, or cup of coffee.
This is the very first Amycakes Bakery recipe that I'm sharing! In addition to it being the 2nd most requested recipe (don't worry friends, the top recipe is coming your way soon! *UPDATE--here's that most requested Vanilla Almond Cake recipe*), I wanted to share this one first because it is one of my easier cakes to bake.
Don't let the number of ingredients or length of the recipe scare you away. Keep in mind that after owning a bakery for over 11 years, I can't help but write these recipes like I'm training an employee...We'll see if that's a good thing or a bad thing. 😂 You may need a few extra ingredients on hand, but most of these are ingredients that I use in all of my cake recipes. And with a few simple steps, you'll have this cake baked in no time.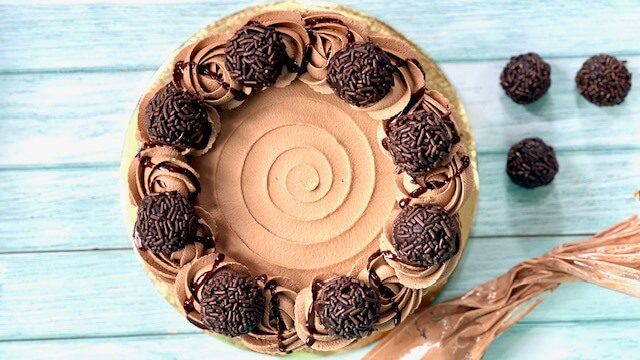 🥣 Two-Bowl Method
To make the cake all you really need are two bowls--one for wet ingredients and one for dry ingredients. This is called the Two-Bowl method, and I use it in several (though not all) of my cake recipes. Whisking the dry, then whisking the wet in the Two-Bowl Method prevents the batter from overmixing and makes a very moist and tender cake.
I learned this method from Barb Baker who owned The Bakehouse in Springfield, Missouri for over 20 years. I trained under Barb for a couple of months after my parents and I bought her business, which later reopened as Amycakes Bakery. Barb shared her knowledge and taught me some very important skills, including that cake methods don't have to be overly complicated to create a really moist and delicious cake!
Instant Clearjel enhances this Chocolate Ganache Bakery-Style Cake
This recipe recommends Instant Clearjel, a modified cornstarch that retains moisture and allows me to include extra moisture-generating ingredients like buttermilk and oil. It's food starch used in commercial baking that you can use at home. Make sure the Instant Clearjel you use is labeled as "Instant." Cooktyle Clearjel is a different product that does not work the same in cakes. If you don't want to try this new ingredient, just use Chocolate Instant Pudding mix as described within the recipe--it contains instant clearjel (modified cornstarch) as the second ingredient, so it works similarly and provides delicious results.
If you have a kitchen scale, please use it for the grams (g) and ounces (oz) provided for more consistent results. If you don't have a scale, no worries!--just be sure to "spoon and level" your dry ingredients, and to fully pack your brown sugar into its measuring cup.
🍫 Easy Chocolate Ganache Recipe
Even easier than the Two Bowl Method cake batter is the chocolate ganache filling. I can't tell you the number of times we were complimented on our fudgy chocolate ganache filling at Amycakes Bakery. And now everyone will know that it's the easiest filling ever, with only two ingredients--chocolate chips and heavy cream!
You can choose any semi-sweet chocolate chip brand, but I've always stuck with good 'ole Nestle chocolate chips, which I use in many of my recipes. You'll also be using some of these chocolate chips in the cake batter.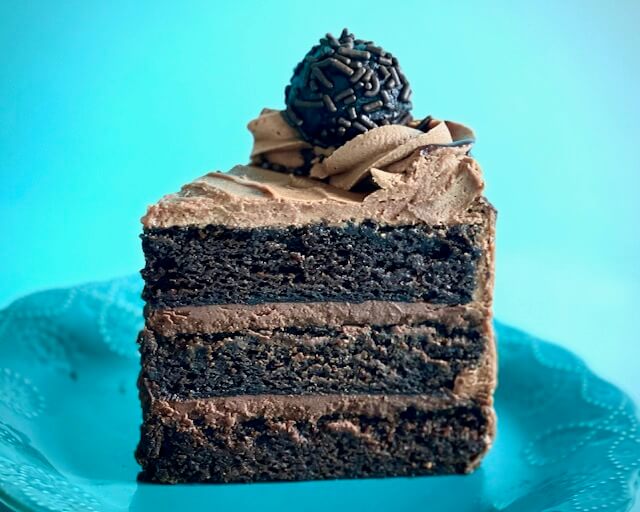 🎂 Fluffy Chocolate Buttercream
A stand mixer will make this chocolate buttercream much easier, but you can use a handheld mixer as well. Cream Cheese gives the buttercream a creamy texture and balances the sweetness, but most taste-testers won't know that it has cream cheese as an ingredient. A little bit of shortening helps with the stability and fluffy texture.
Pure Vanilla is recommended for the best flavor. I save my treasured Pure Vanilla for my buttercreams and don't mind using a more cost-efficient Vanilla Blend in my cake batters or baked items where it is hard to tell a difference. (Olive Nation, where I buy many of my extracts, has provided Amycakes Bakes readers with a coupon code AB20 for 20% off).
🍰 How to Layer Layer the Chocolate Ganache Cake
My preferred baking method is to bake all the batter in a 1" tall sheet pan and use what I call the Cut and Stack Method to assemble the cake (Inspired by Christina Tosi's Milkbar cutting method). This provides a flatter, more even bake (a less domed cake in the middle and no dark edges).
I leave my cake in the pan when I cut them because my cakes are so moist that I have to take extra care with them. Then I layer the cakes when they are cold or frozen. Watch to the end of my video in the recipe below to see how it's done.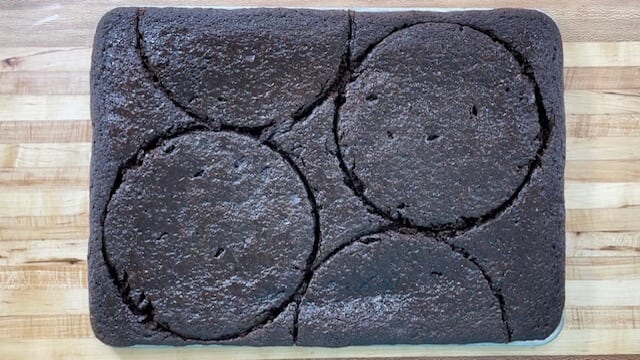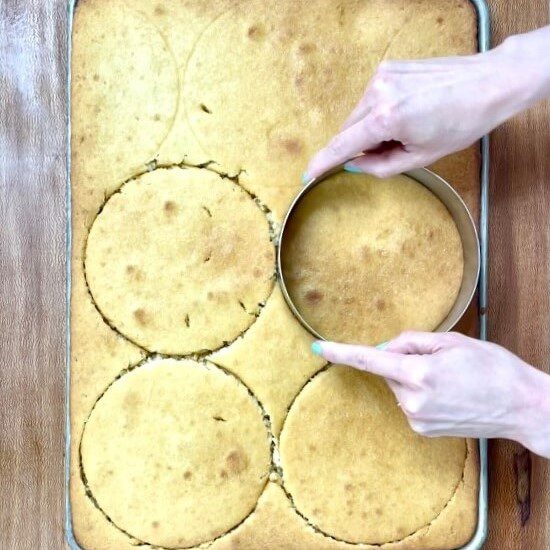 Layer this Cake using the Cut and Stack Method
I bake all my cakes in sheet pans and cut them out with cake rings. I talk about this in detail in 5 Easy Steps to Baking and Layering Cakes Like a Pro, but here's a quick rundown:

1. Bake the Cake in a Sheet Pan
2. Wrap and Freeze the Cake in the Pan
3. Cut Desired Cake Size with Cake Rings and Layer the Cake from Frozen
4. Crumb Coat the Cake
5. Decorate and Serve
You'll be amazed to see how much easier it is to stack and layer cakes when they are cold or frozen. My extra-moist cake recipes are too soft to layer right after cooling. (It can be done, but I don't recommend it. 😬 The cakes are so soft and moist at room temperature that they will be extra crumby and might break as you layer them!)
The easiest way is to cut the cake with cake rings when it is at room temperature, then wrap and freeze the whole cake pan for around 2 hours or overnight so it is cold or frozen before layering. If you are layering and decorating your cake the day you plan to serve it, I recommend keeping the cake in the fridge instead of the freezer overnight. It will not be quite as easy to work with as frozen, but we don't want to risk serving a frozen cake. You can learn more in How to Bake and Layer Cakes like a Pro.

Troubleshooting Overflowing Sheet Pans--
All my cake recipes are a tight fit in my recommended 1" tall sheet pans.  I love baking cakes in these pans, but a couple of readers have had their cake overflow slightly while it bakes in their oven.  I'm guessing this has to do with either:
1) Lower oven temps causing the cake to bake slower and not bake as quickly as it rises, therefore overflowing.  You can check your oven with an oven thermometer.
2) Uneven spreading or warped or shorter sheet cake pans.  The sheet pan I use is  and this ¼ sheet (for 1x batches) or this ½ sheet (for 2x batches).
3) Slight Measuring variations when using measuring cups instead of a kitchen scale.  
If you find this to be a frequent issue, I would recommend baking in a 9x13 sheet-cake pan (for 1x batches) or a 12x18 sheet-cake pan (for 2x batches), which are 2" tall instead of 1" tall.  With these pans, you'll still be able to easily cut the cake out with a cake ring, and use the ring as a guide when cutting the two half pieces of cake. The bottom layer may require extra cake scraps--just fill in the middle of the bottom pieced layer of cake with cake scraps as needed.
👩🏻‍🍳 Make Easy Cake Truffles
Once you've stacked your cake you'll have some delicious cake scraps to munch on or to just test your creation (I always felt better serving a cake when I had already tried the cake scraps and knew it was delicious!). You can also turn the scraps into easy cake truffles, cake pops, or mini cake parfaits.
In this recipe, we are making the easiest cake truffles for garnish, and you don't even have to dip them! Just smash and roll the cake into 1" balls, then press jimmy sprinkles, mini chocolate chips, or chocolate flakes into the outside of the balls. You can also roll them in cocoa powder. They taste similar to fudgy brownie-batter bites!

Baker's Shortcut
There's nothing wrong with not having the time or the patience for layering a cake--sometimes and we just want to eat cake NOW! For this cake, if you just want to be able to enjoy a fudgy delicious sheet cake as soon as possible, follow the Baker's Shortcut in the Notes section of the recipe.
Decorating the Cake
One of the reasons I love the Cut and Stack Method is it lets me choose which cake size I'm going to make after I bake it! You can even cut little Cakelets with 4" cake rings or 3" or 2" round cookie cutters. Use a piping bag and frost the cakes like a cupcake for an adorable mini dessert!
The layer cake pictured is an 8" round, but you could make an extra tall 6" cake or even two 6" cakes (freeze one for later!) 😊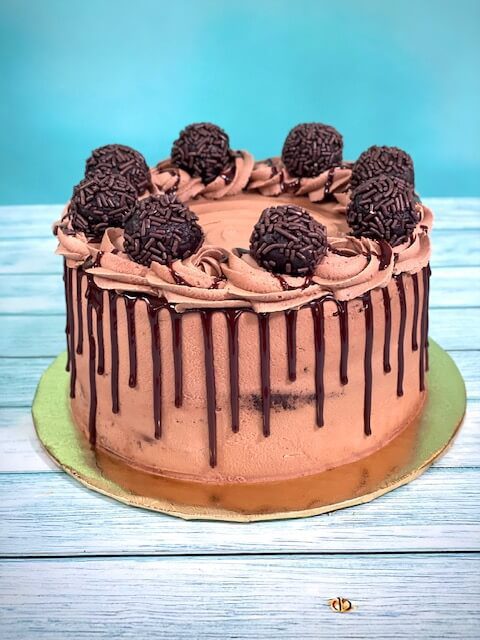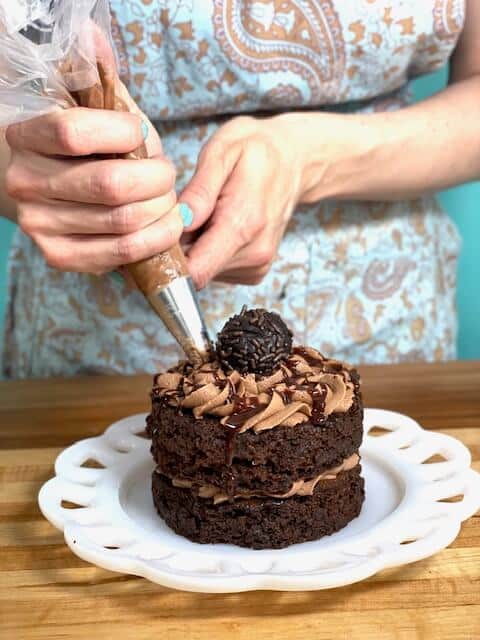 You can decorate this cake any way that strikes your fancy. You could use a small offset icing spatula to add a simple fluffy homestyle texture. To decorate the cake like the video in my recipe, use reserved chocolate ganache to drizzle around the edges in a squeeze bottle. Then fill a disposable piping bag with a 1M star tip and swirl some easy rosettes around the edges. I topped my rosettes with another drizzle of ganache and the easy cake truffles that I made with the extra cake scraps.
💭 Frequently Asked Questions
What's the best way to store this cake?
Nearly all of my cakes are best at room temperature! They'll still taste yummy out of the fridge, but will be firm and have a different texture due to all the yummy butter in the cake and buttercream.  I want to make sure you enjoy the soft and moist cake texture that is intended by eating the cake at room temperature cake. 

You can refrigerate the cake after decorating it, but allow it to come back to room temperature 2-3 hours before serving. (Keep in mind the buttercream can melt in warm conditions). I keep my leftover cake out of the fridge for up to 24 hours, but I'll refrigerate or freeze anything that won't get eaten within that time.
I think you're ready to go! You'll do great! This is my very first recipe post, and I'm sure I have a lot to learn--comment below with any questions or let me know what you think of the recipe! If you make this cake, I would absolutely love it if you would snap a photo and tag me @amycakesbakes, or share this recipe using the social share buttons below. 😊
Thanks for Reading. ❤️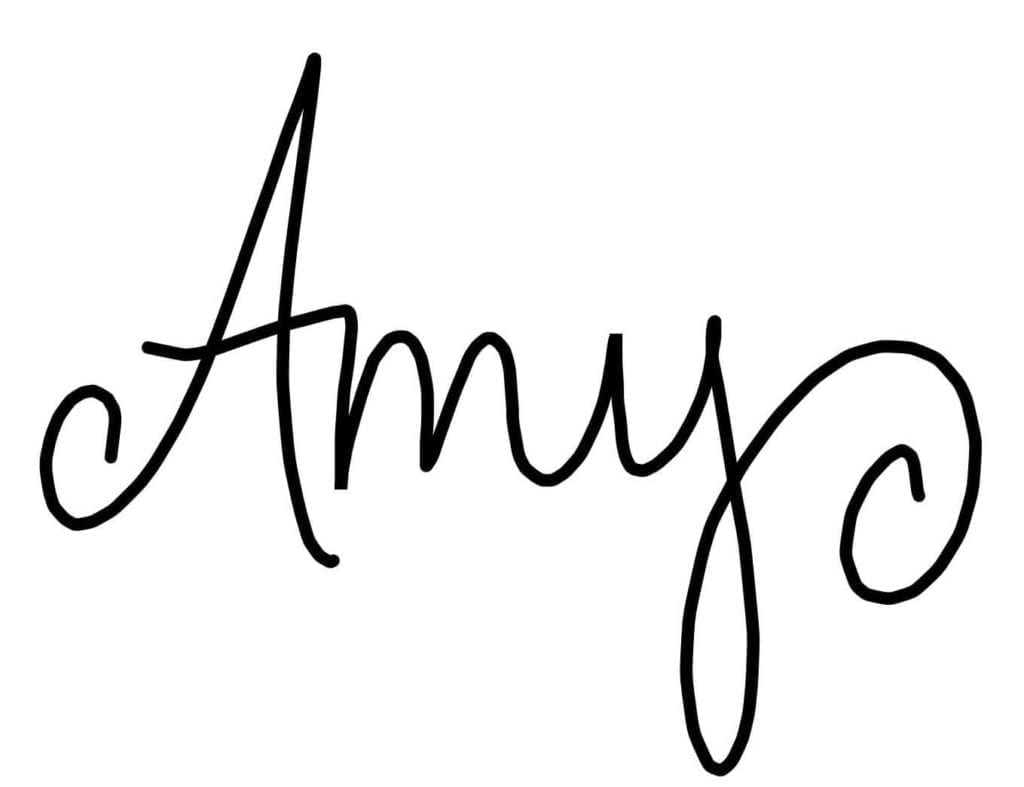 📖 Recipe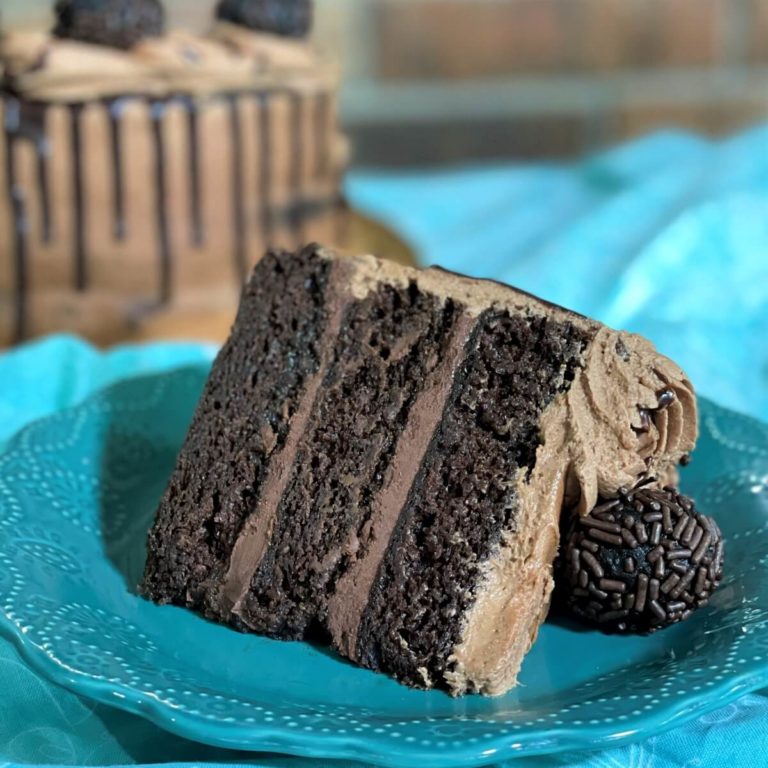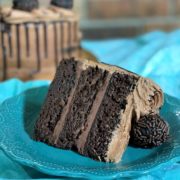 Triple Chocolate Ganache Cake
This bakery-style secret cake recipe from Amycakes Bakery is fudgy, moist, and dense with a rich chocolate flavor.  It's almost brownie-like with a thick and fudgy chocolate ganache filling.  It's delicious on its own, or perfect with a glass of milk, scoop of ice cream, or cup of coffee.
1x batch yields one 
6" three-layer cake
 and a 2x batch yields one
8" three-layer cake
cut out with cake rings using the 
Cut and Stack Method
. Or choose a different pan size by visiting 
Double-Batches and Cake Pan Options: Everything You Need to Know.
Ingredients
Dry Ingredients
170 grams (1 ¼ cups + 2

Tablespoons)

All-Purpose Flour

(I use Gold Medal)

1 ½

teaspoons

Baking Powder

1

teaspoon

Baking Soda

¾

teaspoon

Salt

2 Tablespoons Instant Clearjel or 3

Tablespoons

Chocolate Instant Pudding Mix

(a food starch used in commercial baking that you can use at home, see Note #1)

26 grams (¼

cup)

Unsweetened Cocoa Powder

(I use Hershey's)

100 grams (½

cup)

Sugar

113 grams (½

cup packed)

Brown Sugar
Wet Ingredients
2

large

Eggs

¾

cup

Buttermilk

¼

cup

brewed Coffee

¼ cup + 1

Tablespoon(s)

Vegetable Oil

3

Tablespoons

Dark Corn Syrup

(or use light corn syrup)

1 ½

teaspoons

Vanilla Extract
Chocolate Butter Mixture
¾ stick(s) (3

ounces)

Salted Butter

43 grams (¼

cup)

Semi-Sweet Chocolate Chips

(I use Nestle)
Chocolate Ganache
½

cup

Heavy Cream

172 grams (1

cup)

Semi-Sweet Chocolate Chips

(I use Nestle)
Easy Cake Truffles (optional)
¼

cup

Chocolate Jimmy Sprinkles

(or use mini chocolate chips, cocoa powder or chocolate flakes)
Instructions
Make Chocolate Cake
Preheat oven to 325 degrees. Line a 1" tall

¼

sheet pan with parchment paper, then spray the bottom (on top of the parchment) and sides of the pan with cooking spray. Or choose a different cake pan(s) using the chart in my post about Half-Batches and Cake Pans.

Using a sifter or fine mesh strainer, sift the first seven Dry Ingredients into a large bowl, then add brown sugar. Whisk until well blended. If you see any large brown sugar clumps, break them up and blend them in with your fingers.

Combine Wet Ingredients in a separate large bowl and whisk until smooth and well-blended.

Melt salted butter in the microwave (or over the stove) until just melted. Avoid overcooking. Add semi-sweet chocolate chips and whisk until melted and smooth (Whisk for 30 seconds to 1 minute--the heat from the melted butter plus the whisking will melt the chips).

Pour Wet Ingredients into Dry Ingredients and whisk until incorporated. Pour Chocolate Butter Mixture over batter and whisk until smooth and lump-free. (A few teeny brown sugar lumps are ok and will dissolve as it bakes).

Pour batter into the prepared

¼

sheet pan and smooth out batter until even (an offset icing spatula works well for this). The batter will be about ¼ inch from the top of a 1" tall sheet pan.

Allow pan to set for 5-10 minutes before putting it in the oven. This will give time for the instant clearjel (or instant pudding mix) to thicken the cake batter before it bakes, allowing for a better rise.

Bake in the middle or top rack (avoid bottom rack) of a preheated 325-degree oven for 16 minutes. Without opening the oven, turn the temperature down to 300 degrees and bake for another 8-10 minutes. Check the cake at this point. See if it is done by lightly touching the top of the cake--try to avoid moving the cake pan or baking rack, which could cause an underdone cake to sink. If jiggly at all to your touch, bake for another 1-5 minutes. The cake is done when a toothpick or small paring knife comes out clean when quickly stuck in the cake. A few moist crumbs on your knife are fine, but they shouldn't look wet.

Allow cake to cool completely. To make a sheet cake, follow the Baker's Shortcut (Note #4), or choose your round cake size using the Cut and Stack method (Note #2). Leave the cake in the sheet pan, and using a slight sawing motion, cut the cooled cake into your desired cake size with cake rings (You can use a knife and the cake rings as a guide for any halve pieces that you cut.) Brush lightly with simple syrup (optional, Note #3).

Wrap thoroughly in plastic wrap and freeze cake in the pan for 2 hours or overnight. (You can even bake the cake up to a week ahead of time and freeze). The cake will be much easier to layer if it is cold or frozen. To wrap the cake, place another sheet of parchment on top of the cake (this will prevent the plastic wrap from sticking to the cake), and wrap the whole pan with plastic wrap. (I pull the plastic wrap out and place the pan on top of it. Then I wrap 2-3 ways horizontally and one way vertically so that there are two layers of wrap on all sides of the pan including the bottom).
Make Ganache Filling
Combine heavy cream and semi-sweet chocolate chips in a medium-sized microwave-safe bowl. Microwave at 30-second increments, stirring for 30 seconds to one minute in between each heat. (It should only take two to three heats in the microwave. Lots of whisking will melt your chocolate faster and prevent the chocolate chips from overcooking in the microwave.

Once all the chocolate chips are melted and your ganache is shiny and smooth, place it in the fridge to cool. Stir occasionally until it is has cooled to a very thick and fudgy consistency. Once it is the right thickness, remove it from the fridge until you are ready to fill and layer your cake. (If your ganache gets too cold, it will be too thick to spread. Simply reheat in the microwave at 5-10 second increments, stirring frequently, until it is the right consistency.)
Layer, Decorate, and Serve
The easiest way to layer the cake is to layer the cake from frozen the day before you plan to serve it. If serving the cake the same day you are layering it, use refrigerated cake layers instead of frozen.

Reserve

½

cup chocolate ganache for drizzling down the sides of the cake (optional). Use your two half-circles of cake to make the bottom cake layer (fill in with scraps if needed to make a level surface). Fill your three cake layers with 2 layers of fudgy chocolate ganache, and frost on the outside with the prepared fluffy chocolate buttercream. An offset icing spatula (I use the small and medium size on all my cakes) helps with this. I recommend frosting a thin crumb coat of buttercream on the outside of the cake which will catch all the crumby edges, then allow it to set up in the freezer for about 10 minutes until the buttercream is firm. Then spread another layer of buttercream over your crumb coat. (I just lightly ice my cakes on the 2nd coat and smooth it with a bench scraper, as I don't mind cake showing through as long as the sides are smooth, but there is enough buttercream for you to fully-ice it.)

While your crumb coat is setting up in the freezer, make easy cake truffles with some or all your cake scraps! (I decorated the cake with eight truffles in my video, and there were several left over). Simply squish together room-temperature cake scraps until it becomes a smooth dough. Divide the cake truffle dough into 1" pieces and roll into balls. Press chocolate jimmies into the sides of the balls (The dough is thick so you have to press the sprinkles into the balls to get them to stick instead of just rolling them). Refrigerate until ready to use.

Microwave the reserved ganache until thin, and drizzle down the sides of the cake using a spoon or squeeze bottle. There is enough fluffy chocolate buttercream to frost a row of rosettes around the top of the cake using a pastry bag and 1M star tip (or get creative with a different design!). Top the cake with easy cake truffles if desired.

You can let the cake set up in the fridge, but remove it from the fridge 1-3 hours before serving so it can come back to room temperature. This cake has the best texture at room temperature. Enjoy!
Notes
Read my article Instant Clearjel: a Magical Little-Known Bakery Ingredient to see why I think this ingredient is worth having in your pantry.  Instant Clearjel must always be whisked thoroughly with other dry ingredients before added to wet ingredients to avoid clumping.   (Make sure what you purchase is labeled as "Instant."  Cooktyle Clearjel is a different product that does not work the same in cakes).  Instant Pudding mix contains instant clearjel (modified cornstarch) as the second ingredient, which is why it works similarly.
When baking cakes in a sheet pan, the cake bakes more evenly (flatter on top and with no dark edges), and you get to choose your cake size after baking!  With a 1x recipe in a ¼ sheet pan you can make a 6" 3-layer cake (2 full rounds, one pieced round from two half-circles) or several little cakelets.  In a 2x batch in a ½ Sheet Pan you can make a three-layer 8" cake (two full rounds, one pieced round from two half-circles), an extra tall six-layer 6" cake (5 full rounds, one pieced round from two half-circles), TWO 3-layer 6" cakes (eat one now and freeze one for later.  🙂 Or have a baking party with a friend and you each get a cake!) or several little Cakelets using a 4" cake ring or 3" or 2" round cookie cutters.
Simple Syrup is optional, but I use it to seal in the moisture for cakes that will be refrigerated or frozen.  While the cake cools, make a simple syrup by combining 1 T water and 1 T sugar in a small microwave-safe bowl. Microwave until the sugar is dissolved after whisking, about 20-30 seconds.  You can also make a larger batch of this (1 part sugar to 1 part water) and keep it in the fridge if you're doing a lot of cake baking.  Always cut the cake with cake rings before brushing the cake brush simple syrup, to avoid the cake being too sticky when cut.
BAKER'S SHORTCUT:
1). Make a sheet cake instead!  While the cake bakes, make the ganache and the chocolate buttercream.  Don't refrigerate the ganache, but allow it to cool at room temperature until it is about the thickness of yogurt and easily spreadable.  Reserve ½ cup ganache for drizzling if desired.
2). Once the cake is fully cooled, keep the cake in the pan and spread the thickened ganache on top of the cake.  The ganache should be thin enough that it doesn't damage the cake as you spread it.  Set the pan in the freezer for 10 minutes so the ganache can set up.
3). Spread the fluffy buttercream on top of the set-up ganache.  Drizzle with some reserved ganache, if desired.  Serve cake slices out of the pan and enjoy at room temperature.
RECIPE UPDATES:
9-16-21: The original recipe made an 8" cake in a ½ sheet pan.  All my recipes now start with small batches, so it now makes a 6" cake in a ¼ sheet pan.  Press the "2x" if you'd like to double the recipe for an 8" cake in a ½ sheet pan.
Print Recipe