With a moist milk chocolate cake flavored with black walnuts and a fluffy chocolate walnut buttercream, this Chocolate Walnut Cake is truly divine. It's heavenly with a cup of hot coffee or tea and will be the perfect treat for your next special occasion!
Black walnut is a bit of a retro flavor these days! We're so used to Red Velvet and every shade of chocolate, but there's something so lovely about the classic flavor combination of chocolate and walnut.
That nice nutty flavor is in every layer of this cake (including the frosting), and I love the crunch the chopped walnuts add on top.This is a great rich chocolate cake to try for those who love my Chocolate Cinnamon Cake (a similar cake with a cinnamon flavor instead of walnut).
Jump to:
🌰 Why you'll love this chocolate nut cake
So moist: This tender cake is incredibly moist, making it easier to notice every bit of flavor!
Perfect for milk chocolate lovers: This easy chocolate walnut cake recipe is full of delicious milk chocolate from the cake and frosting.
Crowd-pleasing: Black walnut has a distinct, lovely flavor and often surprises people just how wonderful it tastes with chocolate!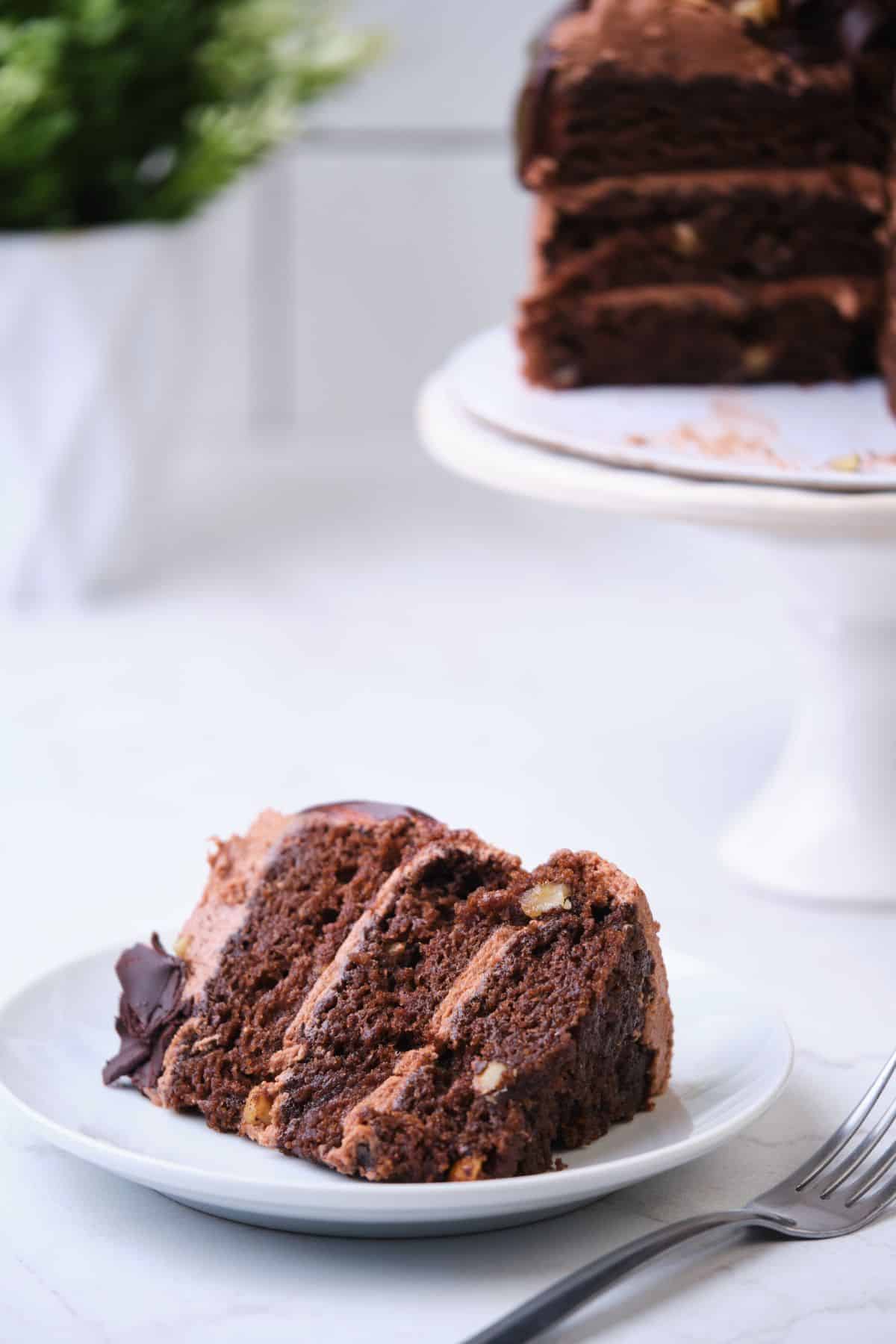 🍴 Equipment
I make all of my bakery layer cakes in a sheet pan and cut them out with cake rings, but you can use round pans if you'd prefer.
This cake ring set has 4", 6", and 8" rings. I use the 6" ring for the 1x batch of this chocolate walnut cake recipe.
My favorite ¼ sheet pan for a 1x batch of this recipe (it makes a 6" three-layer cake).
📋Ingredients
Made with my super easy two-bowl method, you don't need any fancy baking skills to master this walnut chocolate cake! Plus, it includes my favorite ingredients to make moist cakes every time, so you know the texture will be just perfect!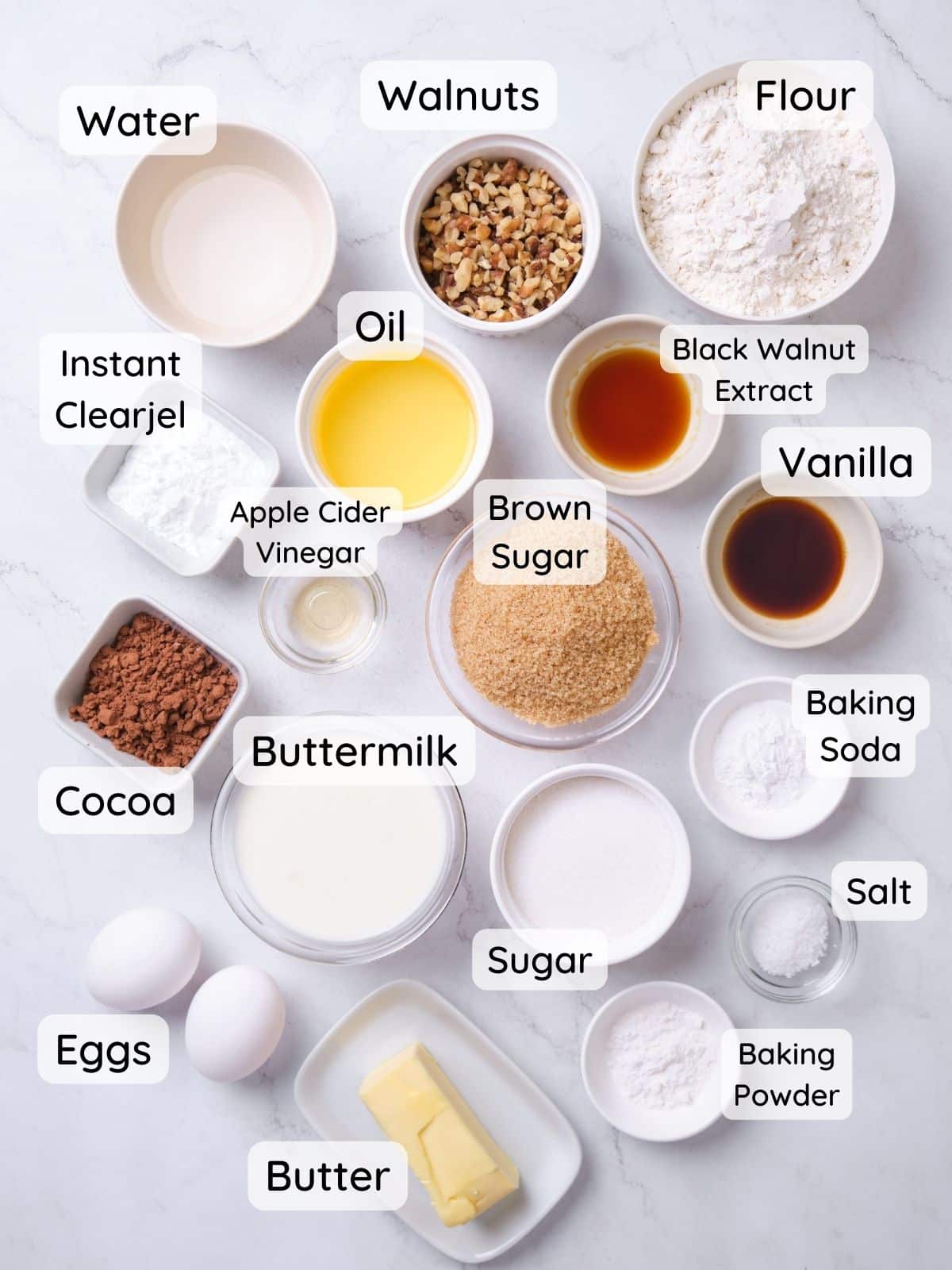 In a medium bowl, whisk together the dry ingredients.
All purpose flour
Baking powder
Baking soda
Salt
Instant Clearjel (my favorite secret bakery ingredient, but you can use instant pudding mix as a substitute if needed)
Unsweetened Cocoa Powder (Hershey's)
Sugar
Brown sugar
In a large bowl, whisk the wet ingredients.
Large Eggs
Buttermilk
Water
Vegetable Oil
Vanilla Extract
Apple Cider Vinegar (add just before baking to activate the baking soda & powder)
Melted Salted Butter (add at the end for gorgeous glossiness & moisture)
Walnuts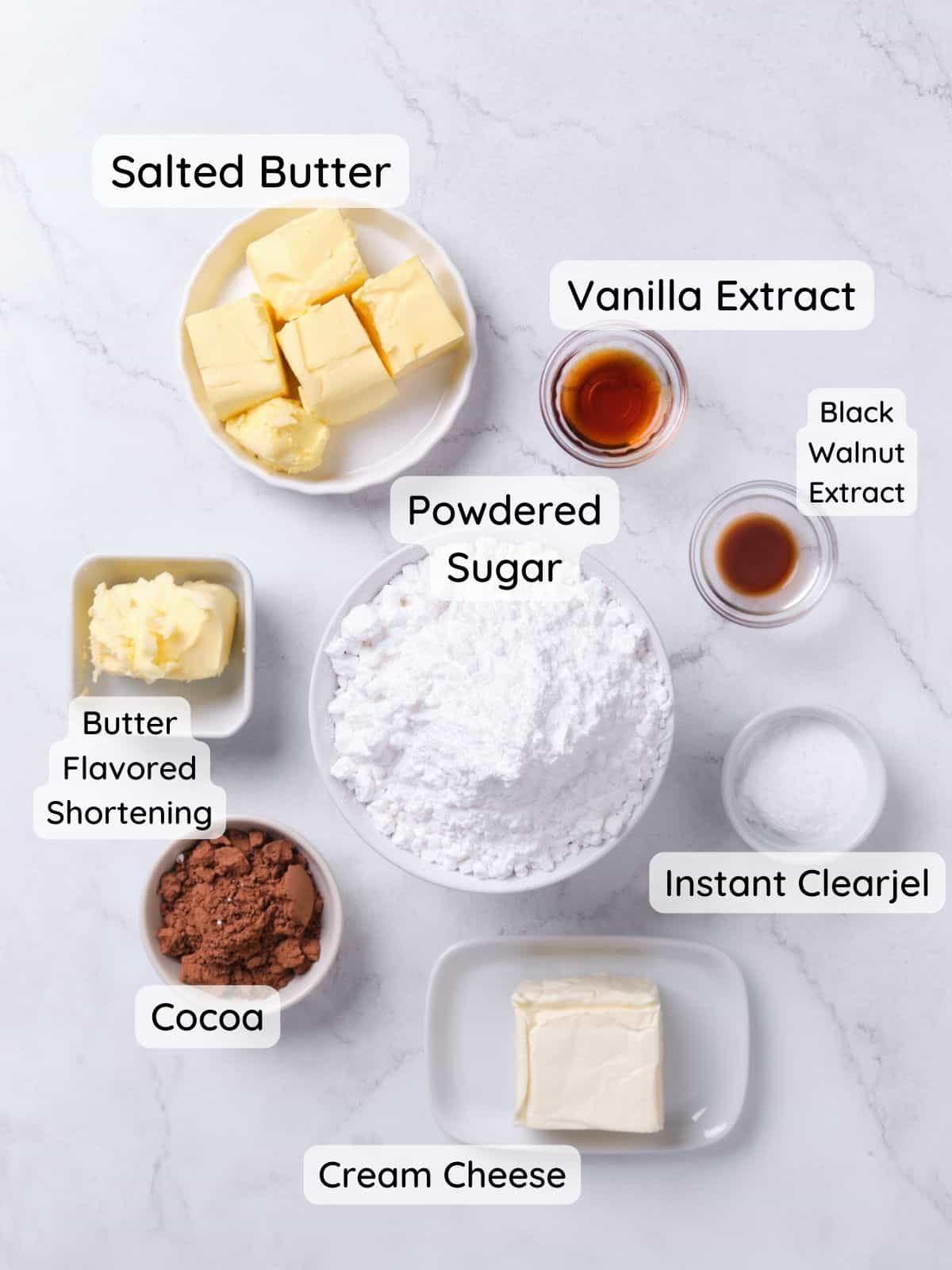 To make the Milk Chocolate Buttercream Frosting, you'll whip together cream cheese, salted butter, butter-flavored shortening, powdered sugar, unsweetened cocoa powder, Instant Clearjel, pure vanilla extract, and black walnut extract in the bowl of a stand mixer until light and fluffy.
I like to decorate this chocolate nut cake as a drip cake with an easy chocolate ganache drizzle, more walnuts, and chocolate curls from Olive Nation.
*Note: I use Olive Nation black walnut extract. I love their extracts because they are so natural tasting. You may wish to adjust the extract amount to taste if you use a different brand. I also used their chopped walnuts and chocolate curls. If you order from their website, you can get 20% off with the code AB20 for Amycakes Bakes readers. 🙂
🥣 Instructions
As you can see, you'll be using simple ingredients to create this delicious chocolate walnut cake. The full details and ingredients list are available in the recipe card below, so be sure to print it for later!
In a large mixing bowl, whisk together the dry ingredients. In a separate bowl, whisk together the wet ingredients.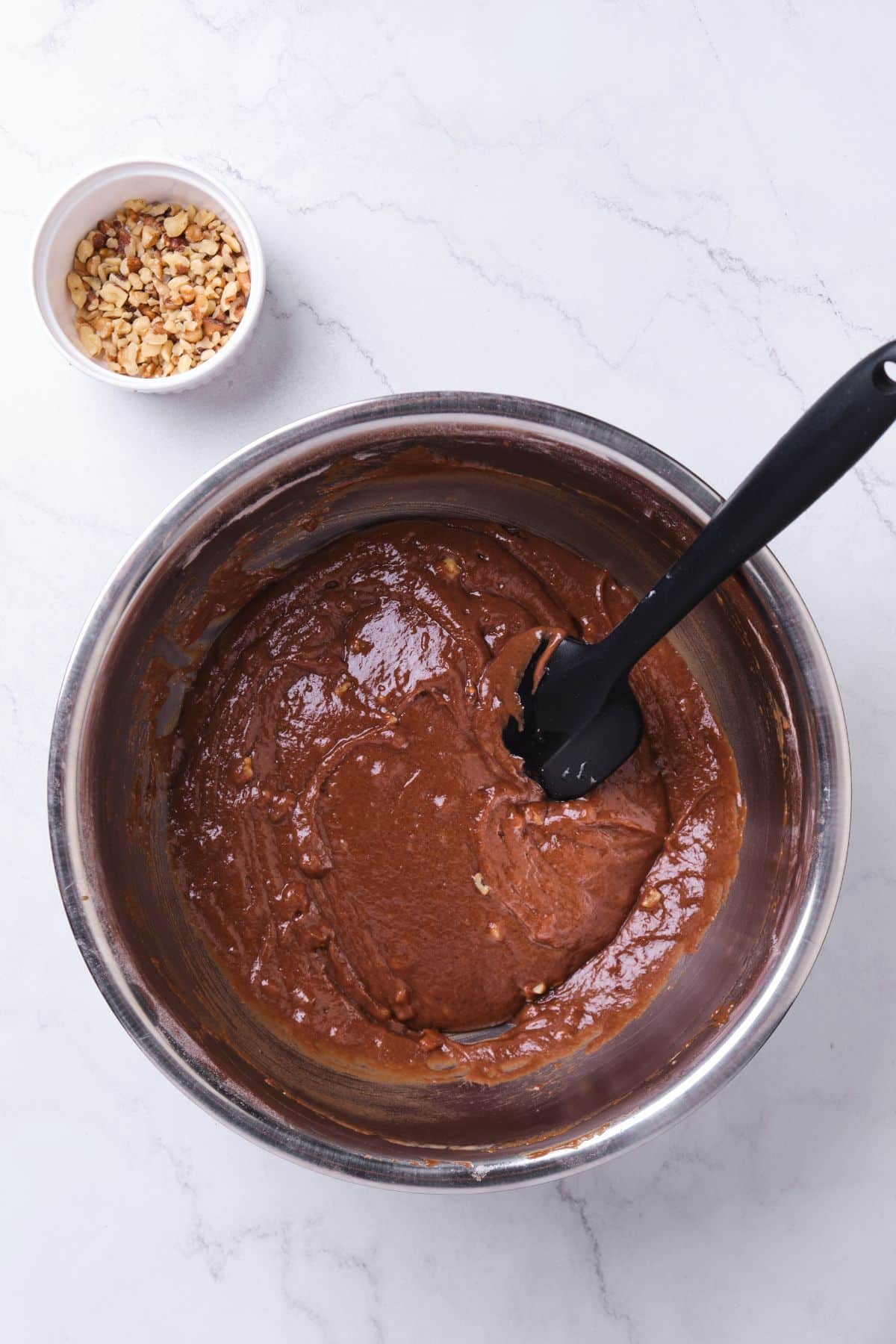 Gradually mix the flour mixture into the wet ingredients. Right before baking, whisk in the vinegar to activate the leavening agents. Then, whisk in the melted butter. Fold the chopped walnuts into the cake batter.
Pour the batter into a prepared pan and bake!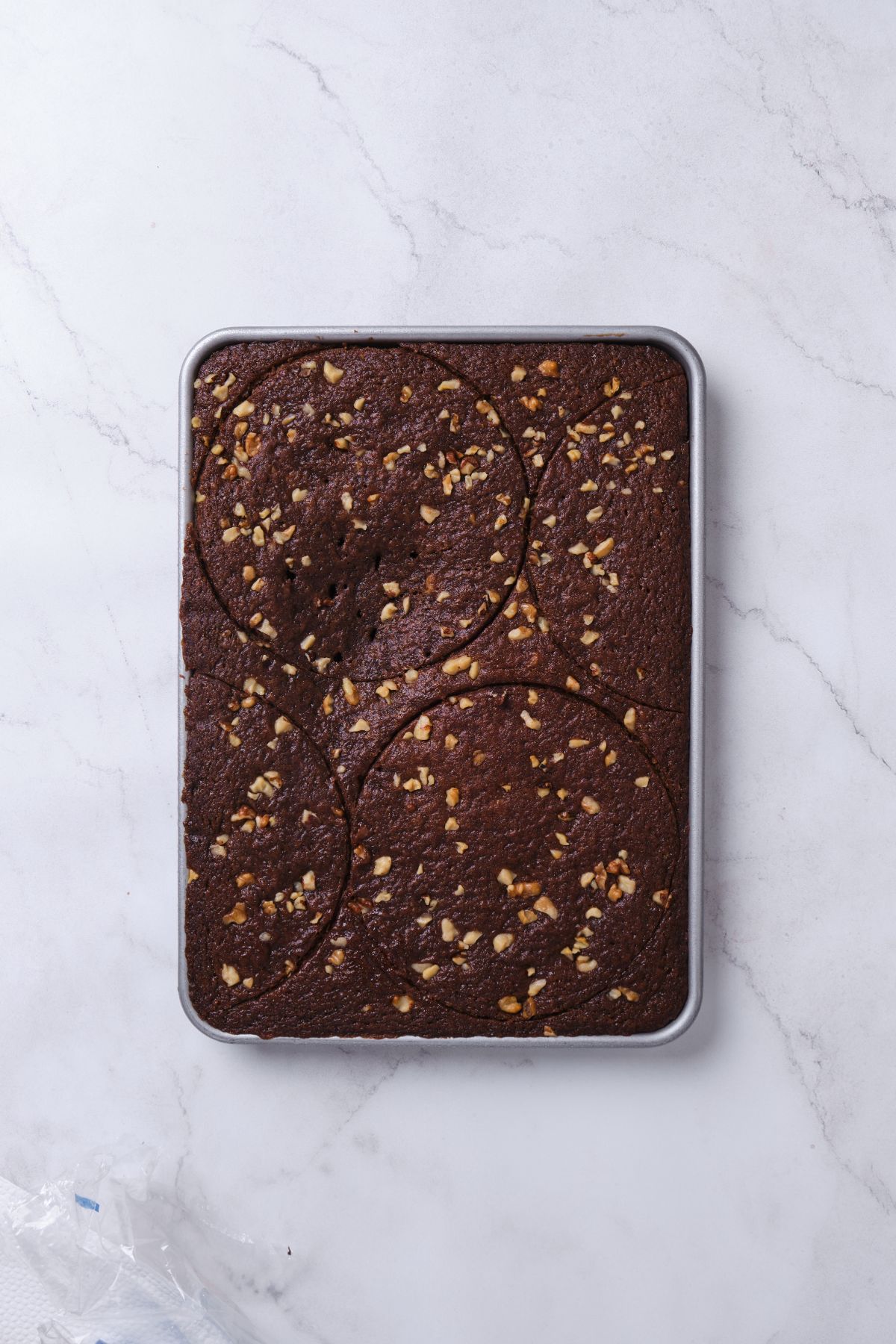 Once baked, let the cake cool and chill for a couple of hours for easy cutting and decorating.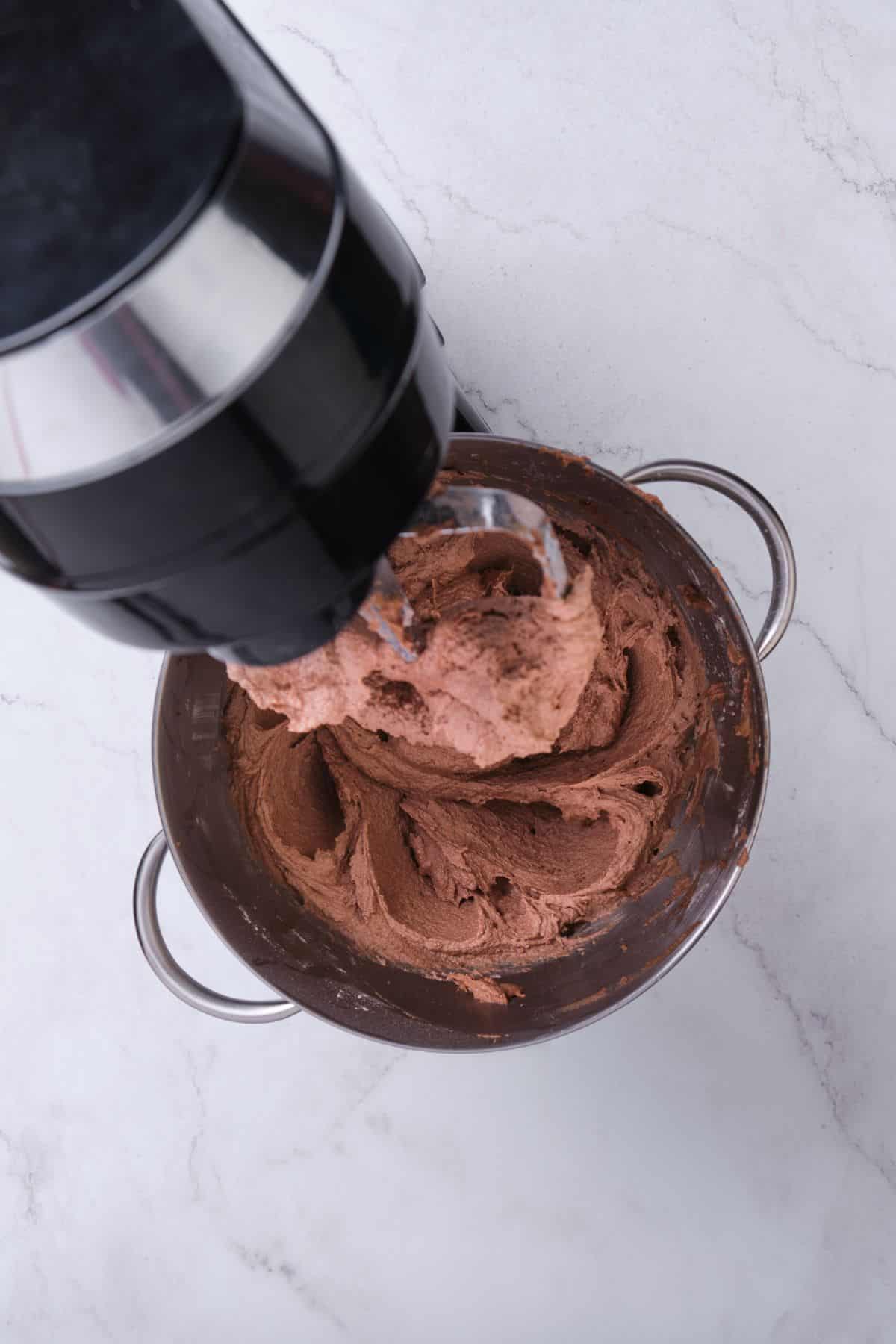 Prepare the frosting by whipping the ingredients together until light and fluffy.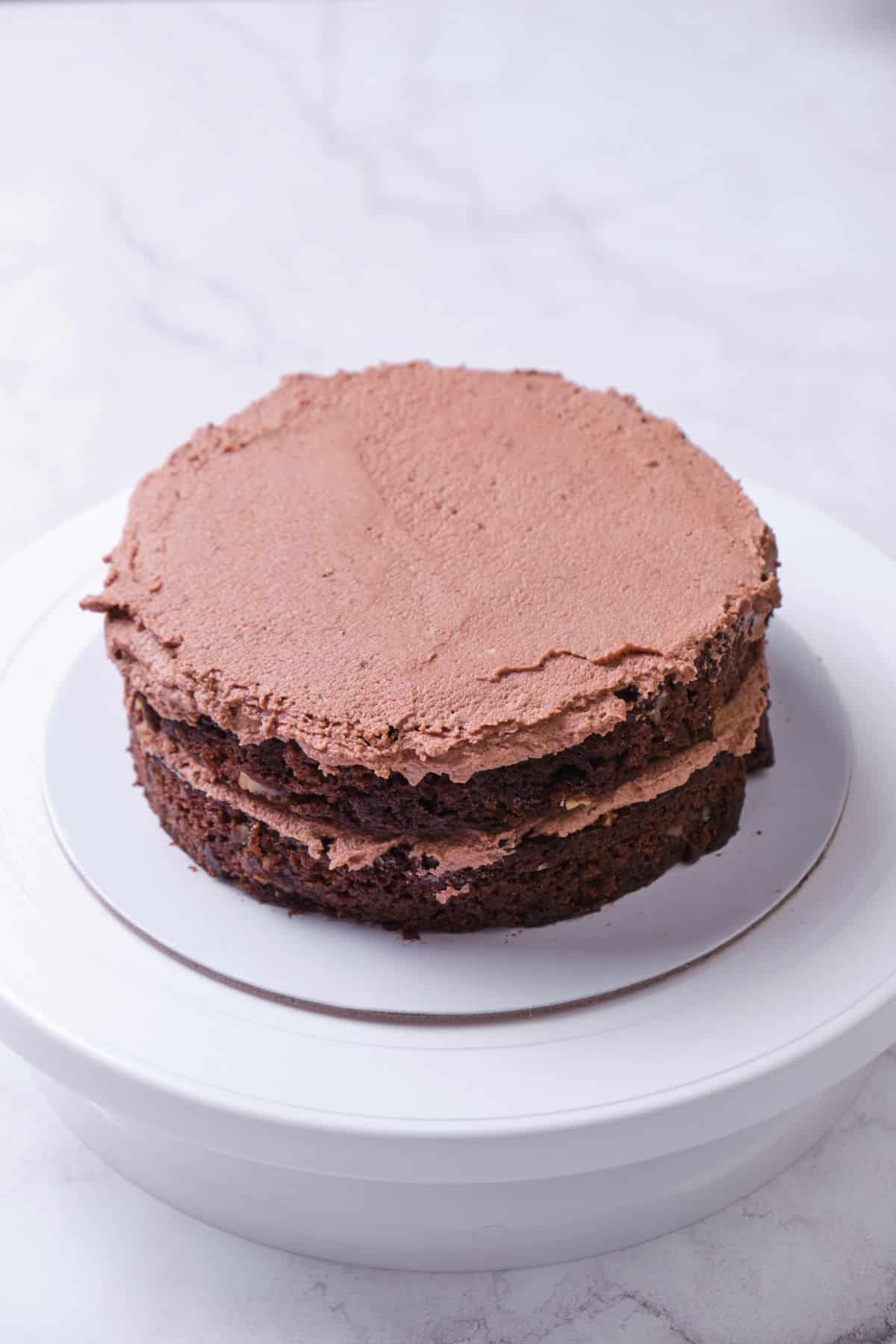 Cut and stack the cake layers with the creamy buttercream in between each layer.
Frost the entire cake and add swirls of leftover frosting, chopped walnuts, optional chocolate curls, or a chocolate drizzle to the top of the cake. Serve and enjoy!
🎥 Video
Watch how easy this chocolate walnut cake recipe is to make and how MOIST that cake slice is in the quick video below. The video below is sponsored by Olive Nation.
🧁Variations
If you'd like to add another layer of flavor to this cake, try these delicious variations!
You can leave the walnut extract out and add 1 teaspoon of cinnamon to the dry ingredients (in a 1x batch) to make a chocolate cinnamon walnut cake.
For a milder walnut flavor, omit the walnut extract. I then recommend using brewed coffee in place of the water in the cake batter, and add 1 Tablespoon of brewed coffee to the buttercream. This does not add a strong coffee flavor, but it really complements the walnut and chocolate combination.
You can use chopped pecans or a different type of nut.
You could also add a tablespoon of espresso powder or instant coffee, a half cup of bittersweet chocolate chips, or use dark chocolate cocoa powder for a deeper flavor.
A 1x batch of this recipe can make the following options:
A 6" 3-layer cake cut from a ¼ sheet pan of cake with cake rings (as described within the recipe card)
18 cupcakes (use a 2-oz scoop or ¼ cup of batter per cupcake)
A 4-layer 6" round cake (using four 6" round pans)
A short 2-layer 8" round cake (using two 8" round cake pans)
A shorter (Texas-style) small sheet cake (using a ¼ sheet pan)
🧊 Storage
My cake recipes are super moist, especially when eaten at room temperature. You can leave leftover cake slices out for up to 24 hours, but after that, it's a good idea to pop any in the fridge in an airtight container. If you don't plan on eating them within a few days, I recommend freezing the cake to keep it fresh.
You can also freeze the cake for up to two weeks before putting the layers together, and it's fine to make the buttercream 2-3 days ahead and store it in the fridge. Just remember to let it get back to room temp before using it!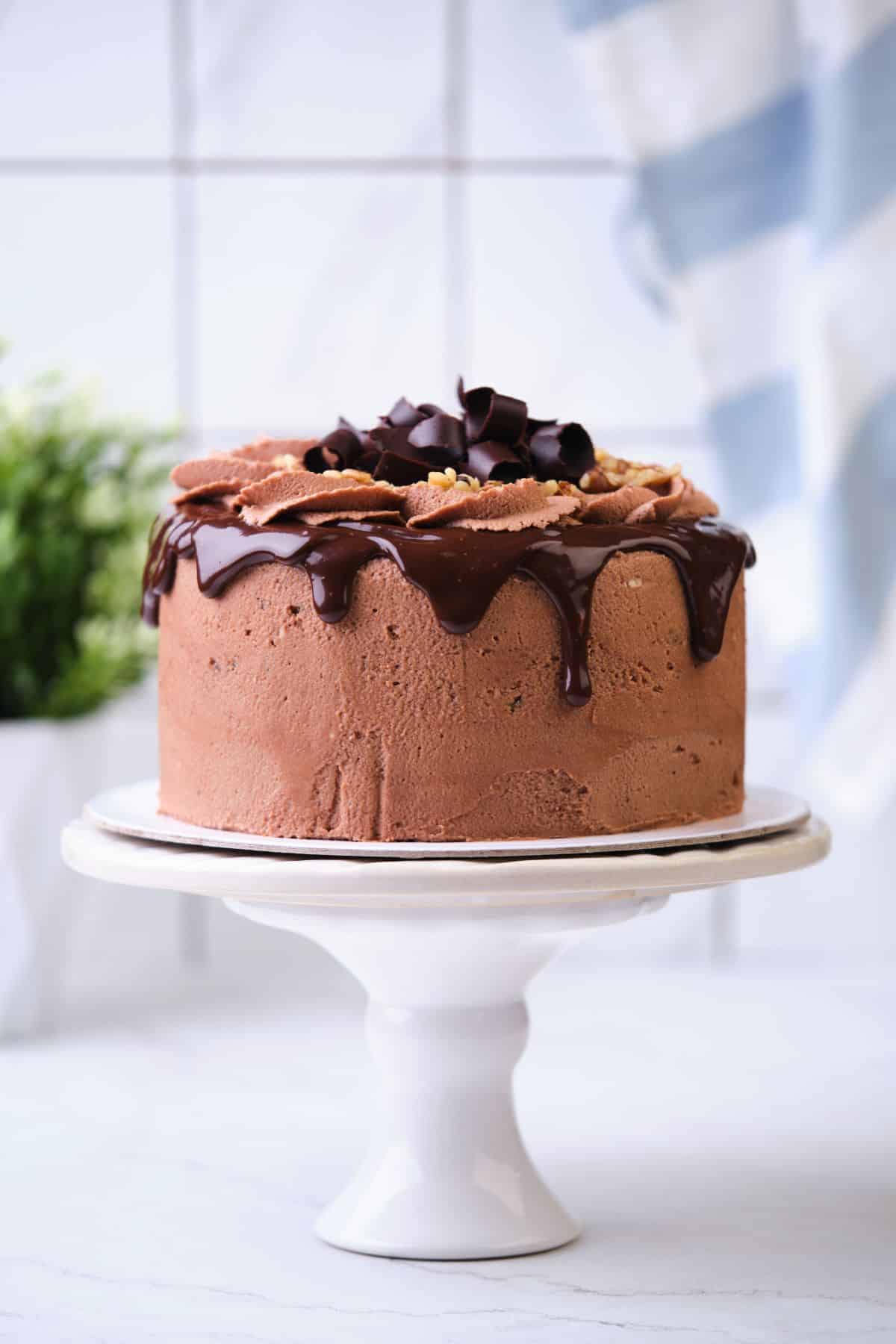 💭 FAQ
What's the difference between black walnut and regular walnut?
Have you ever wondered why there's such a thing as black walnut ice cream or why you'd use black walnuts over any other type of walnuts?

In a nutshell, black walnuts are a special type of wild walnut with a bold, strong nutty flavor. They're robust enough to stand up to the rich chocolate flavor in this chocolate walnut cake and are such a special flavor!
How do you make chocolate cake with walnuts?
There are a few different ways to make a chocolate cake with walnuts. The most popular method, and the one described in this recipe, enhances a simple chocolate cake recipe with walnut extract and chopped nuts.

There's also an Italian version of this cake called Torta di Noci that incorporates ground walnuts into the cake batter. This is truly a classic flavor combination that deserves a little more love and attention!
Do I have to use vegetable oil?
If you really want a moist cake, I highly recommend using vegetable oil in this cake. It helps give it the perfect density without being too heavy or too dry. Learn more about how to make moist cakes every time with these professional baking tips. Try these suggestions the next time you test out new recipes!
More Chocolate & Nutty Cake Recipes
These are some more extra moist layer cake recipes that I think you'll love:
Did you make this chocolate nut cake? Tag @amycakesbakes in your photos on Instagram. Don't forget to subscribe for all the bakery recipes for my moist cakes, pies, and cookies!
Thanks for Reading. ❤️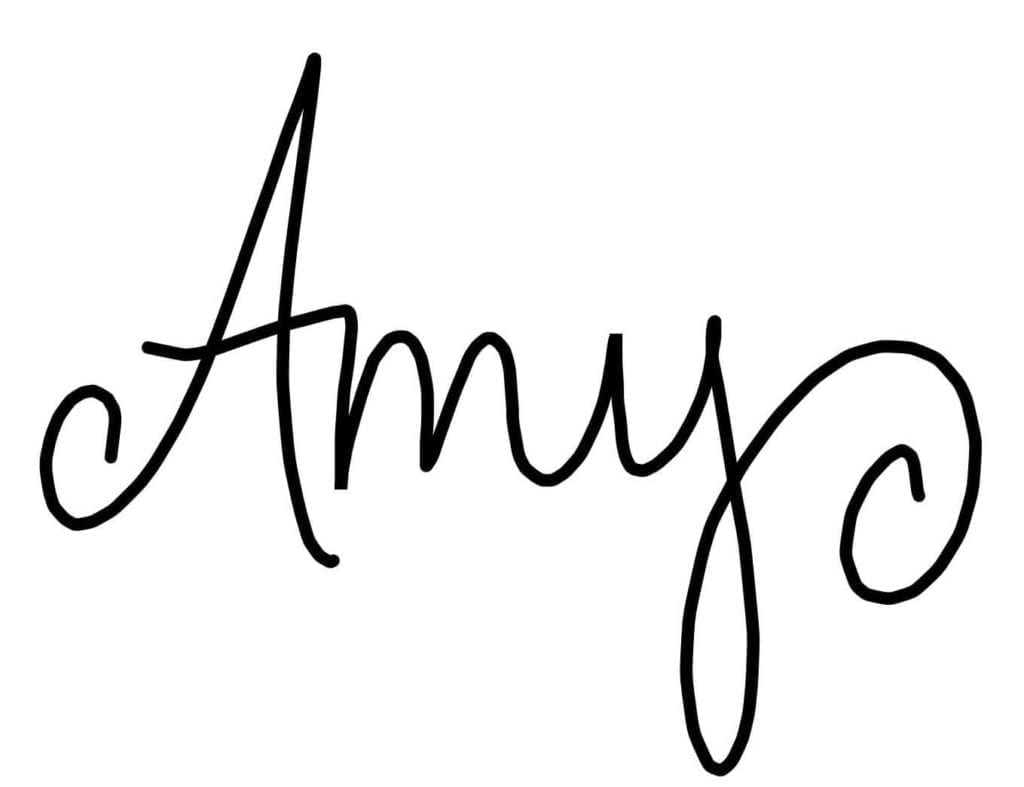 📖 Recipe
Chocolate Walnut Cake (moist and soft)
This milk chocolate walnut cake is buttery, moist and soft with a hint of black walnut extract and delicious texture from crunchy walnuts. It's frosted with a creamy milk chocolate walnut buttercream frosting.
A 1x batch yields 1 
6" three-layer cake
, and a 2x batch yields 1 
8" three-layer cake
 cut out with cake rings using the 
Cut and Stack Method
. Or choose a different pan size by visiting 
my recommended cake pan chart.
👩‍🍳 For the most accurate baking results, use the grams measurements with a kitchen scale.
Watch the quick recipe video
Ingredients
Dry Ingredients
177 grams (1 ¼ cups + 1

Tablespoon)

All-Purpose Flour

(I use Gold Medal)

1 ½

teaspoons

Baking Powder

1

teaspoon

Baking Soda

¾

teaspoon

Salt

2

Tablespoons

instant clearjel

15 grams (3

Tablespoons)

Unsweetened Cocoa Powder

(I use Hershey's)

100 grams (½

cup)

Sugar

170 grams (¾ cup

packed)

Brown sugar
Wet Ingredients
2

large

Eggs

¾

cup

Buttermilk

¼

cup

water or brewed coffee

(I like the brewed coffee for a slightly richer chocolate flavor.)

¼ cup + 3

Tablespoons

Vegetable Oil

1 ½

teaspoons

Vanilla Extract

2 teaspoons

Black Walnut Extract

(I use Olive Nation)
Other Cake Ingredients
1

teaspoon

Apple Cider Vinegar

¾ stick(s) (3

ounces)

Salted Butter

¾

cup

walnuts

(chopped small (measure after chopping))
Milk Chocolate Walnut Buttercream Frosting and Decorations
4

ounces

cream cheese

1 ½ sticks (6 ounces)

salted butter

48 grams (¼ cup)

butter flavored shortening

455 grams (3 ½ cup)

powdered sugar

2

Tablespoons

Unsweetened Cocoa Powder

1

Tablespoon

instant clearjel

1

Tablespoon

Pure Vanilla Extract

½

teaspoon

Black Walnut Extract

(I use Olive Nation)
Cake Decorations (optional)
Walnut Pieces or Halves

Chocolate Curls
Instructions
Bake the Chocolate Walnut Cake
Preheat oven to 325 degrees. Line a 1" tall

¼

sheet pan with parchment paper, then lightly spray the bottom (on top of the parchment) and sides of the pan with nonstick cooking spray.

Using a sifter or fine mesh strainer, sift the Dry Ingredients except for the brown sugar into a large bowl, then whisk until well blended. Add the brown sugar and continue to whisk, breaking up any brown sugar lumps with your fingers if needed. Combine Wet Ingredients in a separate large bowl and whisk until smooth and well-blended.

Pour the Wet Ingredients over the Dry Ingredients, then immediately (before stirring) add in the apple cider vinegar. Whisk everything together--the apple cider vinegar will bubble slightly as it reacts with the wet and dry ingredients. Pour the melted Butter into the batter and whisk until smooth, uniform and lump-free.

Reserve about 3 Tablespoons of chopped walnuts, then fold the remaining chopped walnuts into the cake batter. Pour the chocolate walnut cake batter into the

¼

sheet pan and smooth out the batter until even (an offset icing spatula works well for this). Sprinkle the remaining 3 Tablespoons of chopped walnuts evenly over the cake batter.

Bake on the middle or top rack (avoid bottom rack) of the preheated 325-degree oven for 22-26 minutes, or until a toothpick or paring knife comes out clean (watch closely towards the end of baking). A couple of moist crumbs on your knife are fine, but they shouldn't look wet. Some ovens may require a longer baking time, and 2x batches may take a few more minutes in the oven.

The delicate cake will be easiest to layer from cold or frozen--allow the cake to cool, then wrap the cake in the pan thoroughly in plastic wrap. Freeze the cake in the pan for at least 2 hours or up to 2 weeks ahead of time (brush the cake with simple syrup if freezing for more than a couple of days--see Note #2).
Make the Chocolate Walnut Buttercream Frosting
Whisk the powdered sugar and Cocoa Powder and Instant Clerajel together until well-blended. Set aside.

Using a stand mixer (preferred) or handheld mixer and a large bowl, beat the cream cheese until broken up and softened.

Add the room temperature salted butter and continue to beat until there are no lumps, scraping the sides of the bowl as needed.

Add the butter flavored shortening and beat and scrape the sides until the mixture is smooth without lumps.

While the mixer is on low, slowly add the powdered sugar mixture.

Add the pure vanilla and black walnut extract. Scrape down the sides of the bowl. Then beat the buttercream on high for two-three minutes. This will add air into the buttercream and make it light and fluffy. The Instant Clearjel will cause the buttercream to thicken slightly during the next 10 minutes as it sits.
Layer, Decorate, and Serve
The easiest way to layer this chocolate walnut cake is to layer it from frozen the day before you plan to serve it. If serving the cake the same day you are layering it, use refrigerated cake layers instead of frozen. Cut the cake layers with cake rings as described in How to Bake and Layer Cakes Like a Pro.

Layer the cake with the chocolate walnut buttercream. An offset icing spatula (I use the small and medium-size on all my cakes) helps with this. Repeat with the second cake layer. The remaining cake scraps can be used for delicious chocolate walnut cake truffles if desired.

I recommend frosting a thin crumb coat of buttercream on the outside of the cake which will catch all the crumby edges, then allow it to set up in the freezer for about 10 minutes until the buttercream is firm, before adding the final coat of milk chocolate buttercream.

Microwave the prepared chocolate ganache until thin, and drizzle down the sides of the cake using a spoon or squeeze bottle. The remaining chocolate walnut buttercream can be used to pipe rosettes with a 1M star tip and disposable piping bag. Decorate the cake with chopped walnuts or walnut halves and chocolate curls.

You can let the cake set up in the fridge, but remove it from the fridge 2-3 hours before serving so it can come back to room temperature (avoid warm temperatures). This delicious chocolate walnut cake has the best texture at room temperature. Enjoy!
Print Recipe