Last Updated on October 22, 2021. This post may contain affiliate links to products I use, love or recommend. That means I may receive a small commission on products you purchase through my links at no cost to you. As an Amazon Associate, I earn from qualifying purchases. Please see my Disclosure Policy for more details. Thank you for your support, which allows me to continue to create content for this website.
This extra-moist strawberry cake melts in your mouth with a deliciously fresh and natural strawberry flavor. It's paired with a creamy and light strawberry buttercream that dreams are made of. Made with 12 ounces of strawberries, it's like biting into a fresh strawberry in cake form!
What do I mean when I say extra-moist? I talk about this in Seven Secrets to Baking Incredibly Moist Cakes Every Time. The cake and frosting meld into one at every bite with the softest texture that stays moist for days. That's the type of cake we were known for at Amycakes Bakery, and Fresh Strawberry Cake was one of my most requested recipes.
How to Make a Strawberry Cake with a Strong Strawberry Flavor
This scratch-made strawberry cake recipe is made without any artificial flavors, so the natural strawberry flavor really shines through. So what's the secret to the strong flavor? It's thanks to three things:
1. Frozen Unsweetened Strawberries
That's right, frozen! I wish we all had access to the ripest fresh fruit from our garden or farmer's market, but often the fruit we want to use is not in season, or we don't have it stocked in our fridge. And at Amycakes Bakery, consistency was one of our main priorities. Most high-quality frozen fruits are flash-frozen from fresh when they are at their peak ripeness. This means you may actually get a better flavor for your cakes with frozen strawberries than out-of-season or less flavorful berries at your grocery store! It also saves time because they are already washed and sometimes sliced. Just be sure to get frozen fruit that is just the fruit and has no added sugar. I keep frozen strawberries in my freezer at all times so I'm stocked and ready to go.
2. Natural or Pure Strawberry Extract
Natural Strawberry Extract really enhances the flavor of this cake. Not all strawberry extracts are created equal, and we want to make sure the extract is listed as pure or natural–If it's neon pink in color, there's a good chance or it will have an artificial aftertaste. Instead, we want a natural real berry flavor that will heighten the taste of our cake batter and buttercreams. I've used Olive Nation's Natural Strawberry Extract since the beginning at Amycakes Bakery. It's sold on amazon or you can also order directly from Olive Nation–use the code AB20 for 20% off extracts for Amycakes Bakes readers. If you use a different brand of extract, you may need to adjust the amount to taste–it's always better to start off with less than you need, then add more extract if you think the flavor needs to be stronger.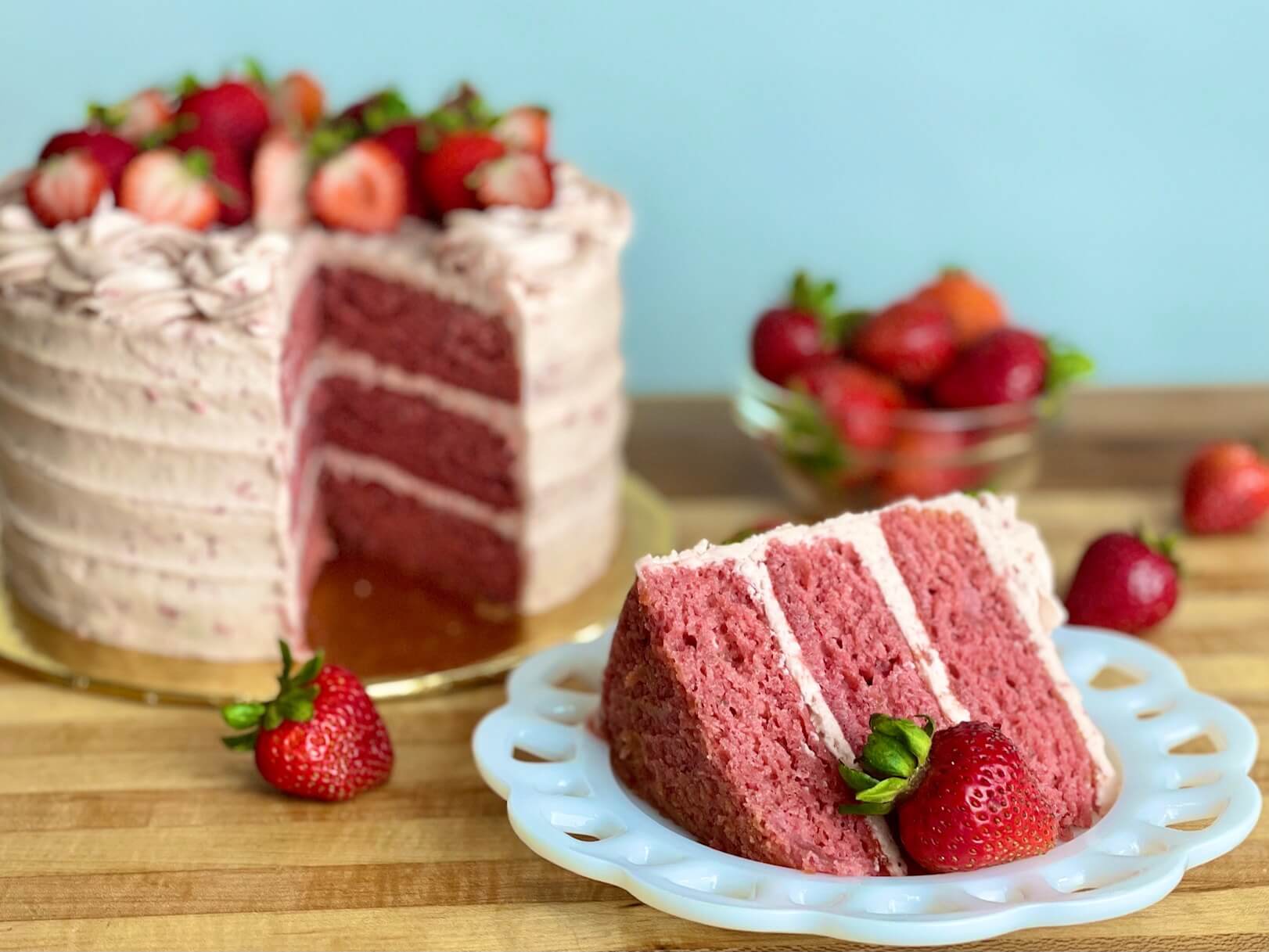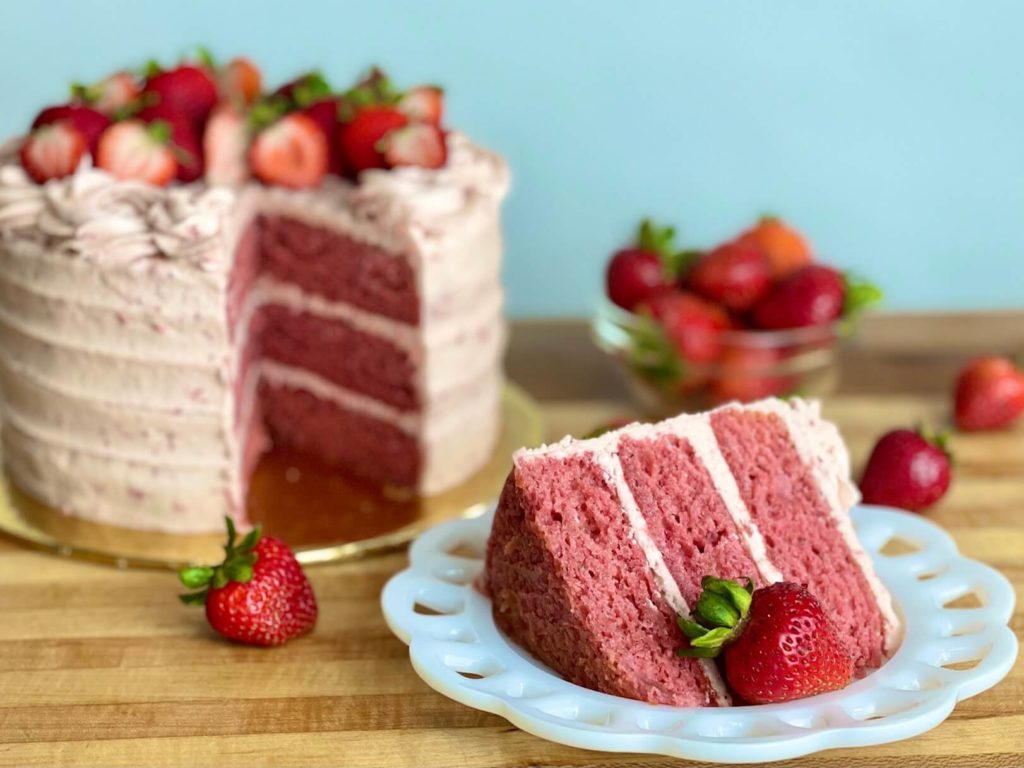 3. Fresh Strawberry Compote
A compote makes a delicious cake filling, but we are using it in this recipe to achieve a strong strawberry flavor and to add extra moisture to our cake. A compote is a filling or sauce made from fruit that's been cooked over the stove. By cooking the strawberries down slightly their flavor intensifies. We spend a bit more time in the beginning, but it's totally worth it.
We'll be adding the cooled strawberry compote into the cake batter and the strawberry buttercream. I'm generally more of a cake over buttercream kind of gal, with the frosting a delicious compliment to the star of the show. But with this frosting… I could eat it by the bowl.
Bake the Strawberry Cake in a Sheet Pan
I recommend using the Cut and Stack Method on my cake recipes–it saves so much time to bake the cake in a sheet pan, then cut out the cake layers with cake rings. You can cut out a three-layer 6″ cake, or double the recipe to make an 8″ cake like the strawberry cake I make in my Strawberry Cake recipe video, (or with a double recipe you could cut out up to six 6 inch cake layers to make an extra tall 6″ cake or two 3-layer 6″ cakes–eat one now and freeze one for later!). Read more about the Cut and Stack Method, including why I recommend freezing my cakes, in How to Bake and Layer Cakes Like a Pro: 5 Easy Steps.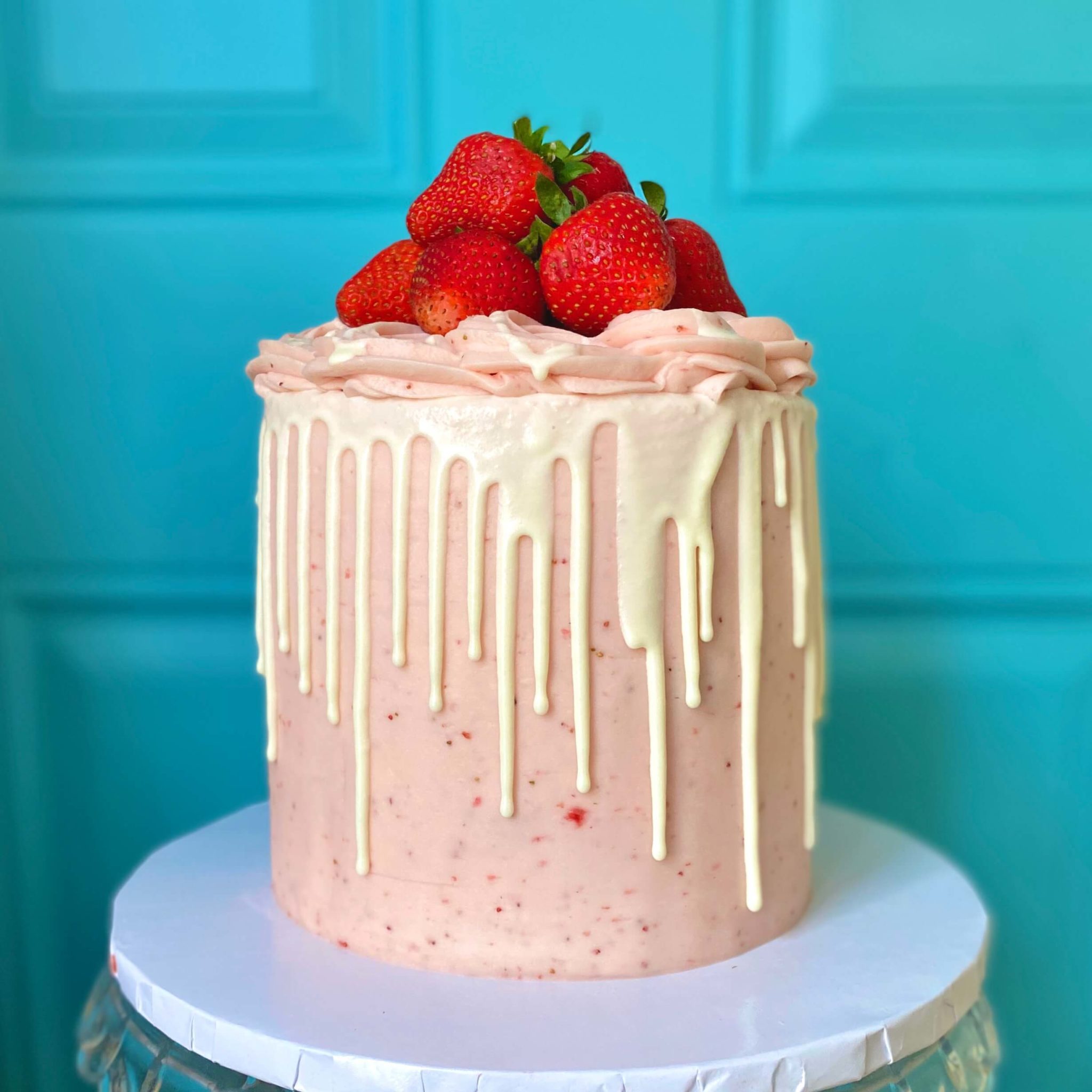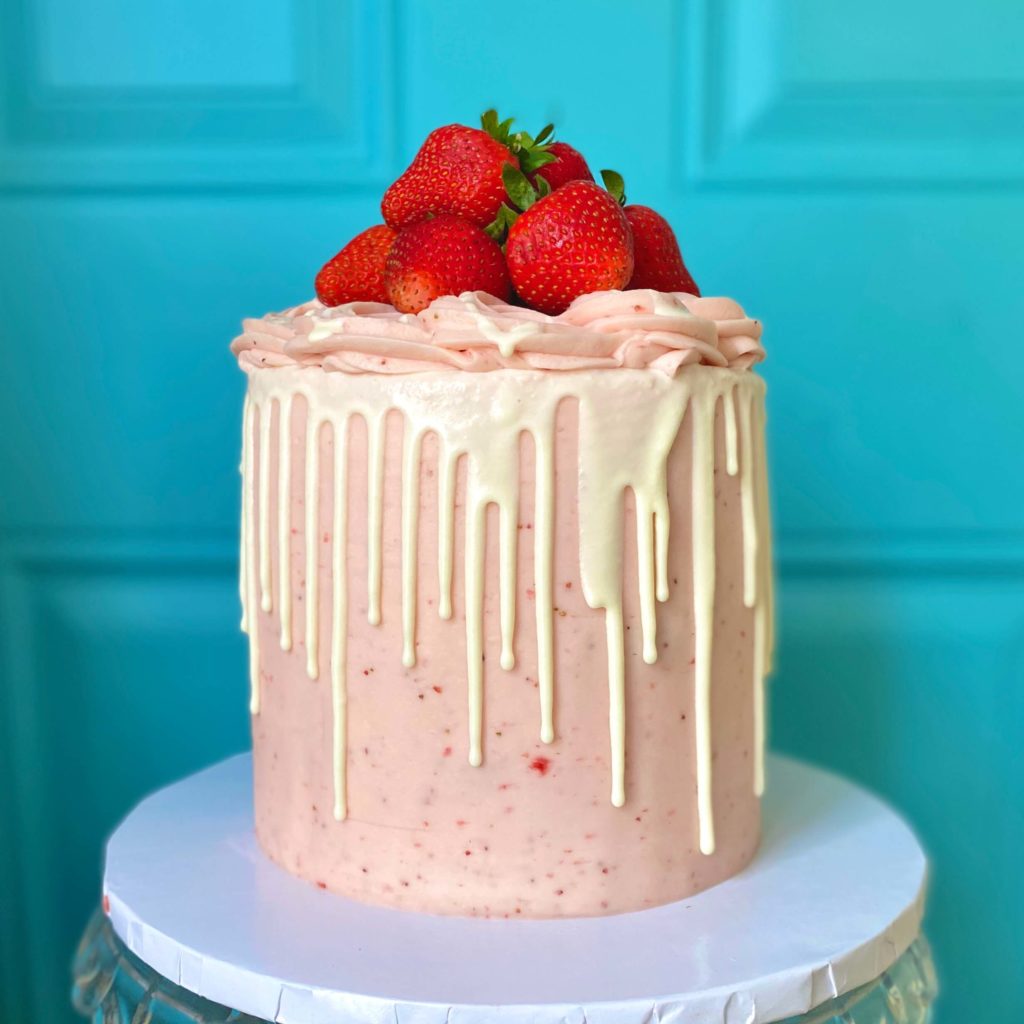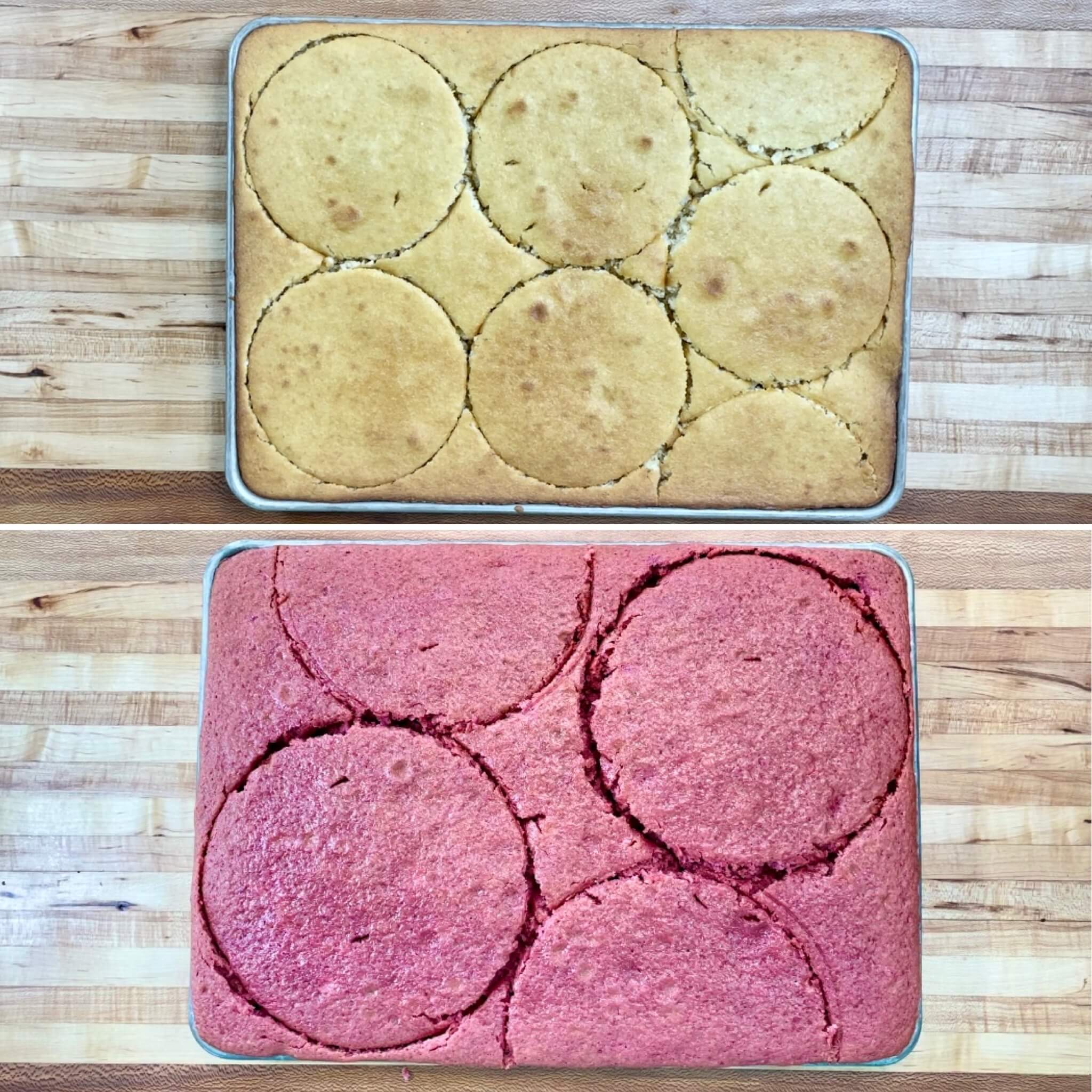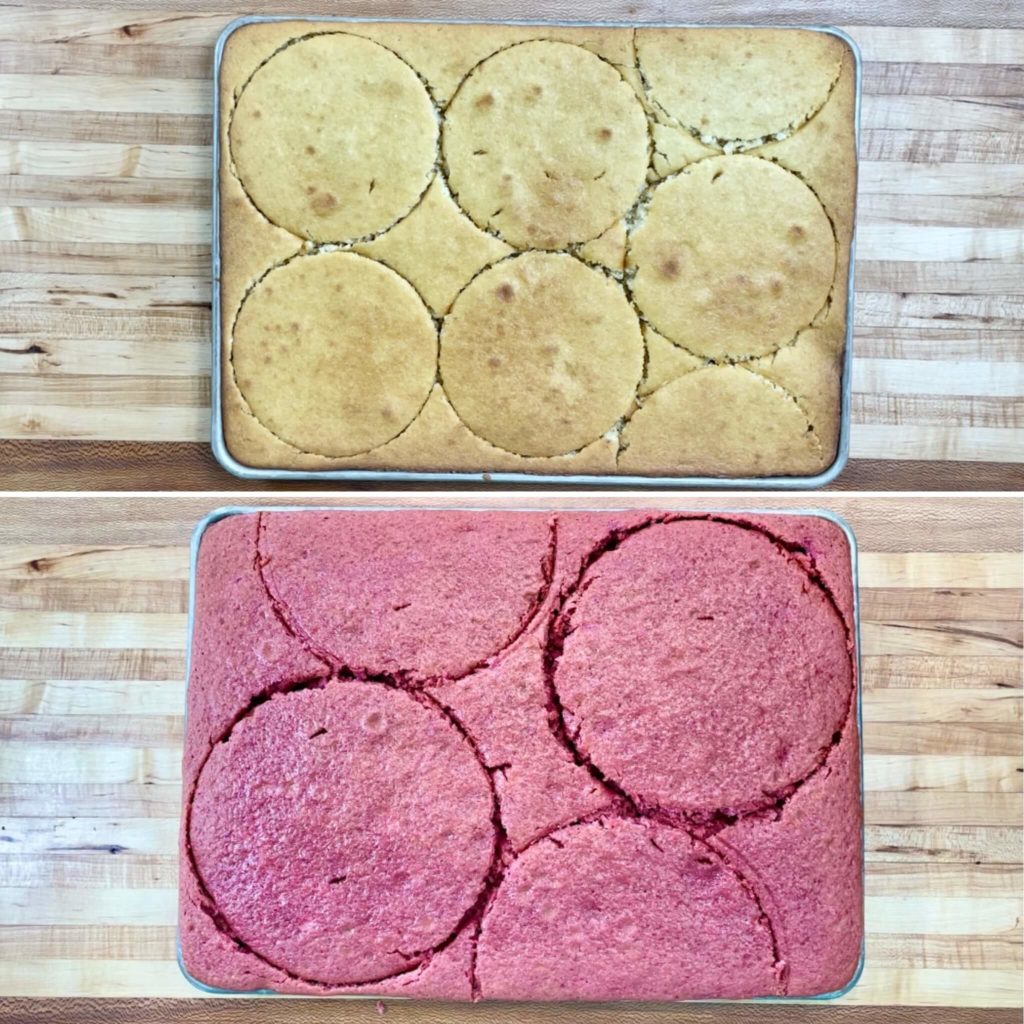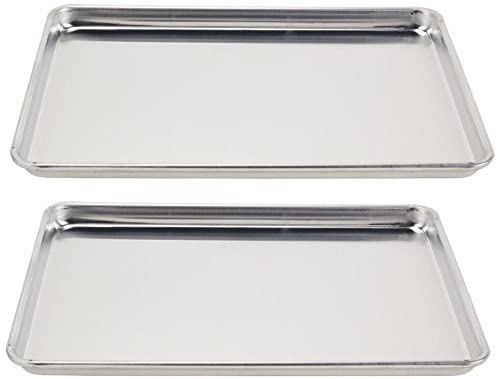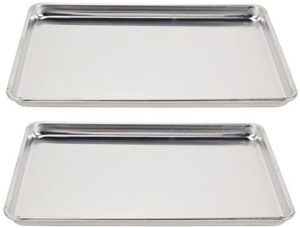 Instant Clearjel
Instant Clearjel (my favorite bakery secret) is an ingredient in all of my bakery-style cakes, and we'll be using it in the compote, cake batter and buttercream. I think this ingredient is a wonderful resource to have in your pantry as I describe in Instant Clearjel: a Magical Bakery Ingredient, but if you're in a pinch, you can read over my recommended Instant Clearjel Substitutes.
This cake batter is made with the Two-Bowl method like my Triple Chocolate Ganache Cake. That means no mixer is required for the cake portion of this recipe! Once you have your strawberry compote and strawberry puree made, the batter will come together quickly.
⭐ Serving and Storing Amycakes Bakes Cakes ⭐ 
Nearly all of my cakes are best at room temperature! They'll still taste yummy out of the fridge, but will be firm and a different texture due to all the yummy butter in the cake and buttercream.  I want to make sure you enjoy the soft and moist cake texture that is intended by eating the cake at room temperature cake.  You can refrigerate the cake after decorating it, but allow it to come back to room temperature 2-3 hours before serving. (Keep in mind the buttercream can melt in warm conditions). I keep my leftover cake out of the fridge for up to 24 hours, but I'll refrigerate or freeze anything that won't get eaten within that time.  
I can't wait to hear what you think of this recipe! If you try it, please tag me @amycakesbakes on social media, or snap a photo, I'd love to see your cakes! Comment below with any questions, and don't forget to rate the recipe! 🙂 Thank you for your continued kind words and support as I share my Amycakes Bakery recipes–it's been a lot of fun.
Thanks for Reading. ❤️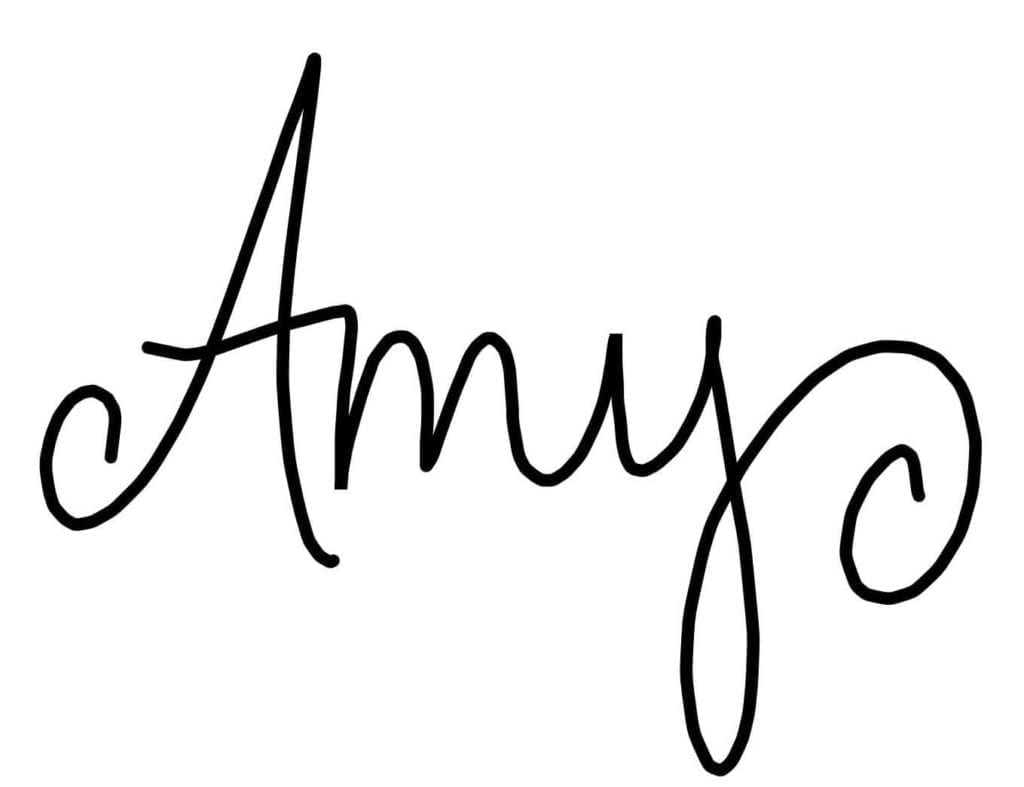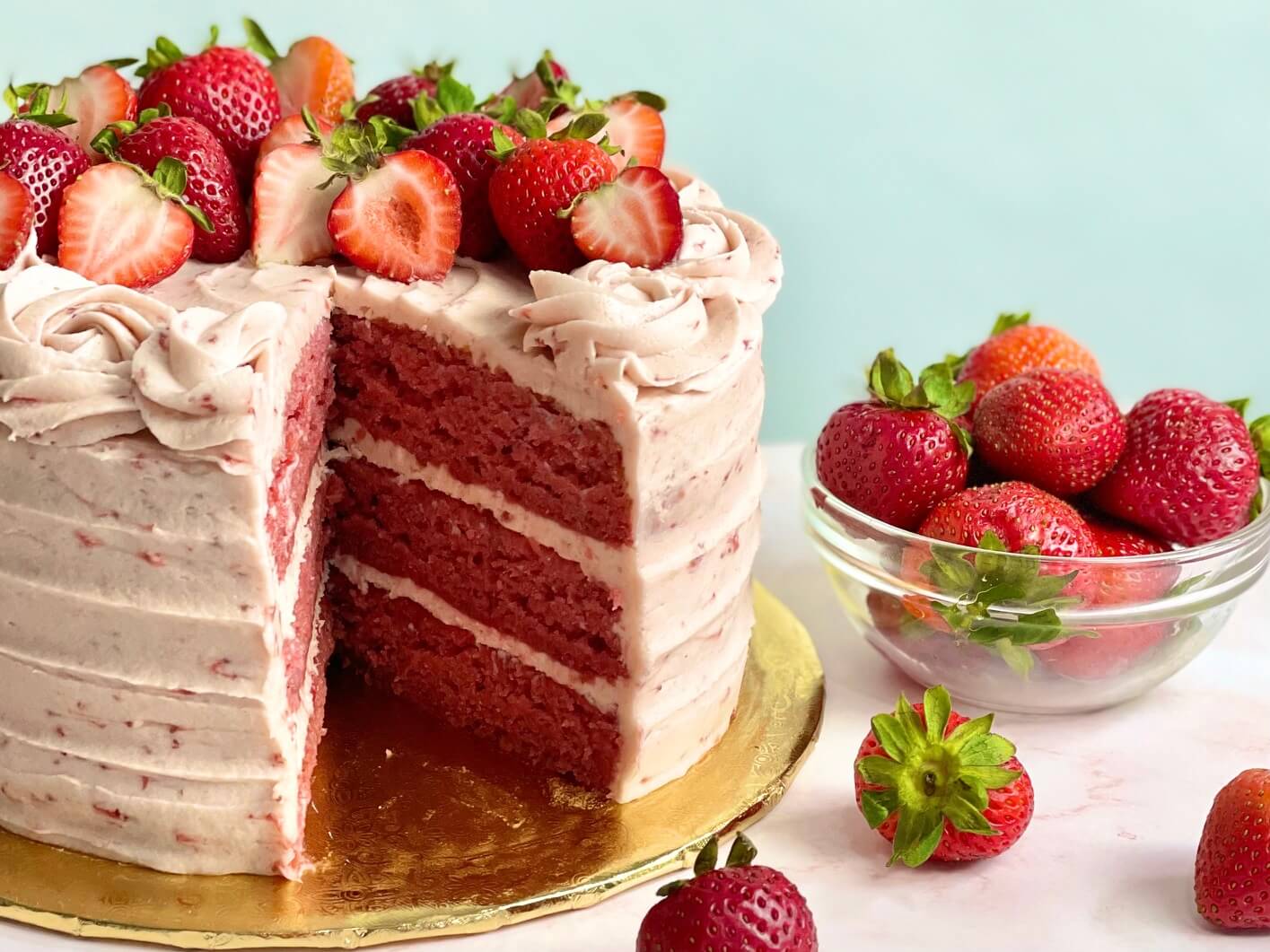 The Ultimate Fresh Strawberry Cake
This secret bakery recipe melts in your mouth with a deliciously fresh and natural strawberry flavor. The extra-moist strawberry cake is paired with a creamy and light strawberry buttercream that dreams are made of. Made with 24 ounces of strawberries, it's like biting into a fresh strawberry in cake form!
Bake it in a sheet pan using the Cut and Stack Method and cut out the cake in cake rings for a more even-bake and no dark edge. Or choose a different pan size by visiting Half-Batches and Cake Pan Options: Everything You Need to Know.
1x batch Yields: 1 6" three-layer cake cut out with cake rings using the Cut and Stack Method.
2x batch Yields: 1 8" three-layer cake cut out with cake rings using the Cut and Stack Method.
If you have a kitchen scale, please use it for the grams (g) listed in parenthesis next to each dry ingredient. If you don't have a scale, no worries!–just be sure to "spoon and level" your dry ingredients.
Watch the Recipe Video (I'm making a 2x batch):
Select "grams" if you have a
kitchen scale
for more accurate baking.
Ingredients
Butter
1 stick(s) (4

ounces)

Salted Butter
Dry Ingredients
1 ¾

cups

All-Purpose Flour

(I use Gold Medal)

1 ½

teaspoons

Baking Powder

1

teaspoon(s)

Baking Soda

¾

teaspoon

Salt

1

Tablespoon

Instant Clearjel

(See Note #1)

1

cup(s)

Sugar
Instructions
Make Strawberry Compote
Whisk Instant Clearjel and

31

g (

2 Tbsp +1.5 tsp

) Sugar together in a small bowl. Set aside.

Combine Frozen Strawberries,

38

g (

3

Tbsp) Sugar, and Lemon Juice in a nonstick skillet or saucepan.

Cook on Medium heat until strawberries are fully thawed and liquid begins to simmer. Using a sturdy spatula, break apart the strawberries and cut them into very small pieces (around 1/4 inch pieces) as the strawberries simmer. The strawberries should be soft enough that they are easy to cut with the spatula. Continue cooking for about 5 minutes or until the strawberries are softened and you are happy with their size.

Remove from heat and add the Instant Clearjel/Sugar mixture and stir in quickly. The compote will thicken immediately, and continue to thicken as it cools. Reserve

1/2

cup (

118

g) prepared compote for the cake batter, another

1/2

cup (

118

g)for the frosting, and the remaining approximate heaping

1

Tbsp for layering the cake. If you make the compote in advance, keep refrigerated until using.
Make Strawberry Cake
Preheat oven to 325 degrees. Line

1/4

sheet pan with parchment paper, then spray the bottom (on top of the parchment) and sides of the pan with cooking spray.

Heat the Salted Butter in the microwave in a microwave safe dish until just melted.

Make strawberry puree by heating the

3

oz (

3/4

cup) Frozen Strawberries until thawed in the microwave. Then puree the thawed strawberries in the food processor until it's a smooth puree. It should make about

1/4

cup puree.

Combine the Strawberry Puree with the remaining Wet Ingredients in a large bowl and whisk until smooth and well-blended.

Using a sifter or fine mesh strainer, sift the Dry Ingredients into a separate large bowl. Whisk until well blended.

Pour Wet Ingredients into Dry Ingredients and whisk until incorporated. Pour Melted Salted Butter over batter and whisk in until incorporated. Add 1/2 cup Prepared Strawberry Compote and whisk until batter looks uniform and shiny.

Pour batter into the prepared sheet pan and smooth out batter until even (an offset icing spatula works well for this). The batter will be about 1/4 inch from the top of a 1" tall sheet pan. (You can also bake in round pans or sheet-cake pans–see Note #3).

Allow pan to set for 5-10 minutes before putting it in the oven. This will give time for the instant clearjel (or instant pudding mix) to thicken the cake batter before it bakes, allowing for a better rise.

Bake in the middle or top rack (avoid bottom rack) of a preheated 325-degree oven for 16 minutes. Without opening the oven, turn the temperature down to 300 degrees and bake for another 8-10 minutes. Check the cake at this point. See if it is done by lightly touching the top of the cake–try to avoid moving the cake pan or baking rack, which could cause an underdone cake to sink. If jiggly at all to your touch, bake for another 1-5 minutes. The cake is done when a toothpick or small paring knife comes out clean when quickly stuck in the cake. A few moist crumbs on your knife are fine, but they shouldn't look wet.

Allow cake to cool completely. To make a sheet cake, follow the Baker's Shortcut (Note #5), or choose your round cake size using the Cut and Stack method. Leave the cake in the sheet pan, and using a slight sawing motion, cut the cooled cake into your desired cake size with cake rings (You can use a knife and the cake rings as a guide for any halve pieces that you cut.) Brush lightly with simple syrup (optional, Note #4).

Wrap thoroughly in plastic wrap and freeze cake in the pan for 2 hours or overnight. (You can even bake the cake up to a week ahead of time and freeze). The cake will be much easier to layer if it is cold or frozen. To wrap the cake, place another sheet of parchment on top of the cake (this will prevent the plastic wrap from sticking to the cake), and wrap the whole pan with plastic wrap. (I pull the plastic wrap out and place the pan on top of it. Then I wrap two ways horizontally and one way vertically so that there are two layers of wrap on all sides of the pan including the bottom).
Make Strawberry Buttercream
Whisk the Powdered Sugar and Instant Clearjel together until well-blended. Set aside.

Using a stand mixer (preferred) or handheld mixer and a large bowl, beat the cream cheese until broken up and softened.

Add the room temperature salted butter and continue to beat, scraping the sides of the bowl as needed.

Add the shortening and beat and scrape the sides until there are no lumps.

While the mixer is on low, slowly add the powdered sugar mixture.

Add the

1/2

cup reserved Strawberry Compote, and beat on low until well blended. Add the strawberry extract and pure vanilla, then beat on high for a few minutes until light and fluffy. The Instant Clearjel will cause the buttercream to thicken slightly during the next 10 minutes as it sits.
Layer, Decorate, and Serve
The easiest way to layer the cake is to layer the cake from frozen the day before you plan to serve it. If serving the cake the same day you are layering it, use refrigerated cake layers instead of frozen.

Use your two half-circles of cake to make the bottom cake layer (fill in with scraps if needed to make a level surface). Before topping with buttercream, spread each cake layer with a thin layer of your remaining strawberry compote. This just adds a little moisture and flavor boost. Fill your cake layers with around 1/4 inch strawberry buttercream. An offset icing spatula (I use the small and medium size on all my cakes) helps with this. I recommend frosting a thin crumb coat of buttercream on the outside of the cake which will catch all the crumby edges, then allow it to set up in the freezer for about 10 minutes until the buttercream is firm. Read more in my article: How to Bake and Layer Cakes Like a Pro: 5 Easy Steps. Remaining cake scraps can be used for cake truffles, cake parfaits or trifles.

Spread a final layer of buttercream over your set-up crumbed cake, and decorate as desired. I used a small offset icing spatula to make a horizontal texture, then topped the cake with strawberry buttercream rosettes using a disposable piping bag and 1M star tip. Decorate the top of your cake with Fresh Strawberries.

You can let the cake set up in the fridge, but remove it from the fridge 2-3 hours before serving so it can come back to room temperature (avoid warm temperatures). This cake has the best texture at room temperature. Enjoy!
Notes
Notes for 2x batches (some of these won't apply if you are using the grams measurements):
3 tsp = 1 Tbsp
4 Tbsp = 1/4 cup
Read my article Instant Clearjel: a Magical Little-Known Bakery Ingredient to see why I think this ingredient is worth having in your pantry.  Instant Clearjel must always be whisked thoroughly with other dry ingredients before added to wet ingredients to avoid clumping.  I have tested this recipe with the following Instant Clearjel brands: Prepared Pantry, Hoosier Hill Farm, and Ingredion (Make sure what you purchase is labeled as "Instant."  Cooktyle Clearjel is a different product that does not work the same in cakes).
If you use a different brand of Strawberry extract than Olive Nation, you may need to adjust the amount to taste–it's always better to start off with less than you need, then add more extract if you think the flavor needs to be stronger.
When baking cakes in a sheet pan, the cake bakes more evenly (flatter on top and with no dark edges), and you get to choose your cake size after baking!  With a 1x batch in a 1/4 Sheet Pan you can make a three-layer 6″ cake (two full rounds, one pieced round from two half-circles) or several little cakelets.  With a 2x batch in a 1/2 Sheet Pan you can make a three-layer 8″ cake (two full rounds, one pieced round from two half-circles), an extra tall six-layer 6″ cake (5 full rounds, one pieced round from two half-circles), TWO 3-layer 6″ cakes (eat one now and freeze one for later.  🙂 Or have a baking party with a friend and you each get a cake!) or several little Cakelets using a 4″ cake ring or 3″ or 2″ round cookie cutters.  You can also choose to bake in sheet-cake pans or round pans.  View the pan chart in the article Half-Batches and Cake Pans: Everything You Need to Know.  
Simple Syrup is optional, but I use it to seal in the moisture for cakes that will be refrigerated or frozen.  While the cake cools, make a simple syrup by combining 1 Tbsp water and 1 Tbsp sugar in a small microwave-safe bowl. Microwave until the sugar is dissolved after whisking, about 20-30 seconds.  You can also make a larger batch of this (1 part sugar to 1 part water) and keep it in the fridge if you're doing a lot of cake baking.  Always cut the cake with cake rings before brushing the cake brush simple syrup, to avoid the cake being too sticky when cut.
BAKER'S SHORTCUT:
Make a sheet cake or little Cakelets instead!  Once the cake is fully cooled, spread the buttercream on top and top with fresh strawberries for an easy sheet-pan cake.  For Cakelets, cut the cake into 4″ or 3″ rounds using cake rings or cookie cutters.   Stack two cakelets together with a layer of strawberry buttercream in between and on top (I use a piping bag and 1M star tip for this).  The cake will be soft and delicate when at room temperature, so if you have the time I recommend that after it cools, stick the cake in the freezer 10 minutes before cutting your Cakelets.  Serve at room temperature.
RECIPE UPDATES:
9-16-21: The original recipe was for an 8″ cake made in a 1/2 sheet pan.  All my recipes now start with small batches, so it is now a 6″ cake made in a 1/4 sheet pan.  Press the "2x" if you'd like to double the recipe for an 8″ cake in a 1/2 sheet pan.
Print Recipe