If you're worried about how to transport a wedding cake safely, never fear. It's a big job but one I've done hundreds of times. This guide will teach you the Dos and Don'ts of transporting a tiered cake to its final destination.
At Amycakes Bakery, our bakery recipes required extra care when transporting. We traveled with tiered wedding cakes, large and small, both short and long distances.
I am writing this post for those lucky souls who need to transport a wedding cake for a friend or family member. But if you're a baker preparing to deliver a homemade tiered wedding cake, these tips will apply to you, too. (I also recommend checking out How to Make Incredibly Moist Cakes Every Time).
Jump to:
Listed below are seven steps you can follow to ensure that your wedding transportation plans go smoothly.
1. 👩🏻‍🍳 Check with the baker for measurements and refrigeration requirements
Suppose you are transporting a tiered cake from a local baker or professional bakery. In that case, the first thing to do is to get their transportation recommendations! They may have steps specific to their cakes that are different than mine.
It would be best if you also found out the following from your baker:
What are the Measurements of the Cake?
By knowing the cake's dimensions, you can ensure your vehicle has enough room to transport the wedding cake. It will also help you plan ahead for fridge space, if necessary.
It's also a good idea to ask your baker how heavy the cake will be, so you'll know how many people to send when transporting it.
Does the wedding cake need to be refrigerated?
If yes, you'll need to check that the wedding venue has space in its refrigerator before you arrive. The butter from the buttercream can get too warm if the cake stays at room temperature for too many hours. This can cause your stacked cake to get too soft and not look nearly as nice as when you picked it up.
The yummy bakery buttercream could completely melt if it's an outdoor wedding.
Our wedding cakes at my bakery needed to be refrigerated until about 2-3 hours before serving. So if the venue doesn't have fridge space, you can time out the delivery time closer to the start of the reception.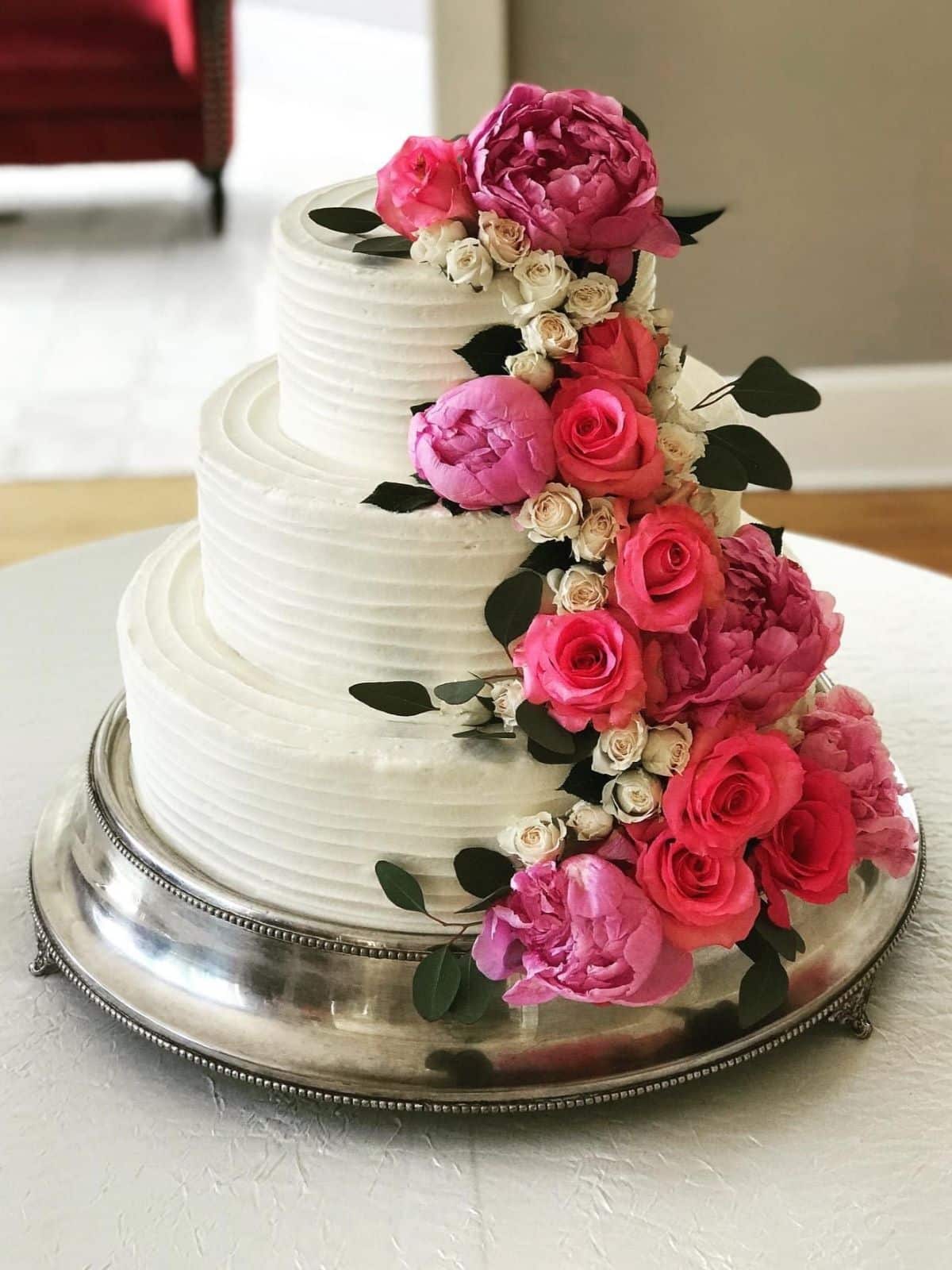 Check with the Venue
Wedding venues will often allow you to use their fridges for your wedding cake; many have large or commercial fridges. But you'll want to check with your venue on their fridge availability beforehand.
For larger cakes, you'll want to ensure the refrigerator is large enough (using those dimensions you got from your baker)!
Suppose your venue has no fridge room for a tiered wedding cake. In that case, you can look into multiple smaller cakes like a dessert bar.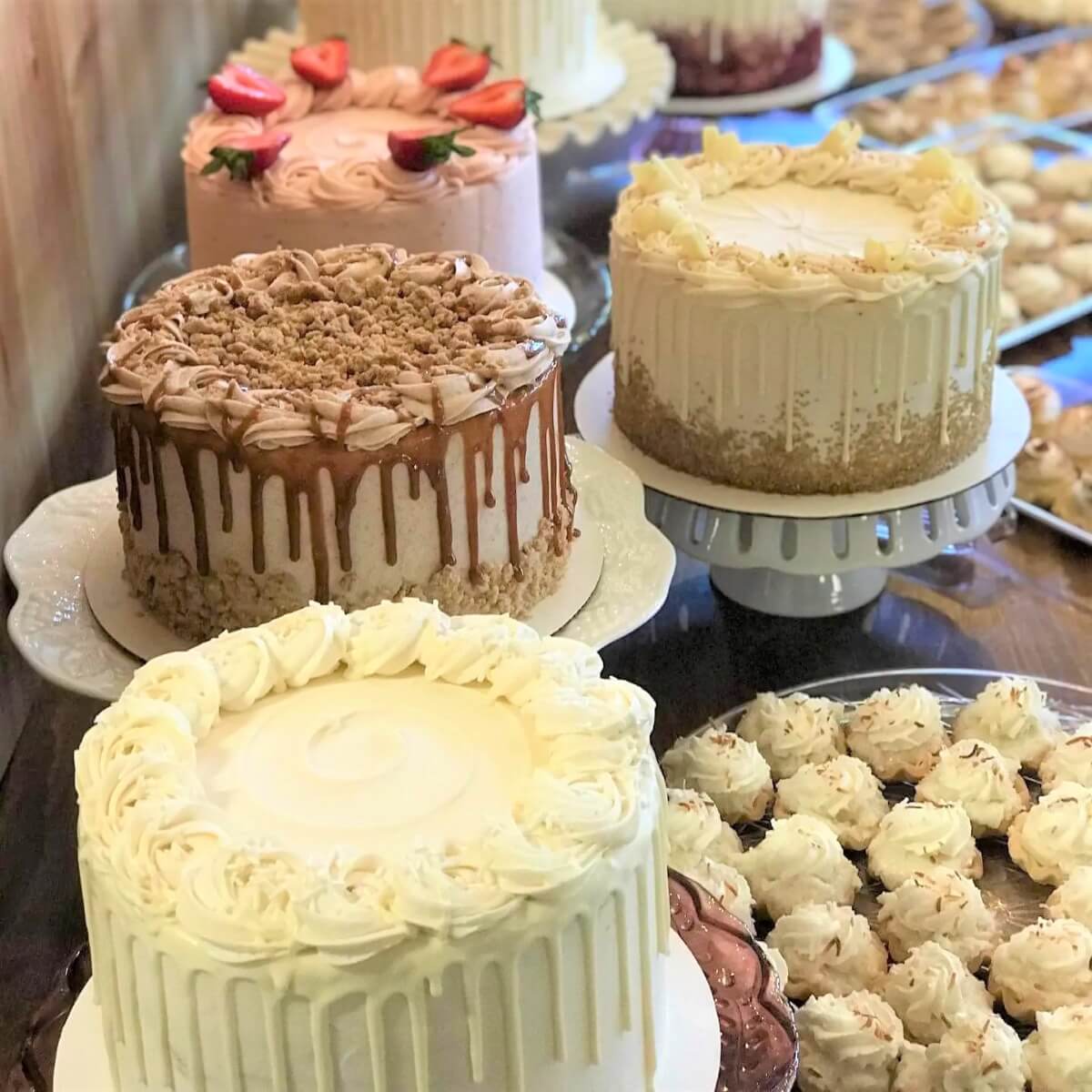 2. 📦 Use a Cake Drum and Sturdy Cardboard Box
The easiest way to transport a wedding cake is to make sure the cake is tiered on a cake drum that fits perfectly in a cake box or cardboard box. (Your baker may supply you with both of these; If that's the case, move on to step 3).
What's a Cake Drum?
Cake drums are heavy-duty cake boards, typically at least ½ inch thick. Ideally, the tiered cake will have a wooden dowel that goes through all the cake tiers and into the cake drum, securing the cake to the board.
This center dowel will prevent the cake layers from sliding around. (Other professional bakers may offer different types of cake supports).
The cake drum supplies a sturdy base in which to transport the tiered wedding cake. Now all you need is a sturdy cake box or cardboard box the same width as the cake drum. For instance, a 6 "8" 10" three-tiered cake on a 14" cake board should fit inside a 14" wide box.
When the cake drum fits right in the cake box, you won't have to worry about the wedding cake getting damaged when you transport it.
We used sturdy tiered cake boxes at my bakery, but before that, we made our tall cake boxes out of regular cardboard boxes.
How to Make a Tiered Cake Box
To make your own box, start with a cardboard box that is wide and tall enough for your tiered cake (and the same size as the cake board).
For instance, an 8", 10", and 12" three-tiered cake on a 16" cake drum will typically fit perfectly in a 16"x16" cardboard box. You will just need to check the height of the tiered cake to ensure the box is tall enough. Most individual cakes are 4-5 inches tall before tiering.
Securely tape up the short sides of the box with packing tape, then cut one tall side open with a box cutter. This makes a door you can use to slide in the wedding cake.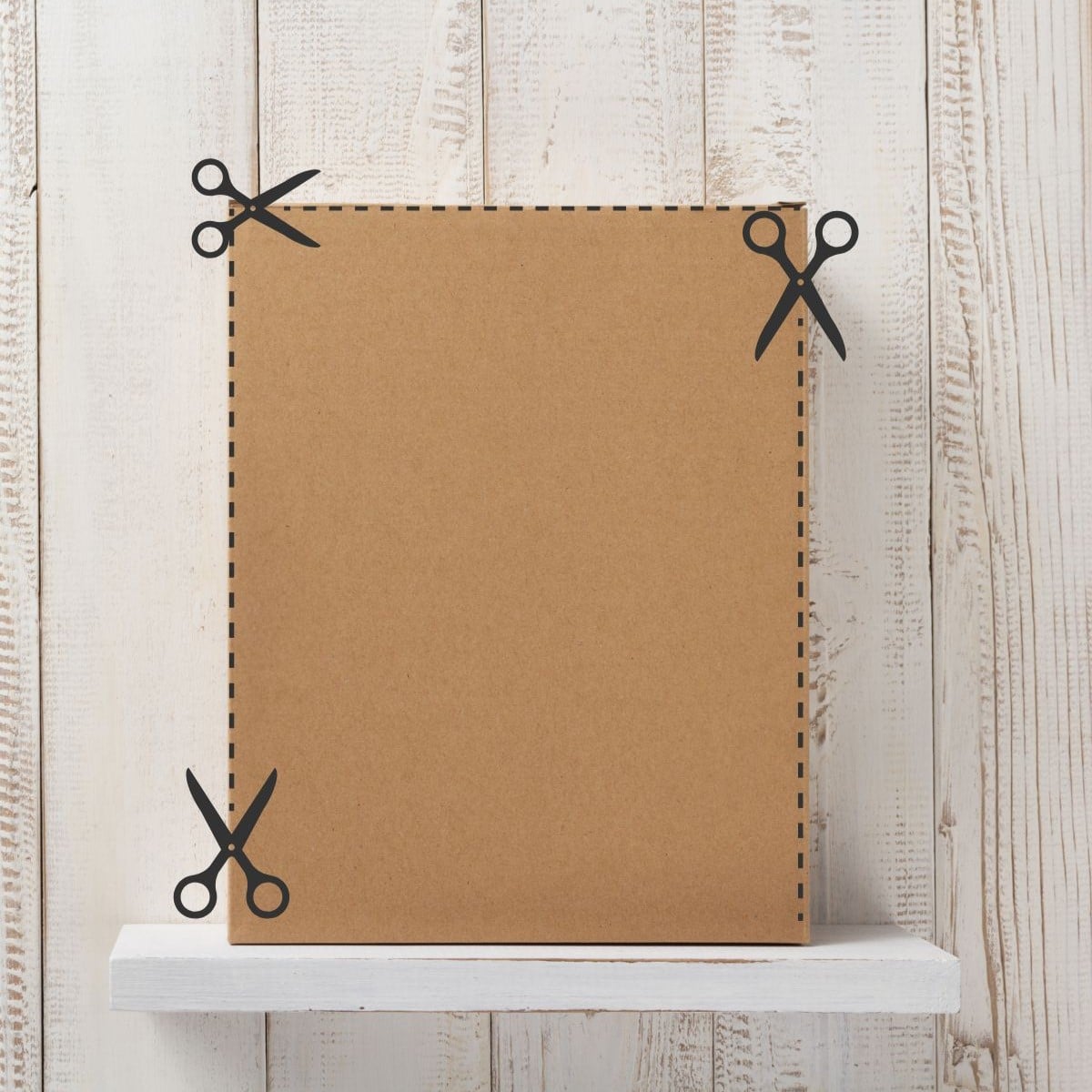 Tape the door shut for the drive to the venue. The cardboard box should help keep the cake in pristine condition during your drive.
3. 🚗 Reserve a Flat Place in Your Vehicle (please, no laps!)
Whether you're driving for 5 minutes or a long distance, the wedding cake needs to be in a stable and secure position. The cake and the cake box should be on a level surface.
Make sure you prepare the right vehicle and space inside the car. The vehicle should have a large flat back or a large floorboard, like an SUV. Ensure that if your pickup person is picking up more items, that they leave enough room for the cake box.
Avoid Laps and Tilted Seats
I don't recommend placing a tiered cake in someone's lap or on a car seat. Laps are wobbly and unstable, and car seats are very slanted! Your best bet for a flat surface is on the floor of your vehicle.
If the floor of your car has a smooth surface that would cause the tiered cake to slide, you can also place a non-stick liner on the bottom of your vehicle (a textured yoga mat can sometimes work for this, too!).
Avoid Deep Containers
I do not recommend placing the wedding cake inside a container where you have to pull the cake up and out. Most large and tall wedding cakes are heavy, and you risk damaging the sides of the cake when maneuvering the cake in and out of that container.
It's safer for the cake box to sit directly on the floorboard.
It's OK to wedge soft things around the tiered cake box. Just be careful to avoid pressing the box sides inward. The sides of the box could get pushed into the wedding cake's icing and damage the decorations.
4. 🧊 Keep the Vehicle Cool
Even if the wedding cake does not require refrigeration, it's best to keep your car cool during the drive. Keep the air conditioner blowing and place the tiered cake out of direct sunlight.
On hot days, keep your car cool during the entire drive (no long stops picking up something else for the wedding while the cake is in the car!).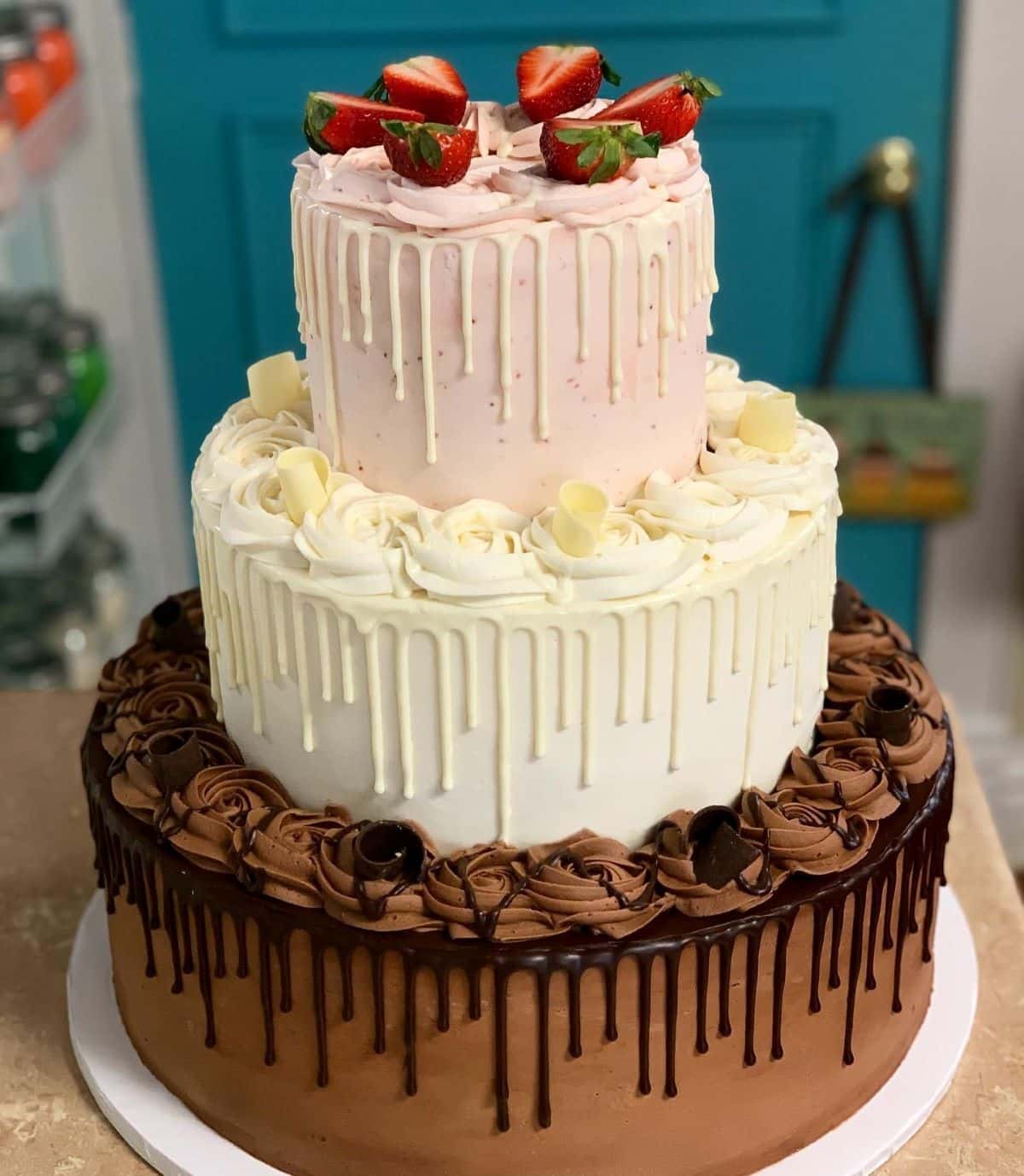 What about Long Trips?
If you are traveling more than one hour with a wedding cake, you can check with your baker about picking the cake up the day BEFORE the wedding day.
Ask the baker if it's possible to freeze the cake so that it will transport safely. Place the frozen cake in the fridge once you arrive at your location so it can continue to slowly thaw overnight.
Another option for extra long distances (if you have the room) is to make a makeshift cooler out of a cardboard box and dry ice.
5. 🚦 Drive Carefully with Someone Near the Wedding Cake
I recommend sending two people to transport your wedding cake.
When we delivered wedding cakes at my bakery, we drove a van where we could place one of the back seats down into the floor, creating a flat surface for a wedding cake. This worked perfectly because someone could sit right next to the wedding cake box and hold on to it during turns.
Remember to look out for speed bumps and sharp turns when driving with your tiered cake! Take turns carefully by slowing down or stopping beforehand if necessary.
6. 🎂 Save the Cake Stand for the Venue
I don't recommend delivering a wedding cake on a cake stand unless you are very experienced. The risk is unnecessary when you can place the tiered cake and its cake board or drum directly on the cake stand at the venue.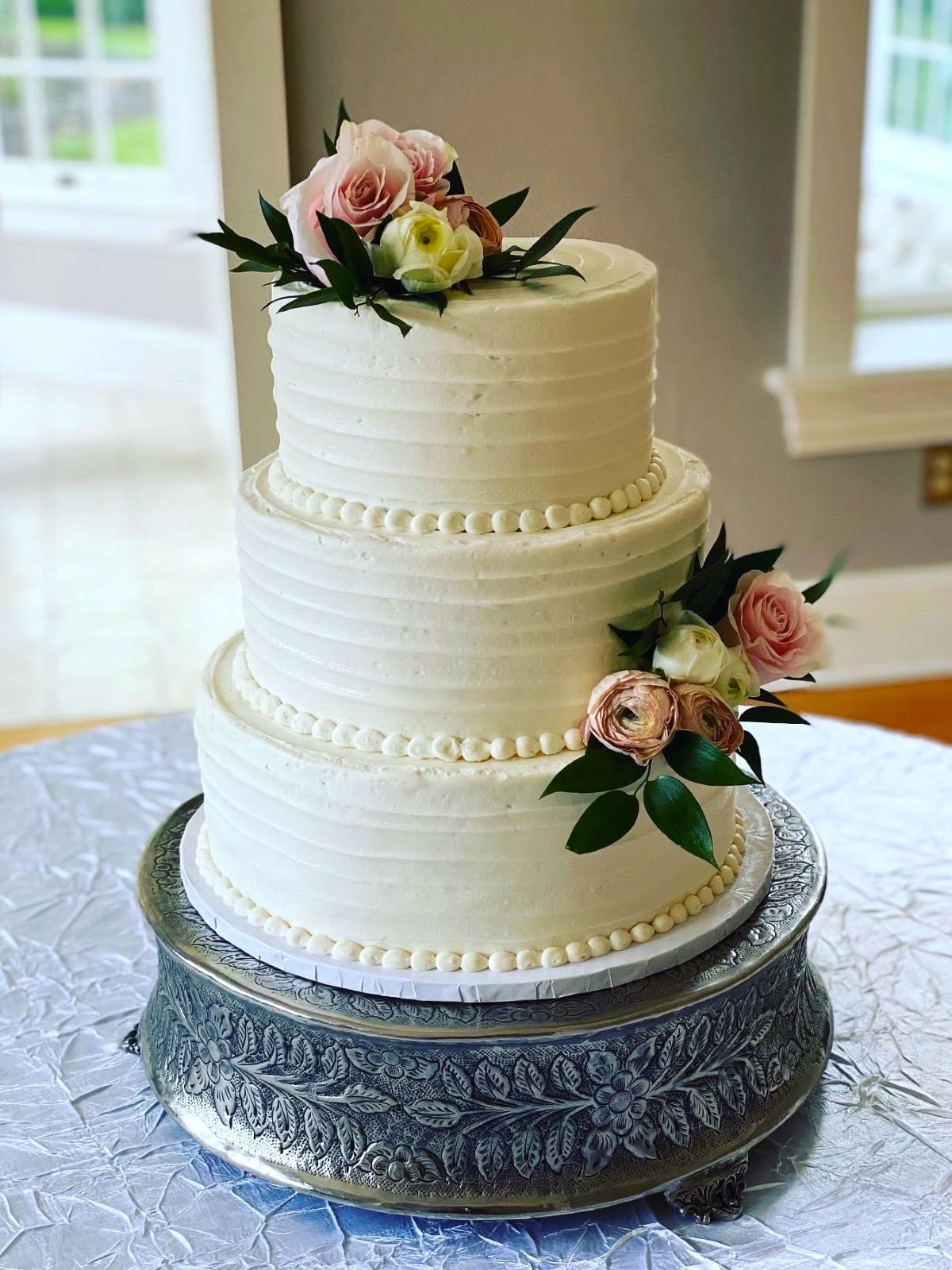 The cake board is not what guests will notice about your beautiful wedding cake. You can even arrange for the cake stand to already be at the cake table, so you only have to worry about traveling with the tiered cake.
7. 📧 Pass These Steps to the Pickup Person
The last step is the most important one. If you aren't the one picking up the wedding cake, it's a good idea to forward this article link to the wedding pickup person!
You'd hate for them to arrive to pick up the tiered cake with a car full of wedding accessories and no flat spot available. Or for them to be planning to make several "quick stops" before they reach the venue! Feel free to use my email share button below. 👇
Bring an Emergency Cake Kit
It's also a good idea to bring a cake "repair kit" that contains some extra frosting, icing spatulas, and other cake-decorating tools. You can use this to touch up the cake if anything goes sideways.
Most likely, when following these cake transportation recommendations, you won't need it! However, if you find any dents in the icing, you can cover them with fresh flowers, which look beautiful on tiered wedding cakes.
Did you like this guide about How to Transport a Wedding Cake? Rate it below!
If you're looking for some delicious wedding cake recipes, some of my favorites are my vanilla cake with strawberry filling or my chocolate ganache cake!
With the proper precautions and steps, you can ensure your wedding cake will look as good as it tastes when it arrives safely and securely at the event venue. Good luck on your cake transportation day!
Thanks for Reading. ❤️