This incredibly moist vanilla cake with strawberry filling bursts with fresh flavor. If you're looking for a cake that's both delicious and beautiful, then this is the one for you.
Everyone loves a good piece of cake. But have you ever had a strawberry-filled vanilla layer cake? It's absolutely delicious! In fact, it might be one of the best cakes you've ever had. I know for a fact this was one of my most popular bakery recipes at Amycakes Bakery!
Jump to:
This cake tastes similar to a creamy strawberry shortcake. We used to call it "Strawberries 'n' Cream cake" at my bakery.
But there's more to this cake than just its flavor. It's also incredibly moist and fluffy, thanks to the addition of Instant Clearjel (or Instant White Chocolate Pudding Mix). And the strawberry filling adds a touch of sweetness and tartness that takes this cake to the next level.
Trust me, this dessert will be a hit at any party. It's the perfect cake for Valentine's Day or the next special occasion.
And if you love cakes with cake fillings, you've also got to try my amazing Blueberry Cake, Lemon Curd Cake, and my moist Vanilla Bean Cake with Raspberry Filling.
🍰 Cake Ingredients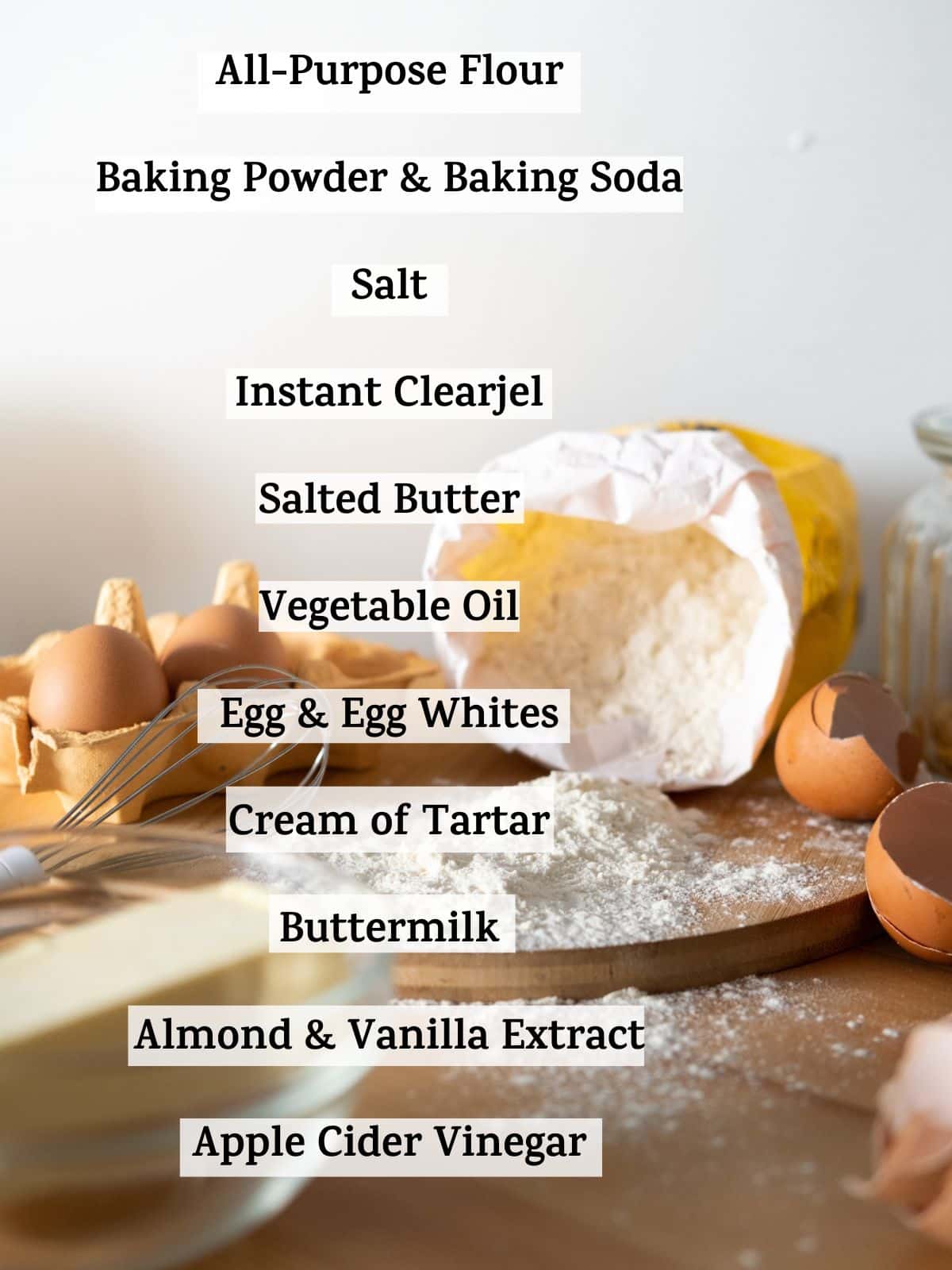 To make this Vanilla Cake with Strawberry Filling, you'll need either Instant Clearjel or Instant Pudding Mix. The instant clearjel helps keep the cake super moist with a soft texture. This recipe is an adaptation of my popular Vanilla Almond Cake recipe, so if you'd like to learn more about the ingredients, I'd recommend checking out that post.
The delicious homemade vanilla cake batter is also made with lots of Salted Butter and Buttermilk. I discuss these moist cake essentials more in my post about How to Make Moist Cakes.
I love this cake with both Almond and Vanilla Extract, but you can adjust the extracts to your preference when following the recipe card.

The almond/ vanilla blend makes a white cake flavor, while sticking with just pure vanilla is more like a yellow cake.
🍓How to make strawberry filling for a layer cake?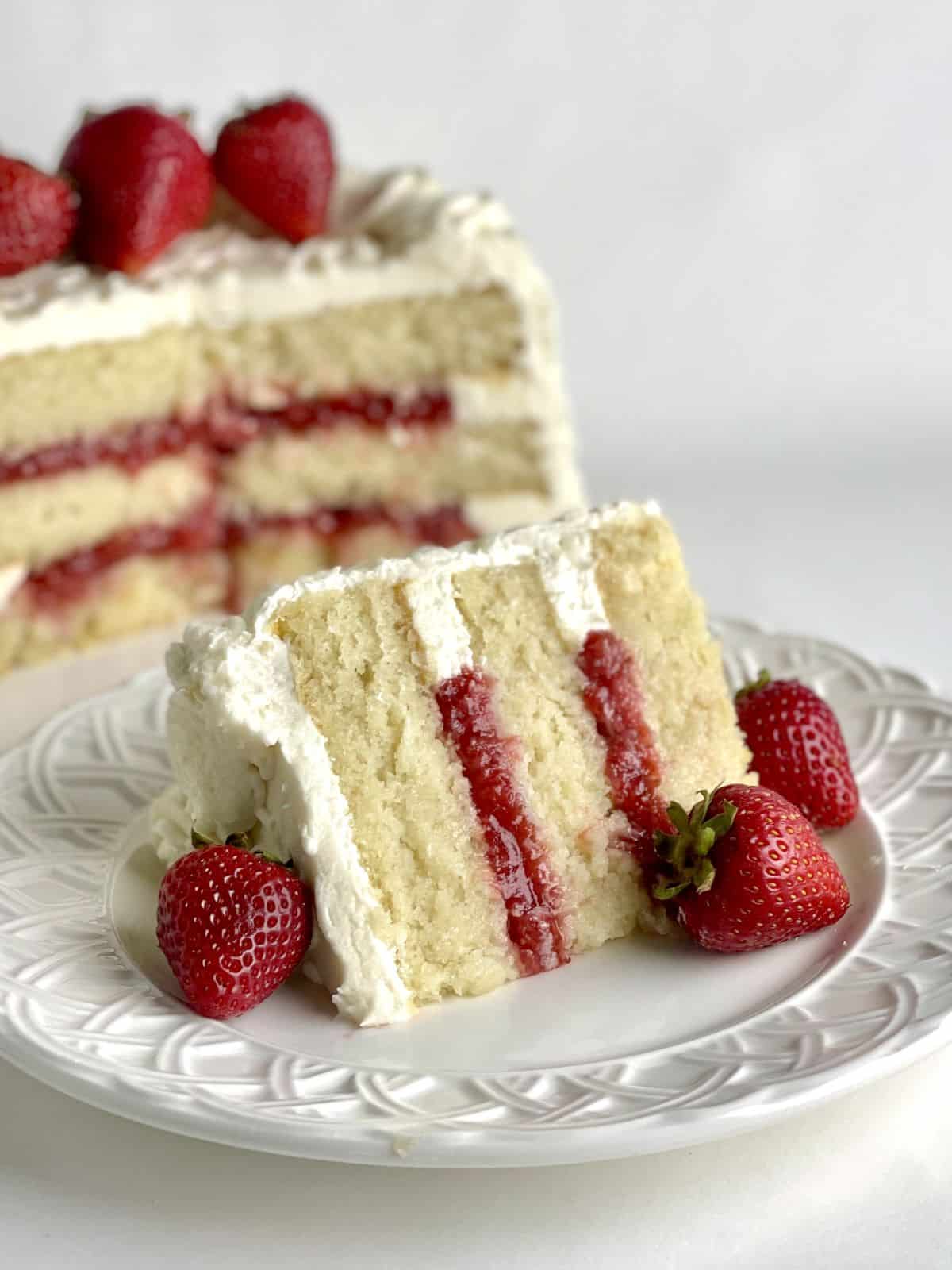 You can make delicious strawberry cake filling with just four ingredients. Simply cook down frozen strawberries, sugar, cornstarch, and lemon juice (I use bottled) until the berries are soft and the filling is thickened.
You'll find that this delicious strawberry compote is very fresh and natural. A compote is similar to a strawberry jam but is more fresh-tasting and less sticky since the berries aren't cooked down as long.
👩🏻‍🍳 Instructions
While you can find all the details inside the recipe card at the bottom of this post, here are the summarized steps to making this delicious vanilla strawberry cake recipe.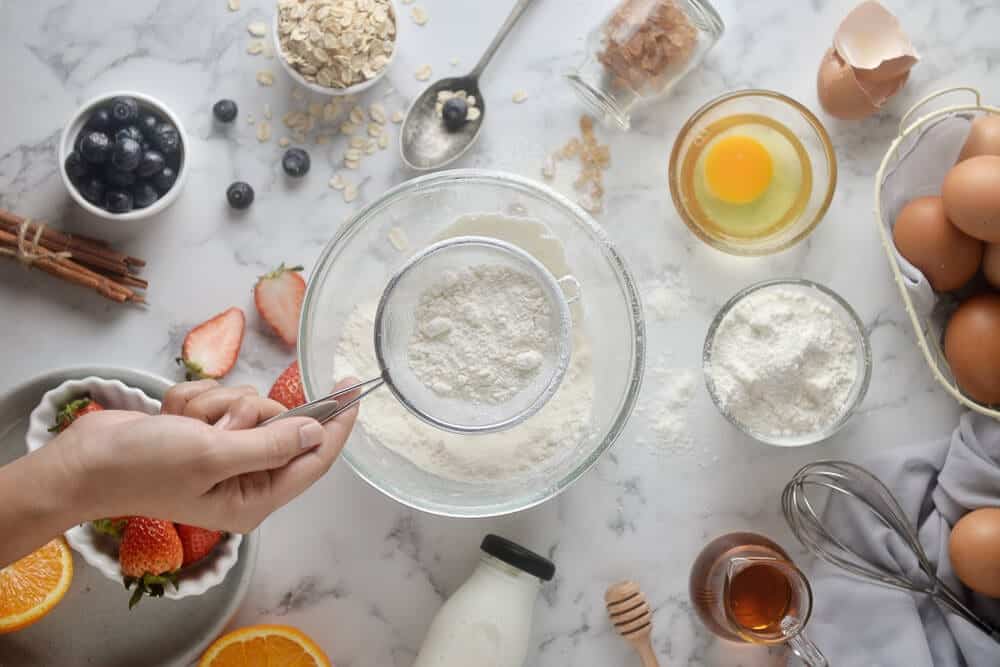 Sift your dry ingredients and whisk together your wet ingredients. Blend the butter, vegetable oil, light corn syrup, and sugar together, then add the egg. Avoid over-creaming these ingredients. Just blend until light and fluffy.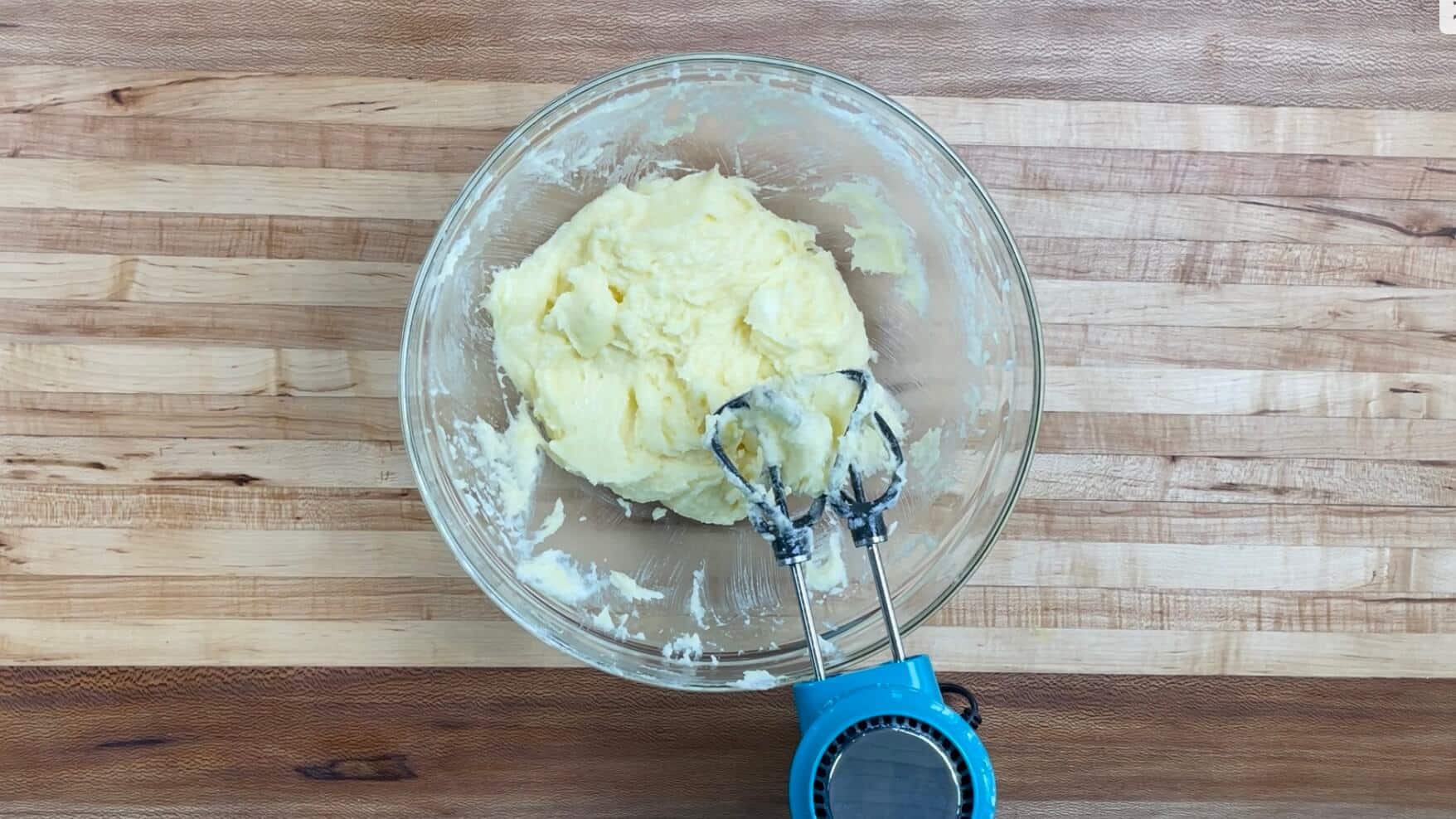 Alternate adding the dry and wet ingredients while the mixer is on low. Be careful not to overmix. You only need to blend until the ingredients are incorporated. Overmixing can cause a cake to sink in the middle.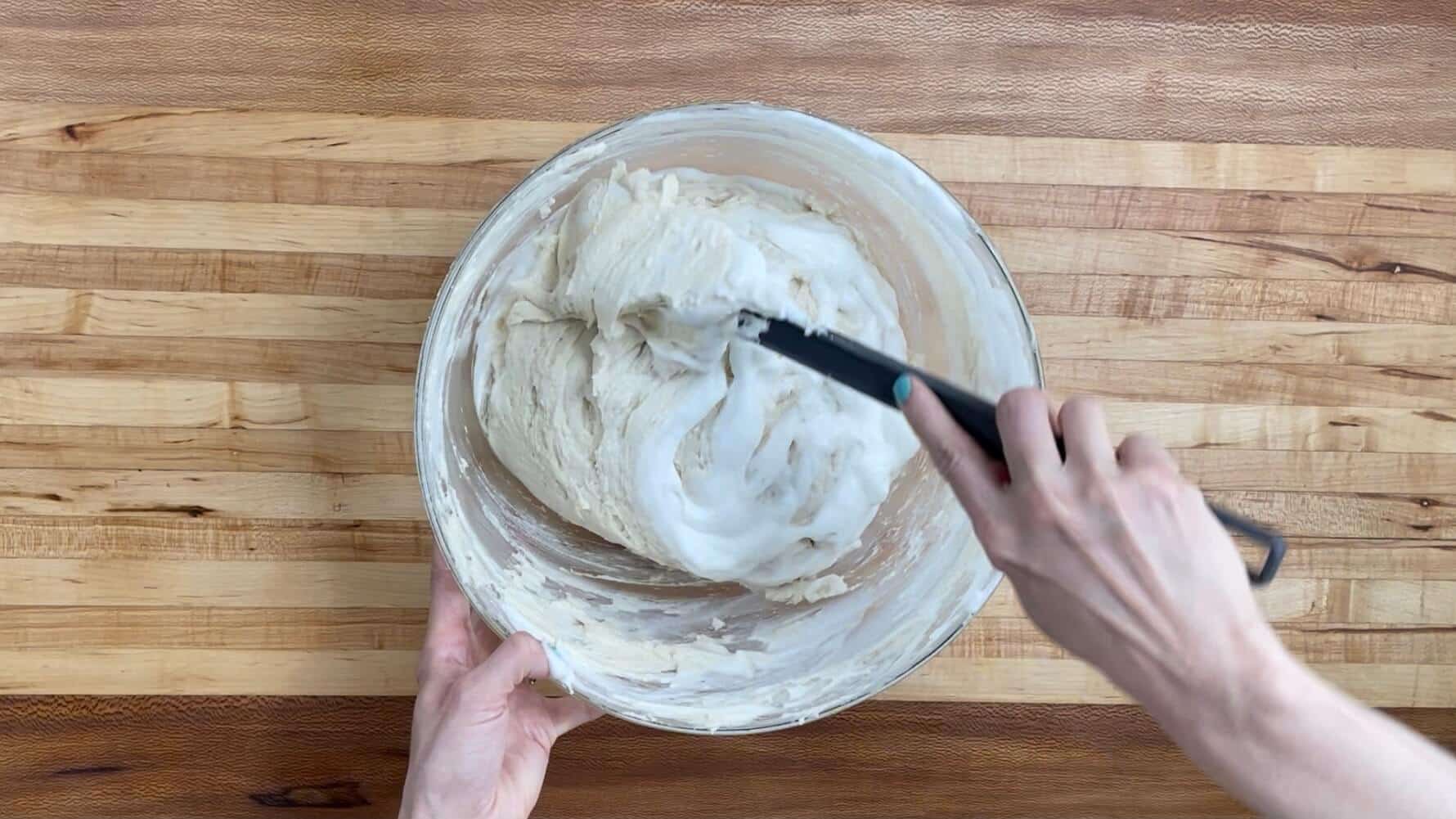 Using a clean bowl with a whisk attachment, whip the egg whites and cream of tartar until stiff peaks form. Fold the egg whites into the vanilla cake batter using large, round strokes.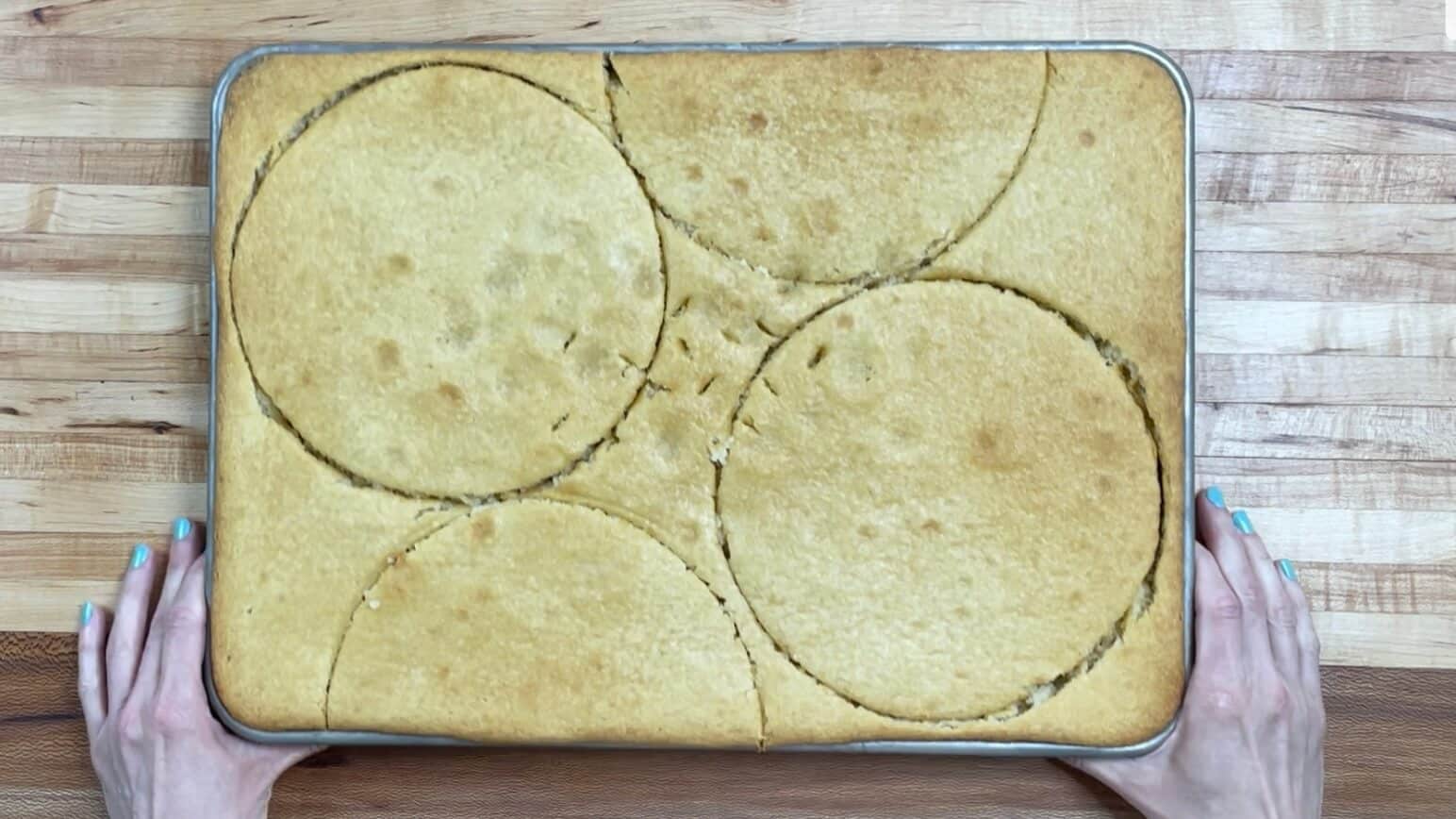 Bake the fluffy vanilla cake at 325 degrees, turning the oven down to 300 degrees after the cake has fully risen. This prevents the sides of the cake from getting too dark as it bakes.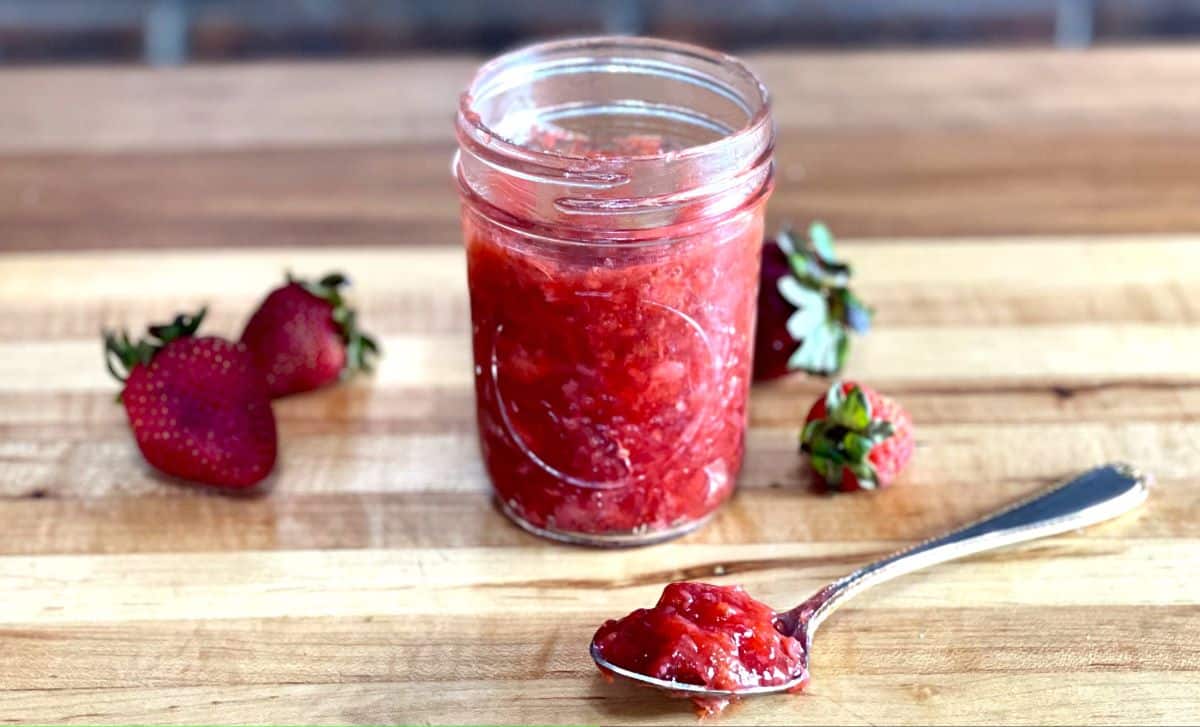 Make the delicious strawberry filling and allow it to cool, then prepare the creamy and smooth vanilla buttercream.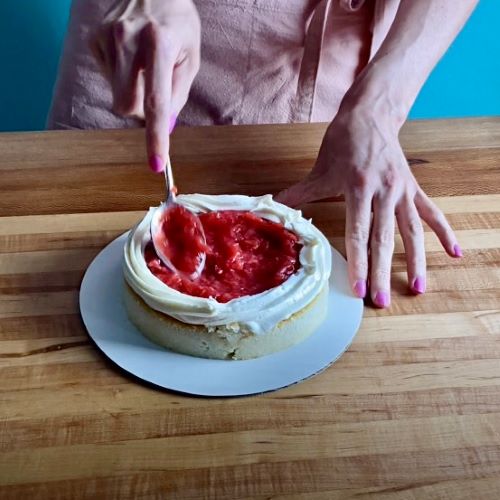 I recommend layering and filling the cake from frozen using the Cut and Stack method for the best results. The super moist vanilla cake layers will be much easier to work with when they are firm. Check out how to layer a cake with fillings for more details!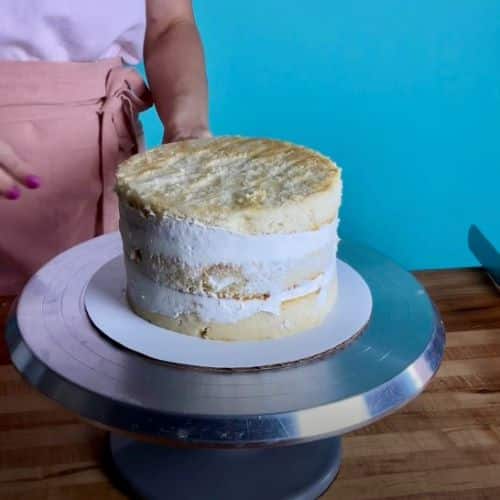 A crumb coat of buttercream around the outside of the cake will seal the filling in before you add your final coat of frosting and decorate. I like to use both a small and medium offset icing spatula.
Decorate your beautiful strawberry-filled vanilla cake with fresh strawberries, and enjoy!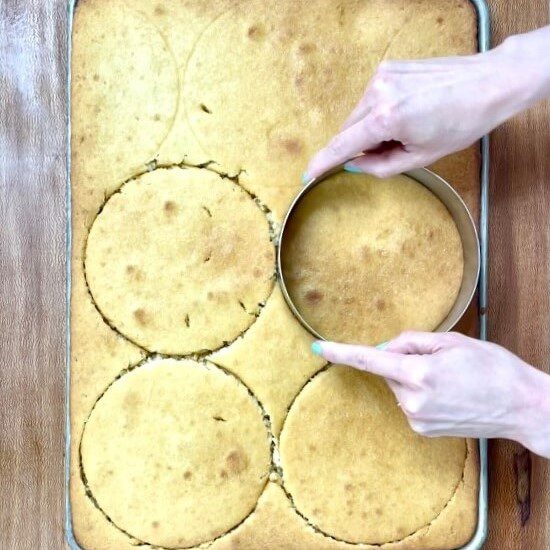 Layer this Cake using the Cut and Stack Method
I bake all my cakes in sheet pans and cut them out with cake rings. I talk about this in detail in 5 Easy Steps to Baking and Layering Cakes Like a Pro, but here's a quick rundown:

1. Bake the Cake in a Sheet Pan
2. Wrap and Freeze the Cake in the Pan
3. Cut Desired Cake Size with Cake Rings and Layer the Cake from Frozen
4. Crumb Coat the Cake
5. Decorate and Serve
🎥 Video
Look at how moist this layer cake looks when I cut it in the quick recipe video below.
💭 Frequently Asked Questions
How long should I let this cake set?
The cake should be refrigerated for about 2 hours or overnight after you layer it, so the frosting can firm up and stabilize the cake. Make sure you take it out of the fridge 1-3 hours before serving so it can return to room temperature. I prefer to decorate my cake the night before serving it. This recipe also freezes beautifully!
How long will this cake last?
This cake is good for about 3-4 days in the fridge, but I highly doubt it will last that long!
Can I use a different type of pudding mix?
Yes, you can use a different flavor of pudding mix, but I recommend sticking to either vanilla or white chocolate pudding. It pairs really well with the strawberry filling and vanilla buttercream.
What type of pan should I use for this cake?
I recommend a 1⁄4 Sheet pan for a 1x batch of this recipe, which makes a 6" round layer cake using the Cut and Stack Method. You can also use other cake pans--take a look at my recommended cake pan chart and adjust the baking time accordingly.
Can I make cupcakes instead of a cake?
This recipe is better suited for a layer cake or sheet cake. But you should definitely try my moist vanilla cupcakes with strawberry compote filling!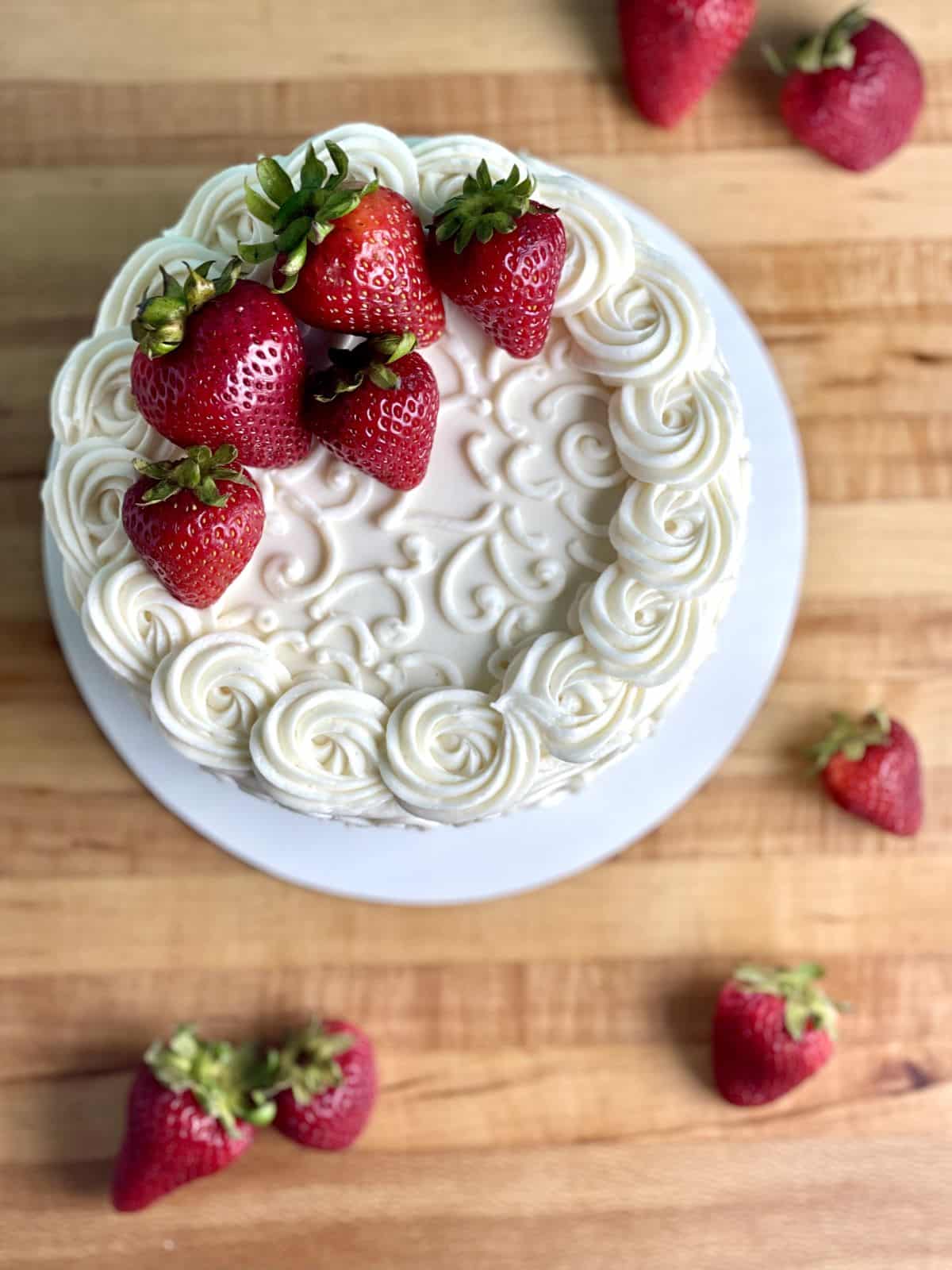 There's no need to wait until strawberry season to make this vanilla cake with strawberry filling! The only thing left to do is get started!
Thanks for Reading. ❤️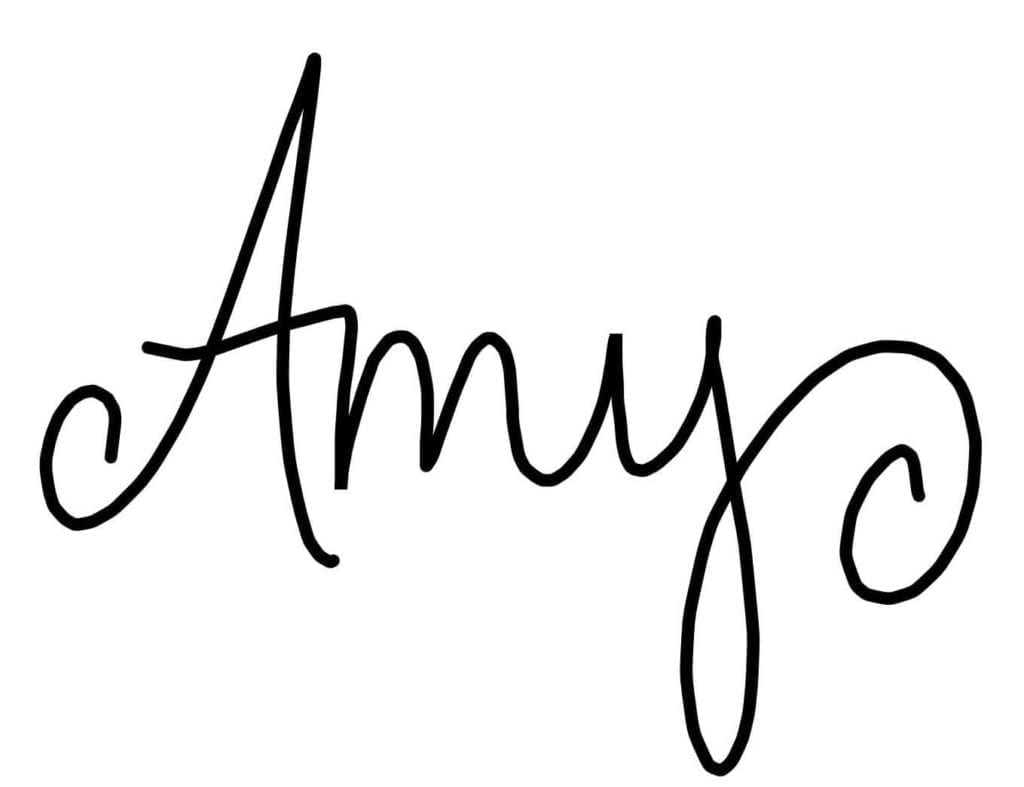 📖 Recipe
Moist Vanilla Cake with Strawberry Filling
This bakery recipe makes an incredibly moist vanilla cake with strawberry filling. It starts with soft, fluffy cake layers, easy fresh strawberry compote, and creamy vanilla buttercream.
A 1x batch yields 1 
6" three-layer cake
, and a 2x batch yields 1 
8" three-layer cake
 cut out with cake rings using the 
Cut and Stack Method
. Or choose a different pan size by visiting 
my recommended cake pan chart.
👩‍🍳 For the most accurate baking results, use the grams measurements with a kitchen scale.
Watch the quick recipe video
Ingredients
Dry Ingredients
200 grams (1 ½

cups)

All-Purpose Flour

(I use Gold Medal)

2 Tablespoons Instant Clearjel or 3

Tablespoons

White Chocolate Instant Pudding Mix

(Or use vanilla instant pudding mix. White chocolate makes a slighter lighter golden color. Please make sure the instant clearjel is labeled as INSTANT, see Note #1)

1 ½

teaspoons

Baking Powder

1

teaspoon

Baking Soda

¾

teaspoon

Salt
Wet Ingredients
¾

cup

Buttermilk

¼

cup

Water

1 ½

teaspoons

Vanilla Extract

2 ¼

teaspoons

Almond Extract or additional Vanilla extact

(I love the almond flavor with this cake, but you can substitute with equal parts vanilla extract if desired)

1 ½

teaspoons

Apple Cider Vinegar
Creamed Ingredients
200 grams (1

cup)

Sugar

1 stick (4

oz)

Salted Butter

(at room temperature)

¼

cup

Vegetable Oil

¼

cup

Light Corn Syrup

1

large

Egg(s)
Whipped Ingredients
2

Egg Whites

¼

teaspoon

Cream of Tartar
Additional Recipes needed
Instructions
Make the Vanilla Cake
Preheat Oven to 325 degrees. Line

¼

Sheet pan with parchment paper, and then spray bottom (on top of the parchment) and sides of the sheet pan with cooking spray.

Sift Dry Ingredients in a bowl and then whisk until well blended. Combine and stir Wet Ingredients in a separate bowl or pitcher.

With a stand mixer (preferred) or handheld mixer, cream sugar and salted butter together until creamy and fluffy. Add oil and corn syrup and beat until incorporated. Add

1

egg(s) and cream until well blended, scraping sides of the bowl as needed.

On low speed, alternate adding Dry ingredients and Wet ingredients to the Creamed Ingredients, a little at a time. I do ⅓ Dry, ⅓ Wet, and so on, adding one-third at a time and blending on low after each addition. Continue to mix just until the batter looks well blended and smooth (avoid overbeating). Scrape sides of the bowl as needed.

Using a whip attachment and a clean bowl, whip the

2

egg whites and cream of tartar until stiff peaks form. (Make sure your bowl and beaters are clean and free from grease so that the whites will whip).

Carefully fold the Whipped Whites into the cake batter, one half of the whites at a time. The batter is ready when no egg white streaks remain and it should look smooth and uniform.

Spread into prepared pan and make sure the batter is evenly distributed. An offset spatula works well for this.

Bake on the middle or top rack (avoid bottom rack) of preheated 325-degree oven for 18 minutes, then turn the oven down to 300 degrees. Set the timer for an additional 6-8 minutes. Check the cake at this point. If it is jiggly at all when lightly touching the top of the cake, continue baking for 1-6 more minutes. The cake is done when a paring knife or toothpick comes out mostly clean when stuck quickly in the cake. A couple moist crumbs on your knife are fine, but they shouldn't look wet. Some ovens may require a longer baking time, and 2x batches usually take a few more minutes in the oven. Allow to cool completely.
Freeze the cake layers
The delicate cake will be easiest to layer from cold or frozen--allow the cake to cool, then wrap the cake in the pan thoroughly in plastic wrap. Freeze the cake in the pan for at least 2 hours or up to 2 weeks ahead of time (brush the cake with simple syrup if freezing for more than a couple of days--see Note #2).
Prepare the Strawberry Filling and Vanilla Buttercream
Frost the Cake
The easiest way to layer the vanilla cake is to layer the cake from frozen the day before you plan to serve it. If serving the cake the same day you are layering it, use refrigerated cake layers instead of frozen. Cut the cake layers with cake rings as described in How to Bake and Layer Cakes Like a Pro.

When filling this cake with strawberry filling, you'll want to pipe a ring of buttercream around the edge before spooning in your filling. Pipe the buttercream 2-3 rings high to ensure no filling escapes. Some buttercream will push over the edge when topped with the cake layers, which is fine–just use your spatula to smooth it against the side of the cake to seal it in. (To be extra cautious with filled cakes, I like to let them set up in the freezer for 10 minutes after filling them but before adding a crumb coat of icing.)

I recommend frosting a thin crumb coat of buttercream on the outside of the cake which will catch all the crumby edges, then allow it to set up in the freezer for about 10 minutes until the buttercream is firm. An offset icing spatula (I use the small and medium-size on all my cakes) helps with this. Then spread on the second layer of buttercream and decorate as desired.

You can let the cake set up in the fridge, but remove it from the fridge 1-3 hours before serving so it can come back to room temperature. Top the cake with fresh strawberries, if desired. This cake has the best texture at room temperature. Enjoy!
Notes
Read my article Instant Clearjel: a Magical Little-Known Bakery Ingredient to see why I think this ingredient is worth having in your pantry.  Instant Clearjel must always be whisked thoroughly with other dry ingredients before being added to wet ingredients to avoid clumping.  If you need to substitute, please use white chocolate or vanilla instant pudding mix in the cake batter as described within the recipe.
Simple Syrup is optional, but I use it to seal in the moisture for cakes that will be refrigerated or frozen for more than a couple of days.  While the cake cools, make a simple syrup by combining 2 teaspoons water and 2 teaspoons sugar in a small microwave-safe bowl.   Microwave until the sugar is dissolved after whisking, about 20-30 seconds.  Lightly brush the simple syrup on top of the cake with a silicone pastry brush (you won't need to use all of it in a 1x batch baked in a ¼ sheet pan).  You can also make a larger batch of this (1 part sugar to 1 part water) and keep it in the fridge if you're doing a lot of cake baking.  
Print Recipe