This bakery-style vanilla buttercream frosting was one of the most requested Amycakes Bakery recipes--we called it our "House" vanilla frosting. It's super creamy and fluffy with a delicious vanilla flavor and is not overly sweet.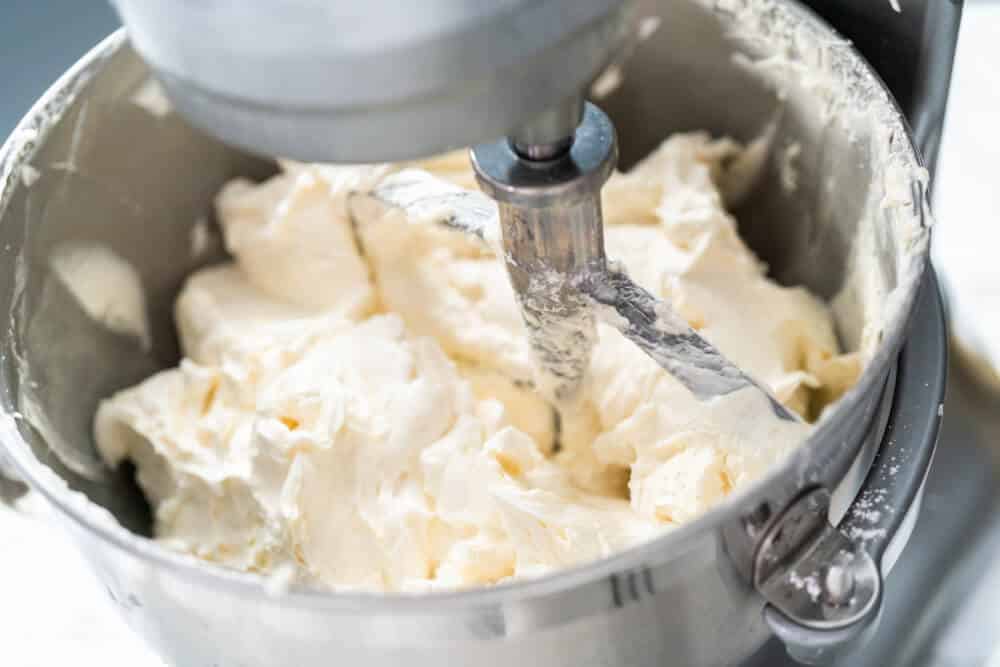 Jump to:
🍰 A cream cheese buttercream blend
At Amycakes Bakery we called it a cream cheese/ buttercream blend, but It's not overly cream cheese-y. In fact, most people don't even realize it contains cream cheese. The cream cheese provides the perfect creamy texture without being gritty or crispy, while balancing the sweetness.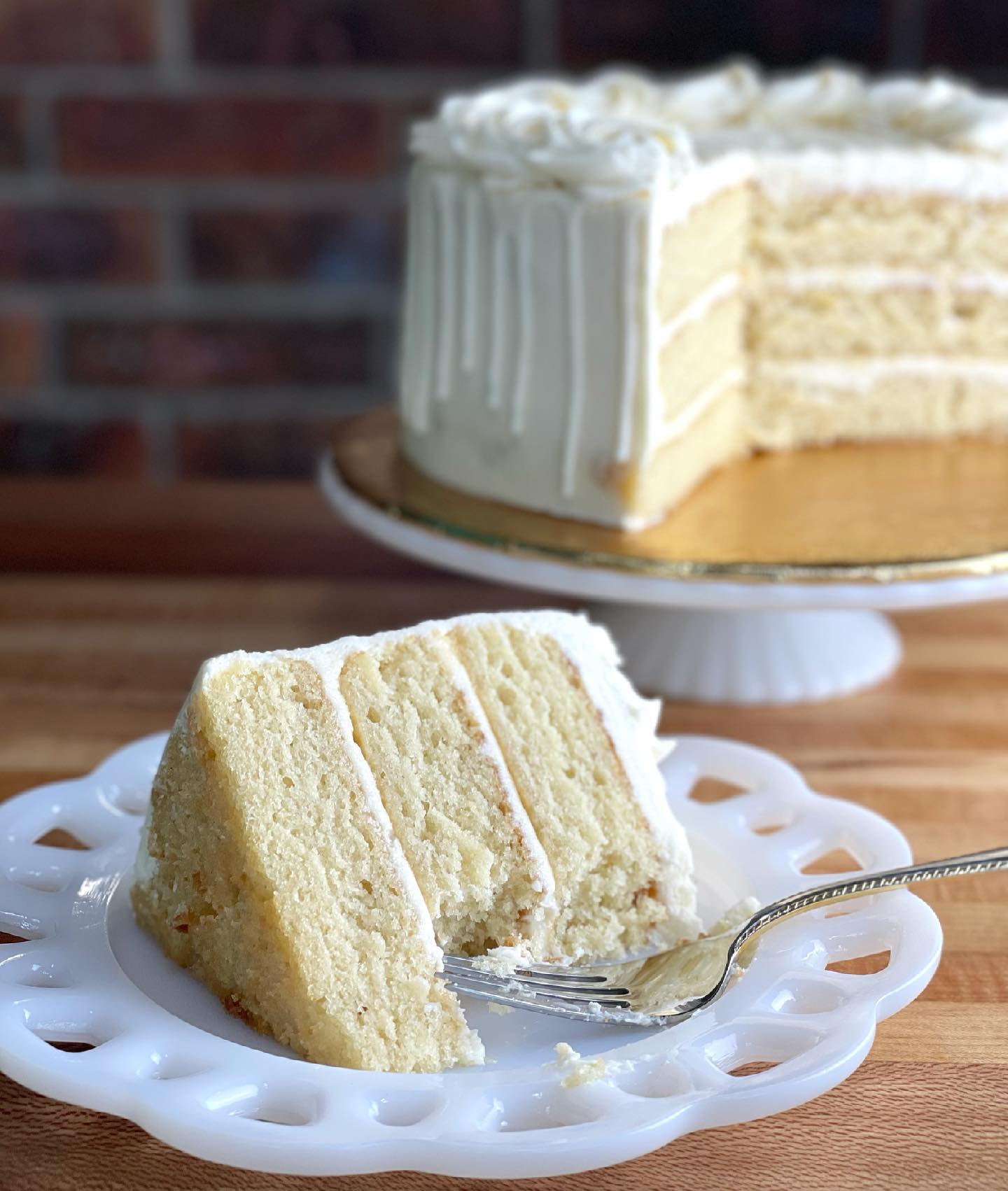 🥣 Ingredients (and substitutions)
Theres just enough Cream Cheese to make the creamiest addictive buttercream texture.
This recipe uses Salted Butter, which makes the buttercream more flavorful. You can leave salted butter out at room temperature overnight, which allows it to be soft when you need it. If you need to use unsalted butter, add ¼ teaspoons salt per stick of butter.
Add just a little Shortening which makes the buttercream fluffier. If you'd prefer, you can substititute it with equal parts butter.
Powdered Sugar
Use Pure Vanilla Extract rather than imitation. We want that delicious real vanilla flavor in this frosting.
If you'd like, you can add Instant Clearjel, one of my favorite bakery ingredients. It will stabilize and thicken the buttercream slightly to help with piping rosettes or other decorations. Just be sure to whisk it well with the powdered sugar before adding it.
🧁 Tips for make the perfect fluffy frosting texture
We're going to let our mixer do the work in this recipe:
Beat each ingredient well after you add it to the mixer, and scrape as needed--this will ensure there are no lumps.
Don't skip the last step of beating the completed buttercream on high for 2-3 minutes. This is what whips air into the frosting and makes it super light and fluffy!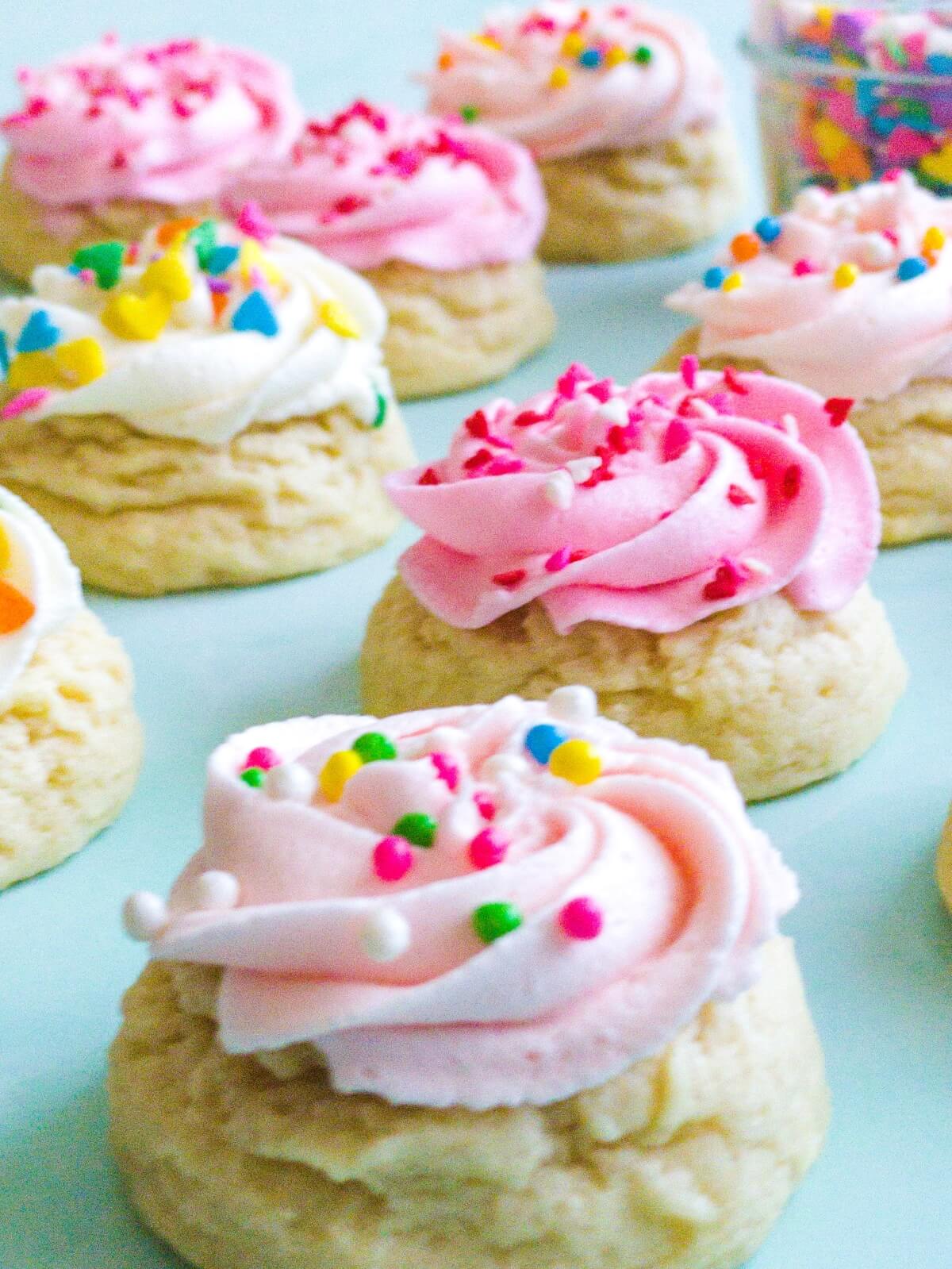 💭 Frequently Asked Questions
Should buttercream frosting be refrigerated?
Buttercream frosting with cream cheese can be left at room temperature for up to 24 hours, but it can get soft and melt in warm temperatures.

It is best to store it in the fridge, but allow the frosting to come back to room temperature before serving it or using it. You can stir or re-whip frosting to bring back its fluffy texture. Keep it refrigerated for up to 2 weeks.

If you're looking for a frosting that doesn't require immediate refrigeration, check out the frosting in my Buttercream Decorated Sugar Cookie recipe.
Can you freeze buttercream?
This buttercream frosting freezes really well for up to 2 months, stored in an air-tight container. Allow it to thaw in the refrigerator overnight before using it. You can also freeze completely decorate and freeze a cake with this buttercream, as described in How to Bake and Layer Cakes Like a Pro.
Can you use this frosting on tiered cakes and wedding cakes?
We used this buttercream on all our tiered cakes at Amycakes Bakery! Just be sure to refrigerate the cake(s) until 2-3 hours before serving, then keep the cake in a cool place. The buttercream can melt in warm conditions.
📖 Recipe
Creamy Vanilla Bakery Buttercream
This bakery-style "house" vanilla buttercream frosting was one of the most requested Amycakes Bakery recipes. It's creamy and light with a delicious vanilla flavor without being overly-sweet.
A 1x batch will frost and fill one 6" three-layer cake or about 14 cupcakes generously, and a 2x batch will frost and fill one 8" three-layer cake or about 28 cupcakes generously.
👩‍🍳 For the most accurate baking results, use the grams measurements with a kitchen scale.
Ingredients
4

ounces

Cream Cheese

1 ½ sticks (6

ounces)

Salted Butter

(at room temperature)

48 grams (¼

cup)

butter flavored shortening

(or use regular shortening)

455 grams (3 ½

cups)

powdered sugar

1

Tablespoon

Pure Vanilla Extract

(optional) 1

Tablespoon

instant clearjel

(You can add this if you would like a thicker, more stabilized frosting. See notes section)
Instructions
Make Vanilla Buttercream
Whisk the powdered sugar and Instant Clearjel (if using) together until well-blended. Set aside.

Using a stand mixer (preferred) or handheld mixer and a large bowl, beat the cream cheese until broken up and softened.

Add the room temperature salted butter and continue to beat until there are no lumps, scraping the sides of the bowl as needed.

Add the shortening and beat and scrape the sides until the mixture is smooth without lumps.

While the mixer is on low, slowly add the powdered sugar mixture. The mixture will be thick, but continue to slowly beat on low until it is fully incorporated.

Add the pure vanilla. Scrape down the sides of the bowl. Then beat the buttercream on high for two-three minutes. This important step will add air into the buttercream and make it light and fluffy. The Instant Clearjel will cause the buttercream to thicken slightly during the next 10 minutes as it sits.

This buttercream is best served at room temperature. If you aren't serving it within 24 hours, refrigerate it, but remove it from the fridge a couple of hours before using so that it may come back to room temperature before frosting cakes, cupcakes, or serving.
Notes
Read my article Instant Clearjel: a Magical Little-Known Bakery Ingredient to see why I think this ingredient is worth having in your pantry.  Instant Clearjel must always be whisked thoroughly with other dry ingredients before being added to wet ingredients to avoid clumping.  If you don't have Instant Clearjel you can simply leave it out completely, this frosting is delicious without it.  If you need a thicker frosting, you can add a little bit more powdered sugar.
This recipe was adapted slightly on 12-9-21. Contact Amy if you have any questions.
Print Recipe