These cutout buttercream-decorated cookies are so soft, full of a delicious vanilla flavor, and easy to make! It's the perfect sugar cookie recipe for holidays, cookie-decorating parties, or adorable treats that taste even better than they look!
These buttercream sugar cookies were one of our popular recipes at Amycakes Bakery, especially during the holidays and for special occasions. If you've followed my recipes for a while, you know how I value taste over anything else. That's why I prefer buttercream to decorate these cookies.
A lot of cookie decorators use royal icing, which is made from egg whites and powdered sugar and hardens into a crisp shell. Royal icing cookies are stunning and can be quite detailed.
But in my opinion, you can't beat these buttercream sugar cookies for their melt-in-your mouth softness, or the delicious flavor of vanilla buttercream frosting!
Jump to:
📋 Ingredients
This easy sugar cookie recipe is made from the same ingredients as my mini sugar cookies. Basic ingredients like all-purpose flour, sugar, and butter bring together this cookie dough. A little bit of almond extract is the perfect compliment to the vanilla flavor.
The sugar cookie frosting is made from the following ingredients: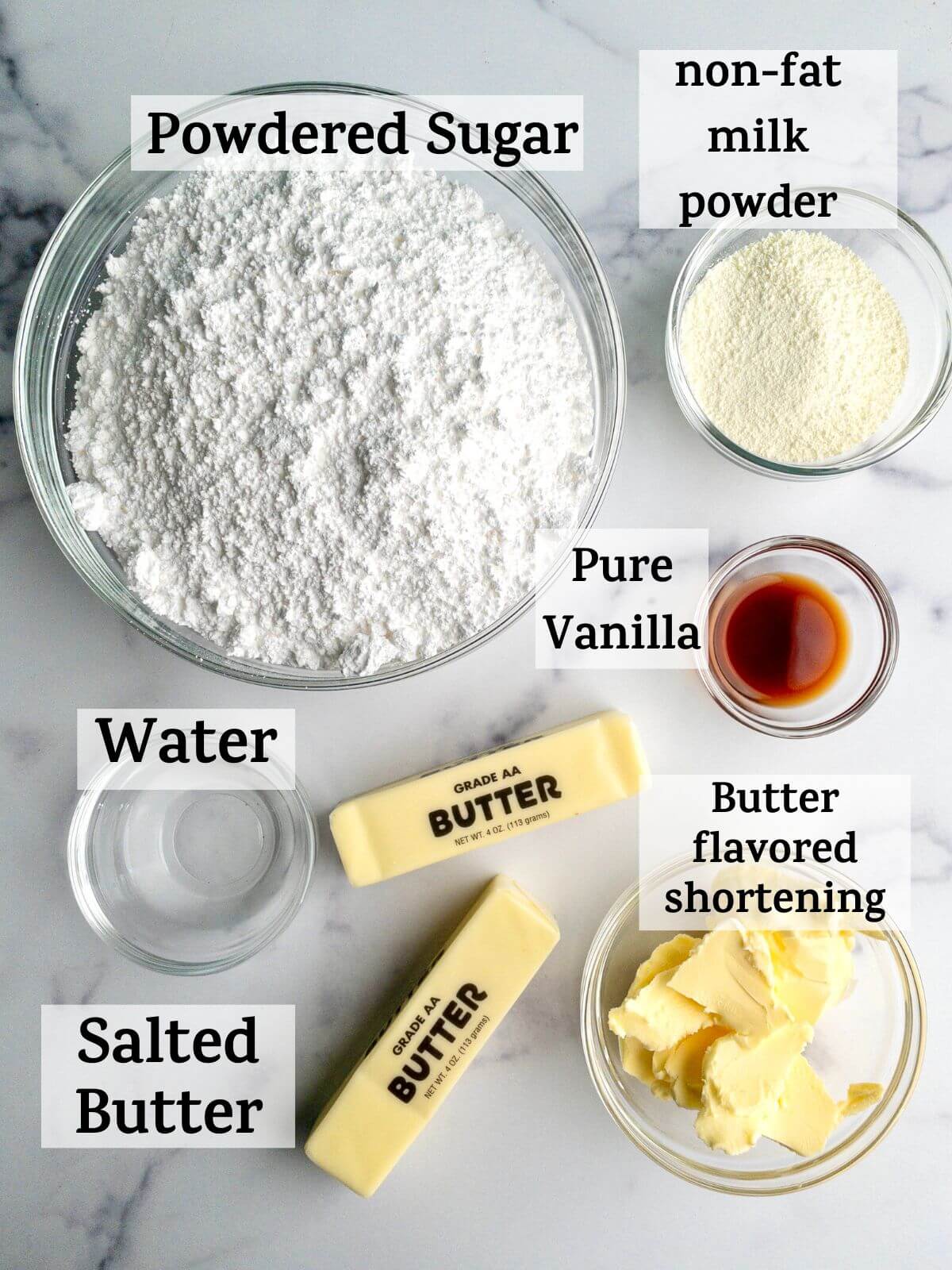 Salted Butter is what I prefer in both the cookie dough and buttercream because it adds a lot of flavor. If you use unsalted butter, add an extra ⅛ to ¼ teaspoon of salt per stick of butter.
Butter-flavored Shortening gives this buttercream more stability than if we were to use all butter. You may substitute it with more salted butter if you'd prefer. It just won't be quite as fluffy or flexible when decorating the cookies.
Non-fat Milk Powder is used to add structure, stability, and volume to the homemade buttercream. It also adds a super creamy taste. I've tried this recipe with and without the nonfat milk powder, and I definitely prefer it included!
This type of buttercream is often called an "American buttercream," and it is firmer, fluffier, and more stable than the Vanilla Bakery Buttercream recipe that I use for cakes.
This sugar cookie buttercream doesn't require refrigeration if you're serving it within a few days, and its extra stability makes it perfect for cookie decorating!
👩‍🍳 Decorating Cookies with Buttercream
When decorating cookies with buttercream, they are never going to be as smooth as royal icing cookies, but that's ok! I don't think the spatula strokes or buttercream texture takes away from the cuteness of these cookies. Most importantly, they'll taste delicious!
After the cookies are decorated and set up for a couple of hours, the buttercream cookie frosting will form a slight crust, but it won't fully harden.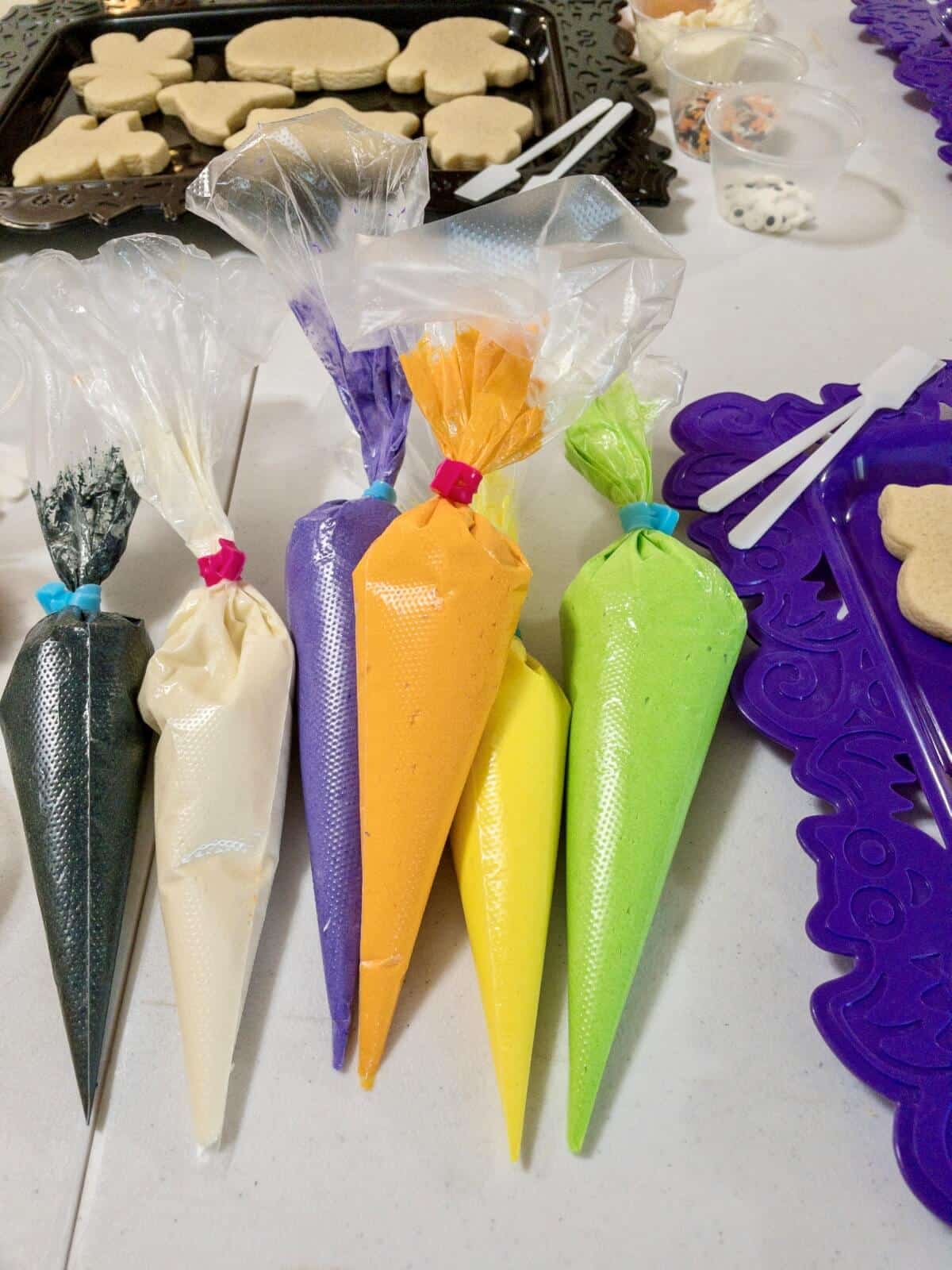 The sugar cookie buttercream frosting can be dyed with gel food coloring to make all different colors. It provides vibrant color without thinning out the frosting.
When it comes to saving time and cleaning up, disposable piping bags are the best. These piping bag ties can be really helpful to keep the frosting from squeezing out the back of the bag while piping.
I use an offset spatula to smooth the frosting on the cookies and around the edges, as seen in the cookie decorating video below.
I recently used this recipe to decorate Halloween Cookies, but it's a great recipe for any holiday. You can make Christmas Cookies, Valentine's Day cookies, and more!
🍪 Tips for Soft Cutout Cookies
To ensure super soft cookies, bring the cookies out of the oven when they look slightly underdone, as they will continue to cook on the cookie sheets or on a wire rack.
Bake on the middle or top rack of your oven to prevent the bottom of the cookies from over-browning. The bottom of the cookies should be only barely-golden.
Roll out the cookie dough thick! It will make the cookies nice and soft, and they'll taste divine. For really soft sugar cookies, I recommend using a rolling pin to roll your cookie dough to ⅜ inch thickness before cutting with your favorite cookie cutters.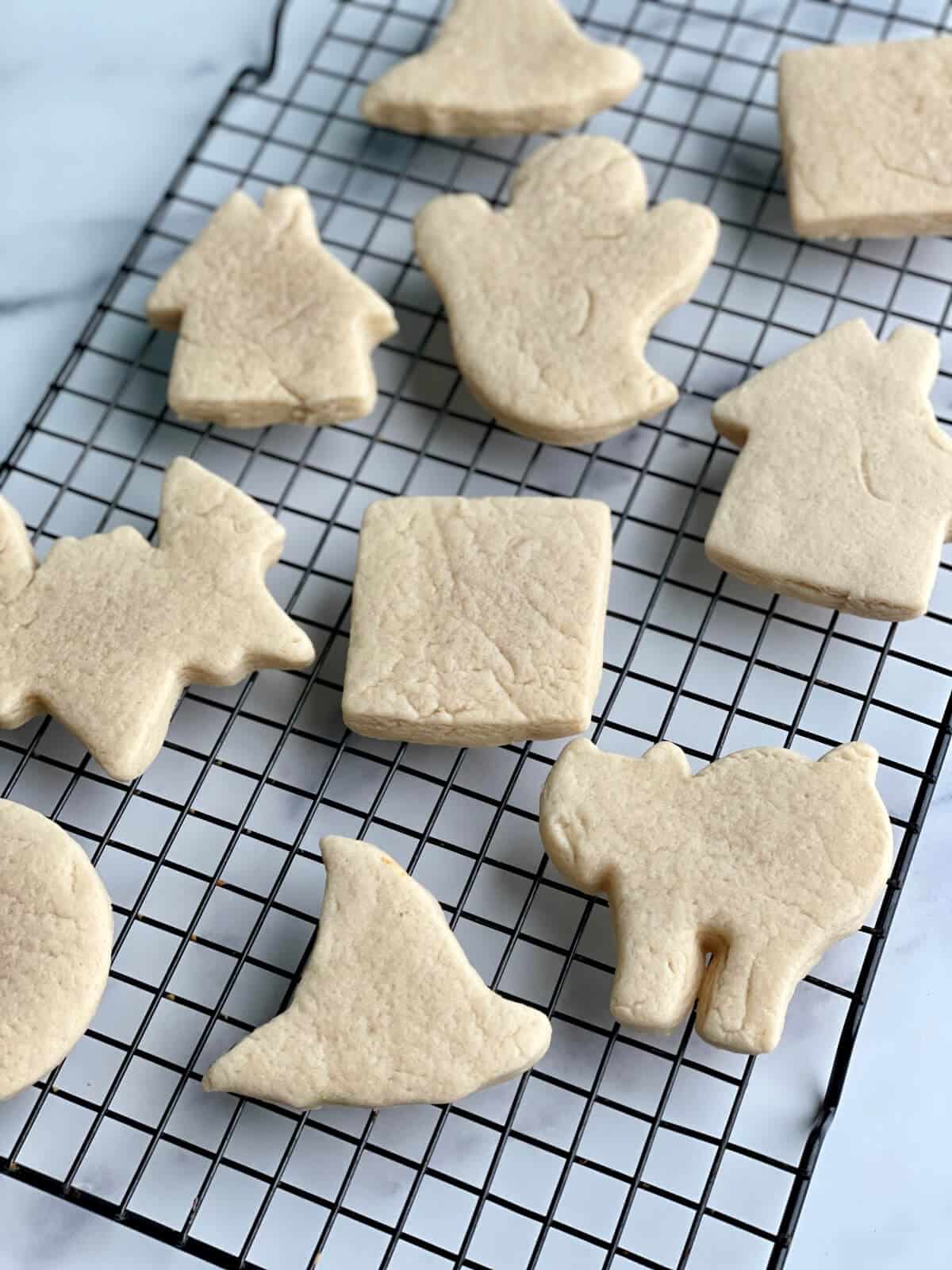 💭 Frequently Asked Questions
What's the best way to store these buttercream cookies?
Store your buttercream frosted cut-out cookies at room temperature in an airtight container for up to 5 days, or freeze them for up to a month.
Can I freeze the cookie dough?
Absolutely! I recommend cutting out the cookie shapes, then freezing the cutout cookies between rows of parchment paper.

When you're ready to bake them, place the frozen cookies 2 inches apart on your prepared cookie sheets. Allow them to thaw at room temperature before baking.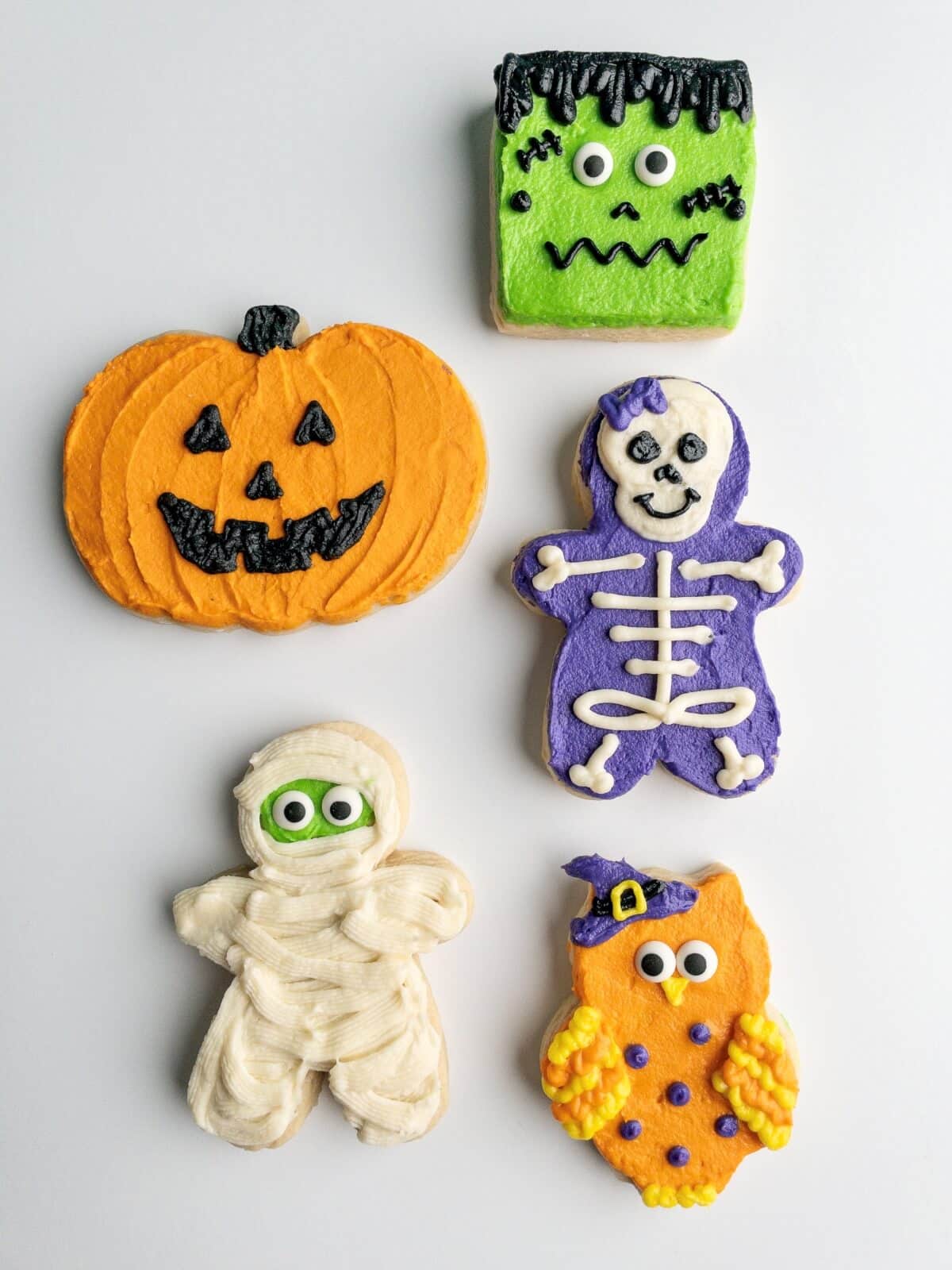 I'd love to see your decorated sugar cookies! Tag me on social media @amycakesbakes, or comment below to let me know what you think of this recipe! 🙂
Thanks for Reading. ❤️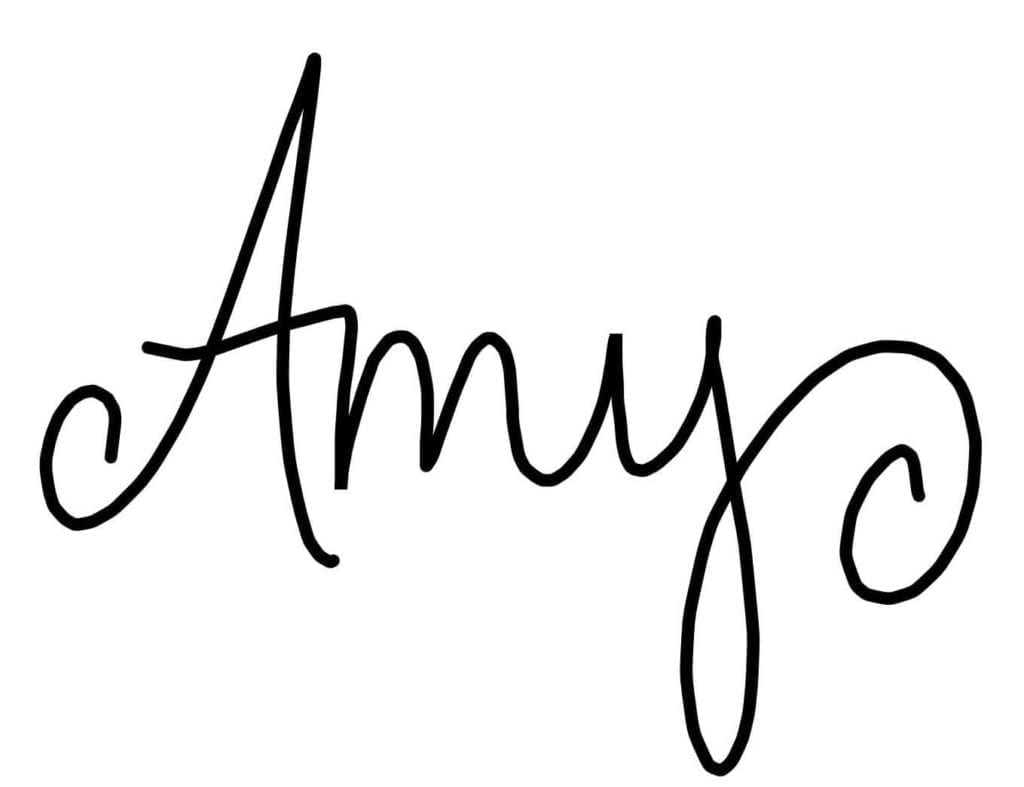 📖 Recipe
Buttercream Decorated Sugar Cookies
These cutout buttercream-decorated sugar cookies are so soft, full of a delicious vanilla flavor, and easy to make!
👩‍🍳 For the most accurate baking results, use the grams measurements with a kitchen scale.
Watch the quick recipe video
Equipment
Ingredients
Sugar Cookie Dry Ingredients
400 grams (3

cups)

all-purpose flour

(I use Gold Medal)

2

teaspoons

baking powder

1

teaspoon

Cream of Tartar

4 teaspoons Instant Clearjel or 2 

Tablespoon(s)

 Instant Vanilla Pudding Mix

(Make sure whichever you use is labeled as INSTANT.)
Sugar Cookie Creamed Ingredients
2 stick (8 

ounces)

 Salted Butter 

(soft to the touch)

200 grams (1

cup)

 Sugar

2

large

eggs

1

Tablespoon

vanilla extract

½

teaspoon

almond extract
Buttercream Ingredients
2 sticks (8

ounces)

salted butter

(at room temperature)

½ cup (3.4

ounces)

butter flavored shortening

(I use Crisco butter flavor shortening sticks)

48 grams (½

cup)

nonfat milk powder

3

Tablepoons

warm water

1 Tablespoon + 1

teaspoon

Pure Vanilla Extract

680 grams (5 ¼

cups)

powdered sugar
Instructions
Make the Sugar Cookie Dough
Preheat your oven to 325 degrees. Whisk the Dry Ingredients until well mixed and set aside.

Using a stand mixer (preferred) or handheld mixer with a paddle attachment, cream the soft butter and sugar just until the butter is light and fluffy, scraping the bowl as needed.

Add the egg and vanilla and almond extracts. Continue to beat on medium--the mixture will separate at first but keep beating just until it comes back together to a more uniform liquid, scraping the bowl as needed.

On low, slowly pour the whisked dry ingredients into the dough, and continue to mix just until it is fully incorporated and a smooth and uniform dough. Avoid overbeating.
Roll out and Bake the Cut-out Cookies
On a lightly floured surface, roll out the sugar cookie dough to ⅜ of an inch thickness and cut out shapes with cookie cutters. Place the cookies 2 inches apart on parchment-paper lined sheet pans or cookie sheets.

Bake the cookies in the preheated 325-degree oven on the middle or top rack (avoid the bottom rack) for 10 minutes, or until the bottoms of the cookies are only lightly golden, and the tops of the cookies have lost most of their shine. Cookies that are rolled out thinner and smaller shapes will take less time in the oven. Avoid overcooking--the cookies will still have a slight shine and may look slightly underdone. They will continue to bake on the tray after they are removed from the oven.
Make the Buttercream
Whisk the nonfat milk powder, warm water, and pure vanilla together to rehydrate the milk. Allow it to set for 5-10 minutes so that the milk powder can dissolve, and whisk again until there are no lumps. (If you notice any lumps, you can strain it through a fine mesh strainer.)

Using a stand mixer (preferred) or handheld mixer, blend the room-temperature butter and butter-flavored shortening until it is smooth with no lumps, scraping the sides of the bowl as needed.

Slowly add the powdered sugar while the mixer is on low, then add the rehydrated milk and vanilla mixture. Blend the buttercream on high for at least two minutes--this will add air into the buttercream and make it nice and fluffy.

Dye your buttercream with gel food color and use it to decorate your cooled cut-out sugar cookies. Enjoy!
Notes
This frosting is a pale ivory color (as pictured).  If you need a whiter frosting, you can add a liquid whitener.  I recommend only adding this to the frosting that needs to be white, as frosting dyed with other colors will not need the whitener.
Print Recipe