Soft and moist snickerdoodle cake is made from delicious vanilla almond cake and fluffy cinnamon buttercream. This extra moist vanilla cake is perfectly balanced with the right amount of cinnamon--just like a snickerdoodle cookie!
Jump to:
🍪 The best snickerdoodle cake
You get everything in one with this cake recipe: extra moist vanilla cake (a take of my popular bakery recipe for Vanilla Almond Cake) frosted with addictive fluffy cinnamon buttercream. Like a traditional snickerdoodle cookie, we aren't adding cinnamon to the cake, but when it's paired with cinnamon buttercream it melds into a cinnamony vanilla treat.
Decorate the cake with tiny simple snickerdoodle cookies that aren't just for garnish--they are deliciously soft cookies with a cinnamon crunch.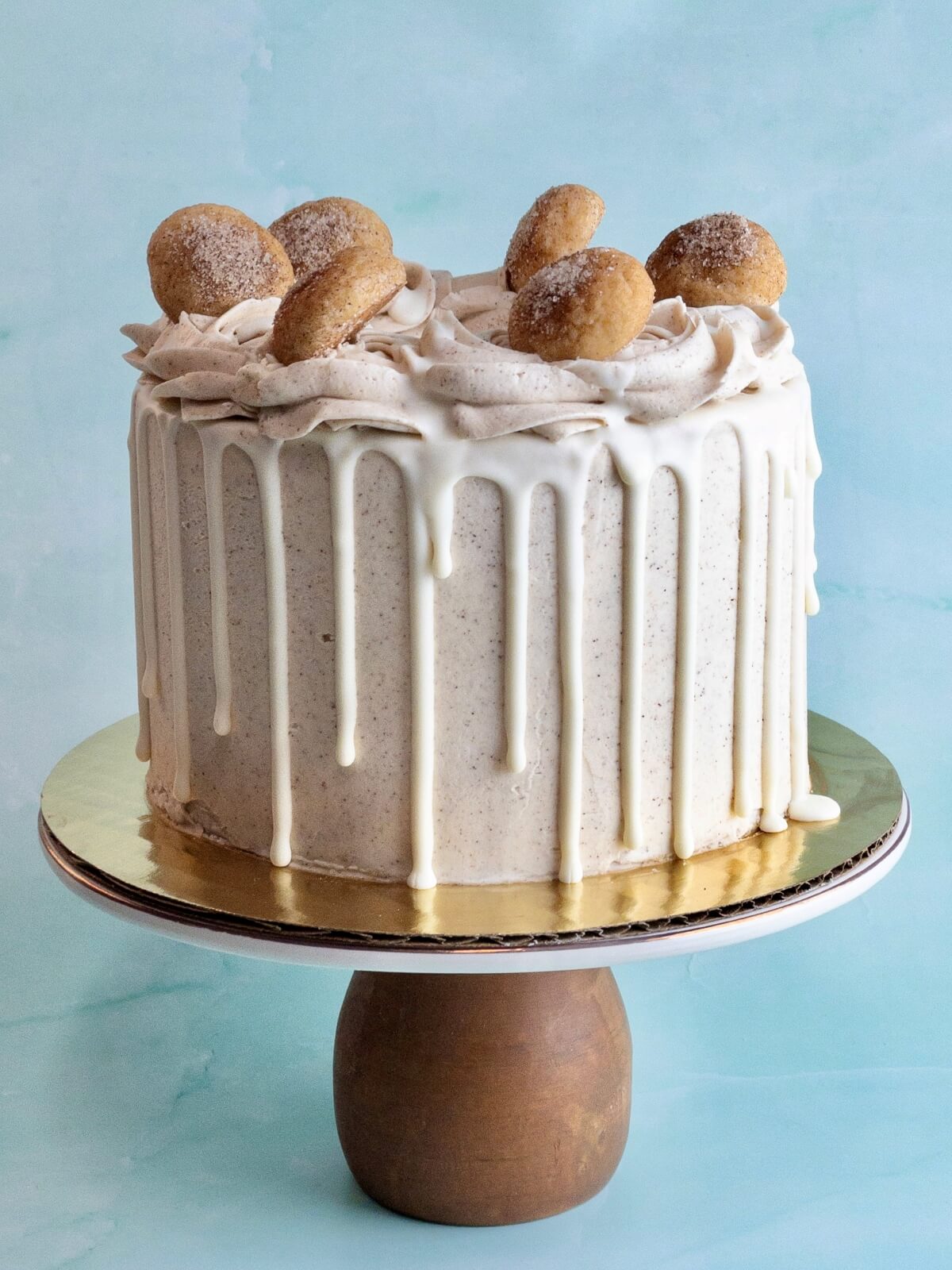 📋 Cake ingredients
All-purpose Flour
Baking Powder, Baking Soda, and Salt
Instant Vanilla Pudding Mix or Instant Clearjel (Both Instant Pudding mix and Instant Clearjel enhances moisture in cakes and allows them to stay moister longer--that's because they contains modified cornstarch which stabilizes the cake, keeping it soft and moist.
Salted Butter--I use salted butter in all of my bakery recipes because it provides more flavor (and can be left at room temperature overnight so it's soft when I need it).
Sugar
Light Corn Syrup--not the high fructose kind. This gives the cake a slightly better rise and enhances the moisture--you can use substitute equal parts sugar if needed.
Buttermilk--I never substitute it because it makes such moist cakes--I talk about this more in 7 Bakery Secrets to Incredibly Moist Cakes Every Time.
Vanilla Extract--you can use pure or imitation in the cake (but use pure vanilla in your buttercream!)
Almond Extract--this is the secret extract that gives the cake more of a snickerdoodle cookie flavor.
Egg Yolks and Egg Whites--We are beating the egg whites separately and folding them into the cake batter to give it a beautiful soft texture.
Cream of Tartar--this allows the egg whites to beat to their full potential.
👩🏻‍🍳 Top tips
Make sure your salted butter is soft to the touch! We don't want it to be melty or too firm, but it should easily indent when you touch it. I let mine set out the night before so it's ready to go when I'm ready to bake with it. (According to several resources like this article, salted butter can be left out at room temperature).

There's no need to overbeat or overcream--that can cause the cake to sink. Instead, only mix until the ingredients are fully mixed at each step and the batter looks smooth and uniform.

When whipping your egg whites, make sure the bowl and beater you use are very clean--any specks of grease or egg yolks can prevent them from whipping to stiff peaks.
🥣 Equipment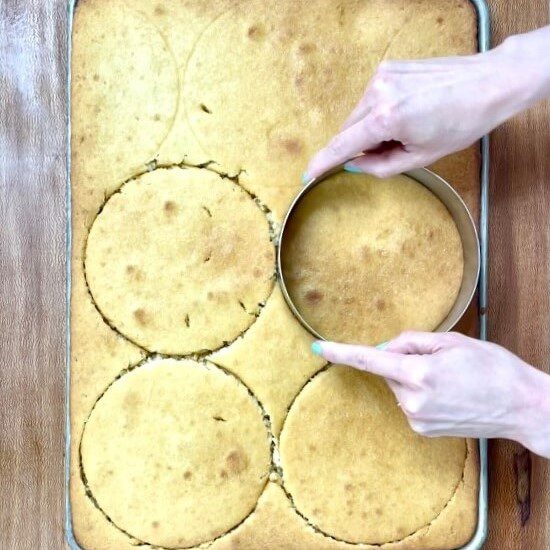 Layer this Cake using the Cut and Stack Method
I bake all my cakes in sheet pans and cut them out with cake rings. I talk about this in detail in 5 Easy Steps to Baking and Layering Cakes Like a Pro, but here's a quick rundown:

1. Bake the Cake in a Sheet Pan
2. Wrap and Freeze the Cake in the Pan
3. Cut Desired Cake Size with Cake Rings and Layer the Cake from Frozen
4. Crumb Coat the Cake
5. Decorate and Serve
⏲️ FAQ--storing and timing
Here are some frequently asked questions about preparing and storing this cake.
How do you store this snickerdoodle cake?
Nearly all of my cakes are best at room temperature! When the cake is cold it will have a firm and different texture due to all the yummy butter in the cake and buttercream. I want to make sure you enjoy the soft and moist cake and buttercream texture that is intended by eating the cakes at room temperature.

You can refrigerate the cake after decorating it, but allow it to come back to room temperature 2-3 hours before serving. (Keep in mind the buttercream can melt in warm conditions). I keep my leftover cake out of the fridge for up to 24 hours, but I'll refrigerate or freeze anything that won't get eaten within that time.
Can this cake be frozen?
Definitely--this snickerdoodle cake stays super moist when frozen! You can freeze the cake after baking as described within the recipe. I recommend layering the cake from frozen or at least cold as described in How to Bake and Layer Cakes Like a Pro. You can also freeze the decorated cakes in an airtight container or a cake box wrapped well in plastic wrap.
How long can the cinnamon buttercream frosting stay at room temperature?
Most of my buttercreams contain some cream cheese for a creamy smooth texture. And according to many articles, it can be left out overnight, although I recommend refrigerating your finished cakes until 2-3 hours before serving just so it doesn't get too soft on your cakes. I'll leave my cake leftovers that have cream cheese buttercream out for up to 24 hours because I want it to have a soft texture when I'm ready to eat it.

The buttercream can stay in the fridge for up to a week, or you can freeze it for even longer! Just thaw it in the fridge overnight, and allow it to get to room temp before using.
💭 FAQ-adjustments and substitutions
Here are some common questions about the ingredients or changes to this recipe.
Can I make different snickerdoodle cake sizes with this recipe?
Sure! Instead of the 3-layer 6" cake in a 1x batch (in the ¼ sheet pan), you can make a 2x batch (hit 2x near the ingredient section on the recipe card) to make a 3-layer 8" cake in a 2x batch (in a ½ sheet pan), as described within my article How to Bake and Layer Cakes Like a Pro. You can also make mini cakes with this same method.

If you'd prefer to bake in round pans, check out my cake pan baking recommendations. We would bake in round pans at Amycakes Bakery from time to time with leftover cake batter, but I haven't tested the exact baking times. The key is to not overfill your pans--when using sheet pans as written within the recipe, the cakes bake flat because there is less batter within the pan. Round cake pans with too much batter are more likely to sink while baking.
Can I substitute out the Instant Pudding Mix or Instant Clearjel?
I don't recommend it, as the cake is super moist, and the instant clearjel/ instant pudding thickens the cake batter, making it more stable, enhancing the texture, and keeping it moister longer.
I hope you enjoy this recipe! Share your creations with me on social media @amycakesbakes!
Thanks for Reading. ❤️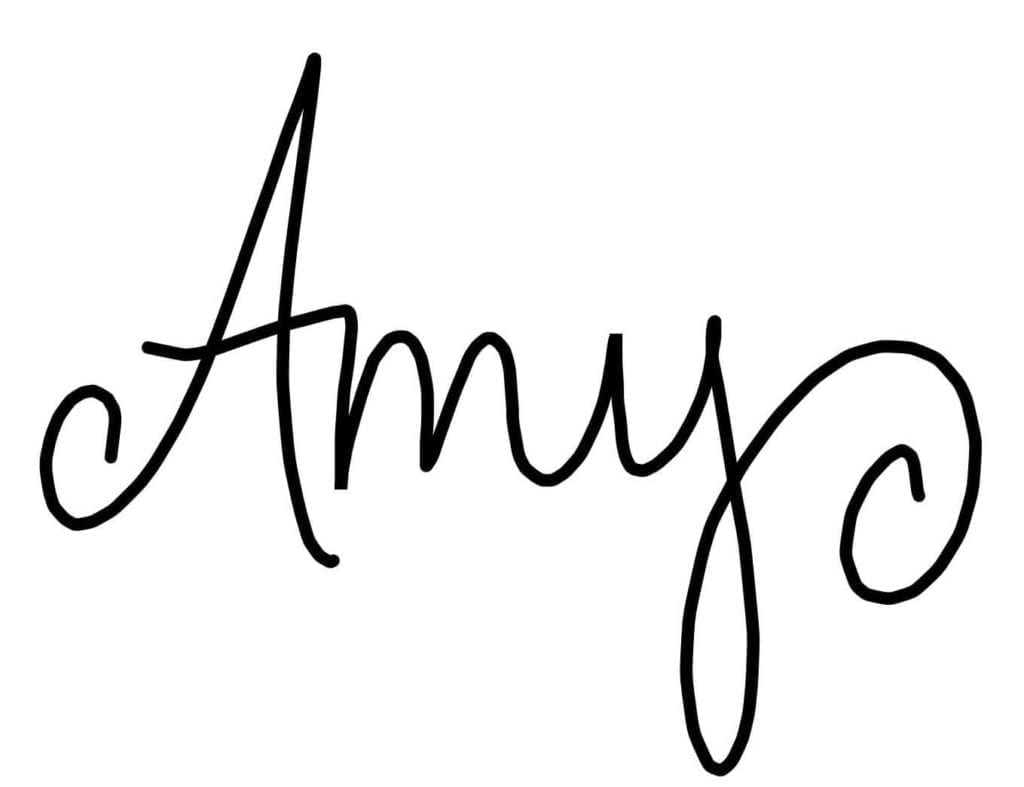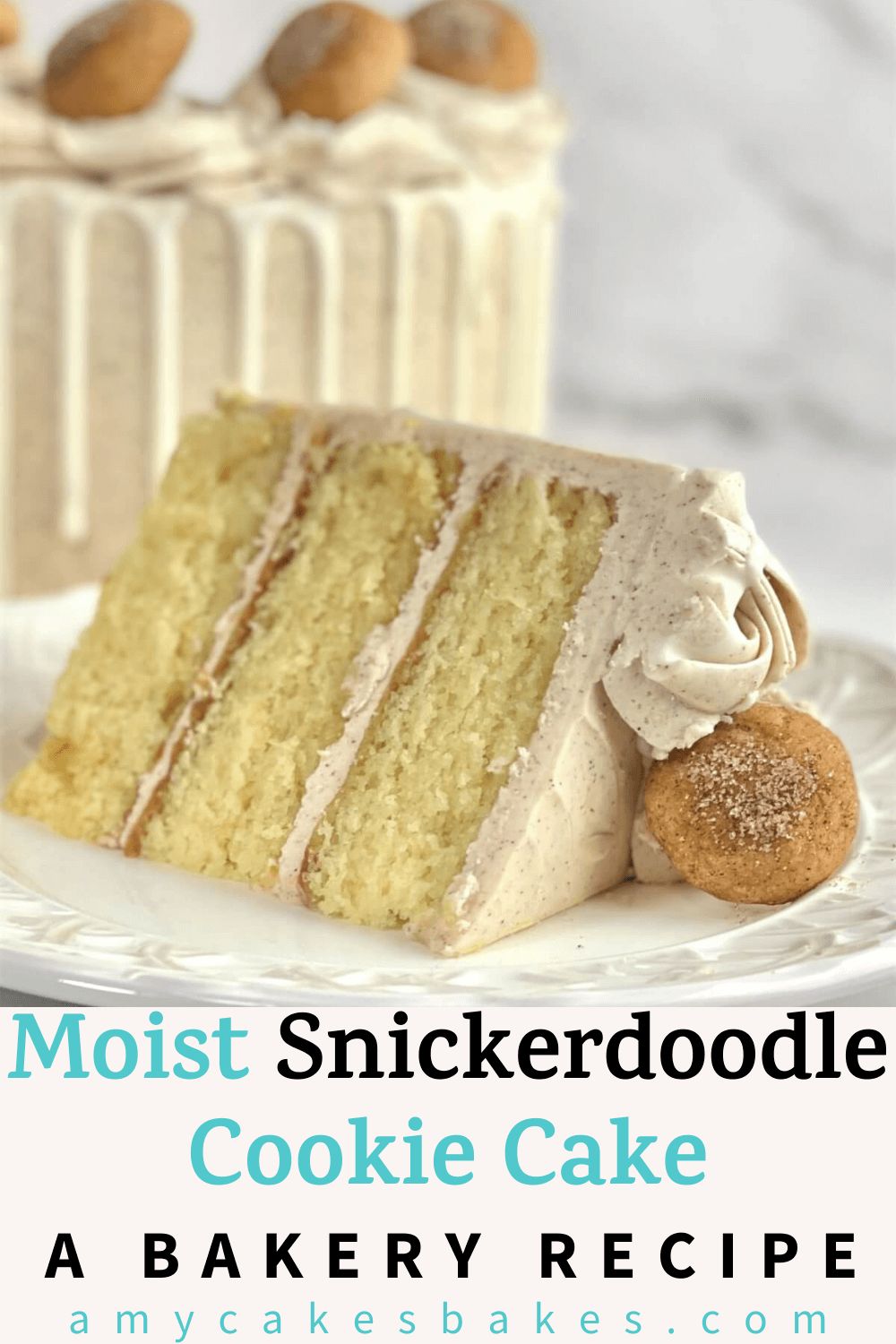 📖 Recipe
Snickerdoodle Cookie Cake
Soft and moist snickerdoodle cake is made from delicious vanilla almond cake and fluffy cinnamon buttercream. This extra moist vanilla cake is perfectly balanced with the right amount of cinnamon--just like a snickerdoodle cookie!
1x batch yields 1 
6" three-layer cake
, and a 2x batch yields 1 
8" three-layer cake
 cut out with cake rings using the 
Cut and Stack Method
. Or choose a different pan size by visiting 
my recommended cake pan chart.
👩‍🍳 For the most accurate baking results, use the grams measurements with a kitchen scale.
Watch the quick recipe video
Ingredients
Dry Ingredients
200 grams (1 ½

cups)

All-Purpose Flour

(I use Gold Medal)

2 Tablespoons Instant Clearjel or 3

Tablespoons

Vanilla Instant Pudding Mix

(See note #1)

1 ½

teaspoons

Baking Powder

1

teaspoon

Baking Soda

¾

teaspoon

Salt
Wet Ingredients
¾

cup

Buttermilk

¼

cup

Water

1 ½

teaspoons

Vanilla Extract

2 ¼

teaspoons

Almond Extract

1 ½

teaspoons

Apple Cider Vinegar
Creamed Ingredients
200 grams (1

cup)

Sugar

1 stick (4

oz)

Salted Butter

(soft to the touch)

¼

cup

Vegetable Oil

¼

cup

Light Corn Syrup

1

large

Egg
Whipped Ingredients
2

Egg Whites

¼

teaspoon

Cream of Tartar
Cinnamon Buttercream
Cake Decorations (optional)
Instructions
Make the Vanilla Almond Cake
Preheat Oven to 325 degrees. Line

¼

Sheet pan with parchment paper, and then spray bottom (on top of the parchment) and sides of the sheet pan with cooking spray.

Sift Dry Ingredients in a bowl and then whisk until well blended.

Combine and stir Wet Ingredients in a separate bowl or pitcher.

With a stand mixer (preferred) or handheld mixer, cream sugar and salted butter together until creamy and fluffy. Add oil and corn syrup and beat until incorporated. Add

1

egg(s) and cream until well blended, scraping sides of the bowl as needed.

On low speed, alternate adding Dry ingredients and Wet ingredients to the Creamed Ingredients, a little at a time. I do ⅓ Dry, ⅓ Wet, and so on, adding one-third at a time and blending on low after each addition. Continue to mix just until the batter looks well blended and smooth (avoid overbeating). Scrape sides of the bowl as needed.

Using a whip attachment and a clean bowl, whip the

2

egg whites and cream of tartar until stiff peaks form. (Make sure your bowl and beaters are clean and free from grease so that the whites will whip).

Carefully fold the Whipped Whites into the cake batter, one half of the whites at a time. The batter is ready when no egg white streaks remain and it should look smooth and uniform.

Spread into prepared pan and make sure the batter is evenly distributed. An offset spatula works well for this.

Bake on the middle or top rack (avoid bottom rack) of preheated 325-degree oven for 18 minutes, then turn the oven down to 300 degrees. Set the timer for an additional 6-8 minutes. Check the cake at this point. If it is jiggly at all when lightly touching the top of the cake, continue baking for 1-6 more minutes. The cake is done when a paring knife or toothpick comes out mostly clean when stuck quickly in the cake. A couple moist crumbs on your knife are fine, but they shouldn't look wet. Allow to cool completely.

The delicate cake will be easiest to layer from cold or frozen--allow the cake to cool, then thoroughly wrap and freeze the cake in the pan for at least 2 hours or up to 2 weeks ahead of time (brush the cake with simple syrup if freezing for more than a couple of days--see Note # 2).
Make the mini snickerdoodle cookie decorations (optional)
Make 1 teaspoon size balls out of the prepared soft sugar cookie dough. Whisk the cinnamon and sugar together. Roll the cookie dough balls in the cinnamon- sugar mixture, then reshape them into a ball if needed. Sprinkle a little more cinnamon sugar on top of the rolled balls to add extra cinnamon sugar crunch. Bake in a preheated 325-degree oven for 6-7 minutes. You will have extra cookie dough (you only need 6 to 8 tiny snickerdoodles for the top of the cake). The remaining cookie dough can be baked as larger snickerdoodle cookies, if desired. Larger 1-ounce cookies (the same size as these mini sugar cookies) bake for 10 minutes.
Layer, Decorate, and Serve
The easiest way to layer the cake is to layer the cake from frozen the day before you plan to serve it. If serving the cake the same day you are layering it, use refrigerated cake layers instead of frozen. Cut the cake layers with cake rings as described in How to Bake and Layer Cakes Like a Pro. Fill each cake layer with fluffy cinnamon buttercream. An offset icing spatula (I use the small and medium-size on all my cakes) helps with this. I recommend frosting a thin crumb coat of buttercream on the outside of the cake which will catch all the crumby edges, then allow it to set up in the freezer for about 10 minutes until the buttercream is firm. The remaining cake scraps can be used for cake truffles if desired. Drizzle with Simple White Chocolate Ganache Drip, if desired. Decorate the cake with mini snickerdoodle cookies.

Allow the completed cake to set up in the fridge, but remove it from the fridge 2-3 hours before serving so it can come back to room temperature. This cake has the best texture at room temperature. Enjoy!
Notes
Both Instant Pudding Mix and Instant Clearjel stabilize the batter and make a moister cake with a softer crumb.  Instant Pudding contains Instant Clearjel (modified cornstarch) as the 2nd ingredient which is why they work similarly with delicious results.  Make sure whichever you use is labeled as INSTANT--cook-type and original clearjel do not work the same as Instant Clearjel. 
Simple Syrup is optional, but I use it to seal in the moisture for cakes that will be refrigerated or frozen for more than a couple of days.  While the cake cools, make a simple syrup by combining 2 teaspoons water and 2 teaspoons sugar in a small microwave-safe bowl.   Microwave until the sugar is dissolved after whisking, about 20-30 seconds.  Lightly brush the simple syrup on top of the cake with a silicone pastry brush (you won't need to use all of it in a 1x batch baked in a ¼ sheet pan).  You can also make a larger batch of this (1 part sugar to 1 part water) and keep it in the fridge if you're doing a lot of cake baking.  
Print Recipe