This bakery-style cake truffle recipe starts with balls of homemade cake that are dipped in an easy and delicious melted chocolate chip coating.
Jump to:
⭐ About this Recipe
You can call them cake truffles, cake balls, or cake pops. I prefer to call them cake truffles because these are a little fancier than your average cake ball—we're starting with made-from-scratch moist and flavorful cake, and you can certainly taste the difference!
They make great gifts (we couldn't keep our cake truffle gift boxes in stock at Amycakes Bakery around the holidays). I also enjoy using them as a decoration on top of my cakes.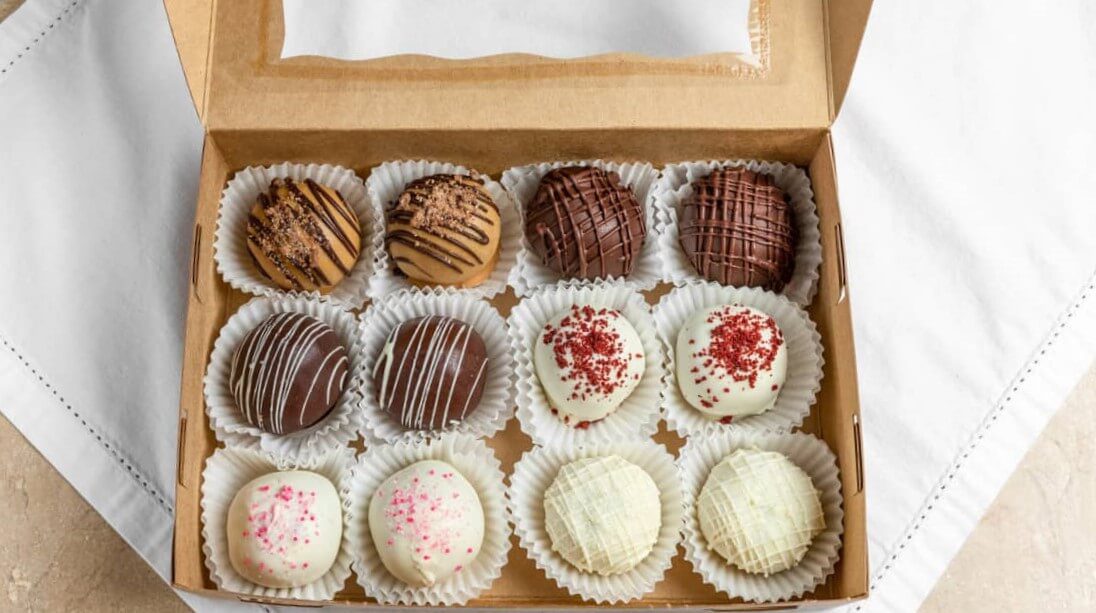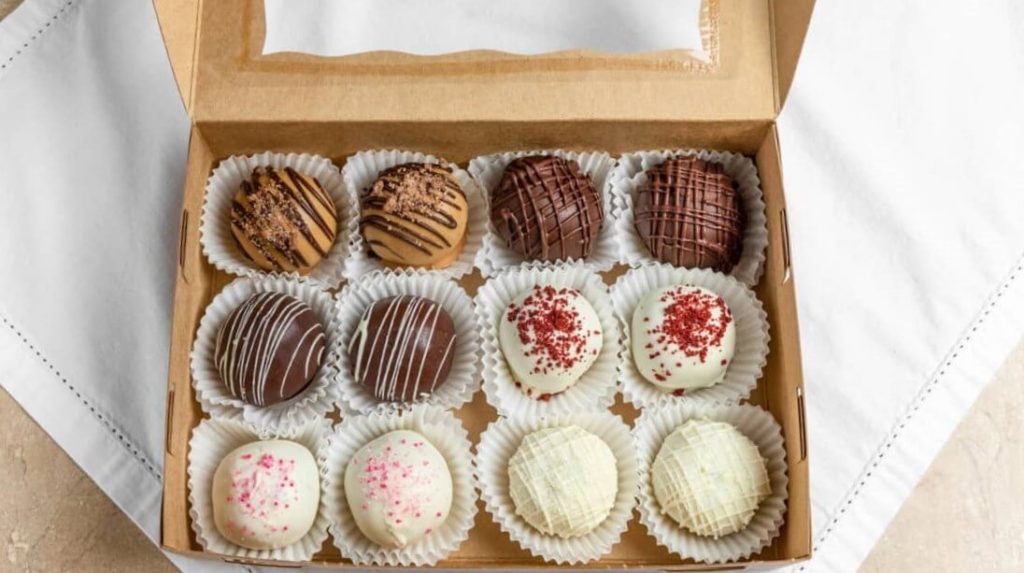 🍰 It's All About the Cake
The reason why these truffles are so good is they start off with really delicious cake—cake so moist that you don't even need to add frosting to it when you mash it up. Since we aren't adding frosting, it saves time and we don't have to worry about our truffles being overly sweet.
When mashed into a dough, the flavor of the cake is even more amplified, with a soft and chewy truffle texture.
If you are using a different cake recipe that is not as moist, I do recommend mixing in some frosting when you mash it into a ball of dough until you get your desired consistency.
🥣 Use Cake Scraps
If you bake a layer cake in a sheet pan using the Cut and Stack Method, you'll be left with some cake scraps that are perfect for this cake truffle recipe. Just mash the thawed cake scraps until they turn into a smooth dough.
Or if you're feeding a crowd, you can bake the cake in a sheet pan and turn all of it into truffles (use my Cake Recipes without the frosting). One ¼ sheet pan of cake makes around 3-4 dozen cake truffles, depending on the size of your truffles.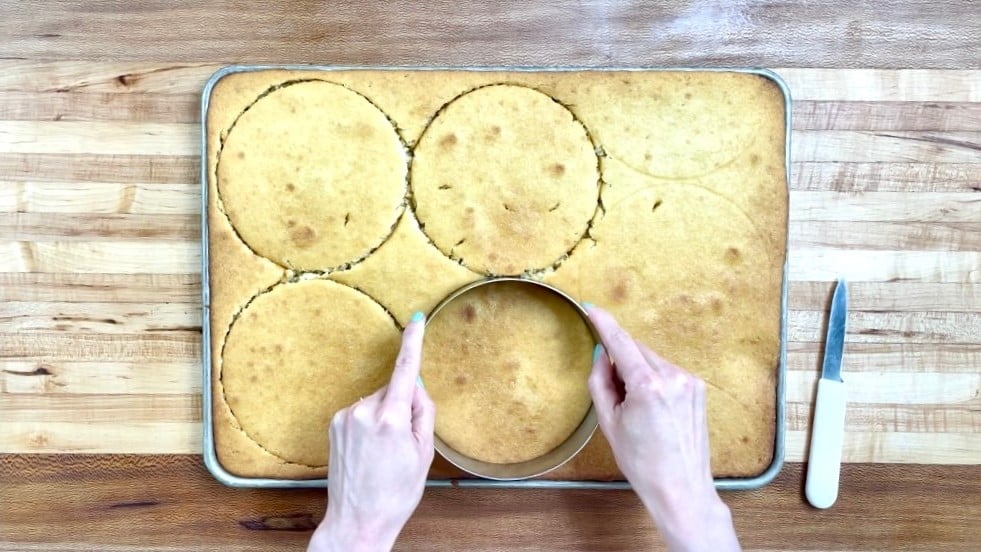 🎂 Use Leftover Frozen Cake
If you bake a lot like me, you could end up with a variety of cake scrap flavors in your freezer.
Cake recipes made with buttermilk, vegetable oil, and Instant Clearjel freeze amazingly well. These ingredients keep the cakes just as moist when freezing as when you first baked them (if you wrap them really well).
You can keep cake that's meant for cake truffles in the freezer for up to a month (you could probably go even longer than that). It's a great way to build up a variety of cake truffle flavors.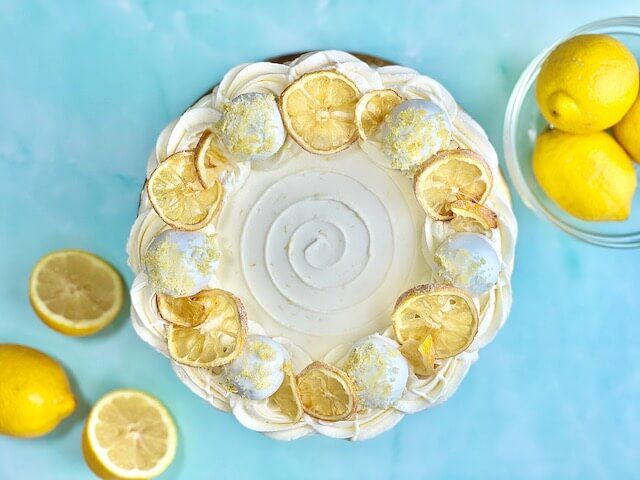 ⏲️ Freeze them in Advance
There are several options in freezing your cake pops to save you time and stress:
You can freeze the baked and wrapped cake in your sheet pan until you're ready to thaw it and mash it.
You can mash and freeze your cake into a large ball or patty of dough, then later thaw it and turn it into balls.
You can freeze the rolled cake balls, then thaw them overnight in the fridge before dipping them.
You can freeze the finished dipped and decorated cake truffles.
My personal preference is to ball my cake, then to refrigerate my balled cake overnight. I use a Devilled Egg Holder to store them safely. The next day I dip and decorate the cake truffles, and I'll freeze any that aren't going to get eaten within a couple of days.
With all of these options, all you need to do is make sure the cake truffles are thoroughly wrapped in plastic wrap (or in an airtight container that is wrapped), with little air around them. Then thaw the cake in the fridge the night before you are ready to use or eat it.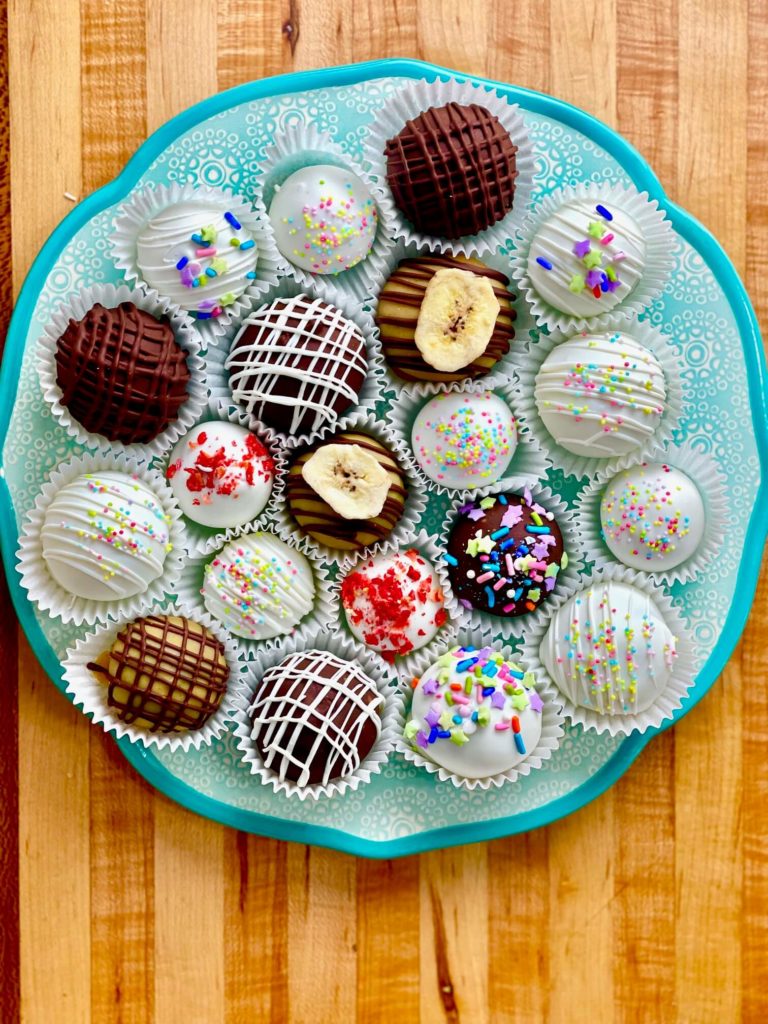 👩🏻‍🍳 How to Melt Chocolate Chips for an Easy Cake Truffle Dip
After you've gone through the steps of making an extra-moist made-from-scratch cake, the truffle dip is quite easy. I use a variety of flavored baking chips to make these truffles. Chocolate chips make a very easy dip, and I always have them in my pantry.
We'll be using semi-sweet chocolate chips, white chocolate chips, and peanut butter chips to get a great assortment of truffle flavors. I also like to add Bright White Candy Melts to my white dip to give it a prettier white color.
To make the dip, we'll just be microwaving them at 50% power until melted, then adding a little vegetable oil to thin the chocolate so it is a nice dippable consistency.
♨️ Do You Have to Temper the Chocolate?
I must confess, I don't temper my chocolate. Tempering is a method of heating up chocolate and then cooling it down, which creates a very crispy chocolate coating when it cools.
The problem is, I've found it's a tricky method to perfect, and I just don't think it's worth the extra time. I like to spend my time where you can really notice the difference (like on made-from-scratch cake batter). But if you'd like to temper your chocolate, here are some straightforward instructions on how to temper chocolate.
This cake truffle recipe is delicious as is—they have a crispy chocolate shell from cold, but because the chocolate is not tempered they may have a softer shell when they are warm or at room temperature.
I like to serve my cake truffles cold, but some customers at Amycakes Bakery said they liked them best at room temp. They are really delicious either way!
🍪 Other Treat Recipes
Here are some additional delicious and easy treats that would be great served alongside your cake truffles.
I hope you enjoy this cake truffle recipe!
Thanks for Reading. ❤️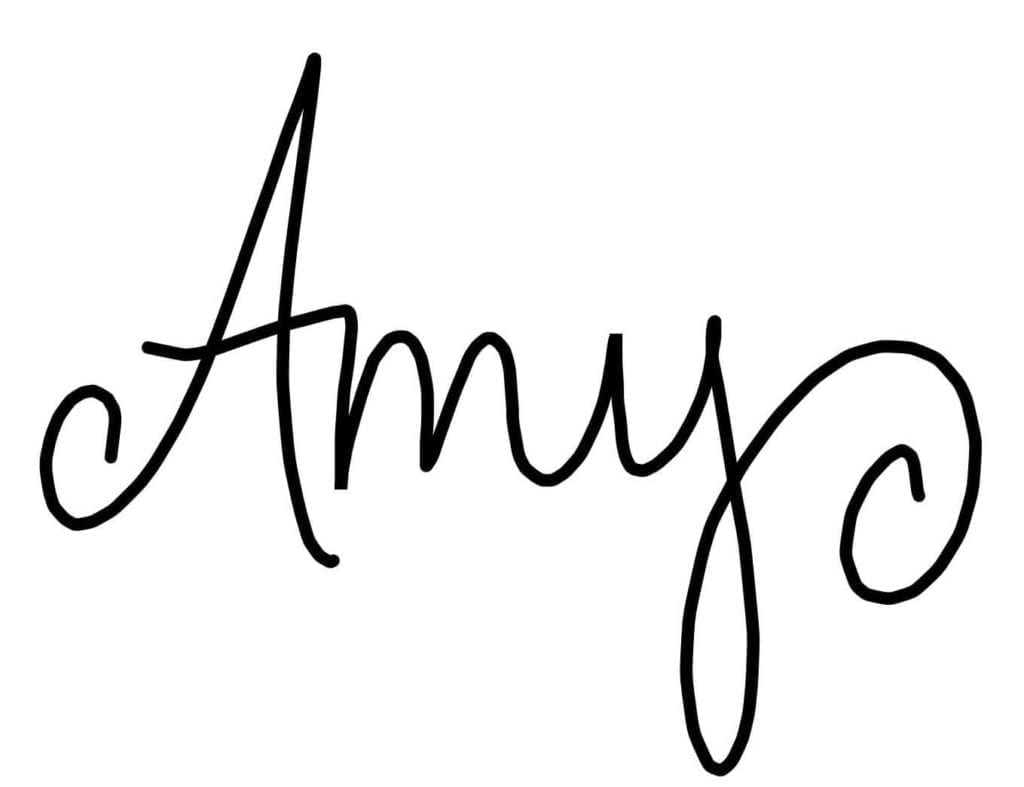 🎥 Video
📖 Recipe
Cake Truffles: a Variety of Flavors in One Simple Recipe
Made-from-scratch bakery-style cake truffles are moist and flavorful and dipped in an easy chocolate chip coating. Choose from various flavor combinations to make a variety of delicious flavors, just like we did at Amycakes Bakery.
👩‍🍳 For the most accurate baking results, use the grams measurements with a kitchen scale.
Watch the quick recipe video
Ingredients
1 cup packed (around 200 grams)

Very Moist Cake Scraps (use this amount of scraps per your choice of flavored dip below)

(Use my cake recipes without the frosting or use the leftover scraps from your cakes made with the Cut and Stack Method. When using moist and flavorful cake recipes, no frosting is required.)
White Dip Ingredients
84 grams (½

cup)

White Chocolate Chips

84 grams (½

cup)

"Bright White" or "Super White" Candy Melts

(or substitute with more white chocolate chips—it just will be ivory in color)

1 Tablespoon(s) + 1

teaspoon(s)

Vegetable Oil
Chocolate Dip Ingredients
168 grams (1

cup(s))

Semi-Sweet Chocolate Chips

(I use Nestle)

2

Tablespoons

Vegetable Oil
Instructions
Make the Cake Truffles
Squish the moist cake scraps until it becomes a smooth dough. Divide the dough into your preferred truffle size and roll them into smooth balls. The easiest way to get evenly-sized truffles is to press the dough firmly into a cookie scoop and level off any excess dough. I use a 4-tsp cookie scoop for 1.5-inch truffles and a 1-ounce scoop for 2-inch truffles. (I like 2-inch truffles for individual treats, and prefer the 1.5-inch mini truffles as cake or cupcake decorations. This is the size of the truffles after they are dipped).

Allow the cake balls to set up in the fridge for at least 2 hours or overnight. They store well in a devilled egg holder. The balls are much easier to dip from cold. (Avoid dipping frozen cake balls, however, as the dip may crack. Thaw the cake in the fridge first instead).
Make the Truffle Dip
Choose your truffle dip flavor from the ingredient section, and place the flavored chips (and the candy melts if making the white dip) in a microwave-safe container. (I like to use a microwave-safe container with square edges so that I can dip the truffles out of this same container. A square edge is easier to dip out of than a bowl, because you can tilt the container and dip more truffles as your dip gets low.)

Melt the chips/melts in the microwave at 50% power until just melted, stirring frequently. Avoid overheating the chocolate. If the dip is overheated, it tends to separate on the cold truffle. Once the chocolate is just melted, add the vegetable oil and stir until combined.

Using a toothpick, dip each refrigerated truffle into the prepared chocolate dip, lightly scraping the bottom edges of each truffle on the sides of the container after dipping. Place each truffle on a plate or tray with a layer of parchment paper. If sprinkling with a topping (without a drizzle), immediately sprinkle it on top of the dipped truffle so that it sticks before the truffle dip dries.

If using a drizzle, place melted truffle dip in a disposable piping bag, then cut off the very tip of the bag (start small--you want only about a ⅛ inch opening on your piping bag). Drizzle on top of truffles that are firm to the touch. If you'd like a sprinkled topping on top of the drizzle, immediately sprinkle it lightly on top of the drizzle before it dries.

Refrigerate the truffles so that they are set up completely. Serve in mini cupcake liners, if desired. Keep refrigerated until serving for crisp truffles. Refrigerate for up to one week, or wrap the truffles in an airtight container and freeze for up to one month.

Any leftover dip may be kept in an airtight container at room temperature, and reheated in the microwave at 50% power the next time you use it. Enjoy!
Notes
I use chocolate chips for my truffles since I always have them on hand, and I don't temper my chocolate.  (This is also how we made them at Amycakes Bakery).  That means that these truffles will get softer at room temperature.  I recommend serving them from cold so they always have a crisp exterior.
If you'd prefer a speedier chocolate dip that you just heat and dip, I recommend Ghiradelli Melting Wafers in Dark and White.
Flavor Recommendations:
Peanut Butter Cup Cake Truffles:
-Chocolate Cake Scraps
-Peanut Butter Dip
-Topping: Chocolate Dip Drizzle and/or peanut butter cup crumbles
Double Chocolate Cake Truffles:
-Chocolate Cake Scraps
-Chocolate Dip
-Topping: Chocolate Dip Drizzle 
Chocolate Tuxedo Cake Truffles:
-Chocolate Cake Scraps
-White Dip
-Topping: Chocolate Dip Drizzle 
Vanilla Almond Cake Truffles:
-Vanilla Almond Cake Scraps
-White Dip
-Topping: Vanilla Dip Drizzle and/or sprinkles
Almond Fudge Cake Truffles:
-Vanilla Almond Cake Scraps
-Chocolate Dip
-Topping: Vanilla Dip Drizzle
Strawberry Cake Truffles:
-Strawberry Cake Scraps
-White Dip
--Topping: White Dip Drizzle and/or crumbled Freeze Dried Strawberries or Sprinkles
Lemon Cake Truffles:
-Lemon Cake Scraps
-White Dip
-Topping: Lemon zest/sugar sprinkle (zest of One Lemon + 2 teaspoon Sugar mixed together)
Banana Cake Truffles:
-Banana Cake Scraps
-White Dip
-Topping: White Dip Drizzle and/ or banana chip
Elvis Cake Truffles:
-Banana Cake Scraps
-Peanut Butter Dip
-Topping: Chocolate Dip Drizzle and/ or banana chip
Print Recipe