Who doesn't love a super soft cookie? These are the chocolate chip cookies of your dreams. Chewy Bakery-Style Chocolate Chip Cookies are made with some of my favorite bakery ingredients including brown sugar, salted butter, all-purpose flour, and Instant Vanilla Pudding mix.
You really can't fathom how soft and chewy these cookies are until you try to make them for yourself. I've made a lot of different recipes over the years, but I'm always down for a chocolate chip cookie that is worthy of being dunked in cold milk (like my chocolate chip butterscotch cookies)!
These cookies are everything a chocolate chip cookie should be. They have the perfect balance of sweet and salty, they're chewy with a very slight crunch around the edges, and they're packed with chocolate chips. They're also super easy to make! So, if you're looking for the best chocolate chip cookie recipe, look no further!
Jump to:
🥣 Ingredients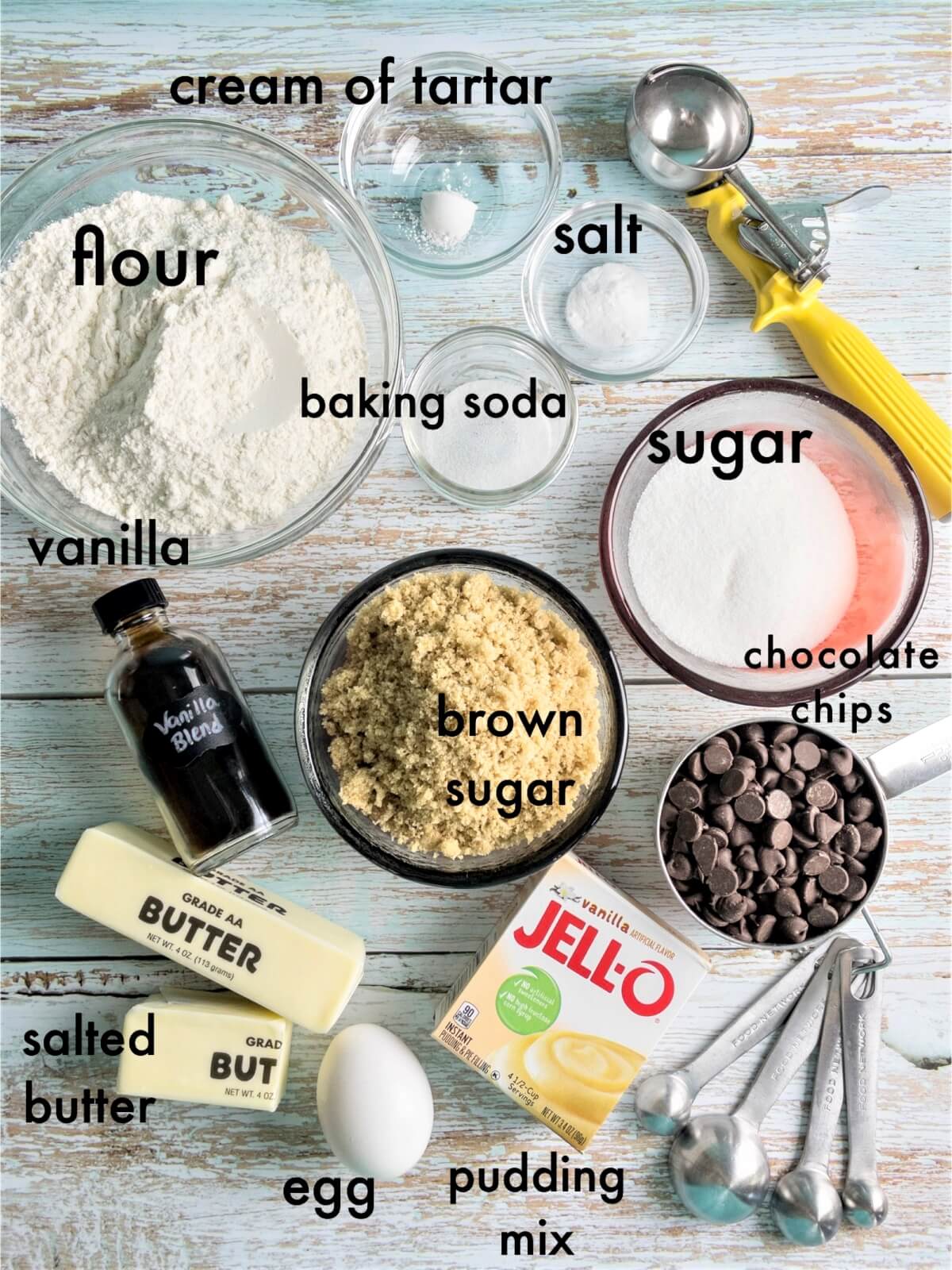 To make these cookies in their entirety, you'll have to check out the recipe card. However, I wanted to touch on a few of the important ingredients used in these Homemade Chocolate Chip Cookies:
Semi-Sweet chocolate chips - Use your favorite brand of chocolate chips for these cookies, it's worth it!
Instant vanilla pudding (the dry mix) - The secret to making these cookies is all in the pudding. The pudding helps to create a chewy and moist cookie, while also giving it a subtle vanilla flavor. I use the JELLO brand because its second ingredient is "modified cornstarch." Also known as Instant Clearjel, it thickens the cookies and allows them to retain more moisture. This ingredient is also the reason you can bake these cookies right after making the dough--no refrigeration time required!
Brown sugar - If you love a classic chocolate chip cookie, then you know the brown sugar ingredient is a must!
All-purpose flour - You will need all-purpose flour to help bring these chewy cookies to life!
Salt--I never shy away from salt in my recipes; it's what balances the sweetness from the pudding in these cookies and gives them their rich flavor.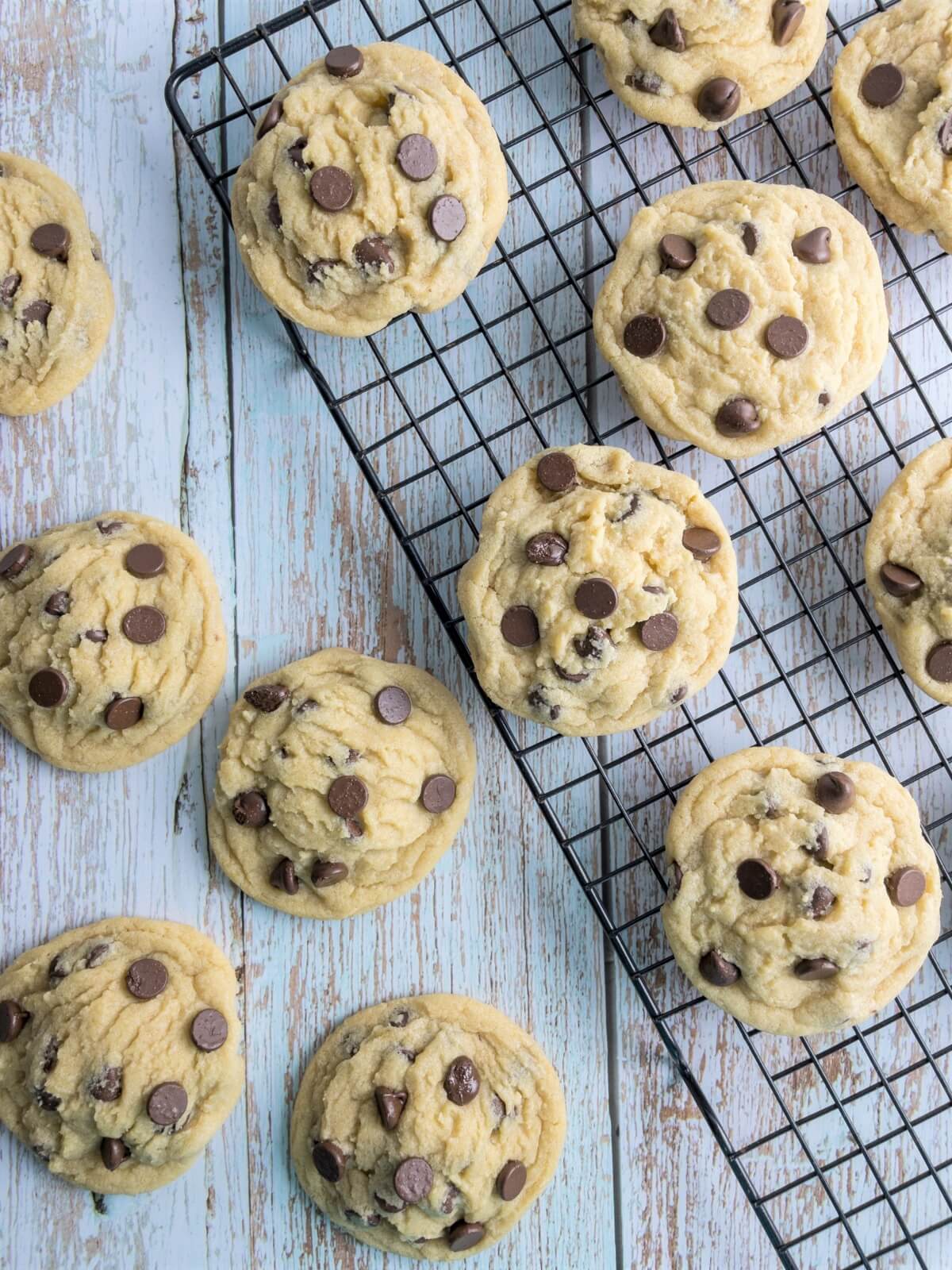 👩🏻‍🍳 Baking Tips
Bake the cookies on the middle or top rack (avoid the bottom rack). This will help prevent the bottoms from over-browning.
If you want thick cookies, use a 1.5-ounce cookie scoop and press the cookie dough tightly into the scoop. You can also make smaller cookies and simply adjust the baking time.
To ensure that the cookies are soft and chewy, bring them out of the oven when the cookies look just slightly underdone. Once the bottoms of the cookies are a light golden brown and the tops have lost most of their shine, the cookies are done.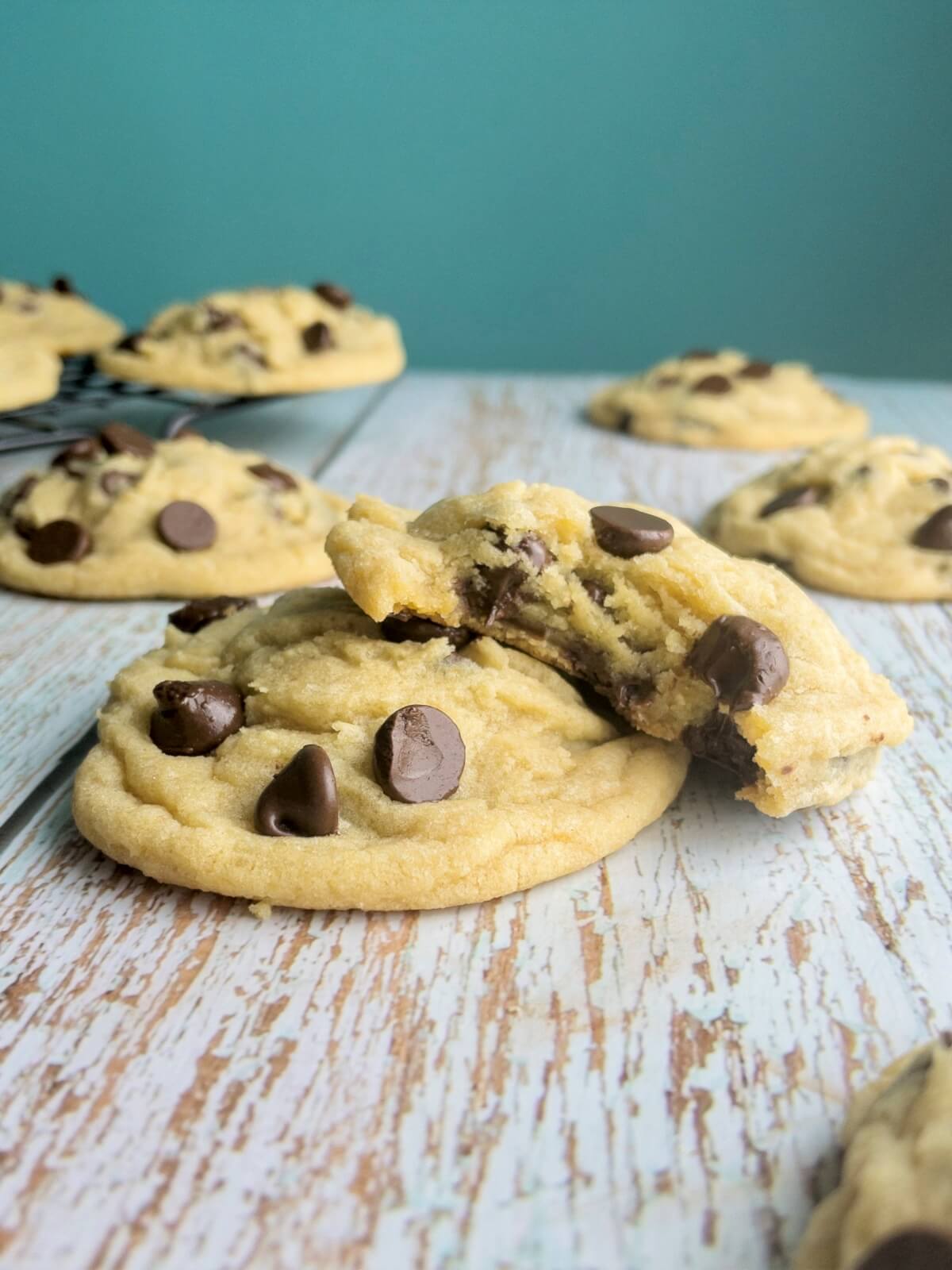 💭 Frequently Asked Questions
Can I use a different type of chocolate chip?
You can certainly use a different type of chocolate chip, but I think the semi-sweet variety works best in this recipe. Feel free to try out other varieties and let me know what you think!
What is the difference between these cookies and regular chocolate chip cookies?
These bakery-style chocolate chip cookies are made with brown sugar and instant vanilla pudding mix. These two ingredients create a cookie that is super moist, thick, and chewy like we served at Amycakes Bakery.
Can I add nuts to these cookies?
Feel free to add 1 cup of chopped nuts (I prefer pecans) to your cookie dough. Pecans will make the cookies slightly more savory, so you may wish to decrease the salt by ¼ teaspoon.
Can I make these chocolate chip cookies with instant clearjel instead of instant pudding mix?
Yes, you can! To make this substitute in a 1x batch, add an additional 6 Tablespoons white sugar and an addition 1 Tablespoon vanilla extract, then whisk 3 Tablespoons instant clearjel into your dry ingredients in place of the vanilla instant pudding mix.
🧊 How to Store & Freeze Chocolate Chip Cookies
Baked cookies can be stored in an airtight container at room temperature for 2-3 days. If you'd like to freeze them, I suggest freezing them in a freezer-safe bag or container for up to 3 months. When you're ready to eat them, simply thaw them at room temperature or pop them in the microwave!
Even better, you can freeze the unbaked cookie dough after you scoop it! Store the cookie dough balls in an airtight container in the freezer, then thaw as many as you would like to bake on a parchment-lined cookie sheet. They usually thaw in about 20-30 minutes. Cold cookie dough will require a couple of more minutes in the oven.
🍪 Other Bakery-Style Cookie Recipes
Here are a few more soft cookie bakery recipes (inspired by recipes from my former bakery) that I'm sure you'll love.
I hope you enjoy this recipe! It makes a soft, chewy chocolate chip cookie that tastes just like the ones you get at your favorite bakery. Once you give these cookies a try, let me know how you liked them!
Thanks for Reading. ❤️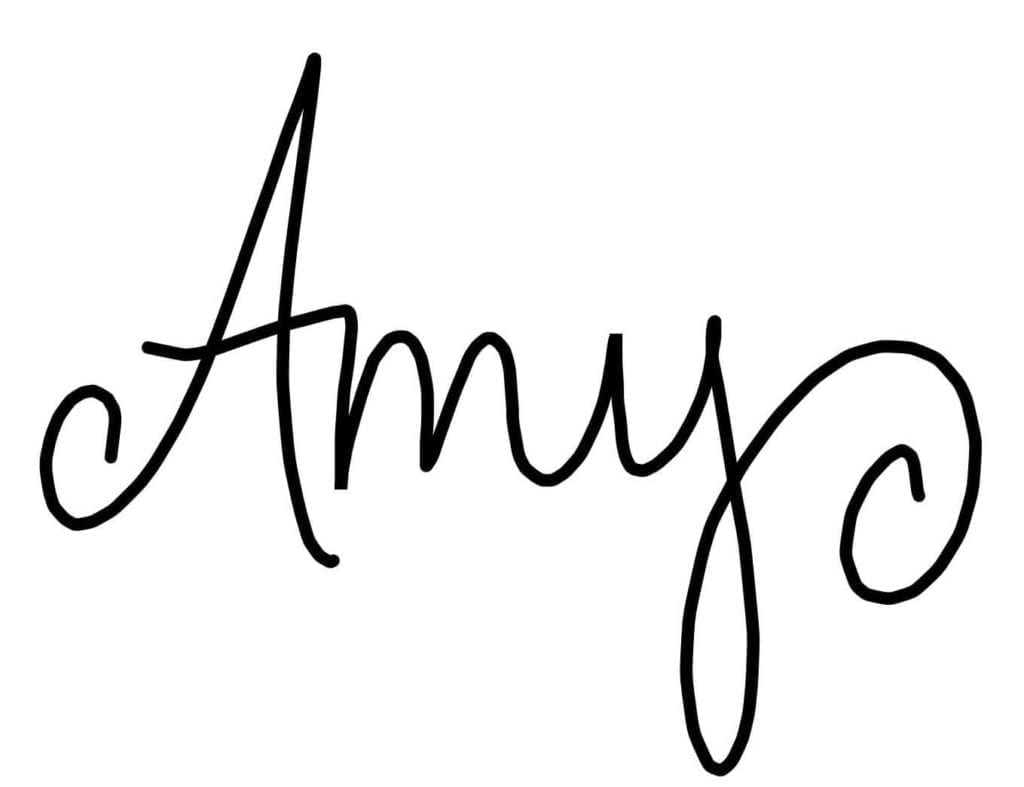 📖 Recipe
Chewy Bakery-Style Chocolate Chip Cookies
This secret bakery recipe makes the best bakery-style chocolate chip cookies (that stay soft for days)! They're loaded with chocolate chips and they have the perfect thick, soft and chewy texture.
👩‍🍳 For the most accurate baking results, use the grams measurements with a kitchen scale.
Watch the quick recipe video
Ingredients
Dry Ingredients
250 grams (1 ¾ cups + 2

Tablespoons)

All-purpose flour

(I use Gold Medal)

1

3.4 oz box

Instant Vanilla Pudding (the dry mix)

(I use Jello brand)

1

teaspoon

salt

½

teaspoon

Baking Soda

½

teaspoon

Cream of Tartar
Creamed Ingredients
100 grams (½

cup)

sugar

170 grams (¾ cup

packed)

brown sugar

1 ½ sticks (6

ounces)

Salted Butter

(soft to the touch, but not melted)

1

egg

1

Tablespoon

Vanilla Extract
Other Cookie Ingredients
180 grams (1

cup)

Semi-Sweet Chocolate Chips

(Plus a few extra to place on top of the cookies before baking. I use Nestle Tollhouse)
Instructions
In a medium bowl, whisk the dry ingredients until well blended.

In a stand mixer (preferred), or a handheld mixer, blend the sugar, brown sugar, and softened salted butter until light and fluffy, scraping the sides of the bowl as needed.

Add the egg and vanilla extract, and blend again until creamy and well blended, scraping as needed.

While the mixer is on low, slowly add the dry ingredients. Continue to mix until it's well incorporated and no flour remains. Avoid overmixing. Add the chocolate chips while the mixer is on low.

Using a 1.5-ounce scoop, scoop the cookie dough and place the balls onto cookie sheets or sheet pans lined with parchment paper. (If you don't have a cookie scoop, you can just divide the dough into 18 equal cookie dough balls). Press extra chocolate chips into the tops of the cookie dough balls for presentation and extra chocolaty goodness.

Bake the cookies on the middle or top rack (avoid the bottom rack) in the 325-degree preheated oven for 10-12 minutes, or until the edges are set and the tops of the cookies are only slightly shiny. The bottom of the cookies should be lightly golden. The tops of the cookies may look slightly underdone but will continue to bake on the cookie sheet as they cool. Enjoy!
Print Recipe