💬 Featured Instagram Comment: "These are amazing. Made these for Christmas and our customers. They were a hit. Everyone went back for seconds and some got one for each hand! This recipe is a keeper."--Jodie
Jump to:
⭐ About This Recipe
These thick and chewy oatmeal raisin cookies have a delicious cinnamony and nutty flavor and a super soft texture. Juicy raisins and pecans provide the perfect amount of moisture and crunch. When these cookies are on my counter, I can't resist eating them for breakfast or snacks!
Better yet, this cookie dough is made without a mixer, and it comes together quickly without having to chill the dough. All you need is two bowls, a wooden spoon or spatula, and your hands!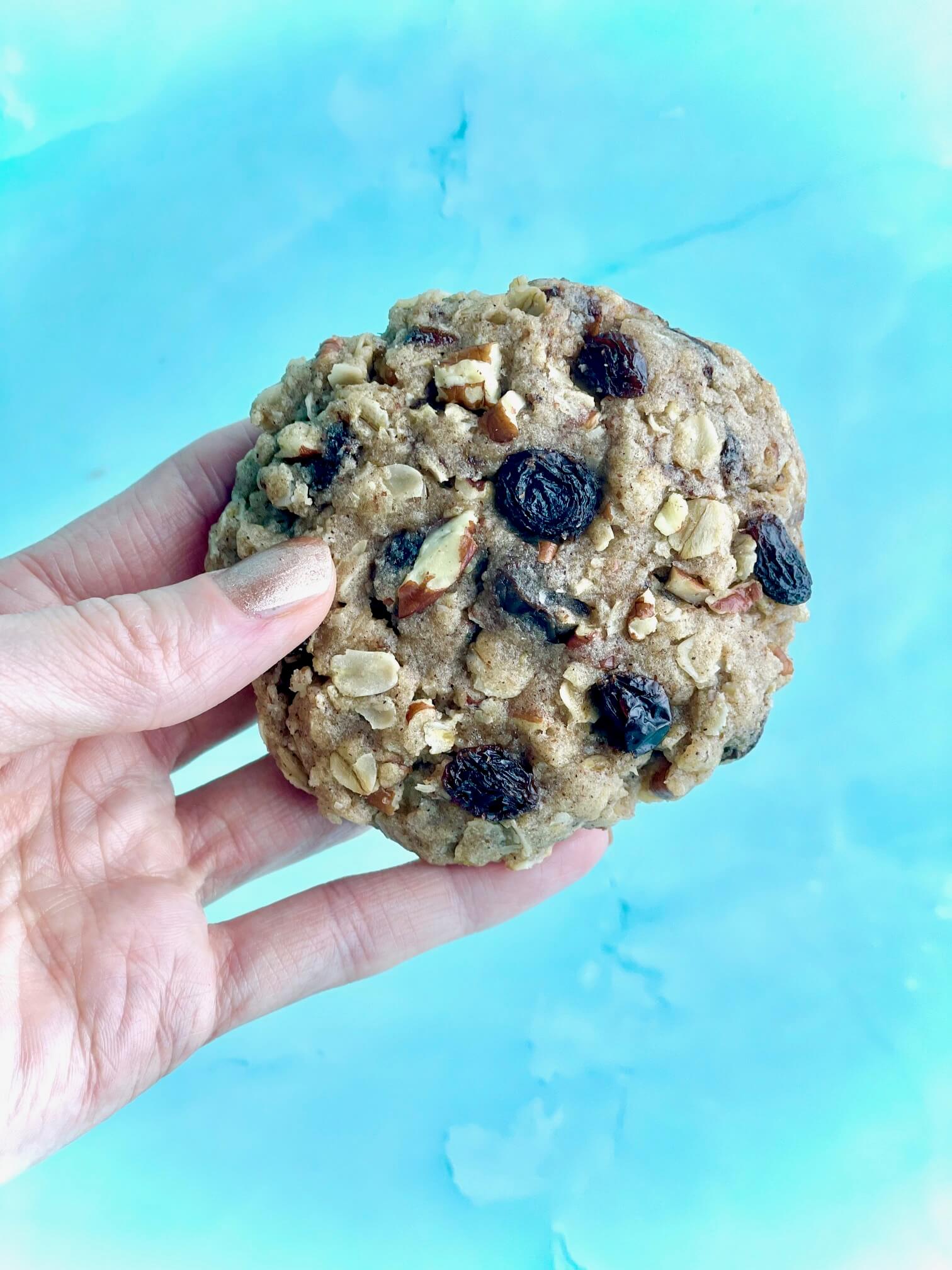 🥣 What gives these Oatmeal Raisin Cookies their "Bakery-Style" Chewy Texture?
Instant Clearjel— Instant Clearjel is one of my favorite bakery ingredients. It's a flavorless type of cornstarch that thickens and enhances moisture in baked goods. The Instant Clearjel makes these oatmeal raisin cookies soft and chewy, and it thickens the cookie dough so we don't have to chill the dough before baking!
Vegetable Oil—Vegetable oil adds moisture to these cookies. Butter-only cookies tend to have a crispier edge and they spread more while baking, which is why I like to use a combination of butter, vegetable oil and Instant Clearjel in my cookies (and in my extra-moist cakes).
Less time in the oven. Pull these cookies out of the oven when they look slightly underdone. They will continue baking on the sheet pan as they cool. Just a few minutes too long in the oven will make more cake-like and less chewy oatmeal raisin cookies.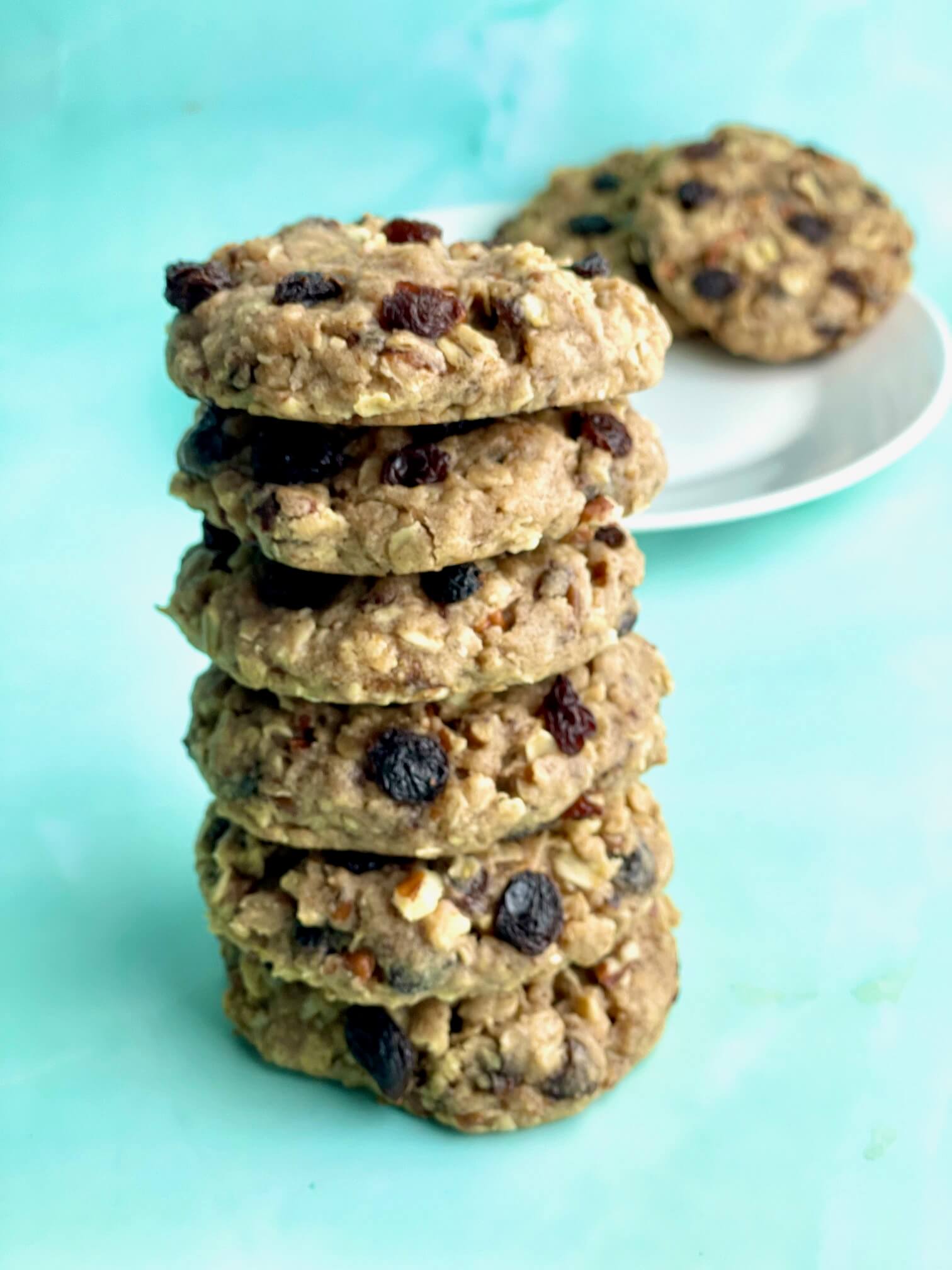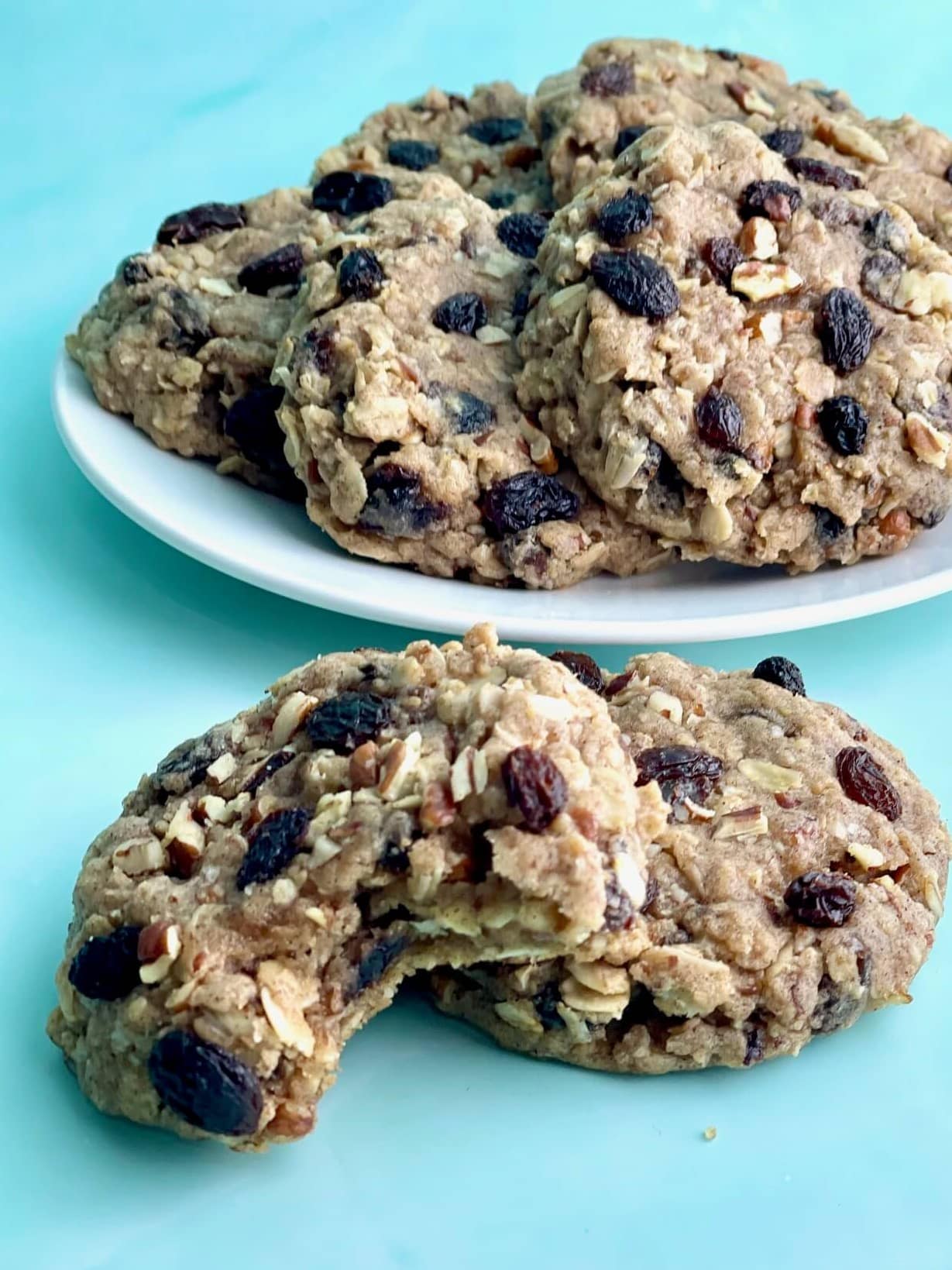 About the secret bakery ingredient in this recipe
This bakery recipe uses Instant ClearJel, a type of cornstarch that serves as both a thickener and a binder. It's tasteless and has no artificial ingredients. You can also use Instant Pudding mix (when it's listed in the recipe), which contains Instant Clearjel as the second ingredient!
It's often used by professional bakers because it produces a smoother and glossier consistency than cornstarch, tapioca, or other starches. Even better, it enhances moisture and texture in cakes and thickens and stabilizes frostings. Here are a few brands I recommend:
Although it's not often available in grocery stores, it's sold in a variety of online stores--just make sure whatever you purchase is labeled as INSTANT (cooktype and original clearjel will not work the same). It's also frequently found in Amish Markets. (Learn more about Instant Clearjel in Baking→)
⏲️ Prepare Your Cookie Dough in Advance
The cookie dough does not require refrigeration before baking, but if you want to make them in advance, the dough freezes extremely well! You can freeze this cookie dough and enjoy them any time you have a cookie craving!
Just scoop your oatmeal cookie dough and pop it in the freezer in air-tight Tupperware (you can freeze rows of unbaked cookies in between layers of parchment paper). Then thaw the cookie dough balls at room temperature and bake!
🍪 The Bakery Secret to Pretty Cookies
After you scoop your cookie dough, press extra raisins and pecans (if using) into the top of your cookies. This is how we always "dressed up" our cookies at Amycakes Bakery so they looked extra delicious and professional.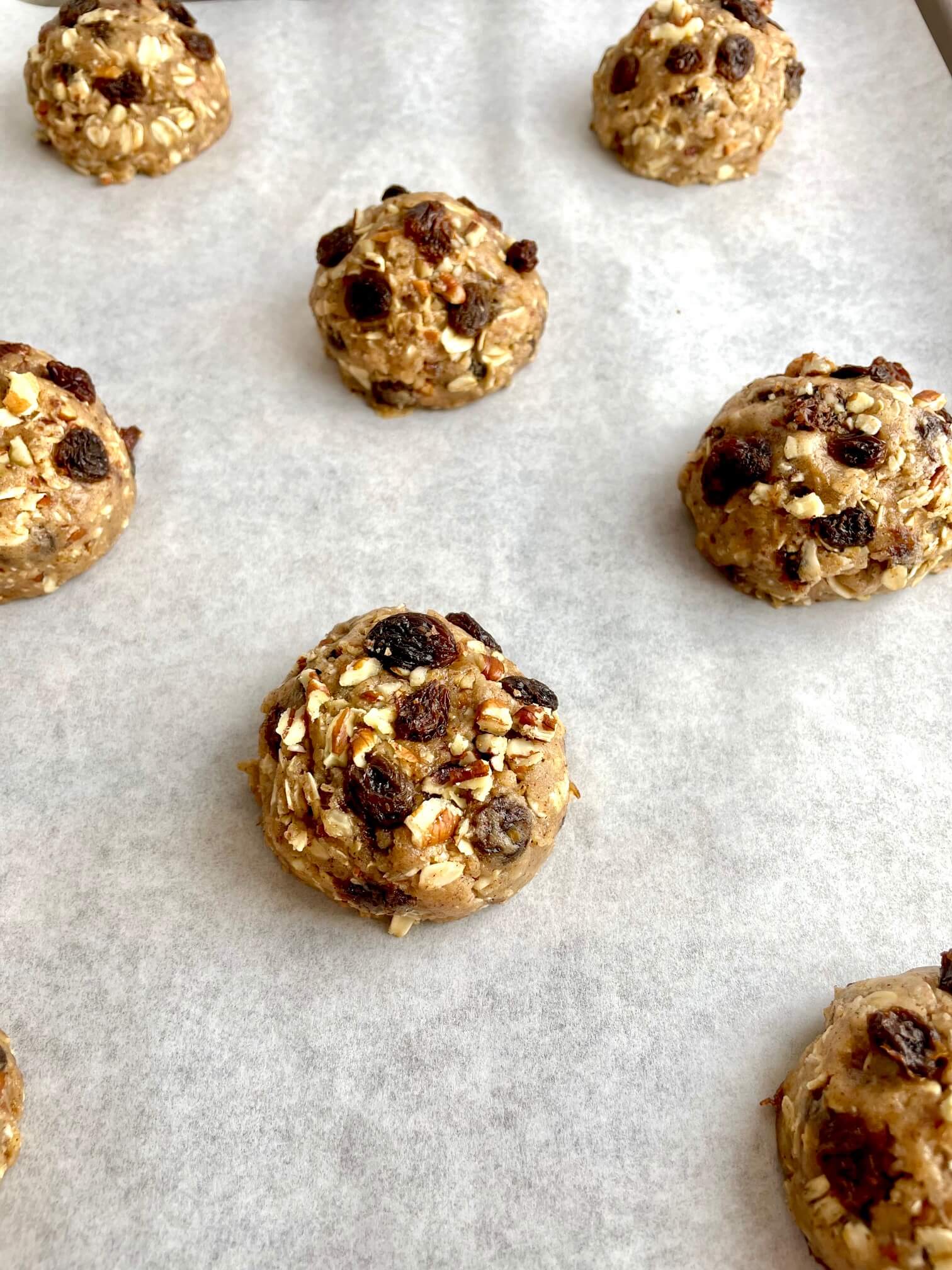 💭 Frequently Asked Questions
How to store these chewy oatmeal raisin cookies?
Store your baked cookies in airtight containers at room temperature to keep their soft and chewy texture.  You can also scoop and freeze the unbaked cookie dough as described above!
Can I turn these into oatmeal chocolate chip cookies?
Definitely!  To make Oatmeal Chocolate Chip Cookies, I recommend omitting the raisins and cinnamon, then add 1 ¼ cups semi-sweet chocolate chips to the dough. Then press additional chocolate chips into the tops of the cookie balls before baking (around ½ cup of additional chocolate chips). 
Can I turn these into smaller cookies?
Baking large oatmeal raisin cookies with a 2-ounce scoop makes them look and taste like a professional bakery cookie, but you can certainly make them smaller and decrease the baking time. (Just be sure to bring them out when they still look slightly underdone).
Can I substitute out the Instant Clearjel?
I have not yet tried this recipe without Instant Clearjel, as it is one of the ingredients that gives the cookies their soft and chewy texture, and keeps them from spreading too much in the oven.
🎥 Watch the Recipe Video
I hope you enjoy these delicious cookies! Please let me know what you think in the comment section below! And check out my other bakery recipes for more baking inspiration!
Thanks for Reading. ❤️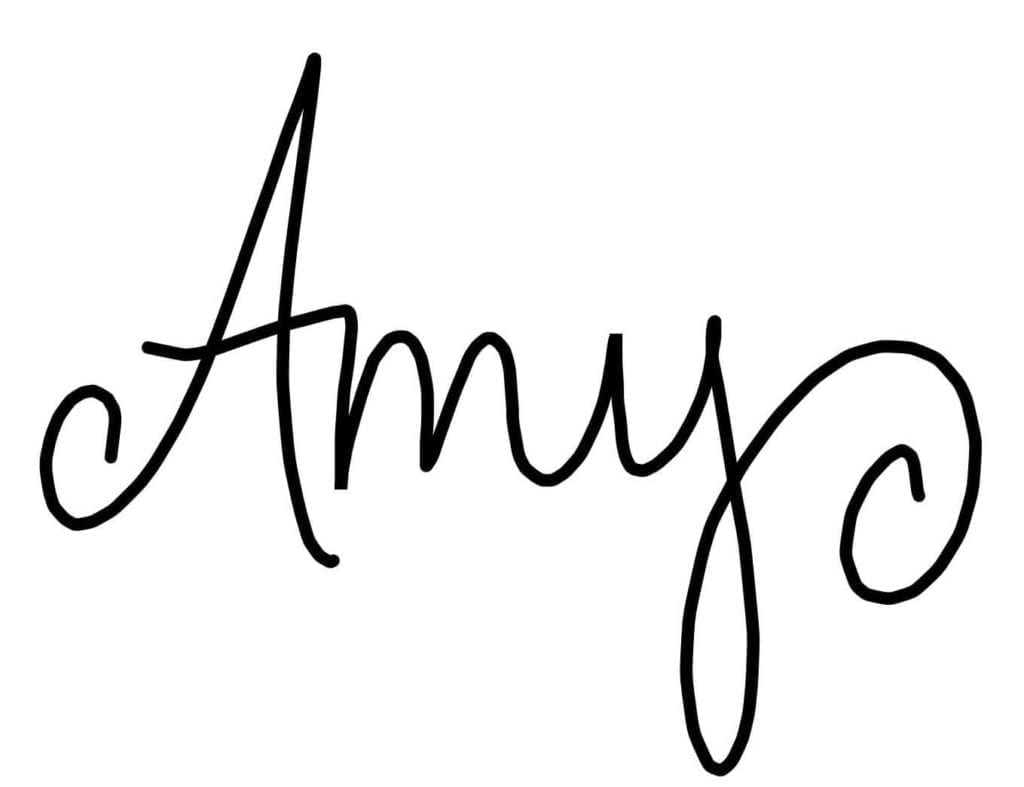 📖 Recipe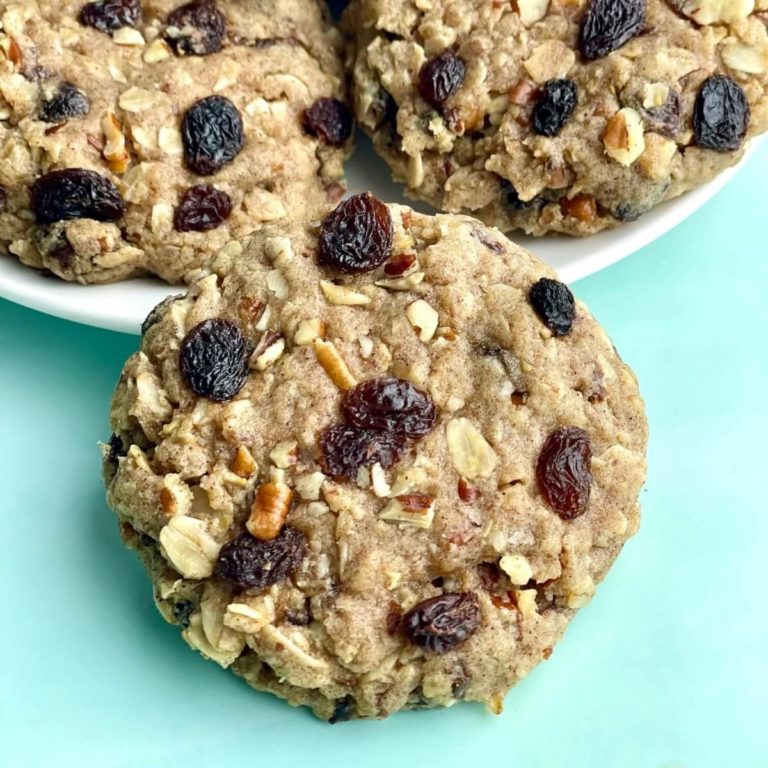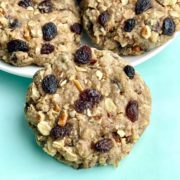 Bakery-Style Chewy Oatmeal Raisin Cookies
These thick and chewy oatmeal raisin cookies have a delicious cinnamony and nutty flavor and a super soft texture. Juicy raisins and pecans add to the moisture and crunch of these bakery-style cookies.
Ingredients
Dry Ingredients
200 gram (1 ½

cups)

All-Purpose Flour

(I use Gold Medal)

176 grams (2

cups)

Old Fashioned Oats

24 grams (3

Tablespoons)

Instant Clearjel

(Please make sure it is labeled as "INSTANT." Instant Clearjel is a bakery ingredient you can use at home--see the Notes secion)

114 grams (½ cup + 1

Tablespoon)

Sugar

170 grams (¾ cup

packed)

Brown Sugar

½

teaspoon

Baking Soda

1 ¼

teaspoon

Salt

1

teaspoon

Cream of Tartar

1

Tablespoon

Cinnamon

(I use McCormick)
Wet Ingredients
1

large

Egg

¼

cup

Vegetable Oil

2

teaspoons

Vanilla Extract

¾

teaspoon

Almond Extract

(optional, but I recommend it as it provides a delicious hint of nutty flavor)
Other Ingredients
1 ¼

cup

Raisins

1 stick (4

ounces)

Salted Butter,

(softened but not melted)

1

cup

Chopped Pecans

(optional)
Instructions
Preheat your oven to 325 degrees.

Place the raisins in a bowl and pour hot or boiling water over them until they are covered. Soak the raisins for 5 minutes, then strain them well.

In a large bowl, whisk the dry ingredients until well blended.

In a separate bowl, whisk the wet ingredients until blended.

Pour the wet ingredients into the dry ingredients, add the softened salted butter, and mix until the dough comes together with a wooden spoon or sturdy spatula. Use your hands as needed to combine the ingredients into a uniform dough, as the dough will be thick. Make sure the butter is fully incorporated.

Reserve ¼ cup raisins and ¼ cup pecans for the tops of the cookies. Add the remaining strained soaked raisins and pecans (if using), and mix that into the dough, using your hands as needed.

Using a 2-ounce scoop, scoop the cookie dough and place the balls onto cookie sheets or sheet pans lined with parchment paper. (If you don't have a cookie scoop, you can just divide the dough into 15 to 16 equal cookie dough balls).

Place the cookies around 4 inches apart, then flatten the cookies slightly so that they are around 2 ¼ inches wide and uniform in height. Press the reserved raisins and pecans into the tops of cookie dough before baking.

Bake the cookies on the middle or top rack (avoid bottom rack) in the preheated oven for 10 minutes, or until the edges are set and the top is only slightly shiny. The cookies will look slightly underdone but will continue to bake on the cookie sheet as they cool. Avoid overbaking (if they are baked even a couple of minutes too long, they will be more cake-like and less chewy). Enjoy!
Notes
Read my article Instant Clearjel: a Magical Bakery Ingredient to see why I think this ingredient is worth having in your pantry.  Instant Clearjel is what gives these cookies their extra soft and chewy texture and keeps them from overspreading in the oven.  Instant Clearjel must always be whisked thoroughly with other dry ingredients before being added to wet ingredients to avoid clumping.  Make sure whatever brand you purchase is labeled as "Instant."  Cooktype Clearjel is a different product that does not work the same in baking. 
Print Recipe