The process of layering cakes can be tricky and intimidating, but with a little practice, you'll be stacking cakes like a professional baker! All you need is a sheet pan and a round cookie cutter or cake ring, then you can choose the size of your layer cake after you bake it! That's how we cut and stacked up to a hundred cakes each week at Amycakes Bakery.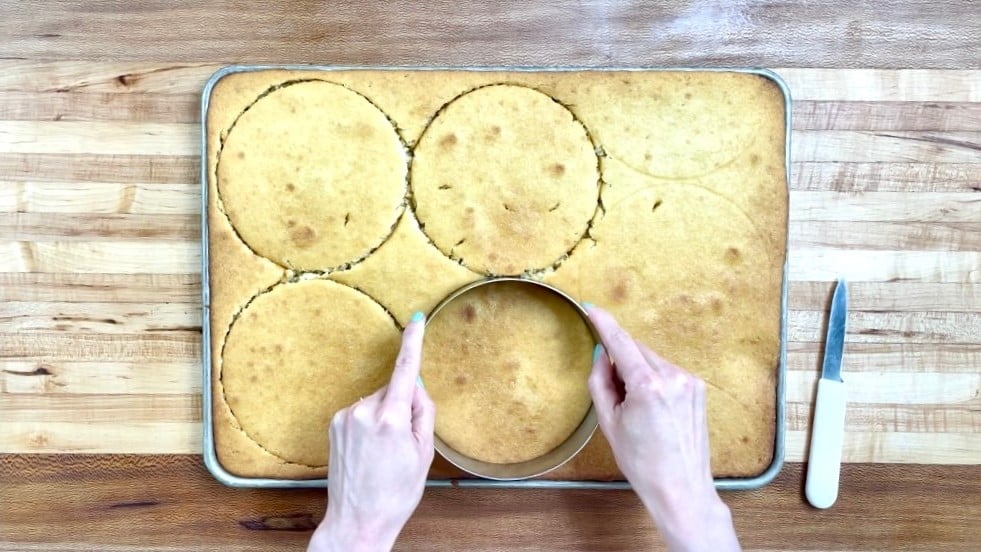 Cut and Stack Method
Years ago, one of Christina Tosi's helpful Milk Bar Cookbooks inspired me to change the way we baked at Amycakes Bakery. Unlike Amycakes, Christina stacks her signature naked cakes with acetate sheets -- you can check out her method here.)
We first started what we called the "Cut and Stack Method" at Amycakes Bakery because of the taste. Baking in sheet pans prevents crispy or darker cake edges. You can have moist cake all the way to the frosted edge (as I describe in Seven Secrets to Baking Incredibly Moist Cakes Every Time).
Baking in sheet pans also creates a more even bake (less domed middles and less chance for sinking, a common issue in moist cakes). As a bonus, it saves lots of time--you don't need to divide batter evenly between pans, flip the cakes out, and wash multiple pans afterward.
Using my bakery recipes is a great place to start! And if you don't plan to make a layer cake, you can make a shorter sheet cake in either a ¼ sheet pan or a 9x13 cake pan like my easy chocolate fudge cake.
Timing is Everything
If you have the option, the cake stacking process will be easier and more efficient if you split up your time across a few days. Cakes stack so much easier when frozen. Especially extra-moist cake recipes that require a more delicate touch.
I've always found that dividing up my time makes it less stressful because I don't have to bake, make frosting, and decorate the cake on the same day.
My preferred timing for a stress-free cake is as follows:
Day 1: Bake the cake and freeze it in the cake pan. While the cake bakes, make the cake filling (like chocolate ganache or fruit compote) if using. (You can even complete "Day 1" up to 2 weeks in advance and freeze both the cake and filling! Just be sure to thaw the filling in the fridge the night before you want to layer your cake.)
Day 2: Make the Frosting. Cut the cake layers from frozen. Layer and crumb-coat the frozen cake. Allow crumb coat to set up in the freezer for 10 or more minutes. Then add your final coat of frosting, decorate the cake and refrigerate overnight.
Day 3: Serve the cake at room temperature.
Sometimes I only have time to freeze my unfrosted cake for a few hours before layering it instead of overnight. Just be aware that when the cake isn't frozen, it won't be as easy to handle.
If you don't have time to decorate the cake on Day 2, you can push back decorating to Day 3. Just wrap your crumb-coated cake in the refrigerator overnight the day before you plan to serve it.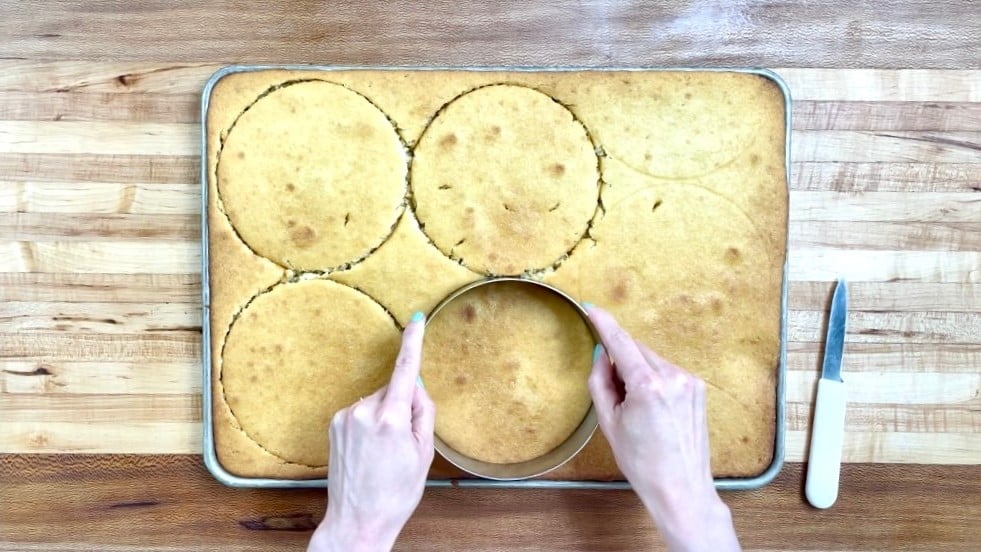 The Freezer is our New Best Friend
There's no need to worry about the freezer drying out your cake. As long as the cake is moist when it goes in the freezer, it should be moist when it comes out (in our safe two-week window. You may be able to even go longer than that with a very moist cake).
If you're using my extra-moist cake recipes, the Instant Clearjel or instant pudding mix, buttermilk, and vegetable oil will keep your cake moist for days. Just be sure to wrap your cake thoroughly in plastic wrap before freezing overnight. (I'm talking double layers across all surfaces and no holes).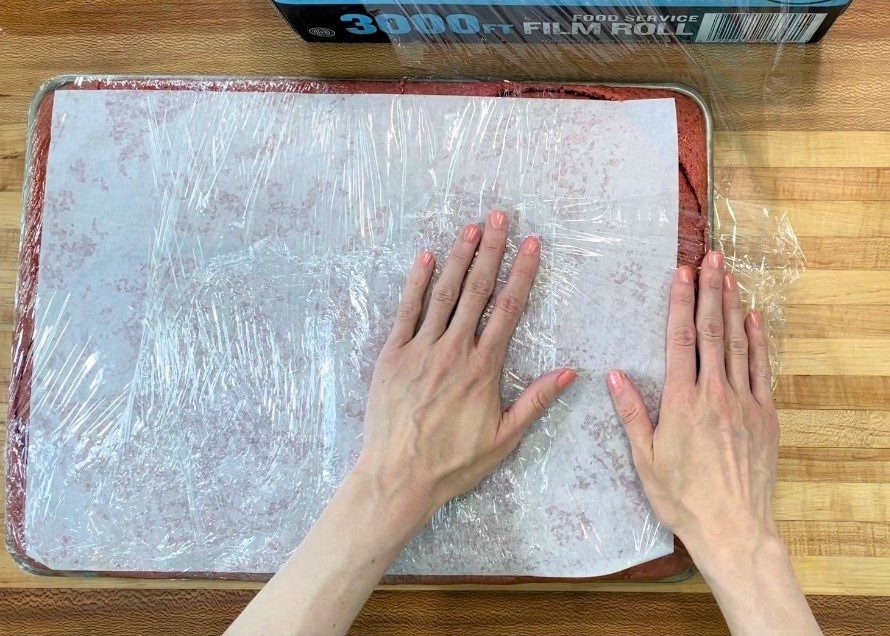 It's also helpful to let the cake set up in the freezer any time you are having trouble or are worried about the cake's stability. 10 minutes here or there in the freezer will allow your buttercream and cake to firm up, which will stabilize the cake so you can get back to work on it.
Here's a good place to start if you're a beginner to cake decorating, or if you just want the crispest-looking cake:
Freeze for 10 minutes right after layering the cake but before crumb coating.
Freeze for 10 minutes after crumb-coating.
Freeze for 10 minutes after your final coat of frosting but before drizzling with ganache or adding rosettes or your choice of decorations.
The above extra 30 minutes in the freezer could be the difference between a slightly lopsided cake and a lovely crisply-frosted cake.
Frequently Asked Questions
Where do I buy similar cake rings and sheet pans?
All the baking essentials that I use are linked on my Amazon storefront. I only link to products that I currently use, or if I couldn't find that exact product, something similar that I could see myself purchasing in the future.
What if I only have round cake pans?
If you only have round cake pans, head on over to the chart in Double Batches and Cake Pans Options: Everything you Need to Know –you can use sheet-cake pans or 6″, 8″, or 9″ round cake pans with my cake recipes. Just take extra care when baking. Round pans tend to have more batter in them than sheet pans and can be more prone to sinking or doming.
🎥 Step-by-step VIDEO
I recommend watching the short video above with the sound or captions on. Then keep reading for the detailed tutorial with photos.
Whether you are an occasional home baker or a pro selling cakes online, below is a detailed step-by-step tutorial with photos that you can print or pin for later. Have you tried cutting and layering a cake with cake rings before? I'd love to hear your questions and comments below.
Thanks for Reading. ❤️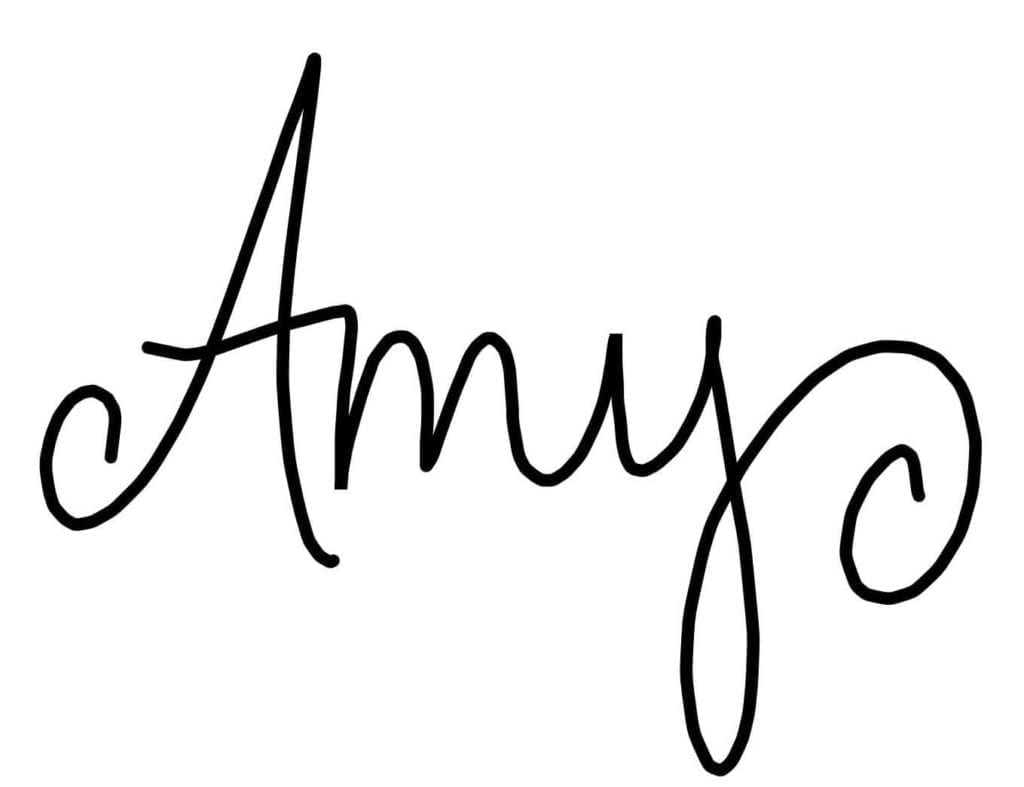 5 Easy Steps to Layering Cakes Like a Pro
Bake your cake in sheet pans and cut out cake layers with cake rings just like a professional baker. With this method you can bake faster (less measuring batter and fewer pans to wash), more consistently (no domed middles or dark edges), and have yummy cake scraps leftover for cake truffles, parfaits, or trifles.  You can also space out your time so you aren't baking, making fillings and frostings, and decorating on the same day!
All the baking essentials used in this tutorial are linked here. ⠀⠀⠀⠀⠀⠀
👩‍🍳 For the most accurate baking results, use the grams measurements with a kitchen scale.
Watch the quick recipe video
Ingredients
1

cake baked in a sheet pan
Instructions
Bake your cake in a Sheet Pan, then Freeze the cake. Allow cake to fully cool after baking. (If you are in a time crunch, you can use a portable fan to speed up the cooling. I like to place my sheet pan on a cooling rack over two chairs with the fan blowing directly under the cooling rack/ pan. The cake cools twice as fast!) Brush with simply syrup (optional, see Note #2) then wrap and freeze the cake. To wrap the cake, place another sheet of parchment on top of the cake (this will prevent the plastic wrap from sticking to the cake), and wrap the whole pan with plastic wrap. (I pull the plastic wrap out and place the pan on top of it. Then I wrap 2-3 ways horizontally and one way vertically so that there are two layers of wrap on all sides of the pan including the bottom).

Cut Your Desired Cake Layers from Frozen. You can choose your cake size after you bake it! Using your preferred cake ring(s), cut cake rounds out of the frozen cake in the pan using a slight sawing motion. Use a knife and your cake ring as a guide to cut any half circles that you'll piece together later. (See Note # 1 for cake size options).

Layer the Cake from Frozen. The cake will be much easier to layer/stack when it is frozen. To remove the cake layers from the pan, use a spatula and the same cake ring you used to cut the cake. Piece the bottom cake layer together from two halves using the cake ring as a guide. If needed, fill in the middle of the bottom cake layer with more cake scraps. To build the most stable base, pack the cake in the cake ring tightly like Tetris. Then remove the cake ring and stack the remaining frozen layers with around ¼ inch of frosting or filling on the inside. (If using a soft filling like compote, pipe a ring of buttercream around the edge of each cake layer before filling the cake). Place the bottom cake layer "pan side down" (against the cake board) so it doesn't stick to the cake board when the slices are cut. Stack the remaining cake layers "pan side up" so that you are frosting on top of a flat surface. With the leftover cake scraps, you can sample your cake, or turn it into cake truffles, cake parfaits, or trifles. 

Crumb-Coat the Cake.  Using an offset spatula, apply a crumb coat (a very thin layer of buttercream that catches all the cake crumbs). Allow your crumbed cake to set up in the freezer for 10 or more minutes. The cake can also be placed in the freezer at any point during the layering and decorating process to produce crisper frosting and enhance stability.

Add the Final Coat of Frosting and Decorate the Cake to Your Liking. On top of the crumb coat, the second layer of buttercream will go on much crisper and smoother. You can achieve smooth frosting with a bench scraper, or make a horizontal, vertical, or homestyle texture with a small offset spatula. Amycakes Bakery's signature look was a drizzle of ganache (using a squeeze bottle) and rosette top border using a 1M star tip. Allow your cake to set up in the fridge, but serve at room temperature by removing it from the fridge at least 1-3 hours before serving. Enjoy!
Notes
1.) A ½ sheet pan can make:

One 3-layer 8" cake (two full cake layers, one pieced from two halves).

Two 3-layer 6" cakes (five full cake layers, one pieced from two halves).

One 6-layer extra-tall 6" cake (five full cake layers, one pieced from two halves).

Six or more two-layer Cakelets using a 4", 3" or 2" cake ring or cookie cutter. You can frost these Cakelets with a piping bag similar to a cupcake.
A ¼ sheet pan can make:
One 3-layer 6" cake (two full cake layers, one pieced from two halves).

Three or more two-layer Cakelets using a 4", 3" or 2" cake ring or cookie cutter. You can frost these Cakelets with a piping bag similar to a cupcake.
2). Simple Syrup is optional, but I use a light coat to seal in the moisture for cakes that will be refrigerated or frozen. While the cake cools, make a simple syrup by combining 1 tablespoon water and 1 tablespoon sugar in a small microwave-safe bowl. Microwave until the sugar is dissolved after whisking, about 20-30 seconds. You can also make a larger batch of this (1 part sugar to 1 part water) and keep it in the fridge if you're doing a lot of cake baking. Always cut the cake with cake rings before brushing the cake brush simple syrup, to avoid the cake being too sticky when cut.
Print Recipe
Thanks for Reading. ❤️