This Strawberry Shortcake Trifle recipe will make any occasion feel special! Moist vanilla almond cake, strawberry compote, and freshly whipped vanilla cream all layered together in a bowl. It looks fancy but it's easy to assemble and makes a beautiful presentation. Each layer starts off with a delicious made-from-scratch bakery recipe from Amycakes Bakery.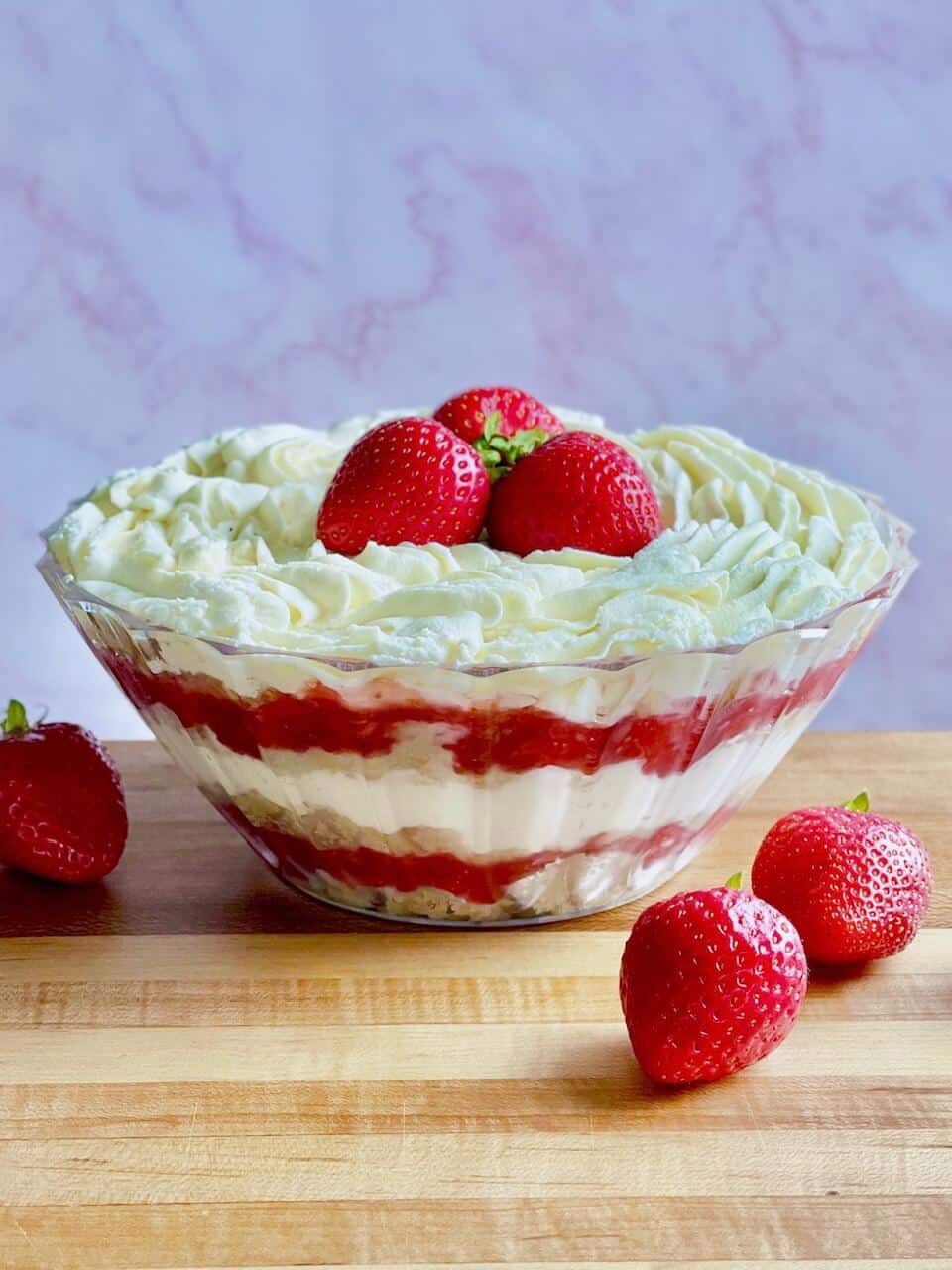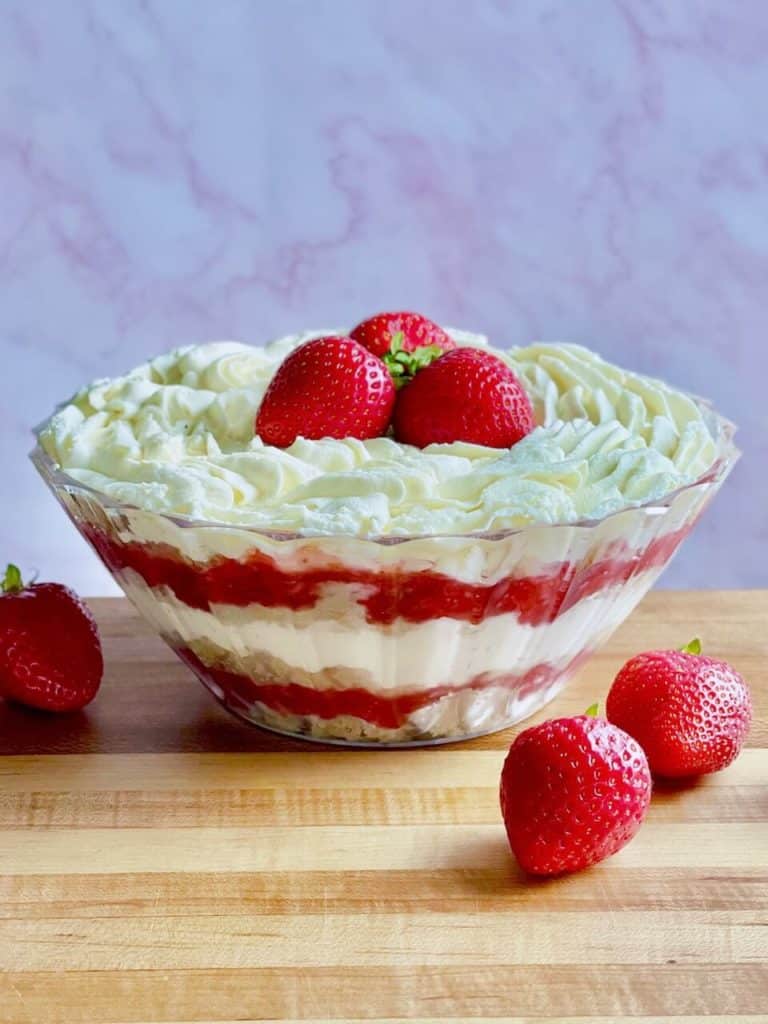 Jump to:
What is Trifle?
A traditional English dessert, trifle consists of layers of cake, jelly or compote, fruit and/or custard covered in whipped cream. I typically keep my trifle simple with three components--crumbled cake, either a fruit compote or mousse, and stabilized vanilla whipped cream. The texture is soft and moist like a pudding, and all the flavors meld perfectly together.
No Fancy Trifle Bowl Required
A fancy glass trifle bowl can make a beautiful display, but it is not required to make a pretty trifle for dessert! At Amycakes Bakery, we made all our trifles in 8" fluted bowls from Dollar Tree, as seen in my photos. You can use any bowl that is clear so that all of the layers are visible. If you are using an extra large trifle bowl, just double the recipe by selecting 2x in the recipe card below--the recipe card will adjust so you know which size to make of the vanilla almond cake, strawberry compote, and stabilized vanilla whipped cream.
You can Use Leftover Cake Scraps to Make Strawberry Shortcake Trifle
You can bake your Vanilla Almond Cake for this trifle in a ¼ sheet pan (a 9x13 sheet-cake pan works, too). Or, if you have leftover cake scraps (for instance when layering a cake using the Cut and Stack Method), you can freeze those cake scraps until you're ready to use them in this delicious, light dessert.
Make Strawberry Shortcake Trifle Cups Instead
For a pretty dessert that is easier to serve, trifle can be easily layered into individual serving cups! I made similar cups in my Red, White, and Blueberry Cake Parfaits. Small clear disposable cups and lids are perfect for picnics in the park--just stick a spoon through the straw hole and each guest will be set!
I hope you enjoy this Strawberry Shortcake Trifle recipe!
Thanks for Reading. ❤️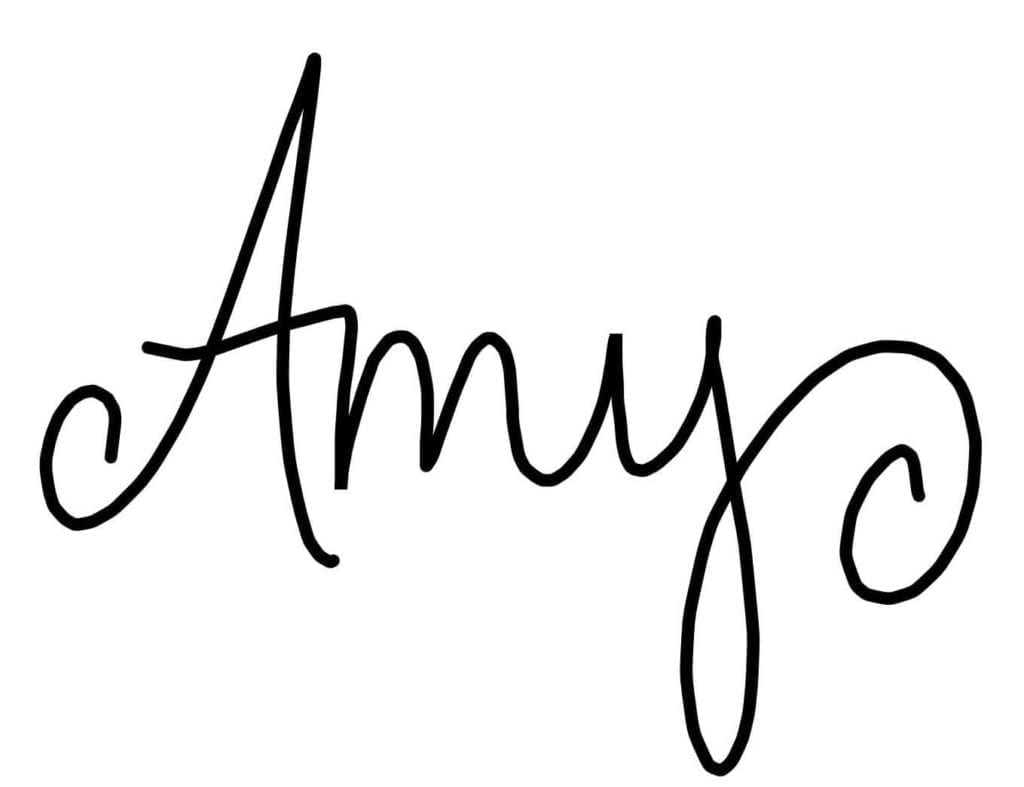 📖 Recipe
Strawberry Shortcake Trifle
👩‍🍳 For the most accurate baking results, use the grams measurements with a kitchen scale.
Watch the quick recipe video
Instructions
Crumble the cake scraps into pieces (about ½ inch to 1 inch pieces)

Layer the trifle as follows: cake scraps, strawberry compote, cake scraps, whipped cream, cake scraps, strawberry compote, cake scraps, whipped cream.

As you layer, make sure each layer is pressed against the edge of the bowl, so that each layer is visible from the outside of the bowl.

I used an offset spatula to spread the compote up evenly over the cake, and a disposable piping bag with a 1M star tip to layer the whipped cream.

Refrigerate until serving. Trifle can also be wrapped in plastic wrap and frozen up to 1 month. Allow to thaw in the refrigerator 24 hours before serving.
Print Recipe