Featured Comment: "I'll never make whipped cream using gelatin again after trying this recipe! It was delicious and no rubbery bits to be found. Thank you for my new favorite stabilized whipped cream recipe."--Lisa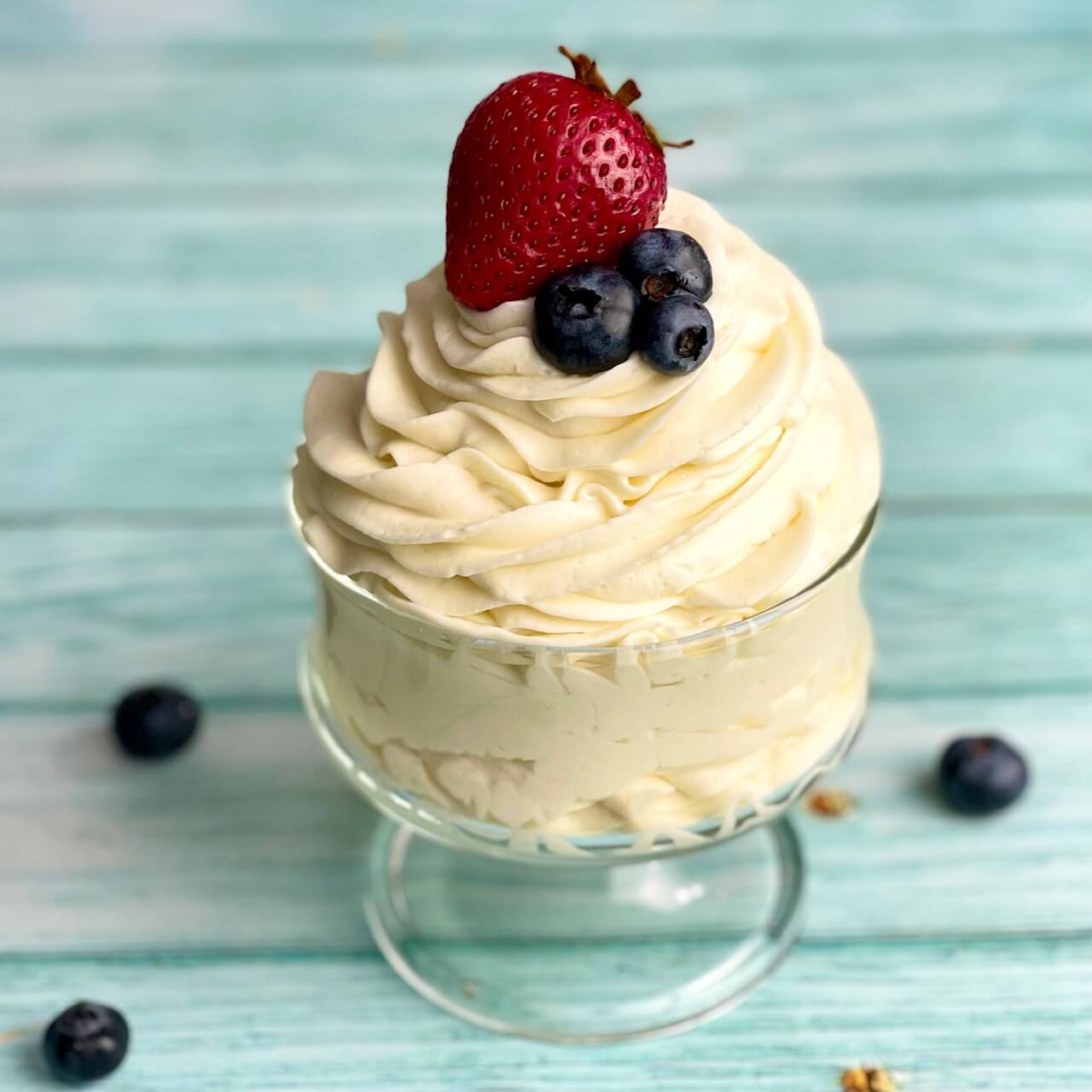 Jump to:
This amazing Stabilized Whipped Cream recipe is made up of just four ingredients, and it's stabilized with my favorite bakery secret—Instant Clearjel. If you don't have this in your pantry yet, you should probably read Instant Clearjel: a Magical Little-Known Bakery Ingredient. 😉
You'll be amazed at how thick and creamy this stabilizer makes your whipped cream, and you can whip it up in just five minutes. It morphs from a typical light and delicate whipped cream (which is still delicious, don't get me wrong) into a dessert all on its own--it's almost like a whipped cream mousse.

You can pipe this stabilized whipped cream as a frosting on cupcakes, or use it to make melt-in-your-mouth cake parfaits and trifles. We also used it at Amycakes Bakery to make incredibly tall cream pies with mountains of extra-thick Vanilla Whipped Cream.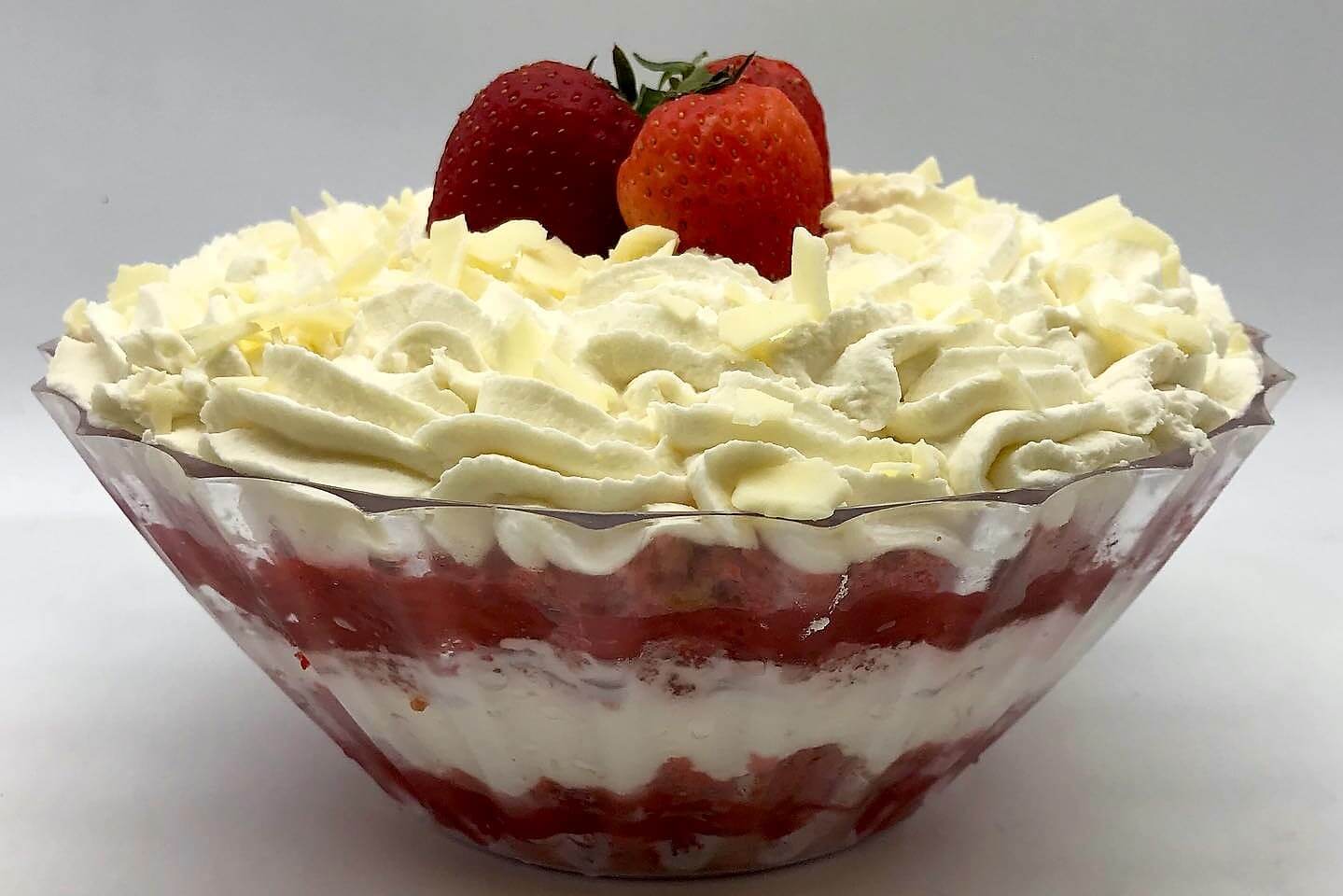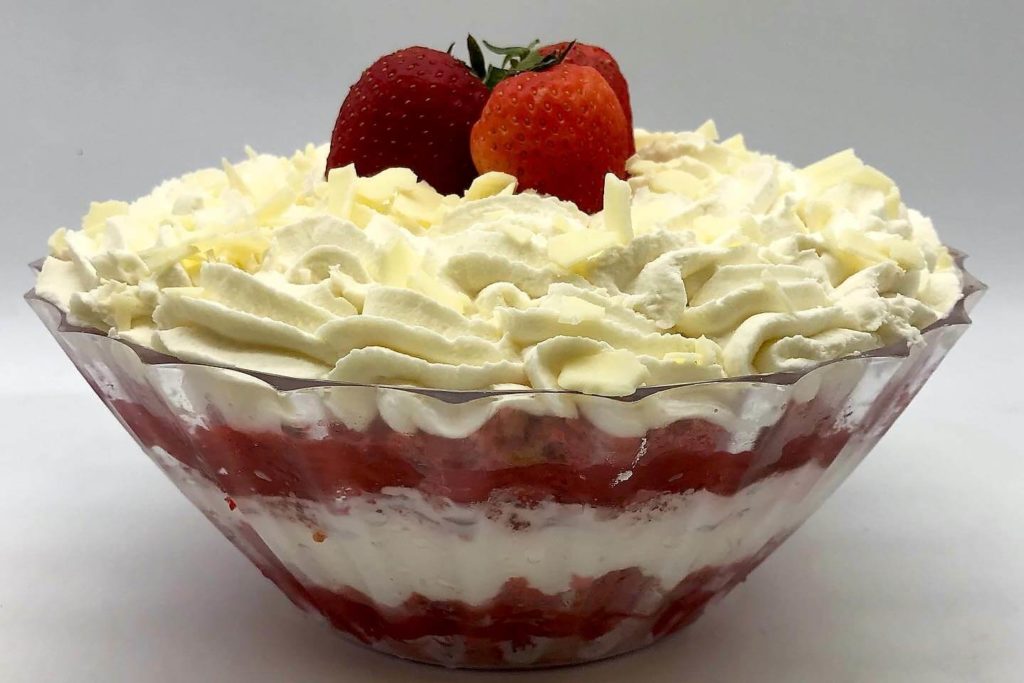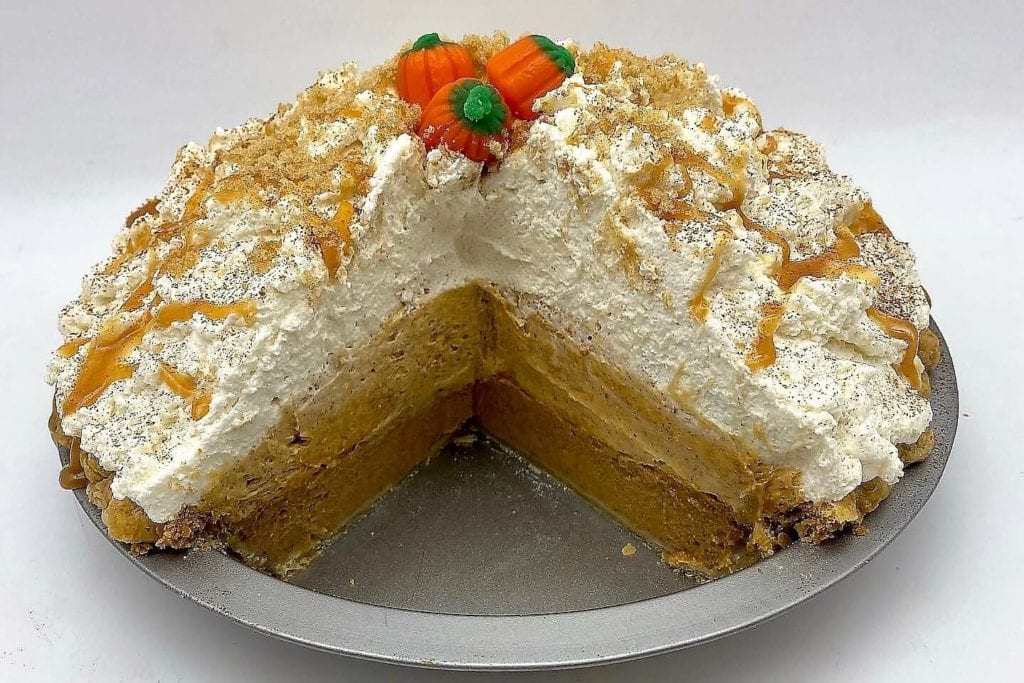 Why This is the Best Method
This sturdy whipped cream frosting is made without gelatin, and requires no additional steps besides whipping your cream--making it much easier and hassle-free than other methods. I made my whipped cream with gelatin years ago, but it was never perfect--I'd find little granules of undissolved gelatin in my whipped cream, and it never got as thick and stable as this stabilized whipped cream made with Instant Clearjel.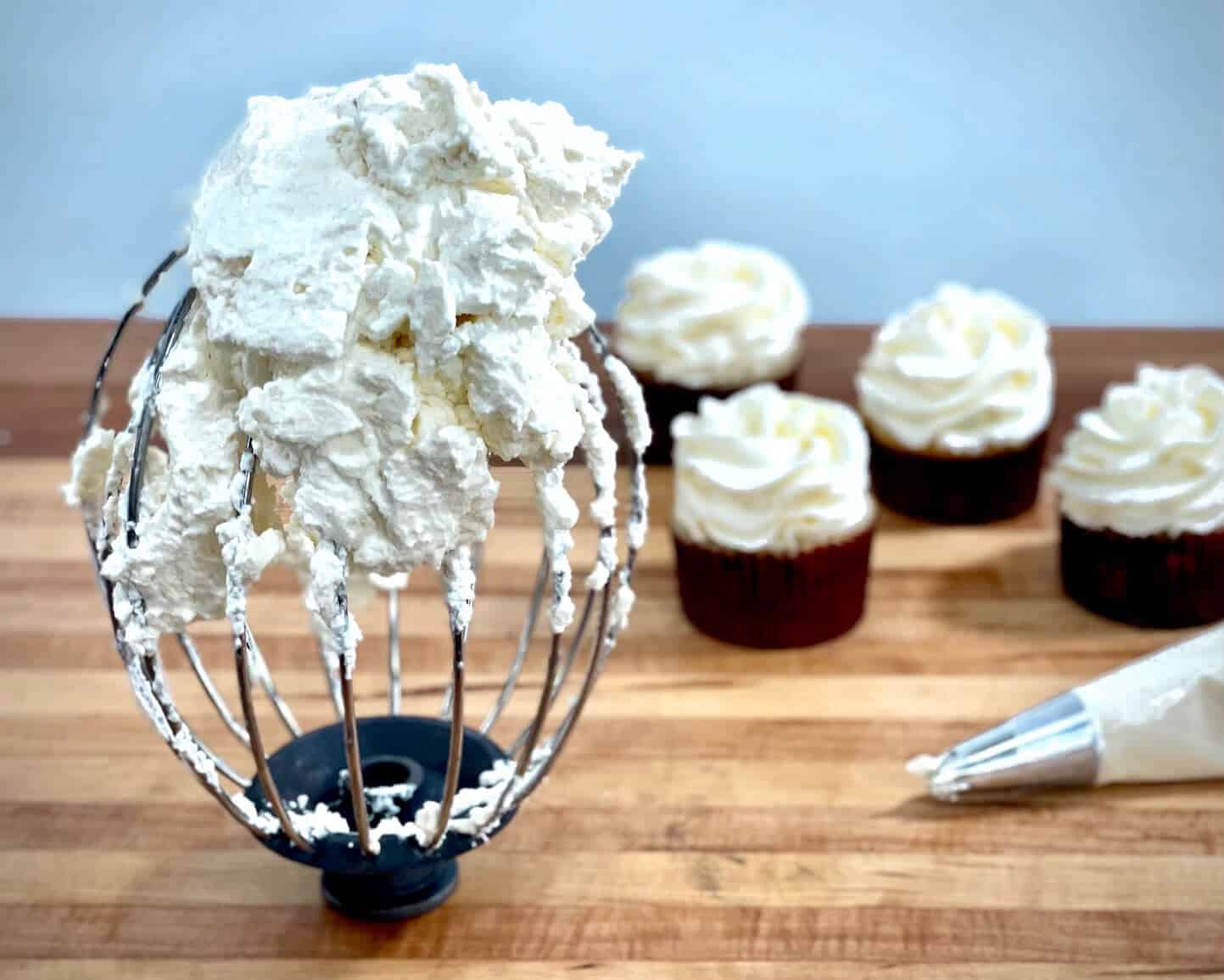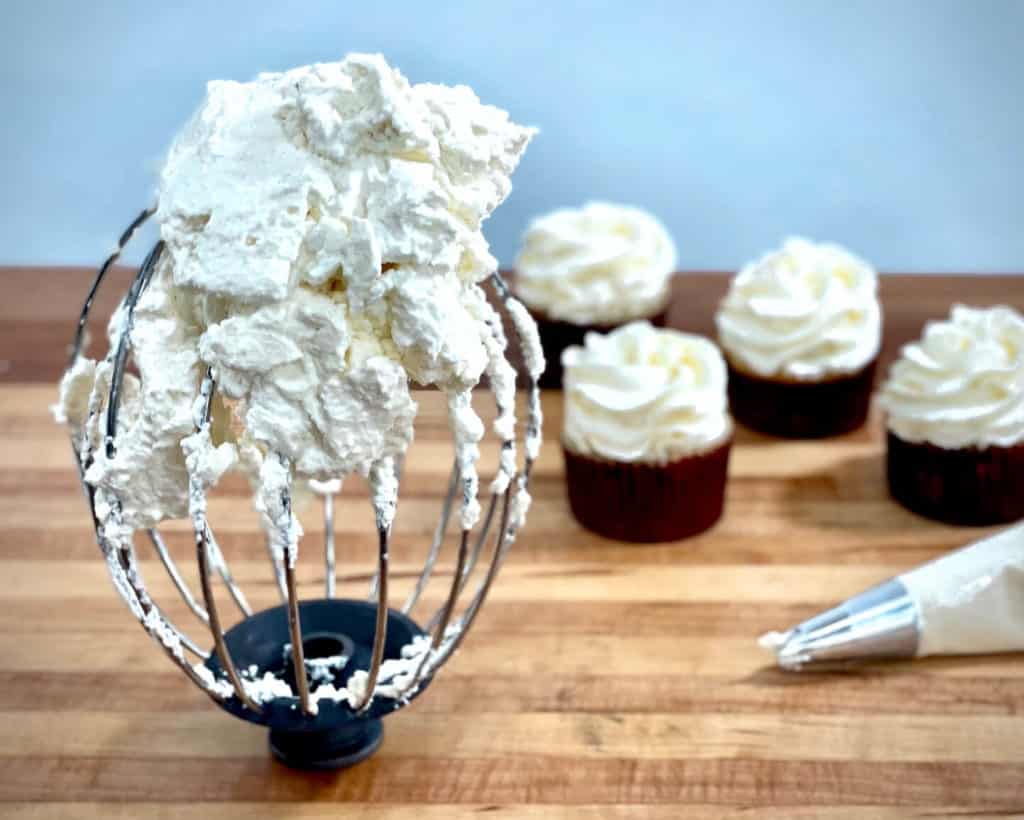 The Ingredients
This recipe is super simple with only 4 ingredients:
heavy cream
pure vanilla
powdered sugar
Instant Clearjel (make sure it's labeled as "instant") or EZ Gel
How to Make It
Stabilized whipped cream with Instant Clearjel is incredibly easy--just whip the heavy cream and pure vanilla (I highly recommend using pure over imitation vanilla) until stiff peaks form. Then add whisked-together powdered sugar and Instant Clearjel while the mixer is on low (ALWAYS whisk your Instant Clearjel with powdered sugar before adding it to your whipped cream--it needs to be thoroughly mixed with a dry ingredient before being added to liquid to avoid clumping).
The Instant Clearjel will thicken the whipped cream instantly. Instant Clearjel is tasteless and has no added flavors or artificial ingredients (it's only made up of one thing--modified cornstarch). So it won't alter the delicious cream and vanilla flavors.
About the secret bakery ingredient in this recipe
This bakery recipe uses Instant ClearJel, a type of cornstarch that serves as both a thickener and a binder. It's tasteless and has no artificial ingredients. You can also use Instant Pudding mix (when it's listed in the recipe), which contains Instant Clearjel as the second ingredient!
It's often used by professional bakers because it produces a smoother and glossier consistency than cornstarch, tapioca, or other starches. Even better, it enhances moisture and texture in cakes and thickens and stabilizes frostings. Here are a few brands I recommend:
Although it's not often available in grocery stores, it's sold in a variety of online stores--just make sure whatever you purchase is labeled as INSTANT (cooktype and original clearjel will not work the same). It's also frequently found in Amish Markets. (Learn more about Instant Clearjel in Baking→)
Recipe FAQ
How long will this whipped cream recipe stay sturdy and stable?
While I recommend serving your stabilized whipped cream with within 3 days (or freezing it), it stays thick and stable in your refrigerator for at least a week!
Can You Freeze Stabilized Whipped Cream?
Definitely! This stabilized whipped cream freezes amazingly well, but I do recommend piping it into your desired form before freezing it (otherwise, it will loose some of it's thickness and fluffiness if you stir it after freezing). Just thaw your prepared whipped cream in the fridge overnight before serving and it will hold it's form.
Can I Substitute the Instant Clearjel?
Unless you use the EZ Gel option as written in the recipe, there isn't an exact substitute for Instant Clearjel (although you can still make delicious tasting vanilla whipped cream by leaving it out--it just won't be stabilized or as thick. That just means it will be harder to pipe with, and that by day two your unstabilized whipped cream will probably be deflated/weepy).
You can use Instant Pudding Mix in a 1.5-2x ratio of the instant clearjel, if you don't mind the added pudding flavor and color. Instant Pudding mix contains instant clearjel (modified cornstarch) as the second ingredient, which is why it works similarly.
Can I make my whipped cream thicker or less thick than your recipe?
Sure! Adjust the amount of Instant Clearjel to your liking. Just be sure that whatever amount of Instant Clearjel you choose, that you thoroughly mix it with at least equal parts powdered sugar before adding it to your whipped cream to avoid any clumping. Your whipped cream may continue to thicken slightly for up to 10 minutes after your instant clearjel mixture is incorporated into the whipped cream.
Can I add the Instant Clearjel/ Powdered Sugar Mixture before whipping the cream?
I don't recommend adding your Instant Clearjel mixture until after the cream is whipped to stiff peaks, as we want the whipped cream to already be light and fluffy when we thicken it. Otherwise, our cream will have already thickened before we whip it, which will affect the fluffy texture.
---
I doubt you will ever go back to any other whipped cream after trying this recipe. ☺️ I hope you enjoy it and I can't wait to hear what you think! If you'd like additional bakery recipes and resources, sign up for my newsletter of find me on Instagram (@amycakesbakes)!
Thanks for Reading. ❤️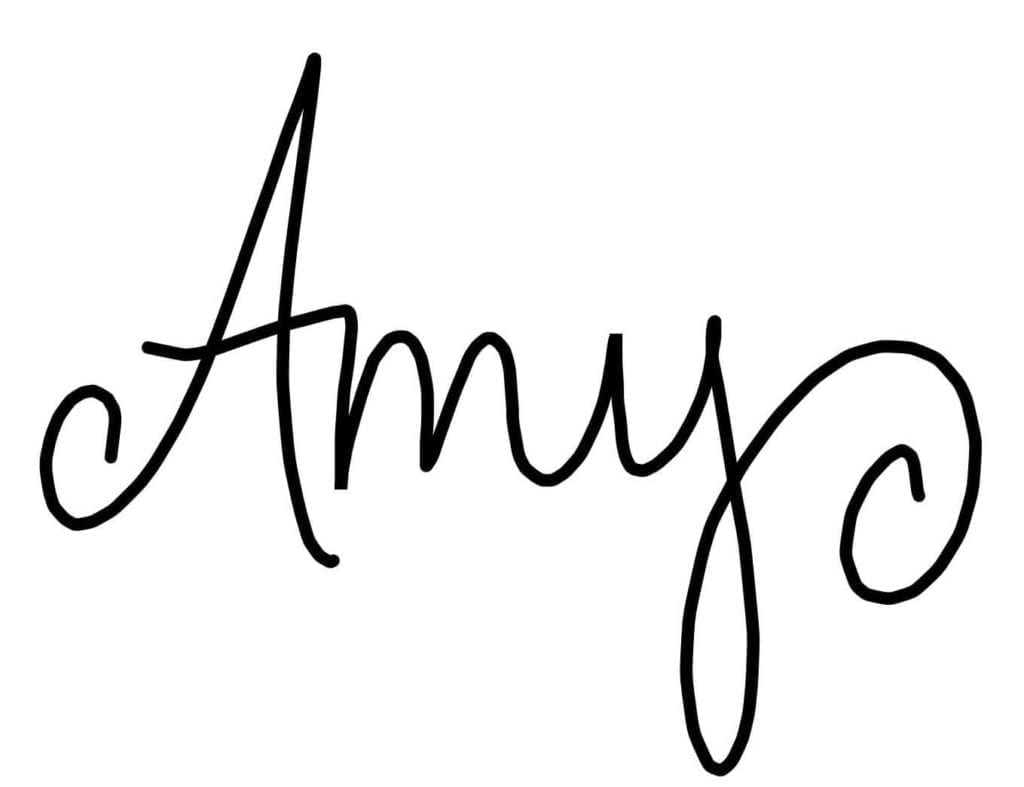 Watch the Recipe Video
Or check out this recipe's latest Web Story.
📖 Recipe
Easy Stabilized Whipped Cream
You'll be amazed at the thickness and creaminess of this delicious stabilized whipped cream. It's almost like a whipped cream mousse. This is a secret bakery recipe from Amycakes Bakery. It has a delicious creamy vanilla flavor from the pure vanilla. It is thickened with Instant Clearjel, a type of cornstarch, that will keep the whipped cream thick and stable for up to a week in the fridge or even longer in the freezer.
You can pipe this stabilized whipped cream as a frosting on cupcakes, or use it to make melt-in-your-mouth cream pies, cake parfaits, and trifles.
👩‍🍳 For the most accurate baking results, use the grams measurements with a kitchen scale.
Watch the quick recipe video
Ingredients
56 grams (½

cup)

Powdered Sugar

2 teaspoons Instant Clearjel or 4

teaspoons

EZ Gel

((Make sure the instant clearjel is INSTANT. See Note Section))

2

cups

Heavy Whipping Cream

1 ½

teaspoons

Pure Vanilla Extract
Instructions
Whisk the Powdered Sugar and Instant Clearjel together. (Instant Clearjel must always be whisked with dry ingredients before adding to liquid to avoid clumping).

Using a whip attachment and a stand mixer (preferred) or handheld mixer, whip the Heavy Cream and Pure Vanilla until stiff peaks form.

Turn the mixer on low, and slowly add in the Powdered Sugar/ Instant Clearjel mixture until incorporated. The Instant Clearjel will thicken the whipped cream instantly, which is why we want to make sure the whipped cream is nicely whipped and fluffy before we add in our thickener.

Keep refrigerated. Enjoy!
Notes
Read my article Instant Clearjel: a Magical Little-Known Bakery Ingredient to see why I think this ingredient is worth having in your pantry.  Instant Clearjel must always be whisked thoroughly with other dry ingredients before added to wet ingredients to avoid clumping.  Make sure what use is labeled as "Instant."  Cooktyle or Original Clearjel is a different product that does not work the same.  EZ Gel works as a great substitute in a 2x ratio.
Print Recipe