If you've been looking for a "go-to" cherry cake filling that anyone can make, this is it! This is the quickest and easiest way to make a delicious tart cherry filling for cakes or cupcakes! All you need are frozen red tart cherries, some sugar, a little bit of cornstarch, and salted butter. It tastes just like homemade cherry pie and is perfect for any dessert!
Compared to canned cherry filling, this homemade recipe is unbeatable with its strong natural cherry flavor. This recipe is not only quick and easy, but it also makes the best-tasting, most flavorful tart cherry filling. 🙂
You can freeze the cake filling for later too, which means you can pull it out anytime you're baking a cake. Plus, you can use this filling for pancakes and waffles, pies and cheesecakes, or use it as a layering tool to make your baked goods even yummier!
Jump to:
🍒 Ingredients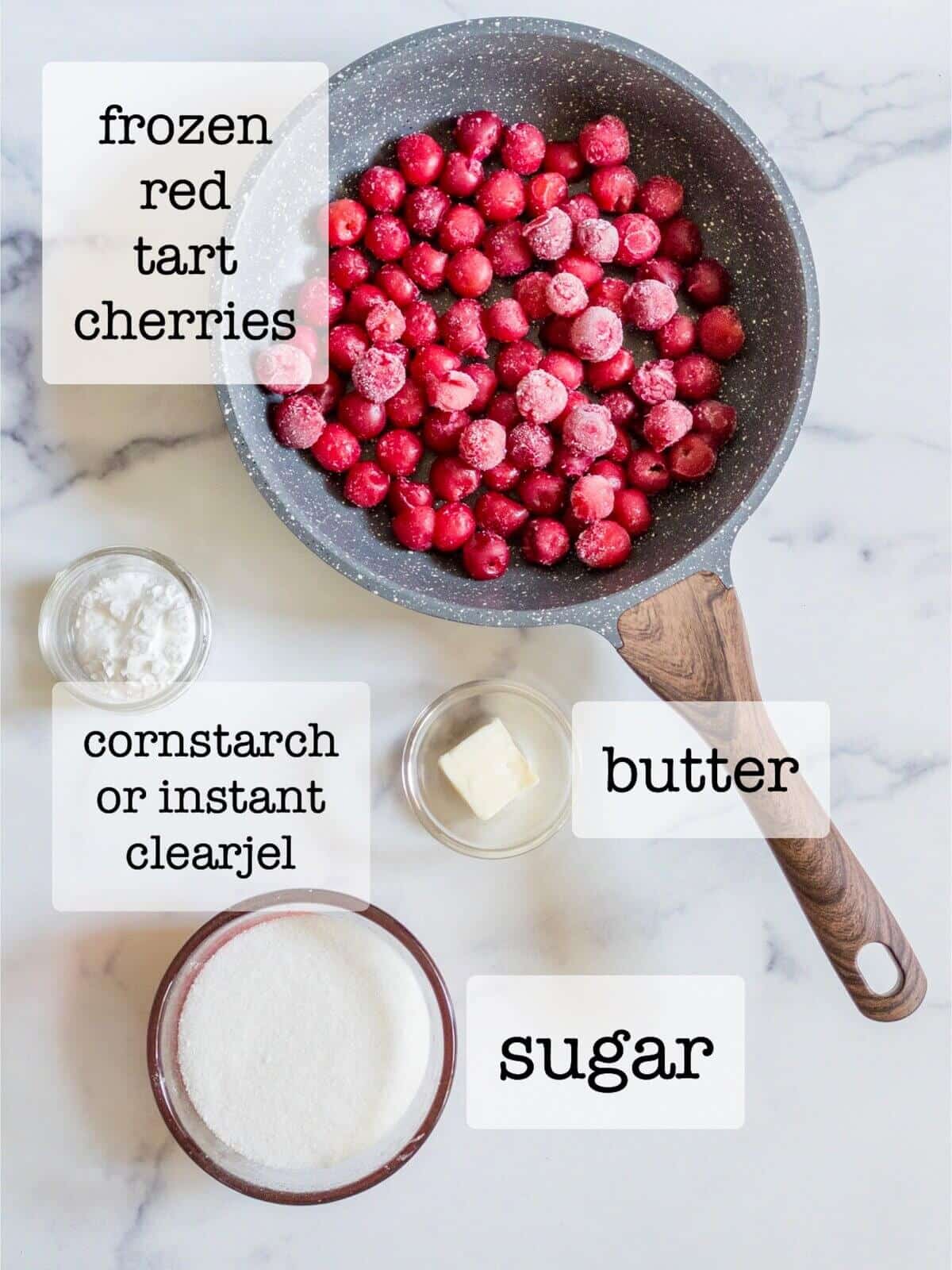 We're using frozen red tart cherries in this scratch-made filling recipe. Everyone get excited! I've said this before and I'll say it again, frozen fruit is often more flavorful than fresh! 🙌
Obviously, it's hard to beat fresh in-season fruit straight from the garden, but sometimes you don't have access to in-season fruit when you want a delicious baked good! I prefer frozen fruit in all my cake-filling recipes for consistency any time of the year.
Specifically, frozen "red tart cherries" will make the most flavorful and bright red cherry filling. The red tart variety can be hard to find--I get mine at Hyvee. These are different than frozen "dark sweet cherries." Tart cherries are what give this filling its traditional "sour" cherry pie flavor.
My choice of thickener in this recipe is instant clearjel, a modified cornstarch that doesn't require heat to thicken. There is also the option within the recipe to use cornstarch, it just requires more cooking over the stove. Both thickener options work great!
A very simple yet necessary ingredient you'll need is granulated sugar.
Don't leave out the salted butter in this cherry cake filling. A little goes a long way in this recipe.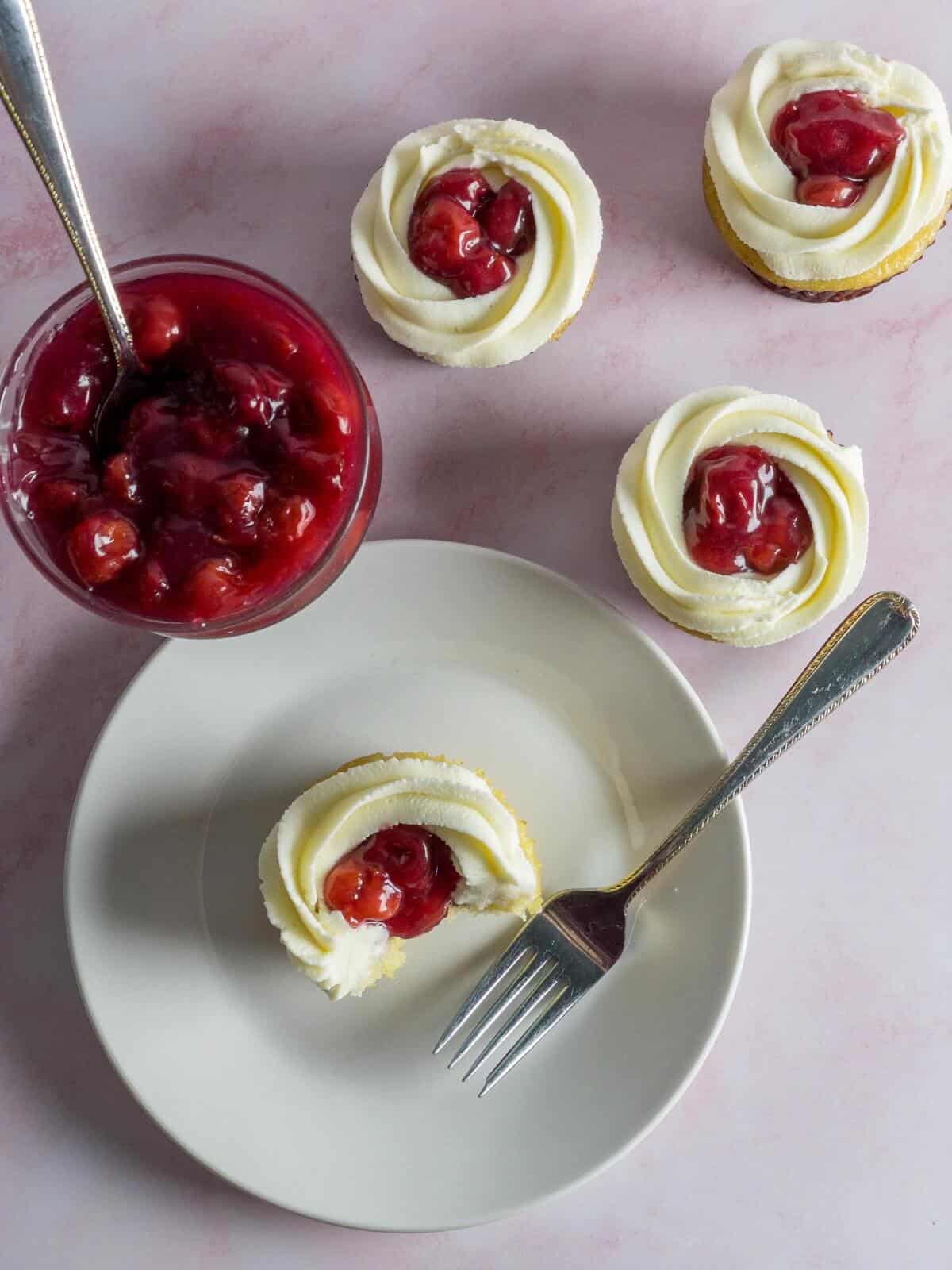 🎥 Step-by-Step Video
Watch this quick video to see how this cherry-filling recipe is made. Additional step-by-step instructions are listed within the recipe card.
🥧 How to Use it
This recipe is perfect for cakes, cupcakes, pies, cheesecakes, and cream cheese danishes! You can also use it as a fruit dip or add it to pancakes or waffles.
Pair it with my Vanilla Almond Cake or try it as a cherry cupcake filling in my moist Vanilla Cupcakes. Or make a dark chocolate cherry-filled Black Forest Cake with Chocolate Ganache cake!
You can select two batch sizes within this cherry filling recipe. A 1x batch fills a three-layer 6" cake, and a 2x batch fills a three-layer 8" cake.
Here's how you fill a cake with cherry filling:
First spread a thin layer of buttercream over your bottom cake layer. This helps prevent the dark red filling from discoloring the cake.
Pipe a tall ring of buttercream around the edge of the cake, then spoon your cherry cake filling into the middle of the cake within the buttercream ring. Spread the filling evenly so the height is below your buttercream ring.
Top the filling with your next cake layer and repeat! Watch me fill cakes with this method in my Strawberry Banana Cake and Blueberry Cake recipe videos.
💭 Frequently Asked Questions
Can I use fresh or canned cherries in this recipe?
You can, but I would recommend using frozen red tart cherries. The frozen cherries have more flavor and hold their shape better in the filling. And you'll want to make sure the cherries are labeled as "red tart," otherwise the filling will be too sweet.

Since the frozen "red tart" variety can be difficult to find (I get mine at Hyvee), I've included the instructions for substituting canned red tart cherries in the recipe notes section. However, in my recipe testing, the canned version was not as flavorful or bright as the frozen tart cherries.

You can see in the picture below that frozen cherries make a much prettier filling (frozen cherries on the left, canned on the right).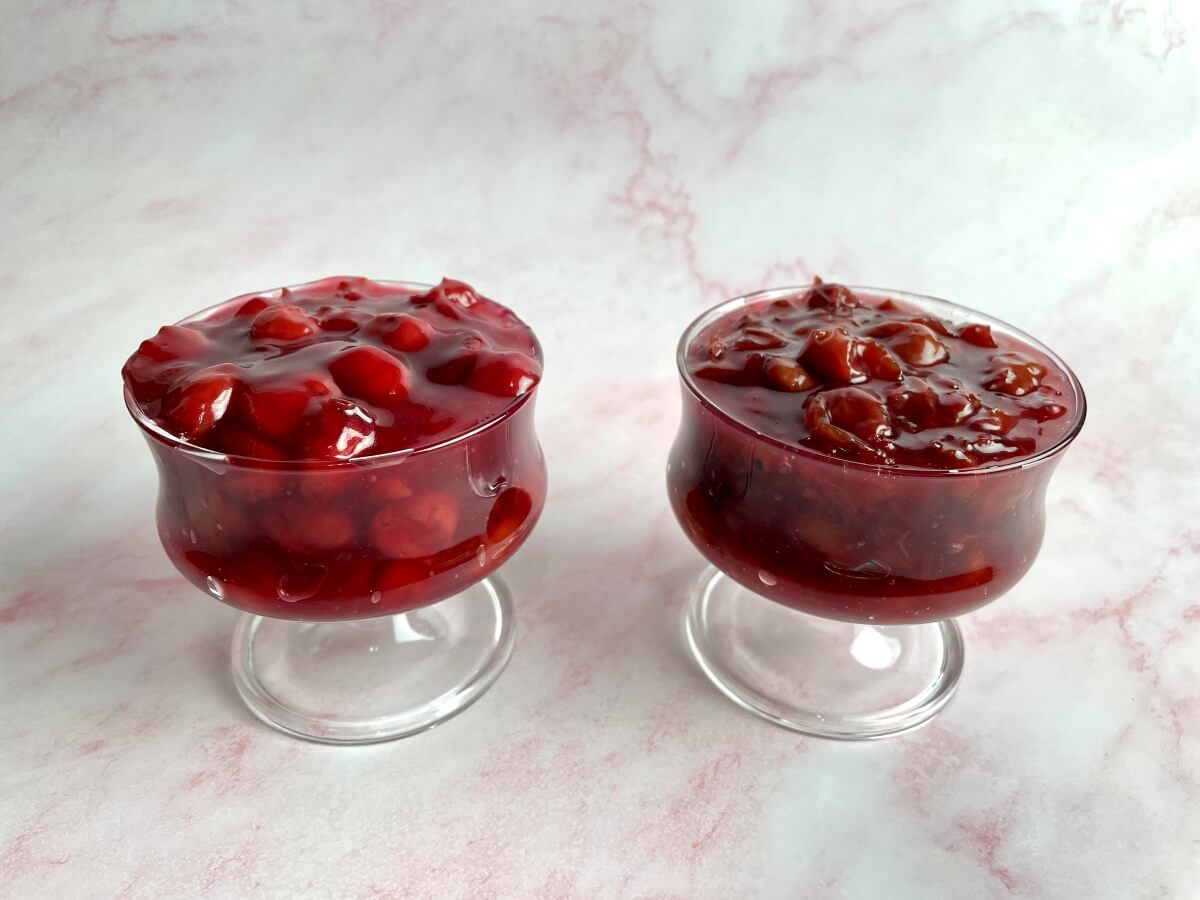 Can I use frozen dark sweet cherries instead?
I've only tried this recipe with red tart cherries, so I can't say for sure. I'm thinking you could use any type of cherry, but keep in mind that the flavor and color will change. Red tart cherries are slightly sour and need more sugar, so be sure to decrease the sugar if you use sweeter cherries.
Can I make this cake filling ahead of time?
Yes! This is a great recipe to make ahead of time. You can store it in the fridge for up to 2 weeks or freeze it for up to 2 months. Thaw it in the refrigerator overnight, and stir before using.
How do I use it as a pie filling?
This is a small-batch recipe that I mainly use as a cake filling, but it makes an absolutely delicious pie filling, too! I typically use a 4x batch for one deep 9" pie.

When making a cherry pie, make sure the filling is completely cool or cold before filling your pie shell. I recommend blind-baking your crust before filling it, as detailed in my egg and vinegar pie crust recipe.

The cherry filling is already cooked, so just bake the pie until the crust is fully baked and lightly golden brown.


How do you make cherry pie filling taste even better?
This classic tart cherry filling is delicious on its own and the cherries are the star of the show. But there are a few flavor variations that can elevate it even further.
- 🍒 For a cherry almond filling, add a little bit of almond extract to the filling. This will enhance the flavor of the cherries and add a nice depth of flavor. 
- 🥃 Add a splash of Kirsch or cherry brandy if you want a boozy cherry cake filling.
-🍋 For a summery filling, add a little bit of freshly squeezed lemon juice. This will brighten up the flavors and add a nice acidity.

What can I do with leftover cherry filling?
There are so many things you can do with leftover cherry cake filling! Here are a few ideas:
--Use it as a fruit dip
--Add it to oatmeal or yogurt
--Spread it on toast
--Make cherry turnovers
--Use it as a filling for crepes or pancakes
--Make a cherry sauce for ice cream or cheesecake
🍰 Other Delicious Filling Recipes
Here are some more recipes that use frozen fruit for easy, flavorful cake fillings.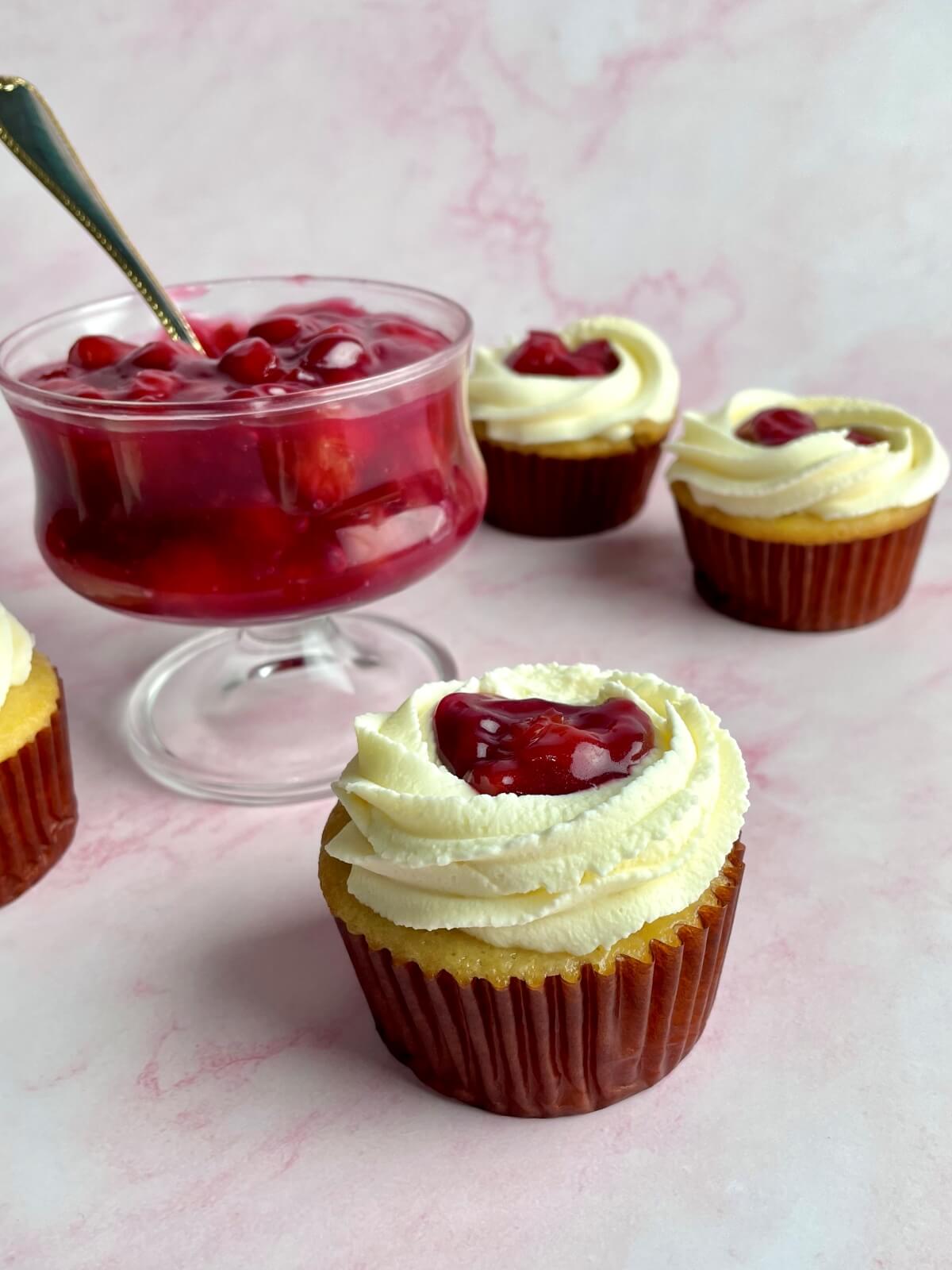 This tart cherry cupcake and cake filling will easily amplify any baked good your heart desires. I hope you try it out and let me know what you think in the comments below (or tag me on social media @amycakesbakes). 😊
Thanks for Reading. ❤️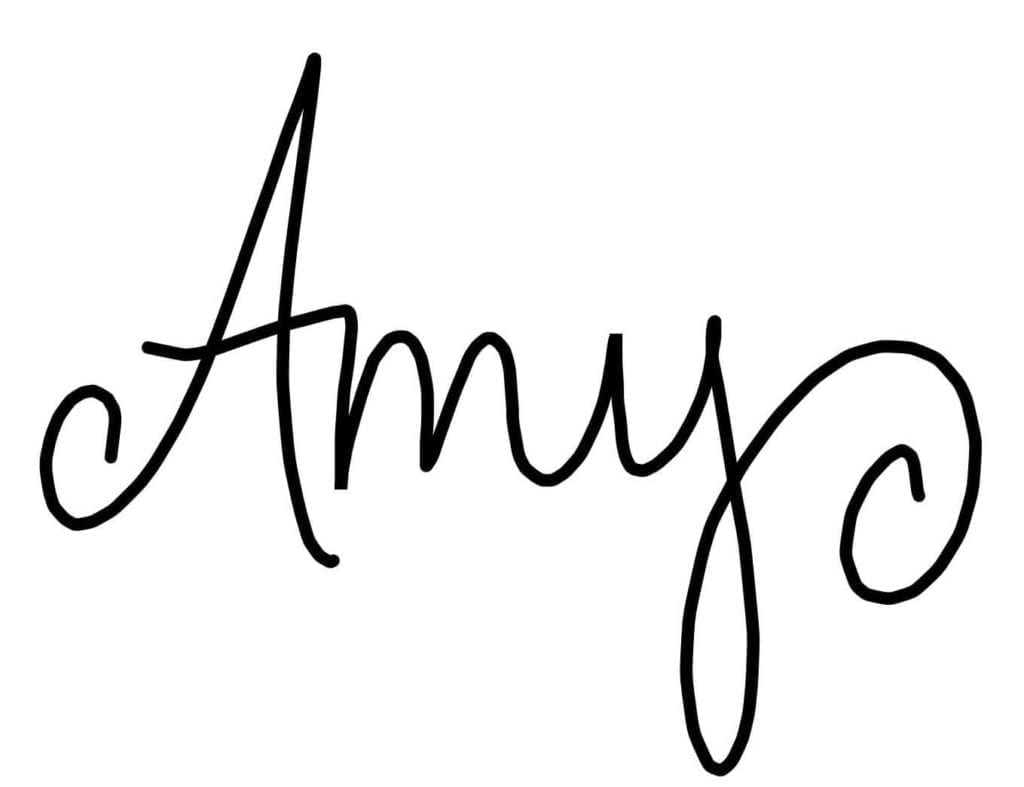 📖 Recipe
Homemade Cherry Cake Filling (quick and easy!)
This delicious cherry cake and cupcake filling tastes just like homemade cherry pie! With just four ingredients, including frozen red tart cherries, it only takes 15 minutes to prepare. This tart cherry filling can also be used in pies, cheesecakes, and pastries.
A 1x batch will fill one 6" three-layer cake or about 14 cupcakes and a 2x batch will fill one 8" three-layer cake or about 28 cupcakes.
👩‍🍳 For the most accurate baking results, use the grams measurements with a kitchen scale.
Watch the quick recipe video
Ingredients
Thickener Ingredients
3 Tablespoons + 1 teaspoon Cornstarch or 3

Tablespoons

instant clearjel

(See Note # 1 for the differences)

150 grams (¾

cup)

Sugar
Remaining Compote Ingredients
12 ounces (340 grams, around 2 ½

cups)

Frozen Red Tart Cherries

(See note #2)

1

Tablespoon

Salted Butter
Instructions
Whisk the sugar and your choice of

3

Tablespoons +

1

teaspoon Cornstarch or

3

Tablespoons Instant Clearjel together in a small bowl. Set aside.

Combine the frozen red tart cherries and salted butter in a nonstick skillet or saucepan. The butter can be cold as it will melt while the cherries cook.
When Using Cornstarch
If you're using Cornstarch, add the whisked cornstarch/sugar mixture to the pan of frozen cherries and butter and stir. Cook on medium heat until the cherries are fully thawed and the liquid begins to simmer.

Cook for an additional 5-10 minutes on medium as the mixture boils, scraping the pan frequently with a sturdy spatula. Larger batches will take longer to cook. Stir frequently and carefully to avoid damaging the cherries. The cherry filling is ready when it is thick, shiny, and coats your spatula (watch the recipe video). The cherries should be soft but still have their round form.
When using Instant Clearjel
If you're using Instant Clearjel, cook just the frozen cherries and butter on medium heat until the cherries are fully thawed and release their liquid. The cherries should be soft but still have their round form.

Remove from heat and immediately add the whisked Instant Clearjel/Sugar mixture and stir it in quickly until it dissolves. The cherry filling will thicken immediately, and continue to thicken as it cools. *Reminder--make sure you are using INSTANT clearjel. Cooktype and original clearjel do not work the same as Instant and require heat to thicken like the cornstarch method*
How to Store it
Chill the cherry cake filling in the refrigerator for up to 2 weeks or freeze. It may be used from cold as a cake, cupcake, or pastry filling. Enjoy!
Notes
Read my article Instant Clearjel: a Magical Little-Known Bakery Ingredient to see why I think this ingredient is worth having in your pantry.  Instant Clearjel must always be whisked thoroughly with other dry ingredients before being added to wet ingredients to avoid clumping.  Cornstarch works just as great in this recipe--the difference is that the Instant Clearjel option will be slightly thicker and glossier, and unused cherry filling made with cornstarch can separate slightly the longer it sits in the fridge--simply stir before using.
Frozen "red tart cherries" will make the most flavorful and bright red cherry filling, but they can be hard to find--I get mine at Hyvee.  These are different than frozen "dark sweet cherries."  Tart cherries are what give this filling its traditional "sour" cherry pie flavor. One 15-ounce can of "tart cherries in water" may be substituted for the 12 ounces of frozen cherries (in a 1x batch).  To substitute, first strain the cherries, reserving the cherry water. Then add enough cherry water back to the strained cherries to make 12 ounces (it's about ¼ cup of cherry water).
Print Recipe