This melt-in-your-mouth Strawberry Banana Cake recipe is the perfect summer cake, bursting with fresh fruit flavor! At Amycakes Bakery we called this popular flavor our "Strawberry Banana Smoothie Cake."
This recipe starts with old-fashioned banana cake made from super ripe bananas (think grandma's banana bread in cake form). When it's paired with homemade strawberry compote and strawberry buttercream, it becomes a bright, summery, delicious flavor combination.
Jump to:
🎥 Quick Step-by-Step Video
🎥 I hope you enjoy the video above (you may have to hit "play" twice on mobile devices). You can also view all my bakery recipe videos and tips on the following channels:
Or watch the quick recipe summary in the Banana Strawberry Cake web story.
🥣 Key Ingredients
Use bananas that are suuuuuuper ripe to get the best banana flavor. I recommend popping bananas in the freezer once they are brown throughout (keep the peel on and place them in a dated freezer zip bag). When you're ready to bake this cake, you'll already have the perfect bananas.
Instant pudding mix and buttermilk make this cake extra-moist, as described in my Seven Secrets to Incredibly Moist Cakes.
It doesn't take much, but adding a little Olive Nation strawberry extract to the strawberry buttercream really boosts the fresh strawberry flavor. I also use this extract in my Fresh Strawberry Cake and Triple Strawberry Cupcakes. I've used Olive Nation since the beginning of my bakery, and they have provided Amycakes Bakes readers with the coupon code AB20 for 20% off on their website (that's an affiliate coupon code, thank you for your support ❤️). If you use a different strawberry extract, make sure it is listed as pure or natural, and adjust the amount you need to taste.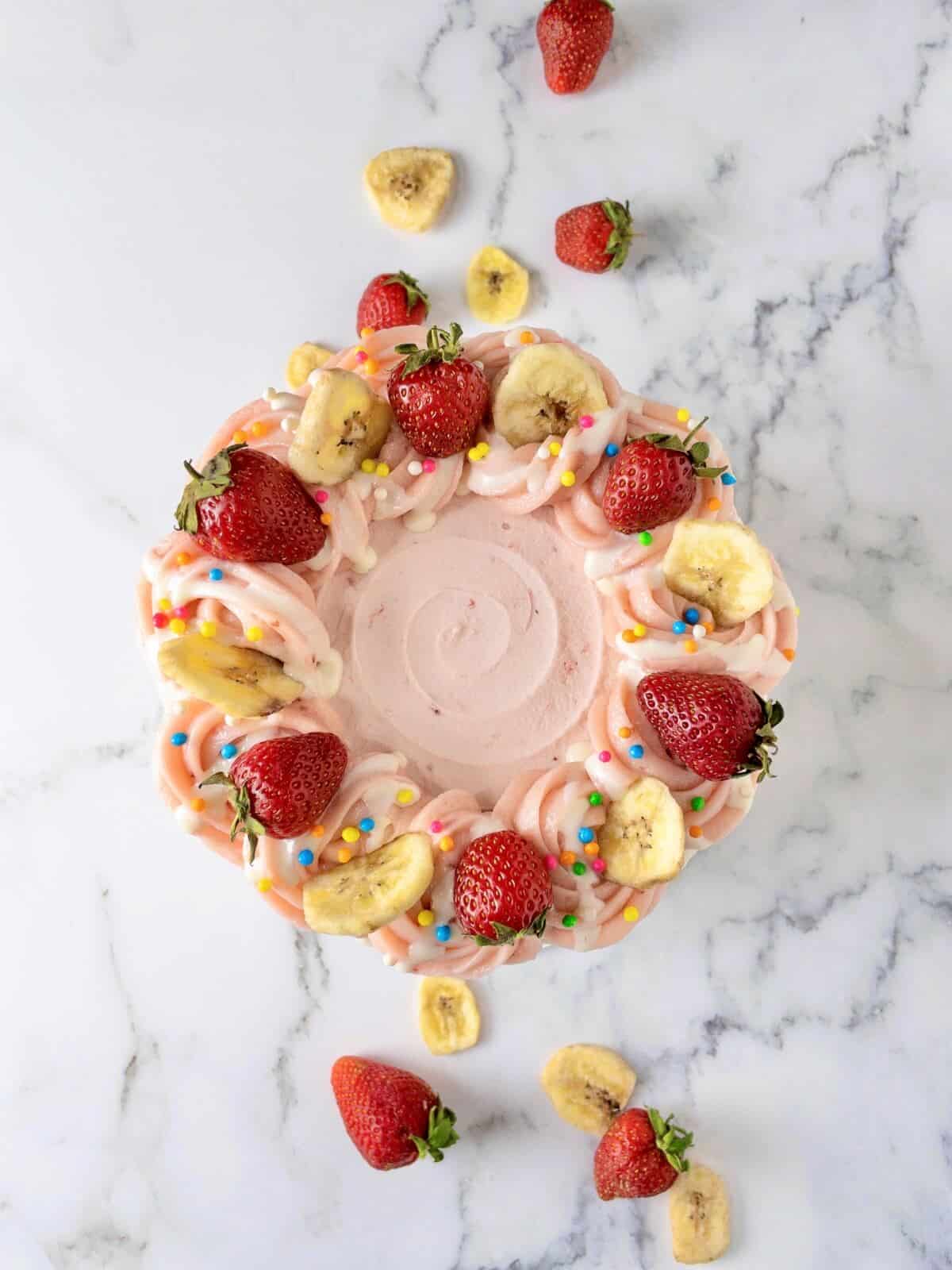 👩🏻‍🍳 Time Saving Tip
If you're familiar with my other cake recipes, you know I recommend spreading out your time--bake the cake up to 2 weeks ahead and freeze it well wrapped in the cake pan. Make the strawberry compote filling a day or two before you make the frosting and fill the cake.
You'll be so happy that you did! You won't have to wait for your compote or cake to cool, plus these moist cakes are much easier to layer and crumb-coat from frozen (more on that below).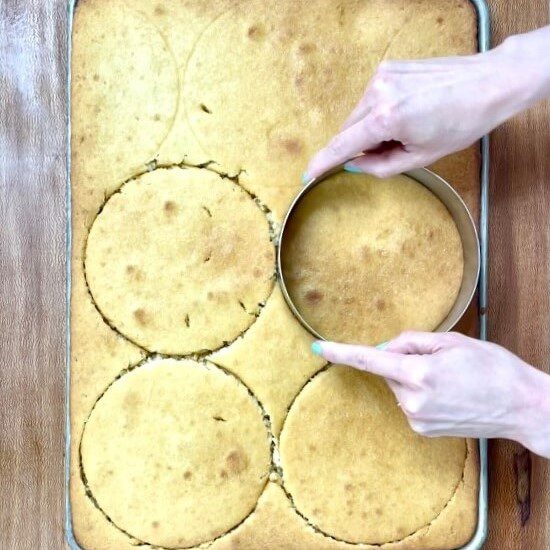 Layer this Cake using the Cut and Stack Method
I bake all my cakes in sheet pans and cut them out with cake rings. I talk about this in detail in 5 Easy Steps to Baking and Layering Cakes Like a Pro, but here's a quick rundown:

1. Bake the Cake in a Sheet Pan
2. Wrap and Freeze the Cake in the Pan
3. Cut Desired Cake Size with Cake Rings and Layer the Cake from Frozen
4. Crumb Coat the Cake
5. Decorate and Serve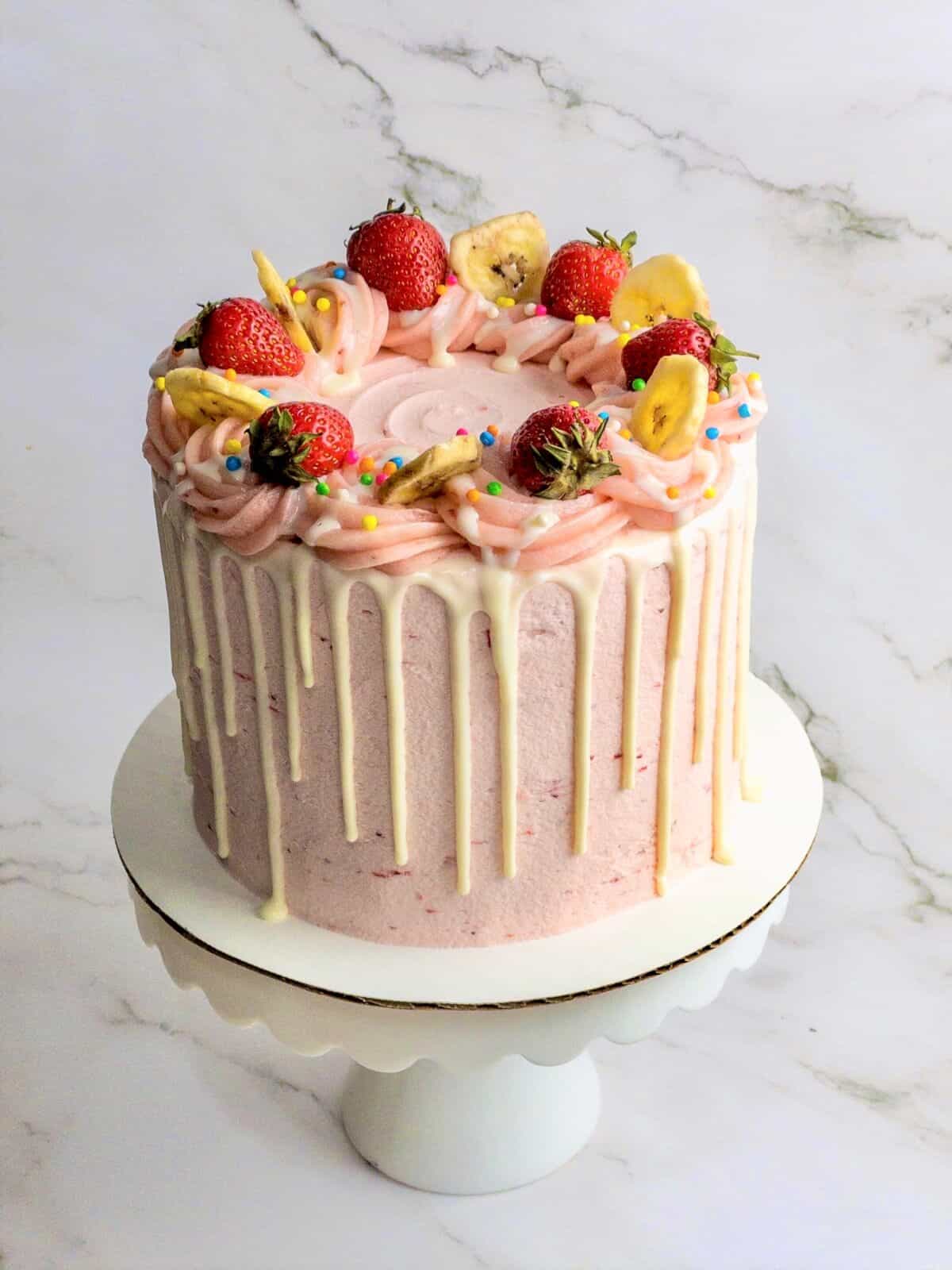 💭 Frequently Asked Questions
What's the best way to thaw frozen bananas?
The easiest way to thaw frozen bananas is by placing them (with the peels still on) in a bowl of hot water, or lightly stream hot water over the bananas until they thaw evenly. The peels on the bananas darken once they are frozen, but don't worry, the inside is not affected! When you peel your frozen bananas, save the banana juice to add extra banana flavor to your cake (as described within the recipe card).

Can I freeze this strawberry banana cake?
Definitely! I typically freeze the entire cake once I have filled and either crumb-coated or completed the cake, as described in How to Bake and Layer Cakes Like a Pro. That way the cake is sealed in with strawberry frosting when it is frozen, keeping just as moist as when you baked it.

Thaw it in the refrigerator overnight, then remove it from the fridge 2 to 3 hours before serving so it can come to room temperature.
Can I turn this recipe into strawberry banana cupcakes?
You sure can. Use a 2-oz scoop (¼ cup) to divide your banana cake batter into cupcake tins. Banana cupcakes typically bake at 350 degrees for 10 minutes, then turn the oven down to 300 degrees for an additional 3-5 minutes. It's easiest to fill them by using a cupcake corer, then squeeze the strawberry compote filling into the cupcake with a disposable piping bag.
I want to make a double batch (2x) of this cake recipe, which calls for two 2x batches of strawberry compote. Can I just make a 4x batch?
Technically, you can make a 4x batch of the compote (though it isn't an option to select in the recipe card so you'll have to double the ingredients manually). I prefer to make two 2x batches of the strawberry filling because the 4x batch takes a lot longer for the strawberries to thaw and cook. I'll usually prep the ingredients for my 2nd batch of compote while my first batch of compote cooks.
I hope you enjoy this delicious strawberry banana layer cake! Pin it for later using the image above, or let me know what you think of it in the comment section below. 🙂
Thanks for Reading. ❤️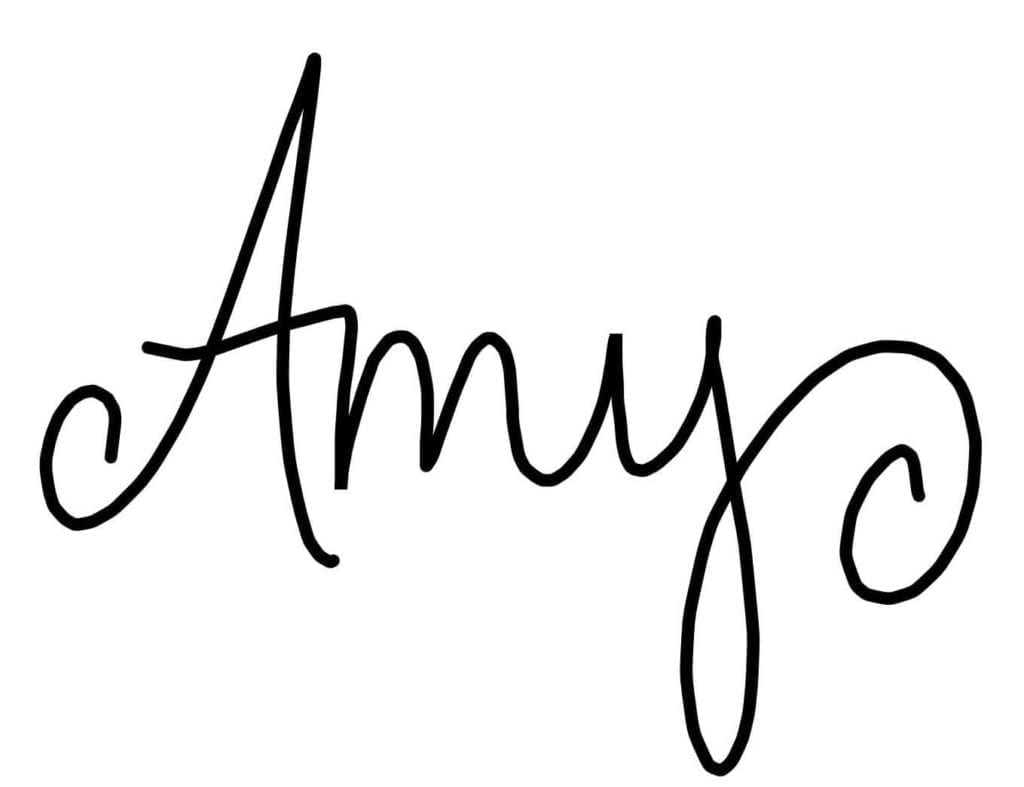 📖 Recipe
Strawberry Banana Cake (so soft & moist!)
This melt-in-your-mouth Strawberry Banana Cake recipe is the perfect summer cake, bursting with fresh fruit flavor!
A 1x batch yields 1 
6" three-layer cake
, and a 2x batch yields 1 
8" three-layer cake
 cut out with cake rings using the 
Cut and Stack Method
. Or choose a different pan size by visiting 
my recommended cake pan chart.
👩‍🍳 For the most accurate baking results, use the grams measurements with a kitchen scale.
Watch the quick recipe video
Ingredients
Strawberry Compote Cake Filling
Dry Ingredients
200 grams (1 ½

cups)

All-Purpose Flour

(I use Gold Medal)

1 ½

teaspoons

Baking Powder

1

teaspoon(s)

Baking Soda

¾

teaspoon(s)

Salt

44 grams (¼

cup)

Instant Vanilla Pudding Mix

200 grams (1

cup(s))

Sugar
Wet Ingredients
2.5 large to 3 small

overly ripe bananas (the peel should be mostly dark brown/ black)

(I use bananas that I have frozen once they reach the perfect ripeness, see Note #2)

¼

cup

Water &/or banana juice (if using frozen bananas)

2

large

Eggs

¾

cup(s)

Buttermilk

¼ cup + 2

Tablespoon(s)

Vegetable Oil

1 ½

teaspoons

Vanilla Extract
Butter
¾ stick(s) (3

ounces)

Salted Butter

(melted)
Strawberry Buttercream Ingredients
520 grams (4

cups)

powdered sugar

(you may add additional powdered sugar as described in step 5)

2

Tablespoons

Instant Clearjel

(optional, but it provides a thicker frosting)

4

ounces

cream cheese

2 sticks (8

ounces)

salted butter

(at room temperature)

1 ½

teapoons

pure vanilla extract

½

teaspoon

Natural or Pure Strawberry Extract (I recommend Olive Nation strawberry extract. See Note #4)

reserved strawberry compote
Decorations (optional)
Banana Chips

fresh strawberries

rainbow crispie sprinkles
Instructions
Make the Strawberry Compote Cake Filling
You will use the strawberry compote in both the strawberry buttercream and as a cake filling. Prepare 

1

 2x batch(es) of the strawberry compote cake filling recipe and allow it to cool. You can make it the day before and keep it refrigerated. Reserve 

118

 grams (

½

 cup) for the buttercream and the remaining for the cake filling (you may not need to use all of the cake filling, but I prefer a generous amount in the middle of this cake).
Make Banana Puree
Thaw the frozen overly ripe bananas (with the peel on) in a bowl of hot water (If using fresh overly ripe bananas, see Note # 2). The bananas will be very soft to the touch once thawed. Remove the banana stems and delicately squeeze out the thawed bananas into a fine-mesh strainer over a bowl, reserving the banana juice.

Mash the strained bananas until they are a fine puree without any chunks. I find a wire pastry blender works best for this when mashing them in a bowl, but you could also use a fork and mash them on a plate. Measure out

130

g (around

½

cup +

1.5

Tbsp) banana puree to use in the cake.
Make Banana Cake
Preheat oven to 325 degrees. Line a

¼

sheet pan with parchment paper, then spray the bottom (on top of the parchment) and sides of the pan with nonstick cooking spray.

If needed, add enough water to the reserved banana juice to make

¼

cup. Combine the

¼

cup water/banana juice, reserved

130

g banana puree, and the remaining Wet Ingredients (eggs, buttermilk, vegetable oil, and vanilla extract) in a large bowl and whisk until smooth and well-blended.

Using a sifter or fine-mesh strainer, sift the Dry Ingredients into a separate large bowl. Whisk until well blended.

Pour the Wet Ingredients into the Dry Ingredients and whisk until incorporated. Pour the Melted Salted Butter over batter and whisk in until incorporated and the batter looks uniform and shiny.

Pour the banana cake batter into the prepared sheet pan and smooth out the batter until even all the way to edges (an offset icing spatula works well for this).

Bake on the middle or top rack (avoid bottom rack) of the preheated 325-degree oven for 18 minutes, then turn the oven down to 300 degrees. Set the timer for an additional 3-8 minutes, or until a toothpick or paring knife comes out mostly clean (watch closely towards the end of baking). A couple of moist crumbs on your knife are fine, but they shouldn't look wet. Some ovens may require a longer baking time, and 2x batches may take a few more minutes in the oven.

The delicate cake will be easiest to layer from cold or frozen--allow the cake to cool, then wrap the cake in the pan thoroughly in plastic wrap. Freeze the cake in the pan for at least 2 hours or up to 2 weeks ahead of time (brush the cake with simple syrup if freezing for more than a couple of days--see Note #3).
Prepare the Strawberry Buttercream
If using instant clerjel, whisk it thoroughly with the powdered sugar and set aside.

Using a stand mixer (preferred) or handheld mixer and a large bowl, beat the cream cheese until broken up and softened. Add the room temperature salted butter and continue to beat until there are no lumps, scraping the sides of the bowl as needed.

Once the cream cheese/butter mixture is very smooth and creamy without lumps, slowly sprinkle in the powdered sugar mixture while the mixer is on low. The mixture will be thick, but continue to slowly blend on low until it is fully incorporated.

Add the pure vanilla, strawberry extract, and reserved 

118

grams strawberry compote. Scrape down the sides of the bowl. Then beat the buttercream on high for two-three minutes. This important step will add air into the buttercream and make it light and fluffy. The instant clearjel will cause the buttercream to thicken over the next 10 minutes. If you didn't use instant clearjel, you may wish to add up to an additional 

1

 cup(s) of powdered sugar to reach a thicker frosting. The frosting can be made a day or two in advance and refrigerated, but remove it from the fridge 1-2 hours before decorating your cake so it can be easily spread.
Layer, Decorate, and Serve
The easiest way to layer the cake is to layer the cake from frozen the day before you plan to serve it. If serving the cake the same day you are layering it, use refrigerated cake layers instead of frozen. Cut the cake layers with cake rings as described in How to Bake and Layer Cakes Like a Pro.

Spread a ¼ inch layer of strawberry buttercream on top of your bottom cake layer, then pipe a ½" tall ring of buttercream around the edge of the cake. An offset icing spatula (I use the small and medium-size on all my cakes) helps with this. Evenly spread half of the strawberry compote filling on top of the buttercream within the ring, making sure it is not taller than the ring of buttercream (as seen in my recipe video). Repeat with the second cake layer. The remaining cake scraps can be used for delicious banana cake truffles if desired.

I recommend frosting a thin crumb coat of buttercream on the outside of the cake which will catch all the crumby edges, then allow it to set up in the freezer for about 10 minutes until the buttercream is firm, before adding the final coat of strawberry buttercream. Drizzle with Simple White Chocolate Drip and top with fresh strawberries, banana chips, and colorful sprinkles (if desired). The remaining strawberry buttercream can be used to pipe rosettes with a 1M star tip and disposable piping bag.

You can let the cake set up in the fridge, but remove it from the fridge 2-3 hours before serving so it can come back to room temperature (avoid warm temperatures). This cake has the best texture at room temperature. Enjoy!
Notes
Notes for 2x batches (some of these won't apply if you are using the grams measurements):
3 tsp= 1 Tbsp
4 tablespoon = ¼ cup
Instant Pudding mix contains modified cornstarch (a.k.a. 

Instant Clearjel

), which helps cakes retain more moisture for longer while keeping a soft texture.  I use Instant pudding mix in cakes and save my instant clearjel for recipes that don't have an ideal substitute (as described in my 

Instant Clearjel Shortage Section

).  However, if you'd prefer to use instant clearjel, you may use 1 Tablespoon Instant Clearjel (in a 1x batch) in place of the Instant Pudding Mix.

I prefer to stock up on overly ripe bananas by freezing them once they turn a dark brown/black.  Simply freeze the bananas in their peel in freezer bags, then thaw under hot water as described in step 1.  If using overly ripe fresh bananas instead of frozen, it is unlikely that you will need to strain them or have any "banana juice."  I recommend going by the listed number of bananas instead of the measured quantity, as the weight will differ with fresh bananas.  With fresh bananas, you can use just water instead of banana juice/water.  
Simple Syrup is optional, but I use it to seal in the moisture for cakes that will be refrigerated or frozen.  While the cake cools, make a simple syrup by combining 1 tablespoon water and 1 tablespoon sugar in a small microwave-safe bowl. Microwave until the sugar is dissolved after whisking, about 20-30 seconds.  You will only need half of this on a 1x batch of cake.  You can also make a larger batch of this (1 part sugar to 1 part water) and keep it in the fridge if you're doing a lot of cake baking. 
If you use a different brand of Strawberry extract than Olive Nation, you may need to adjust the amount to taste--it's always better to start off with less than you need, then add more extract if you think the flavor needs to be stronger.  Olive Nation has provided Amycakes Bakes readers with the coupon code AB20 for 20% off on their website (that's an affiliate coupon code, thank you for your support ❤️).  
Print Recipe