Last Updated on October 21, 2021. This post may contain affiliate links to products I use, love or recommend. That means I may receive a small commission on products you purchase through my links at no cost to you. As an Amazon Associate, I earn from qualifying purchases. Please see my Disclosure Policy for more details. Thank you for your support, which allows me to continue to create content for this website.
Extra-Moist Banana cake made with only the ripest bananas has always been one of my favorites, Today we're taking it to new heights by filling it with with fudgy chocolate ganache and creamy peanut butter buttercream. At Amycakes Bakery we called this our "Elvis Cake.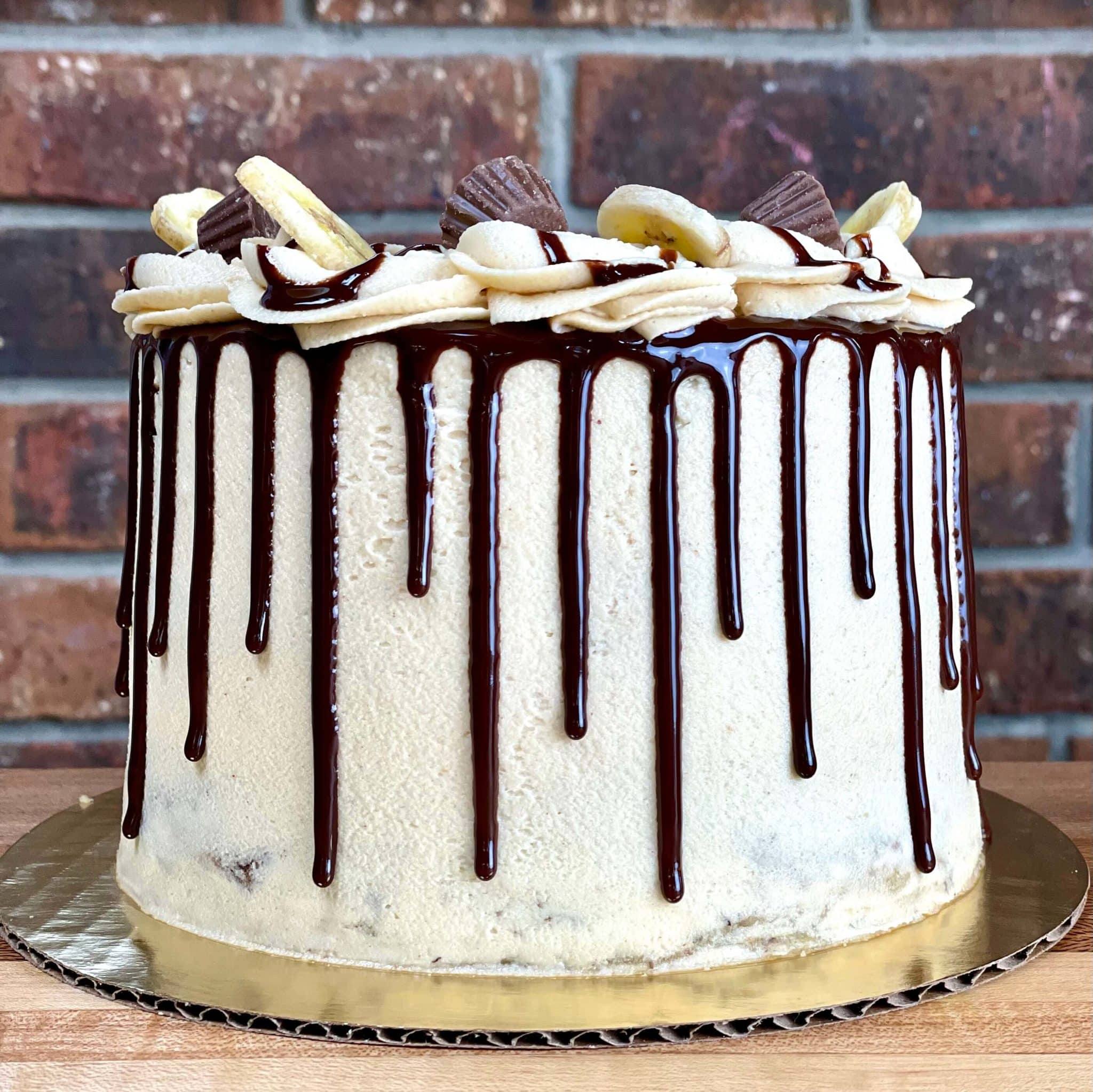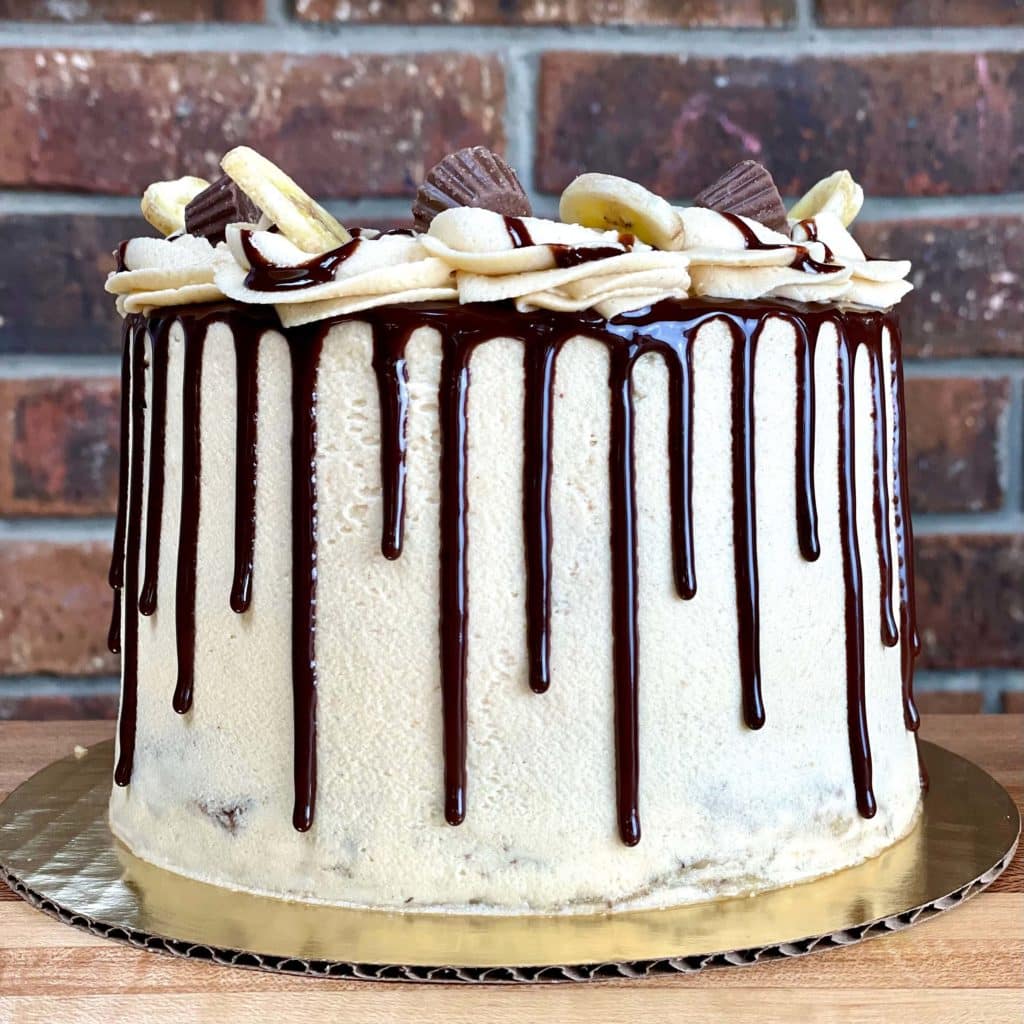 About this Elvis Cake Recipe
Elvis Presley famously loved peanut butter and banana sandwiches, which is why you often see these two ingredients combined. This delicious flavor combination starts off with classic banana cake made with extra-ripe bananas. As one of my two-bowl method cakes, no mixer is required to make the cake batter! Just whisk the dry ingredients in one bowl, the wet ingredients in another, and you'll have your cake batter ready in no time. Read my Old-Fashioned Banana Cake post to get all the details about when to freeze your extra ripe bananas so that they are perfect for your moist banana cake.
From there we add an easy rich and fudgy chocolate ganache filling made from semisweet chocolate chips and heavy cream. The fluffy peanut butter buttercream contains cream cheese and salted butter and a little bit of Instant Clearjel to make a smooth and fluffy buttercream.
The Secret Bakery Ingredient in this Recipe
This bakery recipe uses Instant ClearJel, a type of cornstarch that serves as both a thickener and a binder. It's tasteless and has no artificial ingredients. It's often used by professional bakers because it produces a smoother and glossier consistency than cornstarch, tapioca, or other starches. Even better, it enhances moisture and texture in cakes and thickens and stabilizes frostings.
Although it's not often available in grocery stores, it's sold in a variety of online stores. I use Hoosier Hill Farm Instant Clearjel. When using Instant Clearjel in baking, please make sure it is labeled as "INSTANT," and always thoroughly whisk it with dry ingredients as described within the recipe.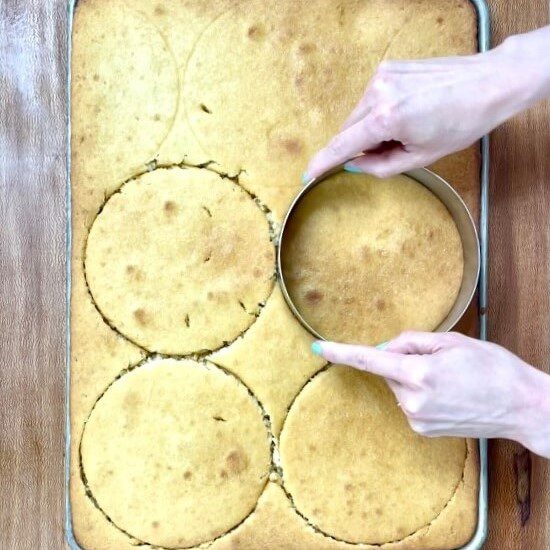 Layer this Cake using the Cut and Stack Method
I bake all my cakes in sheet pans and cut them out with cake rings. I talk about this in detail in 5 Easy Steps to Baking and Layering Cakes Like a Pro, but here's a quick rundown:

1. Bake the Cake in a Sheet Pan
2. Cut Desired Cake Size with Cake Rings then Freeze
3. Layer the Cake from Frozen
4. Crumb Coat the Cake
5. Decorate and Serve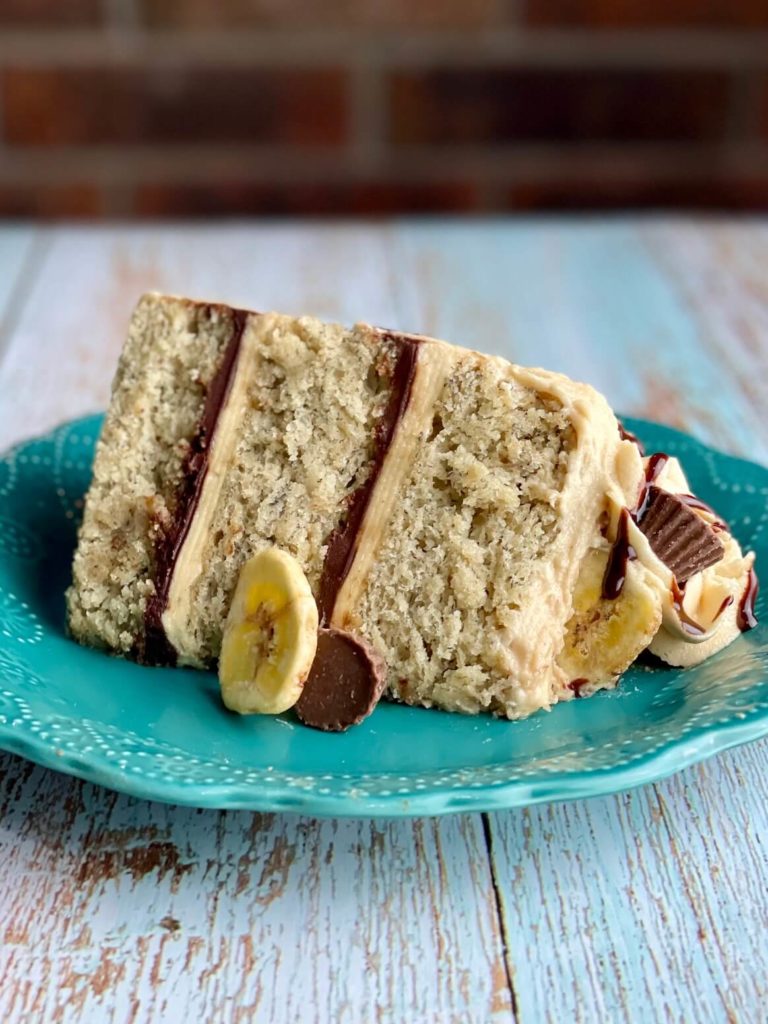 Elvis Recipe FAQ
Can I turn this Elvis Cake Recipe into Elvis Cupcakes?
Yes, this flavor combination is delicious as cupcakes! Use a 2 oz scoop or 1/4 cup to fill your standard cupcake liners. Bake at 325 degrees for 8 minutes, then turn the oven down to 300 degrees for the remaining 6-8+ minutes. Remove the core of the cooled cupcake with a cupcake corer, then fill the cored cupcakes with melted chocolate ganache (I use a squeeze bottle). Frost with peanut butter buttercream and top with a ganache drizzle!
Absolutely! One of the best things about cakes made with buttermilk, vegetable oil, and Instant Clearjel is they stay very moist when frozen. I recommend you freeze the cake before layering it so that it's easier to layer. A lot of times I'll make my cake a week before I layer it.
You can also freeze the entire finished cake. If you place your cake in a cake box or container then wrap it thoroughly in plastic wrap, it should stay moist for at least a few weeks, if not longer. Most articles say cakes can be frozen for up to three months, but I'm hesitant to try it longer than a month.
Thanks for Reading. ❤️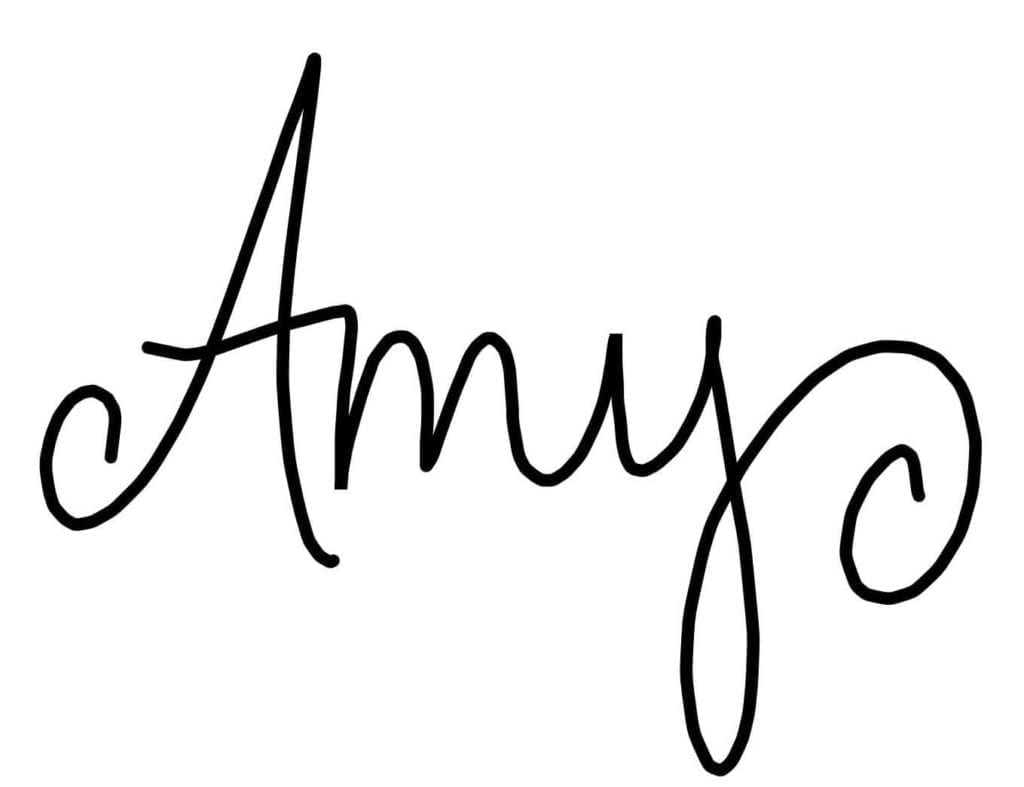 Watch the Elvis Cake Video:
Get the Elvis Cake Recipe:
Elvis Cake (Banana Cake with Peanut Butter Frosting and Chocolate Ganache)
Select "grams" if you have a
kitchen scale
for more accurate baking.
Ingredients
Dry Ingredients
1 ½

cups

All-Purpose Flour

(I use Gold Medal)

1 ½

teaspoons

Baking Powder

1

teaspoon(s)

Baking Soda

¾

teaspoon(s)

Salt

1 Tablespoons + 1 ½

teaspoons

Instant Clearjel

(A bakery ingredient you can use at home. Please make sure it is labeled as "INSTANT." See Note #1)

1

cup(s)

Sugar
Wet Ingredients
2.5 large to 3 small

overly ripe bananas (the peel should be mostly dark brown/ black)

(I use bananas that I have frozen once they reach the perfect ripeness, see Note #2)

¼

cup

Water &/or banana juice (if using frozen bananas)

2

large

Eggs

¾

cup(s)

Buttermilk

¼ cup + 1

Tablespoon(s)

Vegetable Oil

1 ½

teaspoons

Vanilla Extract
Chocolate Ganache Filling Ingredients
1

cup

Semi-Sweet Chocolate Chips

I use Nestle

½

cup

Heavy Cream
Peanut Butter Buttercream Ingredients
4

ounces

Cream Cheese

1 ½ sticks (6

ounces)

Salted Butter

at room temperature

¼

cup

Shortening

3

cups

Powdered Sugar

1

Tablespoon

Instant Clearjel

(A bakery ingredient you can use at home. Please make sure it is labeled as "INSTANT." See Note #1)

½ cup + 2

Tablespoons

Creamy Peanut Butter

1

Tablespoon

Pure Vanilla Extract

2

Tablespoons

Heavy Cream
Instructions
Make Banana Puree
Thaw the frozen overly ripe bananas in a bowl of hot water (If using fresh overly ripe bananas, see Note # 2). The bananas will be very soft to the touch once thawed. Remove the banana stems and delicately squeeze out the thawed bananas into a fine mesh strainer over a bowl, reserving the banana juice.

Mash the strained bananas until they are a fine puree without any chunks. I find a wire pastry blender works best for this when mashing them in a bowl, but you could also use a fork and mash them on a plate. Measure out

130

g (around

1/2

cup +

1.5

Tbsp) banana puree to use in the cake.
Make Banana Cake
Preheat oven to 325 degrees. Line a

1/4

sheet pan with parchment paper, then spray the bottom (on top of the parchment) and sides of the pan with nonstick cooking spray.

Add enough water to the reserved banana juice to make

1/4

cup. Combine water/banana juice, reserved

130

g banana puree, and the remaining Wet Ingredients (eggs, buttermilk, vegetable oil, and vanilla extract) in a large bowl and whisk until smooth and well-blended.

Using a sifter or fine-mesh strainer, sift the Dry Ingredients into a separate large bowl. Whisk until well blended.

Heat the Salted Butter in the microwave in a microwave-safe dish until just melted.

Pour the Wet Ingredients into the Dry Ingredients and whisk until incorporated. Pour the Melted Salted Butter over batter and whisk in until incorporated and the batter looks uniform and shiny.

Pour the banana cake batter into the prepared sheet pan and smooth out the batter until even (an offset icing spatula works well for this). The batter will be about 1/4 inch from the top of a 1" tall sheet pan. (You can also bake in round pans or sheet-cake pans–see Note #3).

Bake in the middle or top rack (avoid bottom rack) of a preheated 325-degree oven for 16 minutes. Without opening the oven, turn the temperature down to 300 degrees and bake for another 6-10 minutes. Check the cake at this point. See if it is done by lightly touching the top of the cake–try to avoid moving the cake pan or baking rack, which could cause an underdone cake to sink. If jiggly at all to your touch, bake for another 1-5 minutes. The cake is done when a toothpick or small paring knife comes out clean when quickly stuck in the cake. A few moist crumbs on your knife are fine, but they shouldn't look wet.

Allow cake to cool completely. Choose your round cake size using the Cut and Stack method. Leave the cake in the sheet pan, and using a slight sawing motion, cut the cooled cake into your desired cake size with cake rings (You can use a knife and the cake rings as a guide for any halve pieces that you cut.)

Wrap thoroughly in plastic wrap and freeze cake in the pan for 2 hours or overnight. (You can even bake the cake up to a week ahead of time and freeze). The cake will be much easier to layer if it is cold or frozen. To wrap the cake, place another sheet of parchment on top of the cake (this will prevent the plastic wrap from sticking to the cake), and wrap the whole pan with plastic wrap. (I pull the plastic wrap out and place the pan on top of it. Then I wrap two ways horizontally and one way vertically so that there are two layers of wrap on all sides of the pan including the bottom).
Make the Chocolate Ganache Filling
Combine heavy cream and semi-sweet chocolate chips in a medium-sized microwave-safe bowl. Microwave at 30-second increments, stirring for 30 seconds to one minute in between each heat. (It should only take two to three heats in the microwave. Lots of whisking will melt your chocolate faster and prevent the chocolate chips from overcooking in the microwave.

Whisk until all the chocolate chips are melted and your ganache is shiny and smooth. Reserve

1/4

cup to drizzle on the cake if desired. Place the ganache for the filling in the fridge to cool. Stir occasionally until it is has cooled to a very thick and fudgy consistency. Once it is the right thickness, remove it from the fridge until you are ready to fill and layer your cake. (If your ganache gets too cold, it will be too thick to spread. Simply reheat in the microwave at 5-10 second increments, stirring frequently, until it is the right consistency.)
Make the Peanut Butter Buttercream
Whisk the powdered sugar and Instant Clearjel together until well-blended. Set aside.

Using a stand mixer (preferred) or handheld mixer and a large bowl, beat the cream cheese until broken up and softened. Add the room temperature salted butter and continue to beat until there are no lumps, scraping the sides of the bowl as needed. Add the shortening and beat and scrape the sides until the mixture is smooth without lumps.

While the mixer is on low, slowly add the powdered sugar mixture. Add the peanut butter and mix on medium speed until well-blended, scraping the sides of the bowl as needed.

Add the heavy cream and pure vanilla. Scrape down the sides of the bowl. Then beat the buttercream on high for two-three minutes. This will add air into the buttercream and make it light and fluffy. The Instant Clearjel will cause the buttercream to thicken slightly during the next 10 minutes as it sits (see Note #1).
Layer, Decorate, and Serve
The easiest way to layer the cake is to layer the cake from frozen the day before you plan to serve it. If serving the cake the same day you are layering it, use refrigerated cake layers instead of frozen.

Use your two half-circles of cake to make the bottom cake layer (fill in with scraps if needed to make a level surface). Fill your cake layers with a layer of fudgy chocolate ganache filling and a layer of peanut butter buttercream (watch the recipe video), then frost with peanut butter buttercream. An offset icing spatula (I use the small and medium-size on all my cakes) helps with this. I recommend frosting a thin crumb coat of buttercream on the outside of the cake which will catch all the crumby edges, then allow it to set up in the freezer for about 10 minutes until the buttercream is firm. Read more in my article: How to Bake and Layer Cakes Like a Pro: 5 Easy Steps. The Remaining cake scraps can be used for cake truffles if desired.

Spread a final layer of buttercream over your set-up crumbed cake, and decorate as desired. I drizzled the cake with my reserved chocolate ganache drizzle using a squeeze bottle and topped the cake with peanut butter buttercream rosettes, mini peanut butter cups and banana chips.

You can let the cake set up in the fridge, but remove it from the fridge 2-3 hours before serving so it can come back to room temperature (avoid warm temperatures). This cake has the best texture at room temperature. Enjoy!
Notes
Notes for 2x batches (some of these won't apply if you are using the grams measurements):
3 tsp= 1 Tbsp
4 Tbsp = 1/4 cup
Read my article Instant Clearjel: a Magical Little-Known Bakery Ingredient to see why I think this ingredient is worth having in your pantry.  Instant Clearjel must always be whisked thoroughly with other dry ingredients before being added to wet ingredients to avoid clumping.  I have tested this recipe with the following Instant Clearjel brands: Hoosier Hill Farm, Prepared Pantry, and Ingredion (Make sure what you purchase is labeled as "Instant."  Cooktype Clearjel is a different product that does not work the same in cakes).
I prefer to stock up on overly ripe bananas by freezing them once they turn a dark brown/black.  Simply freeze the bananas in their peel in freezer bags, then thaw under hot water as described in step 1.  If using overly ripe fresh bananas instead of frozen, it is unlikely that you will need to strain them or have any "banana juice."  I recommend going by the listed number of bananas instead of the measured quantity, as the weight will differ with fresh bananas.  With fresh bananas, you can use just water instead of banana juice/water.  
When baking cakes in a sheet pan, the cake bakes more evenly (flatter on top and with no dark edges), and you get to choose your cake size after baking!  With a 1x batch in a 1/4 Sheet Pan you can make a three-layer 6″ cake (two full rounds, one pieced round from two half-circles) or several little cakelets.  With a 2x batch in a 1/2 Sheet Pan you can make a three-layer 8″ cake (two full rounds, one pieced round from two half-circles), an extra tall six-layer 6″ cake (5 full rounds, one pieced round from two half-circles), TWO 3-layer 6″ cakes (eat one now and freeze one for later.  🙂 Or have a baking party with a friend and you each get a cake!) or several little Cakelets using a 4″ cake ring or 3″ or 2″ round cookie cutters.  You can also choose to bake in sheet-cake pans or round pans.  View the pan chart in the article Half-Batches and Cake Pans: Everything You Need to Know.  
Print Recipe