If you're looking for a rich chocolate cake with the creamiest peanut butter frosting, you must make this recipe! My homemade chocolate cake with peanut butter frosting is one of my favorite cakes ever and would make the best birthday cake for the chocolate-peanut butter lover in your life!
This recipe was inspired by my Triple Chocolate Ganache Cake. It's my go-to chocolate cake recipe because it's so moist and fudgy. This cake was a favorite at my former bakery for years!
My creamy peanut butter frosting is heaven on earth, and I knew it'd pair perfectly with the rich flavor of my moist chocolate cake. These two are a match made in heaven and look so good decorated with peanut butter cups (full size or mini), Reese's pieces, and sometimes add a chocolate ganache drizzle. So good!
Jump to:
🥜 Why you'll love this chocolate peanut butter cake
It's so moist! Thanks to my secret ingredient Instant Clear Jel, this cake can hold onto much more moisture than the average cake without feeling soggy or heavy.
It's a super simple recipe - Isn't it so great when the best cakes are the easiest? This is one of my two-bowl cake recipes, and it comes together with minimal effort.
It's a classic flavor combination - Peanut butter + chocolate are one of the best flavor combinations out there! It's a crowd-pleaser the whole family will love.
It has the creamiest frosting ever - I don't want to toot my own horn here, but this creamy peanut butter buttercream is about to be your new favorite thing. It takes just ten minutes and is truly the best. It's a perfect topping for the rich chocolate cake layers without being too sweet.
📋Ingredients
This homemade chocolate cake with peanut butter frosting requires a handful of common baking ingredients and a couple of special touches.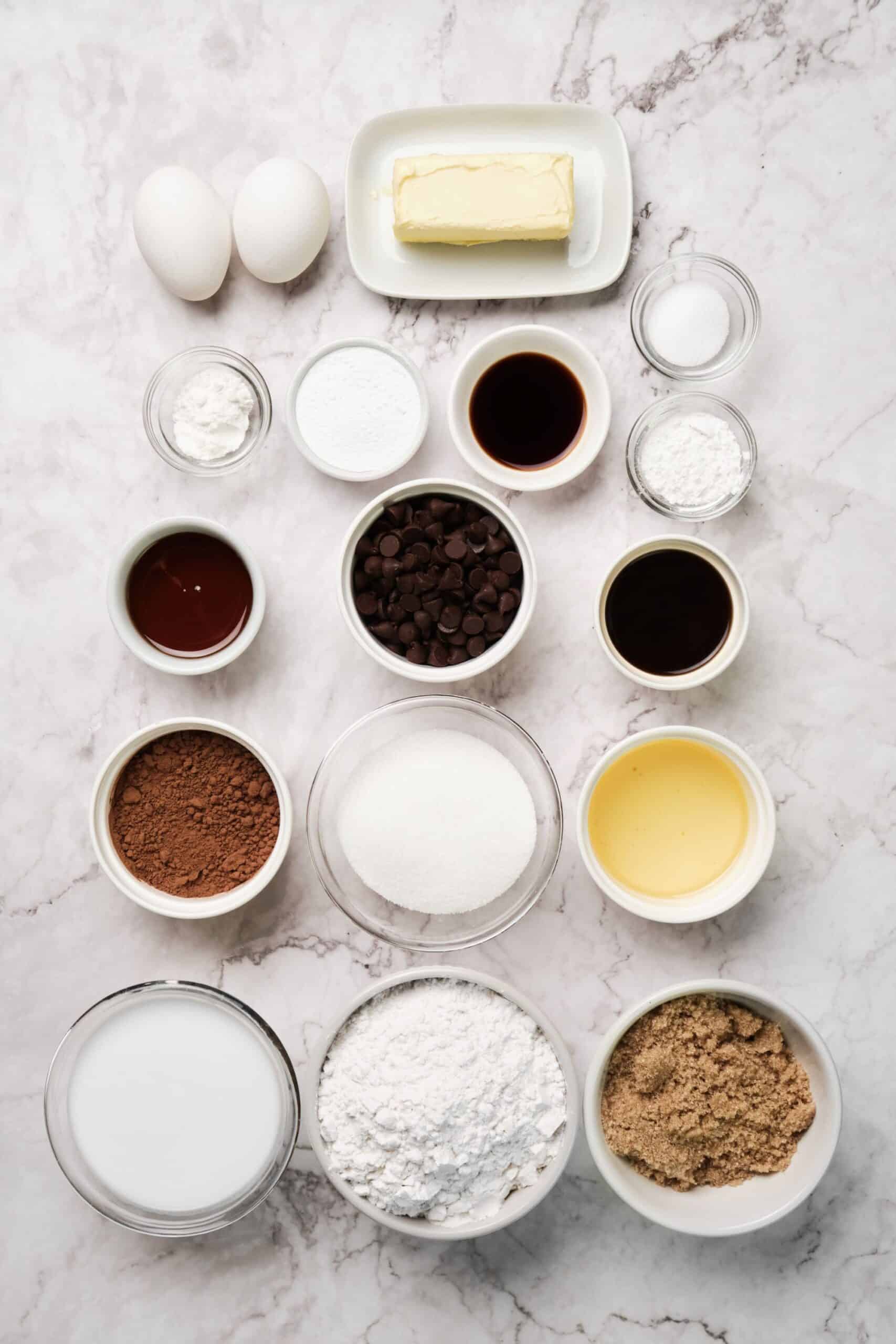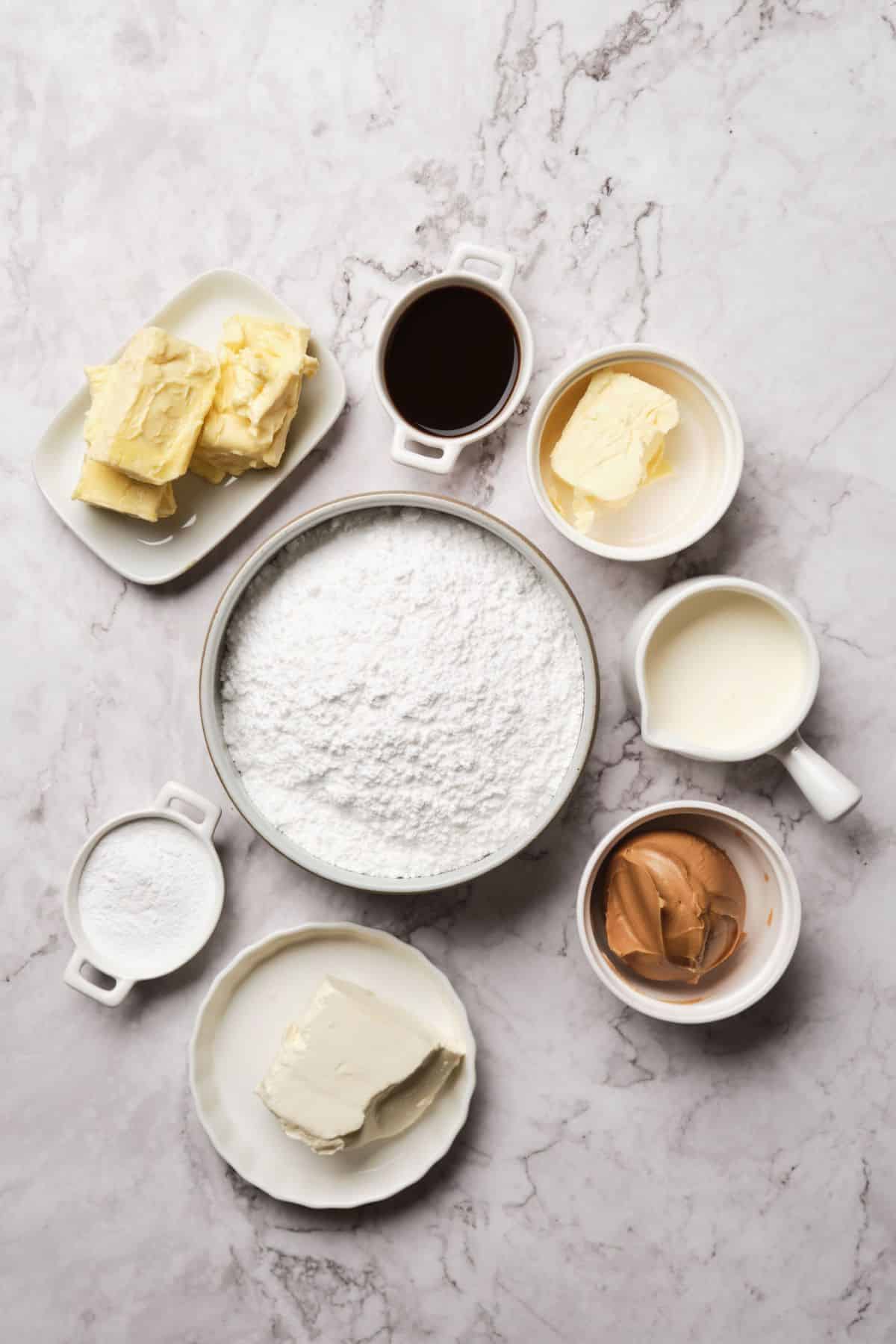 The wet ingredients in this cake recipe include:
eggs
buttermilk
brewed coffee (let your hot coffee cool first)
vegetable oil
dark corn syrup
vanilla extract
The dry ingredients are:
all purpose flour
baking powder
baking soda
salt
Instant Clearjel or chocolate instant pudding mix
unsweetened cocoa powder
brown sugar
white sugar
Once the cake is baked and cooled, we'll assemble the creamy peanut butter frosting. I like to use a base of cream cheese, which cuts through the sweetness of the frosting while making it smooth and creamy.
Use a combination of salted butter and a little butter-flavored shortening for the perfect texture (yes, it's worth using 2 types of fat!). Then whip in powdered sugar, creamy peanut butter, vanilla, and heavy cream for perfectly fluffy bakery-style peanut butter frosting.
🥣 Instructions
Get the instructions and the full list of ingredients in the recipe card at the end of this post. Here's a quick summary of how this recipe works!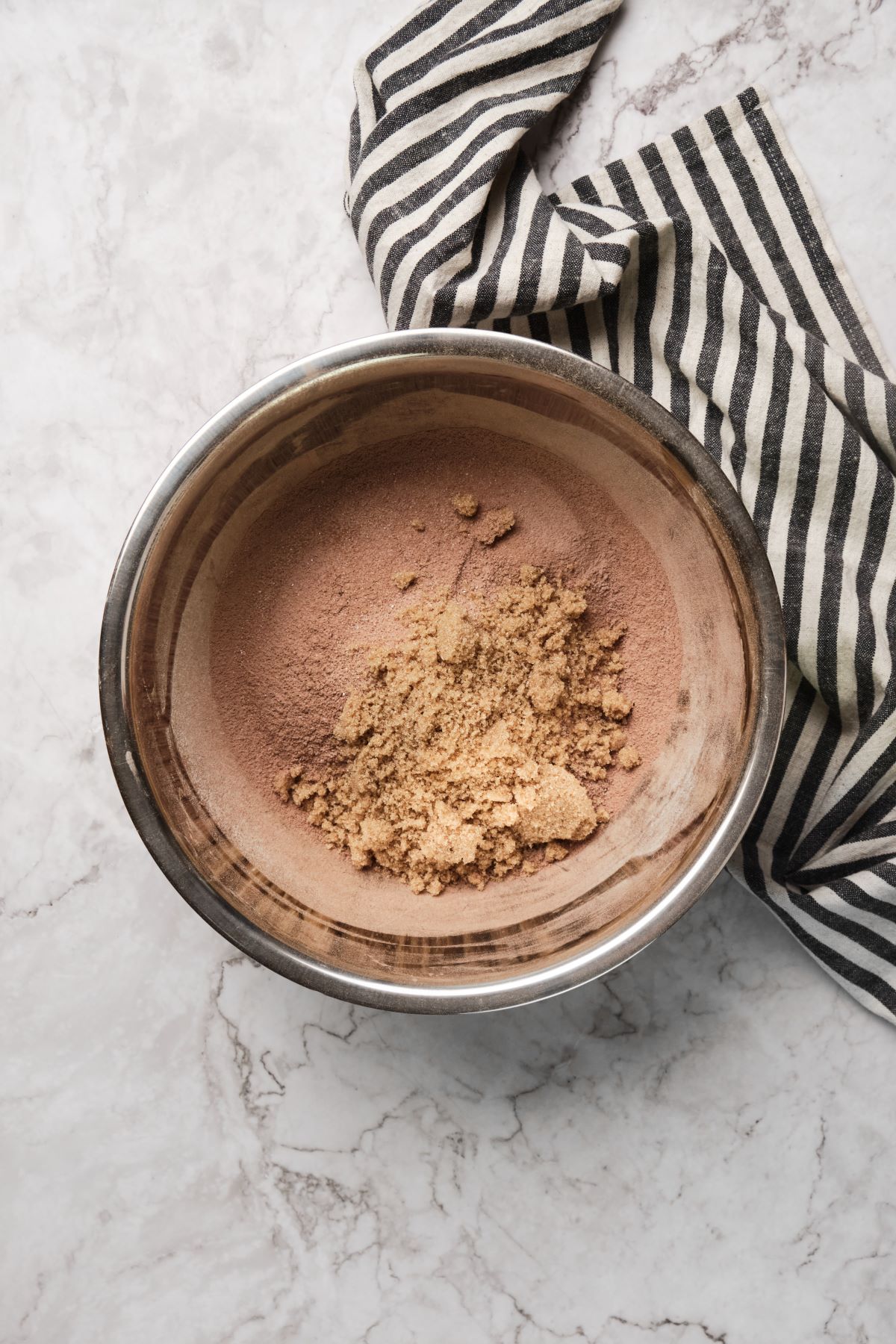 Sift your dry ingredients together in a large bowl except for the brown sugar. Add that separately and break up any clumps with your hands.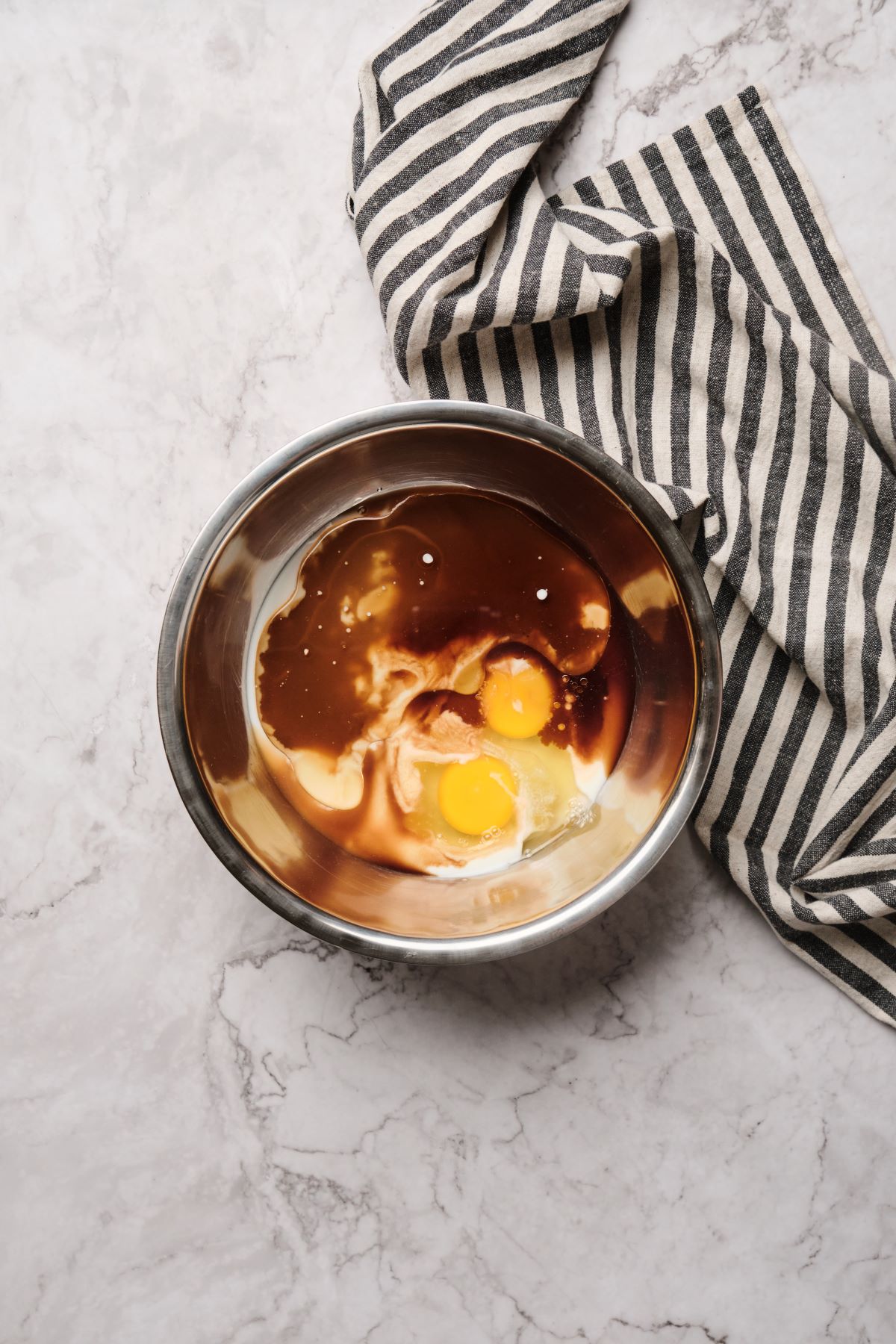 Combine the wet ingredients together in a separate bowl.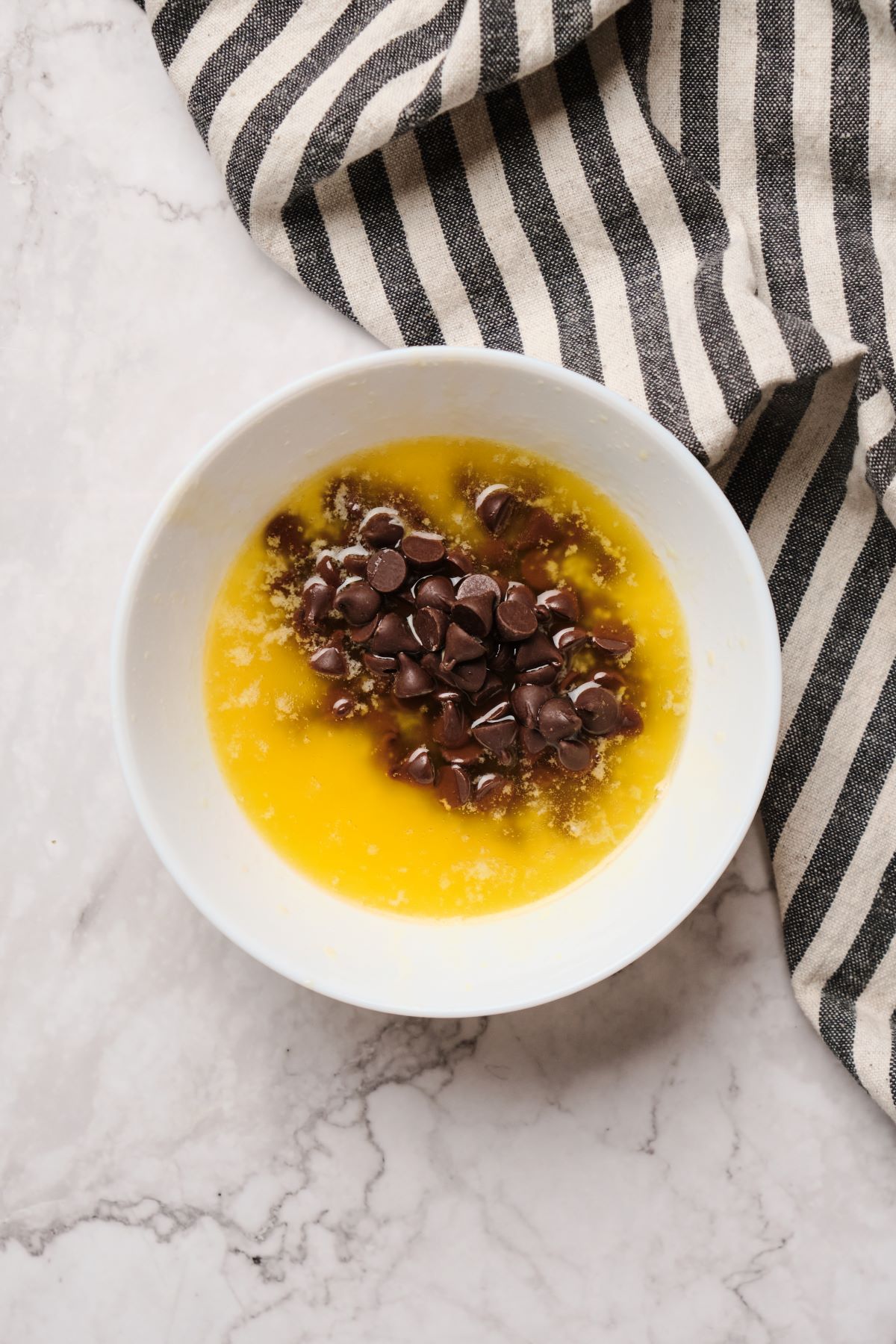 In a microwave-safe bowl, melt the butter. Add the chocolate chips and whisk until the chips melt.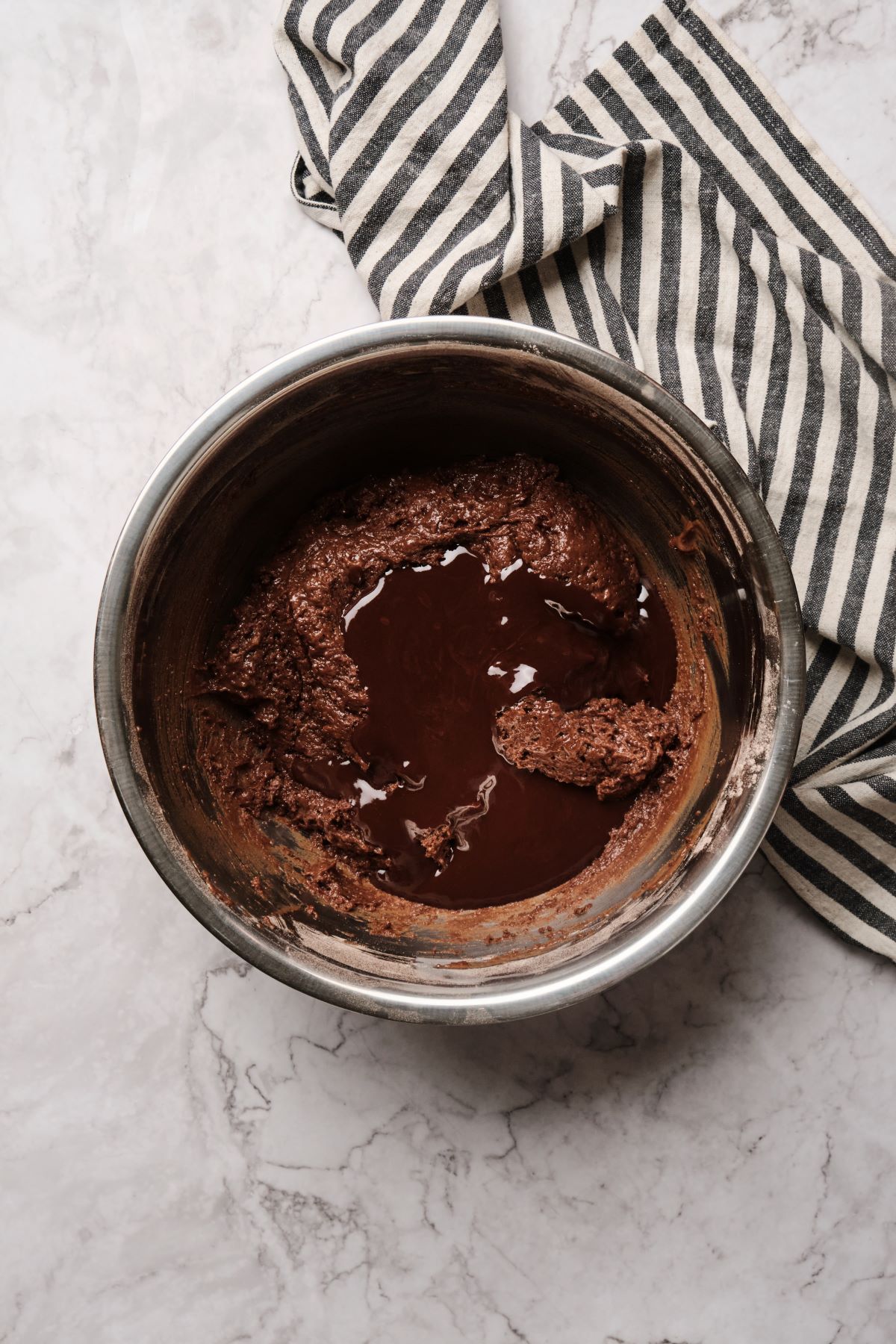 Combine the wet and dry ingredients in a bowl and then stir in the chocolate butter mixture.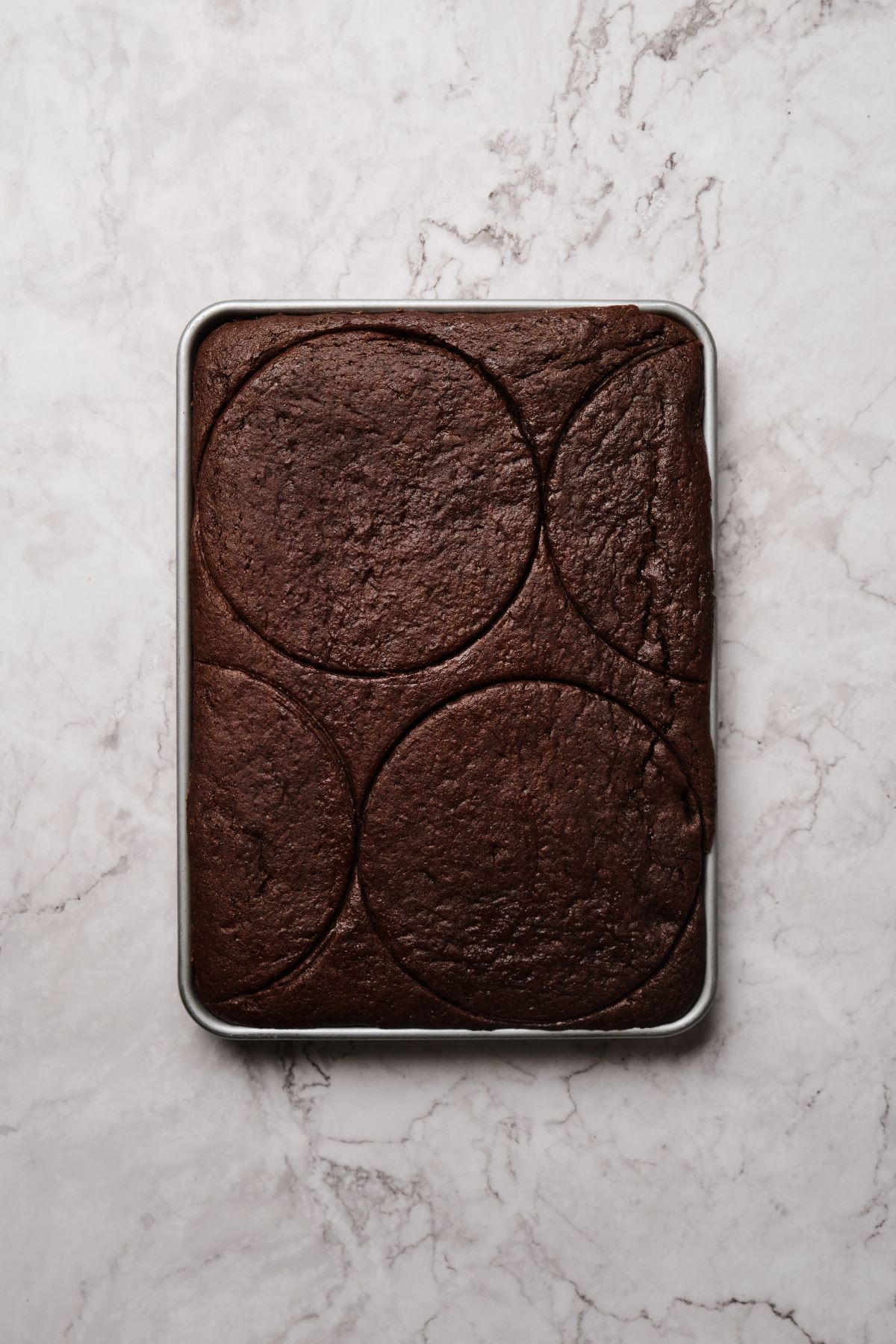 Pour the cake batter into a prepared pan and let it rest for 5-10 minutes for the Instant Clearjel to work its magic. Bake following the instructions below and allow the cake to cool before chilling and cutting.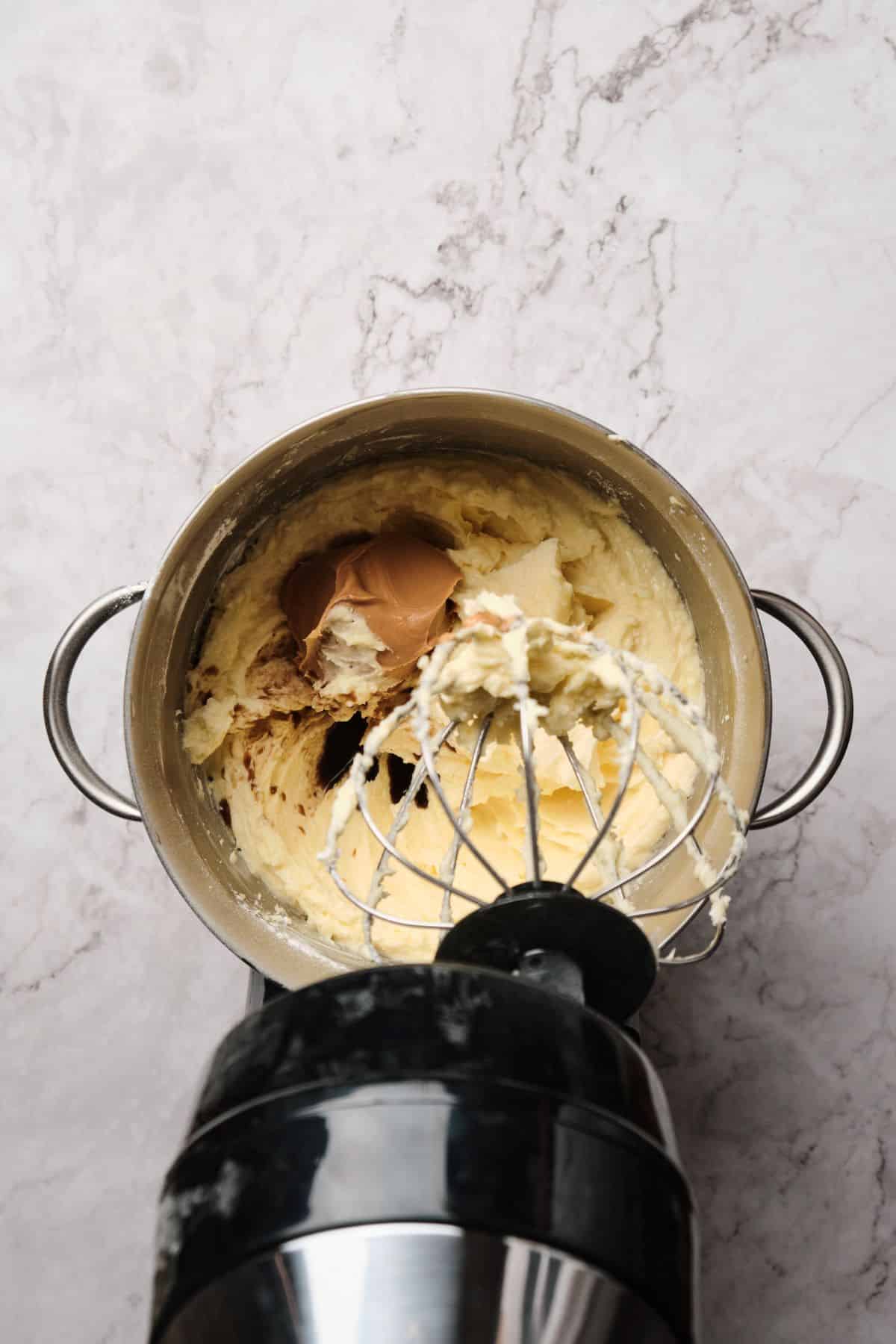 Prepare the peanut butter frosting by creaming the cream cheese, salted butter, and shortening one at a time before adding the remaining ingredients.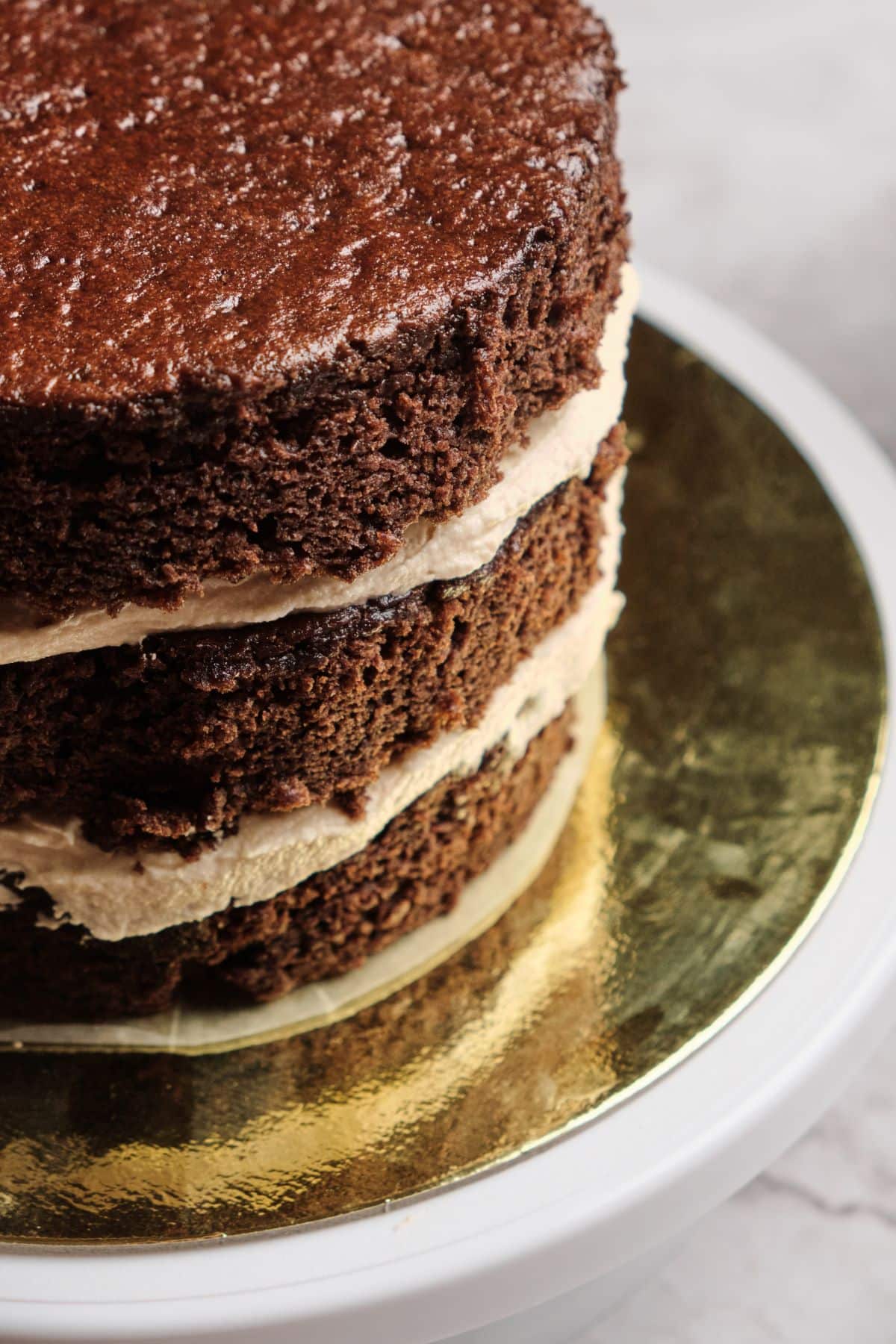 The next day after the cakes have been chilled and cut, cut and assemble your cake layers. Pipe the frosting between each layer before spreading a crumb coat on the outside of the entire cake. Let it chill in the fridge for a few minutes before adding the rest of your frosting.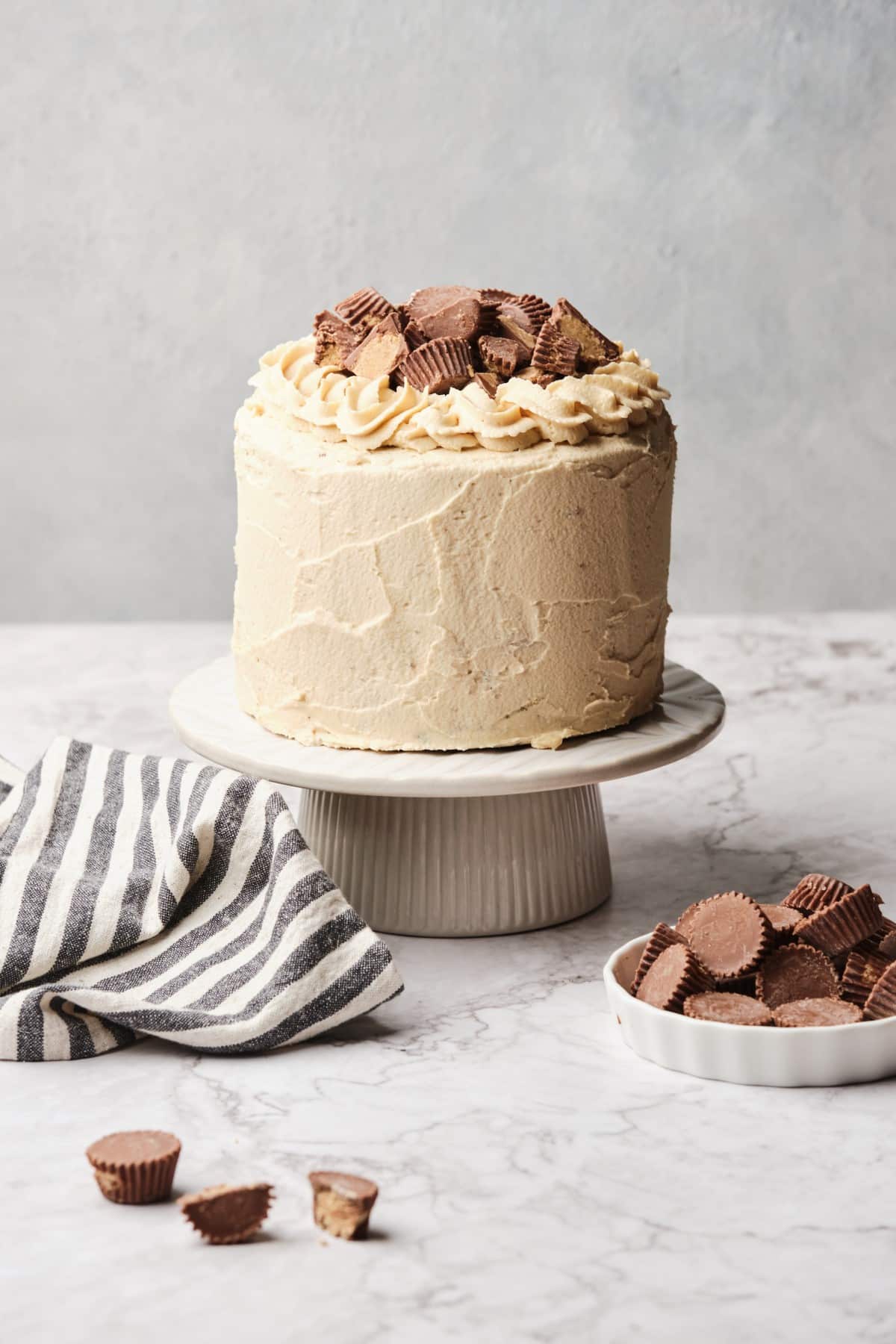 Decorate with your favorite toppings like peanut butter cups, Reese's pieces, peanut butter chips, and a chocolate ganache drizzle.
🧁Variations
While I love to cut out my cake layers with cake rings using the cut-and-stack method, you can use different cake pans following my recommended cake pan chart.
A 1x batch of this recipe can make the following options:
A 6" 3-layer cake cut from a ¼ sheet pan of cake with cake rings (as described within the recipe card)
18 cupcakes (use a 2-oz scoop or ¼ cup of batter per cupcake) using this chocolate cupcake recipe
A 4-layer 6" round cake (using four 6" round pans)
A short 2-layer 8" round cake (using two 8" round pans)
A shorter (texas-style) small sheet cake (using a ¼ sheet pan)
Just remember to always watch your baked goods closely in the oven when making variations of the recipe to avoid over or underbaking.
🧊 Storage
This cake tastes best at room temperature. Since there is cream cheese and heavy cream in the frosting, it can only stay out for 24 hours before it needs to be chilled in the fridge. To retain the soft, moist texture, let it come to room temperature for 2-3 hours before serving.
You can also freeze a piece or two for later! Be sure to wrap the cake in plastic wrap and store it in an airtight container. It will stay fresh for a couple of months. Let it soften in the fridge overnight and then come to room temperature on the counter for a few hours.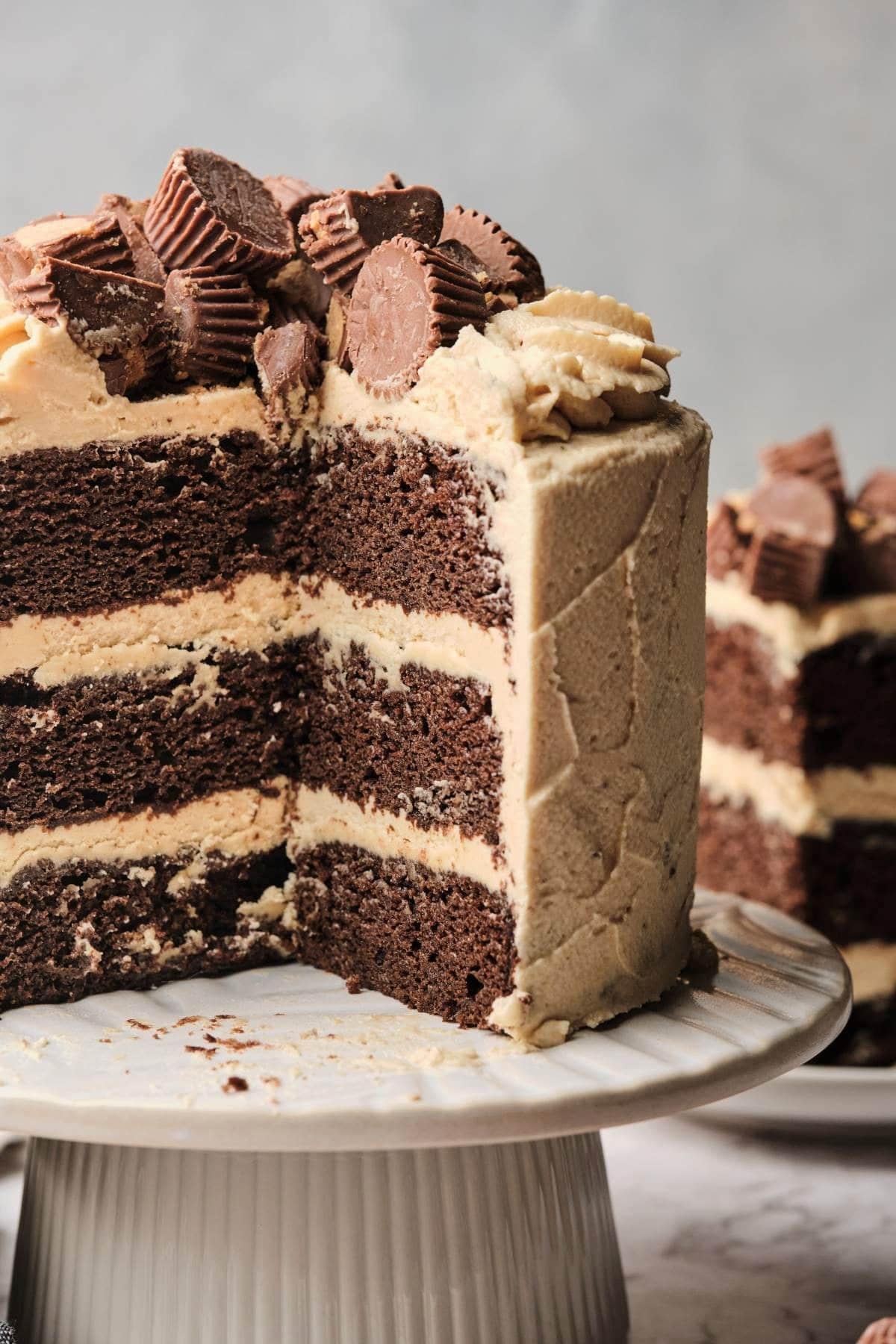 💭 FAQ
What other toppings go well with chocolate cake?
Although people think of vanilla as the most universal cake flavor, so many delicious flavors go well with chocolate cake!

🍫 Double Chocolate - I'm a big fan of the chocolate-on-chocolate flavor and typically serve this chocolate cake with a fudgy ganache layer and chocolate buttercream.

🥜 Peanut butter - Chocolate tastes fantastic with peanut butter, which is why I love to make my classic chocolate cake with peanut butter frosting.

🍓Berries - Raspberry offers the perfect contrast to dark chocolate. I also love pairing chocolate with strawberries or mixed berries. Get my favorite cake filling flavors here.

🤎 Cinnamon - Cinnamon adds a little warmth that really enhances chocolate's flavor. Try Grandma's Chocolate Cinnamon Cake, and you'll see what I mean!

🍬 Peppermint - I love the combination of mint and chocolate in my Peppermint Fudge Cake.
Related Cake Recipes
Looking for more deliciously moist fudgy cake recipes? Try these:
📖 Recipe
Moist Chocolate Cake with Peanut Butter Frosting
Super moist and fudgy chocolate cake layered with extra creamy peanut butter buttercream frosting.
A 1x batch yields 1 
6" three-layer cake
, and a 2x batch yields 1 
8" three-layer cake
 cut out with cake rings using the 
Cut and Stack Method
. Or choose a different pan size by visiting 
my recommended cake pan chart.
👩‍🍳 For the most accurate baking results, use the grams measurements with a kitchen scale.
Ingredients
Dry Ingredients
170 grams (1 ¼ cup + 2

Tbsp)

All-Purpose Flour

(I use Gold Medal)

1 ½

teaspoon

Baking Powder

1

teaspoon

Baking Soda

¾

teaspoon

Salt

2 Tablespoons Instant Clearjel or 3

Tablespoons

chocolate instant pudding mix

(Instant Clearjel is a food starch used in commercial baking that enhances moisture and texture in cakes. Please make sure it is labeled as "INSTANT." See Note #1)

26 grams (¼

cup)

Unsweetened Cocoa Powder

(I use Hershey's)

100 grams (½

cup)

Sugar

113 grams (½

cup)

packed Brown Sugar
Wet Ingredients
2

large

Eggs

¾

cup

Buttermilk

¼

cup

brewed Coffee

¼ cup + 1

tablespoon

Vegetable Oil

3

tablespoon

Dark Corn Syrup

(or use light corn syrup)

1 ½

teaspoon

Vanilla Extract
Chocolate Butter Mixture
¾ stick (3

oz)

Salted Butter

43 grams (¼

cup)

Semi-Sweet Chocolate Chips

(I use Nestle)
Peanut Butter Frosting and Decorations
peanut butter cups

(for decorations)
Instructions
Preheat oven to 325 degrees. Line a 1" tall

¼

sheet pan with parchment paper, then spray the bottom (on top of the parchment) and sides of the pan with cooking spray. Or choose a different cake pan(s) using the chart in my post about Half-Batches and Cake Pans.

Using a sifter or fine mesh strainer, sift the first seven Dry Ingredients into a large bowl, then add the brown sugar into the bowl. Whisk until well blended. If you see any large brown sugar clumps, break them up and blend them in with your fingers.

Combine Wet Ingredients in a separate large bowl and whisk until smooth and well-blended.

Melt salted butter in the microwave (or over the stove) until just melted. Avoid overcooking. Add semi-sweet chocolate chips and whisk until melted and smooth (Whisk for 30 seconds to 1 minute--the heat from the melted butter plus the whisking will melt the chips).

Pour Wet Ingredients into Dry Ingredients and whisk until incorporated. Pour Chocolate Butter Mixture over batter and whisk until smooth and lump-free. (A few teeny brown sugar lumps are ok and will dissolve as it bakes).

Pour batter into the prepared

¼

sheet pan and smooth out batter until even (an offset icing spatula works well for this). The batter will be about ¼ inch from the top of a 1" tall sheet pan.

Allow pan to set for 5-10 minutes before putting it in the oven. This will give time for the instant clearjel (or instant pudding mix) to thicken the cake batter before it bakes, allowing for a better rise.

Bake in the middle or top rack (avoid bottom rack) of a preheated 325-degree oven for 16 minutes. Without opening the oven, turn the temperature down to 300 degrees and bake for another 8-10 minutes. Check the cake at this point. See if it is done by lightly touching the top of the cake--try to avoid moving the cake pan or baking rack, which could cause an underdone cake to sink. If jiggly at all to your touch, bake for another 1-5 minutes. The cake is done when a toothpick or small paring knife comes out clean when quickly stuck in the cake. A couple of moist crumbs on your knife are fine, but they shouldn't look wet.

Wrap thoroughly in plastic wrap and freeze cake in the pan for 2 hours or overnight. (You can even bake the cake up to a week ahead of time and freeze). The cake will be much easier to layer if it is cold or frozen.
Prepare the Peanut Butter Frosting, decorate and serve.
The easiest way to layer the chocolate peanut butter cake is to layer it from frozen the day before you plan to serve it. If you are serving the cake the same day you are layering it, use refrigerated cake layers instead of frozen.

I recommend frosting a thin crumb coat of peanut butter buttercream on the outside of the cake which will catch all the crumby edges, then allow it to set up in the freezer for about 10 minutes until the buttercream is firm, before adding the final coat of icing.

Allow the completed cake to set up in the fridge, but remove it from the fridge 2-3 hours before serving so it can come back to room temperature. This chocolate cake with peanut butter frosting has the best texture at room temperature. Enjoy!
Notes
Read my article Instant Clearjel: a Magical Little-Known Bakery Ingredient to see why I think this ingredient is worth having in your pantry.  Instant Clearjel must always be whisked thoroughly with other dry ingredients before being added to wet ingredients to avoid clumping.  Make sure what you purchase is labeled as "Instant."  Cooktyle Clearjel is a different product that does not work the same in cakes.  
When baking cakes in a sheet pan, the cake bakes more evenly (flatter on top and with no dark edges), and you get to choose your cake size after baking by cutting the cake out with cake rings.  Read more on how to bake and layer cakes this way in How to Bake and Layer Cakes Like a Pro: 5 Easy Steps.
Print Recipe