Whether you are feeding a crowd or you just want a little sweet treat for the family, my secret bakery cake recipes from Amycakes Bakery now have two batch sizes to choose from! Keep reading to see how to double my small-batch cake recipes (the recipe card will do the work for you!). Then use the chart at the bottom of the page to choose the best cake pan(s) for your batch of cake.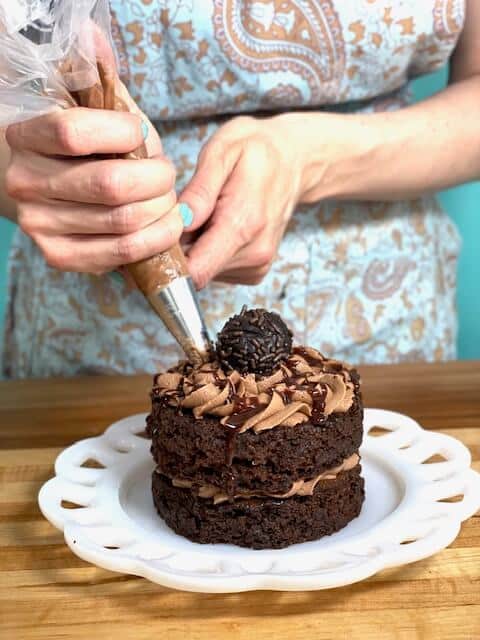 Jump to:
Double-Batches of Amycakes Bakes Recipes
Using my extra-moist cake recipes, you can select to make a normal batch (1x) or a double batch (2x).
View the image below and follow these steps:
1). Select 2x for a double batch--you can select it either next to "Servings" or under "Ingredients". After you press it you will see the amount of servings and ingredients automatically double.
2). There is not a button for selecting between grams and cups as they are both listed and will be printed on the same line (If you have a kitchen scale, grams will provide the most accurate results.)
3). Print the new 2x recipe by clicking one of the print icons (there's a print icon in the top section and there's one at the very bottom of the recipe).
4) Keep reading so you are prepared if you see any uncommon measurements on the 2x batch.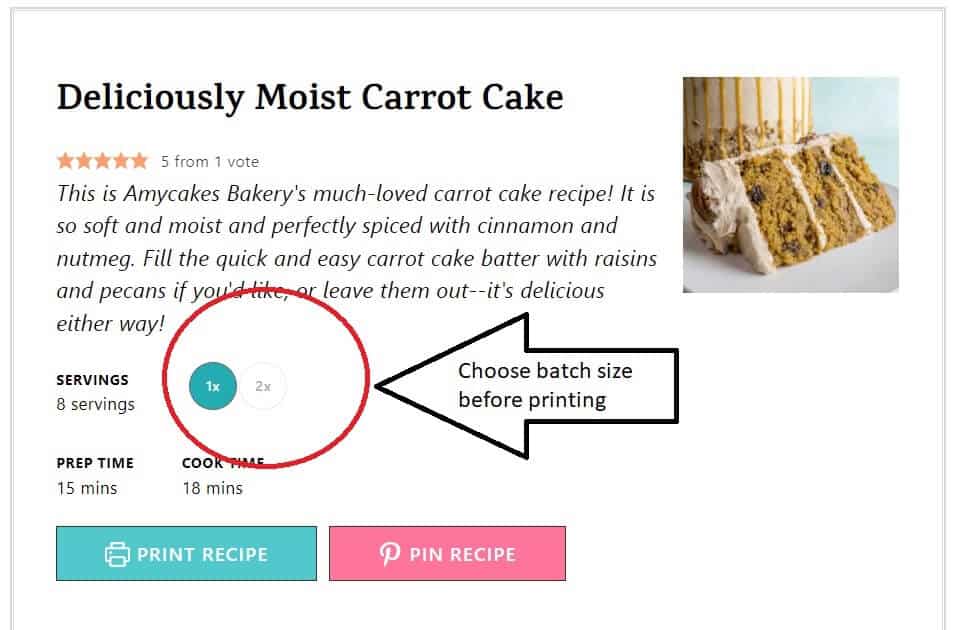 See how easy it is to whip up a 1x batch and some little cakelets using my Ultra-Moist Double Chocolate Cake Recipe. I like to cut my cakelet rounds at room temperature, then chill the whole sheet pan for a few minutes in the freezer before removing the cakelets from the pan--they are firmer and easier to work with that way. Then decorate and serve at room temp!
What's with the ½ tablespoon and other measurements?
When a 2x of an Amycakes Bakes recipe is selected, the recipe software is only able to double the measurements, rather than convert them to a more familiar measurement. That means that some double measurements are less familiar-- in particular, a ½ Tbsp and ⅛, ⅜, and ⅞ cup (many of these won't apply to you if you are using a kitchen scale to measure your dry ingredients by grams).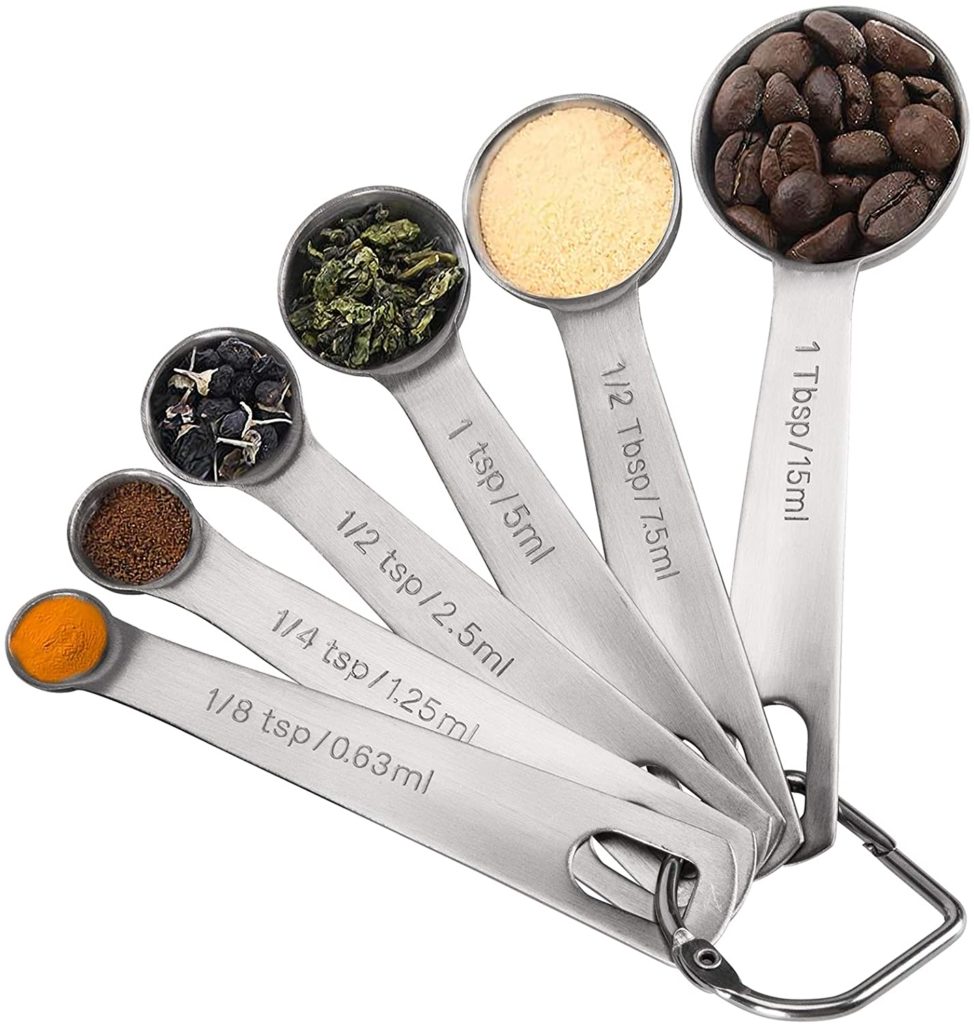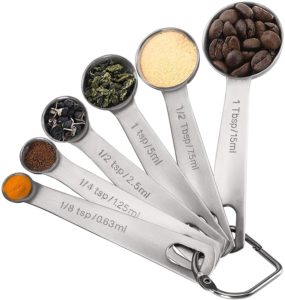 ½ tablespoon (Tablespoon) equals 1 + ½ teaspoon (teaspoon). A ½ Tablespoon is not a super common measuring spoon (though you can find them--this measuring spoon set that I own includes a ½ Tablespoon and I love it). But if you don't have a ½ Tablespoon measuring spoon, be sure to use 1 + ½ teaspoons every time you see a ½ Tbsp.
⅛ cup = 2 Tablespoons. Again, not a super common measuring cup--Here's a Measuring set that includes both the ½ tablespoon and a ⅛ cup. Or simply use 2 Tablespoons every time you see ⅛ cup listed.
⅜ cup= ¼ cup + 2 Tablespoons.
⅞ cup= ¾ cup + 2 Tablespoons. You can also measure 1 cup and then remove 2 Tbsp.
Cake Pan Options
I love baking my cakes in sheet pans, then cutting the round cakes out with cake rings. I use ¼ sheet pans for 1x batches and ½ sheet pans for 2x batches and The cakes bake more evenly without domed middles or overcooked edges. With the cake rings, you can choose to cut layers for an 8" cake, 6" cake, or little 4" or smaller cakelets after you bake it--I go into more detail in How to Bake and Layer Cakes Like a Pro: 5 Easy Steps.
But if you don't have those pans, my cake batters will still taste delicious in round pans and sheet-cake pans. You may just need to adjust the baking time. Use the chart below as a companion to all of my cake recipes.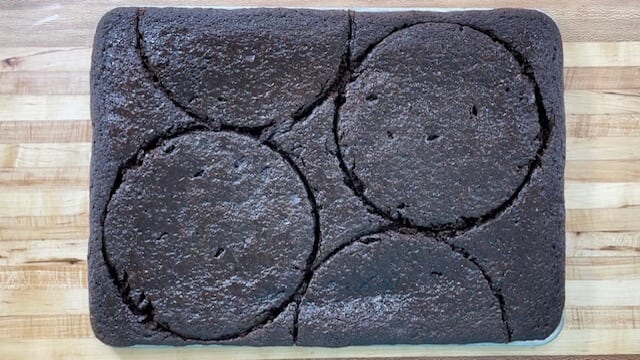 Troubleshooting Overflowing Sheet Pans
Troubleshooting Overflowing Sheet Pans--
All my cake recipes are a tight fit in my recommended 1" tall sheet pans.  I love baking cakes in these pans, but a couple of readers have had their cake overflow slightly while it bakes in their oven.  I'm guessing this has to do with either:
1) Lower oven temps causing the cake to bake slower and not bake as quickly as it rises, therefore overflowing.  You can check your oven with an oven thermometer.
2) Uneven spreading or warped or shorter sheet cake pans.  The sheet pan I use is  and this ¼ sheet (for 1x batches) or this ½ sheet (for 2x batches).
3) Slight Measuring variations when using measuring cups instead of a kitchen scale.  
If you find this to be a frequent issue, I would recommend baking in a 9x13 sheet-cake pan (for 1x batches) or a 12x18 sheet-cake pan (for 2x batches), which are 2" tall instead of 1" tall.  With these pans, you'll still be able to easily cut the cake out with a cake ring, and use the ring as a guide when cutting the two half pieces of cake. The bottom layer may require extra cake scraps--just fill in the middle of the bottom pieced layer of cake with cake scraps as needed.
Cake Pan Chart
A Companion to Amycakes Bakes Cakes Recipes
one 3-layer 8" cake (Two full layers, bottom layer pieced from two halves)

one 6-layer 6" cake (Five full layers, bottom layer pieced from two halves)

two 3-layer 6" cakes (Two full layers, one bottom layer pieced from two halves)

six or more 2-layer Cakelets using 4" cake ring or 3" or 2" round cookie cutters

one short 12x18 sheetcake

may need a few more minutes

Same as listed above for
a ½ sheet pan

may need a few more minutes


may need a few less minutes

one 3-layer 6" cake (Two full layers, bottom layer pieced from two halves)

three or more 2-layer Cakelets using 4" cake ring or 3" or 2" round cookie cutters

may need a few more minutes

Same as listed above for
a ¼ sheet pan

may need a few less minutes

may need a few less minutes

one short 2-layer 8" cake
Did I leave anything out? Let me know of any questions or concerns you may have in the comment section below! 🙂
Thanks for Reading. ❤️