This delicious lemon curd cake will add a bright, summery flavor to your dessert table! This lemon curd cake recipe tastes like summer thanks to the lemony cake batter, lemon curd, and creamy vanilla buttercream. Whether you want to impress guests at a dinner party or treat yourself to something special, this lemon curd cake will surely be a hit.
We were floored when we first created this lemon curd filling recipe at Amycakes Bakery. It's made with instant clearjel, which means less cooking time and perfect consistency every time!
Unlike my Lemon Drizzle Cake, this cake recipe uses the two-bowl method. That means no mixer is required to bake the cake batter. This lemon curd cake is slightly lighter in texture than the lemon drizzle cake, with a more tart lemon flavor from the lemon curd filling. It's paired with vanilla frosting to complement the lemon-forward taste of the cake and lemon curd.
If you're looking for a refreshing, citrusy treat for a Mother's Day brunch, bridal shower, or any summer event, this lemon cake recipe will be your new favorite! It's simple to make and has layers of fresh lemon flavor for a pleasant pucker!
Jump to:
🍋 Why you'll love this lemon curd cake
So easy: Since this lemon layer cake is made using my two-bowl method, you don't even need a stand mixer for the cake batter! Plus, I'll show you how to make the easiest homemade lemon curd!
Crowd-pleasing: Lemon desserts are such a refreshing way to end a meal. This lemon curd cake is sweet and tart without being too much of either of those things. It's an excellent palate cleanser!
Stunning: Especially with an eye-catching topping of fresh berries or edible flowers, this cake will wow your guests and have them asking for the recipe!
📋 Ingredients
This impressive lemon curd cake uses my easy two-bowl method and favorite ingredients to bake incredibly moist cakes every time. I recommend baking the whole cake in a sheet pan, then chilling the baked cake before cutting and stacking the layers. This is the easiest way to get consistent, beautiful lemon cake layers every time and keep all that moisture locked in!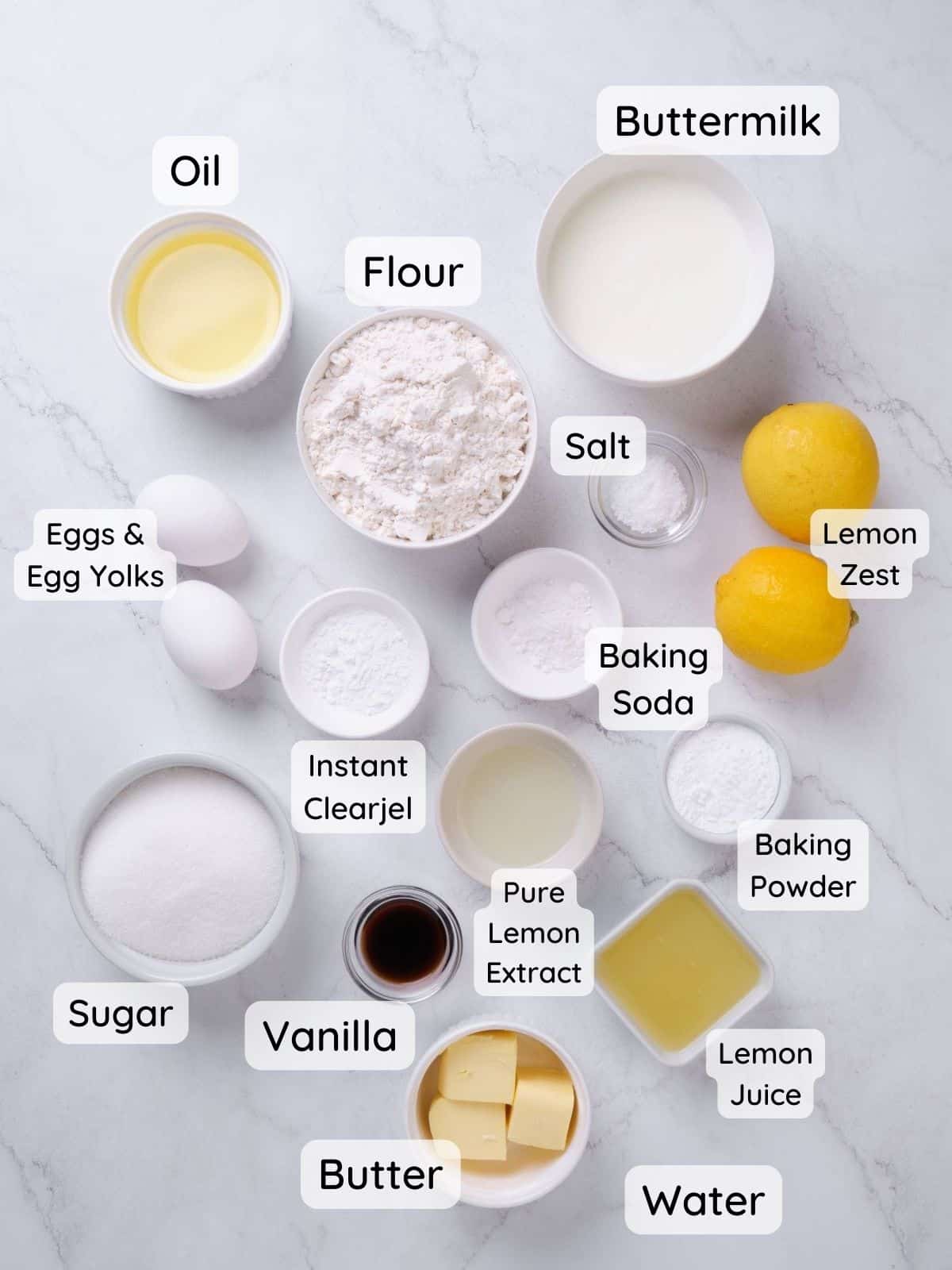 In one medium bowl, you'll whisk together the dry ingredients:
All purpose flour
Baking powder
Baking soda
Salt
Sugar
In a separate large bowl, whisk together the wet ingredients:
Eggs
Buttermilk
Vegetable oil
Pure lemon extract
Lemon zest
Lemon juice*
Salted butter*
*Add the fresh lemon juice after combining the wet and dry ingredients so that the lemon juice's acidity can react with the baking soda for a better rise and texture. Then, whisk in the melted salted butter for a beautiful texture and rich buttery flavor.
🥣 Making the Lemon Curd
Either the day before or while the cake is baking, prepare your own lemon curd. This tart lemon curd is made with Instant Clearjel, which produces a consistent, thick lemon curd with little cooking. That means we avoid the risk of an "egg yolky" taste which can occur with traditional lemon curds.
We also don't have to worry about whether the lemon curd will set as the Instant Clearjel thickens it instantly! Cook the egg yolks and lemon juice until they come to a boil, then remove them from heat and add a mixture of sugar and Instant Clearjel.
Finally, you'll gradually whip all the ingredients together for my famous vanilla frosting, which is incredibly creamy with just a touch of cream cheese to help cut the sweetness.
👩🏻‍🍳 Instructions
Ready to get baking? The full recipe card below has detailed step-by-step instructions and ingredients. Here's a quick rundown so you know what to expect!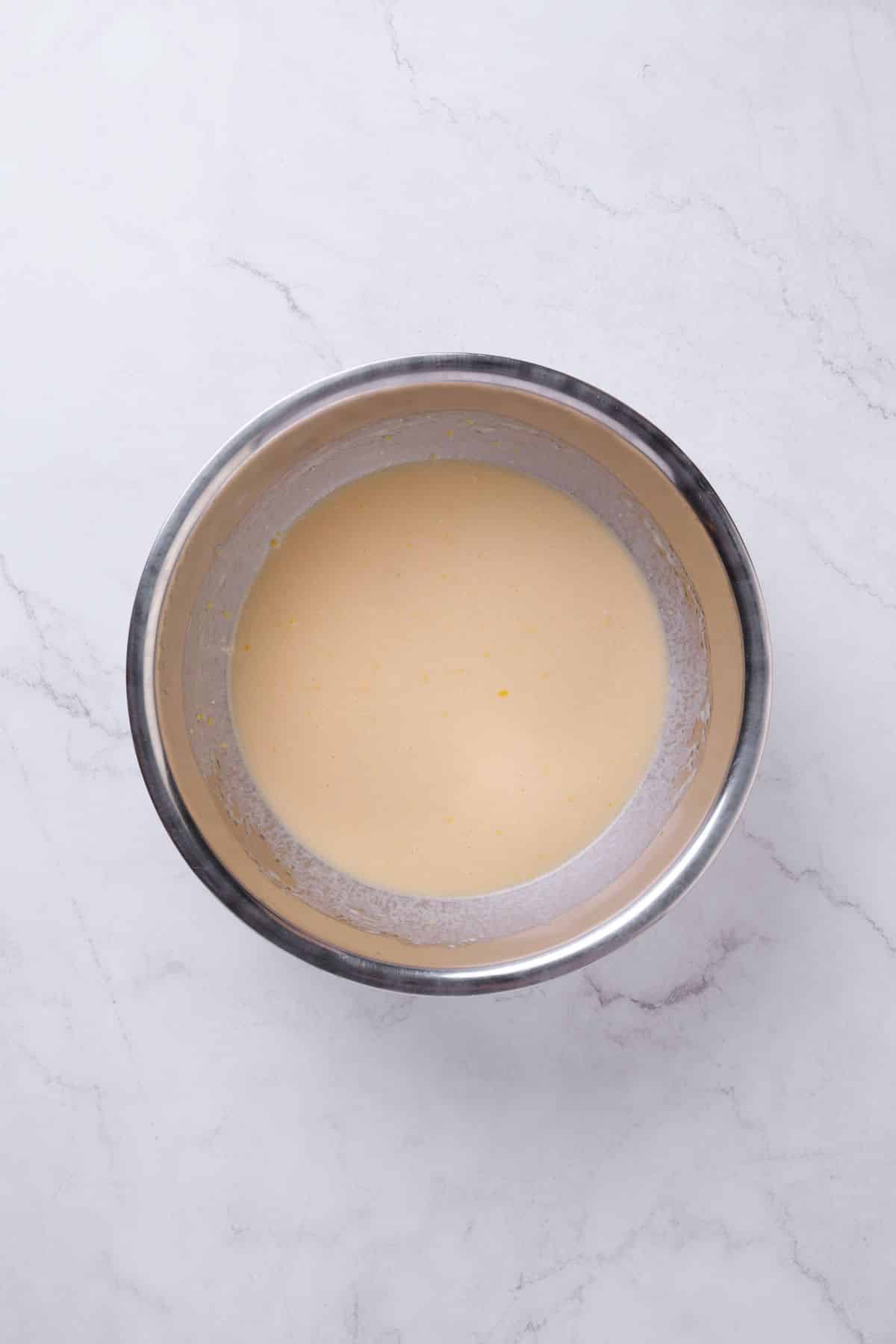 Whisk together all the dry ingredients in a mixing bowl. In a large bowl, whisk together all the liquid ingredients until thoroughly combined.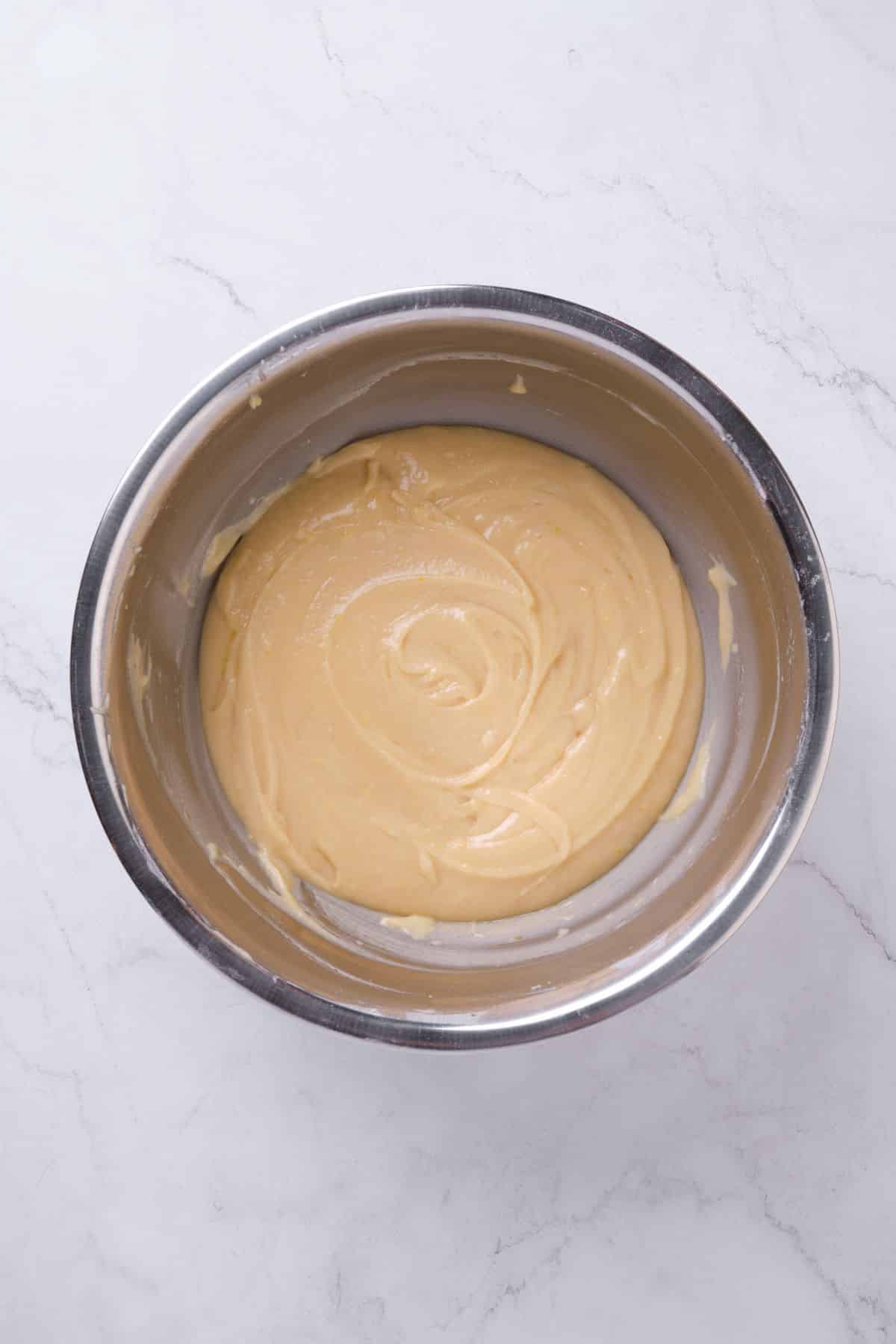 Gradually whisk the dry ingredients into the wet ingredients. Whisk in the lemon juice and then the melted salted butter. Pour the batter into a pan prepared with parchment paper and nonstick spray, then bake in a preheated oven.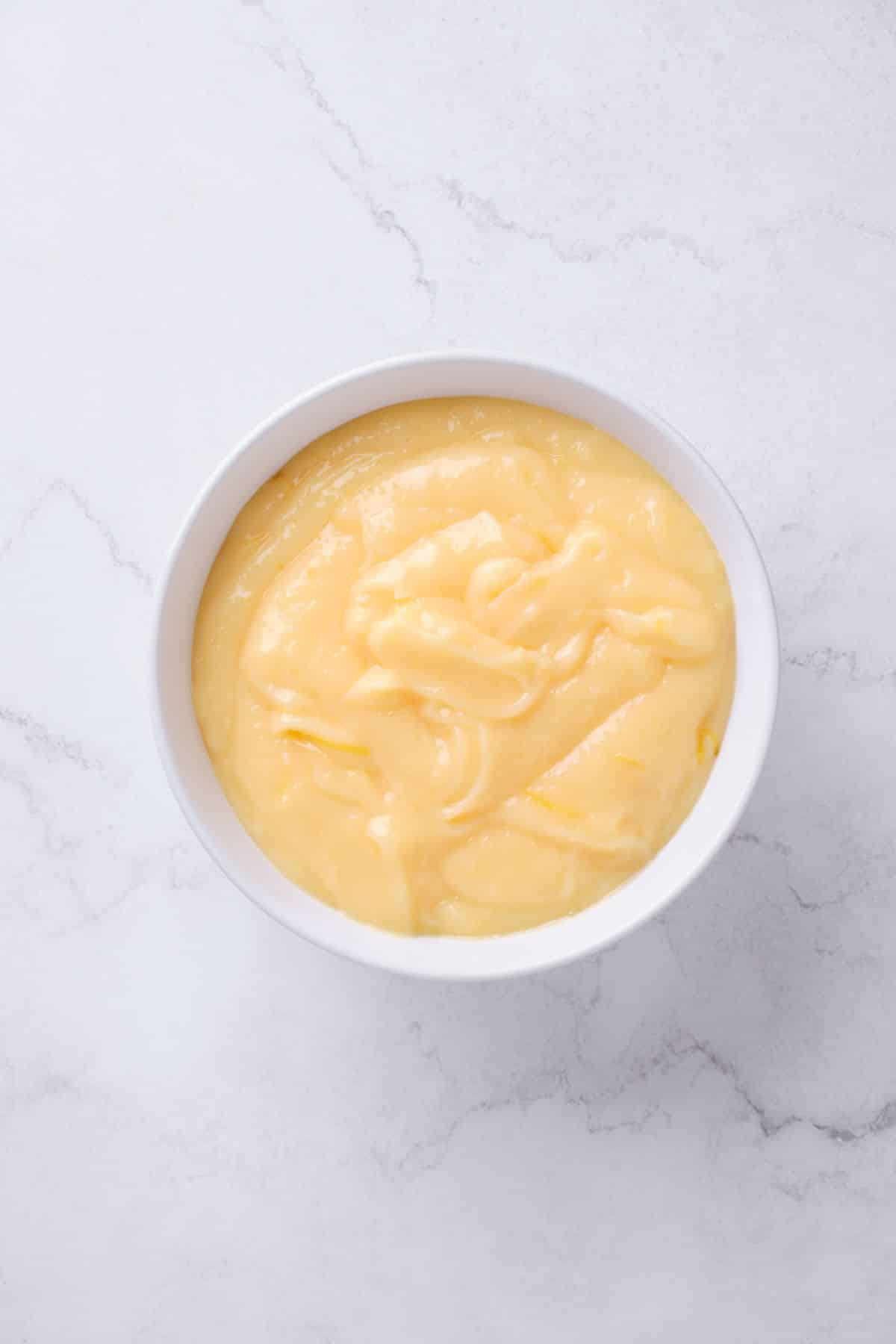 Cool the cake then chill in the fridge. Prepare the lemon curd and the frosting.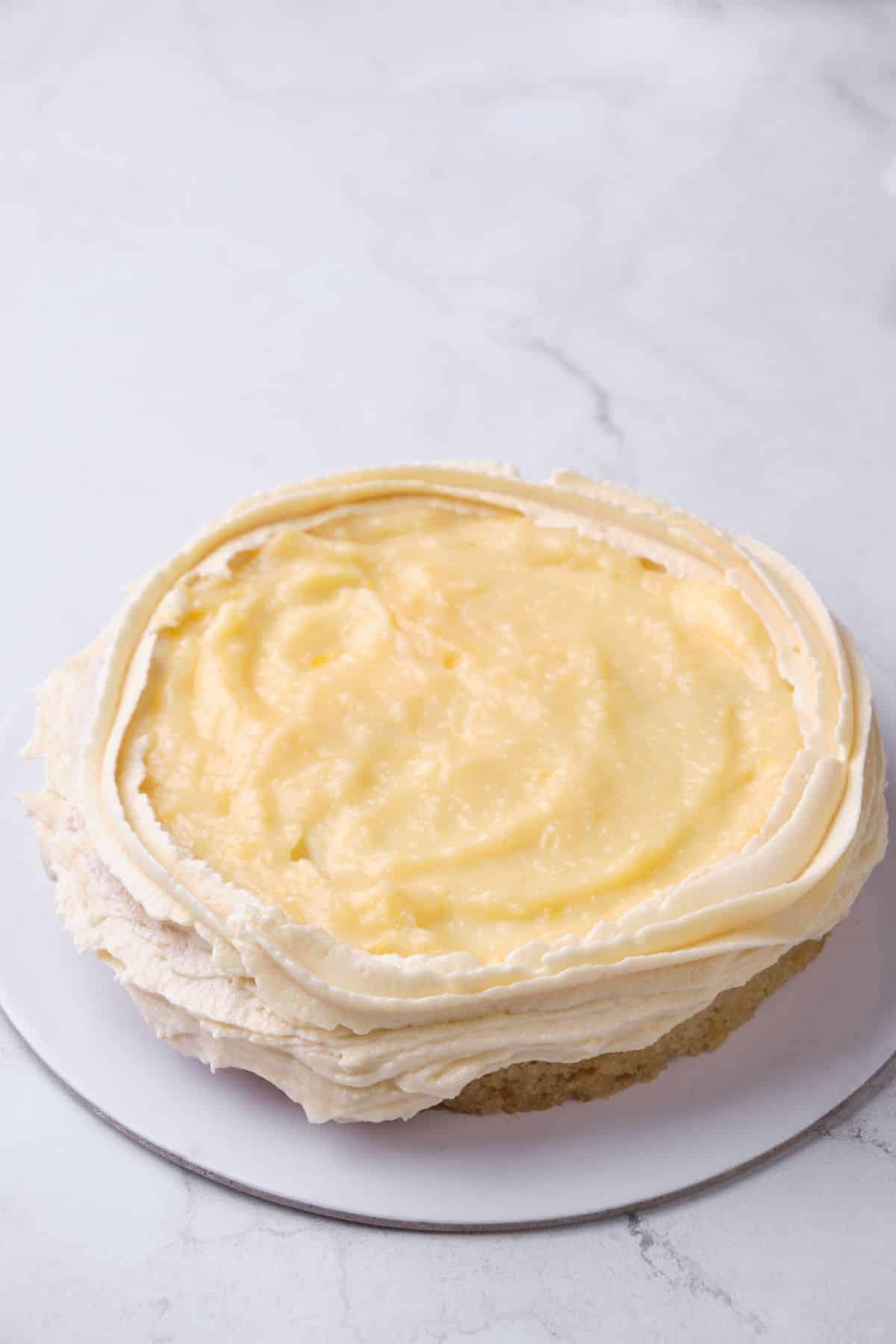 Cut out individual rounds of cake. Begin icing the first cake layer with frosting, then create a pipe of frosting around the edge of the first two layers, then spoon in half of the lemon curd. Repeat for the second cake layer. Add the third layer, but do not add the curd or icing ring. (learn more about how to make a layer cake from a sheet pan here).
Crumb-coat the entire cake with an offset spatula, then add the vanilla frosting. Pipe decorative swirls on the top of the cake and adorn them with lemon slices, fresh berries, or even edible flowers for an eye-popping display!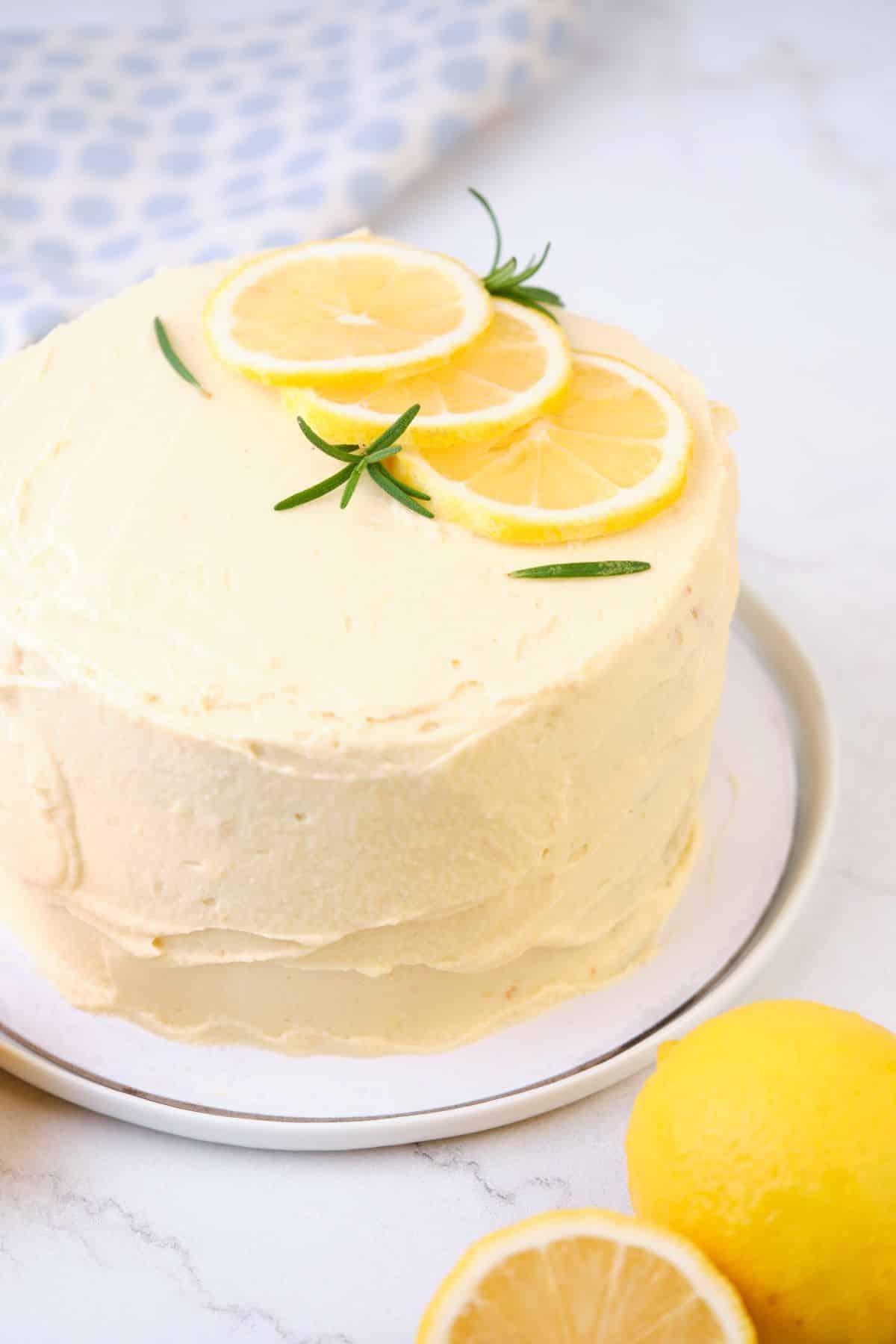 Tip: It's best to make the lemon curd the day before using, then let it get cold in the fridge overnight (or for at least a few hours). The starch from the Instant Clearjel may cause the lemon curd to look texturized right after making it, but when you stir it from cold, it will be nice and smooth with a smooth mouth-feel.
🎥 Video
Watch me make this lemon cake with lemon filling in the quick video below. Look how moist that slice is! 🙂
🍰 Variations
A 1x batch of this recipe can make the following options:

A 6" 3-layer cake cut from a ¼ sheet pan of cake with cake rings (as described within the recipe card)
Around 18 cupcakes (use a 2-oz scoop or ¼ cup of batter per cupcake)
A 4-layer 6" round cake (using four 6" round pans)
A short 2-layer 8" round cake (using two 8" round pans)
A shorter (texas-style) small sheet cake (using a ¼ sheet pan)

Feel free to replace the vanilla extract in the frosting with lemon extract to make lemon cream cheese frosting.
Turn this moist cake into a lemon poppyseed cake by adding up to 2 tablespoons of poppy seeds to the batter.
Prefer a different type of citrus? You can turn this into a grapefruit or orange curd cake by replacing all the lemon with different juices and zest.
🧊 Storage
Leftovers can be left at room temperature for up to 24 hours. It's best to store the cake in an airtight container to keep it fresh. After 24 hours, store it in the fridge for approximately 5-7 days.
You can also freeze the leftover cake for later. Be sure to wrap it in plastic wrap, then place it in a freezer-safe container for 1-3 months. Thaw in the fridge before serving.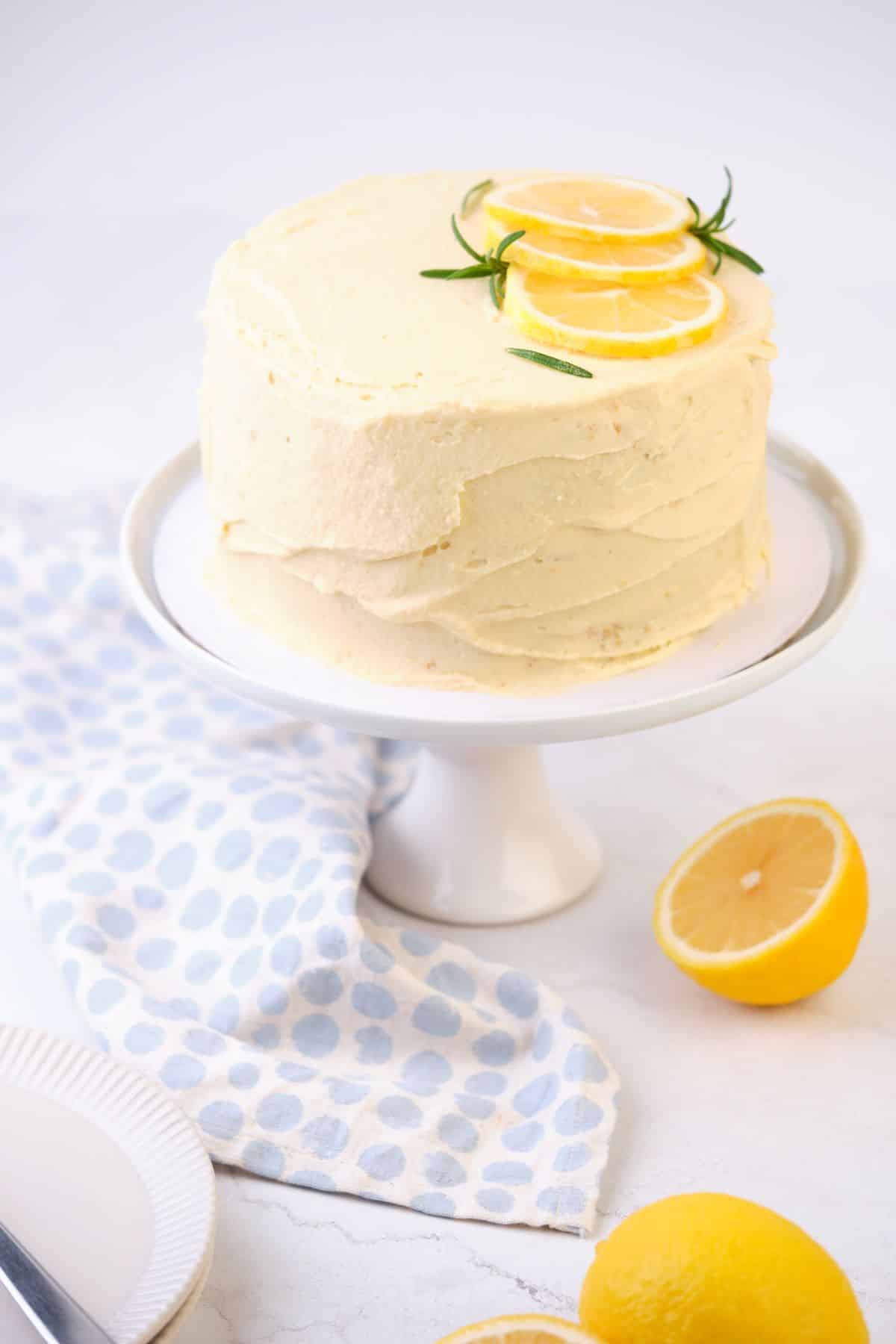 💭 FAQs
What do you serve with lemon curd?
Real lemon lovers love the sweet yet tart creaminess of lemon curd on anything! I like to add lemon curd to the layers of this lemon curd cake recipe, but it's also excellent served over fresh scones, with shortbread, drizzled over ice cream, baked into lemon meringue pie, spooned over your favorite yogurt, and more.

Use it to add a tart, creamy lemon flavor to anything you'd like!
Does lemon curd in a cake need to be refrigerated?
The curd in this lemon curd cake does not need to be refrigerated within the first 24 hours but should be after that. Although it may be possible to keep your lemon curd fresh at room temperature, it will last longer, and you'll avoid growing mold or bacteria when it's stored in the fridge.

If you have any leftover, uneaten curd, it will keep in the refrigerator for several weeks, if not longer.
Why does lemon curd go grainy?
The tricky thing about making lemon curd is carefully emulsifying the egg and lemon juice together. If you don't stir enough or heat the curd too fast, your eggs will break into tiny pieces of scrambled egg, adding a grainy texture to your curd.

The secret is to go slow and stir often. You can make a double boiler by adding a metal pan over a saucepan or work at very low heat. I also recommend straining your curd through a fine-mesh sieve after you make it to remember any accidental clumps. If you get grainy curd, try blending it with an immersion blender, which may help break up the chunks.

Once I switched to using instant clearjel in this lemon curd recipe, I haven't had any issues with grainy lemon curd because it doesn't have to cook for very long!
More Spring Layer Cake Recipes You'll Love
Did you get a chance to bake this sunny lemon cake? I'd love to hear how it goes! Tag me in all your bakes at @amycakesbakes, and don't forget to sign up for email updates to get all of my latest bakery recipes!
Thanks for Reading. ❤️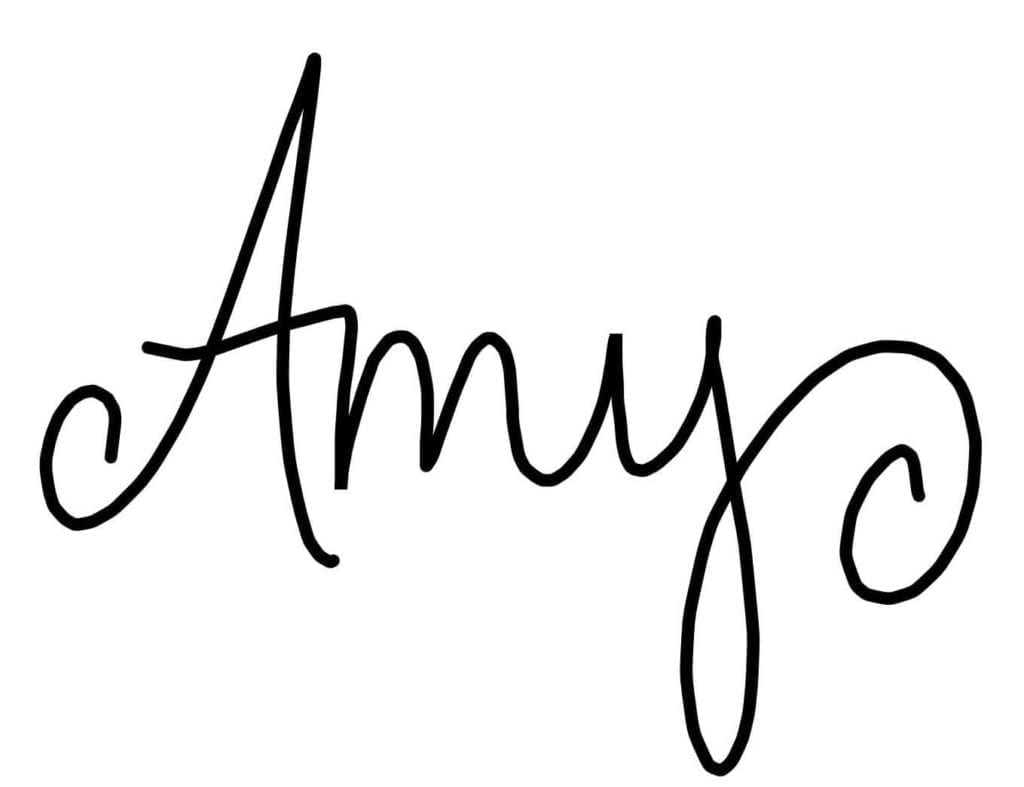 📖 Recipe
Soft and Tart Lemon Curd Cake (so moist!)
Soft, moist and tart lemon curd cake with a delicious lemon cake batter made with lemon zest, and an easy creamy lemon curd cake filling.
A 1x batch yields 1 
6" three-layer cake
, and a 2x batch yields 1 
8" three-layer cake
 cut out with cake rings using the 
Cut and Stack Method
. Or choose a different pan size by visiting 
my recommended cake pan chart.
👩‍🍳 For the most accurate baking results, use the grams measurements with a kitchen scale.
Watch the quick recipe video
Ingredients
Dry Ingredients
200 grams (1 ½

cups)

All-Purpose Flour

(I use Gold Medal)

1 ½

teaspoons

Baking Powder

1

teaspoon

Baking Soda

¾

teaspoon

Salt

2

Tablespoons

instant clearjel

(see note #1)

200 grams (1

cup)

Sugar
Wet Ingredients
2

large

Eggs

¾

cup

Buttermilk

¼ cup + 3

Tablespoons

Vegetable Oil

1 ½

teaspoons

Vanilla Extract

2

teaspoons

Pure Lemon Extract

Zest from 2

large lemons

(reserve the juice)
Other Cake Ingredients
¼

cup

Fresh Lemon Juice

¾ stick(s) (3

ounces)

Salted Butter
Lemon Curd Filling
2

Tablespoons

instant clearjel

100 grams (½

cup)

sugar

Zest from 2

large lemons

(reserve the juice)

½

cup

Fresh lemon juice

4

egg yolks

½ stick (2

ounces)

salted butter
Buttercream
Instructions
Bake the Lemon Cake
Preheat oven to 325 degrees. Line a 1" tall

¼

sheet pan with parchment paper, then lightly spray the bottom (on top of the parchment) and sides of the pan with nonstick cooking spray.

Zest the 4 lemons, reserving zest from 2 lemons for the cake, and zest from 2 lemons for the lemon curd filling. Juice the lemons to make ¼ cup lemon juice for the cake, and ½ cup for the lemon curd. If you are short any lemon juice, you can fill in with juice from another 1-2 lemons, or add bottled lemon juice to get the necessary quantities.

Using a sifter or fine mesh strainer, sift the Dry Ingredients into a large bowl, then whisk until well blended.

200 grams (1 ½ cups) All-Purpose Flour,

1 ½ teaspoons Baking Powder,

1 teaspoon Baking Soda,

¾ teaspoon Salt,

2 Tablespoons instant clearjel,

200 grams (1 cup) Sugar

Combine Wet Ingredients in a separate large bowl and whisk until smooth and well-blended.

2 large Eggs,

¾ cup Buttermilk,

¼ cup + 3 Tablespoons Vegetable Oil,

1 ½ teaspoons Vanilla Extract,

2 teaspoons Pure Lemon Extract,

Zest from 2 large lemons

Pour the Wet Ingredients over the Dry Ingredients, then immediately (before stirring) add in the lemon juice. Whisk everything together--the lemon juice will bubble slightly as it reacts with the wet and dry ingredients. Pour the melted Butter into the batter and whisk until smooth, uniform and lump-free.

¼ cup Fresh Lemon Juice,

¾ stick(s) (3 ounces) Salted Butter

Pour the lemon curd cake batter into the prepared

¼

sheet pan and smooth out the batter until even (an offset icing spatula works well for this). Bake the cake soon after spreading the batter into the pan.

Bake on the middle or top rack (avoid bottom rack) of the preheated 325-degree oven for 22-26 minutes, or until a toothpick or paring knife comes out clean (watch closely towards the end of baking). A couple of moist crumbs on your knife are fine, but they shouldn't look wet. Some ovens may require a longer baking time, and 2x batches may take a few more minutes in the oven.

The delicate cake will be easiest to layer from cold or frozen--allow the cake to cool, then wrap the cake in the pan thoroughly in plastic wrap. Freeze the cake in the pan for at least 2 hours or up to 2 weeks ahead of time (brush the cake with simple syrup if freezing for more than a couple of days--see Note #2).
Make the Thick Lemon Curd Filling
For best results, make the lemon curd a day before using (or while baking the cake). Whisk the sugar and instant clearjel well together. Set aside.

2 Tablespoons instant clearjel,

100 grams (½ cup) sugar

Whisk the lemon juice and egg yolks together in a saucepan. Cook over medium-low heat, whisking frequently, just until it comes to a boil.

½ cup Fresh lemon juice,

4 egg yolks

Remove from heat and add the 2 ounces room temperature butter to the lemon mixture, stirring until the butter is melted and well blended. Pour the hot lemon curd base through a fine mesh strainer to remove any lumps or egg strands.

½ stick (2 ounces) salted butter

Slowly whisk in the instant clearjel mixture to the lemon curd, a little at a time, until the instant clearjel mixture is fully incorporated and dissolved. Stir in the lemon zest. The lemon curd will thicken, but will continue to thicken as it cools. This lemon curd is thicker and has a more textured appearance than traditional lemon curd due to the starch that thickens it, but it has a smooth mouthfeel.

Allow the lemon curd to cool and get cold in the fridge until you're ready to use it, ideally for two hours or overnight. Stir before using.
Layer, Decorate, and Serve
The easiest way to layer this lemon curd is to layer it from frozen the day before you plan to serve it. If serving the cake the same day you are layering it, use refrigerated cake layers instead of frozen. Cut the cake layers with cake rings as described in How to Bake and Layer Cakes Like a Pro. Use the remaining cake scraps to make cake truffles, if desired.

When filling this cake with lemon curd filling, you'll want to start by spreading a very thin layer of vanilla buttercream on each cake layer before filling the cake.

Next, pipe a ring of prepared house vanilla buttercream around the edge before spooning in your lemon filling. Pipe the buttercream 2-3 rings high to ensure no filling escapes. Spoon half of your lemon curd into the ring, and make sure it is under the height of your buttercream ring. Top the lemon curd with the additional cake layer (pan-side up).

1x batch prepared Vanilla Bakery Buttercream Frosting

Some buttercream will push over the edge when topped with the cake layers, which is fine–just use your spatula to smooth it against the side of the cake to seal it in. (To be extra cautious with filled cakes, I like to let them set up in the freezer for 10 minutes after filling them but before adding a crumb coat of icing.)

I recommend frosting a thin crumb coat of buttercream on the outside of the cake ,which will catch all the crumby edges, then allow it to set up in the freezer for about 10 minutes until the buttercream is firm, before adding the final coat of vanilla buttercream.

You can let the cake set up in the fridge, but remove it from the fridge 2-3 hours before serving so it can come back to room temperature (avoid warm temperatures). This lemon curd cake has the best texture at room temperature. Enjoy!
Notes
Notes for 2x batches (some of these won't apply if you are using the grams measurements):
3 tsp= 1 Tbsp
4 tablespoon = ¼ cup
Instant Pudding Mix and Instant Clearjel stabilize the batter and make a moister cake with a softer crumb.  Instant Pudding contains Instant Clearjel (modified cornstarch) as the 2nd ingredient which is why they work similarly with delicious results.  Make sure whichever you use is labeled as INSTANT--cook-type and original clearjel do not work the same as Instant Clearjel.

Simple Syrup is optional, but I use it to seal in the moisture for cakes that will be refrigerated or frozen.  While the cake cools, make a simple syrup by combining 1 tablespoon water and 1 tablespoon sugar in a small microwave-safe bowl. Microwave until the sugar is dissolved after whisking, about 20-30 seconds.  You will only need half of this on a 1x batch of cake.  You can also make a larger batch of this (1 part sugar to 1 part water) and keep it in the fridge if you're doing a lot of cake baking. 
Print Recipe