This addictive Nutella cupcakes recipe starts with moist vanilla cupcakes filled with an easy Nutella fudge filling. They're topped with buttery and fluffy Nutella buttercream for the perfect chocolate hazelnut bite.
These delicious Nutella stuffed cupcakes are perfect for special occasions or for the Nutella lovers in your life. They're rich, buttery, easy to make, and sure to impress!
These were a popular cupcake flavor at Amycakes Bakery. In fact, we held a contest to name this cupcake flavor, and the winning name was "Hella Nutella." 😆
Jump to:
🧁 The Best Cupcake Flavor to fill with Nutella
To make this Nutella cupcake recipe, you'll first need moist vanilla or yellow cupcakes. I personally feel Nutella pairs best with yellow cupcakes rather than chocolate cupcakes. A chocolate cupcake can overpower the chocolate flavor of the hazelnut spread, while the combination of Nutella and buttery golden vanilla cupcakes makes the perfect match.
My moist vanilla cupcake recipe works perfectly for this flavor combination. Follow the "golden vanilla" instructions within the recipe for an extra-moist yellow cupcake. As you will see in the recipe notes, the golden vanilla cupcakes, which are best for Nutella, use no almond extract but have more vanilla extract.
It's an easy two-bowl method recipe that doesn't require a mixer. You simply combine your wet ingredients and dry ingredients before scooping the cupcake batter into your cupcake liners!
📋 Ingredients
We'll be using the following ingredients in the cupcake filling and frosting.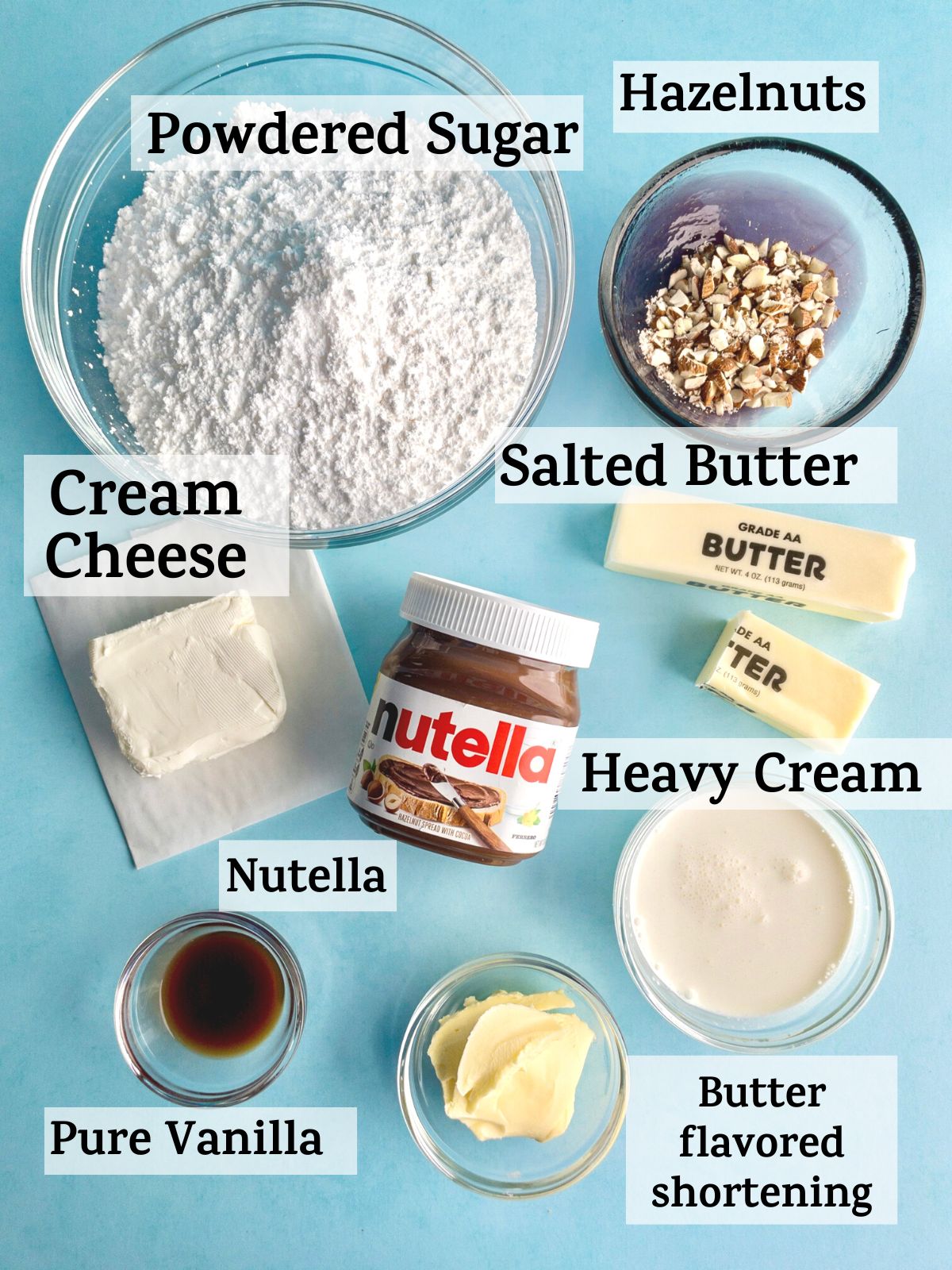 It's no surprise that Nutella is the star of the show! We'll be using it in both the filling and the dreamy Nutella frosting.

If you are reading this post, you are probably already a Nutella lover (like me)! Nutella is a delicious hazelnut cocoa spread. It has a similar consistency to peanut butter, but it's richer and sweeter. You can usually find it near the peanut butter in the grocery store.
Heavy Cream is added for a fudgy Nutella cupcake filling, making it even creamier and less sticky.
Chopped Hazelnuts are optional, but I think they add a nice crunch and texture to the Nutella cupcakes. You can substitute them with almonds if needed.
Cream Cheese adds creaminess and balances the sweetness of the buttercream, but most people won't realize this frosting contains cream cheese.
We'll use Salted Butter to give the buttercream its amazing flavor, and a little Butter-flavored Shortening to make it even fluffier.
🥣 Instructions
You can find detailed instructions in the printable recipe card at the bottom of this post, but here's a quick summary.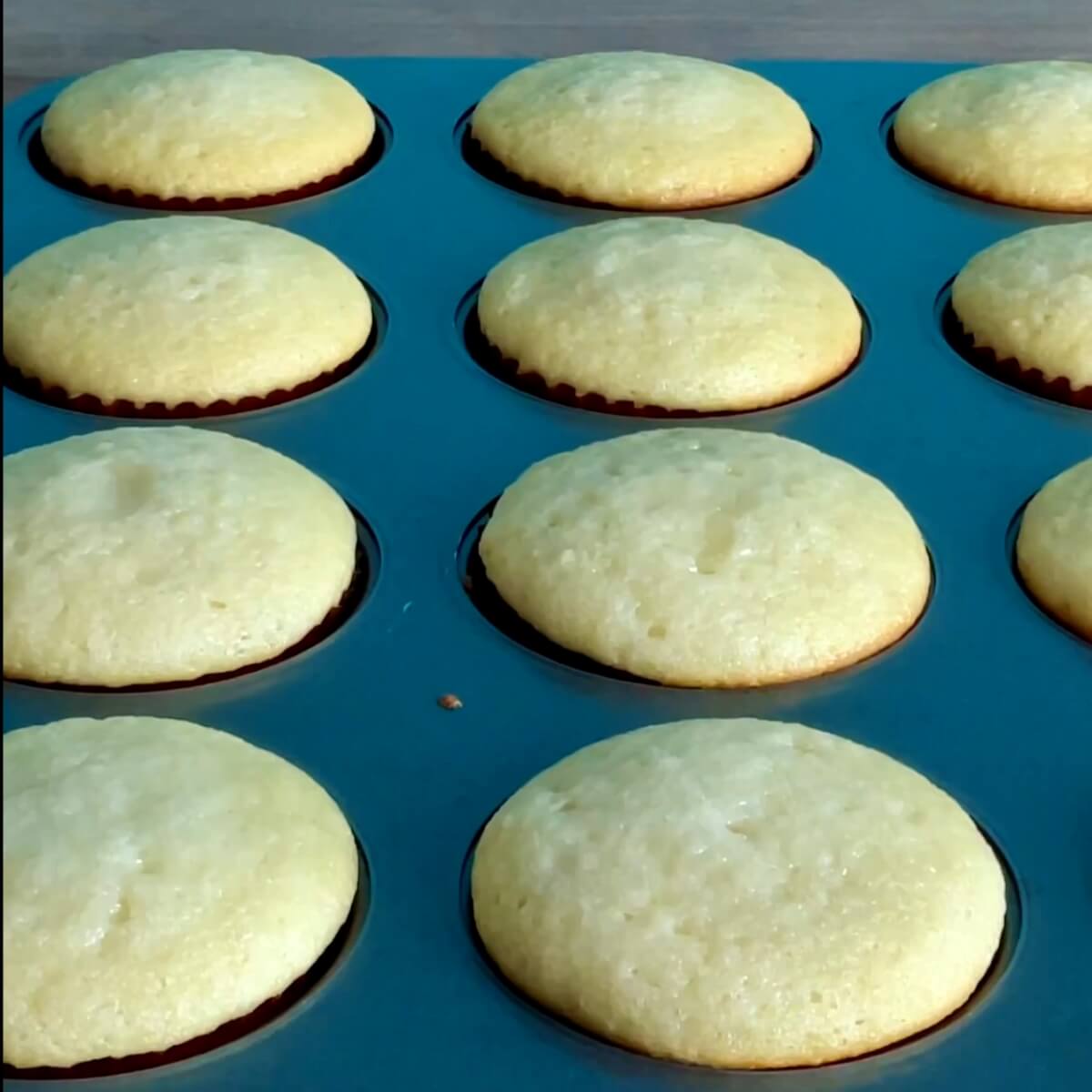 1. Prepare your favorite moist vanilla or yellow cupcake recipe.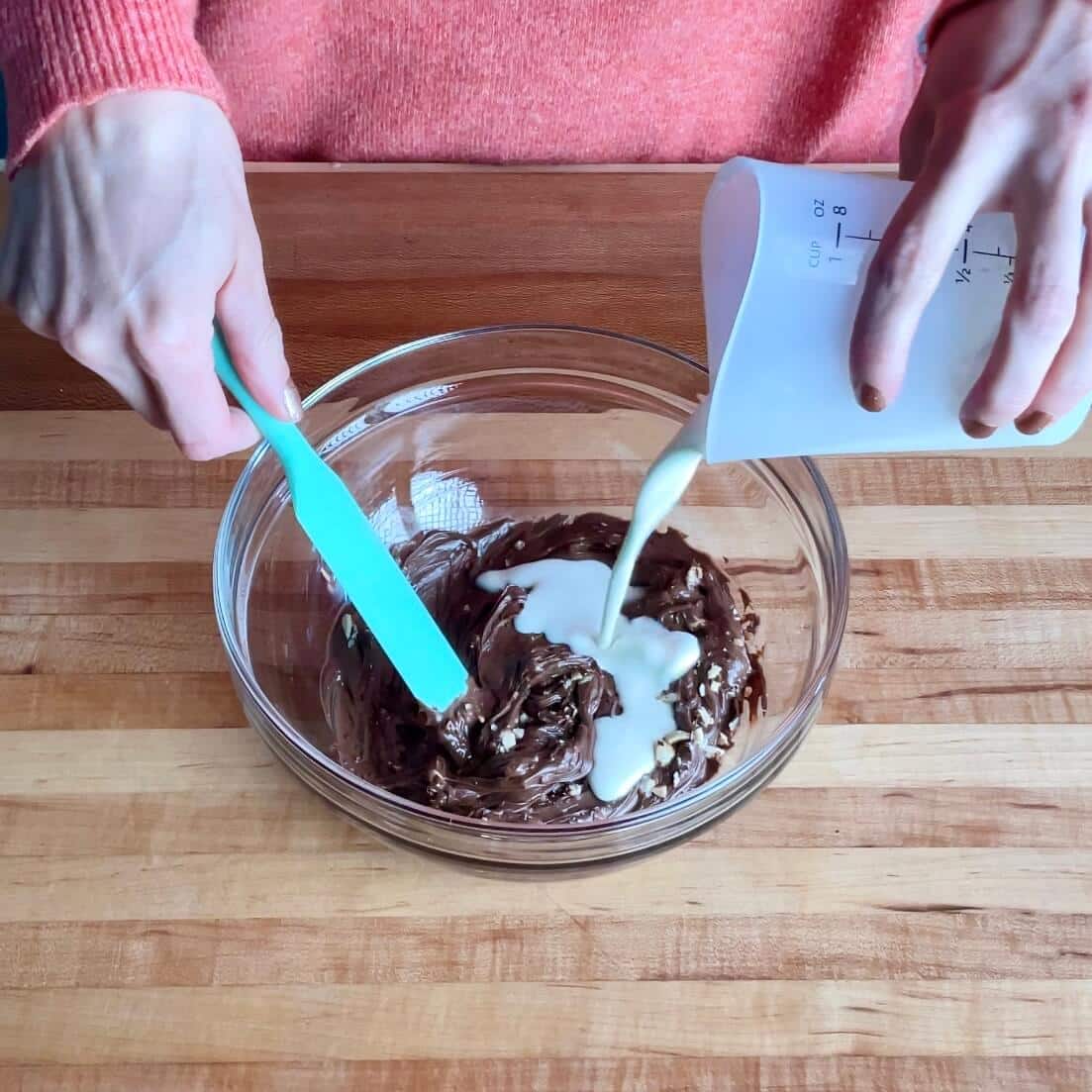 2. Stir Nutella, heavy cream, and chopped hazelnuts together to make a fudgy Nutella cupcake filling.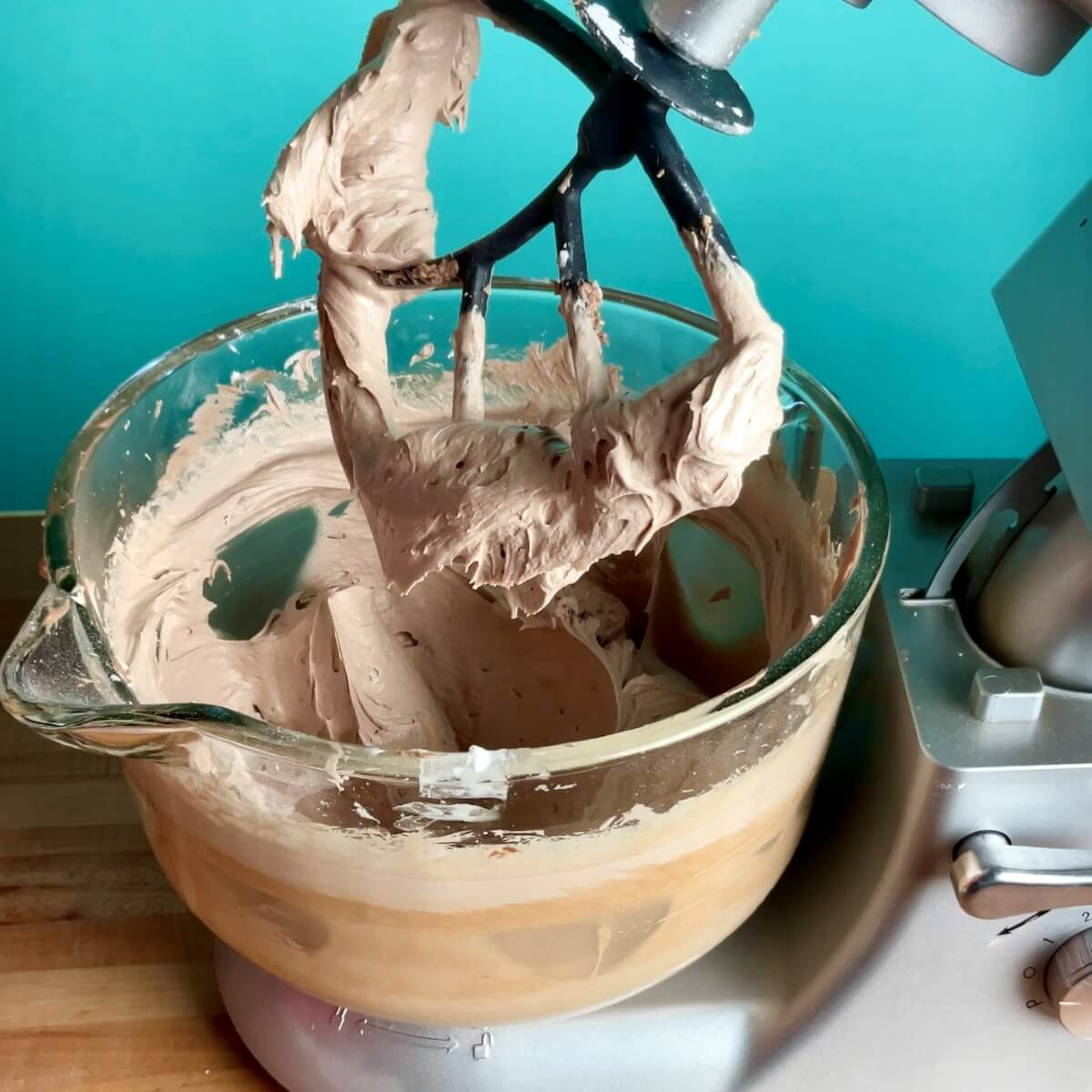 3. Blend all the Nutella buttercream frosting ingredients in an electric mixer until it is light and fluffy.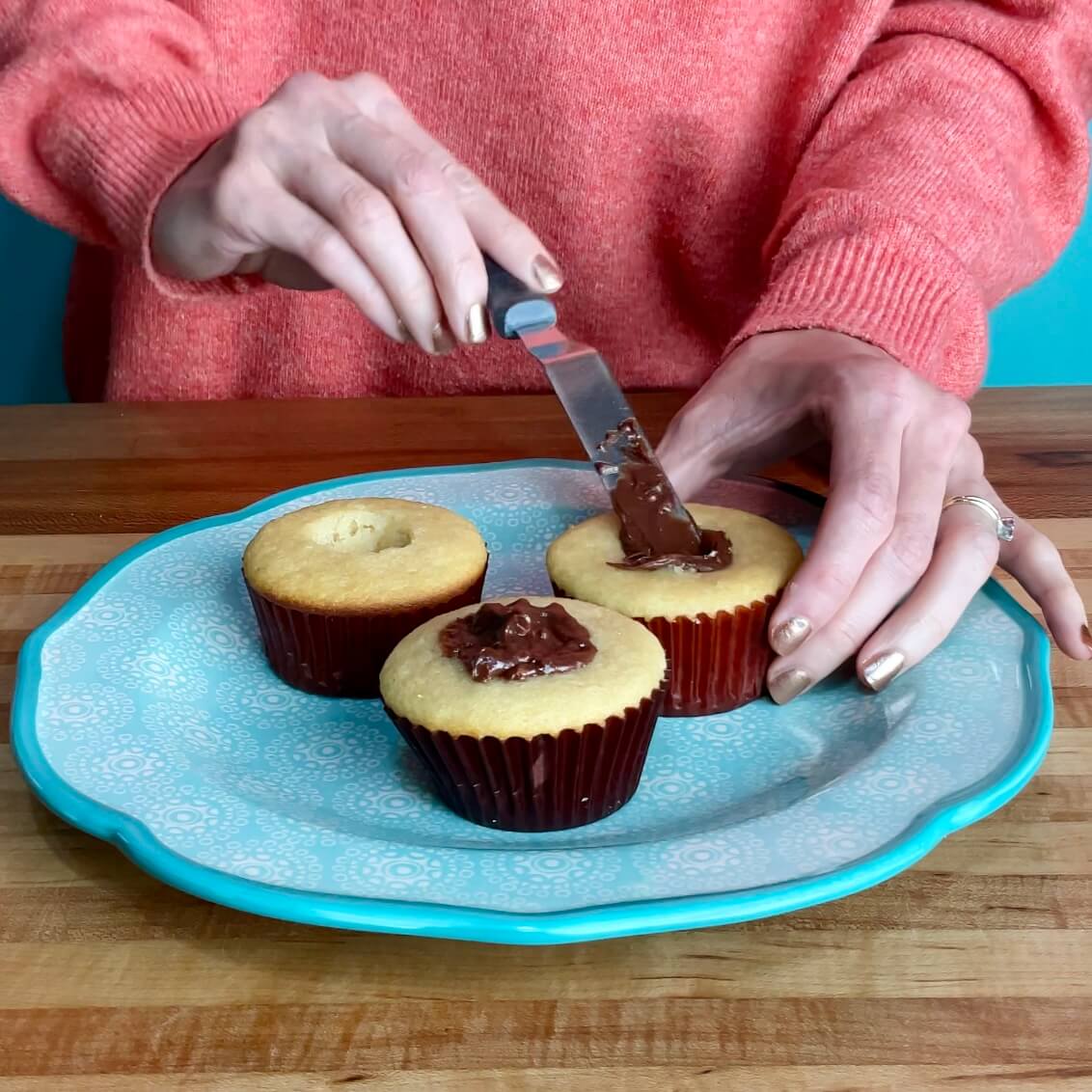 4. Core the vanilla cupcakes with a cupcake corer or use a knife to make a small hole in the center of each cupcake. Fill them with the Nutella filling.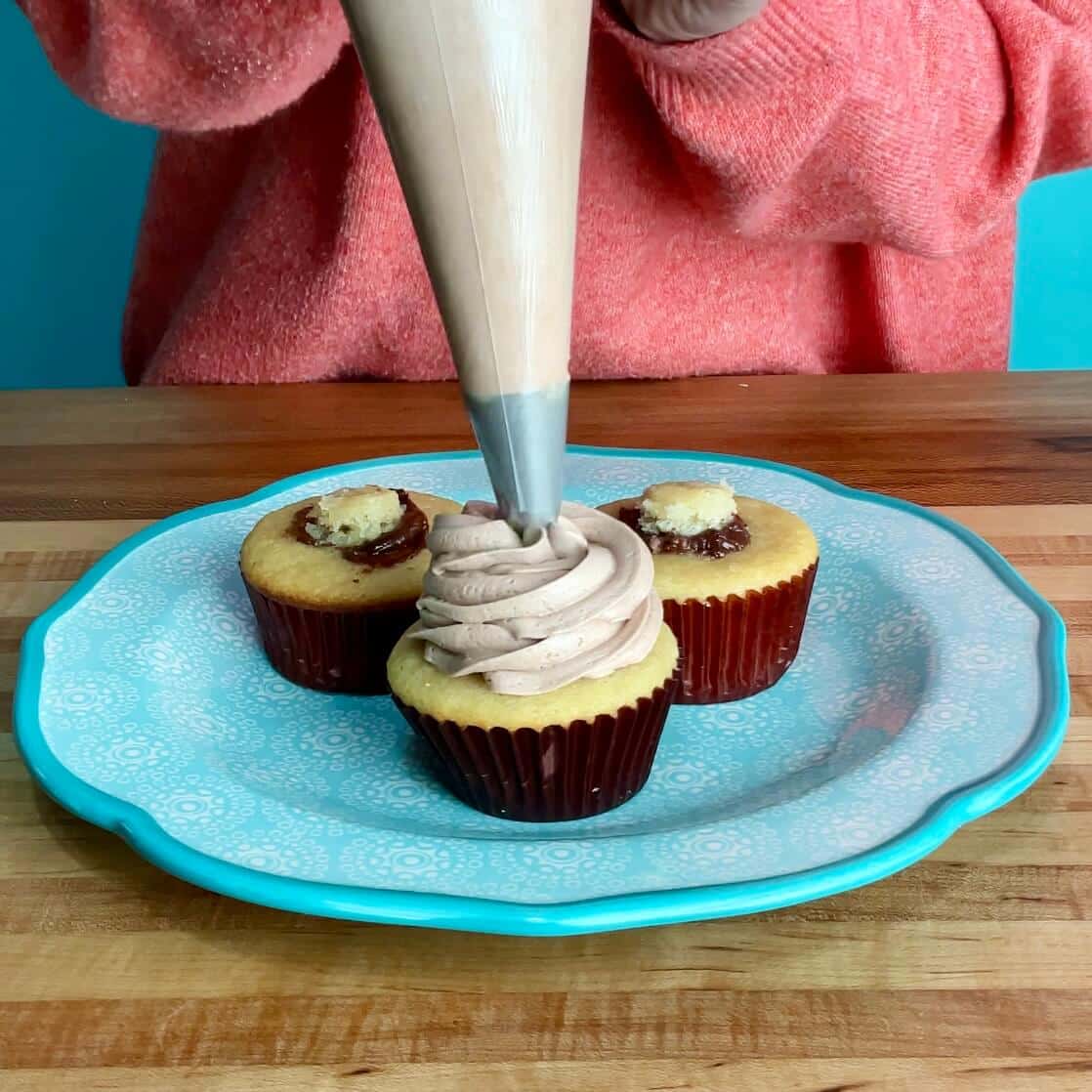 5. Frost the cupcakes. I love to use a piping bag with a 1M piping tip for a pretty star swirl of the creamy Nutella frosting.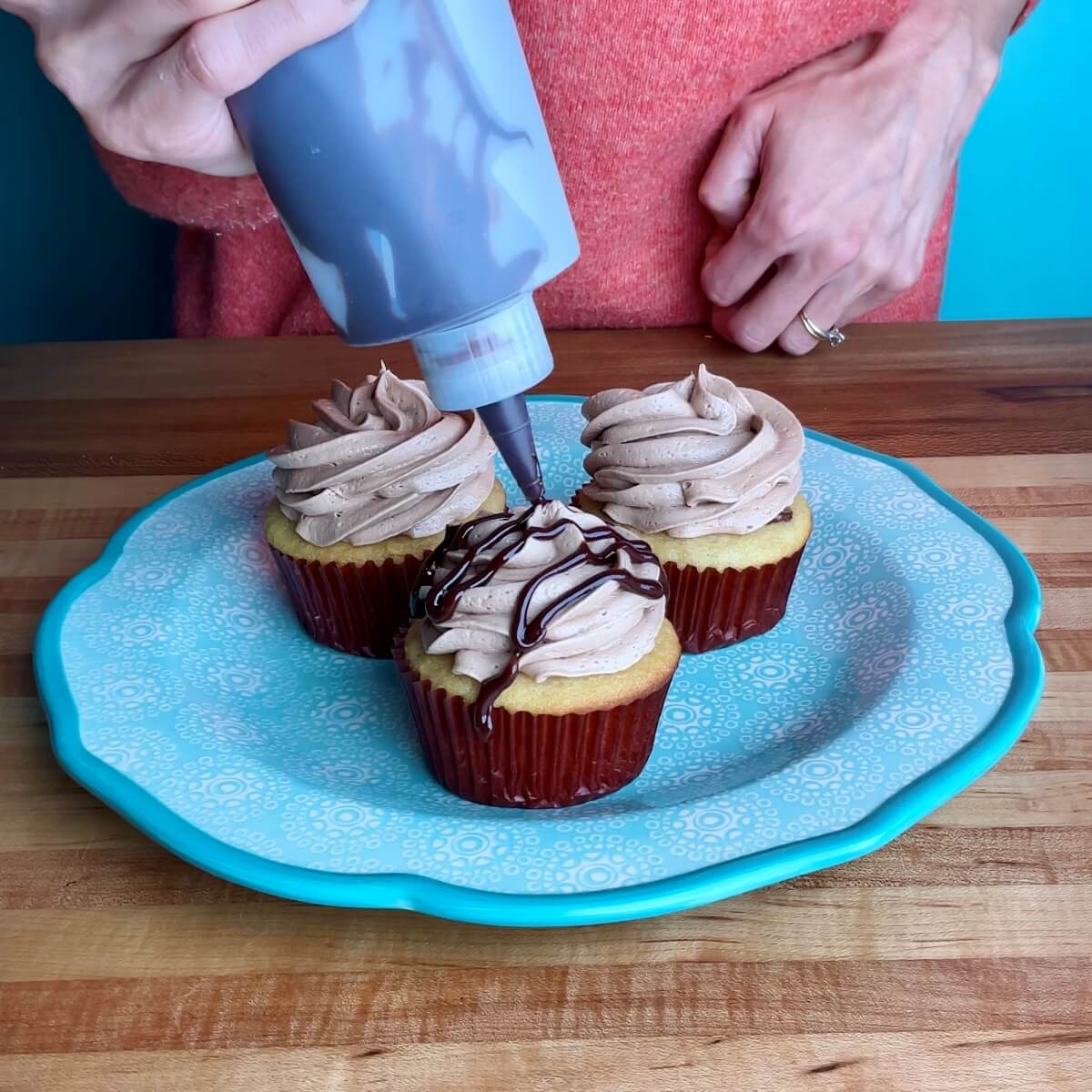 6. Drizzle chocolate sauce or chocolate ganache drizzle on top of the cupcakes. Enjoy!
👩‍🍳 Quick Tips
Use a 2-ounce ice cream scoop to get the perfect amount of cupcake batter in each cupcake. If you don't have one, you can use ¼ cup measuring cup.
Scrape the sides of your frosting bowl often with a rubber spatula. Extra scraping between ingredients will ensure smooth and creamy frosting with no lumps!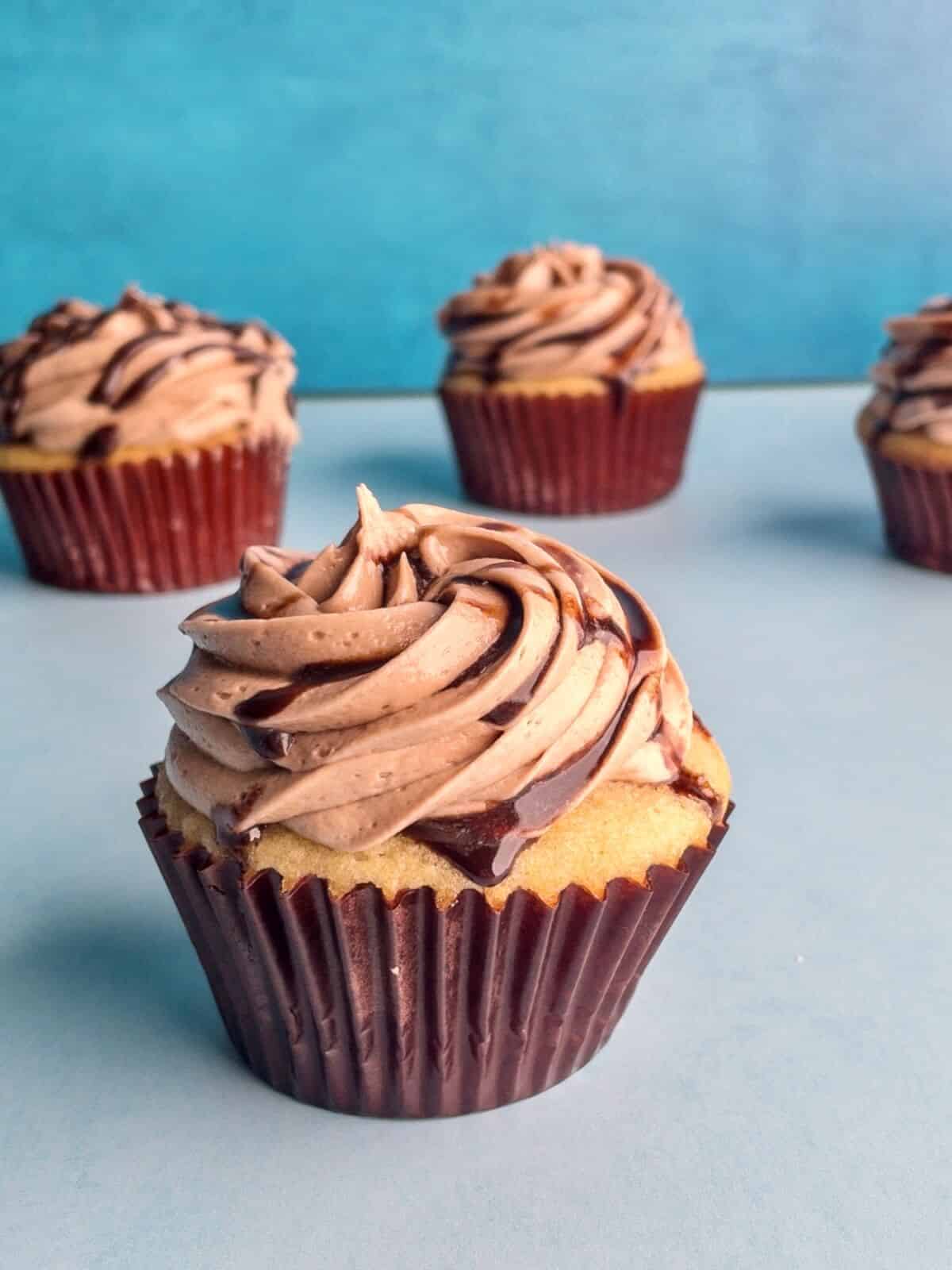 💭 Frequently Asked Questions
How do I store these cupcakes?
If you're not serving these cupcakes within a few hours of frosting them, store the frosted Nutella cupcakes in an airtight container in the fridge, and serve within 2-3 days. Allow them to come back to room temperature before serving so that the frosting will soften. They have the best texture at room temperature.
Can I prepare these cupcakes in advance?
Sure! All of the components can be frozen separately in airtight containers (the frosting, the filling, and the cupcakes). The cupcakes freeze well in their cupcake pan, wrapped well in several layers of plastic wrap. Allow them to thaw back to room temperature before decorating and serving.
Can I turn this recipe into a Nutella cake?
I recommend using my Golden cake recipe paired with this Nutella filling and frosting if you'd like to make a cake version. You'll need to pipe a ring of buttercream around the Nutella filling in each cake layer, similar to how I fill a cake in this blueberry cake video.
What are other ways I can decorate these cupcakes?
You can decorate Nutella cupcakes with a simple chocolate drizzle, or add some additional chopped hazelnuts. You could also make them extra fancy by topping them with a mini cake truffle, or a chocolate hazelnut candy like Ferreror Rocher.
Other delicious cupcake recipes
Here are some more of my favorite cupcake recipes that you've got to try.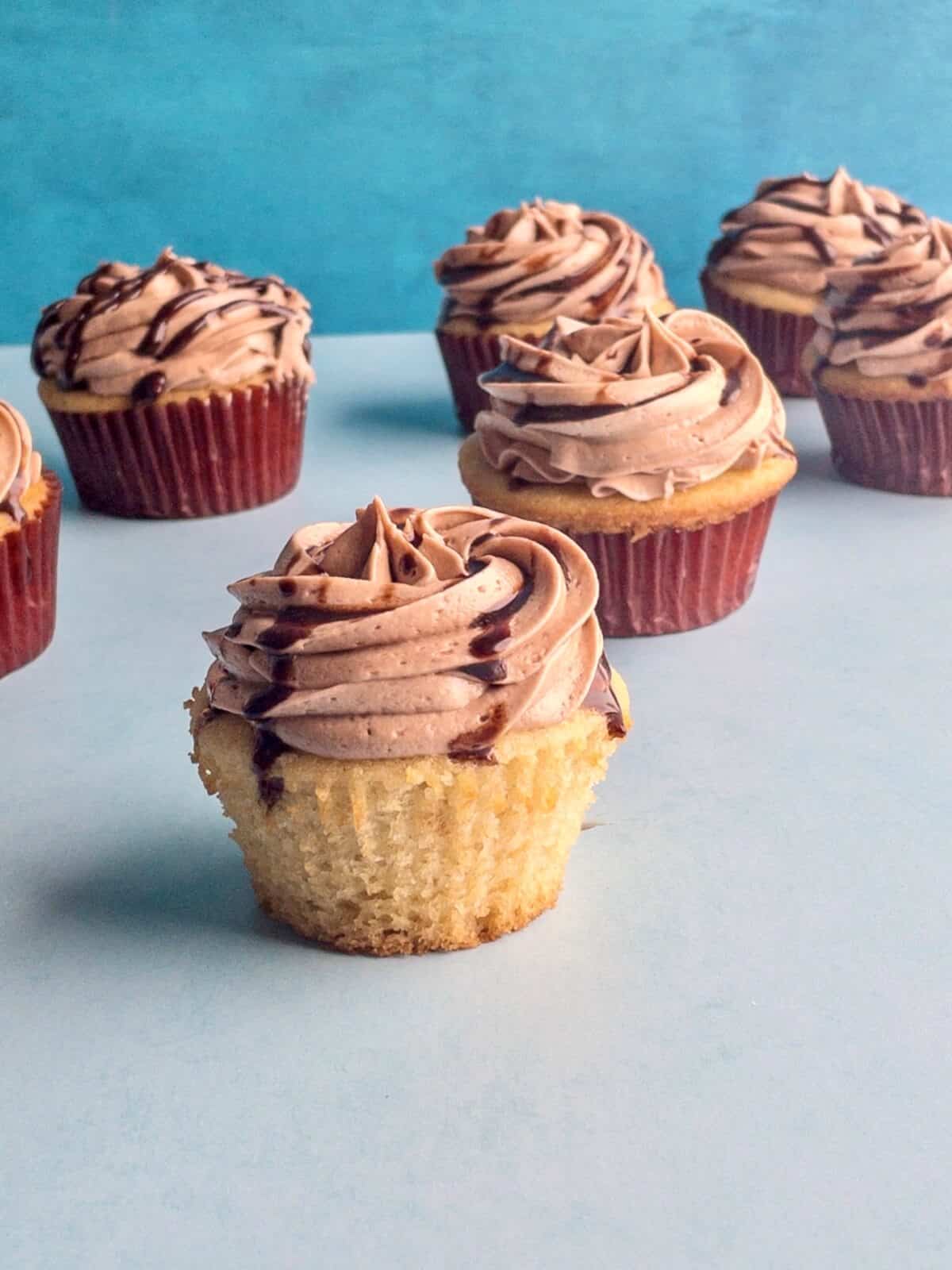 I can't wait to hear what you think of these Nutella-filled cupcakes! Let me know on social media @amycakesbakes, or comment below! 🙂
Thanks for Reading. ❤️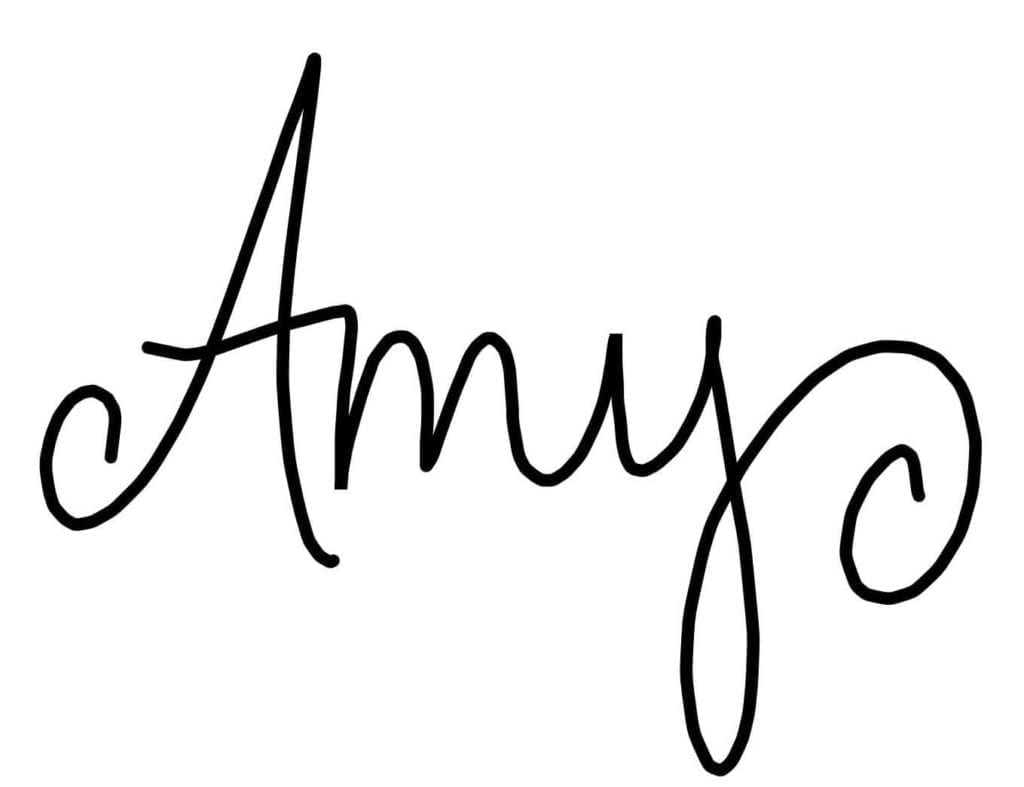 📖 Recipe
Delicious Nutella Cupcakes
This Nutella cupcake recipe features moist vanilla or yellow cupcakes filled with Nutella fudge filling. They're topped with fluffy Nutella buttercream for the perfect chocolate hazelnut bite.
👩‍🍳 For the most accurate baking results, use the grams measurements with a kitchen scale.
Watch the quick recipe video
Ingredients
Vanilla Cupcakes
1x batch (makes 19

cupcakes) prepared Moist Vanilla Cupcake Recipe

--using all vanilla extract to make "golden vanilla" cupcakes as described within the recipe

(or your favorite moist yellow cupcake recipe)
Nutella Buttercream Ingredients
4

ounces

Cream Cheese

1 ½ sticks (6

ounces)

Salted Butter

(at room temperature)

48 grams (¼

cup)

butter flavor shortening

(I use Crisco butter flavor sticks)

455 grams (3 ½

cups)

powdered sugar

142 grams (½

cup)

Nutella

1

Tablespoon

Pure Vanilla Extract
Nutella Cupcake Filling
213 grams (¾

cup)

Nutella

¼

cup

Heavy Cream

¼

cup

finely chopped hazelnuts

(optional)
Instructions
Prepare the yellow cupcakes
Make a

1

x batch of my Moist Vanilla cupcake recipe, and use all vanilla extract to make "Golden Vanilla" cupcakes as described within the recipe. Or use your favorite moist yellow cupcake recipe.
Make the Nutella Buttercream
Using a stand mixer (preferred) or handheld mixer with a paddle attachment and a large bowl, beat the cream cheese until broken up and softened.

Add the room-temperature salted butter and butter-flavored shortening and continue to beat until there are no lumps, scraping the sides of the bowl as needed.

Add the Nutella to the butter mixture, and beat and scrape the sides until the mixture is smooth without lumps.

While the mixer is on low speed, slowly add the powdered sugar. It will be thick, but continue to beat on low until it is well incorporated.

Add the pure vanilla and mix on medium speed until well-blended, scraping the sides of the bowl as needed.

Beat the Nutella buttercream on high for two-three minutes! This is an important step as it will add air into the buttercream and make it light and fluffy.
Fill and decorate the Nutella Cupcakes
Make the easy Nutella fudge filling by stirring the Nutella, chopped hazelnuts, and heavy cream together until smooth.

Core each cooled cupcake to remove the center of the cupcake (a cupcake corer works great). Reserve the cored cake pieces.

Fill each cupcake with the Nutella filling, then top the filling with the reserved cored cake. Frost each cupcake with the fluffy buttercream. Add a chocolate drizzle on top of each cupcake if desired. Enjoy!
Print Recipe