🧁 It's Strawberry Time! Frozen Strawberries, fresh Flavor! This bakery recipe has a delicious fresh strawberry flavor in every bite.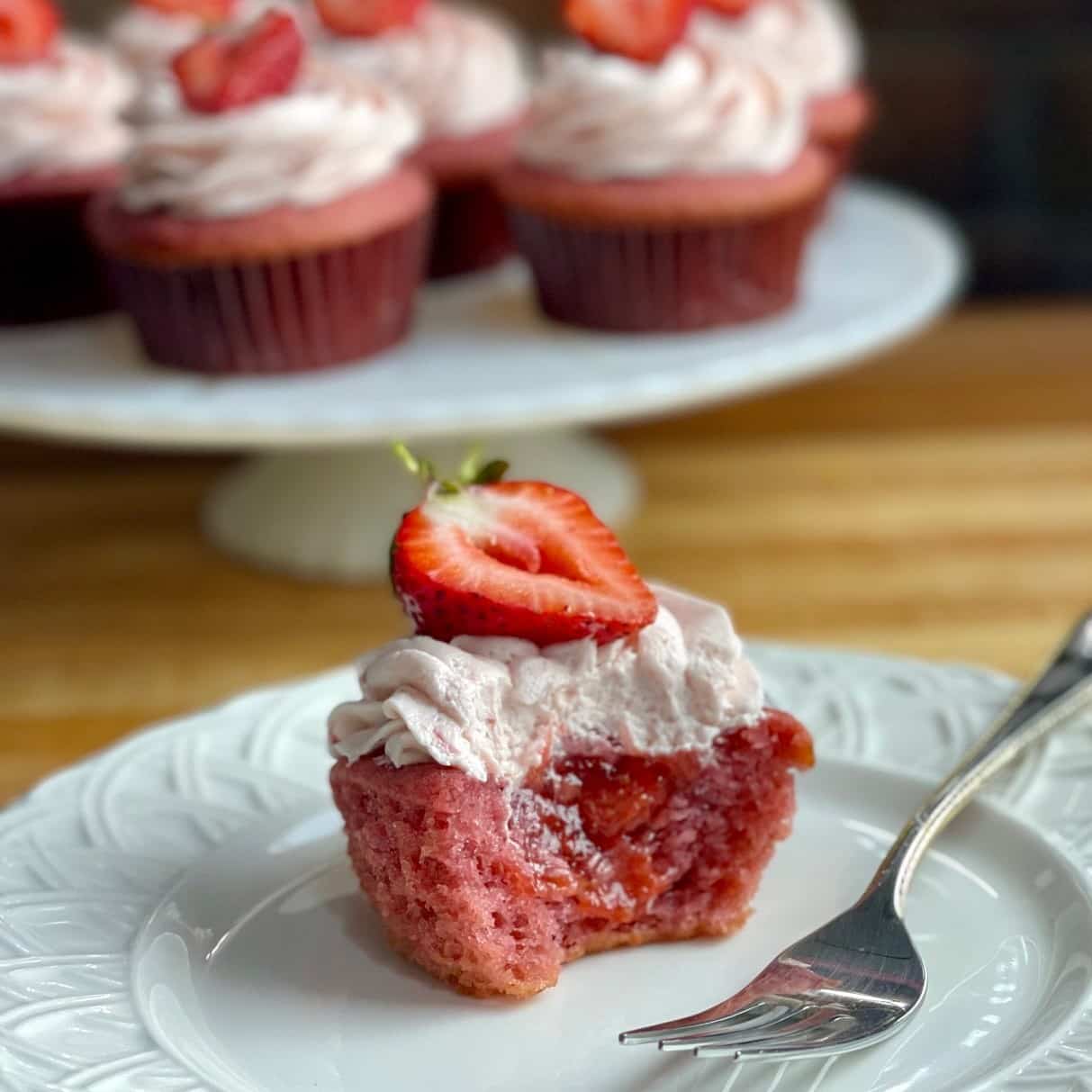 Jump to:
Triple strawberry cupcakes are a strawberry lover's dream! They are soft, extra-moist, and full of fresh strawberry flavor. We start with frozen unsweetened strawberries and make a quick berry compote. Some of the easy strawberry compote will be added to the cake batter and buttercream frosting, and the remaining will be used as a strawberry cupcake filling. This is a cupcake adaptation of my popular Ultimate Strawberry Cake Recipe, but with the addition of strawberry compote as a cupcake filling.
Strawberry, Strawberry, and more Strawberries
The strawberry cupcake batter is made with natural strawberry extract, strawberry puree, and strawberry compote. (I use Olive Nation's Natural Strawberry Extract for a fresh and natural tasting flavor. They've provided Amycakes Bakes readers the code AB20 on their website for 20%. They also sell it on Amazon). Whichever extract you choose, I recommend making sure it says "pure" or "natural," otherwise it might add an artificial taste to your cake.
Disclosure: Olive Nation has provided the discount code AB20 for Amycakes Bakes readers, and I make a small commission when the code is used on their website at no additional cost to you. I only promote products that I love, and Olive Nation is a company that I have ordered from since the beginning of Amycakes Bakery. Thank you for supporting the content on this website!
To make the strawberry puree we'll be using more thawed frozen strawberries that are pureed in a food processor. I talk more about why I recommend frozen unsweetened strawberries over fresh in my Ultimate Fresh Strawberry Cake post. But for a quick recap, they are typically flash-frozen at their peak ripeness and provide a stronger strawberry flavor consistently across the seasons.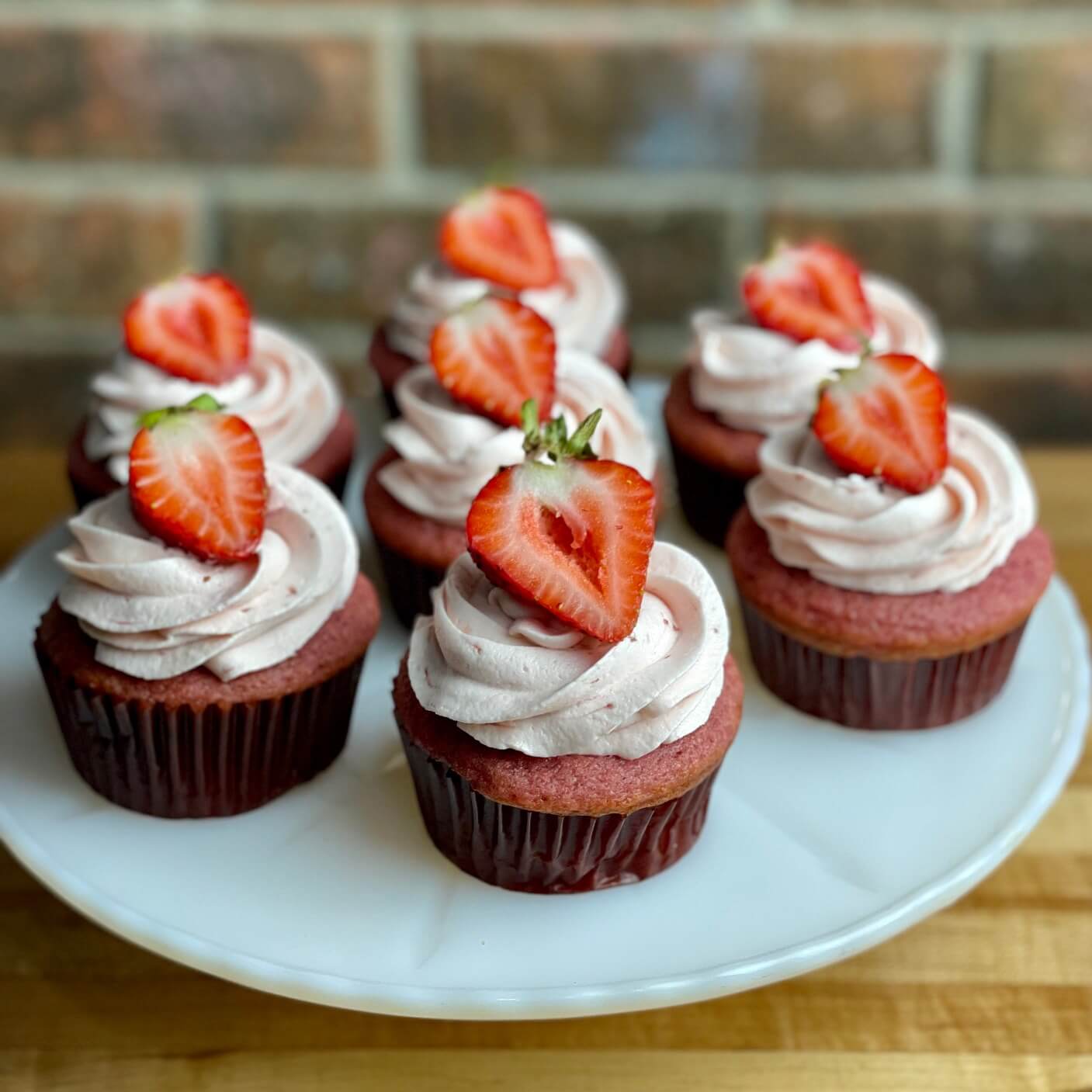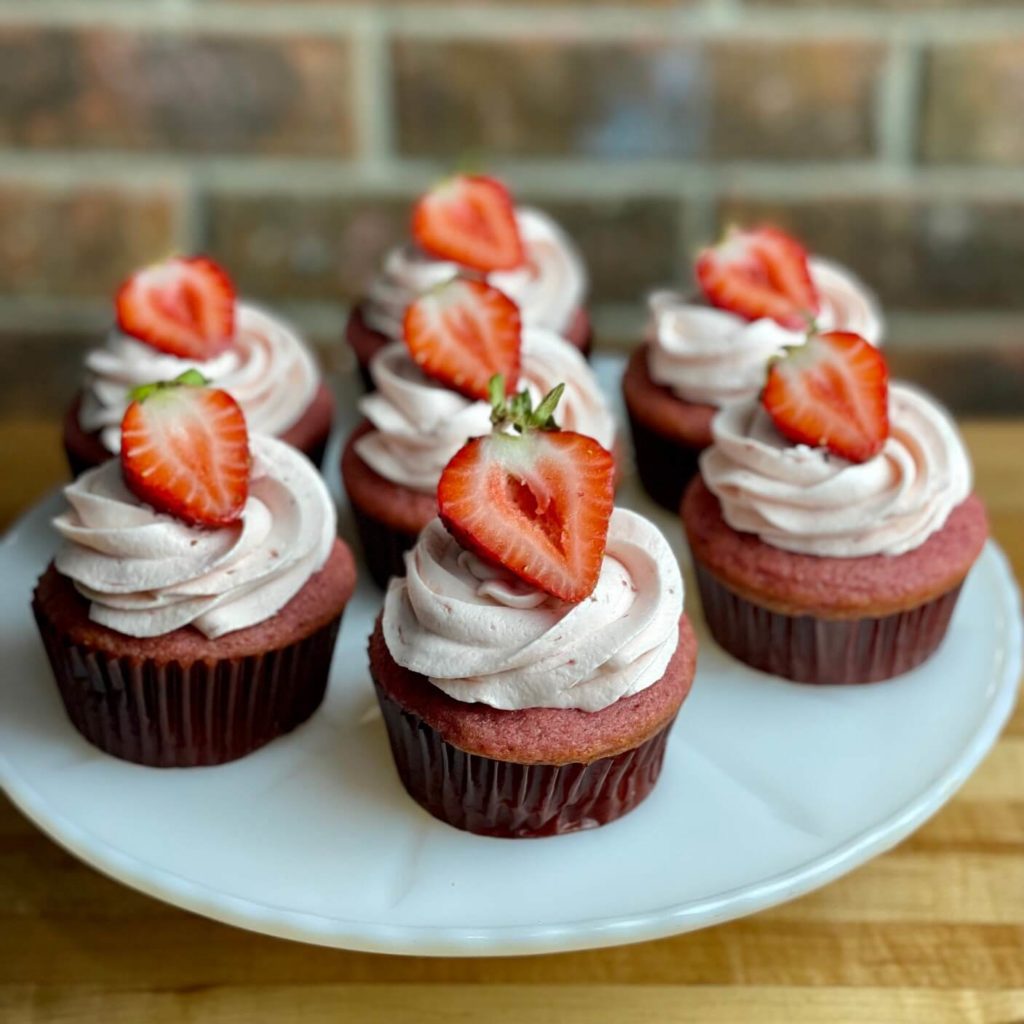 How to Make Moist Strawberry Cupcakes
These cupcakes are made extra moist due to the buttermilk, vegetable oil, and Instant Clear Jel--if you've made my strawberry cake, you'll notice that this cupcake version includes a little bit more of these moisture-enhancing ingredients than the cake version--that's because cupcakes bake so much faster than cake, and they can be more prone to drying out. I like to add extra moisture to all my cupcake recipes so they stay soft and extra moist. (I use similar rations of these ingredients in my Moist and Fudgy Chocolate Cupcakes).
Fresh Strawberry Compote Cupcake Filling
The strawberry cupcake filling is made from only four ingredients: Frozen Strawberries, Sugar, Lemon Juice, and Instant Clearjel (if you've never heard of it, I recommend clicking the following link to read more about Instant Clearjel, my favorite bakery secret ingredient that can be used in home baking. It thickens and adds moisture to baked goods). Strawberry compote is a delicious and versatile cake and cupcake filling (try it with a different cake or cupcake flavor in my Mix and Match Recipe section), but it also adds a more concentrated strawberry flavor to our cake batter and buttercream frosting.
Strawberry Cream Cheese Buttercream
The frosting is a creamy strawberry cream cheese buttercream that has an extra boost from our strawberry compote filling. We'll whip it for at least three minutes after all the ingredients come together to make it super light and fluffy. When the cake, filling, and frosting are paired together you get a burst of strawberry goodness in every bite!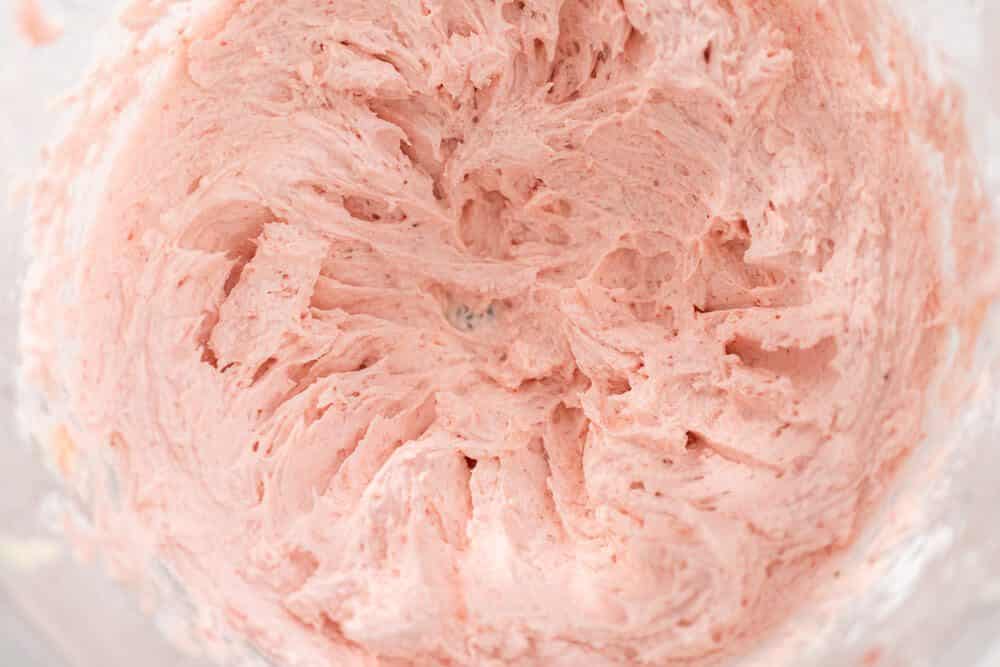 How to fill and decorate Triple Strawberry Cupcakes
I recommend using a handy Cupcake Corer to remove the center of the cupcake (you can place the cored cake back on top after you fill the cupcake but before you frost it.) You can also just use a sharp paring knife to cut out a circle of cake. Spoon the strawberry filling into the cupcake center, or squeeze it in using a disposable piping bag (I prefer the piping bag because it is faster and less messy). Frost the cupcake with another disposable piping bag and 1M star tip, then top with strawberry halves. You can watch me core and fill these cupcakes in the video within the recipe below.
I hope you enjoy this Amycakes Bakery recipe!
Thanks for Reading. ❤️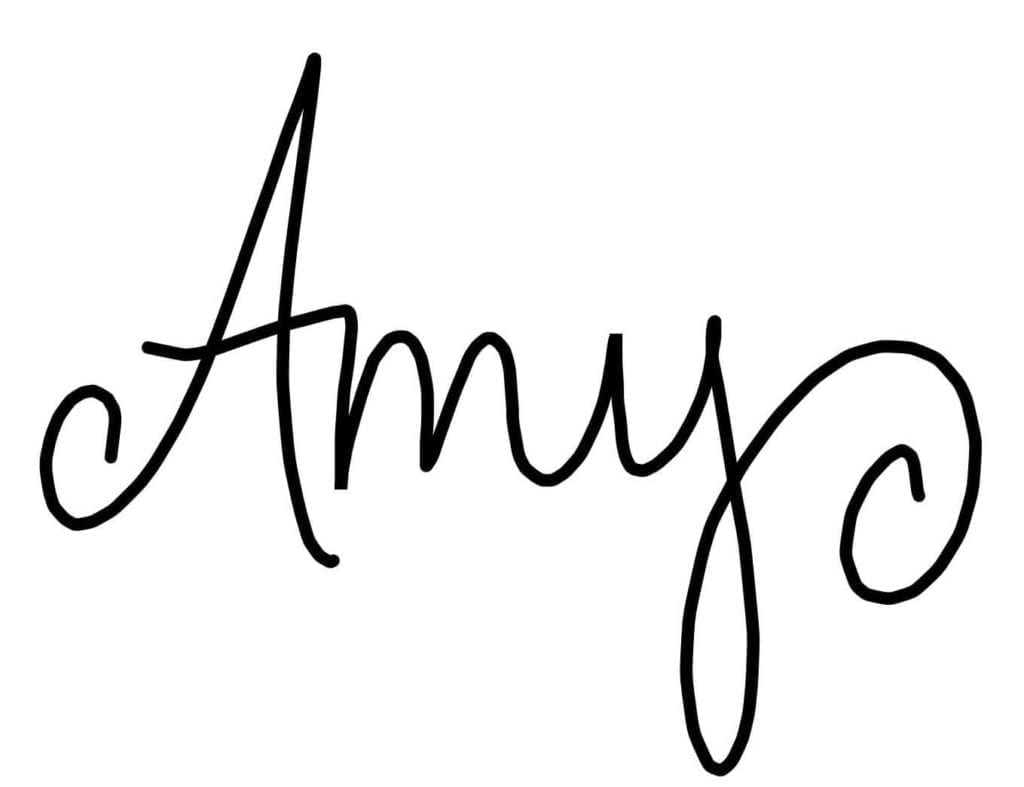 📖 Recipe
Triple Strawberry Cupcakes
These cupcakes are a strawberry lover's dream! The cake is soft and moist with a deliciously fresh and natural strawberry flavor. The extra-moist strawberry cupcakes are paired with an easy strawberry compote cupcake filling and a light and fluffy strawberry cream cheese buttercream!
For the most accurate baking results, use the grams measurements with a kitchen scale.
Ingredients
Butter
1 stick(s) (4

oz)

Salted Butter
Dry Ingredients
227 grams (1 ¾

cups)

All-Purpose Flour

(I use Gold Medal)

1 ½

teaspoon

Baking Powder

1

teaspoon

Baking Soda

¾

teaspoon

Salt

2

tablespoon

Instant Clearjel

(See Note #1)

200 grams (1

cup)

Sugar
Decoration
10

Fresh Strawberries, halved
Instructions
Make Strawberry Compote
Whisk Instant Clearjel and

62

g (

¼

cup +

1

Tbsp) Sugar together in a small bowl. Set aside.

Combine Frozen Strawberries,

76

g (

¼

cup +

2

Tbsp) Sugar, and Lemon Juice in a nonstick skillet or saucepan.

Cook on Medium heat until strawberries are fully thawed and liquid begins to simmer. Using a sturdy spatula, break apart the strawberries and cut them into very small pieces (around ¼ inch pieces) as the strawberries simmer. The strawberries should be soft enough that they are easy to cut with the spatula. Continue cooking for about 5 minutes or until the strawberries are softened and you are happy with their size.

Remove from heat and add the Instant Clearjel/Sugar mixture and stir in quickly. The compote will thicken immediately, and continue to thicken as it cools. Reserve

½

cup (

118

g) prepared compote for the cake batter, another

½

cup (

118

g)for the frosting, and save the remaining for filling the cupcakes. If you make the compote in advance, keep refrigerated until using.
Make Strawberry Cake
Preheat oven to 325 degrees. Preheat oven to 350 degrees. Fill cupcake tins with 19 cupcake liners.

Heat the Salted Butter in the microwave in a microwave-safe dish until just melted.

Make strawberry puree by heating the

3

oz (

¾

cup) Frozen Strawberries until thawed in the microwave. Then puree the thawed strawberries in the food processor until it's a smooth puree. It should make about

¼

cup puree.

Combine the Strawberry Puree with the remaining Wet Ingredients in a large bowl and whisk until smooth and well-blended.

Using a sifter or fine mesh strainer, sift the Dry Ingredients into a separate large bowl. Whisk until well blended.

Pour Wet Ingredients into Dry Ingredients and whisk until incorporated. Pour Melted Salted Butter over batter and whisk in until incorporated. Add ½ cup Prepared Strawberry Compote and whisk until batter looks uniform and shiny.

Using a 2-oz scoop or ¼ cup measuring cup, scoop batter into prepared cupcake tins.

Allow filled cupcake tins to sit for 5-10 minutes before putting it in the oven. This will give time for the instant clearjel to thicken the cake batter before it bakes, allowing for a better rise.

Bake in the middle or top rack (avoid bottom rack) of the preheated 325-degree oven for 8 minutes. Without opening the oven, turn the temperature down to 300 degrees and bake for another 6-8 minutes. The cupcakes are done when a toothpick or small paring knife comes out mostly clean when quickly stuck in the cupcakes. Because these cupcakes are so moist, it is okay to see a couple of moist crumbs on your knife when you check the finished product for doneness. But any wet-looking crumbs mean they need more time in the oven.

Brush Cupcakes lightly with simple syrup (optional, see Note #3).
Make Strawberry Buttercream
Whisk the Powdered Sugar and Instant Clearjel together until well-blended. Set aside.

Using a stand mixer (preferred) or handheld mixer and a large bowl, beat the cream cheese until broken up and softened.

Add the room temperature salted butter and continue to beat, scraping the sides of the bowl as needed.

While the mixer is on low, slowly add the powdered sugar mixture.

Add the

½

cup reserved Strawberry Compote, and beat on low until well blended. Add the strawberry extract and pure vanilla, then beat on high for about 3 minutes until light and fluffy. The Instant Clearjel will cause the buttercream to thicken slightly during the next 10 minutes as it sits.
Fill and Decorate the Cupcakes
Use either a paring knife or a Cupcake Corer to remove the center of each cupcake. Spoon your remaining compote into each cupcake, then top with the cored cake. You can also squeeze the compote into the cupcake with a disposable piping bag to save time and mess. Frost the cupcake with an icing spatula or another disposable piping bag and 1M star tip, then top with strawberry halves. This recipe has just enough compote for 19 cupcakes, and enough frosting for a short swirl of buttercream (like the recipe photo). Enjoy!
Notes
Read my article Instant Clearjel: a Magical Little-Known Bakery Ingredient to see why I think this ingredient is worth having in your pantry.  Instant Clearjel must always be whisked thoroughly with other dry ingredients before being added to wet ingredients to avoid clumping.  I have tested this recipe with the following Instant Clearjel brands: Hoosier Hill Farm, Prepared Pantry, and Ingredion (Make sure what you purchase is labeled as "Instant."  Cooktyle Clearjel is a different product that does not work the same in cakes). 
If you use a different brand of Strawberry extract than Olive Nation, you may need to adjust the amount to taste--it's always better to start off with less than you need, then add more extract if you think the flavor needs to be stronger.
Simple Syrup is optional, but I highly recommend it to seal in the moisture of your cupcakes.  While the cupcakes cool, make a simple syrup by combining 2 teaspoon water and 2 teaspoon sugar in a small microwave-safe bowl. Microwave until the sugar is dissolved after whisking, about 20-30 seconds.  You can also make a larger batch of this (1 part sugar to 1 part water) and keep it in the fridge if you're doing a lot of cake/cupcake baking.
Print Recipe