This post may contain affiliate links to products I use, love or recommend. That means I may receive a small commission on products you purchase through my links at no cost to you. As an Amazon Associate, I earn from qualifying purchases. Please see my Disclosure Policy for more details. Thank you for your support, which allows me to continue to create content for this website.
My latest Amycakes Bakery recipe features tender, moist and buttery coconut cupcakes that are made even more decadent by a rich cream of coconut glaze. The best part? They're easy to make! The made-from-scratch coconut cream cupcake batter comes together quickly by hand, no mixer necessary! They're frosted with a fluffy and quick stabilized whipped cream, then topped off with lightly toasted coconut flakes for extra texture and crunch.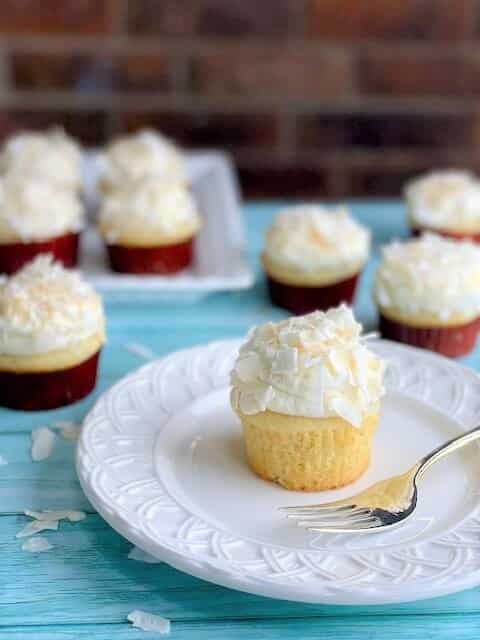 How to Make Easy Coconut Cream Cupcakes
Since these cupcakes use the Two-Bowl Method, no mixer is required and you can whip up the cupcake batter in less than 10 minutes. By using just two bowls, we'll be whisking the wet ingredients into the dry ingredients, then adding melted salted butter. Once the cupcakes are baked, we'll poke holes in the cake and drizzle delicious Cream of Coconut onto each warm cupcake, so that it melts into every crevice. This is a similar method to my Lemon Cream Cake with Lemon Drizzle. The result is an ultra-moist and decadent cupcake that pairs perfectly with light and airy whipped cream.
The Flavors of Pure Coconut
These cupcakes are made with pure coconut extract in the cake batter and whipped cream frosting. The natural and pure coconut flavor complements the buttery cupcake batter and cream of coconut. I topped the cupcakes with desiccated coconut flakes–there is something so pretty and elegant about these flakes, and they really enhance the look of the cupcakes. You can also use coconut chips or shredded coconut. I love the flavor of Olive Nation Pure Coconut Extract and Desiccated Coconut Flakes. (Olive Nation has provided Amycakes Bakes readers with the code AB20 for 20% off on their website. They also sell it on Amazon).
Disclosure: Olive Nation has provided the discount code AB20 for Amycakes Bakes readers, and I make a small commission when the code is used on their website at no additional cost to you. I only promote products that I love, and Olive Nation is a company that I have ordered from since the beginning of Amycakes Bakery. Thank you for your support!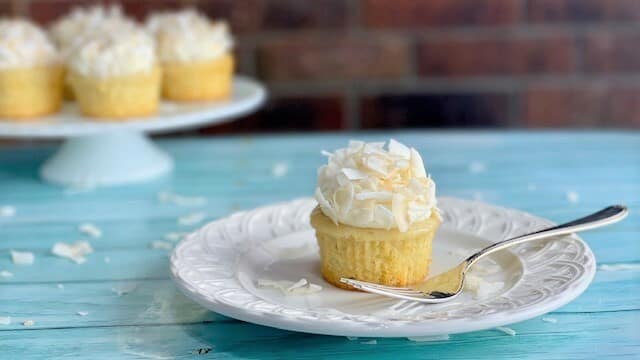 Stabilized Whipped Cream Frosting
The fluffy whipped cream frosting melts in your mouth with hints of vanilla and coconut. Unlike traditional whipped cream, which can be prone to weeping and deflating, stabilized whipped cream frosting can be prepared hours before your event—you just need an electric mixer, and my favorite bakery secret ingredient, Instant Clearjel. The whipped cream piped onto your cupcakes will stay firm and stable for at least 2 days in the fridge.
The Secret Bakery Ingredient to Coconut Cream Cupcakes
This bakery recipe uses Instant ClearJel, a type of cornstarch that serves as both a thickener and a binder. It's often used by professional bakers in filling and pie recipes because it produces a smoother and glossier consistency than cornstarch, tapioca, or other starches. It also enhances moisture and texture in cakes and thickens and stabilizes frostings. For these reasons, I'm convinced all bakers should have Instant Clearjel in their pantry. 🙂
I first started using Instant Clearjel at Amycakes Bakery after researching the second ingredient in Instant Pudding Mix–"modified cornstarch". Since then, I have used it in nearly all of my bakery recipes including my Vanilla Almond Cake and Soft and Gooey Bakery-Style Cinnamon Rolls. Instant Clearjel can be hard to find in local grocery stores, but it's sold in a variety of online stores–I use Hoosier Hill Farm Instant Clearjel. The benefit of using it in these Coconut Cream Cupcakes is that they're amazingly light and moist with a soft texture, and the whipped cream frosting is thick and stable.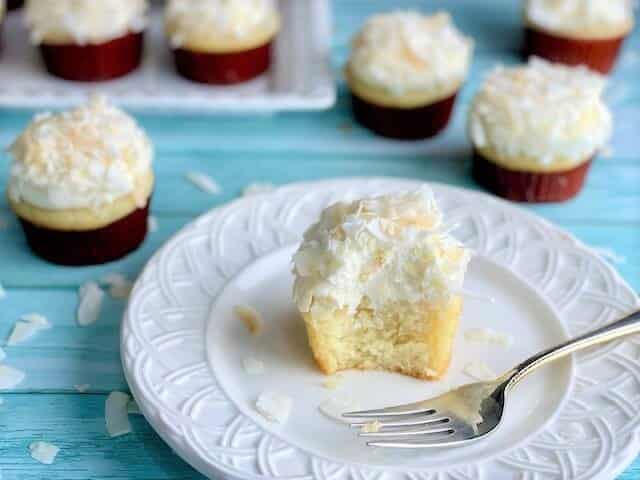 This recipe produces a fancy coconut cupcake that is surprisingly easy to make, even if you're a beginner at baking! I hope you give them a try and let me know what you think! 🙂
Thanks for Reading. ❤️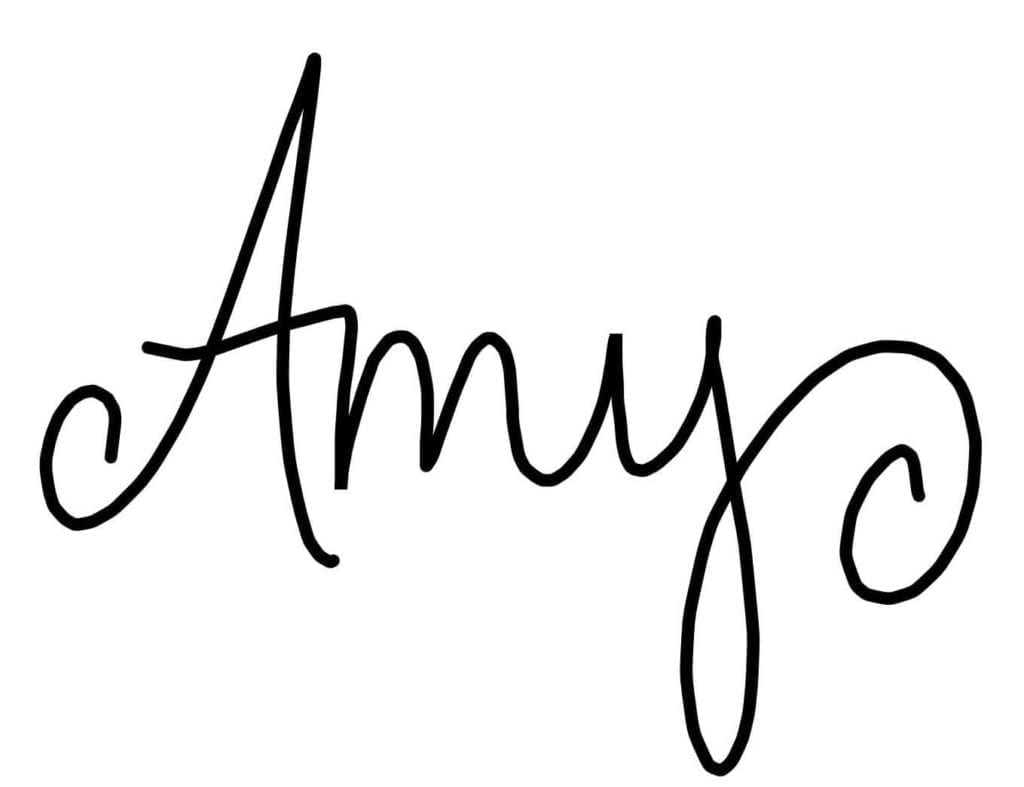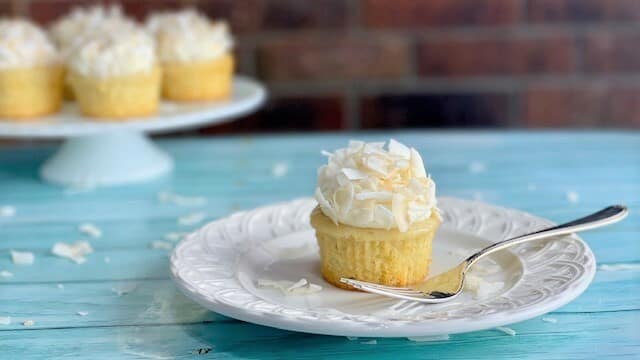 Easy Coconut Cream Cupcakes with Whipped Cream Frosting
Made-from-scratch coconut cream cupcakes are tender, moist and buttery. The cupcake batter comes together quickly by hand, no mixer necessary! They're frosted with a fluffy and quick stabilized whipped cream, then topped off with lightly toasted coconut flakes for extra texture and crunch.
If you have a kitchen scale, please select grams above the ingredients for the most accurate results. If you don't have a scale, no worries!–just be sure to "spoon and level" your dry ingredients.
Select "grams" if you have a
kitchen scale
for more accurate baking.
Ingredients
Dry Ingredients
1 ½

cups

All-Purpose Flour

(I use Gold Medal)

1 ½

teaspoons

Baking Powder

1

teaspoon(s)

Baking Soda

¾

teaspoon(s)

Salt

2

Tablespoons

Instant Clearjel

(A bakery ingredient you can use at home–see Note #1. Please make sure your clearjel is labeled as "Instant")

1

cup(s)

Sugar
Wet Ingredients
1

large

Egg

2

Egg Whites

¾

cup(s)

Buttermilk

¼

cup

Water

¾

cup(s)

Vegetable Oil

1

Tablespoon(s)

Pure Coconut Extract

I use Olive Nation

1 ½

teaspoon

Vanilla Extract

¾

teaspoon

Almond Extract
Other Cake Ingredients
¾ stick(s) (3

oz)

Salted Butter

1 to 1 ¼

cup(s)

Cream of Coconut, stirred or shaken until smooth

(Not to be confused with coconut cream. Cream of Coconut is sweetened and often found in the beverage mixer aisle. See Note #2.)
Stabilized Vanilla Whipped Cream
2

cups

Heavy Whipping Cream

1 ½

teaspoon(s)

Pure Vanilla Extract

1 ½

teaspoon(s)

Pure Coconut Extract

I use Olive Nation

⅔

cup

powdered sugar

1

Tablespoon(s)

Instant Clearjel

(A bakery ingredient you can use at home–see Note #1. Please make sure your clearjel is labeled as "Instant")
Topping
2

cups

Unsweetened desiccated Coconut flakes, Coconut Chips, or shredded coconut, divided

I use Olive Nation Desiccated Coconut. See Note #3.
Equipment
Whisk

Two Large Bowls

Cupcake Tins

2-oz Cupcake Scoop

Cupcake Liners
Instructions
Turn Instruction images ON or OFF
Make Coconut Cream Cupcakes
Preheat oven to 335 degrees. Fill cupcake tins with

17

cupcake liners.

Using a sifter or fine mesh strainer, sift the Dry Ingredients into a large bowl. Whisk the sifted ingredients until well blended.

Combine Wet Ingredients in a separate large bowl and whisk until smooth and well-blended.

Melt salted butter in the microwave (or over the stove) until just melted. Avoid overcooking.

Pour Wet Ingredients into Dry Ingredients and whisk until incorporated. Pour Melted Salted Butter over batter and whisk until smooth and shiny.

Using a 2-oz scoop or 1/4 cup measuring cup, scoop batter into prepared cupcake tins. Allow tins to set for 5 minutes before putting them in the oven. This will give time for the instant clearjel to thicken the cake batter before it bakes, allowing for a better rise.

Bake in the middle or top rack (avoid bottom rack) of the preheated 325-degree oven for 8 minutes. Without opening the oven, turn the temperature down to 300 degrees and bake for another 6-8 minutes. The cupcakes are done when a toothpick or small paring knife comes out mostly clean when quickly stuck in the cupcakes. Because these cupcakes are so moist, it is okay to see a couple of moist crumbs on your knife when you check the finished product for doneness. But any wet-looking crumbs mean they need more time in the oven.

With a sharp paring knife, repeatedly poke the hot baked cupcakes all the way through to the bottom of the cupcakes. Poke each cupcake with cuts 1/4 inch to 1/2 inch apart (I recommend watching the recipe video). Spoon or squeeze (if you are using cream of coconut in a squeeze bottle) a total of 1 Tablespoon Cream of Coconut on top of each cupcake while they are still warm, which will soak into the cupcakes. I find it the least messy to start by squeezing 1/2 Tablespoon Cream of Coconut mostly in the middle of each cupcake, then slowly and carefully spreading it with a silicone pastry brush over the cupcake. After it's melted into the cupcake, I'll go back to add an additional 1/2 Tablespoon Cream of Coconut on top of each cupcake, and then spread that in. By dividing it up, each cupcake will get the correct amount of Cream of Coconut with less drizzling down the sides of the cupcake liner.

If you are frosting and serving them the next day, wrap the cupcakes in the cupcake tin and leave at room temperature overnight. You may also freeze the unfrosted cupcakes wrapped tightly in the cupcake tin up to a week in advance and they will stay very moist.
Make Stabilized Whipped Cream Frosting
Whisk the Powdered Sugar and Instant Clearjel together. (Instant Clearjel must always be whisked with dry ingredients before adding to liquid to avoid clumping).

Using a whip attachment and a stand mixer (preferred) or handheld mixer, whip the Heavy Cream, Pure Vanilla, and Pure Coconut Extract until stiff peaks form.

Turn the mixer on low, and slowly add in the Powdered Sugar/ Instant Clearjel mixture until incorporated. The Instant Clearjel will thicken the whipped cream instantly, which is why we want to make sure the whipped cream is nicely whipped and fluffy before we add in our thickener. Refrigerate until using.
Make Toasted Coconut
Preheat oven to 350 degrees.

Spread one cup of coconut flakes onto a sheet pan lined with parchment paper. Bake in the preheated 350 degree oven for around 2 minutes, or until just lightly golden around the edges. (Baking time will vary based on your oven and the thickness of the coconut. Watch towards the end of baking to avoid over-browning).

Add one additional cup of untoasted coconut flakes and mix until blended. (I prefer the look and texture of toasted and untoasted coconut mixed together, but you can use all toasted or all untoasted if you prefer). Allow to cool.
Decorate and Serve
I like to use 18" disposable pastry bags and a Round Cupcake Tip to pipe a medium-sized swirl of whipped cream on top of each cupcake. Gently rotate each cupcake and press the cooled coconut flakes into the whipped cream (as seen in the recipe video).

Serve immediately or refrigerate until serving. Enjoy!
Notes
Read my article Instant Clearjel: a Magical Bakery Ingredient to see why I think this ingredient is worth having in your pantry.  Instant Clearjel must always be whisked thoroughly with other dry ingredients before being added to wet ingredients to avoid clumping.  I have tested this recipe with the following Instant Clearjel brands: Hoosier Hill Farm, Prepared Pantry, and Ingredion (Make sure what you purchase is labeled as "Instant."  Cooktyle Clearjel is a different product that does not work the same in cakes).
 I use Coco Real Cream of Coconut which comes in a squeeze bottle.  Whichever brand you use, just make sure it is labeled as "cream of coconut" and not "coconut cream."  Cream of coconut is often found in the beverage mixer aisle.  Stir or shake your cream of coconut before using it.  
Feel free to substitute sweetened shredded coconut for the unsweetened coconut, but you may wish to decrease the powdered sugar in the whipped cream to 1/2 cup (56g) in a 1x batch.  
Print Recipe