💬 Featured Comment: "Vanilla Almond forever and ever, amen. ❤️ That is what we chose for our wedding and although all the flavors I've had from you are delicious, none beat the simple goodness of Vanilla Almond. Would love to try any of your recipes in my own kitchen!"--Lyndi J.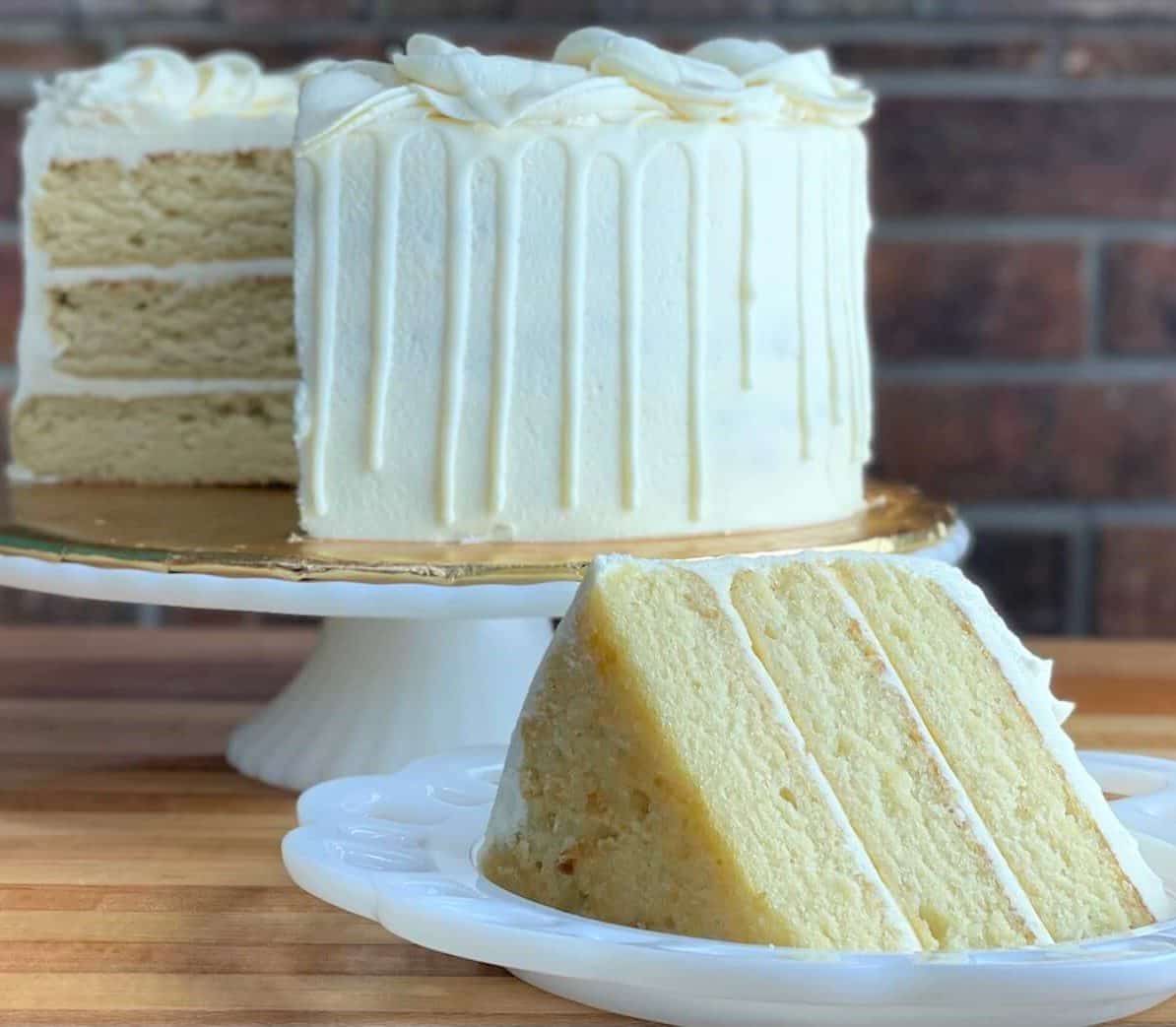 This Vanilla Almond bakery-style cake is extra-moist and tender, with a buttery, almond flavor. It pairs perfectly with my creamy Vanilla Almond Buttercream.  This was by far my most popular cake flavor at Amycakes Bakery and the most requested recipe!
Vanilla Almond is the perfect wedding cake flavor, but it will also be a true crowd-pleaser for repeat birthday and special event cakes. 
I think the surprising part about this cake is the texture--it is soft and light, and yet rich and moist all at the same time. Plus the extra buttery almond flavor really sets it apart from a typical white cake or vanilla cake.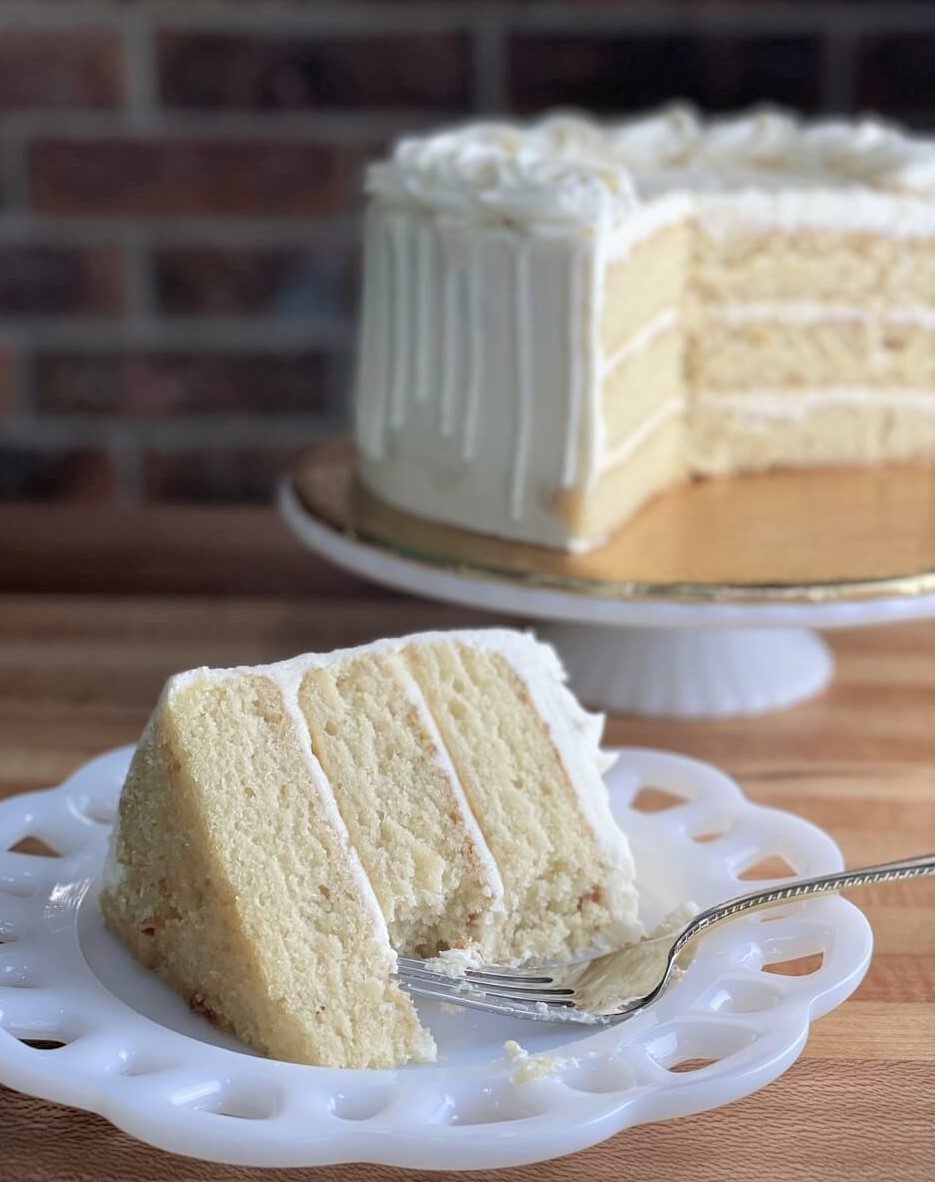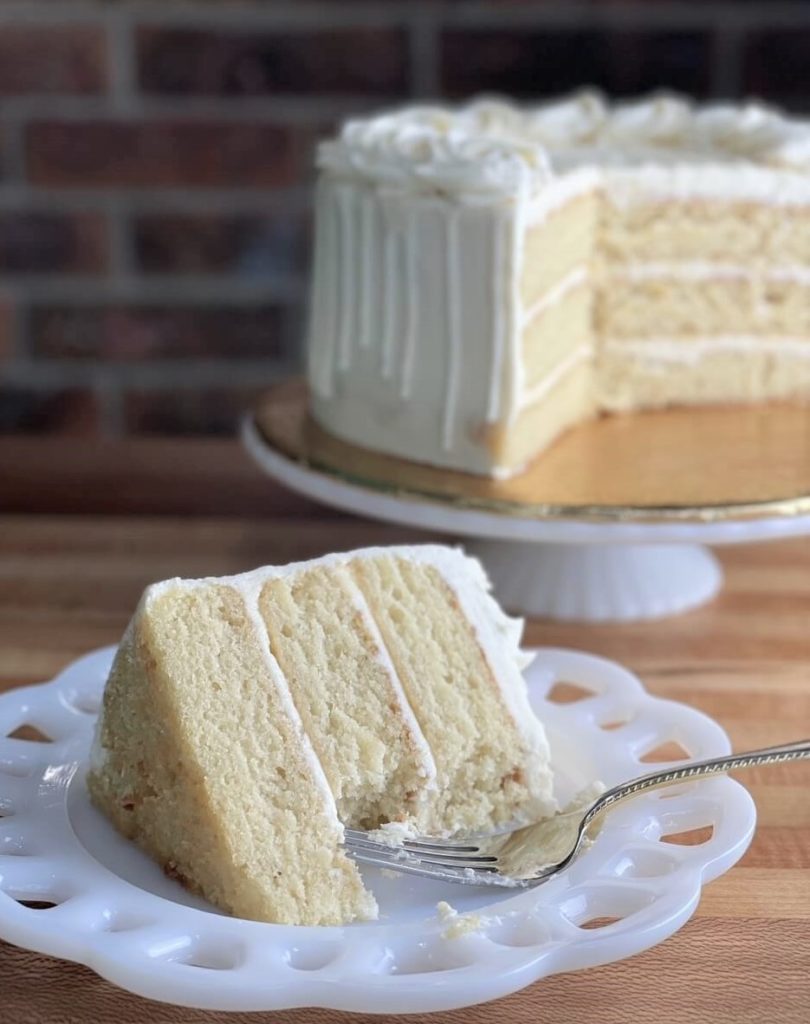 Vanilla Almond Cake Recipe Ingredients
All my cakes have the same core ingredients. Here are a few important vanilla almond cake ingredients that I would not recommend substituting in this cake:
Salted Butter for the best tasting cake. I know that a lot of bakers and chefs recommend unsalted, but a little salt (aka flavor ☺️) never hurt any of my cakes--When you're adding a lot of butter to your cake and buttercreams, you can be comforted knowing it's already going to provide a delicious and flavorful buttery taste.
Unlike unsalted butter, salted butter can be left out at room temperature to soften.  I leave my salted butter out the night before I plan to bake with it so that I am never waiting on it to get to room temperature (just make sure it doesn't get too hot on a summer day).
Corn Syrup can sometimes get a bad rap, but I'm not talking about the high fructose kind. Most corn syrups nowadays do not contain high fructose, and that's what I look for when I purchase it. Corn syrup adds sweetness, but I use just enough in my cake recipes to enhance the texture of my cakes and frostings.
Buttermilk is key to a moist cake. I talk about this vital cake ingredient in Seven Secret to Baking Incredibly Moist Cake Every Time. I use buttermilk in all of my cake batters, and I never substitute it. I'm a big fan of Braum's buttermilk as it's A2 milk and I just think it makes the best cakes (I'm not affiliated with them, I just like their products).
Apple Cider Vinegar reacts with baking soda to create more air bubbles in your cake batter. This can add a nice rise to your cakes, and it doesn't affect the flavor.
Cream of Tartar stabilizes the whipped egg whites and amplifies their beaten volume.
Instant Clearjel allows the cake to retain more moisture. Instant Clearjel, my number one favorite secret bakery ingredient is made up of just one ingredient (modified cornstarch). It provides an extra soft and moist texture, and it is also necessary for the structure of the cake. If you're in a pinch you can look into my recommended Instant Clearjel Substitutes.
Vanilla and Almond Extracts
As you'd expect, the Vanilla and Almond extracts you choose for this cake play an important role in making it an extra flavorful and delicious vanilla almond cake.
I use an imitation almond extract, but you can absolutely use Pure Almond Extract if you want to. I started using imitation almond extract because it is not made with nuts and is safe for guests with nut allergies to eat. The one I use is McCormicks Culinary Imitation Almond Extract. I like the flavor, and as a bonus, it's a more affordable option when we're using 1 Tablespoon in this cake!
For the buttercreams frosting, I highly recommend a pure vanilla extract.  You just can't beat pure vanilla, especially in items that aren't going to be baked, or recipes that vanilla is the main or only flavor.
Since the price of pure vanilla has skyrocketed in the past few years, I keep a Vanilla Blend (a mix of pure vanilla and vanillin) on hand for cakes or products that will be baked.  I've found that my cake recipes are just as delicious with a more affordable vanilla blend in the batter, and I save my pricey Pure Vanilla for my buttercream where you can really taste the difference.
One of my favorite extract makers, Olive Nation has provided Amycakes Bakes readers with a coupon code--Use AB20 for 20% off your extract purchases through Olive Nation.  Since I go through a lot of extracts, I like to order their extracts in bulk and pour them into Mini Bottles.
Making the Cake Batter
Don't let the number of steps scare you away from making this cake (or the number of pages when you hit "print"…..what can I say? I'm thorough!) It's actually a lot more simple than it first seems.
I've divided the cake batter ingredients into four categories: Wet Ingredients, Dry Ingredients, Creamed Ingredients, and Whipped Ingredients. If you prepare all your ingredients ahead of time it will save a lot of time.
I like to use prep bowls to measure out all my ingredients before I start, but even just having the unmeasured ingredients lined out in order of when you need them will mean you're off to a great start! You can watch me complete every step in the video in my recipe below.
Baking and Decorating the Cake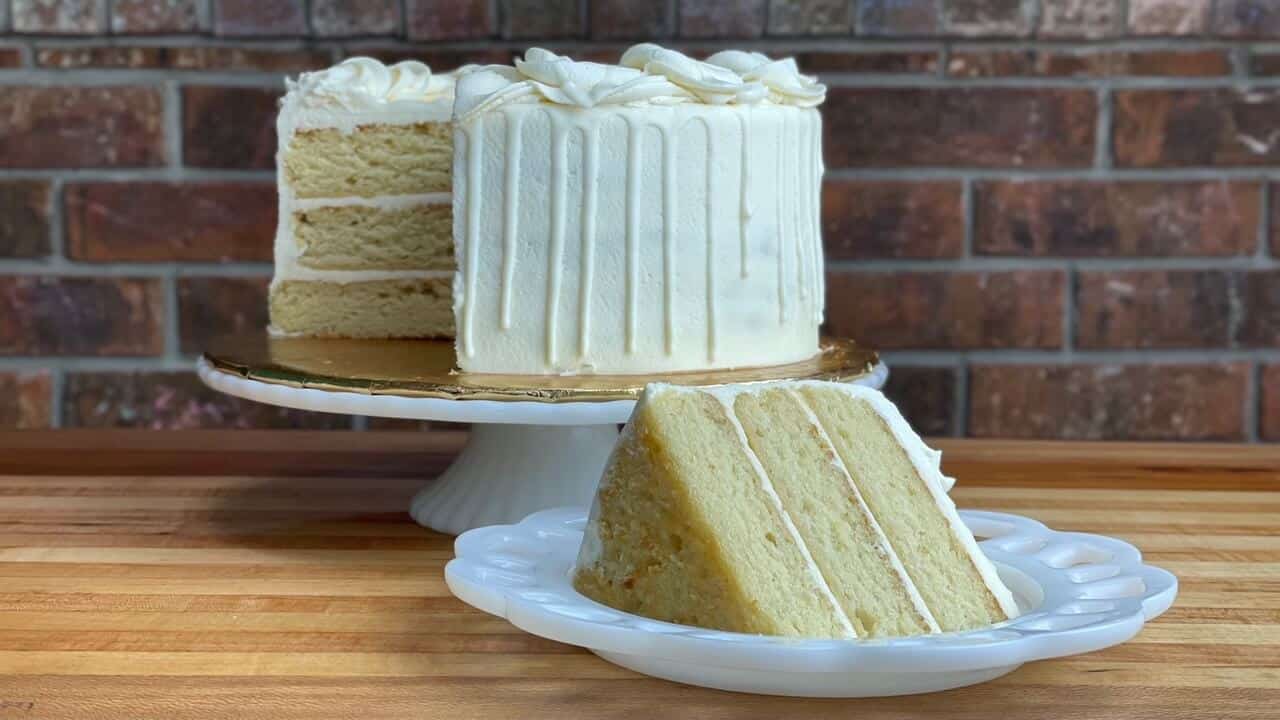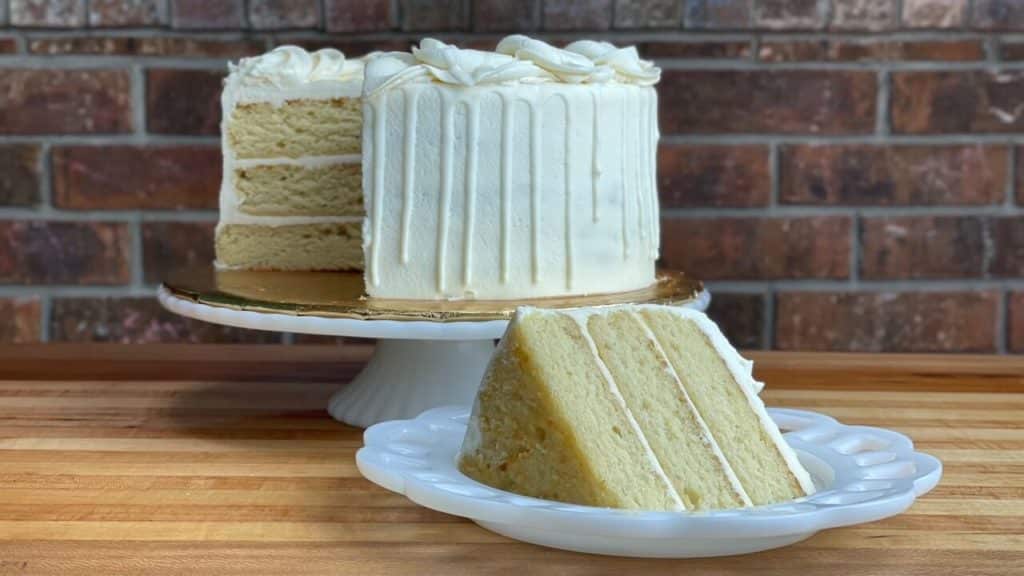 I prefer to bake my cakes in 1" tall sheet pans and cut cake rounds out of cake rings. This provides a more even bake with less chance of dark edges, doming, and sinking.
By baking and cutting the cake, you'll have some extra cake scraps left over that you can snack on or turn into easy cake truffles, cake pops, or mini cake parfaits.
You can also bake this cake in two 8" rounds pans, four 6" round pans, or a 9x13 sheet cake pan-- you may just need to adjust the baking time. You can choose from other pan options in the chart at the bottom of my article Half-Batches and Cake Pans: Everything You Need to Know.
Troubleshooting Overflowing Sheet Pans--
All my cake recipes are a tight fit in my recommended 1" tall sheet pans.  I love baking cakes in these pans, but a couple of readers have had their cake overflow slightly while it bakes in their oven.  I'm guessing this has to do with either:
1) Lower oven temps causing the cake to bake slower and not bake as quickly as it rises, therefore overflowing.  You can check your oven with an oven thermometer.
2) Uneven spreading or warped or shorter sheet cake pans.  The sheet pan I use is  and this ¼ sheet (for 1x batches) or this ½ sheet (for 2x batches).
3) Slight Measuring variations when using measuring cups instead of a kitchen scale.  
If you find this to be a frequent issue, I would recommend baking in a 9x13 sheet-cake pan (for 1x batches) or a 12x18 sheet-cake pan (for 2x batches), which are 2" tall instead of 1" tall.  With these pans, you'll still be able to easily cut the cake out with a cake ring, and use the ring as a guide when cutting the two half pieces of cake. The bottom layer may require extra cake scraps--just fill in the middle of the bottom pieced layer of cake with cake scraps as needed.
Creamy Cream Cheese/ Buttercream Blend
At Amycakes we described this Vanilla Almond Buttercream as a "Cream Cheese/ Buttercream Blend." It was also known as our House Vanilla Buttercream. I like to add just a hint of almond extract when pairing it with Vanilla Almond cake to tie it all together.
It's not super cream cheesy and a lot of people may not even realize that cream cheese is an ingredient.  But the cream cheese balances the sweetness and makes a wonderful creamy texture that is not gritty or crispy.
Beating it on high for 2-3 minutes will whip in air to make it light and fluffy. If you're using Instant Clearjel, it will thicken the buttercream slightly to help with piping rosettes or other decorations. 
There is enough buttercream in this recipe to lightly or fully-ice the cake and top it with some extra-tall buttercream rosettes on top. This buttercream is stable enough that you can use it to pipe and decorate with any design that you choose.
Baker's Shortcut--Mini Vanilla Almond Cakelets
You can follow the Baker's Shortcut in the Notes section of the recipe to make either an easy sheet cake or some adorable Mini Vanilla Almond Cakelets.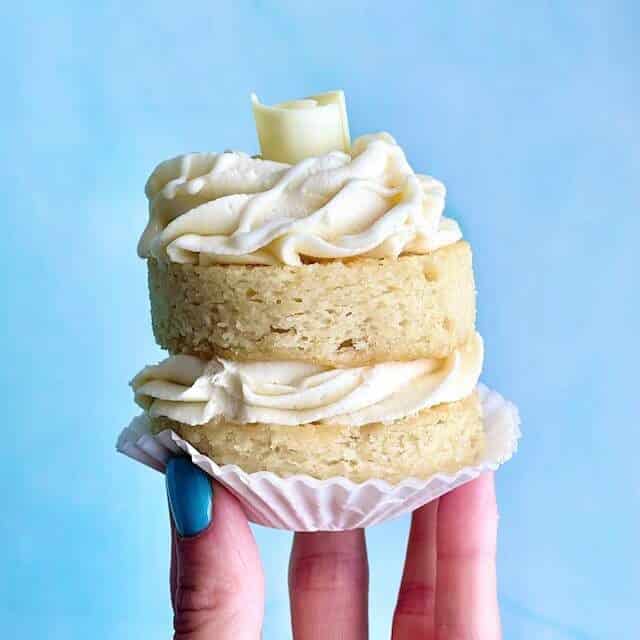 I can't wait to hear what you think of this moist vanilla almond cake recipe! Please comment below with any questions or let me know if you've tried it! This is only my second recipe to post, so I'm still figuring out all the details and am open to your feedback!
You can also contact me with any questions or recommendations. If you make this cake, I would love to see it! Snap a photo and tag me @amycakesbakes, or share this recipe using the social share buttons below the recipe. ☺️
Thanks for Reading. ❤️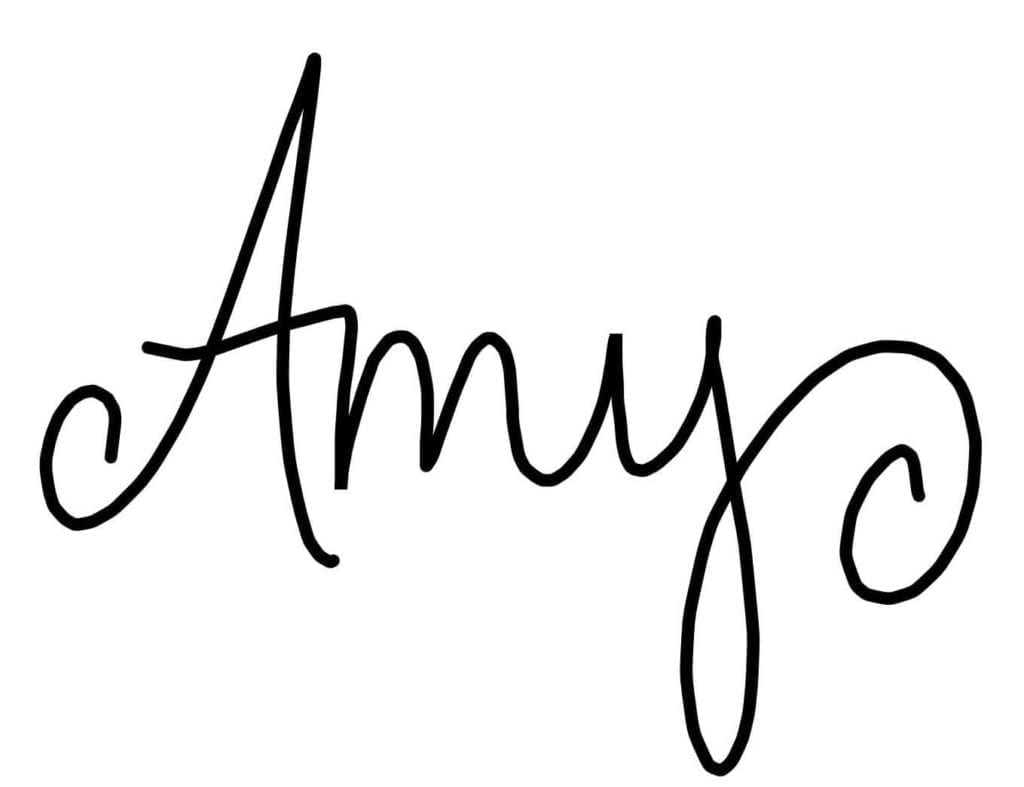 Serving and Storing Amycakes Bakes Cakes
Nearly all of my cakes are best at room temperature! They'll still taste yummy out of the fridge, but will be firm and a different texture due to all the yummy butter in the cake and buttercream.  I want to make sure you enjoy the soft and moist cake texture that is intended by eating the cake at room temperature cake.  You can refrigerate the cake after decorating it, but allow it to come back to room temperature 2-3 hours before serving. (Keep in mind the buttercream can melt in warm conditions). I keep my leftover cake out of the fridge for up to 24 hours, but I'll refrigerate or freeze anything that won't get eaten within that time.  
🎥 Video
📖 Recipe
Moist Vanilla Almond Cake
This extra-moist bakery-style cake was by far my most popular flavor at Amycakes Bakery. The cake is buttery, moist, and soft with a delicious almond flavor, and is paired with creamy vanilla buttercream frosting.
Bake it in a sheet pan using the Cut and Stack Method and cut out the cake in cake rings for a more even-bake and no dark edge. Or choose a different pan size by visiting
Double-Batches and Cake Pan Options: Everything You Need to Know.
1x batch yields one
6" three-layer cake
and a 2x batch yields one
8" three-layer cake
cut out with cake rings using the
Cut and Stack Method
.
👩‍🍳 For the most accurate baking results, use the grams measurements with a kitchen scale.
Watch the quick recipe video
Ingredients
Dry Ingredients
200 grams (1 ½

cups)

All-Purpose Flour

(I use Gold Medal)

2 Tablespoons Instant Clearjel or 3

Tablespoons

Vanilla Instant Pudding Mix

(please make sure it's labeled as INSTANT, see Note #1)

1 ½

teaspoons

Baking Powder

1

teaspoon

Baking Soda

¾

teaspoon

Salt
Wet Ingredients
¾

cup

Buttermilk

¼

cup

Water

1 ½

teaspoons

Vanilla Extract

1

Tablespoon(s)

Almond Extract

1 ½

teaspoons

Apple Cider Vinegar
Creamed Ingredients
200 grams (1

cup)

Sugar

1 stick (4

oz)

Salted Butter

(at room temperature)

¼

cup

Vegetable Oil

¼

cup

Light Corn Syrup

1

large

Egg(s)
Whipped Ingredients
2

Egg Whites

¼

teaspoon

Cream of Tartar
Vanilla Buttercream Ingredients
4

ounces

Cream Cheese

1 ½ sticks (6

ounces)

Salted Butter

(at room temperature)

48 grams (¼

cup)

shortening

455 grams (3 ½

cups)

powdered sugar

(optional) 1

Tablespoon(s)

Instant Clearjel

(this makes a thicker frosting, but may be omitted, see Note #1)

1

Tablespoon(s)

Pure Vanilla Extract

¼

teaspoon

Almond Extract

((optional))
White Ganache Drizzle (optional)
Instructions
Make the Vanilla Almond Cake
Preheat Oven to 325 degrees. Line

¼

Sheet pan with parchment paper, and then spray bottom (on top of the parchment) and sides of the sheet pan with cooking spray.

Sift Dry Ingredients in a bowl and then whisk until well blended.

Combine and stir Wet Ingredients in a separate bowl or pitcher.

With a stand mixer (preferred) or handheld mixer, cream sugar and salted butter together until creamy and fluffy. Add oil and corn syrup and beat until incorporated. Add

1

egg(s) and cream until well blended, scraping sides of the bowl as needed.

On low speed, alternate adding Dry ingredients and Wet ingredients to the Creamed Ingredients, a little at a time. I do ⅓ Dry, ⅓ Wet, and so on, adding one-third at a time and blending on low after each addition. Continue to mix just until the batter looks well blended and smooth (avoid overbeating). Scrape sides of the bowl as needed.

Using a whip attachment and a clean bowl, whip the

2

egg whites and cream of tartar until stiff peaks form. (Make sure your bowl and beaters are clean and free from grease so that the whites will whip).

Carefully fold the Whipped Whites into the cake batter, one half of the whites at a time. The batter is ready when no egg white streaks remain and it should look smooth and uniform.

Spread into prepared pan and make sure the batter is evenly distributed. An offset spatula works well for this.

Bake on the middle or top rack (avoid bottom rack) of preheated 325-degree oven for 18 minutes, then turn the oven down to 300 degrees. Set the timer for an additional 6-8 minutes. Check the cake at this point. If it is jiggly at all when lightly touching the top of the cake, continue baking for 1-6 more minutes. The cake is done when a paring knife or toothpick comes out mostly clean when stuck quickly in the cake. A couple moist crumbs on your knife are fine, but they shouldn't look wet. Allow to cool completely.

Either follow the Baker's Shortcut (Note #4) or choose your round cake size using the Cut and Stack method (Note #2). Leave the cake in the sheet pan, and using a slight sawing motion, cut the cooled cake into your desired cake size with cake rings (You can use a knife and the cake rings as a guide for any halve pieces that you cut.) Brush lightly with simple syrup (optional, Note #3).

Wrap thoroughly in plastic wrap and freeze cake in the pan for 2 hours or overnight. (You can even bake the cake up to a week ahead of time and freeze). The cake will be much easier to layer if it is cold or frozen. To wrap the cake, place another sheet of parchment on top of the cake (this will prevent the plastic wrap from sticking to the cake), and wrap the whole pan with plastic wrap. (I pull the plastic wrap out and place the pan on top of it. Then I wrap 2-3 ways horizontally and one way vertically so that there are two layers of wrap on all sides of the pan including the bottom).
Make Vanilla Buttercream
Whisk the powdered sugar and Instant Clearjel (if using) together until well-blended. Set aside.

Using a stand mixer (preferred) or handheld mixer and a large bowl, beat the cream cheese until broken up and softened.

Add the room temperature salted butter and continue to beat, scraping the sides of the bowl as needed.

Add the shortening and beat and scrape the sides until there are no lumps.

While the mixer is on low, slowly add the powdered sugar mixture.

Add the pure vanilla and almond extract. Scrape down the sides of the bowl. Then beat the buttercream on high for two-three minutes. This will add air into the buttercream and make it light and fluffy. The Instant Clearjel will cause the buttercream to thicken slightly during the next 10 minutes as it sits.
Make White Ganache (optional)
Combine all ganache ingredients and heat in the microwave at 50% power for 20-30 second increments. Whisk for 30 seconds to one minute in between each heat.  (It should only take two to three heats in the microwave. Lots of whisking will melt your white chocolate and candy melts faster and prevent them from overcooking in the microwave).
Frost the Cake
The easiest way to layer the cake is to layer the cake from frozen the day before you plan to serve it. If serving the cake the same day you are layering it, use refrigerated cake layers instead of frozen. Piece together the bottom layer, filling in with cake scraps if needed. You can use the cake ring as a guide.

Fill the three cake layers with around ¼ inch of buttercream. I recommend frosting a thin crumb coat of buttercream on the outside of the cake which will catch all the crumby edges, then allow it to set up in the freezer for about 10 minutes until the buttercream is firm. An offset icing spatula (I use the small and medium-size on all my cakes) helps with this. Then spread on the second layer of buttercream and decorate as desired.

If using, microwave the reserved ganache on 50% power until thin, and drizzle down the sides of the cake using a spoon or squeeze bottle. There is enough buttercream to frost an extra-tall row of rosettes around the top of the cake using a pastry bag and 1M star tip (or get creative with a different design!).

You can let the cake set up in the fridge, but remove it from the fridge 1-3 hours before serving so it can come back to room temperature. This cake has the best texture at room temperature. Enjoy!
Notes
Notes for 2x batches (some of these won't apply if you are using the grams measurements):
1 + ½ tsp=½ Tbsp
2 Tbsp=⅛ cup 
Read my article Instant Clearjel: a Magical Little-Known Bakery Ingredient to see why I think this ingredient is worth having in your pantry.  Instant Clearjel must always be whisked thoroughly with other dry ingredients before being added to wet ingredients to avoid clumping.  If you need to substitute, please use vanilla instant pudding mix in the cake batter as described within the recipe, and simply leave it out in the frosting.  
When baking cakes in a sheet pan, the cake bakes more evenly (flatter on top and with no dark edges), and you get to choose your cake size after baking!  With a 1x batch in a ¼ Sheet Pan you can make a three-layer 6″ cake (two full rounds, one pieced round from two half-circles) or several little cakelets.  With a 2x batch in a ½ Sheet Pan you can make a three-layer 8″ cake (two full rounds, one pieced round from two half-circles), an extra tall six-layer 6″ cake (5 full rounds, one pieced round from two half-circles), TWO 3-layer 6″ cakes (eat one now and freeze one for later.  🙂 Or have a baking party with a friend and you each get a cake!) or several little Cakelets using a 4″ cake ring or 3″ or 2″ round cookie cutters.  You can also choose to bake in sheet-cake pans or round pans.  View the pan chart in the article Half-Batches and Cake Pans: Everything You Need to Know.  
Simple Syrup is optional, but I use it to seal in the moisture for cakes that will be refrigerated or frozen.  While the cake cools, make a simple syrup by combining 1 tablespoon water and 1 tablespoon sugar in a small microwave-safe bowl. Microwave until the sugar is dissolved after whisking, about 20-30 seconds.  You can also make a larger batch of this (1 part sugar to 1 part water) and keep it in the fridge if you're doing a lot of cake baking.  Always cut the cake with cake rings before brushing the cake brush simple syrup, to avoid the cake being too sticky when cut.
BAKER'S SHORTCUT:
1). Make a sheet cake or little Cakelets instead!  Once the cake is fully cooled, spread the buttercream on top and top with sprinkles for an easy sheet-pan cake. (You won't need as much buttercream for a sheet cake and can do a 0.5x batch of buttercream). For Cakelets, cut the cake into 4" or smaller rounds using cake rings or cookie cutters.   Stack two cakelets together with a layer of buttercream in between and on top (I use a piping bag and 1M star tip for this).  The cake will be soft and delicate when at room temperature, so if you have the time I recommend that after it cools, stick the cake in the freezer 10 minutes before cutting your Cakelets.  Serve at room temperature.
RECIPE UPDATES:
9-16-21: The original recipe was for an 8" cake made in a ½ sheet pan.  All my recipes now start with small batches, so it is now a 6" cake made in a ¼ sheet pan.  Press the "2x" if you'd like to double the recipe for an 8" cake in a ½ sheet pan.
Print Recipe