This easy recipe makes super creamy, fluffy, and smooth cinnamon buttercream frosting. It pairs perfectly with cakes and cupcakes in various flavors, like pumpkin, carrot, and spice cake.
Jump to:
🥕 About this cinnamon buttercream frosting recipe
This frosting whips up quite quickly--it's a simple variation of my popular Vanilla Bakery Buttercream. It has a hint of cream cheese for a super-smooth texture and delicious flavor, but the cream cheese doesn't overpower the flavor--in fact, a lot of people won't realize this frosting contains cream cheese! They'll just wonder how you made such light, fluffy, and flavorful frosting.
⭐ Storing and serving this frosting
Store unused cinnamonn buttercream frosting in the refrigerator until using. Allow it to come to room temperature, then stir it with a spatula before using. Or you can rewhip it from cold to bring back it's fluffy and creamy texture.
Refrigerate cakes and cupcakes made with this frosting until 2-3 hours before serving, then allow them to come back to room temperature. This frosting is best eaten at room temperature.
👩🏻‍🍳 Tools and equipment
💭 Recipe FAQ
Does cinnamon buttercream made with cream cheese need to be refrigerated?
Because the sugar stabilized the cream cheese, according to many articles it can be left out overnight or up to 24 hours, although I recommend refrigerating your finished cake until 2-3 hours before serving just so it doesn't get too soft on your cake-–For decorated cakes, remove the cake from the fridge 2-3 hours before serving so the cake and frosting can come back to room temp. I'll leave leftovers with this frosting at room temperature for up to 24 hours so it remains soft.
What if I need the cinnamon frosting to be thicker?
If you'd like for the frosting to be a little thicker and more stable, you can add more powdered sugar or up to 1 Tablespoon Instant Clearjel (a tasteless modified cornstarch that thickens instantly). However, you will need to whisk the Instant Clearjel with at least equal parts powdered sugar before adding it to the frosting to avoid clumping).
---

I hope you enjoy this cinnamon frosting recipe! Comment below or tag me on social media @amycakesbakes! 🙂
Thanks for Reading. ❤️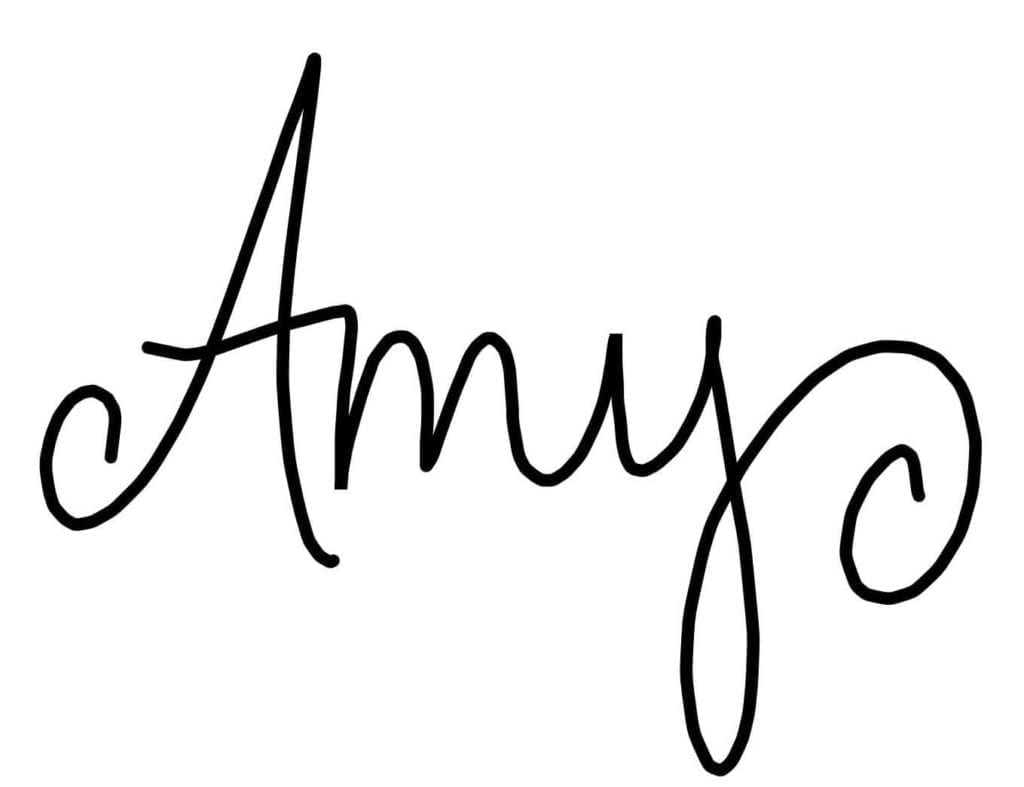 📖 Recipe
Fluffy Cinnamon Buttercream Frosting
This creamy cinnamon buttercream was a popular Amycakes Bakery recipes. It's creamy and light with a delicious warm cinnamon flavor without being overly-sweet.
A 1x batch will frost and fill one 6" three-layer cake or about 14 cupcakes generously.
A 2x batch will frost and fill one 8" three-layer cake or about 28 cupcakes generously.
👩‍🍳 For the most accurate baking results, use the grams measurements with a kitchen scale.
Ingredients
4

ounces

Cream Cheese

1 ½ sticks (6

ounces)

Salted Butter

(at room temperature)

48 grams (¼

cup)

butter flavored shortening

455 grams (3 ½

cups)

powdered sugar

1 ½

teaspoon

cinnamon

1

Tablespoon

Pure Vanilla Extract
Instructions
Make Cinnamon Buttercream
Using a stand mixer (preferred) or handheld mixer and a large bowl, beat the cream cheese until broken up and softened.

Add the room temperature salted butter and continue to beat until there are no lumps, scraping the sides of the bowl as needed.

Add the shortening and beat and scrape the sides until the mixture is smooth without lumps.

While the mixer is on low, slowly sprinkle in the powdered sugar and cinnamon. The mixture will be thick, but continue to slowly beat on low until it is fully incorporated.

Add the pure vanilla. Scrape down the sides of the bowl. Then beat the buttercream on high for two-three minutes. This important step will add air into the buttercream and make it light and fluffy.

This buttercream is best served at room temperature. If you aren't serving it within 24 hours, refrigerate it, but remove it from the fridge a couple of hours before using so that it may come back to room temperature before frosting cakes, cupcakes, or serving.
Print Recipe