💬 Featured Comment: "I've tried several of your recipes previously, and all have had rave reviews. This Pumpkin Spice Cupcake recipe has been, by far, the most popular! I think my husband ate a dozen to himself in less than 3 days and he's already requesting more..."--Lauren
Jump to:
🎃 About this Pumpkin Spice Cupcake Recipe
If you like pumpkin spice everything, you'll love these lusciously moist and deliciously spiced pumpkin cupcakes. In fact, I even had people at Amycakes Bakery tell me they loved these cupcakes despite not liking pumpkin!
This made-from-scratch bakery recipe makes incredibly moist pumpkin spice cupcakes that are soft and fluffy. They are spiced with cinnamon, nutmeg, ginger, and cloves and topped with a creamy and fluffy cinnamon cream cheese buttercream frosting! Even better, they are easy to make!
All it takes is two bowls to make the pumpkin spice cupcake batter from scratch! Using my favorite easy two-bowl method to make the cupcakes, we'll be whisking the dry ingredients together, then whisking the wet ingredients together.
Simply combine the wet and dry, add melted salted butter, and your cupcake batter is complete!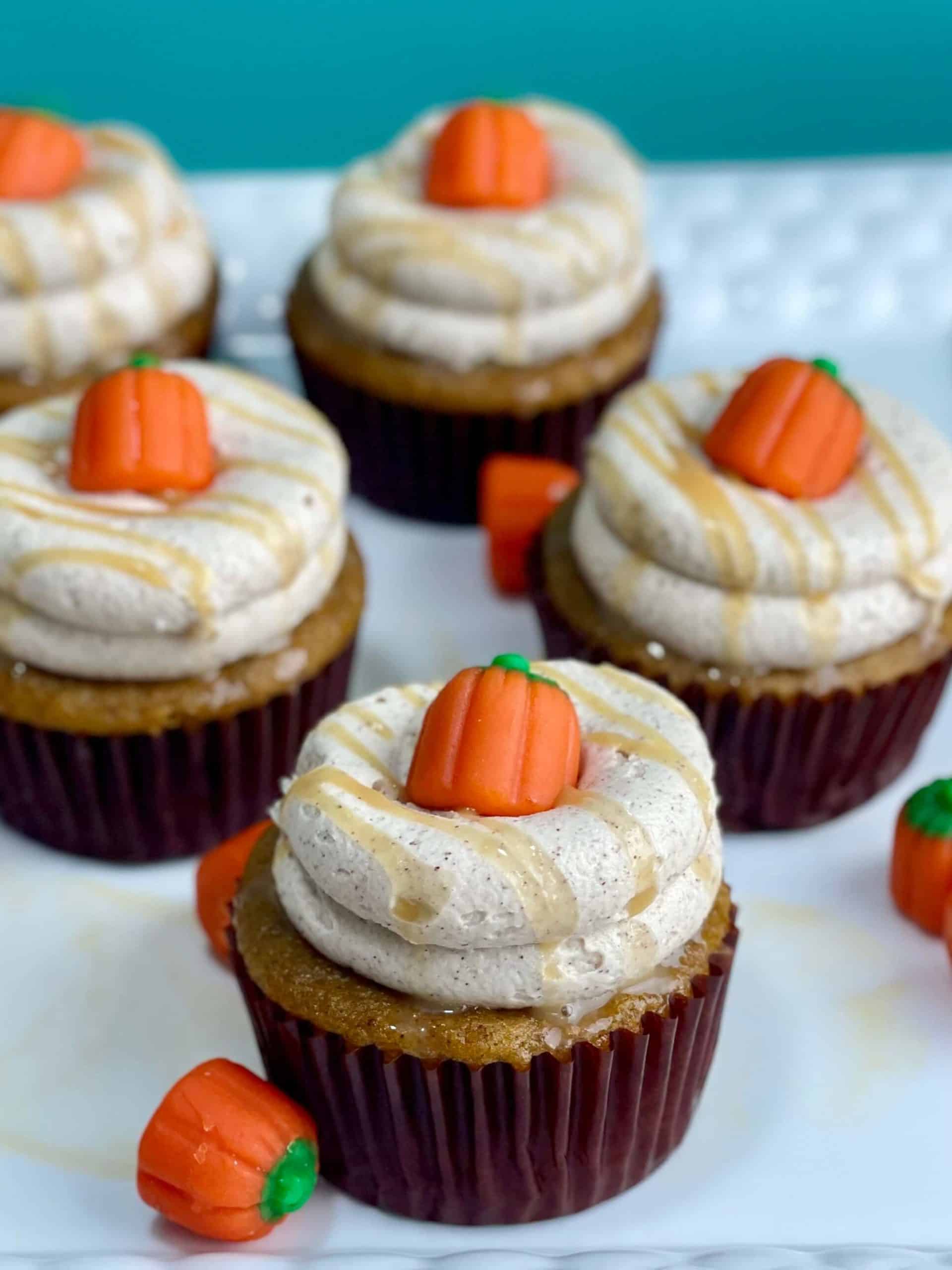 📋 Cupcake Ingredients
The brown sugar, Instant Clearjel (a type of cornstarch and my favorite bakery ingredient), buttermilk, and vegetable oil keep the cupcakes incredibly moist for days.
Canned pumpkin puree adds the delicious natural pumpkin flavor to these cupcakes, and keeps the recipe incredibly easy!
The cinnamon buttercream has just enough cream cheese to give the frosting an extra smooth texture. It also contains plenty of salted butter (I always prefer salted butter, which adds flavor and balances the sweetness).
🎥 Recipe Video
About the secret bakery ingredient in this recipe
This bakery recipe uses Instant ClearJel, a type of cornstarch that serves as both a thickener and a binder. It's tasteless and has no artificial ingredients. You can also use Instant Pudding mix (when it's listed in the recipe), which contains Instant Clearjel as the second ingredient!
It's often used by professional bakers because it produces a smoother and glossier consistency than cornstarch, tapioca, or other starches. Even better, it enhances moisture and texture in cakes and thickens and stabilizes frostings. Here are a few brands I recommend:
*Please make sure the clearjel you purchase is labeled as instant
Although it's not often available in grocery stores, it's sold in a variety of online stores--just make sure whatever you purchase is labeled as INSTANT (cooktype and original clearjel will not work the same). It's also frequently found in Amish Markets. (Learn more about Instant Clearjel in Baking→)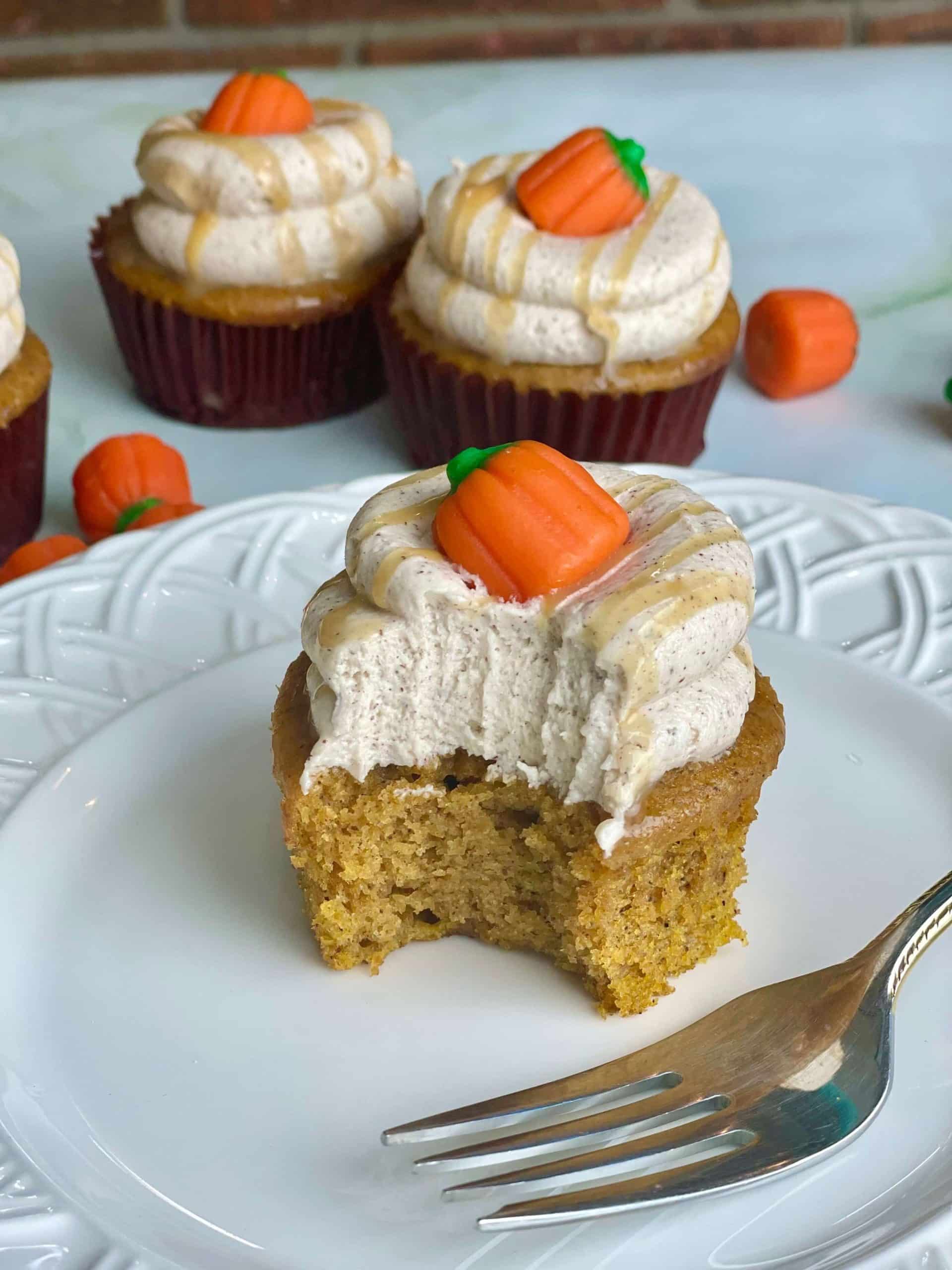 💭 Frequently Asked Questions
What are your refrigeration and storing recommendations?
These pumpkin spice cupcakes are best at room temperature! When the cupcakes are cold they will have a firm and different texture due to all the yummy butter in the cake and buttercream. I want to make sure you enjoy the soft and moist cupcake texture that is intended by eating the cupcakes at room temperature.
If you frost the cupcakes but aren't serving them for several hours, or if the temperature is warm, you can refrigerate the frosted cupcakes, but allow them to come back to room temperature 2-4 hours before serving. (Keep in mind the buttercream can melt in warm conditions).
I keep my leftover cupcakes out of the fridge for up to 24 hours, but I'll refrigerate or freeze anything that won't get eaten within that time. I always leave unfrosted cupcakes at room temperature, wrapped in the baking tins, to keep them moist for days.
Can you freeze pumpkin spice cupcakes?
Absolutely! One of the best things about cupcakes made with buttermilk, vegetable oil, and Instant Clearjel is they stay very moist when frozen.
I recommend freezing the unfrosted cupcakes in their baking tin to keep them the moistest--just wrap the baking tin tightly in plastic wrap (I double wrap the baking tin all the way around from every angle).
You can also freeze the frosted pumpkin cupcakes by placing them in airtight tupperware, but they may not stay quite as moist as cupcakes wrapped within their cupcake tin, as more cake will be exposed. Most articles say cupcakes can be frozen for up to three months, but I'm hesitant to try it longer than a month.
How long can the Cinnamon Cream Cheese Buttercream stay at room temperature? How do you store it?
The cinnamon buttercream on these pumpkin spice cupcakes contains some cream cheese for a creamy smooth texture. And according to many articles, it can be left out overnight, although I recommend refrigerating your finished cupcakes until 2-4 hours before serving so the frosting doesn't get too soft.
Just be sure to remove your cupcakes from the fridge those 2-4 hours before so they can come back to room temperature.
The buttercream can stay in the fridge for up to a week, or you can freeze it for even longer! Just thaw it in the fridge overnight, and allow it to get to room temperature before using.
Can I turn this recipe into a cake?
Sure, but recommend using my Pumpkin Spice Layer cake recipe to get all the instructions.
Can I substitute out the Instant Clearjel?
I have not yet tested this exact recipe without the Instant Clearjel. If you'd like to try it without it, I'd recommend using 3 Tablespoons Jello Vanilla Instant Pudding Mix (in a 1x batch) in place of the Instant Clearjel in the cake (not the frosting).
Before I discovered Instant Clearjel, I used Instant Pudding Mix in my recipes-- Instant Pudding Mix has Instant Clearjel (aka modified cornstarch) as the second ingredient.
🍁 More Fall Treats You'll Love
Fall isn't complete without these moist pumpkin spice cupcakes! I hope you enjoy the recipe--be sure to let me know what you think either in the comment section below or on social media @amycakesbakes. 🙂
Thanks for Reading. ❤️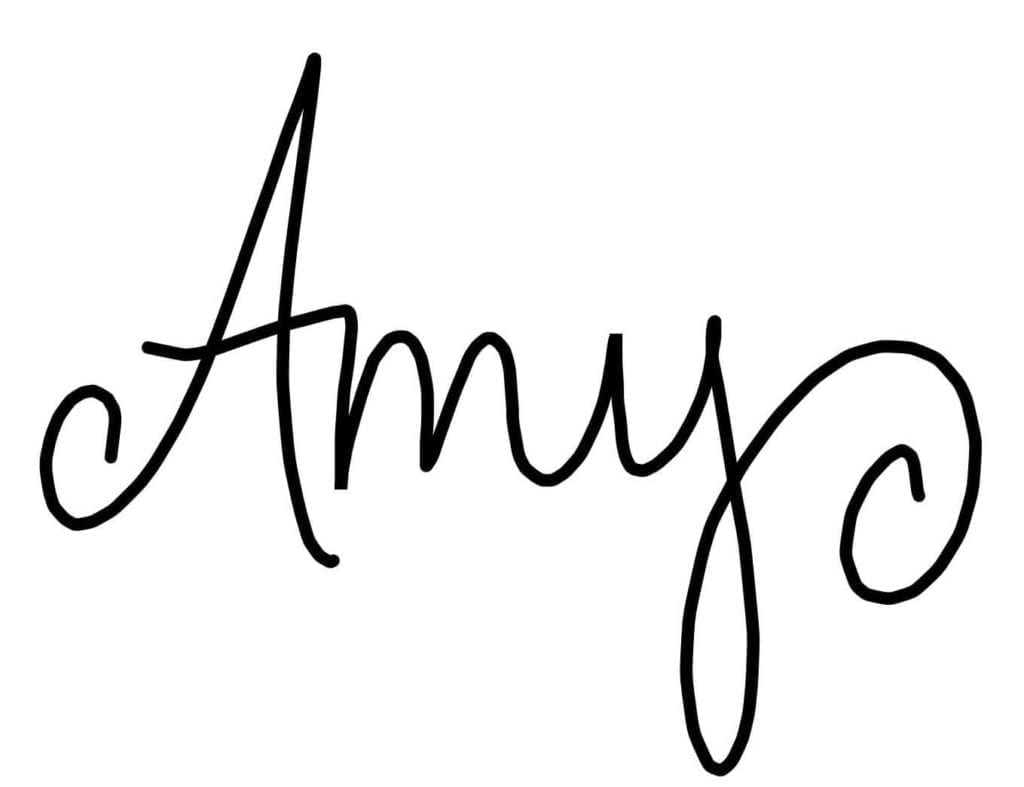 📖 Recipe
Pumpkin Spice Cupcakes with Cinnamon Buttercream
This made-from-scratch bakery recipe makes incredibly moist pumpkin spice cupcakes that are soft and fluffy. They are spiced with cinnamon, nutmeg, ginger, and cloves and topped with a creamy and fluffy cinnamon cream cheese buttercream frosting! Even better, they are easy to make!
If you have a kitchen scale, please select grams above the ingredients for the most accurate results. If you don't have a scale, no worries!–just be sure to "spoon and level" your dry ingredients.
👩‍🍳 For the most accurate baking results, use the grams measurements with a kitchen scale.
Watch the quick recipe video
Ingredients
Dry Ingredients
1 ¾

cups

All-Purpose Flour

((I use Gold Medal))

1 ½

teaspoons

Baking Powder

1

teaspoon(s)

Baking Soda

¾

teaspoon(s)

Salt

2

Tablespoons

Instant Clearjel

((A bakery ingredient you can use at home--see Note #1. Please make sure your clearjel is labeled as "Instant"))

1 ½

teaspoons

cinnamon

½

teaspoon

ground Nutmeg

¼

teaspoon

ground Ginger

⅛

teaspoon

ground Cloves

1

cup(s) packed

Brown Sugar
Wet Ingredients
2

large

Eggs

1 cup (9

ounces)

Canned Pumpkin

((make sure it's 100% pumpkin))

¾

cup(s)

Buttermilk

¼

cup

Water

½

cup

Vegetable Oil

2

Tablespoons

Light Corn Syrup

1 ½

teaspoon

Vanilla Extract
Other Cake Ingredients
1 stick(s) (4

oz)

Salted Butter
Instructions
Make the Pumpkin Spice Cupcakes
Preheat oven to 325 degrees. Fill cupcake tins with

24

cupcake liners.

Using a sifter or fine mesh strainer, sift the Dry Ingredients minus the brown sugar into a large bowl. Add the brown sugar to the sifted ingredients and whisk until well blended. If you see any brown sugar clumps, break them up and blend them in with your fingers.

Combine Wet Ingredients in a separate large bowl and whisk until smooth and well-blended.

Melt salted butter in the microwave (or over the stove) until just melted. Avoid overcooking.

Pour Wet Ingredients into Dry Ingredients and whisk until incorporated. Pour Melted Salted Butter over batter and whisk in until smooth and shiny.

Using a 2-oz scoop or ¼ cup measuring cup, scoop batter into prepared cupcake tins. Allow tins to set for 5 minutes before putting them in the oven. This will give time for the instant clearjel to thicken the cake batter before it bakes, allowing for a better rise.

Bake on the middle or top rack (avoid bottom rack) of the preheated 325-degree oven for 8 minutes. Without opening the oven, turn the temperature down to 300 degrees and bake for another 6-8 minutes. The cupcakes are done when a toothpick or small paring knife comes out mostly clean when quickly stuck in the cupcakes. These cupcakes are often done before looking done, as the cupcake tops will be shiny, but they will bounce back when lightly touched with your finger. Because these cupcakes are so moist, it is okay to see a couple of moist crumbs on your knife when you check the finished product for doneness. But any wet-looking crumbs mean they need more time in the oven.

If you are frosting and serving them the next day, wrap the cupcakes in the cupcake tin and leave at room temperature overnight. You may also freeze the unfrosted cupcakes wrapped tightly in the cupcake tin and they will stay very moist.
Make Cinnamon Buttercream and Caramel Drizzle
Decorate and Serve
I like to use 18" disposable pastry bags and a Round Cupcake Tip to pipe a generous swirl of cinnamon buttercream on top of each cupcake. Drizzle the easy caramel drizzle on top of each cupcake (I use a squeeze bottle for this), then add a candy pumpkin.

Serve immediately or refrigerate, but remove from fridge 2-4 hours before serving as they have the best texture at room temperature. Enjoy!
Notes
Read my article Instant Clearjel: a Magical Bakery Ingredient to see why I think this ingredient is worth having in your pantry.  Instant Clearjel must always be whisked thoroughly with other dry ingredients before being added to wet ingredients to avoid clumping.  (Make sure what you purchase is labeled as "Instant."  Cooktyle Clearjel is a different product that does not work the same in cakes).
Read my Recipe FAQ for more details.  
The recommended batch size of frosting makes enough for a generous swirl on each cupcake.  If you prefer less frosting, you may halve the frosting amount.
Print Recipe