These delightful mini carrot cakes are moist, tender, and absolutely loaded with flavor! They're topped with a fluffy cinnamon buttercream and a delicious caramel drizzle, so these mini layer cakes are extra special. They are a great alternative to cupcakes and are the perfect size for 1-2 people to share.
If you're a carrot cake fanatic, you'll love this recipe! There's something so appealing about all the different textures, warm spices, and flavors you usually find in carrot cakes. It's a perfect spring recipe, so bring these mini cakes to Easter dinner or whip up a batch for a special birthday celebration or party.
There are so many carrot cake recipes, but I've been refining and perfecting this recipe for years. I hope it's the best carrot cake you've ever had! Plus, this recipe makes small two-layered cakes, which is so nice when you want something a little fancier than a cupcake but smaller than a full cake.
Jump to:
🥕 Why you'll love this mini carrot cake recipe
So moist: You know me, I love baking moist cakes that are tender and full of flavor. These mini carrot cakes are heaven!
Tons of flavor: This mini carrot cake recipe has so many delicious spices, which add tons of flavor.
So easy: Thanks to my two-bowl method, this recipe couldn't be easier. It's easy enough even for total beginners!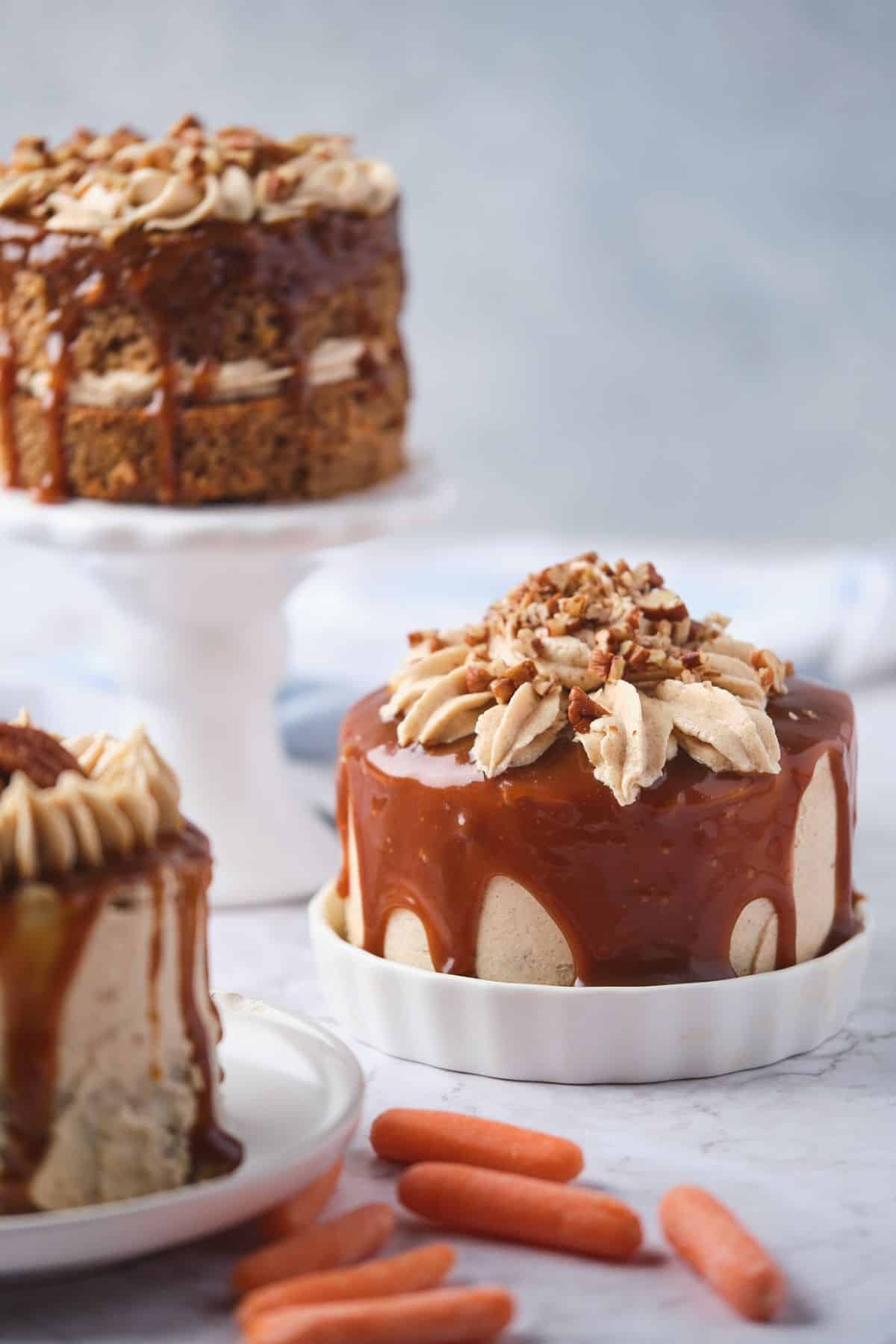 🍴 Equipment
To make these mini carrot cakes, we're going to need a sheet pan and some small cake rings or cookie cutters. I used a 4" cake ring to make 3 mini cakes out of a ¼ sheet pan, but you can make more smaller cakes if you'd like!
I prefer this cake ring set so I can choose to make 4", 6", or 8" cakes using the Cut and Stack method.
My favorite ¼ sheet pan.
If you only need one mini cake, you can freeze the other two for later!
📋Ingredients
This carrot cake recipe is pretty classic with its mix of spices, pineapple, and carrots. I've doctored it to make it extra moist using common ingredients you can easily find at the grocery store.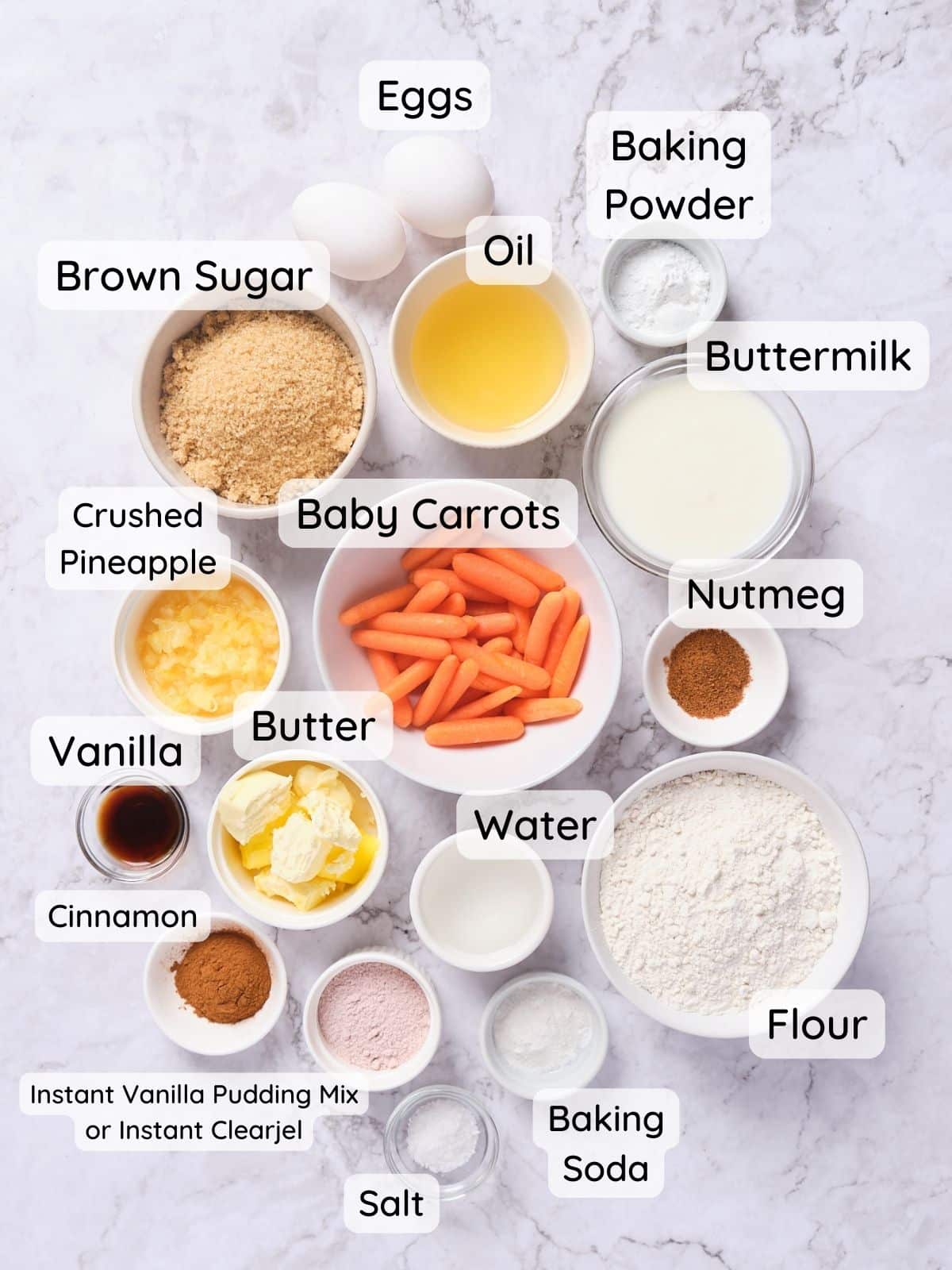 In a large mixing bowl, whisk together all the dry ingredients:
All-Purpose Flour
Vanilla instant pudding mix (you can look into substituting Instant Clearjel; see note #1 in the recipe card)
Baking powder
Baking soda
Salt
Cinnamon
Ground nutmeg
Brown sugar
In another large bowl, whisk together the wet ingredients. These are some of my favorite ingredients for baking moist cakes every time!
Mini peeled carrots
Canned crushed pineapple
Buttermilk
Water
Vanilla extract
Vegetable oil
Eggs
Salted butter (add separately after mixing the wet and dry ingredients together)
Tip: Blend your baby carrots in the food processor! You don't even need to shred them. My mini food processor saves me so much time. They taste just like regular grated carrots, but you don't have to stand over the box grater or sacrifice your knuckles.
The real difference between this small carrot cake recipe and other recipes is that I deviate from the classic tangy cream cheese frosting. That might seem like treason to carrot cake purists, but hear me out!
My Fluffy Cinnamon Buttercream still has cream cheese, just a little less. You whip the cream cheese with butter, butter-flavored shortening, cinnamon, powdered sugar, and vanilla extract for the smoothest, creamiest buttercream ever. It has just enough tang, and the cinnamon flavor plays off the spiced carrot cake batter so well!
Top these mini carrot cakes with Super Easy Caramel Drizzle made from heavy cream and caramel bits. Add pecans or crunchy walnuts for a final touch!
🥣 Instructions
This recipe really couldn't be any easier! Get the full recipe card at the end of the post, but here's how it works.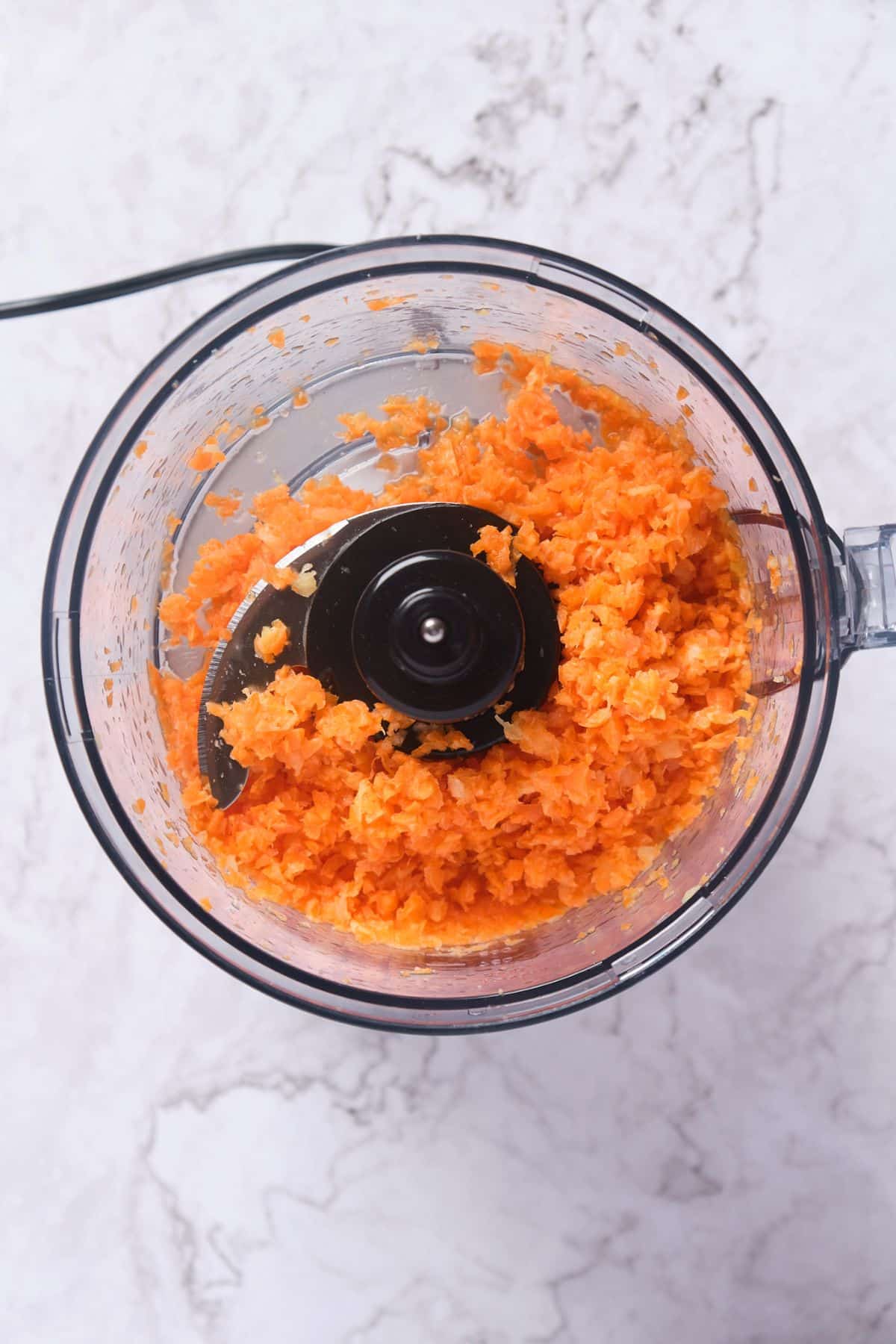 Blend the baby carrots and crushed pineapple in a food processor until they are finely chopped.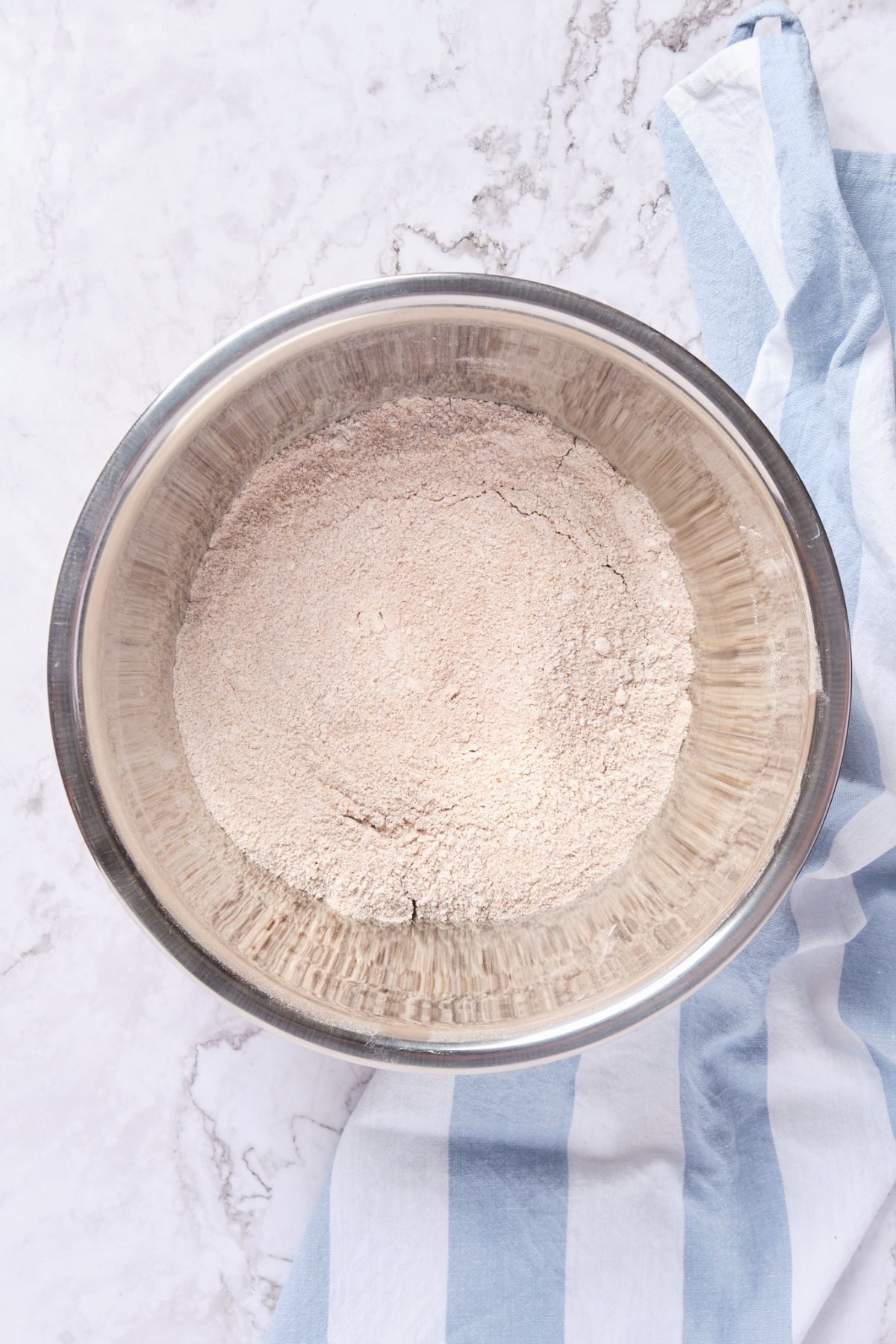 Whisk together the dry ingredients in a large bowl. In a separate bowl, combine the wet ingredients. Melt butter and save for later.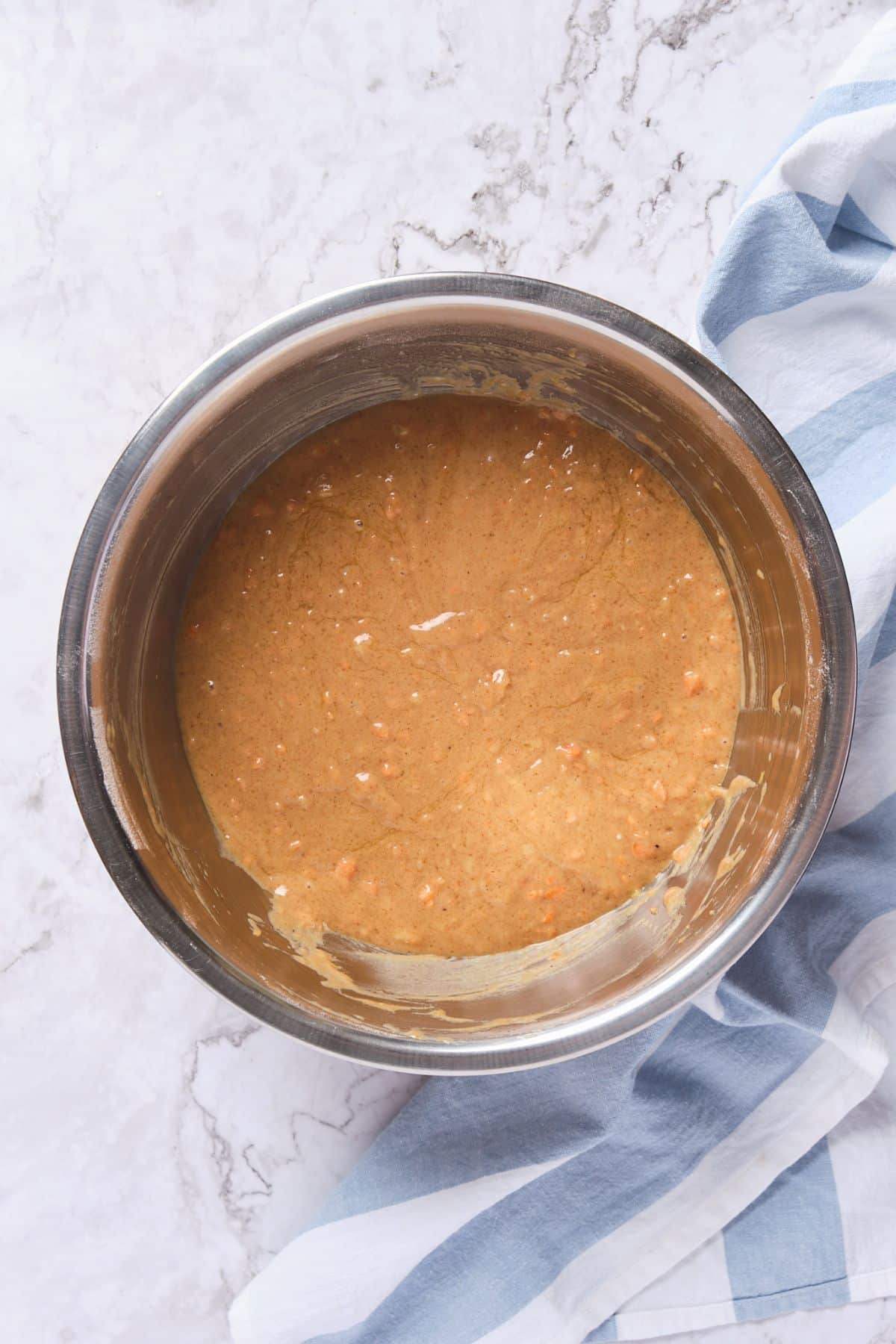 Gradually whisk the wet ingredients into the flour mixture, cleaning the sides of the bowl with a rubber spatula as you go. Mix in the melted butter.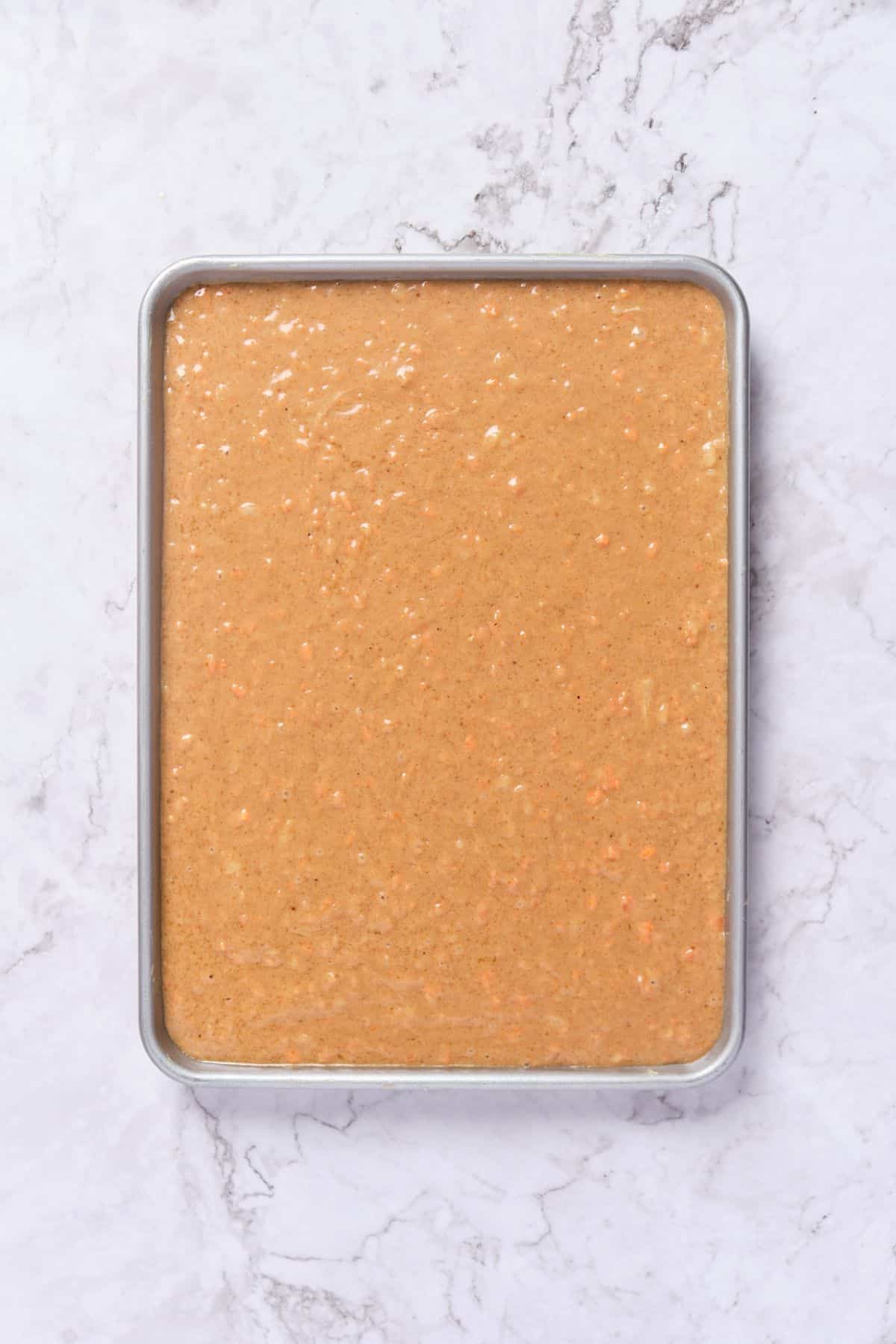 Pour the carrot cake batter into a baking sheet lined with parchment paper and bake following the instructions below.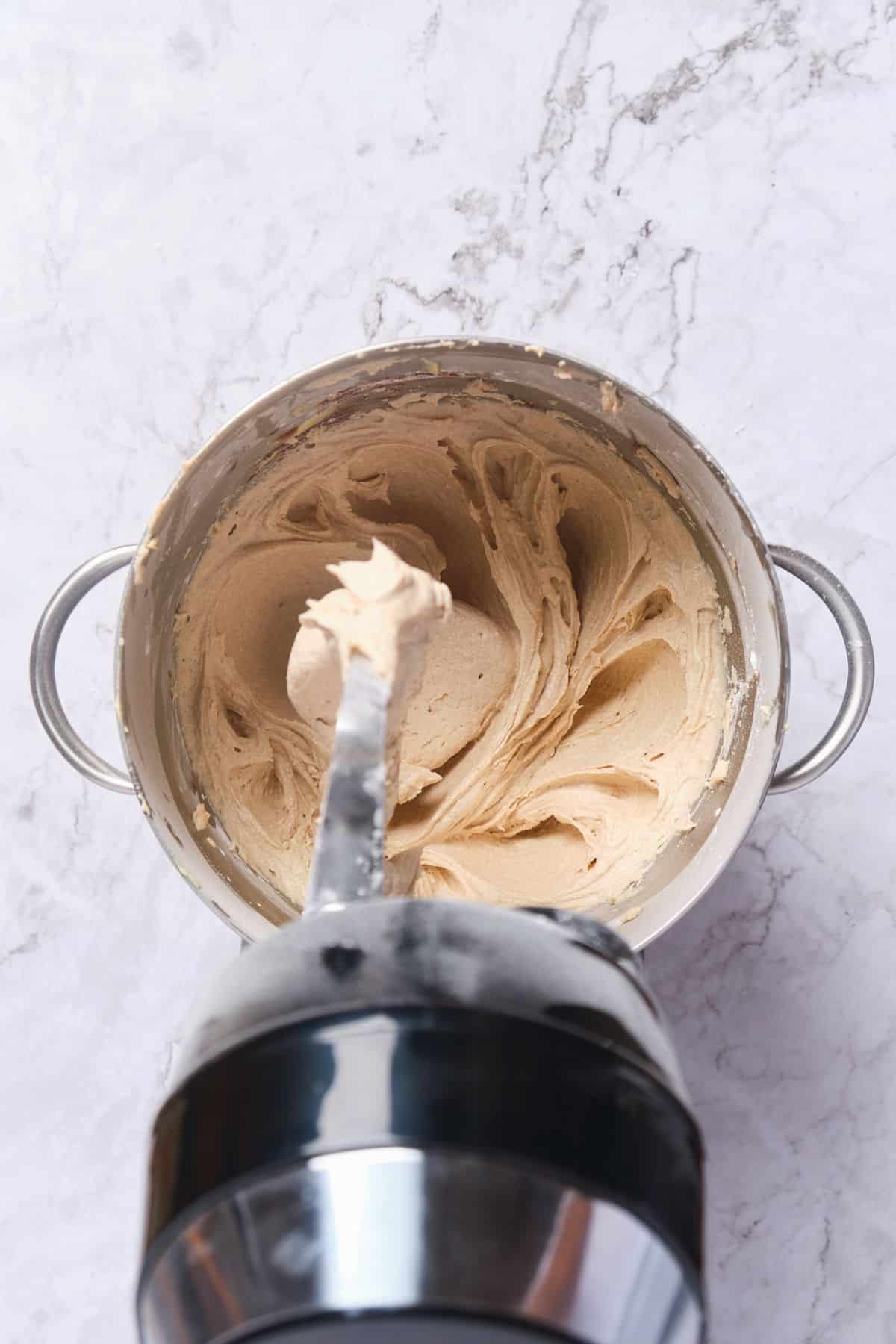 Gradually blend the cinnamon frosting ingredients together in a stand mixer until light and fluffy.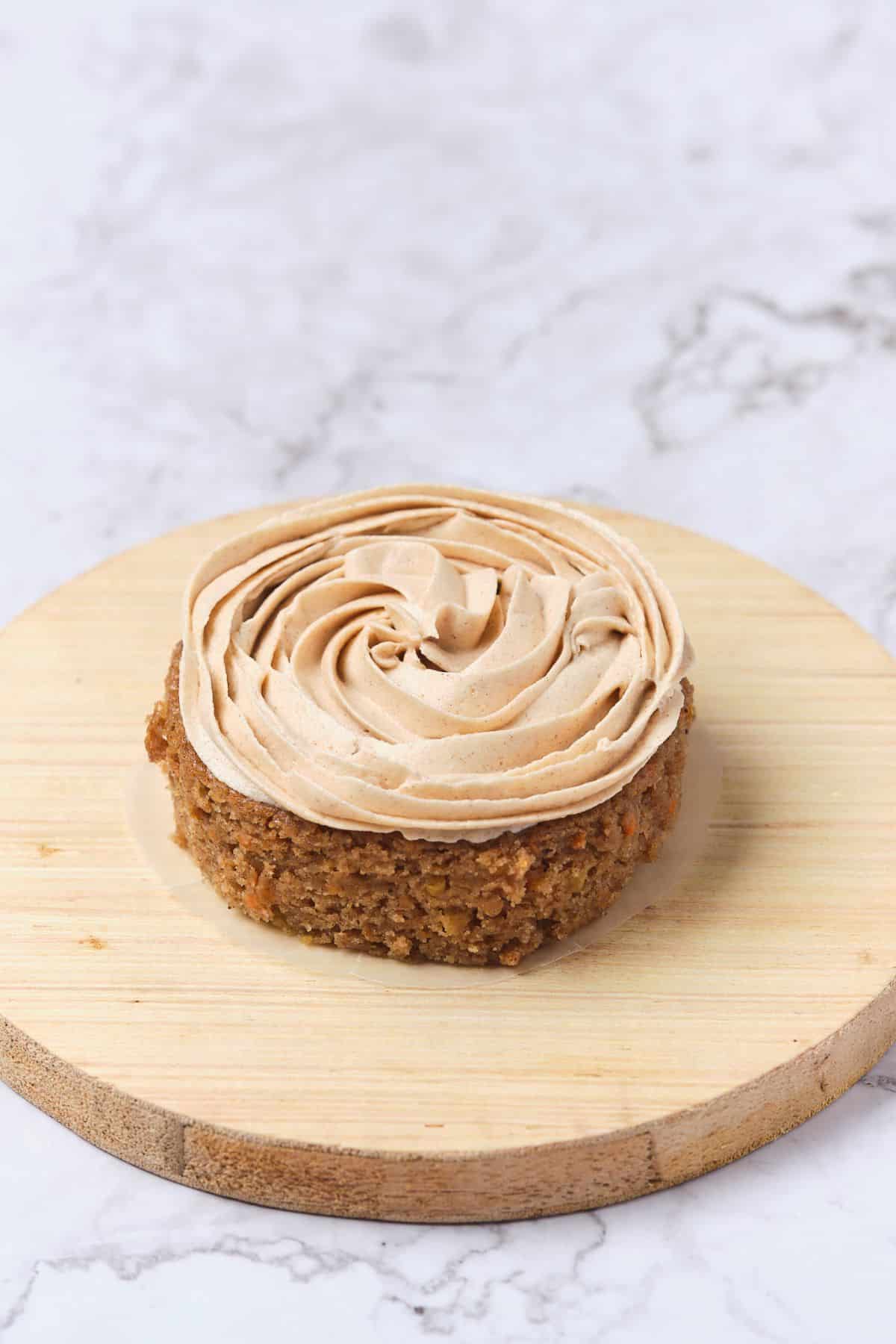 Allow the cake to cool completely and refrigerate or freeze before cutting out 4-inch rounds. Fill a piping bag with frosting and pipe between two cake layers.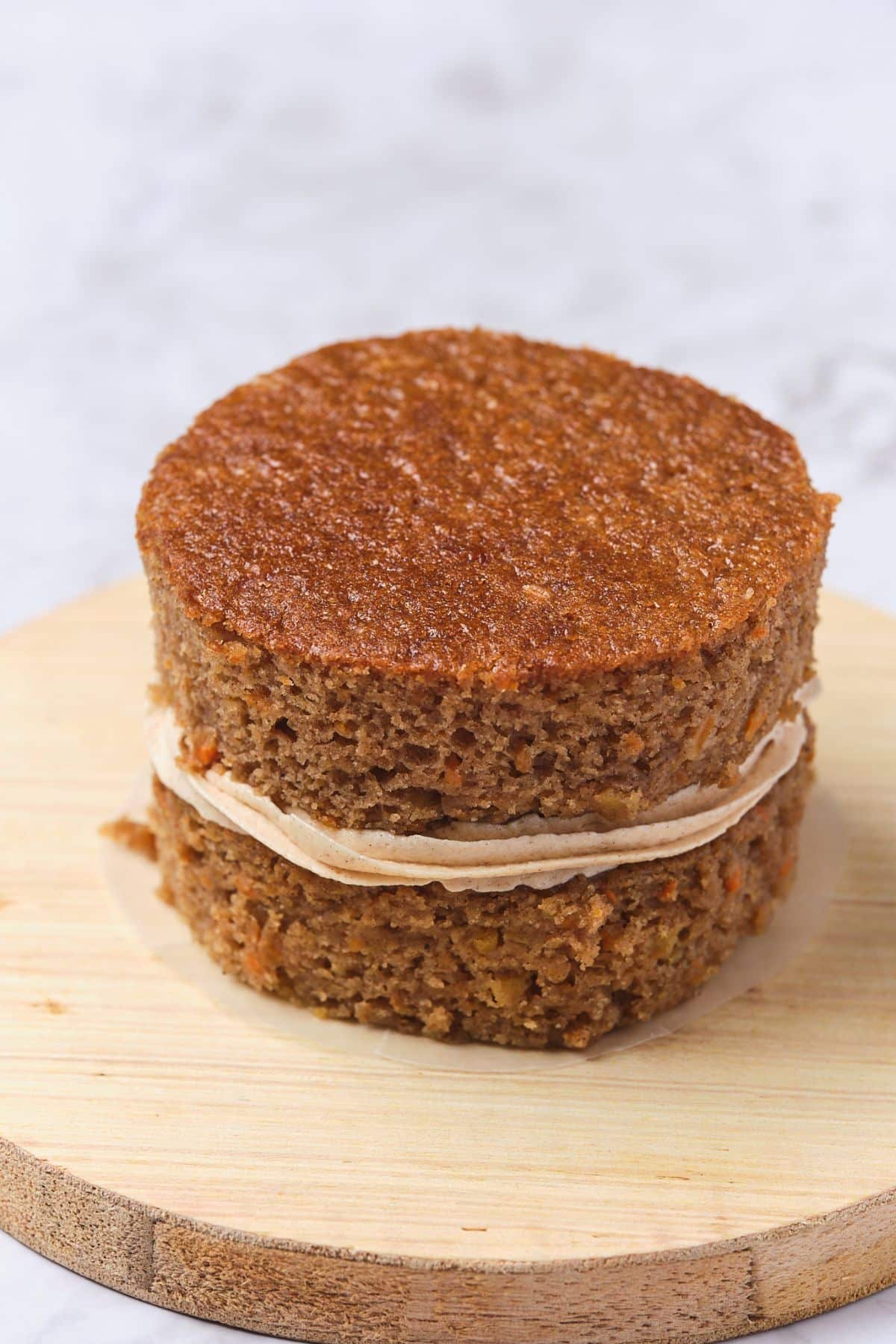 Top the mini carrot layer cake with a second layer of cake.
Pipe a decorative swirl on top of the cake. Drizzle with the caramel glaze and top with pecan or walnut pieces.
🎥 Video
Watch how easy this carrot cake recipe is to make in the quick video below.
🧁Variations
This recipe will make three 4" 2-layer cakes using a 4" cake ring. Learn more about choosing the right cake pan here. Save the offcuts to make cake pops!
Add raisins and pecans to the batter like in my Carrot Cake layer cake recipe. For a larger cake, follow my Carrot Cake recipe.
Make mini cakes like this with any of my cake recipes! The cinnamon frosting goes exceptionally well with my Pumpkin Spice Cake.
If you'd prefer for your mini cakes to be fully iced, add a crumb coat by spreading the frosting along the outside of the cakes with an offset spatula. Refrigerate for about 10 minutes, then finish frosting. Continue decorating the top by piping a swirl and adding the caramel glaze.
🧊 Storage
Since my cakes are so moist, they really taste best at room temperature. Frosted mini cakes can be left at room temperature for up to 24 hours, but then any uneaten cakes should be stored in the refrigerator in an airtight container. They'll last for approximately 3-7 days, but it's best to freeze what you won't be eating in a couple days.
To save these mini cakes for later, freeze the unfrosted cakes in a freezer-safe bag or airtight container and thaw them in the fridge. Decorate and enjoy.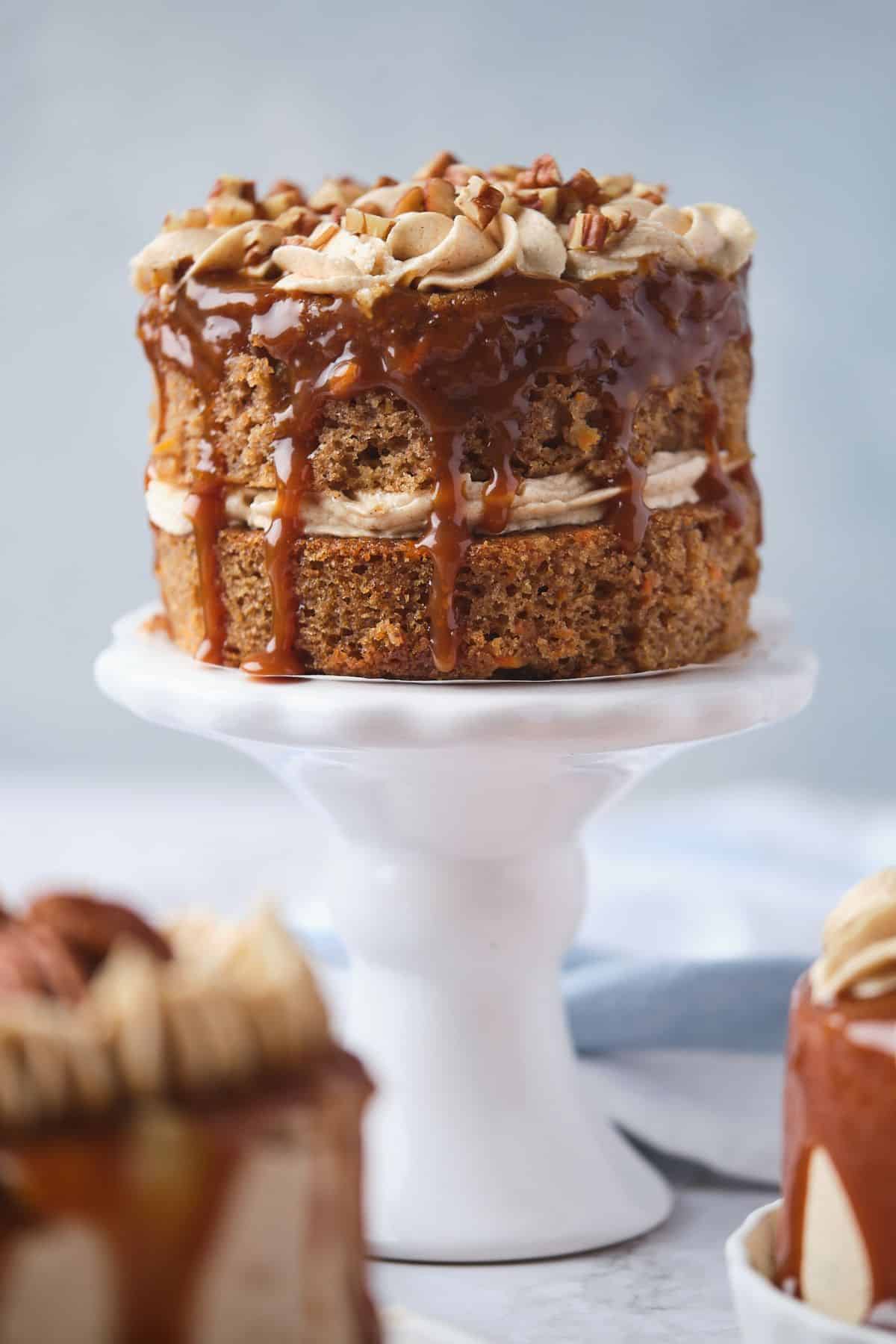 💭 FAQ
Why do my cakes have rough edges?
You'll notice rough edges if you don't chill your cake before cutting. Since my cakes are incredibly moist, they hold together much better when chilled.

Compare these two examples. I cut these mini chocolate cakes at room temperature and these mini red velvet cakes when properly chilled. The chilled cakes have smooth edges. Just let them come to room temperature before eating!

Even if you cut these cakes at room temperature, their extra soft and moist texture will set them apart from the other mini carrot cakes.
Why did my carrot cake come out dense?
Since this recipe is full of moisture, use the right ingredients to keep it from becoming dense. Always use fresh baking powder, as expired baking powder won't rise well. Don't skip the pudding mix. It will help absorb extra moisture.

Finally, just mix your batter to combine. If you overmix, you can activate the gluten, which makes cakes tough and gummy.
More Spice Cake Recipes
For delicious, super-moist cakes with fall and cinnamon flavors, try these:
What do you think of this mini carrot cakes recipe? If you try it, I'd be thrilled to hear how it goes! Be sure to tag me in any photos at @amycakesbakes on Instagram. Happy baking!
Thanks for Reading. ❤️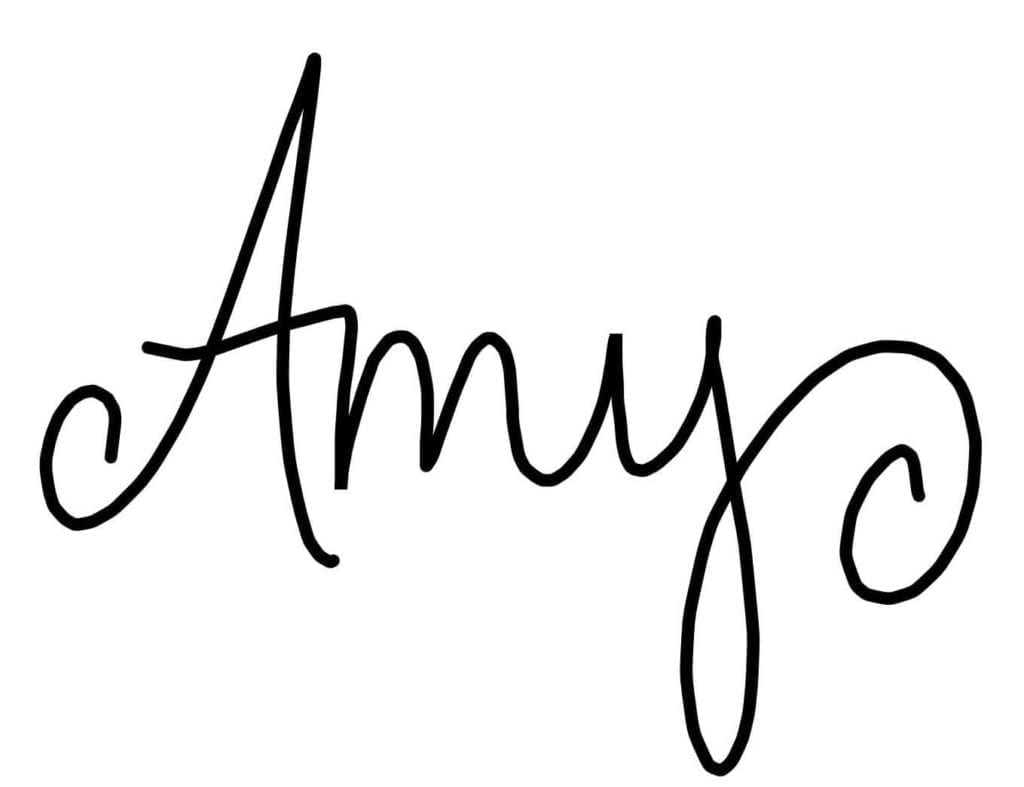 📖 Recipe
Moist Mini Carrot Cakes
This mini carrot cake recipe is very moist and full of flavor. It's spiced with cinnamon and nutmeg and frosted with cinnamon cream cheese buttercream. A 1x batch makes 3 mini cakes, but you can make more or less depending on the cake ring or cookie cutter size that you choose. They freeze great!
👩‍🍳 For the most accurate baking results, use the grams measurements with a kitchen scale.
Watch the quick recipe video
Equipment
Ingredients
Dry Ingredients
240 grams (1 ¾ cups + 1

Tablespoon)

All-Purpose Flour

(I use Gold Medal)

43 grams (¼

cup)

vanilla instant pudding mix

(See Note #1)

1 ½

teaspoon

Baking Powder

1

teaspoon

Baking Soda

¾

teaspoon

Salt

1 ½

teaspoon

Cinnamon

½

teaspoon

Nutmeg

226 grams (1

cup packed)

Brown Sugar
Wet Ingredients
142 grams (1 heaping cup)

Mini Peeled Carrots

(baby carrots)

67 grams (¼

cup)

lightly drained Crushed Pineapple

¾

cup

Buttermilk

¼

cup

Water

1 ½

teaspoon

Vanilla Extract

¼ cup + 2

Tablespoons

Vegetable Oil

2

large

Eggs
Other Cake Ingredients
¾ stick (3

ounces)

salted butter, melted
Instructions
Bake the Carrot Cake
Preheat Oven to 325 degrees. Line a ¼ sheet pan with parchment paper and spray the bottom and sides of the pan with nonstick cooking spary (on top of the parchment paper).

Puree the carrots and crushed pineapple together in a food processor until the carrots are very small.

Sift the Dry Ingredients in a bowl and then whisk until well blended.

Whisk the Wet Ingredients and the prepared carrot and pineapple puree in a separate bowl until well blended.

Pour the wet ingredients over the dry ingredients and whisk until well blended. Pour the melted salted butter over the batter and whisk until it is fully incorporated and the batter is smooth and shiny.

Pour the carrot cake batter into your prepared

¼

sheet pan. Spread the batter out until it is even throughout the pan all the way to the edges--an offset icing spatula works well for this.

Bake on the middle or top rack (avoid bottom rack) of the preheated 325-degree oven for 18 minutes, then turn the oven down to 300 degrees. Set the timer for an additional 10-12 minutes, or until a toothpick or paring knife comes out mostly clean (watch closely towards the end of baking). A couple of moist crumbs on your knife are fine, but they shouldn't look wet.

Allow cake to cool completely, then wrap thoroughly in plastic wrap and freeze the cake in the pan until it is cold or frozen. (You can bake and freeze the cake a couple of weeks ahead if desired. I pull the plastic wrap out and place the pan on top of it. Then I wrap 2-3 ways horizontally and one way vertically so that there are two layers of wrap on all sides of the pan including the bottom).
Assemble the mini carrot cakes
Since the carrot cake is very moist and delicate, the easiest way to layer and decorate these mini cakes is from cold or frozen. Cut out 6 mini cake circles from the cold cake with a 4" cake ring. Pipe cinnamon buttercream on top, then top each mini cake with a 2nd cake circle and more cinnamon buttercream. You can decorate them with easy caramel drizzle and chopped pecans, if desired.

Top the mini carrot cakes with caramel drizzle and pecans. Let them set up in the fridge, but remove from the fridge 2-3 hours before serving so they can come back to room temperature. These cakes have the best texture at room temperature. These mini carrot cakes will stay very moist if kept in an airtight container. Eat within 2 days or freeze. Enjoy!
Notes
Instant Pudding mix contains modified cornstarch (a.k.a. 

Instant Clearjel

), which helps cakes retain more moisture for longer while keeping a soft texture.  I use Instant pudding mix in cakes and save my instant clearjel for recipes that don't have an ideal substitute (as described in my 

Instant Clearjel Shortage Section

).  However, if you'd prefer to use instant clearjel, it is likely that 1 to 2 Tablespoons will work well (in a 1x batch) in place of the Instant Pudding Mix--I just haven't tested it yet in this recipe
Print Recipe
Related Web Stories:
Mini Carrot Cake Story