💬 Featured Comment: "I made this pumpkin cream pie for thanksgiving. Forgot to take a picture, but I've been told I have to bring it from now on. Thanks for the terrific recipes!!!!"--Brian
Jump to:
About this Recipe
While a traditional pumpkin pie makes a delicious dessert, there's something extra special about this triple layer pumpkin cream pie recipe.
The three layers – a layer of classic pumpkin pie topped with a generous layer of pumpkin cream cheese mousse then topped with stabilized vanilla whipped cream – create an extraordinary dessert that your guests won't forget.
At Amycakes Bakery we even converted people who did not like pumpkin pie after they tried this pumpkin cream pie!
Pies can be intimidating to make from scratch, but once your creation is ready, it's worth every second of effort. I've also included an optional shortcut in case you run out of time, or if you just want to spend less time in front of your oven.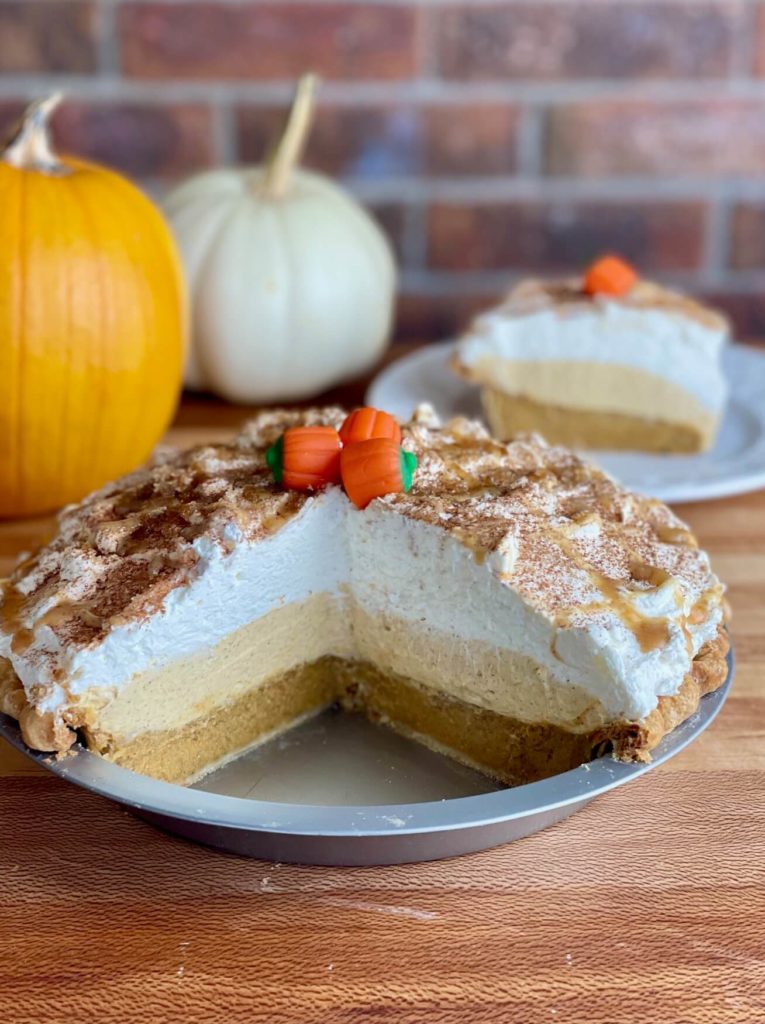 The Three Layers to this Pumpkin Cream Pie Recipe
Imagine a classic pumpkin pie. Now, imagine a layer of smooth, fluffy pumpkin cream cheese mousse with all the flavors of fall. Finally, top it with a generous supply of super thick and decadent whipped cream.
The result? A triple layer pumpkin pie that's even more delicious than it looks! Each flavorful layer melds together into the creamiest bite. It's perfect to serve at Thanksgiving or any holiday party.
Recipe Ingredients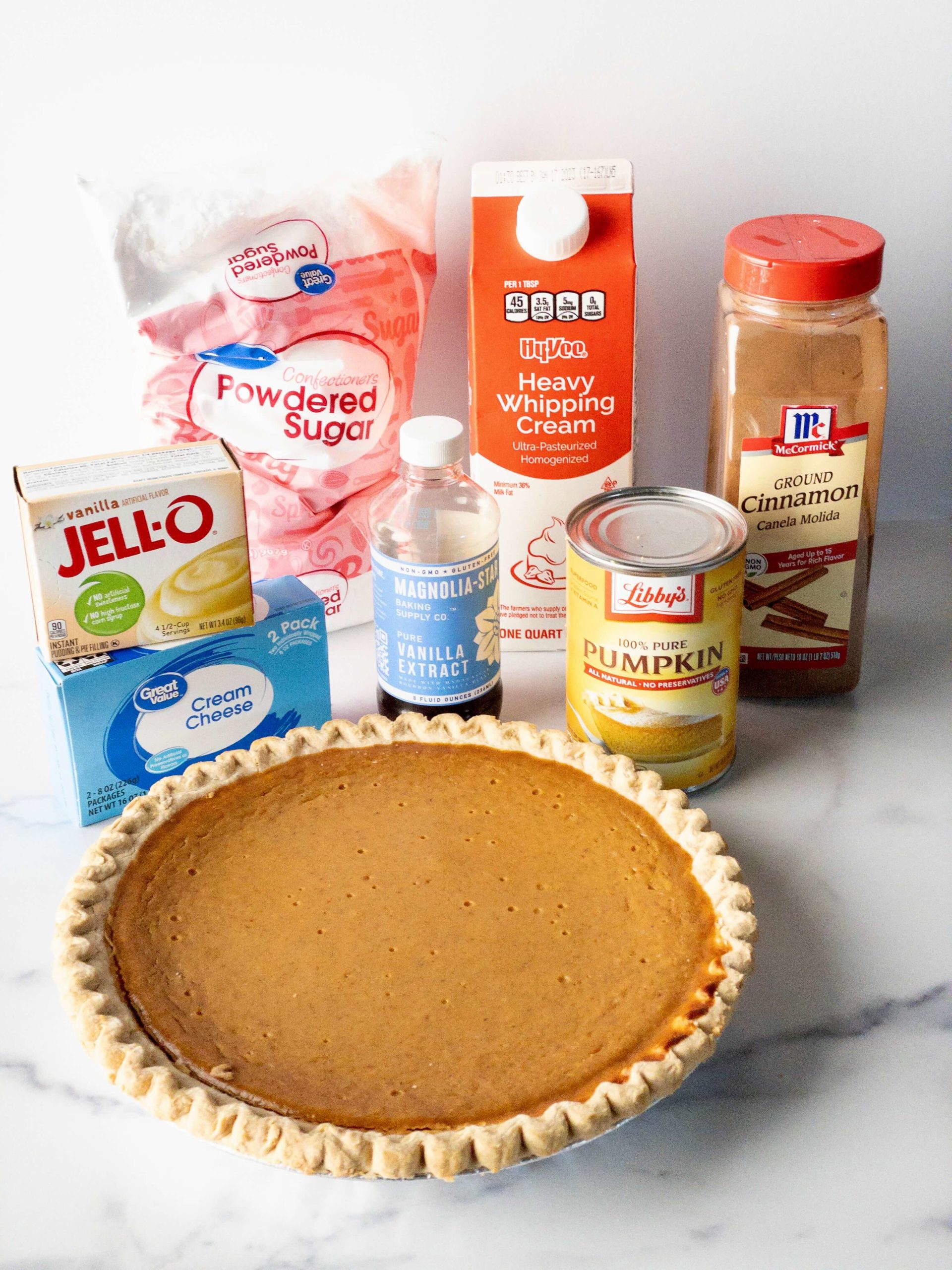 The pumpkin pie layer is a traditional pumpkin pie made with canned pumpkin puree, evaporated milk, and delicious spices. The Pumpkin Cream Cheese Mousse is whipped cream cheese with pumpkin puree and cinnamon.
Then we make our thick and stable vanilla whipped cream (stabilized with my favorite bakery ingredient, Instant Clearjel), and fold part of that into the fluffy pumpkin cream cheese mousse, using the remaining whipped cream on top of the pie. If you don't have Instant Clearjel, you can make this pie without it as detailed in the recipe FAQ section.
About the secret bakery ingredient in this recipe
This bakery recipe uses Instant ClearJel, a type of cornstarch that serves as both a thickener and a binder. It's tasteless and has no artificial ingredients. You can also use Instant Pudding mix (when it's listed in the recipe), which contains Instant Clearjel as the second ingredient!
It's often used by professional bakers because it produces a smoother and glossier consistency than cornstarch, tapioca, or other starches. Even better, it enhances moisture and texture in cakes and thickens and stabilizes frostings. Here are a few brands I recommend:
Although it's not often available in grocery stores, it's sold in a variety of online stores--just make sure whatever you purchase is labeled as INSTANT (cooktype and original clearjel will not work the same). It's also frequently found in Amish Markets. (Learn more about Instant Clearjel in Baking→)
A Shortcut to Triple Layer Pumpkin Pie
While the pumpkin pie layer in this recipe is delicious and simple to prepare, it's understandable that you might not have enough time to prepare it during the holidays.
If you're looking for a shortcut, reach for a pre-made pumpkin pie. Once you top it with the creamy homemade pumpkin mousse and whipped cream in this recipe, your guests may never know.
I'd recommend using a 9" or 10" prepared pumpkin pie, or you can even use several mini pumpkin pies and divide the pumpkin mousse and whipped cream among them. Just be sure to allow your mousse and whipped cream to set up on your pie in the fridge for at least a couple of hours.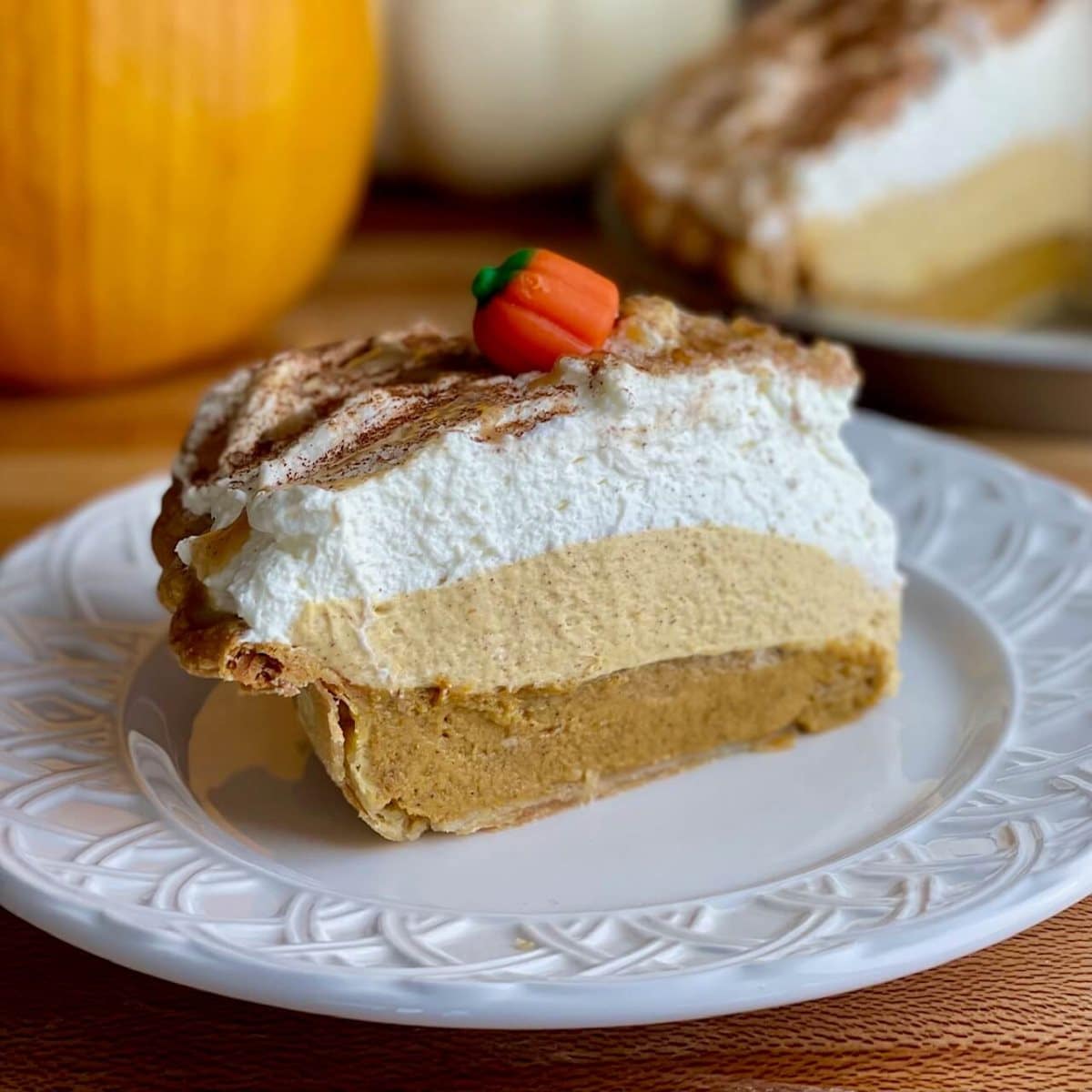 Recipe FAQ
How far in advance can I make this pumpkin cream pie? How do I store it?
You can make the whole pie a couple of days in advance, but I prefer to divide my time as follows for the best results and so I'm not spending all day in the kitchen:
Many days or weeks in advance, roll out and freeze the unbaked pie crust(s) in its pie tin. I keep several of these in the freezer until I'm ready to bake them. (Or you can use premade crust.)
Two days before servings, par-bake the thawed crust and bake the pumpkin pie layer (reserve and refrigerate the remaining pumpkin puree for the mousse). Refrigerate the cooled pumpkin pie in the fridge overnight (I top just the filling with a loose layer of plastic wrap and I don't wrap the crust, otherwise the crust will get soggy.)
One day before serving, make the pumpkin cream cheese mousse and the whipped cream and assemble the pie. Refrigerate overnight, in a pie box or a container that is not airtight, to avoid a soggy crust.
How long does it take for the mousse and the whipped cream to set up on the pie?
The mousse and whipped cream will be thick and delicious right after you make it due to the Instant Clearjel, but in order for it to have distinguished layers like my photos, allow the pie to set up in the fridge at least 2 hours before serving. I prefer to finish making mine the day before serving.
Can I leave out the Instant Clearjel?
I used to make this pie without Instant Clearjel before discovering the awesome thickener. I recommend using 3 Tablespoons of vanilla instant pudding mix in the pumpkin mousse recipe (as described within the recipe card).
Be sure to refrigerate the pie for at least 2 hours so the cream cheese in the mousse has time to firm up.
Can this Pumpkin Cream Cheese Pie be frozen?
While you can freeze the pie leftovers, I don't really recommend freezing the completed pie before serving, as the pumpkin pie texture changes just slightly, and the pie can separate slightly from the crust. The flavor, however, should not be affected when freezing.
This decadent dessert is sure to be the center of attention at your next Thanksgiving feast! I hope you enjoy it, and please let me know what you think! 🙂
Thanks for Reading. ❤️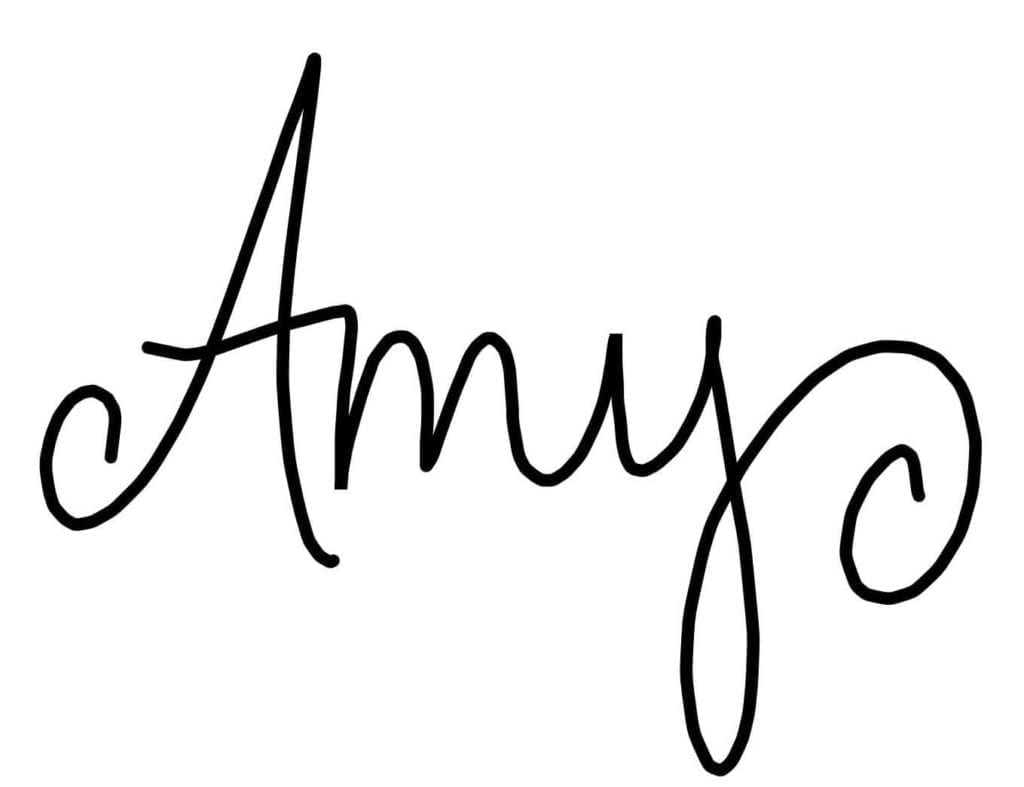 📖 Recipe
Triple Layer Pumpkin Cream Pie
Triple Layer Pumpkin Cream Pie with a layer of traditional pumpkin pie, a layer of pumpkin mousse made with cream cheese, and a layer of stabilized vanilla whipped cream. The perfect Thanksgiving pie! For an optional shortcut, use a premade pumpkin pie and top it with the delicious pumpkin mousse and whipped cream in this recipe.
👩‍🍳 For the most accurate baking results, use the grams measurements with a kitchen scale.
Watch the quick recipe video
Ingredients
Pumpkin Pie Ingredients (or use a premade 9" or 10" pumpkin pie)
1

unbaked prepared 9" pie crust

(I use my easy Egg and Vinegar Pie Crust)

85 grams (¼ cup + 2

Tablespoons packed)

Brown Sugar

3

Tablespoons

Sugar

¼

teaspoon

Salt

1 ½

teaspoons

Cinnamon

¾

teaspoon

Ginger

¼

teaspoon

Cloves

325 grams (1 ⅜

cup)

canned pumpkin puree (100% pumpkin)

(In a 1x batch that's one 15 ounce of pumpkin that has ¼ cup + 2 Tablespoons (85 grams) removed--reserve the removed pumpkin for the Pumpkin Mousse)

2

large

Eggs

1

teaspoon

Vanilla Extract

1

cup

evaporated milk
Pumpkin Mousse Base Ingredients
128 grams (1 cup + 2

Tablespoons)

powdered sugar

2 teaspoons instant Clearjel or 3

Tablespoons

Vanilla Instant Pudding Mix

(See Notes section for details)

2

teaspoons

Cinnamon

8

ounces

Cream Cheese

(at room temperature)

85 grams (¼ cup + 2

Tablespoons)

canned pumpkin puree (100% pumpkin)

(reserved from the can of pumpkin used in the pumpkin pie layer)

1

Taplespoon

vanilla extract
Whipped Cream Ingredients
Instructions
Blind Bake the Pie Crust
In a 350 degree oven, blind bake (partially bake) the single 9" pie crust until it is mostly baked. I recommend placing a layer of parchment paper, then filling the unbaked pie with Ceramic Pie Weights to keep the crust from shrinking--I detail this method in my Pie Crust Recipe. Cover the edge rim of the pie with a pie shield after the first 5 minutes of baking to avoid a dark crust. Blind baking with pie weights usually takes about 25-30 minutes in a 350 degree oven for a homemade crust, but will vary depending on the thickness of your crust. Remove the pie weights and allow the crust to completely cool.
Make the Pumpkin Pie Layer
Preheat oven to 350 degrees.

In a large bowl, whisk the Brown Sugar, Sugar, Salt, Cinnamon, Ginger, and Cloves together. Break apart any larger brown sugar clumps with your fingers.

Add the eggs, pumpkin puree and vanilla extract and whisk until well blended. Pour in the evaporated milk and whisk until blended and smooth.

Pour the pumpkin pie filling into the par-baked crust and place a pie shield on the rim of the crust. Bake on the bottom rack for 30 minutes. Turn the oven down to 325 degrees, and continue to bake for 20-30 minutes, or until a knife stuck in the pie 2" from the crust comes out clean. The center of pie should be is slightly jiggly, but not liquid-y, and will continue to bake as it cools. If you have an Instant Read Thermometer, the filling should be at least 180 degrees in the center when it is done. Allow to cool, then refrigerate.
Make the Pumpkin Cream Cheese Mousse Base
Whisk the powdered sugar, Instant Clearjel (or instant pudding mix), and Cinnamon together. Instant Clearjel should always be whisked thoroughly with dry ingredients before being added to liquid to avoid clumping.

With a stand mixer (preferred), handheld mixer, or a whisk, beat the softened Cream Cheese until smooth. Slowly add the powdered sugar mixture while the mixer is on low, scraping the sides often until there are no lumps. Add the pumpkin puree and the vanilla extract and beat until light and creamy with no lumps. Set it aside while you make the whipped cream.
Make the Stabilized Whipped Cream
Whisk the Powdered Sugar and Instant Clearjel together. 

In a clean bowl, using a whip attachment and a stand mixer (preferred) or handheld mixer, whip the Heavy Cream and Pure Vanilla until stiff peaks form.

Turn the mixer on low, and slowly add in the Powdered Sugar/ Instant Clearjel mixture until incorporated. The Instant Clearjel will thicken the whipped cream instantly, which is why we want to make sure the whipped cream is nicely whipped and fluffy before we add in our thickener. Reserve 260 grams of the whipped cream (that's ⅓ of the whipped cream) for the pumpkin mousse.
Finish the Pumpkin Mousse
One half at a time, fold the reserved whipped cream into the pumpkin mousse using large, round strokes until no white streaks remain.
Layer the Pumpkin Cream Pie
Spread the Pumpkin Mousse on top of the cooled pumpkin pie. Gently spread it until it is flat on the pie but domed in the middle--a small offset spatula works well for this. *NOTE* If using a pumpkin pie with a lightweight aluminum pan tin, you may wish to place your pie and tin on a stable plate, tray, or larger ceramic pie pan. The additional creamy layers will add a lot of weight to the pie.*

Top the pumpkin mousse with the remaining whipped cream. I like to dome it slightly in the center of the pie, and apply a fluffy texture with a small offset spatula.

If desired, top the whipped cream with a cinnamon sprinkle, caramel drizzle (you can use the easy caramel recipe found in my pumpkin cupcake recipe), brown sugar sprinkle, and candy pumpkins. Refrigerate at least two hours or overnight. Enjoy!
Notes
Read my article Instant Clearjel: a Magical Bakery Ingredient to see why I think this ingredient is worth having in your pantry.  Instant Clearjel must always be whisked thoroughly with other dry ingredients before being added to wet ingredients to avoid clumping.  Make sure what use is labeled as "INSTANT."  Cooktype or Original Clearjel is a different product that does not work the same.
If needed, you may substitute 3 Tablespoons Vanilla Instant Pudding Mix for the instant clearjel in the pumpkin mousse mixture  (in a 1x batch of this recipe).  Then leave the instant clearjel out of the whipped cream recipe.  The vanilla whipped cream topping will not be as thick as the whipped cream pictured without instant clearjel, but it will be delicious.
Print Recipe