Are you planning a Moana-themed party? I've got just the Moana Cake design for you. One of the best parts of a birthday party is, of course, the cake, but you don't have to spend three days making it! With a few simple design ideas, you can have a memorable and delicious Moana cake.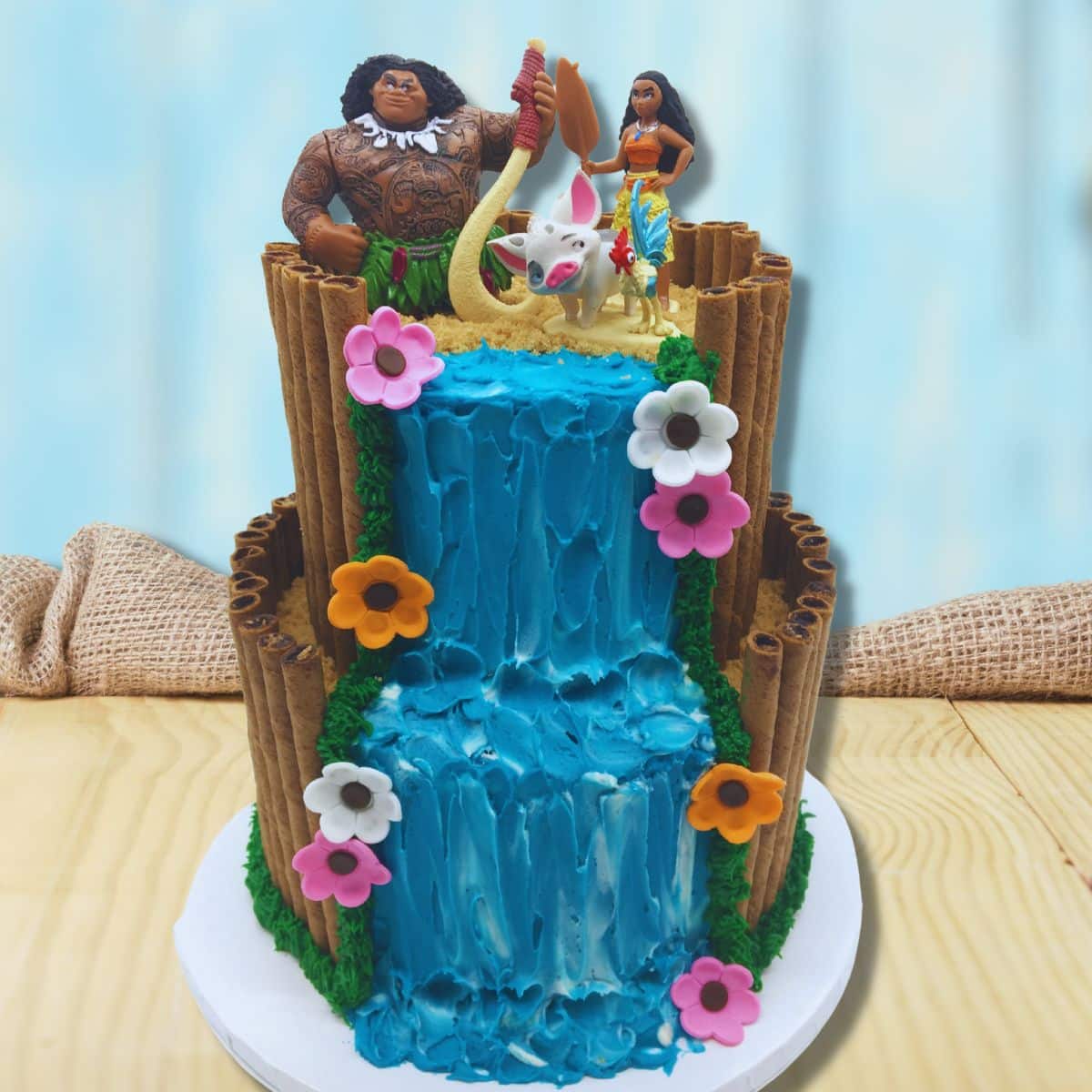 Up ahead, we will explore some fun and creative Moana cakes and provide tips and tricks for decorating your own.
Jump to:
Cake Toppers
The easiest way to decorate a Moana cake is to purchase some premade Moana cake toppers or ready-to-go decorations.
The tiered cake above features a Moana and Maui cake topper, which can be easily found online and often at Walmart or Target.
Pirouline Rolled Wafers
Have you heard about this cool idea to make your Moana cake look even more amazing? If you're making a round or tiered Moana birthday cake, you can surround the outside of the cake with these Pirouline Rolled Wafers Stick Cookies.
No fancy cake-decorating skills required! And the best part? The cookies are delicious! My kids love these cookies on cakes.
To use Pirouline Rolled Wafers in your Moana cake design, attach them to the outside of your cake with a bit of buttercream frosting or melted chocolate. You will need to cut down the cookies so they are about 1" taller than the sides of your cake.
You can experiment with different flavors and colors of Pirouline Rolled Wafers to make your cake look even more unique.
Party Decorations
After you finish reading this post, we know your Moana cake is going to look fantastic, but remember to accessorize! A few simple Moana party decorations will tie everything together.
Design Ideas
Here are a few Moana cake design ideas to get your creative juices flowing.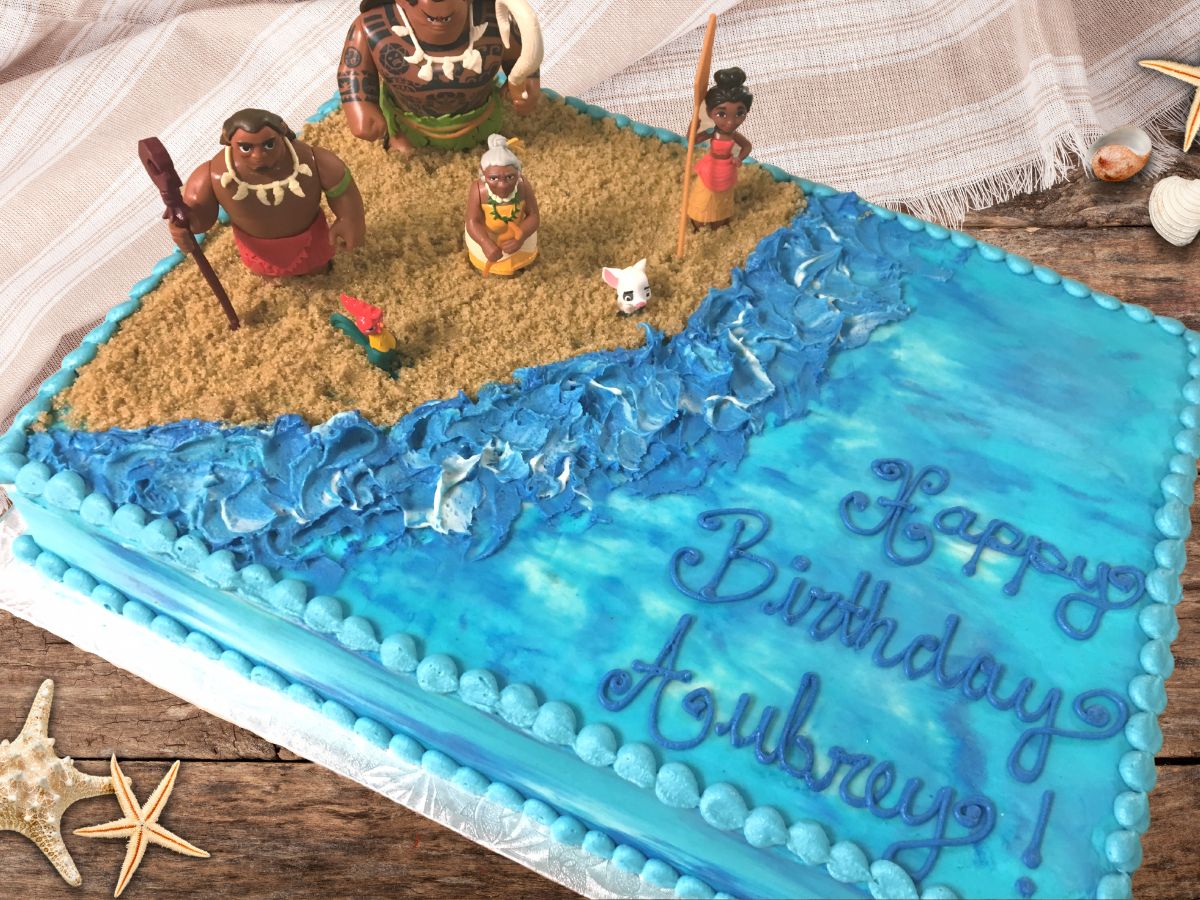 Moana Sheet Cake: If you're looking for a simple way to make a Moana cake, consider making a sheet cake with buttercream frosting. Sheet cakes are perfect for a minimalist cake design and can be decorated in a variety of ways, making them perfect for a Moana-themed party.
With a sheet cake, there's plenty of room for brown sugar sand and Moana character toppers.
How to Decorate It
Now that you have some Moana cake design ideas, it's time to bring them to life. Here are some tips for how to decorate your cake.
You could also make a Moana Drip Cake. A white chocolate ganache drizzle on a blue ombre buttercream background would be perfect!
Tips
Here are a few additional tips for making the perfect Moana cake:
Use bright colors: Moana is a bright and colorful movie, so don't be afraid to use bold and vibrant hues in your cake design. Think bright blues, greens, pinks and yellows.
Keep it simple: While it can be tempting to go all-out with your Moana cake design, sometimes simple is better. A few island-themed decorations and a Moana cake topper can be just as effective as an elaborate design.
Plan ahead: Decorating a cake takes time and effort, so be sure to plan in advance. Consider making the cake and any decorations a day or two in advance to ensure that everything is ready to go on the day of the party. You can also freeze the cake to spread out your time.
How to Make a Moana Cake Topper
If you want to make a Moana cake topper without using fondant or modeling chocolate, I've got a paper Moana design for you. You can create a beautiful and personalized Moana cake topper with just a few simple materials and some printer paper.
(But if you don't have time for this, you can also buy a paper Moana cake topper online.)
Materials:
Moana image (found online)
Printer
Cardstock or heavy paper
Glitter Cardstock
Scissors
Wooden skewers
Tape or hot glue
Instructions:
Start by finding a Moana image that you like--you can print an image directly from the internet. Make sure to adjust the image size so that it's the right size for your cake. You can also print some starfish or other nautical designs to add to the topper.
If you're techy, you can also download a Moana font and type out your child's name in the special font!
Once you have your image(s), print it onto a sheet of cardstock or heavy paper.
Use scissors to carefully cut out the different parts of the image, then glue it on top of some glitter cardstock for a sparkly look.
Use wooden skewers to attach the different parts of the image to each other. Hot glue provides the best results, but tape can also secure the parts in place.
And there you have it! Beautiful Moana Cakes that are sure to delight your guests and make your kiddo smile. Feel free to experiment with different frosting techniques and decorations to make the cake your own. Have fun and happy decorating!