There are few things better than homemade cupcakes, especially when they're as easy as this vanilla cupcake recipe! These super moist vanilla cupcakes are soft and full of vanilla and almond flavor--they're the perfect base for all types of cupcake fillings and frostings. Today I'm keeping them classic and pairing them with my vanilla bakery buttercream which has a hint of cream cheese and a smooth and creamy texture.
Jump to:
⭐ What makes these the best vanilla cupcakes?
There's no denying it - these made-from-scratch cupcakes are very moist and delicious! Maybe you tried them at the former Amycakes Bakery, or maybe you are a fan of my Vanilla Almond Cake recipe. Here are a few other reasons that make this the best vanilla cupcake recipe:
Vanilla and almond extracts give these cupcakes a delicious "bakery-style" flavor.
They freeze well and stay moist for days, so you can make them in advance!
The cupcake batter is super easy to make—this is one of my two-bowl method recipes, meaning two bowls and a whisk are all you need to whip these up!
These cupcakes can be made extra fancy by adding a filling to the center of the cupcake before frosting them. Try them with strawberry compote, mixed berry compote, or fudgy ganache.
🥣 Ingredients (and substitutions)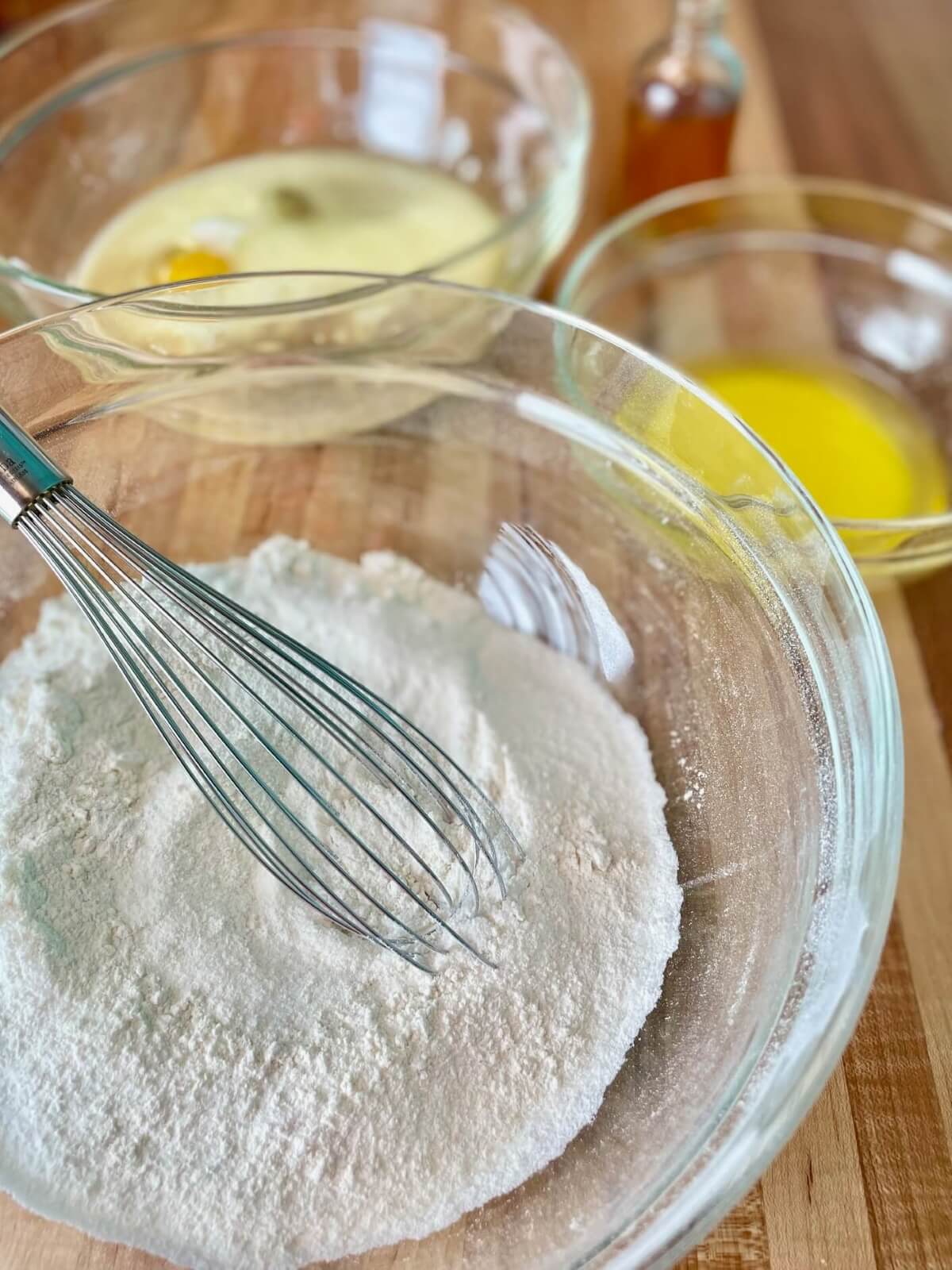 All-purpose Flour—I use Gold Medal
Sugar
Instant Clearjel or Vanilla Instant Pudding Mix—this is a secret ingredient to a moister cupcake--the modified cornstarch in these ingredients gives your cupcake more stability and a softer texture.  That's because it allows the cupcakes to retain more moisture while keeping a soft and light texture. While both options are delicious, cupcakes with Instant Clearjel will be a little lighter in color than the ones made with Instant Pudding Mix (just make sure it's labeled as instant--you can read more about Instant Clearjel here). 
Baking Powder, Baking Soda, and Salt
Buttermilk—you may already know how much I love this ingredient for making moist cakes.  While I don't recommend substituting it, I have heard that thinned sour cream (thinned to the thickness of buttermilk, a thick milk) works similarly. 
Water
Egg and Egg Whites—these cupcakes have more whites than egg to make them closer to a "white" cupcake with a lighter crumb.
Light Corn Syrup—this is not the high fructose kind.  It enhances the moisture and texture of the cupcakes, but you can also substitute it with equal parts sugar. 
Vanilla Extract—use regular or imitation in the cupcake batter, and save the pure vanilla for the delicious buttercream.  🙂
Almond Extract for vanilla almond cupcakes—you can use pure or imitation.  We used McCormick Culinary Imitation Almond Extract at Amycakes Bakery, as it's nut-free and affordable. I find that almond is a perfect complement to so many cupcake combinations, but if you do not want as strong of an almond flavor, you can decrease the almond extract and up the vanilla extract in equal parts.

Alternatively, you can use only vanilla extract to make golden vanilla or yellow cupcakes. These are a great base for my delicious Nutella Cupcakes.
Apple Cider Vinegar—this adds a boost to your cupcakes' rise when the vinegar reacts with the acid from the buttermilk and baking soda.  You can substitute with regular white vinegar if needed. 
Salted Butter—I use salted butter in all my baked goods for added flavor, but if you need to use unsalted, add ¼ teaspoon salt per stick of butter. 
📋 Instructions and tips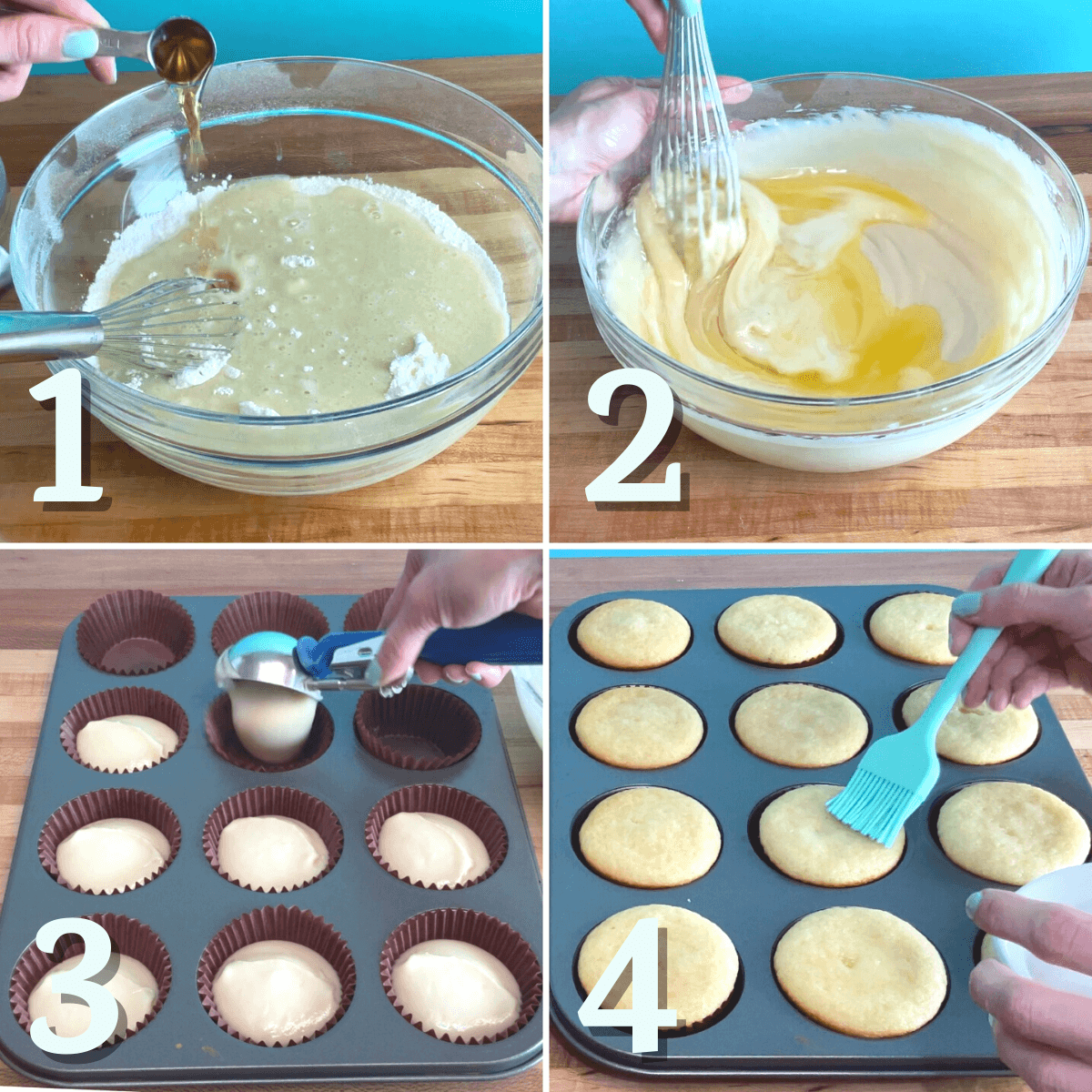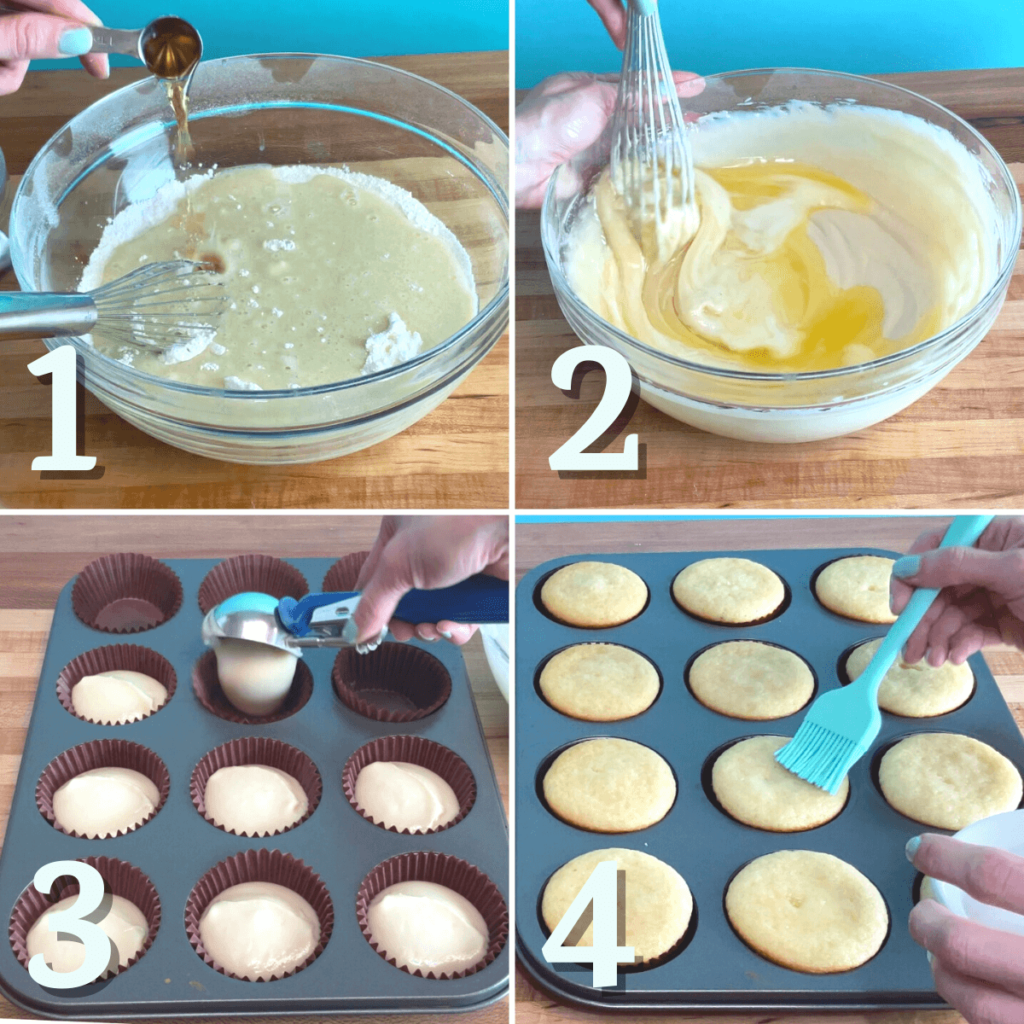 Whisk your dry ingredients, then your wet ingredients. Pour the wet ingredients into the dry ingredients and add the apple cider vinegar. Watch it bubble as you whisk it together!
Pour the melted butter into the batter and whisk until smooth. Use a 2-oz scoop (¼ cup) to divvy your batter into cupcake tins lined with cupcake wrappers.
Put the cupcakes in a preheated 325 degree oven. After 10 minutes turn the oven down to 300 for the remainder of baking. This is how I get them to rise taller and keep their light color; otherwise vanilla cupcakes have a tendency to over-brown on the bottom and edges.
Brush the warm cupcakes with a small amount of simple syrup. This is optional, as they are already moist and delicious without it. But I always recommend simple syrup for cupcakes as it soaks into the cupcakes, seals in the moisture and makes them extra-moist!
Tips:
Let your scooped cupcakes sit for about 5-10 minutes before baking them. This will allow the Instant Clearjel or Instant Pudding Mix to thicken the cupcake batter, giving them a slightly better rise.
Watch the cupcakes carefully towards the end of baking! Vanilla cupcakes have a tendancy to turn golden quickly, and we want to take them out of the oven right when a toothpick comes out mostly clean. They will continue to bake a little as they cool.
Place your cupcakes over a portable fan if you want them to cool faster. I have my cooling rack set up over a fan and my baked goods cool twice as fast!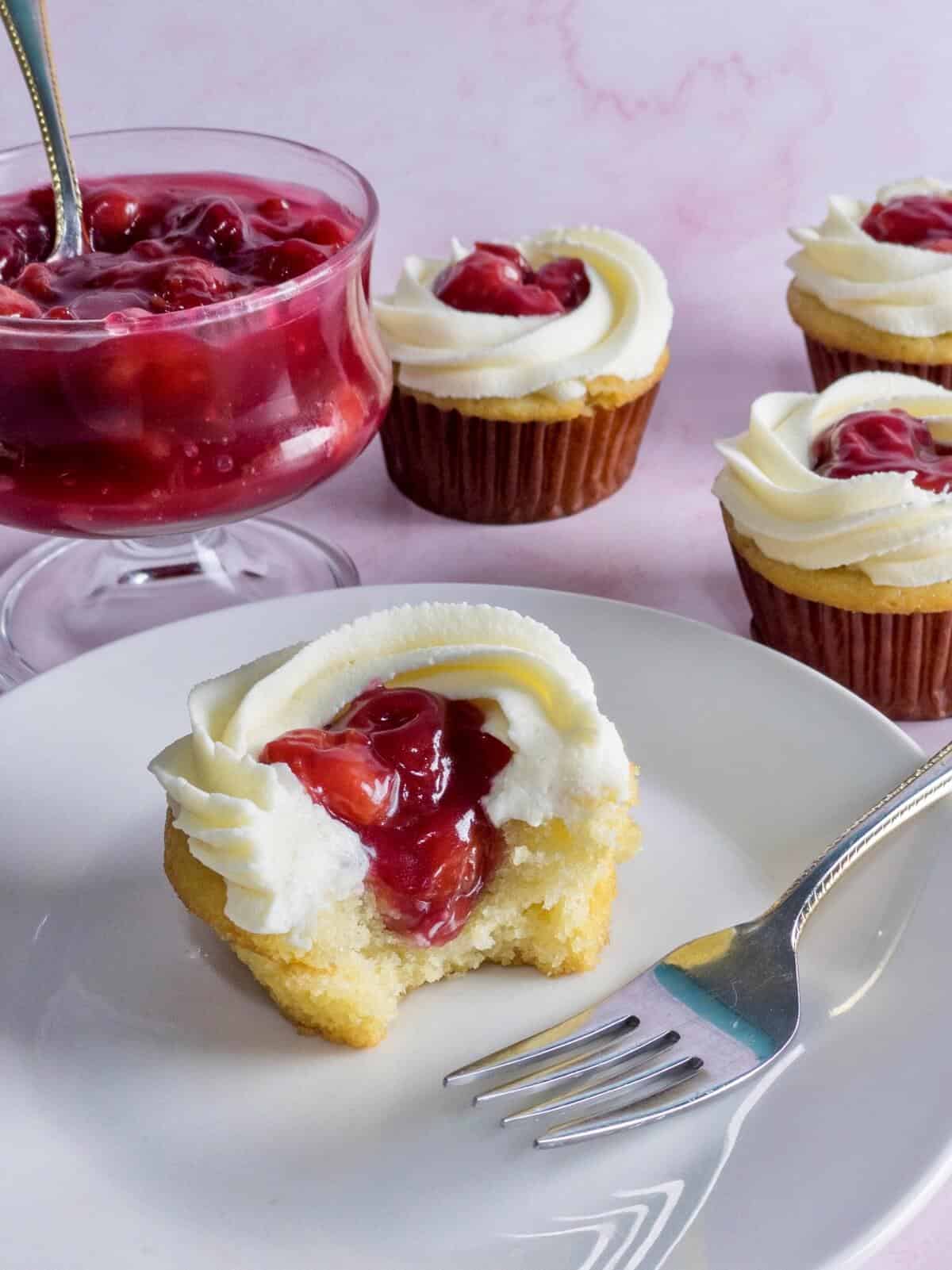 🧁 How to store these cupcakes to keep them super moist
First things first, these vanilla cupcakes are best eaten at room temperature! I want you to enjoy their super soft, fluffy and moist texture, and the delicious butter in these cupcakes makes them firmer when coming straight from the fridge. Here's how I recommend storing them:
Cupcakes frosted with my Vanilla Bakery Buttercream can stay at room temperature in an airtight container for up to 24 hours, but the frosting can melt in warm conditions.
I recommend refrigerating frosted cupcakes (up to 1 day ahead), but remove them from the fridge 2-3 hours before serving so they can get back to room temperature.
Always store these cupcakes in an airtight container, wrapped in plastic wrap if the container has any air holes.
You can wrap unfrosted cupcakes in their cupcake tins (double wrap the cupcake tins with plastic wrap all the way around the tins). I find this keeps them extra fresh as there is less air around each cupcake.
Freeze any cupcakes that aren't going to get eaten within a couple days—they freeze amazingly well and stay moist in airtight containers—especially in the cupcake tin method described above!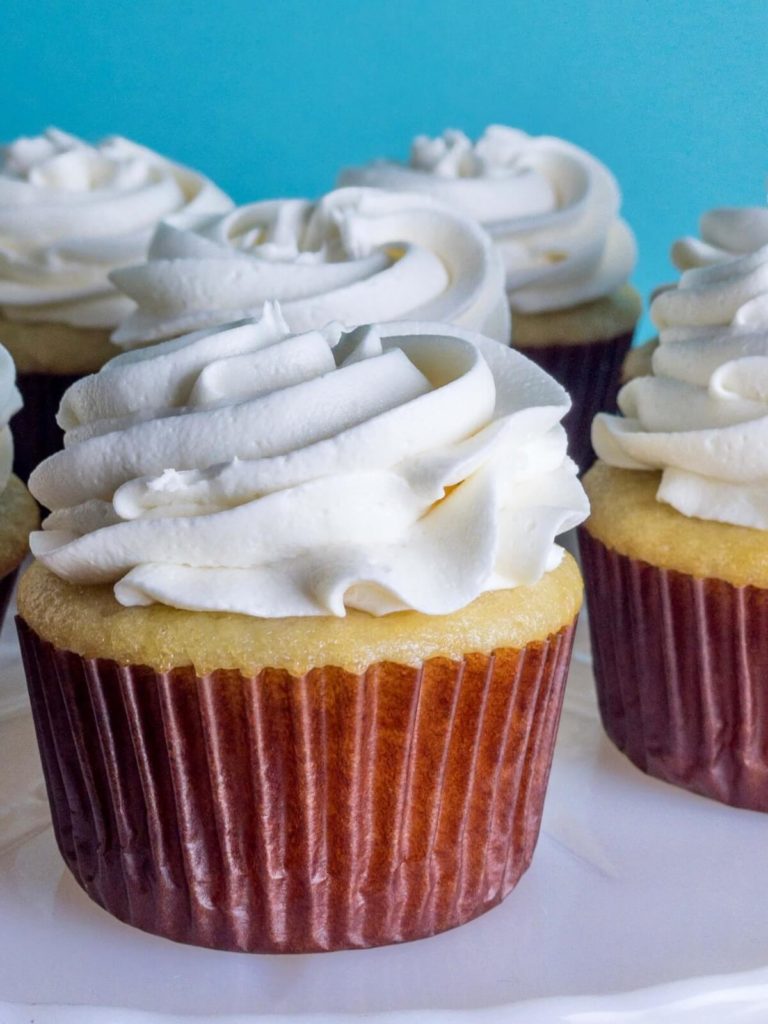 👩🏻‍🍳 Tools and equipment
💭 Recipe FAQ
Can I use this recipe to make a cake?
No, this recipe is best suited for cupcakes.  Instead, make my deliciously moist Vanilla Almond Cake recipe! 
Can I make mini cupcakes or jumbo cupcakes with this recipe?
Yes, you can!  You can keep the oven temperatures the same, but you will need to adjust the baking times. Decrease the temp to 300 degrees halfway through baking.

*Jumbo cupcakes (4-ounces of cupcake batter each) typically bake for a total of 20-22 minutes
*Mini cupcakes (4 teaspoons of cupcake batter each) typically bake for a total of 8-10 minutes.

I hope you love these vanilla cupcakes as much as I do! Comment below or tag me on social media @amycakesbakes! 🙂
Thanks for Reading. ❤️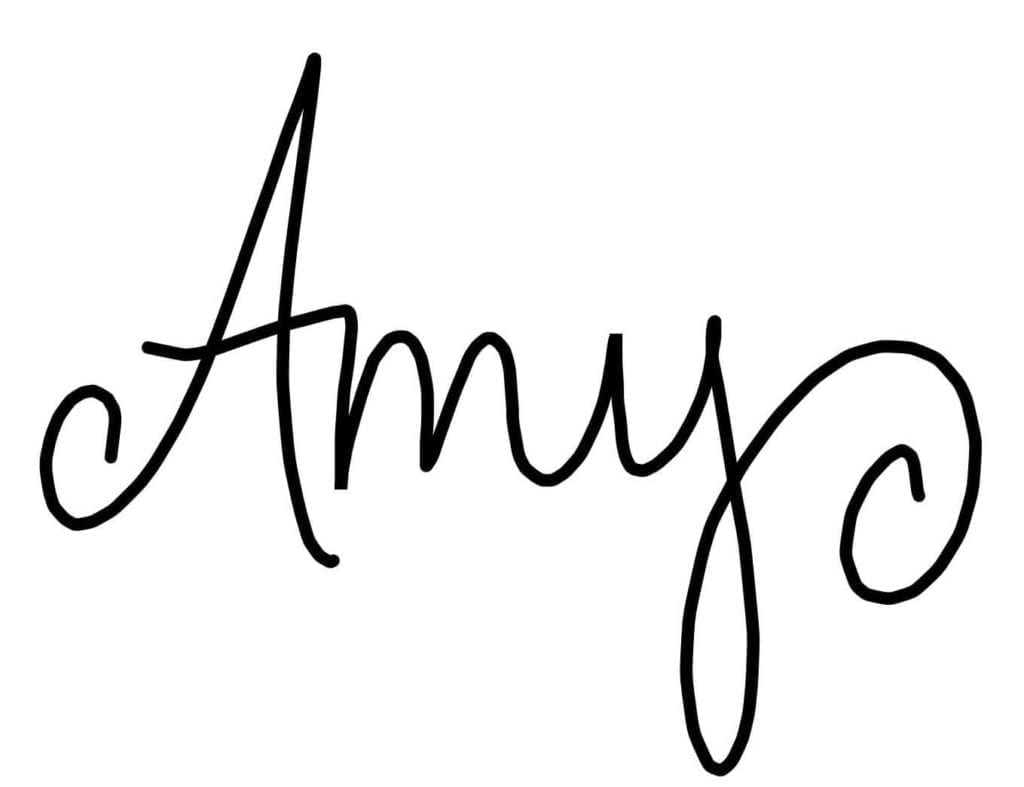 📖 Recipe
Super Moist Vanilla Cupcakes
This easy vanilla cupcake recipe is a bakery recipe from the former Amycakes Bakery! It makes super moist, soft, and flavorful vanilla cupcakes that are the perfect base for all types of cupcake fillings and frostings.
👩‍🍳 For the most accurate baking results, use the grams measurements with a kitchen scale.
Watch the quick recipe video
Ingredients
Dry Ingredients
216 grams (1 ½ cups + 2

Tablespoons)

All-Purpose Flour

(I use Gold Medal)

2 Tablespoons Instant Clearjel or ¼

cup

Vanilla Instant Pudding Mix 1

(Make sure whichever you use is labeled as INSTANT)

1 ½

teaspoon

Baking Powder

1

teaspoon

Baking Soda

¾

teaspoon

Salt

200 grams (1

cup)

Sugar
Wet Ingredients
¾

cup

Buttermilk

¼

cup

Water

1 ½

teaspoon

Vanilla Extract

EITHER 1 Tablespoon Almond Extract (for Vanilla Almond Cupcakes) or an additional 1

Tablespoon

Vanilla Extract

(for Golden Vanilla Cupcakes2)

½

cup

Vegetable Oil

¼

cup

Light Corn Syrup 3

1

large

Egg

2

Egg Whites
Other Cupcake Ingredients
2

teaspoons

Apple Cider Vinegar

1 stick (4

ounces)

salted butter, melted
Simple Syrup
2

teaspoons

sugar

2

teaspoons

water
Instructions
Make the Vanilla Cupcakes
Preheat Oven to 325 degrees. Line cupcake tins with 19 cupcake grease-proof liners.

Sift Dry Ingredients in a bowl and then whisk until well blended.

Whisk the Wet Ingredients in a separate bowl until well blended (make sure the egg and egg whites are fully incorporated).

Pour the wet ingredients over the dry ingredients and immediately add the apple cider vinegar. Stir until well blended

Pour the melted salted butter over the batter and whisk just until the batter is well-blended, smooth and shiny.

Scoop the cupcakes with a 2-ounce scoop or ¼ cup into prepared cupcake liners. Allow the scooped cupcakes to sit for 5-10 minutes before baking (this will give them a better rise).

Bake on the middle or top rack (avoid bottom rack) of the preheated 325-degree oven for 10 minutes, then turn the oven down to 300 degrees. Set the timer for an additional 7-10 minutes, or until a toothpick or paring knife comes out mostly clean (watch closely towards the end of baking). A couple of moist crumbs on your knife are fine, but they shouldn't look wet.

Make an easy simple syrup by combining the sugar and water and microwaving for 20-30 seconds, or until the sugar dissolves when stirred. Brush the warm vanilla cupcakes with the simple syrup, then allow them to cool completely. Unfrosted cupcakes may be left at room temperature, or frozen in their cupcake tins (wrapped well).
Frost and Decorate the Cupcakes
Frost the cupcakes with my Creamy Vanilla Bakery Buttercream Frosting, or choose your favorite fillings and frostings. Store the frosted cupcakes in an airtight container in the refrigerator, but remove them from the fridge at least 2-3 hours before serving so they can come back to room temperature. The buttercream can melt in warm conditions, but the cupcakes have the best texture at room temperature. Enjoy!
Notes
These notes correspond to their numbered ingredients above:
Both of these ingredients stabilize the batter and make a moister cupcake with a softer crumb.  Instant Pudding contains Instant Clearjel (modified cornstarch) as the 2nd ingredient which is why it works similarly with delicious results.  Always make sure your Instant Clearjel is labeled as INSTANT--cook-type and original clearjel do not work the same.  Cupcakes made with Instant Pudding mix will be slightly more golden than the Instant Clearjel option.
Use almond extract for vanilla almond cupcakes similar to my Vanilla Almond Cake.  Use additional vanilla extract for a "golden vanilla" or yellow cupcake.
Light corn syrup enhances the moist texture of these vanilla cupcakes, but you may substitute the corn syrup with equal parts sugar if needed.
Print Recipe