Moist and delicious, this Easy Red Velvet Bundt Cake Recipe is perfect for any occasion! You can have a mouth-watering dessert with just a few simple ingredients that everyone will love. You'll find that the texture of this cake is dense, the flavor is rich, and the look of this cake is red velvet all the way!
I made several test batches of this delicious red velvet bundt cake, and it got gobbled up every time! There is something about its super moist and dense texture coupled with the cream cheese glaze that makes it a nice change from my usual layer cakes.
Even better, this cake is super speedy to make! We're using the two-bowl method in this recipe, which means no mixer is required. All you need are a whisk and two bowls to whip up the cake batter.
Jump to:
📋 Cake Ingredients
This bundt cake is made from scratch with several classic cake ingredients, just like in my Mini Red Velvet Cake recipe.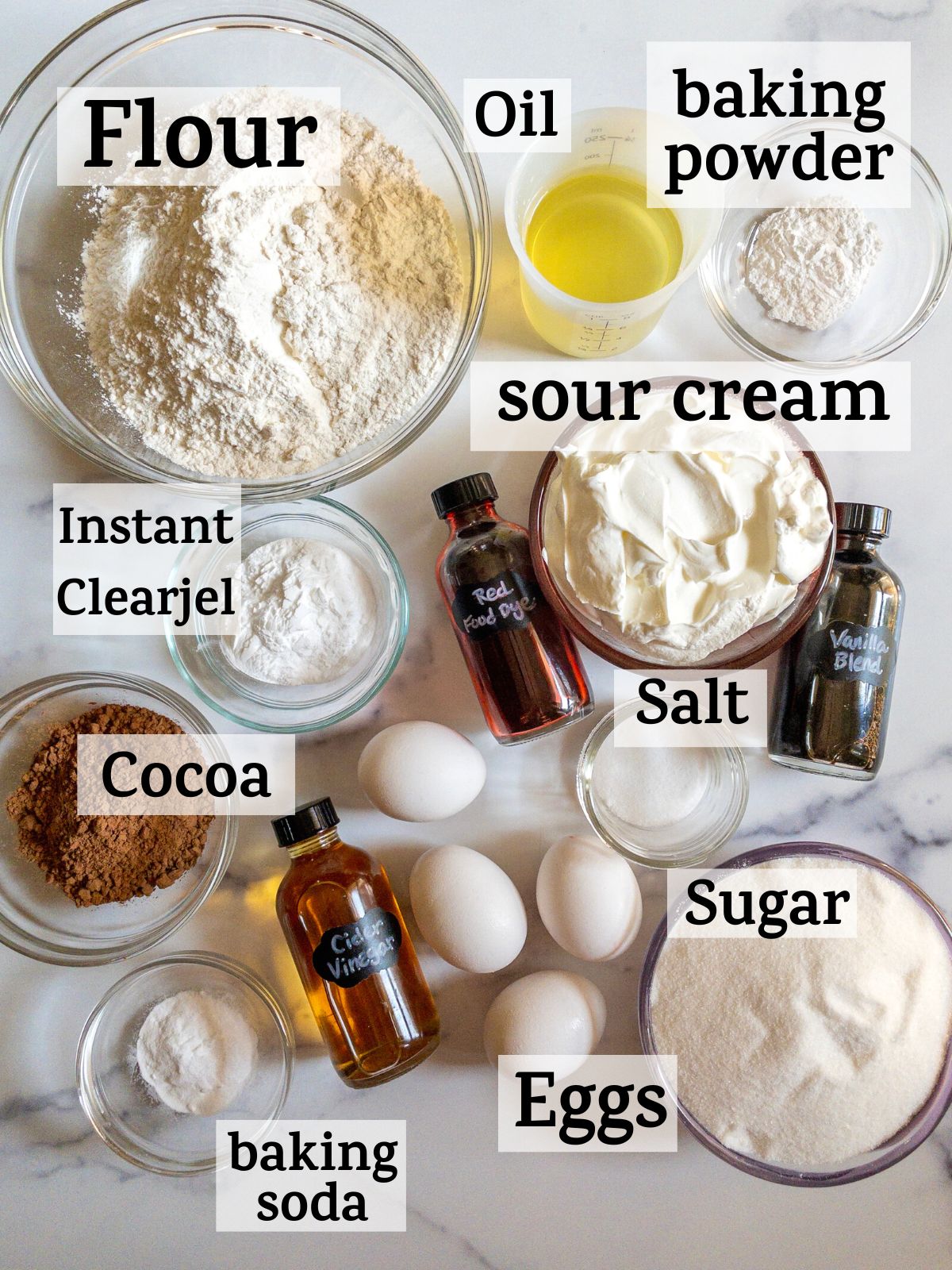 Unsweetened Cocoa Powder - Cocoa powder gives red velvet cake its characteristic chocolate flavor.
Instant Clearjel or Vanilla instant pudding mix - This is what helps give the cake its super moist texture. Instant clearjel is a special type of cornstarch that is also an ingredient in instant pudding mix--it's what I prefer to use in this cake! Alternatively, you can use either chocolate or vanilla instant pudding mix, depending on your preference. Chocolate pudding mix will give the cake more of a burgundy color and a richer chocolate flavor.
Red food coloring - This is obviously what makes the cake red! If you don't have liquid red food coloring, you can add some of the gel variety until you get your desired shade.
Full-fat Sour Cream - This adds both flavor and moisture to the cake, and gives it its dense texture.
Apple Cider Vinegar - This is a key ingredient in the cake batter. It helps to react with the baking soda and gives the cake a little lift.
not pictured is salted butter, which we'll use melted in both the cake batter and the cream cheese icing.
The cream cheese icing glaze is also made with powdered sugar, cream cheese, and pure vanilla. Then I like to add a little heavy cream to my frosting because it's so creamy and delicious, but you can use milk if you prefer.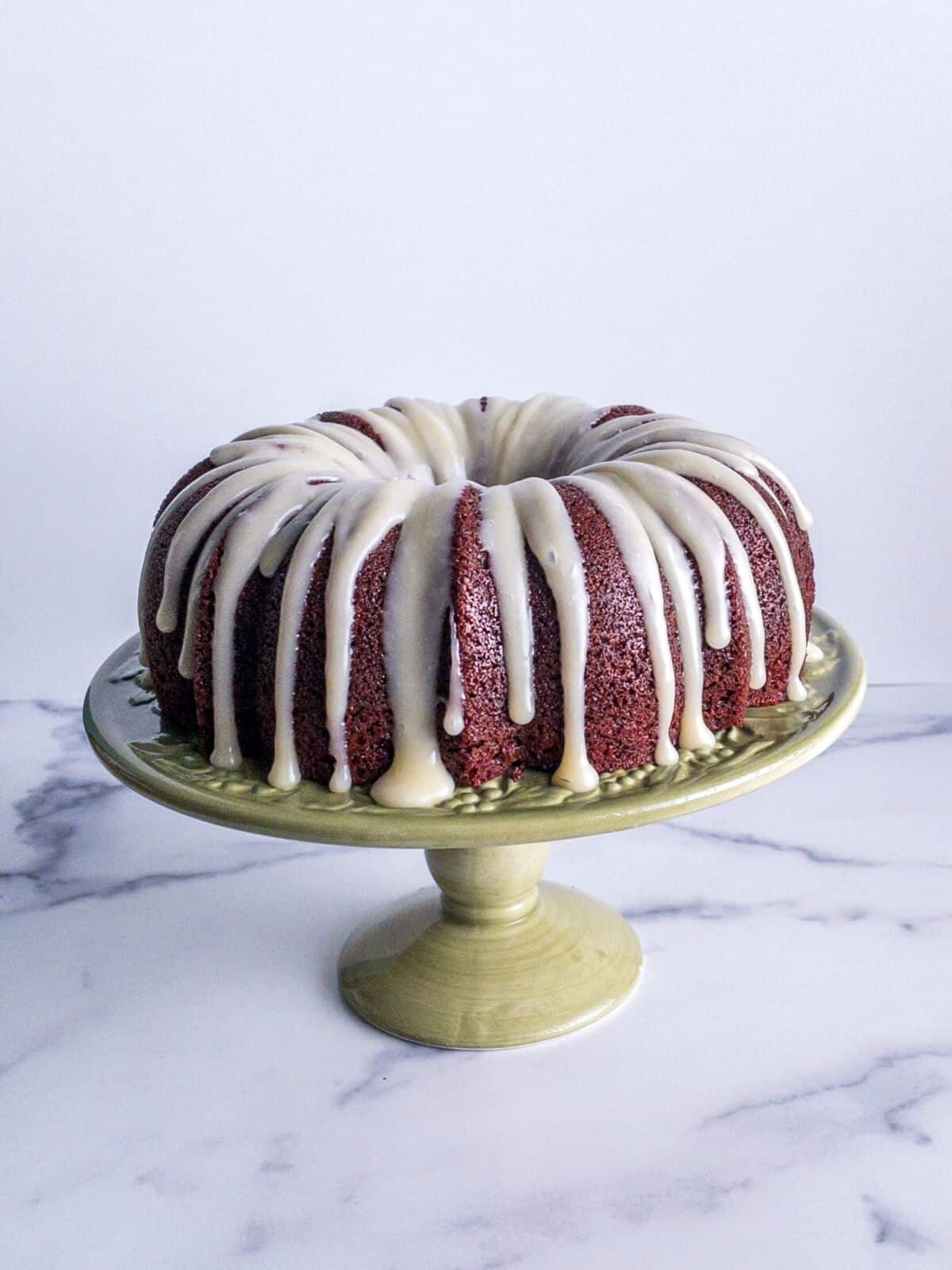 👩‍🍳 Baking Tips
When measuring the flour, use a kitchen scale if you have one. If you don't, be sure to spoon it into the measuring cup and level it off with the back of a knife. Do not scoop it directly from the bag as this will compact the flour and you'll end up with too much.
This Red Velvet Bundt Cake calls for a 12-cup bundt pan, and it bakes right to the top of the pan. I use this Nordic Ware Pro Cast Original Bundt Pan, because I prefer heavier-duty bundt pans that tend to bake more quickly and more evenly.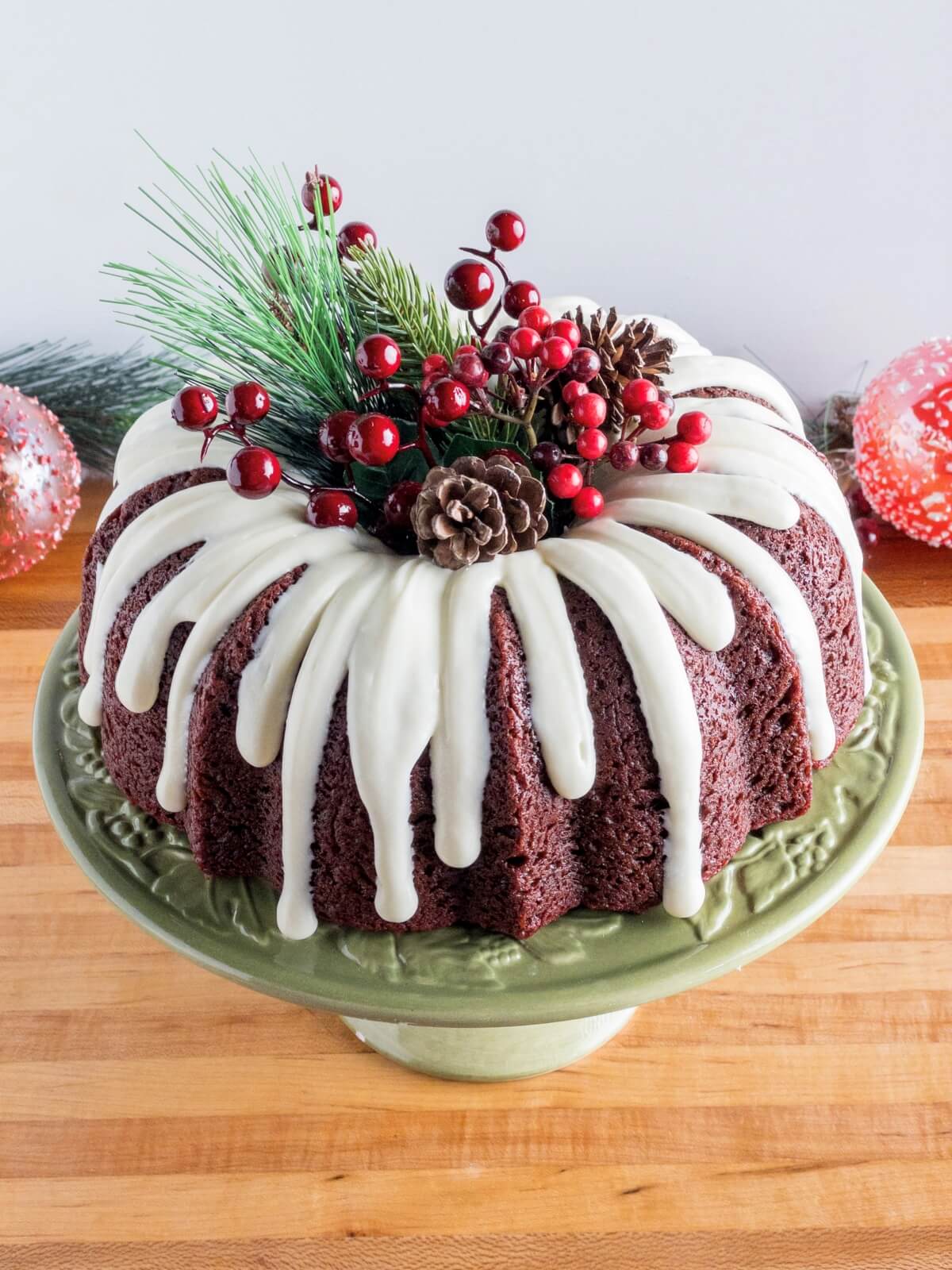 💭 Frequently Asked Questions
What is the difference between red velvet cake and chocolate cake?
The main difference between Red Velvet Cake and chocolate cake is the amount of cocoa powder used. Red Velvet Pound Cake uses less cocoa powder than chocolate cake, which gives it a milder chocolate flavor. The flavor matches perfectly with a cream cheese icing glaze. 

Red food color is added to provide its signature red coloring. If you are avoiding red food coloring, you can substitute it with water--the cake will just be chocolate brown in color.
Is red velvet bundt cake supposed to be dense?
Red velvet bundt cake is supposed to be moist and dense. The addition of pudding mix and oil helps to keep this cake moist, while the sour cream helps to create a denser crumb.

If you've followed my recipes in the past, you know I usually use buttermilk to make moist cakes every time.  By using sour cream instead of buttermilk in this cake recipe, we're getting a more traditional dense bundt texture.
Can I use buttermilk instead of sour cream?
Yes, you can use buttermilk in place of the sour cream.  It will still be very moist, but it will have a lighter and less dense texture.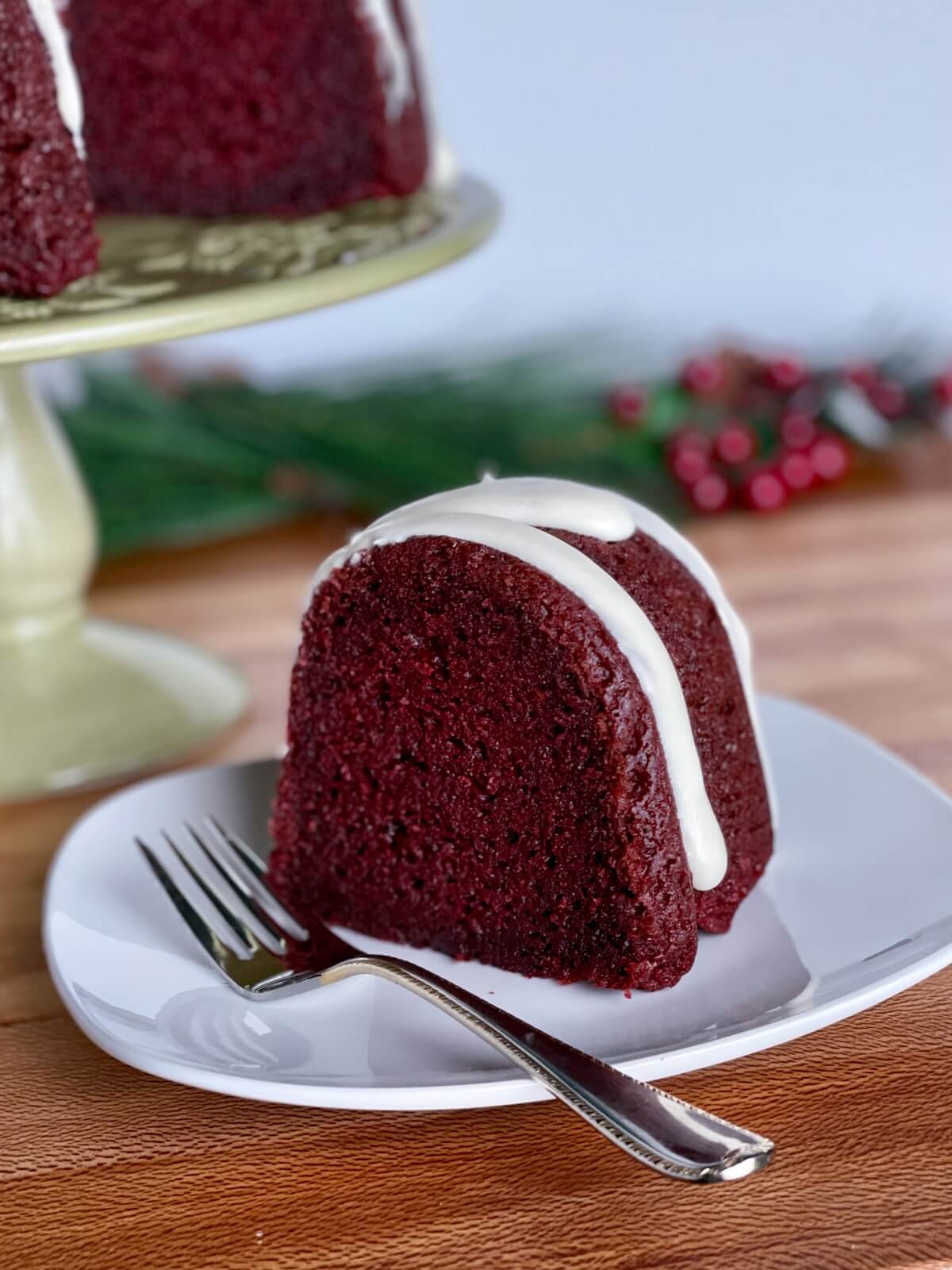 How do you frost a bundt cake with cream cheese frosting glaze?
I find it's easiest to get a pretty frosting drizzle on a bundt cake by using a disposable piping bag with the tip cut off. This will allow you to control the direction of the icing drizzle.

Make sure the cream cheese buttercream glaze is thin enough to drizzle--a few seconds in the microwave will help! You can watch me drizzle this cake in the recipe video.
Other moist cake recipes you'll love
Here are a few more of my favorite two-bowl method cake and cupcake recipes, which make super moist cakes without a mixer.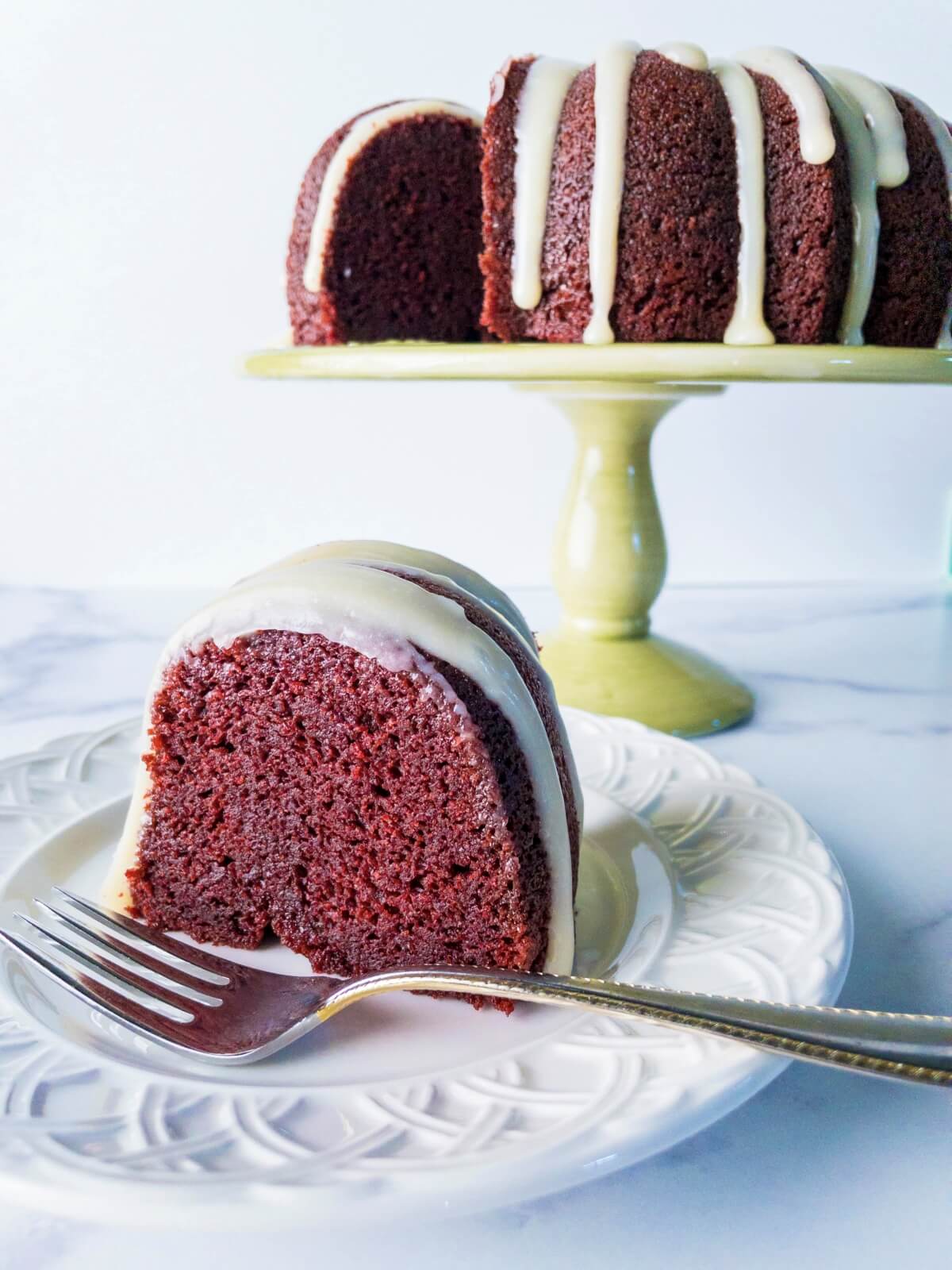 I hope you enjoy this easy recipe for Red Velvet Bundt Cake! If you make it, be sure to take a picture and let me know how you liked it in the comments.
Thanks for Reading. ❤️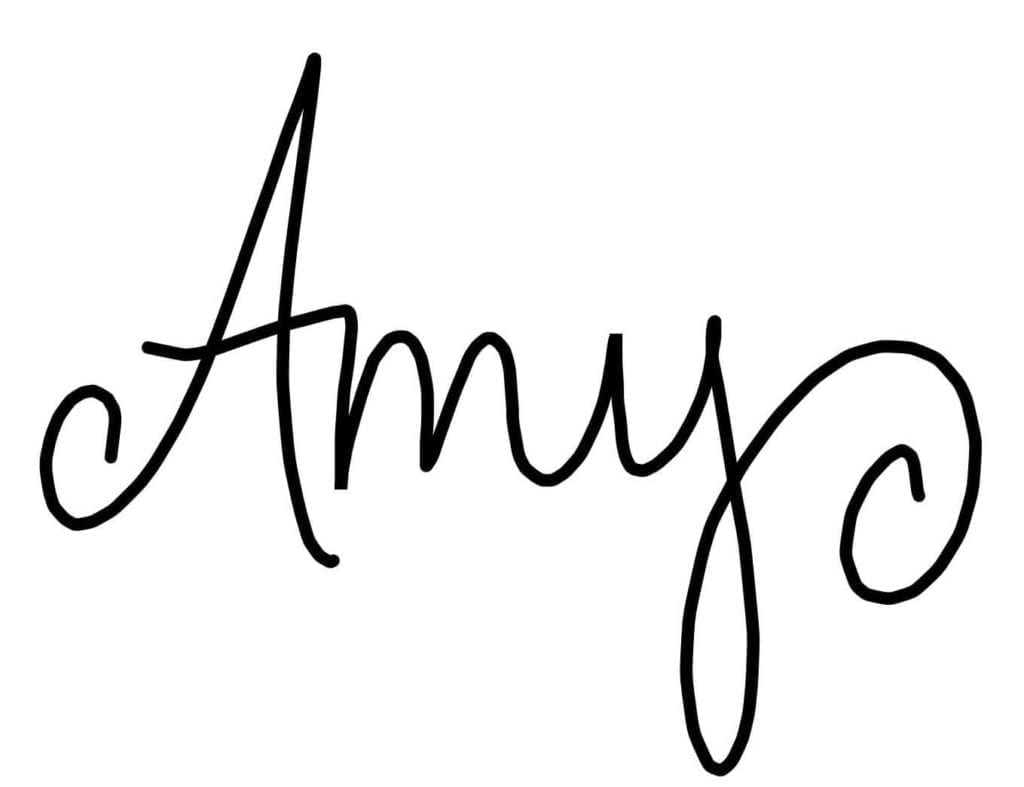 📖 Recipe
Easy MOIST Red Velvet Bundt Cake
This simple and easy red velvet bundt cake recipe doesn't even require a mixer! It's made with sour cream to make a super moist and dense red velvet cake with a delicious milk chocolate flavor.
👩‍🍳 For the most accurate baking results, use the grams measurements with a kitchen scale.
Watch the quick step-by-step-video
Ingredients
Dry Ingredients
354 grams (2 ½ cups + 2

Tablespoons)

All-Purpose Flour

(I use Gold Medal)

1

Tablespoon

Baking Powder

2

teaspoons

Baking Soda

1 ½

teaspoon

Salt

32 grams (¼ cup) Instant Clearjel or 65 grams (6

Tablespoons)

Vanilla instant pudding mix

(see note #1)

38 grams (6

Tablespoons)

Unsweetened Cocoa Powder

(I use Hershey's)

476 grams (2 ¼ cups + 2

Tablespoons)

Sugar
Wet Ingredients
4

large

Eggs

1 ½

cup

full-fat Sour Cream

½

cup

Water

¾

cup

Vegetable Oil

1

Tablespoon

Vanilla Extract
Other Cake Ingredients
1 ½ stick(s) (6

ounces)

Salted Butter

(melted)

2 Tablespoons + 2 teaspoons

Liquid Red Food Coloring

2

teaspoons

Apple Cider Vinegar
Cream Cheese Buttercream Glaze
4

ounces

Cream Cheese

(at room temperature)

½ stick (2

ounces)

Salted Butter

(melted)

1

teaspoon

Pure Vanilla Extract

195 grams (1 ½

cups)

Powdered Sugar

1

Tablespoon

Heavy Cream
Instructions
Make The Red Velvet Cake
Preheat the oven to 325 degrees. Spray a 12-cup bundt cake generously with a cooking spray that contains flour (like Baker's Joy). Or grease and flour the pan.

Using a sifter or fine mesh strainer, sift the Dry Ingredients into a large bowl, then whisk until well blended. Combine Wet Ingredients in a separate large bowl and whisk until smooth and well-blended.

Pour Wet Ingredients over the Dry Ingredients, then immediately before stirring add in the apple cider vinegar. Whisk everything together--the apple cider vinegar will bubble slightly as it reacts with the wet and dry ingredients.

Carefully pour the melted Butter and the red food color into the batter and whisk until smooth, uniform, and lump-free. The batter will be thick.

Pour the red velvet cake batter into the prepared bundt pan and smooth out the batter until even (an offset icing spatula works well for this).

Bake in the middle rack with plenty of space above the pan in the preheated oven for 30 minutes. Without opening the oven, turn the temperature down to 300 degrees and bake for another 25-35 minutes. Dark, heavy-duty bundt pans typically take less time than lightweight metal bundt pans. Carefully check the cake when it is no longer jiggly. The cake is done when a toothpick or small paring knife comes out clean when quickly stuck in the cake. A couple of moist crumbs on your knife are fine, but they shouldn't look wet.

Allow the cake to cool until the pan is only lukewarm to the touch, then flip the red velvet bundt cake onto a plate or platter.
Make the vanilla Cream Cheese icing glaze
Whisk the softened cream cheese and melted salted butter together (the cream cheese may look curdled for a moment, but as you continue to whisk it will come together). Gradually whisk in the powdered sugar, heavy cream, and pure vanilla. If the glaze seems too thick to drizzle, you can microwave the glaze for a few seconds at a time, whisking frequently.

Drizzle the cream cheese glaze over the fully-cooled red velvet bundt cake. I like to fill a disposable piping bag with the glaze for easy drizzling, but you can also use a whisk or a spoon. Serve and enjoy!
Notes
Instant Pudding Mix and
Instant Clearjel
stabilize the batter and make a moister cake with a softer crumb.  Instant Pudding contains Instant Clearjel (modified cornstarch) as the 2nd ingredient which is why they work similarly with delicious results.  Make sure whichever you use is labeled as INSTANT--cook-type and original clearjel do not work the same as Instant Clearjel.
Print Recipe