Last Updated on December 18, 2021. This post may contain affiliate links to products I use, love or recommend. That means I may receive a small commission on products you purchase through my links at no cost to you. As an Amazon Associate, I earn from qualifying purchases. Please see my Disclosure Policy for more details. Thank you for your support, which allows me to continue to create content for this website.
A Santa Claus cake is an adorable holiday dessert that will make every kid smile from ear to ear. Using basic cake decorating skills and delicious buttercream recipes, you can turn this simple cake into the centerpiece of your holiday meal or party dessert table. Follow these instructions to make your own mini buttercream Santa cake! I hope you enjoy making him as much as I did!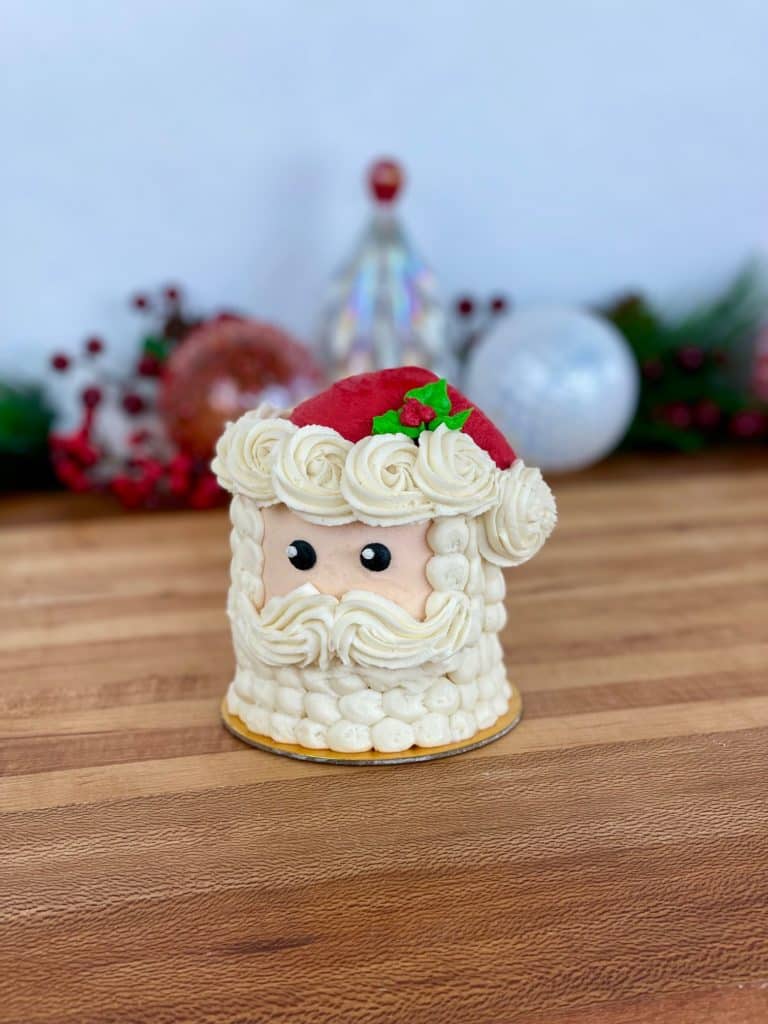 Recommended Tools and Equiptment
I cut out three round mini cake layers from my Golden Chocolate Cake recipe to make this Santa. I frosted him on the outside with my House Vanilla Buttercream.
You can switch up the piping tips and still get similar results, but these are the tools that I used to make this buttercream Santa cake:
Watch me make this Buttercream Santa Cake:
You can also watch me make him on Instagram or Tiktok (and follow me so you never miss a recipe or cake design! 🙂 )
Thanks for Reading. ❤️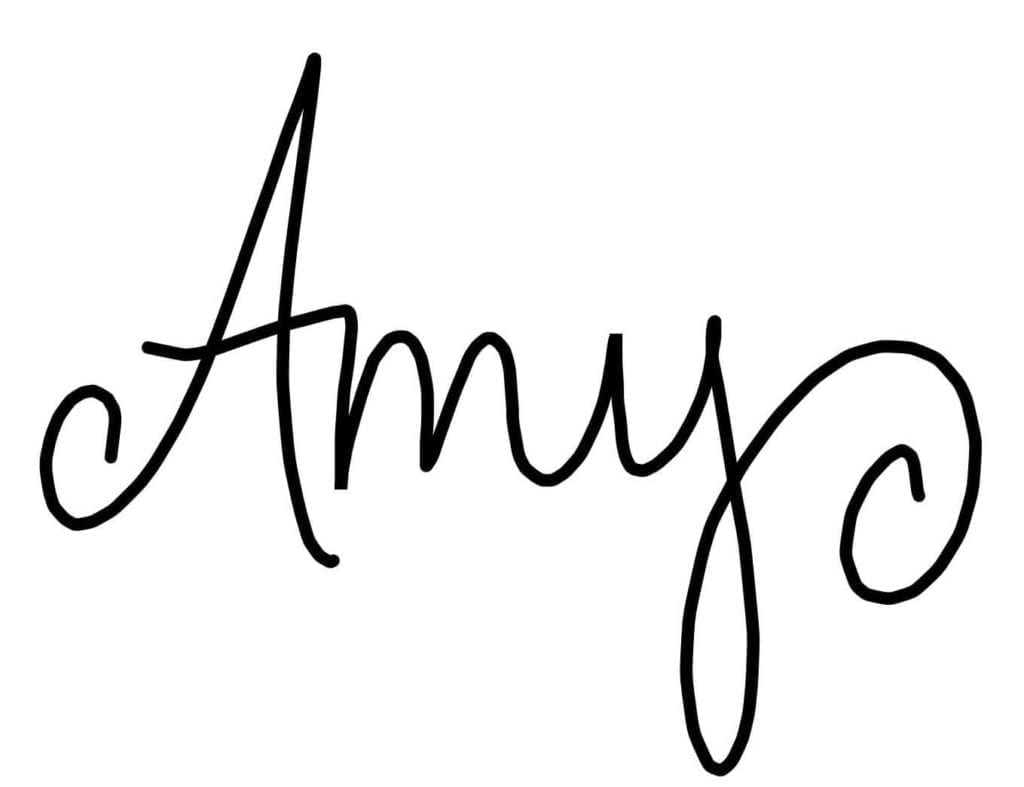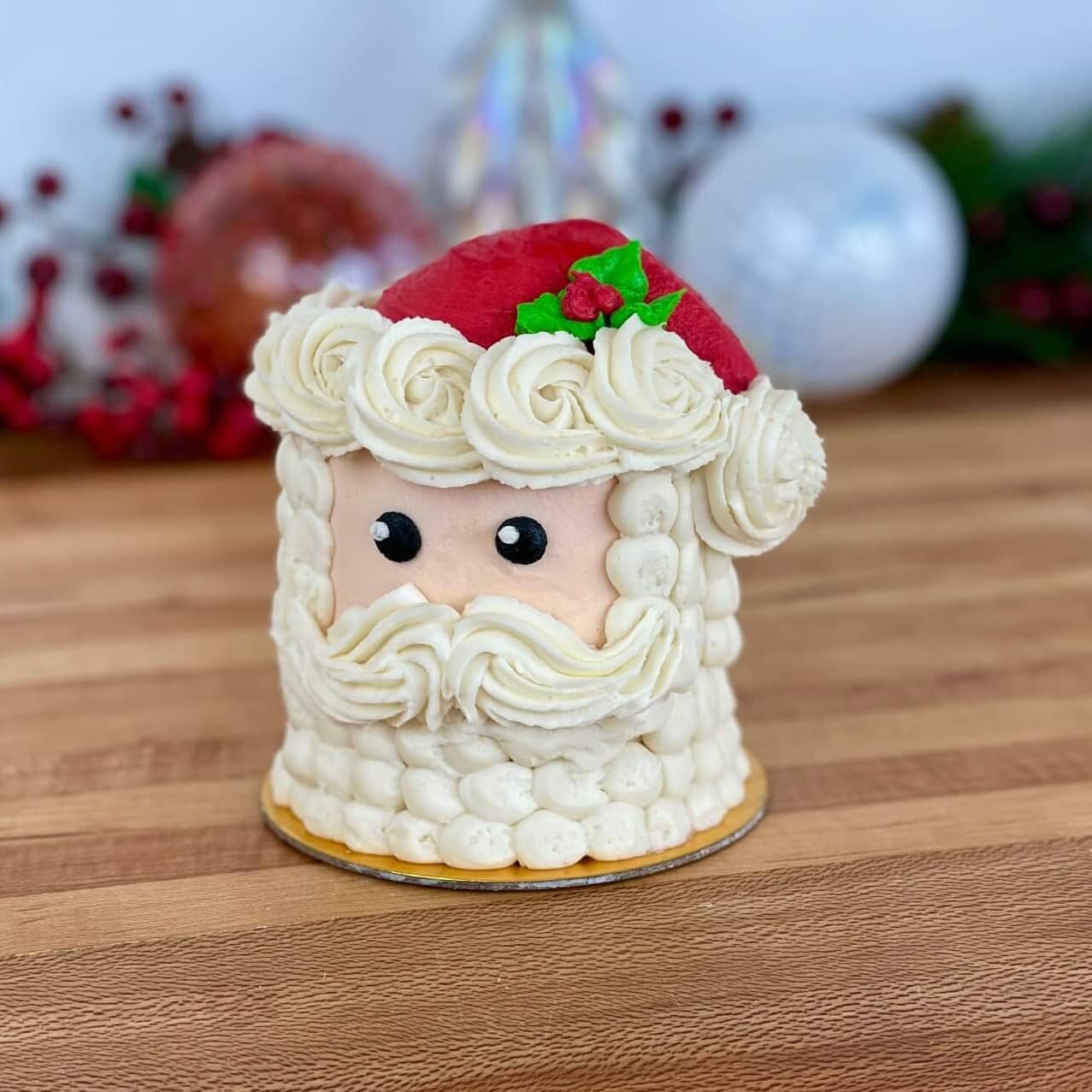 Mini Buttercream Santa Cake
This adorable and simple design for a mini Santa Cake is made out of small cake circles and buttercream. Choose your cake flavor and cut it out with small round cookie cutters (I used a 2.6" cookie cutter). Or make a larger version with larger cookie cutters or cake rings.
Use the grams measurements if you have a
kitchen scale
for more accurate baking.
Ingredients
3

small round cake layers

Cut out of your favorite moist cake recipe baked in a 1/4 sheet pan. You can get up to 4 mini 3-layer cakes when using a 2.5 or 2.6" round cutter.

I used the Golden Cake in my Moist Golden Chocolate Cake

¼

cup

buttercream for filling the cake

I used my Chocolate Buttercream

2-3

cups

Buttercream for decorating

I used my House Vanilla Buttercream
Instructions
Crumb Coat your Mini Cake
Cut out

3

small round cake layers (I used a 2.6" round cutter), and layer

1

mini 3-layer cake with your preferred buttercream. I used a 4" mini cake board as the base of the cake. Crumb Coat the cake in white vanilla buttercream, then allow it to set up in the freezer for 10 minutes.
Prepare Your Buttercream Colors
Divide the remaining vanilla buttercream and dye with a few drops of gel food color as follows (I describe what drops of color I use below. You can find all of these colors in this gel food color set, but any gel food color should work. It only takes a few drops to achieve a bright color, although black and red will require more dye).–Reserve

1

cup(s) white for Santa's beard and hat—

3/4

cup(s) buttercream dyed bright red (I used Super Red)—

1/4

cup buttercream dyed your preferred skin color (I used Flesh Tone and a little bit of the prepared red buttercream to create a peach color)—

2

Tablespoons buttercream dyed bright green (I used Leaf Green and Lemon Yellow)–

1

Tablespoon(s) buttercream dyed black (I used Coal Black)
Print Recipe