This moist Vanilla Almond Bakery-Style Cake with a delicious Triple Berry Filling was one of my most popular and most requested recipes at Amycakes Bakery! The Vanilla Almond Cake has a moist, buttery texture with a delicious almond flavor, and is a perfect complement to the slightly tart Easy Triple Berry Compote. It's creamy and melts in your mouth. I use a frozen berry blend of blueberries, raspberries, and blackberries for the compote, but you can make a mixed berry filling with any frozen berries that you choose!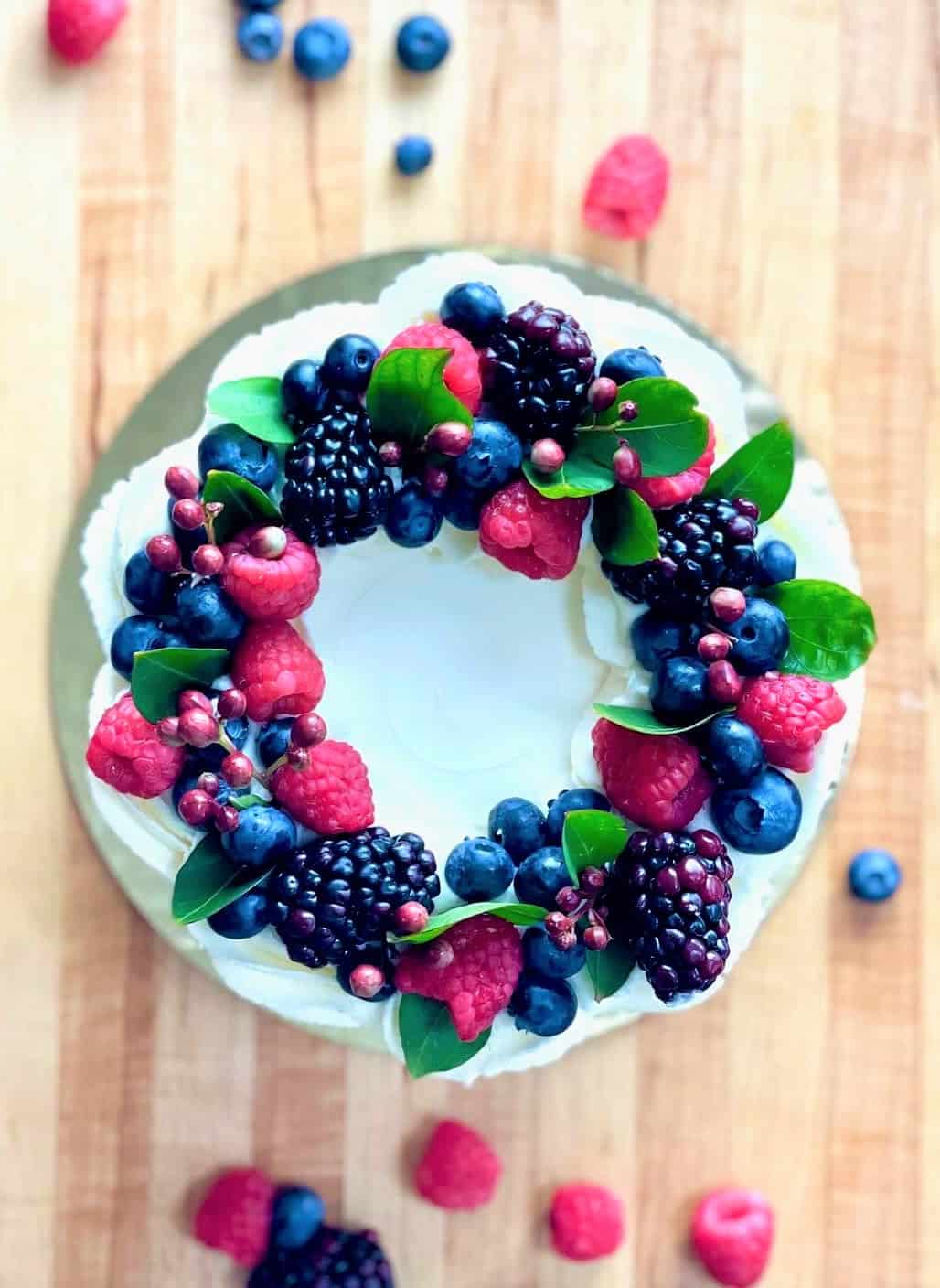 How to Fill a Cake with Berry Compote
The easy berry filling comes together in less than 10 minutes. Like all my cakes, it's easiest to layer when the cake is frozen, or at least cold. You can read more in my step-by-step guide to Layering Cakes like a Pro.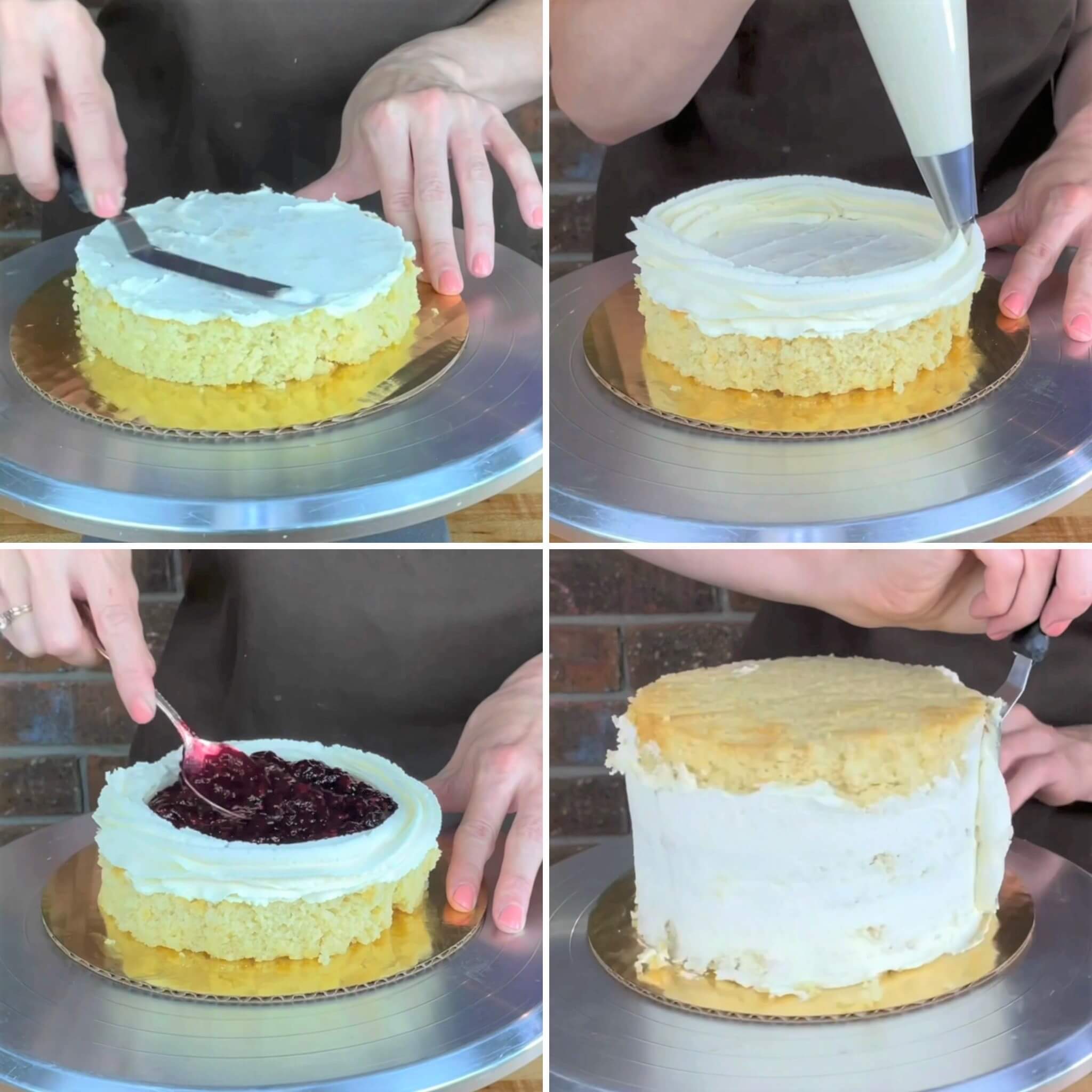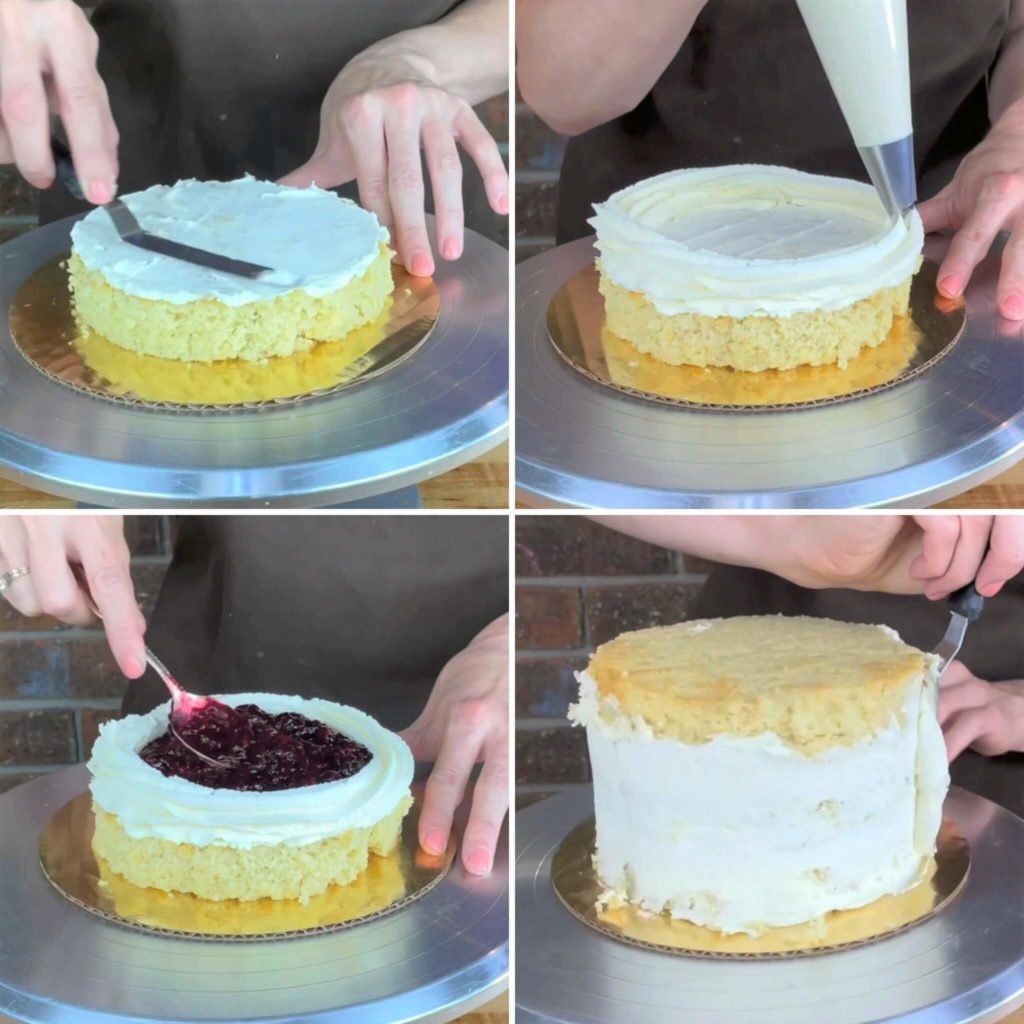 Because this dark berry filling discolors the cake after the cake is cut, I recommend spreading a very thin layer of buttercream on each cake layer before filling the cake. When filling cakes with fruit compotes, you'll want to pipe a ring of buttercream around the edge before spooning in your filling (as shown in my video below). I pipe my ring of buttercream 2-3 rings high to ensure no filling escapes. Some buttercream will push over the edge when topped with the cake layers, and that is fine--just use your spatula to smooth it against the side of the cake to seal it in. To be extra cautious with filled cakes, I like to let them set up in the freezer for 10 minutes after filling them but before adding a crumb coat of icing.
A Featured Mix-and-Match Recipe Combination
This secret bakery recipe is my first Featured Mix and Match Recipe Combination. That means the cake, filling, and buttercream are separate recipes through the links at the bottom of this page. I will be gradually adding to the Mix and Match section each week, so you can get creative with all my cake and cupcake combinations.
Other Berry Layer Cakes You'll Love
I hope you enjoy this Triple Berry Combination! Let me know what you think of it in the comment section or rate and comment on the individual recipes through the links below. 🙂
Thanks for Reading. ❤️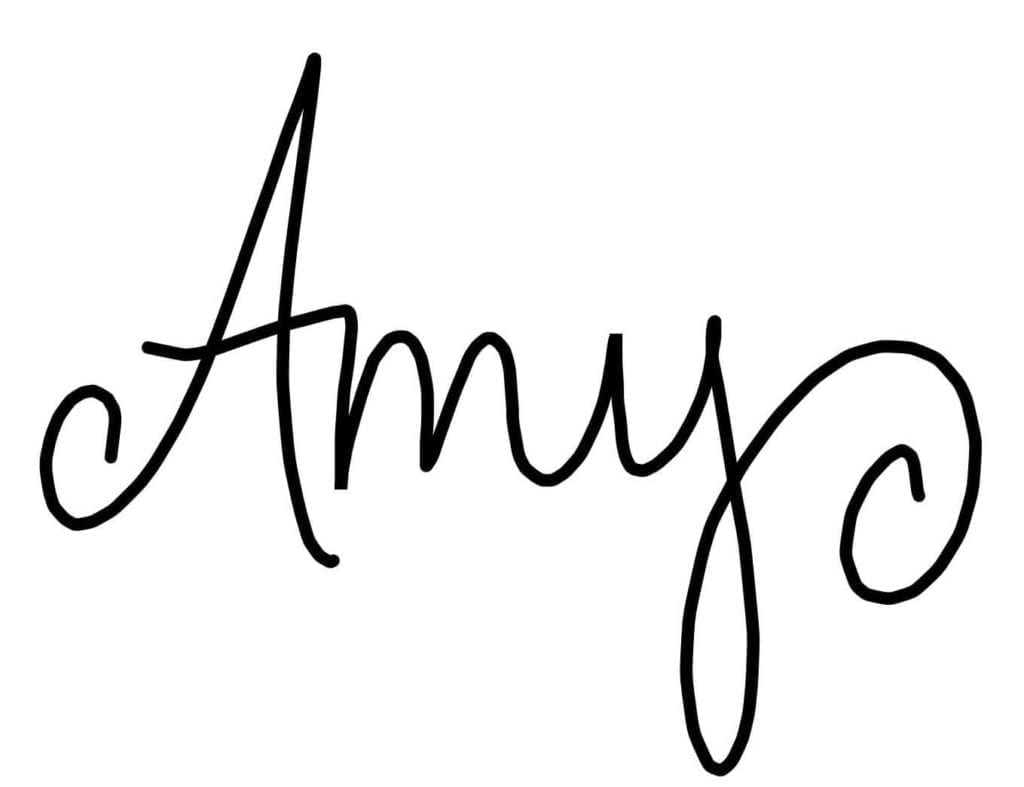 Triple Berries 'n' Cream Cake
Ingredients
Instructions
For the sides of the cake, I piped a simple dot pattern with a #4 tip, coupler, and disposable piping bag. Then I decorated the top with a ring of buttercream rosettes and a 1M star tip. I added fresh blueberries, raspberries and strawberries, and a few fresh leaves and flower-berries from my garden.

I love the look of fresh flowers on cakes and they make an easy decoration. You can rinse them, trim the stems to about 2 inches, and stick them directly in the cake. Just make sure whatever you use is non-toxic, and remove them before serving. 🙂
The Recipes Needed to make a Triple Berries 'n' Cream Cake: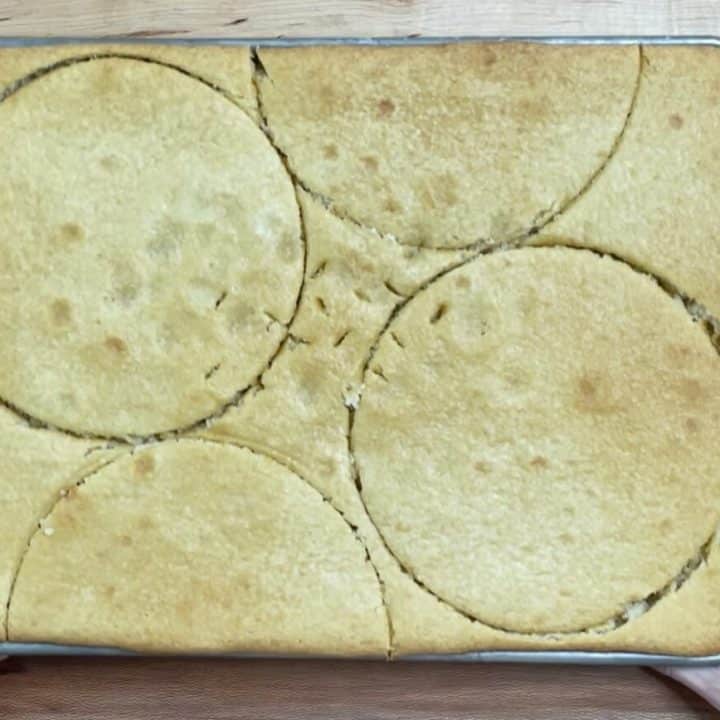 Vanilla Almond Cake (Mix & Match Recipe)
This is a Mix & Match Recipe, which means it is the cake only. Mix and Match cake recipes are meant to be used with your choice of fillings and frostings. For the bakery-style detailed recipe with buttercream frosting, view my Moist Vanilla Almond Cake recipe.
This extra-moist Vanilla Almond bakery-style cake was by far my most popular flavor at Amycakes Bakery. The cake is buttery, moist, and soft with a delicious almond flavor.
If you have a kitchen scale, please use it for the grams (g) listed in parenthesis next to each dry ingredient. If you don't have a scale, no worries!–just be sure to "spoon and level" your dry ingredients.
Get the Recipe
Easy Mixed Berry Compote Cake Filling with Frozen Berries
This easy mixed berry compote of blueberries, blackberries, and raspberries is full of fresh and natural berry flavor. It's slightly tart, making it a perfect complement to sweet cakes and buttercreams. It makes a perfect filling for vanilla cakes or cupcakes. Because this triple berry compote uses a frozen berry blend and Instant Clearjel or cornstarch, it whips up incredibly quickly and is glossy and smooth.
A 1x batch will fill one 6" three-layer cake or about 14 cupcakes, and a 2x batch will fill one 8" three-layer cake or about 28 cupcakes.
Get the Recipe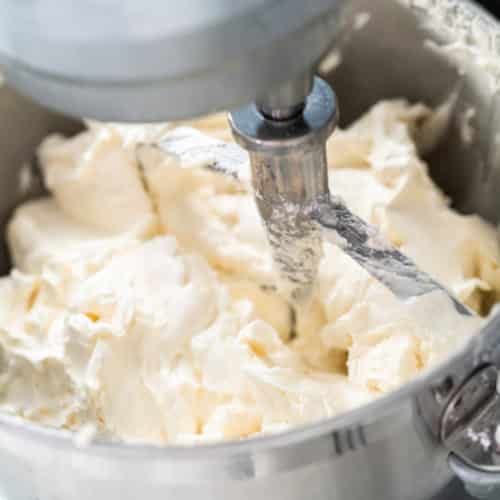 Creamy Vanilla Bakery Buttercream
This bakery-style "house" vanilla buttercream frosting was one of the most requested Amycakes Bakery recipes. It's creamy and light with a delicious vanilla flavor without being overly-sweet.
A 1x batch will frost and fill one 6" three-layer cake or about 14 cupcakes generously, and a 2x batch will frost and fill one 8" three-layer cake or about 28 cupcakes generously.
Get the Recipe