Soft and Gooey-- Wheat flour adds a delicious nutty flavor to these soft and gooey harvest cinnamon rolls! They've become my family's new favorite!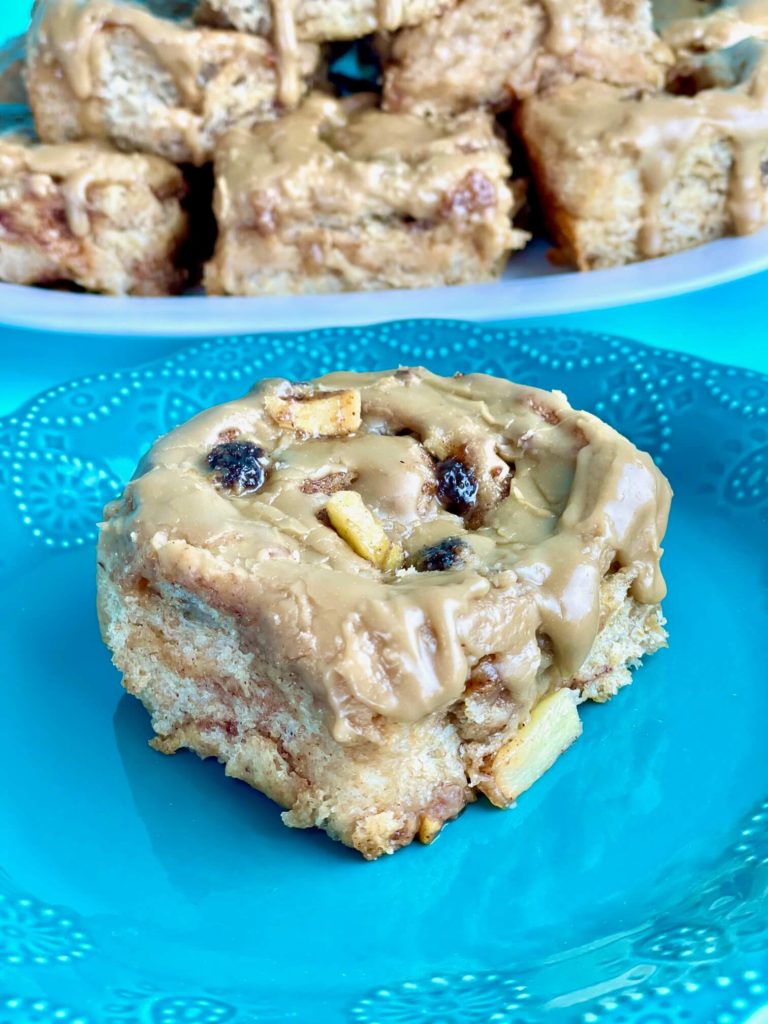 Jump to:
About This Recipe
This soft and gooey wheat cinnamon roll recipe makes the perfect comforting breakfast on a chilly morning. Made with half whole wheat flour in a soft yeast dough, they are filled with finely chopped apples, juicy raisins & chopped pecans.
They're drizzled with a buttery maple glaze that melts into every bite, making it impossible to stop at just one!
A Bakery-Style Wheat Cinnamon Dough
This wheat cinnamon roll recipe is made with a yeast dough very similar to my popular bakery cinnamon roll recipes. That means that it is a no-knead dough made with instant yeast for a faster rising time, and Instant Clearjel (my favorite bakery ingredient) for a super soft and gooey center.
You can learn more about this special dough recipe in the original Bakery-Style Cinnamon Roll recipe.
About the secret bakery ingredient in this recipe
This bakery recipe uses Instant ClearJel, a type of cornstarch that serves as both a thickener and a binder. It's tasteless and has no artificial ingredients. You can also use Instant Pudding mix (when it's listed in the recipe), which contains Instant Clearjel as the second ingredient!
It's often used by professional bakers because it produces a smoother and glossier consistency than cornstarch, tapioca, or other starches. Even better, it enhances moisture and texture in cakes and thickens and stabilizes frostings. Here are a few brands I recommend:
Although it's not often available in grocery stores, it's sold in a variety of online stores--just make sure whatever you purchase is labeled as INSTANT (cooktype and original clearjel will not work the same). It's also frequently found in Amish Markets. (Learn more about Instant Clearjel in Baking→)
Mini Wheat Cinnamon Rolls
Because these wheat cinnamon rolls are rich with a hearty apple, raisin, and pecan filling, I decided to roll these out as mini cinnamon rolls--one dozen of these fit in a 9x13x2" cake pan. You can learn more about this rolling method with a detailed video in my Mini Cinnamon Rolls: a Bakery Method and Step by Step Guide.
Soak the raisins for 5 minutes in hot or boiling water, then strain them well--this will make the raisins very juicy. Finely slice then chop the apples so they will have the perfect texture inside the soft wheat cinnamon rolls.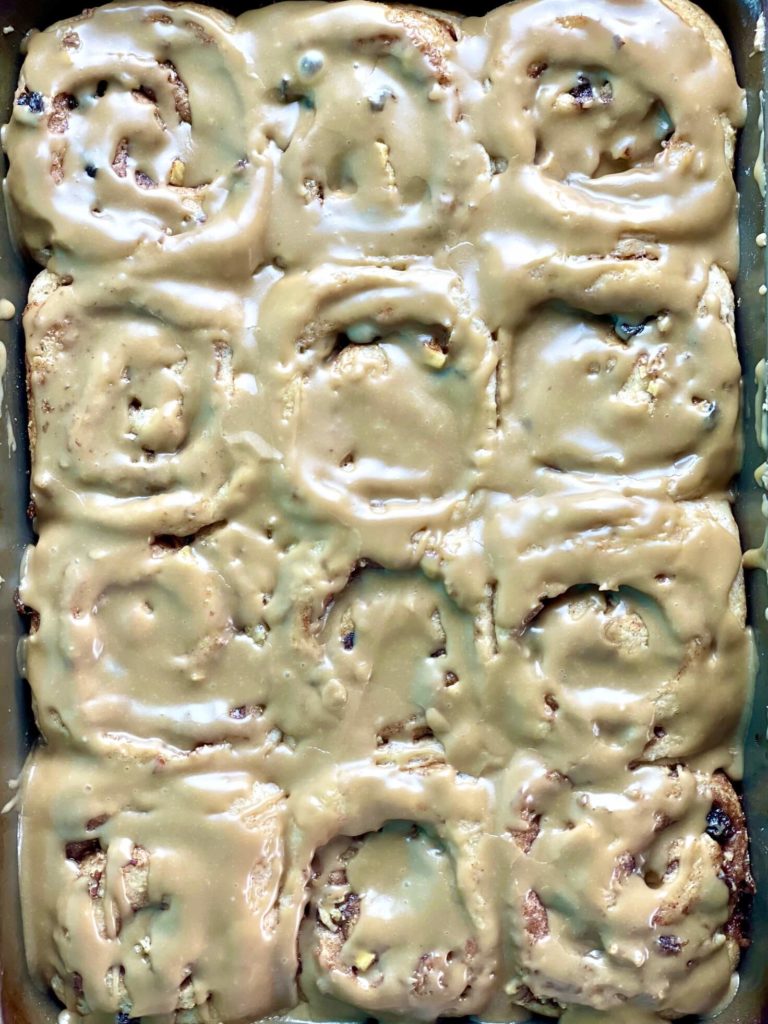 Recipe FAQ
How do you store these wheat cinnamon rolls?
These wheat cinnamon rolls have the best soft and gooey texture the day they are baked. Store any remaining cinnamon rolls at room temperature and eat within a couple of days. Leftovers can be heated individually in the microwave for around 15-30 seconds.
You can also wrap and freeze individual baked cinnamon rolls. Wrap each cinnamon roll thoroughly in plastic wrap then freeze. When you are ready to serve them, thaw them for a few hours at room temperature, then heat them up for a few seconds in the microwave.
Can you make these in advance as Take and Bake Cinnamon Rolls?
Definitely! If you'd like to make the cinnamon rolls in advance, please follow the baking and freezing instructions in my Take and Bake Cinnamon Rolls recipe.
Can I substitute out the Instant Clearjel?
I have not yet tried this recipe without Instant Clearjel, as it is one of the ingredients that gives the cinnamon rolls their super soft texture, and keeps the filling thick and gooey. However, I'm guessing this recipe would still be delicious without it--if you have any luck with a substitution, please let me know!
Video
Look how gooey these cinnamon rolls look--and they taste even better! Check out my mini cinnamon roll video to see how I rolled these out.
Please let me know if you try this yummy wheat cinnamon roll recipe! And please take a picture and tag @amycakesbakes on Instagram. I LOVE seeing what you bake. Enjoy!
Thanks for Reading. ❤️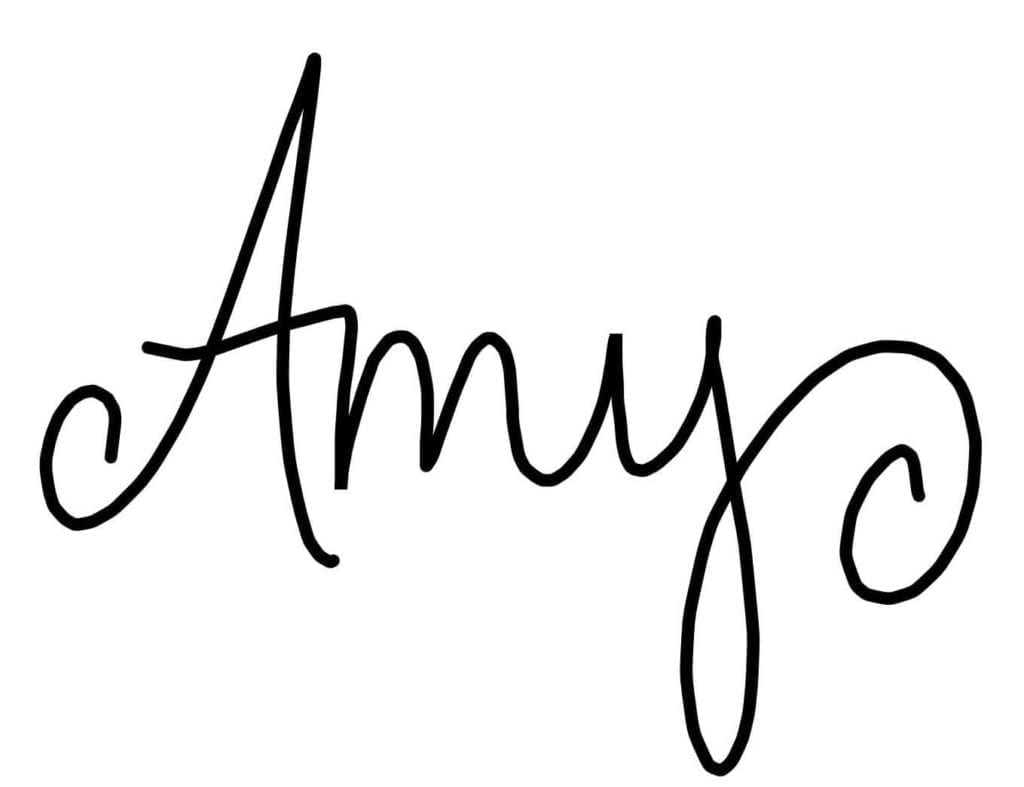 📖 Recipe
Soft Harvest Wheat Cinnamon Rolls with Apples, Raisins and Pecans
This bakery recipe for Soft and Gooey Wheat Apple Cinnamon Rolls with raisins and pecans are soft and gooey all the way to the edge of the roll. Add this recipe to the much-loved cinnamon roll recipes from Amycakes Bakery. No kneading is required to make this soft and pillowy dough, and it's made with instant yeast, which means a faster rising time.
For the best results, make your dough on day one, and roll out on day two, as described within the recipe.
👩‍🍳 For the most accurate baking results, use the grams measurements with a kitchen scale.
Watch the quick recipe video
Ingredients
Cinnamon Roll Dough Ingredients
200 grams (1 ½ cups)

All-Purpose Flour

200 grams (1 ½ cups)

Whole Wheat Flour

2

teaspoons

Instant Clearjel

(for a softer dough. It's a bakery ingredient you can use at home, see Notes section)

1

Tablespoon(s)

Instant Yeast (I use SAF Instant Yeast)

1

large

Egg(s)

½

teaspoon

Salt

37 grams (3

Tablespoons)

Sugar

¼

cup

Vegetable Oil

1

cup(s)

Hot Water

(around 120 degrees)
Cinnamon Roll Filling Ingredients
227 grams (1

cup(s) packed)

Light Brown Sugar

1 ½

teaspoons

Instant Clearjel

(for gooier cinnamon rolls. It's a bakery ingredient you can use at home, see Notes section)

1 ½

teaspoons

All-Purpose Flour

½ stick (2

ounces)

Salted Butter

(softened but not melted)
Other Ingredients
⅓

cup

Raisins

¾

cup

peeled and finely chopped apple

(I recommend Honeycrisp, Fuji or Gala)

½

cup

chopped Pecans

(I use a nut chopper to chop them into small even pieces.)

¼ stick (1

oz)

salted butter, melted

¼ cup to ½

cup

flour, for dusting

(only use what you need)
Maple Glaze Ingredients
½ stick (2

ounces)

Salted Butter

169 grams (1 ½

cups)

Powdered Sugar

1

teaspoon(s)

Maple Extract

¾

teaspoon(s)

Vanilla Extract

1 ½

Tablespoons

Very Hot Water
Instructions
Day One: Make Wheat Cinnamon Rolls Dough
In a medium-sized bowl, whisk the Flour, Wheat Flour, Instant Clearjel, and Instant Yeast together until well blended. Set aside.

In a separate large bowl, stir the egg(s), salt, sugar, and oil together until well blended.

Make sure your water is hot, around 120 degrees. (If you don't have a culinary thermometer, this temperature should feel uncomfortable to the touch but not painful). Pour the hot water on top of the egg mixture, but don't stir it together yet. (We want to allow our flour and instant yeast to activate when being mixed with the hot water).

Immediately add the flour mixture on top of the hot water, and use a sturdy spatula to stir all of the ingredients together until a dough is formed and the ingredients are well blended. The dough will get firmer, stickier, and more difficult to stir as it thickens.

There's no kneading of this wheat dough, as we don't want to incorporate any additional flour, but we want to stir it until it gets stretchy. Leave the dough in the bowl, and continue to scrape the sides and stir the dough with your heavy-duty spatula for around 2-3 minutes, or until the dough is stretchy and uniform. It will be a very sticky dough.

Allow the dough to rise at room temperature until double in size, around one hour.

Loosely wrap the bowl in plastic wrap, and place the risen dough in the fridge overnight, for at least 4 hours but no more than 24 hours.
Day One: Prepare Filling Ingredients
Stir together the brown sugar and cinnamon. Use your fingers to break apart any large brown sugar pieces, and to make sure the cinnamon is thoroughly mixed in. Wrap this mixture or place it in an air-tight container until Day Two.

Whisk the Instant Clearjel and Flour together until well blended. Wrap or place in an air-tight container until Day Two.
Day Two: Prepare Pan
The

1

oz of melted butter for brushing will be used three times. First, brush the cake pan(s) generously with melted butter on the bottom, sides, and inner corners. 12 mini cinnamon rolls fit in a 9x13x2 pan (a 1x recipe batch), and 24 cinnamon rolls fit in an 11x15x2 pan (a 2x recipe batch).
Day Two: Roll Out Cinnamon Rolls
Place the raisins in a bowl and cover with boiling or hot water. Allow to soak for 5 minutes, then strain thoroughly in a strainer.

Generously dust your counter with about

¼

cup of flour.

Scrape the risen refrigerated wheat cinnamon roll dough on top of the dusted flour. Use your fingers to scrape out any stuck to the bowl and add it to the dough. The dough will be sticky. Avoid pressing the dough into itself or turning it into a ball--this will overwork the dough. We want to roll it out with very little shaping of the dough. Instead, just lightly dust any sticky portions of the dough, and press any sticky edges into the floured counter. Lightly press the dough into a rectangular shape before rolling (I recommend watching the mini cinnamon roll recipe video for a step by step video).

Roll out the dough into an 18 inch horizontal by 

8

 inch vertical rectangle. (A 1x batch will be short and skinny. A 2x batch will be a large rectangle). Using extra flour only as needed, dust any parts of the dough with flour that sticks to the table or rolling pin.

If your butter is firm, microwave it for a few seconds until softened but not melted. Mix your softened butter thoroughly with the prepared Instant Clearjel mixture. Immediately spread it onto the rolled-out dough. We mix this right before spreading so that it doesn't have time to thicken before spreading. Spread it evenly all the way to the very edge of the dough.

Pour the prepared Brown Sugar/Cinnamon mixture on top of the butter and spread it evenly all the way to the very edge of the dough. Evenly sprinkle the chopped apple, then the strained raisins, then the chopped pecans all over the cinnamon mixture.

Roll up the cinnamon dough tightly, curving the edges in slightly as you roll (for a 2x batch, cut the large rectangle in half horizontally and roll up two logs, as described in the mini cinnamon roll guide. Curving in the outside edges slightly as you roll helps maintain a nice roll on the edges and prevents the cinnamon mixture from escaping. When you are left with one inch of dough, pull it up and pinch it tightly against the rolled dough, creating a pinched seam.

Dust the seam with flour, and turn your dough so it is seam side down against the floured counter. Shape the roll of dough with your hands if needed so that it is even in thickness. Score the dough with a bench scraper, pastry divider, or knife into

12

rolls, then cut the rolls with a bench scraper or sharp knife.

Place the cinnamon rolls into your prepared pan, with little room between each roll and ½ inch from the edge of the pan. Lightly press down on each roll so that the edges of each roll barely touch each other, and improve their round form if needed. (The cinnamon rolls will rise into whatever shape they are in now. So if you have some oval or misshapen rolls, use your hands to form the edges into a circle before they rise.)

Brush the cinnamon rolls with melted salted butter, then allow to rise at room temperature until double in size, around one hour.
Day Two: Bake the Wheat Cinnamon Rolls
Preheat oven to 350 degrees.

Bake the risen cinnamon rolls in the preheated 350-degree oven on the middle or top rack for 8 minutes, then turn the oven down to 325 degrees. Bake for an additional 6-10 minutes for 12 cinnamon rolls in a 9×13 pan, or an additional 10-12 minutes for 24 cinnamon rolls in an 11×15 pan. Darker pans and glass pans will take less time in the oven. The cinnamon rolls are done when they are golden brown, and the dough bounces back when you tap it lightly with your finger. Check several areas of the rolls for doneness.
Make Maple Glaze
While the rolls bake, make the glaze. Melt the butter in the microwave in a large microwave safe bowl. Whisk in the maple extract, pure vanilla extract and powdered sugar. As you whisk, the glaze will get very thick. Slowly add the very hot water and whisk the glaze until it is smooth with no lumps. The glaze will thicken as it cools, so if it is too thick to drizzle when the cinnamon rolls are done, microwave the glaze in 20-30 second increments until it reaches a drizzling consistency.

Brush the cinnamon rolls one last time with melted butter. Using a small whisk, drizzle the glaze onto each hot cinnamon roll.

These wheat cinnamon rolls are best served warm and have the best soft texture when eaten the same day they are baked. Enjoy!
Notes
Notes for 2x batches (some of these won't apply if you are using the grams measurements):
3 tsp= 1 Tbsp
4 tablespoon = ¼ cup
Notes about Instant Clearjel: Read my article Instant Clearjel: a Magical Bakery Ingredient to see why I think this ingredient is worth having in your pantry.  Instant Clearjel is what gives these cookies their extra soft and chewy texture and keeps them from overspreading in the oven.  Instant Clearjel must always be whisked thoroughly with other dry ingredients before being added to wet ingredients to avoid clumping.  Make sure whatever brand you purchase is labeled as "Instant."  Cooktype Clearjel is a different product that does not work the same in baking.  I use Prepared Pantry Instant Clearjel–use the code AMYCAKES to get that linked 18 oz package at 50% off!   You can also find it at Nuts.com.
Print Recipe