🎂 Let's Get Piping! This simple "piping buttercream" or "practice buttercream" recipe is tasty, easy, and affordable.
Jump to:
About This Recipe
This easy buttercream recipe makes an ideal frosting to test out your piping techniques because it's very simple, stable, and cheap to make. It will hold its shape even when piped at finer points, making it perfect for practicing flower details and writing. I use it as my go-to "piping buttercream," as it's also creamy and yummy enough to eat by the spoonful!
What is a Piping Buttercream?
A piping buttercream is a buttercream frosting that you can use just for the piped details on your cake. It is typically more stable and holds its shape better than more traditional buttercreams, which is great for cake decorating.
While I prefer my House Vanilla Cream Cheese Buttercream or Fluffy Chocolate Buttercream as the filling and frosting on my cakes, I'll use this piping buttercream on all the piping decorations and details since it is easy to make, stable and affordable.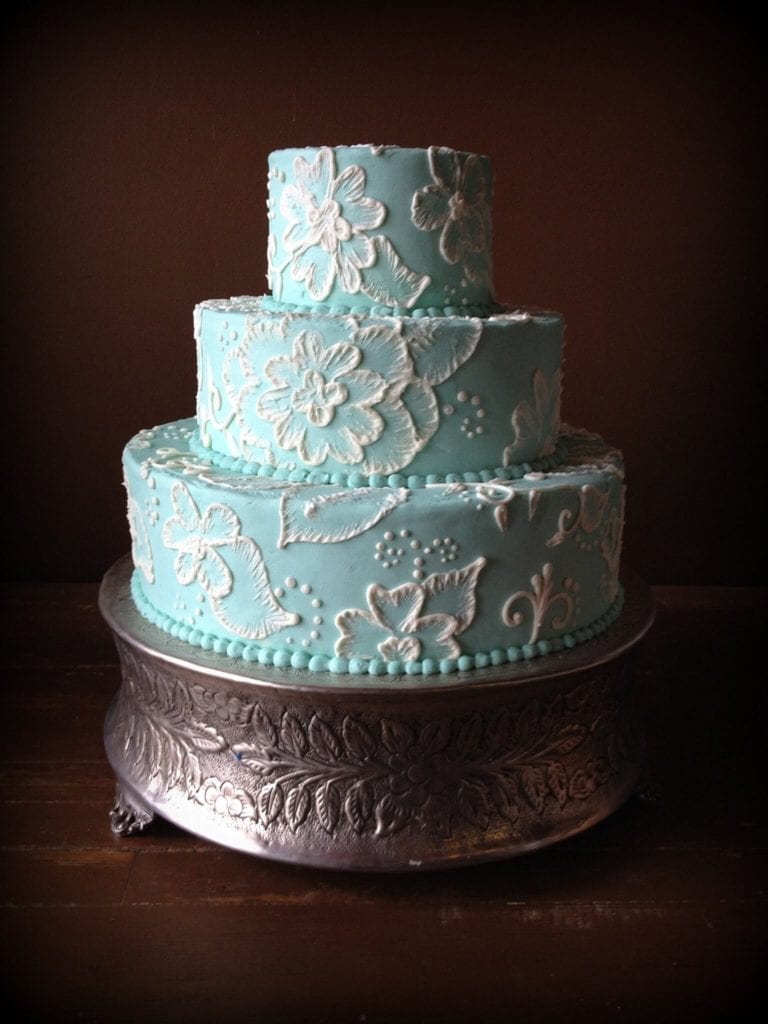 Use this as Practice Buttercream Frosting
Not only is this perfect piping buttercream, but it can also serve as your reliable "Practice Buttercream." You can practice making buttercream flowers and other designs until you feel confident enough to start using frosting on an actual cake. I recommend practicing on sheets of parchment paper or on cupcakes to share.
This is the perfect practice buttercream because:
It is easy to make.
It is firm, stable and doesn't melt easily.
It is affordable (about half the cost of a more traditional buttercream recipe). When you are doing a lot of piping, that adds up!
It's tasty. Unlike practice buttercreams made of only shortening and powdered sugar, this one is tasty enough that you'll feel confident sharing your cake experiments with your family and friends.
How to Store Piping Buttercream
This buttercream is easy to store once you've made it, so you can make several batches of this recipe and store them in your refrigerator or freezer until you need them again. Keep it refrigerated in air-tight containers for up to a month, or freeze it for up to 3 months.
I like to dye my Piping Buttercream into various colors and store them in my fridge or freezer so that they're always available to me when I need them.
Piping Buttercream Ingredients
This buttercream frosting is more affordable and less likely to melt than a traditional buttercream, and that's because we are using half margarine sticks and half butter in this recipe--but wait, hear me out!
Margarine/ vegetable oil sticks have a lower melting point than butter. That means the frosting doesn't melt as easily from the heat from your hands as you pipe with it. By using half margarine, the buttercream is thicker and more stable when piping detailed and tall decorations.
By using half butter, we still get the delicious buttery flavor in our frosting, and the frosting will set up firmly in the fridge when it is cold. This is especially helpful for more intricate designs--just let the frosting firm up in the freezer for a few minutes between layers of piping.
Can I substitute all butter for the margarine?
Sure! It will be very delicious and still pipe well. The buttercream will be a little thicker and may not have quite the fluffy "lift" that it does when it is made as written with half margarine. If you find your hands are warming up the frosting bag, take a quick break so the frosting doesn't melt.
Additional Buttercream Ingredients:
Shortening--Helps with stability and makes the buttercream more fluffy.
Instant Clearjel--Optional, but it thickens the frosting and makes it more stable. You can also add more powdered sugar in its place as described in the recipe notes section. Read more about Instant Clearjel here.
Salt--The addition of salt is very important to balance the sweetness of the buttercream
Vanilla Extract--For the creamy vanilla flavor. I use imitation vanilla to save on cost (The Pure Vanilla in my cupboard is reserved for recipes that really benefit from it--I always use pure vanilla in my house vanilla buttercream and my whipped cream recipes. But for piped decorations on top of frosted cakes, I think imitation vanilla or a vanilla blend works well.)
About the secret bakery ingredient in this recipe
This bakery recipe uses Instant ClearJel, a type of cornstarch that serves as both a thickener and a binder. It's tasteless and has no artificial ingredients. You can also use Instant Pudding mix (when it's listed in the recipe), which contains Instant Clearjel as the second ingredient!
It's often used by professional bakers because it produces a smoother and glossier consistency than cornstarch, tapioca, or other starches. Even better, it enhances moisture and texture in cakes and thickens and stabilizes frostings. Here are a few brands I recommend:
*Please make sure the clearjel you purchase is labeled as instant
Although it's not often available in grocery stores, it's sold in a variety of online stores--just make sure whatever you purchase is labeled as INSTANT (cooktype and original clearjel will not work the same). It's also frequently found in Amish Markets. (Learn more about Instant Clearjel in Baking→)
If you're looking for an easy-to-use piping buttercream to practice your skills, I hope you'll give this recipe a try! Share your creations with me on social media (@amycakesbakes). I'd love to see them!

Thanks for Reading. ❤️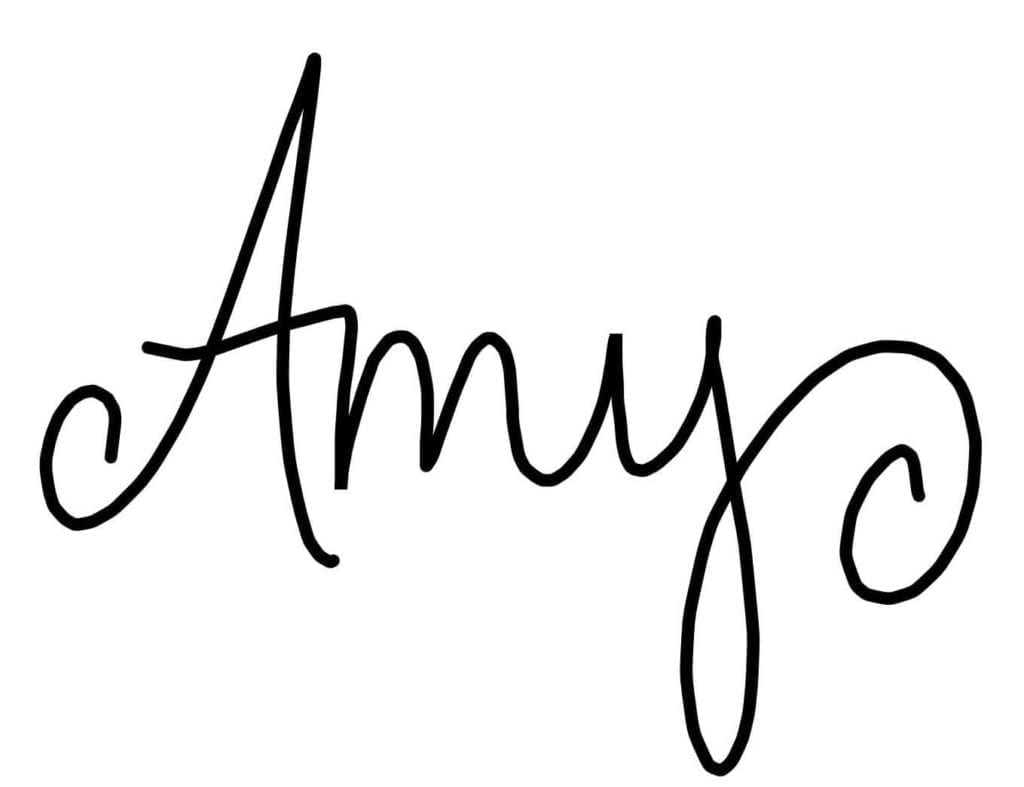 📖 Recipe
Piping Buttercream: the Best Buttercream for Piping Flowers and Cake Decorating
This easy-to-make piping buttercream recipe makes an ideal frosting to test out your piping techniques. It will hold its shape even when piped at finer points, making it perfect for practicing flower details and writing. It also makes a great practice buttercream as it is simple, affordable, and easily stored.
👩‍🍳 For the most accurate baking results, use the grams measurements with a kitchen scale.
Ingredients
2 sticks (8

ounces)

Salted Butter

(at room temperature)

2 sticks (8

ounces)

Margarine Sticks

(I use Imperial Sticks)

48 grams (¼

cup)

Shortening

(I use Crisco brand)

780 grams (6

cups)

Powdered Sugar

2

Tablespoons

Instant Clearjel

(optional, see Notes Section for substitution)

½

teaspoon

Salt

1 Tablespoon + 1

teaspoon

Vanilla Extract

(I use imitation vanilla to save on cost)
Instructions
Using a stand mixer (preferred), or a handheld mixer, cream the softened butter, margarine sticks, and shortening together until creamy with no lumps. Scrape the sides of the bowl as needed.

Whisk the powdered sugar and Instant Clearjel (if using) and salt together thoroughly.

Slowly add the powdered sugar mixture while the mixer is on low, then add the vanilla extract. Scrape the sides of the bowl as needed. Turn the mixer up to high and beat 2-3 minutes or until light and fluffy.

This buttercream may be stored in airtight containers in the fridge for up to one month, or in the freezer for up to 3 months. Allow it to come to room temperature before using or serving.
Notes
Read my article Instant Clearjel: a Magical Bakery Ingredient to see why I think this ingredient is worth having in your pantry.  Instant Clearjel must always be whisked thoroughly with other dry ingredients before being added to wet ingredients to avoid clumping.   Make sure whatever brand you purchase is labeled as "Instant."  Cooktype Clearjel is a different product that does not work the same in baking.  If you don't have Instant Clearjel you can simply leave it out completely, and add a little more powdered sugar as needed to make a thicker frosting, as described in my Instant Clearjel Substitutes under frostings. 
Print Recipe